KGI DAILY TRADING IDEAS – 20 October 2021
In The Spotlight: BITO US | In The Spotlight: MSCI China A50 Connect Index Futures
Singapore Trading Ideas | Hong Kong Trading Ideas | Market Movers | Trading Dashboard
ProShares Bitcoin Strategy ETF (BITO US)
ProShares Bitcoin Strategy ETF (BITO US)
The ProShares Bitcoin Strategy ETF launched on the New York Stock Exchange on Tuesday, jumping as much as 4.8% to close 2.59% up at $41.94, with around $1 billion worth of shares trading hands.
BITO's debut helped push the price of bitcoin as high as US$64,367.14, its highest level since mid-April and near its record of US$64,895.22.
The fund seeks to provide capital appreciation primarily through actively managed exposure to bitcoin futures contracts. The fund does not invest directly in bitcoin.
The ETF will be benchmarked against the CF Bitcoin-Dollar US Settlement Price which is a once a day benchmark index price for Bitcoin that aggregates trade data from multiple Bitcoin-USD markets operated by major cryptocurrency exchanges that conform to the CF Constituent Exchange Criteria.
For traders with a short-term view of Bitcoin. BITO will track front-month Bitcoin futures, providing high sensitivity to Bitcoin over the short term. However, the ETF's ability to track spot prices will break down over the medium and long term due to the high costs to keep the front-month exposure, which Blomberg estimates will be around 10-20 percentage points a year.
Inflation hedge. Besides the launch of the Bitcoin futures ETF which could attract fund inflows and boost the recent rally, inflation concerns have also reinforced market sentiment in seeking related hedges. Back in the 1970s, when the US underwent stagflation amid a rate-hike cycle, gold was one of the hedges against the overall price appreciation. However, Bitcoin has been the alternative to gold as an inflation hedge in the post-global financial crisis era due to its decentralised-finance attribution and 24/7 trading period.
Inverse relation to gold. Since 2020, Bitcoin has traded inversely to gold prices. This is likely as retail and institutional investors move towards Bitcoin as a hedge against inflation, as acceptance of digital assets as a viable alternative to traditional asset class increases.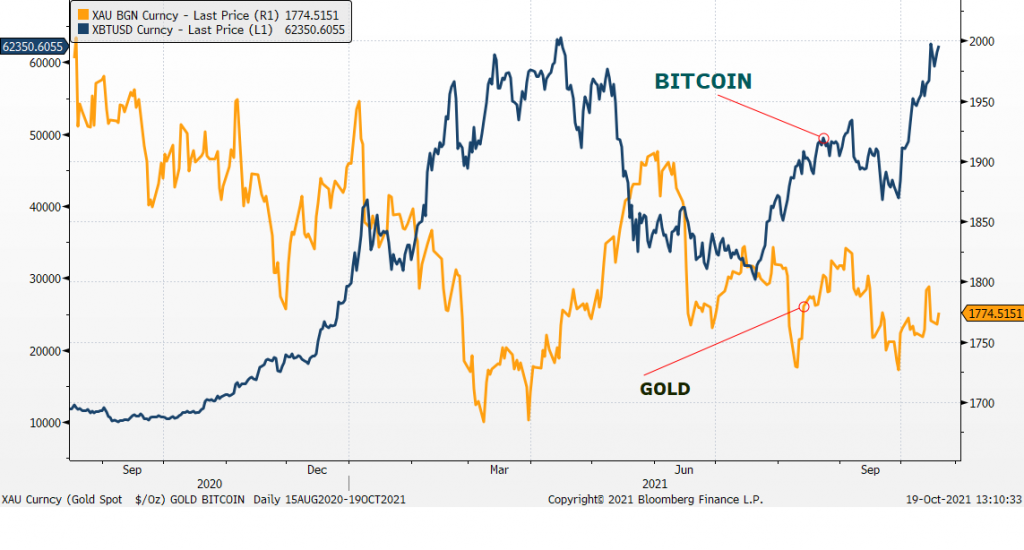 ---
MSCI China A50 Connect Index Futures: A more balanced index
The MSCI China A 50 Connect Index Futures was launched on Monday, 18 October and provides exposure to the broader Stock Connect. In terms of representation, it provides a good mix of China's old and new economy. The index will include at least two stocks from each sector. (see chart below for a comparison between the FTSE A50 and the MSCI A50 Index)
HKEX A50 futures will become the biggest offshore traded A-share equity futures product over the medium term, according to analysis done by Goldman Sachs. Meanwhile, JP Morgan estimates that in its base case scenario, the HKEX A50 will trade at around 5x the volume of SGX's A50.
Click here for more information on the new A50 Index Futures.

---
SINGAPORE
Frencken Group (FRKN SP): Tech is back
BUY Entry – 2.26 Target – 2.50 Stop Loss – 2.15
FRKN is a technology manufacturer providing end-to-end solutions to global clients including ASML (semiconductor), Philips (medical), Siemens (medical), FEI (analytical), Seagate (industrial automation) and ThermoFisher (analytical).
The force is strong. Based on the recent quarterly results and outlook commentary of semiconductor giant TSMC, the upstream segment of the sector is likely to benefit from positive tailwinds for at least another 2 years. TSMC commented that it is seeing booming demand for its products and services and that supplies will likely remain tight going into 2022. The second positive point is that TSMC will build a new plant in Japan, in a JV with Sony Corp. As a recap, TSMC plans to spend about US$100bn over the next three years to expand its manufacturing capacity and to support R&D.
Diversifying into aerospace. While the aerospace sector was hit hard by the Covid-19 pandemic, there are signs that it is turning around. It is in this context that Frencken has made a timely acquisition of Avimac Pte Ltd, an aerospace and semiconductor-focused company, for a total sum of S$14mn. The acquisition, while tiny relative to Frencken's current market cap, will help Frencken gain access to new customers and get a foot into the recovering aerospace sector.
Consensus estimates are positive. There are 5 BUYS and an average TP of S$2.59, implying a 14% potential upside. Valuations are still decent at 16x and 14x FY2021 and FY2022 EPS.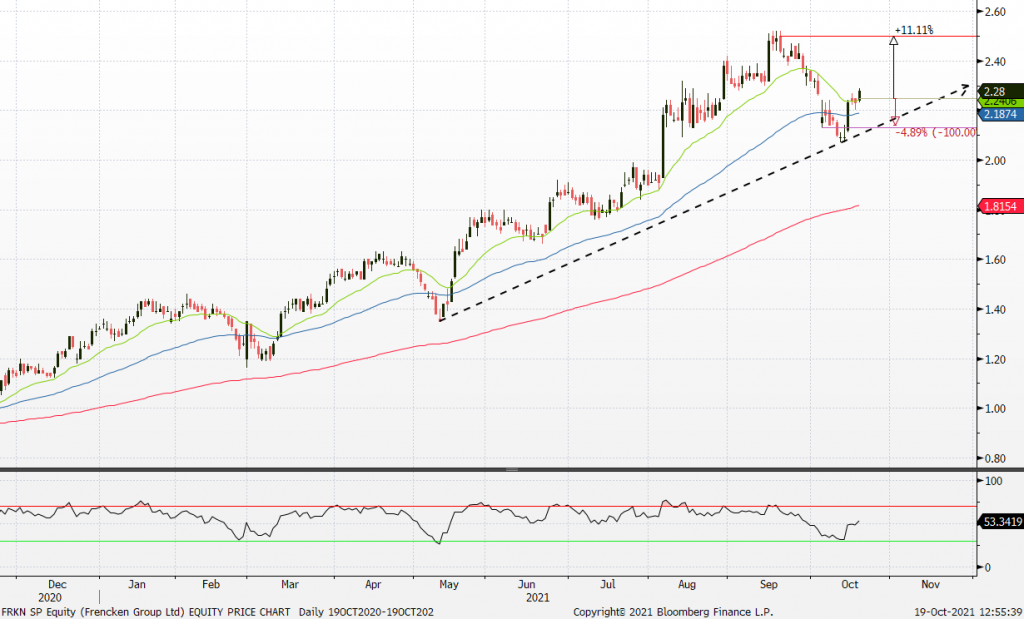 ---
Rex International (REXI SP): Oil's on a roll 
REITERATE BUY Entry – 0.30 Target – 0.40 Stop Loss – 0.27
Rex International Holding (Rex) is a pure-play oil & gas exploration and production company (Independent). It owns and operates an oil-producing field in Oman and has a portfolio of exploration licenses in Norway. This year, the company added the Brage oil field in Norway and was awarded two Production Sharing Contracts (PSCs) by Petroleum Nasional Berhad (PETRONAS), Malaysia's national oil corporation.
WTI prices highest since 2014; Brent highest since 2018. Oil markets are experiencing favourable supply and demand dynamics. Brent is now trading at the highest since October 2018 while WTI is at the highest since November 2014. Despite the higher oil prices, both OPEC+ and US shale are not rushing to add more supply. OPEC+ agreed to maintain its 400,000 barrel/day supply hike scheduled each month until at least April 2022, which would phase out 5.8mn barrels/day of existing production cuts.
Gas spillover. The shortage of natural gas in Europe has sent prices of the fuel to the oil equivalent of US$190/barrel. The shortage of natural gas is spurring a switch to oil products for heating and manufacturing, boosting oil demand by 500,000 barrels/day, according to the CEO of Saudi Aramco. Meanwhile, demand for natural gas has exceeded pre-Covid-19 highs, according to the International Energy Agency (IEA).
Record free cash flows. Free cash flows generated by oil and gas companies are expected to break records this year with Brent and WTI Futures now trading near US$80 per barrel. For Rex, the windfall will continue to strengthen its already strong balance sheet and give it opportunities to diversify.
We have an Outperform recommendation and a DCF-backed target price of S$0.40.
Brent prices are the highest since 2018, and are likely to surpass that peak in our view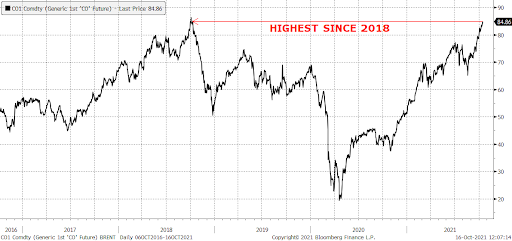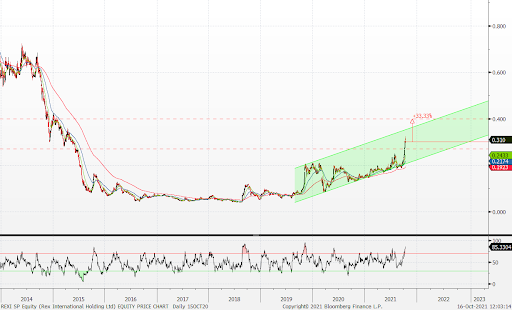 ---
HONG KONG
Bosideng International Holdings Limited (3998 HK): A Winter Olympic trade
Buy Entry – 6.05 Target – 8.05 Stop Loss – 5.05
Bosideng International Holdings Limited is principally engaged in the research, design and development, raw materials procurement, outsourced manufacture, marketing and distribution of branded down apparel products, original equipment manufacturing (OEM) products and non-down apparel products in the People's Republic of China (the PRC). The Company operates its business through three segments. The Down Apparels segment is engaged in the sourcing and distribution of branded down apparels. The OEM Management segment is engaged in the sourcing and distribution of OEM products. The Non-down Apparels segment is engaged in the sourcing and distribution of non-seasonal apparels, including branded apparels of menswear, ladies wear and casual wear.
Key financial highlights:
| | | | |
| --- | --- | --- | --- |
| YE March (RMB mn) | 2H21 | 2H20 | YoY change |
| Revenue | 8,855.4 | 7,754.3 | 14.2% |
| Gross profit | 5,696.9 | 4,799.0 | 18.7% |
| GPM (%) | 64.3 | 61.9 | 2.4 ppt |
| Net profit | 1,223.5 | 860.5 | 42.2% |
| NPM (%) | 13.8 | 11.1 | 2.7 ppt |
Cold winter is coming. Beijing witnessed freezing temperatures on Sunday morning, 20 days earlier than the average of November 8, amid a cold wave that chilled eastern and central China in the past few days, perhaps foretelling a colder-than-average winter. The cold wave dragged temperatures in many places in the provinces of Hebei, Shandong, Henan, Anhui and Jiangsu down by 10 degree Celcius within 24 hours. Heat supply could be an issue due to skyrocketing coal prices. Hence, we believe people who live in the northern part of China could purchase more down apparel accordingly.
Olympic Games hype. The sportswear sector remains one of the few best-performing sectors in Hong Kong even though related stocks were sold off due to power shortages in China. The exceptionally good sales were mainly attributable to the postponed Summer Olympic Games in July because the Chinese supported the domestic brands such as Li Ning (2331 HK) and Anta (2020 HK). Within four months, the Winter Olympic Games is going to be held in Beijing. The company is another famous sportswear brand specialising in down apparel which is a perfect fit for the hype of the Winter Olympic Games.
The consensus estimate per the 12-month target price is HK$6.95. EPS is forecasted to grow at 26.0%/25.7%/18.5% for FY2022/23/24F, which would bring forward P/Es down to 26.1x/20.8x/17.5x FY2022/23/24F.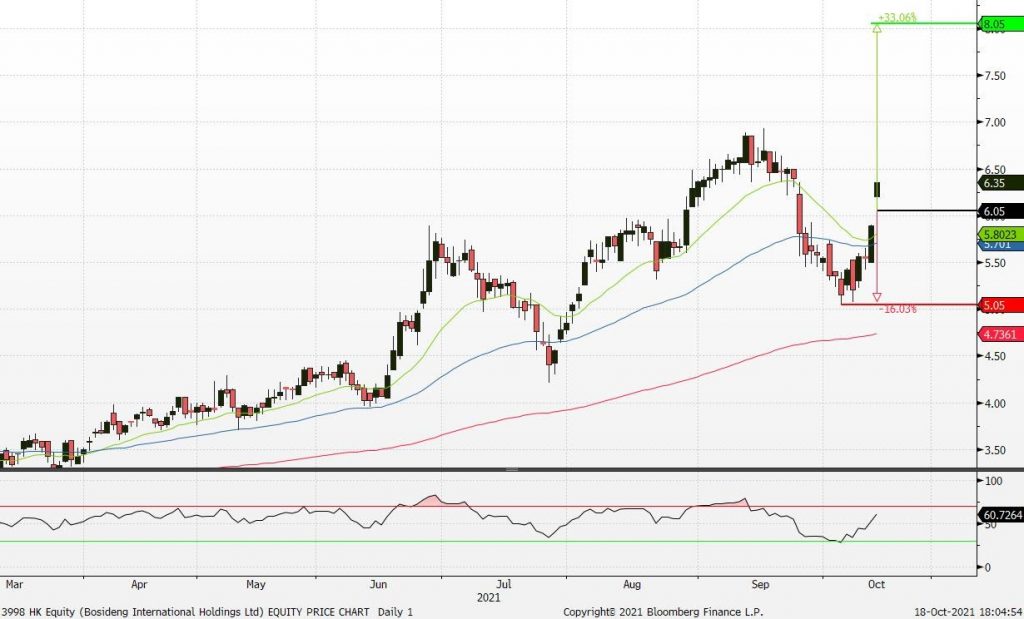 ---
Nexteer Automotive Group Limited (1316 HK): Upward momentum comes
REITERATE BUY Entry – 8.8 Target – 10.5 Stop Loss – 8.0
Nexteer Automotive Group Limited is an investment holding company principally engaged in the development, manufacturing, and provision of steering and driveline systems. Along with subsidiaries, the company operates its business through four segments: the North America segment, Asia Pacific segment, the Europe & South America segment, and the Others segment. The company's products include electric power steering, hydraulic power steering (HPS), steering columns and intermediate shafts (CISs), driveline systems (DL), advanced driver assistance systems and automated driving (AD) products, among others.
Impacted by shortage of automobile chips, the whole vehicle manufacturing industry has slowed down production even as demand for passenger vehicles is rising. The company's product is one of the key components in a vehicle, and hence, its business is highly correlated to the sector's prospects.
Previously, the company announced the 1H21 results. Revenue grew by 43% YoY to US$1.7bn. Gross profit jumped by 85.5% YoY to US$226.5mn. Profit attributable to equity holders of the company jumped by 6300% YoY to US$83.1mn.
The current price has factored in the less favourable earnings. Although the recovery of the business has slowed due to the headwinds of the auto chip shortage which has resulted in a slower than expected recovery in the overall auto sector, this is transitory rather than permanent. In the coming months, we expect more positive sector news to emerge, such as the resumption of auto production or production target hikes for 2022. It is likely that good news will have more impact on the stock price rather than negative news, given the substantial price correction of its share price.
Updated market consensus of the estimated net profit growth in FY21/22/23 is 53.6%/45.1%/15.9% respectively, which translates to 14.2x/9.8x/8.4x forward PE. The current PE is 14.7x. Bloomberg consensus average 12-month target price is HK$19.8.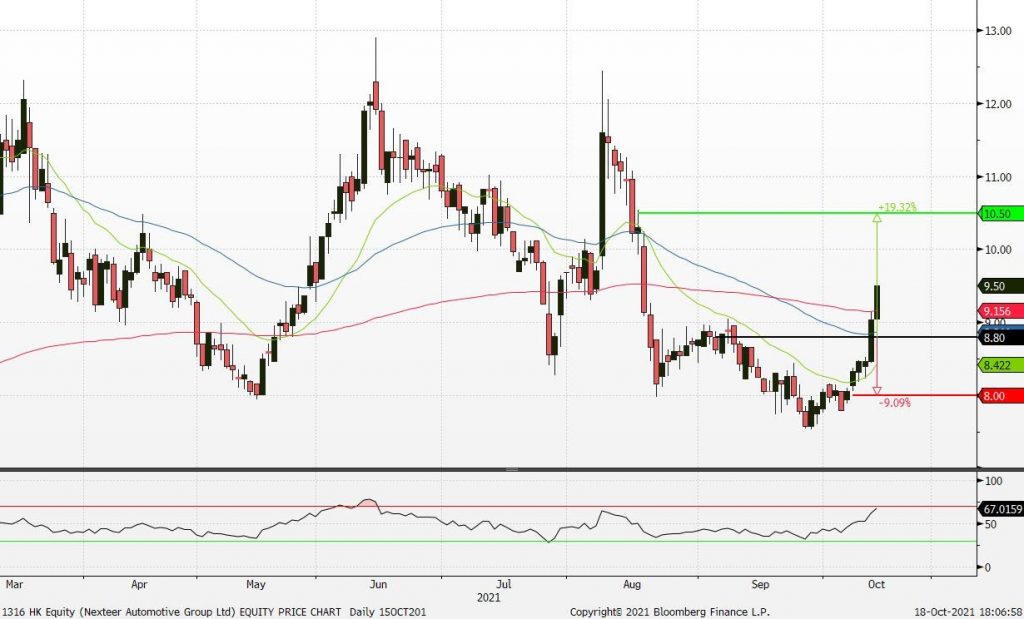 ---
Market Movers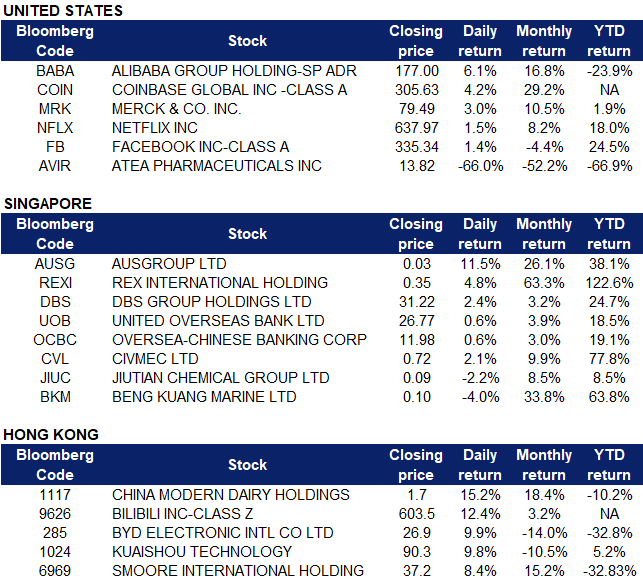 United States
Coinbase (COIN US) shares gained 4.19% on Tuesday after the company announced a new partnership with Facebook (FB US) which also saw its shares rising 1.39%. Facebook is piloting a new digital wallet product called Novi, so users can make digital, cross-border transactions by depositing funds into Novi as stablecoins called Pax Dollar. Coinbase will offer custodial services to Facebook to store Pax Dollars. Additionally, bitcoin prices rose as high as US$64,367.14, its highest level since mid-April and near its record of US$64,895.22, following the debut of the Proshares Bitcoin Strategy ETF.
Alibaba Group (BABA US) shares closed 6.1% higher on Tuesday after the company revealed a new microchip to run its cloud servers. The new chip has been under development since 2019 and is built using advanced 5-nanometer technology, and represents a significant step toward China's goal of manufacturing more of its own semiconductors. Alibaba will not sell the chips, but plans to use them to run its own servers for its fast-growing cloud-computing division. Alibaba is expected to launch the chip during its Apsara Conference, which kicked off on Tuesday and will take place through 22 October.
Netflix (NFLX US) shares climbed 0.16% on Tuesday before rallying 3.7% in after hours trading. The streaming company posted stellar third quarter results that beat analyst estimates with earnings per share at $3.19, revenue of $7.48 billion and global paid net subscriber additions at 4.4 million. The company said it expects to add 8.5 million subscribers in the fourth quarter. "We're in uncharted territory," Netflix co-CEO Reed Hastings said on the company's post-earnings video interview. "We have so much content coming in Q4 like we've never had, so we'll have to feel our way through and it rolls into a great next year also." Netflix also said that it has begun testing for its gaming efforts in selected countries, but "it remains very early days for this initiative." Netflix gaming will be a part of paid subscriptions and will not include advertisements or in-app purchases.
Merck & Co (MRK US) shares climbed 3.03% after rival Atea Pharmaceuticals (AVIR US) said that its developing COVID treatment failed to meet expectations of reducing patient virus levels in critical mid-stage trial.The treatment, known as AT-527, was meant to be a potential competitor to Merck molnupiravir, a pill designed for treatment of "mild-to-moderate COVID-19 in adults who are at risk for progressing to severe COVID-19 and/or hospitalization." Additionally, a Reuters report that suggested the World Health Organization would lead the purchase of hundreds of millions of COVID treatments, tests and vaccines that could include the molnupiravir pill. Atea Pharmaceuticals shares plunged 65.96%.
---
Singapore
Rex International Holding Ltd (REXI SP). Shares gained another 7.69% yesterday after the company announced that it is looking to transfer its listing from the SGX Catalist board to the mainboard. In its bourse filing, the company said that its market capitalization is now above $300 million, and expects its listing on the mainboard to enhance the long-term value for shareholders of the company. The stock was previously making gains in tandem with rising oil prices. WTI and Brent crude futures were trading around US$82 and US$85 per barrel level on Monday, near its 7-year and 3-year highs respectively. Shortages of natural gas in Europe and Asia continue to boost demand for oil as supply remains tight. We maintain an OUTPERFORM recommendation on the company and raise our base case TP to S$0.40 from S$0.33 previously, as we factor in stronger oil prices.
Civmec (CVL SP) Shares of Civmec gained almost 28% over the past 8 trading days. The stock lost 2% in early trade yesterday, likely on profit-taking, before closing flat. UOB Kay Hian previously initiated coverage on the company with a BUY rating and a TP of S$0.98, citing the huge potential of its defence business. We have an Outperform rating on Civmec and a TP of S$0.90. Fellow peer AusGroup Ltd (AUSG SP) gained 11.5% yesterday. The company announced 2 weeks ago that it has been awarded multiple contracts across Western Australia's resources and mineral sectors, worth a total of A$32mn. However, last week, the auditors of AusGroup announced that it has issued a qualified opinion in their Independent Auditor's Report for the financial statements of the company and the group for the financial year ended 30 June 21.
Beng Kuang Marine Ltd (BKM SP) shares dropped 4.04% yesterday, after the company announced that it has raised about $3.35 million in gross proceeds from a share placement exercise to help reduce the company's need for debt financing and other operational needs. The placement of 37.2 million new shares managed by SAC Capital, is made at 9 cents per share – a discount of 9% off its volume weighted average share price of 9.89 cents on 14 October.
Jiutian Chemical Group Ltd (JIUC SP) shares dropped 2.2% yesterday likely due to profit-taking, after the stock surged 13.8% on Monday trading. Dimethylformamide (DMF) prices jumped more than 30% over the past week, and DMF prices in China are now trading above RMB18,000 per tonne. We currently have an Outperform rating and a TP of S$0.145. The upcoming 3Q earnings, scheduled to be released on 11 November, will likely be a much-need upside catalyst to its share price.
Shares of local bank DBS (DBS SP) rose 2.43% yesterday. CGS-CIMB analysts said in a 18 October research note that they "expect 3Q2021 to be a marked quarter of stabilising operating trends across Singapore banks, coming off an extended period of significant net interest margin compression, a build-up of management overlays on impairment provisions, and exceptional treasury income," and expects the banks' earnings to stay stable until the US Federal Reserve's rate hikes begin. UOB (UOB SP) and OCBC (OCBC SP) shares gained about 0.6% yesterday. UOB and OCBC will be announcing their results on 3 November, while DBS will announce its results on 5 November.
---
Hong Kong
China Modern Dairy Holdings Ltd (1117 HK) Dairy sector jumped as nonfat dry milk futures reached a 6-year high of 136 US cents/pound since August 2014. European and New Zealand export volumes missed market expectations. Meanwhile, Daiwa Securities reiterated the positive outlook of the sector as rising average selling prices and improving product mix will offset the higher raw milk prices. The China domestic dairy market remains resilient as customers increasingly focus on health and quality products over prices.
Bilibili Inc (9626 HK) There was no company specific news. The overall technology and Internet sector recovered following the overnight bullish sentiment in the US market. Morgan Stanley reiterated an OVERWEIGHT rating with a TP of US$100. The bank expects 3Q21 revenue to grow by 64% YoY to RMB5.29b and MAU to grow by 13% QoQ to 260mn.
BYD Electronic (International) Co Ltd (285 HK) There was no company specific news. Apple-themed stocks jumped as Apple (APPL US) launched the new Macbook Pro, M1 PRO/Max chip, AirPods 3rd, and HomePod mini.
Kuaishou Technology (1024 HK) There was no company specific news. Hang Seng Technology Index jumped by 3.07% and closed at 6,518.59. The overall technology and Internet sector recovered following the overnight bullish sentiment in the US market.
Smoore International Holdings Ltd (6969 HK) There was no company specific news. Previously, the company announced 3Q21 results. Revenue increased by 16.2% YoY to RMB1.2bn. Adjusted net profit grew by 7.6% YoY to RMB1.2bn.
---
Trading Dashboard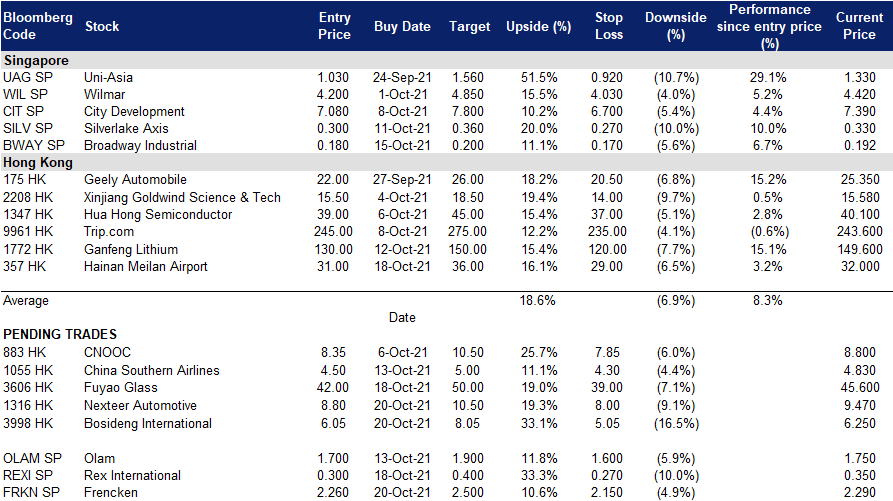 ---

---
Related Posts: