KGI DAILY TRADING IDEAS – 18 October 2021
Singapore Trading Ideas | Hong Kong Trading Ideas | Market Movers | Trading Dashboard
SINGAPORE
Rex International (REXI SP): Pure play on higher oil prices
BUY Entry – 0.30 Target – 0.40 Stop Loss – 0.27
Rex International Holding (Rex) is a pure-play oil & gas exploration and production company (Independent). It owns and operates an oil-producing field in Oman and has a portfolio of exploration licenses in Norway. This year, the company added the Brage oil field in Norway and was awarded two Production Sharing Contracts (PSCs) by Petroleum Nasional Berhad (PETRONAS), Malaysia's national oil corporation.
WTI prices highest since 2014; Brent highest since 2018. Oil markets are experiencing favourable supply and demand dynamics. Brent is now trading at the highest since October 2018 while WTI is at the highest since November 2014. Despite the higher oil prices, both OPEC+ and US shale are not rushing to add more supply. OPEC+ agreed to maintain its 400,000 barrel/day supply hike scheduled each month until at least April 2022, which would phase out 5.8mn barrels/day of existing production cuts.
Gas spillover. The shortage of natural gas in Europe has sent prices of the fuel to the oil equivalent of US$190/barrel. The shortage of natural gas is spurring a switch to oil products for heating and manufacturing, boosting oil demand by 500,000 barrels/day, according to the CEO of Saudi Aramco. Meanwhile, demand for natural gas has exceeded pre-Covid-19 highs, according to the International Energy Agency (IEA).
Record free cash flows. Free cash flows generated by oil and gas companies are expected to break records this year with Brent and WTI Futures now trading near US$80 per barrel. For Rex, the windfall will continue to strengthen its already strong balance sheet and give it opportunities to diversify.
We have an Outperform recommendation and a DCF-backed target price of S$0.40.
Brent prices are the highest since 2018, and are likely to surpass that peak in our view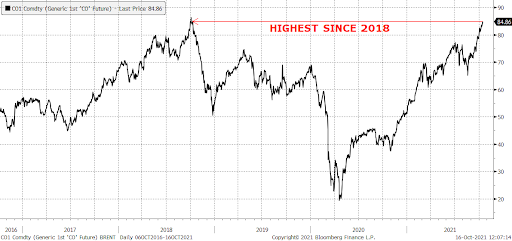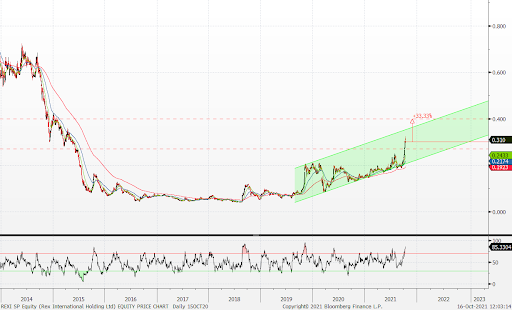 ---
Broadway Industrial (BWAY SP): The need for space
RE-ITERATE BUY Entry – 0.18 Target – 0.20 Stop Loss – 0.17
Listed on the mainboard of SGX since 1994, the company is one of the leaders in the manufacture of precision components and assemblies. It is a key provider of actuator arms, assemblies and other related parts for the global hard disk drive (HDD) industry. Headquartered in Singapore, the company has 4 manufacturing facilities in China and Thailand and employs around 3,5000 people.
Need for space. Total HDD sector revenue is expected to increase at a 10% CAGR from 2020 to 2025, reaching total sales of US$32.9bn by 2025, according to forecasts by TRENDFOCUS. Growth will mainly be driven by enterprise demand for more storage. While the growth of cloud-based solutions has been highlighted as a key driver of higher storage demand, the market may still be overlooking the increasing trend of data-localisation measures. The number of localisation measures around the world has more than doubled over the last four years, with China being the most data-restrictive country, followed by Indonesia, Russia, and South America.
Strong outlook in 2H 2021. 1H2021 sales increased 11% YoY to S$211mn while net profit grew by 9% YoY to S$7mn. The better performance was driven primarily by higher shipment volume and higher average selling price of its HDD products as it shipped more high-performance enterprise products. Management commented that it expects demand for high-performance HDDs and personal storage HDDs to remain strong in 2H 2021. The company currently trades at an attractive 6x T12 P/E.
Technical analysis and share buybacks. The uptrend momentum since 2Q2020 is well supported by the 200 day EMA. Furthermore, the company started buying back shares on 5 October, and has bought back more than 3.3mn shares over the past 2 weeks, at a price range of S$0.155 to S$0.173. The last time it bought back shares was more than 2 years ago.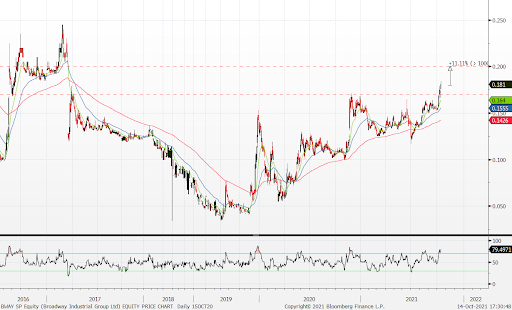 ---
HONG KONG
Fuyao Glass Industry Group Co Ltd (3606 HK): A-share has bottomed out
Reiterate Buy Entry – 42 Target – 50 Stop Loss – 39
Fuyao Glass Industry Group Co Ltd is a China-based company, principally engaged in the manufacture and distribution of float glasses and automobile glasses. The company's products portfolio consist of automobile glasses, such as coating glasses and others, which are applied in passenger cars, buses, limousines and others, and float glasses. The company distributes its products within domestic markets and to overseas markets.
Key financial highlights:
| | | | |
| --- | --- | --- | --- |
| (RMB mn) | 1H21 | 1H20 | YoY change |
| Revenue | 11,543.2 | 8,121.3 | 42.1% |
| Gross profit | 4,586.7 | 2,807.6 | 63.4% |
| GPM (%) | 39.7 | 34.6 | 5.1 ppt |
| Net profit | 1,766.7 | 962.5 | 83.6% |
| NPM (%) | 15.3 | 11.9 | 3.4 ppt |
Chip shortage. Impacted by shortage of automobile chips, the automobile production recovery has slowed down even as demand for passenger vehicles continue to rise. Global automakers are forced to shut several plants due to insufficient chip supply. Automobile glass is one of the parts in a vehicle, and hence, its sales are highly correlated to the auto production volume.
Power shortage. Due to extraditionarily high coal prices, China is facing a power outage which directly affects industrial production. Glass production demands a huge amount of electricity usage.
Headwinds are transitory. Currently, shares are hammered due to the abovementioned unfavourable macro factors. However, unsustainable high coal prices are more impactful in the near term. Gradually, we believe that the negatives will be mitigated as China has resumed operations of some coal mines. Meanwhile, infections in Southeast Asia countries are decreasing, especially in Malaysia where most auto chip packaging is done. Hence, we could see some improvements in auto ship supply in 4Q21.
A-share rebounded. The company's A-share rose for 6 consecutive days, recording 19.4% gains from the recent low of RMB41.3 per share. H-share is still lagging.
Consensus estimates per the 12-month target price is at HK$60.85, implying a 47.3% upside potential. EPS is forecasted to grow at 52.8%/25.3%/16.5% for FY2021/22/23F, which would bring forward P/Es down to 21.6x/17.2x/14.8x FY2021/22/23F.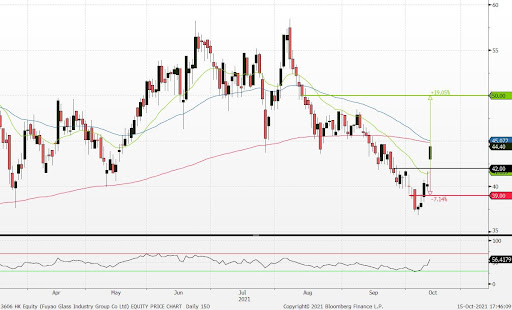 ---
Nexteer Automotive Group Limited (1316 HK): Upward momentum comes
BUY Entry – 8.6 Target – 10 Stop Loss – 8.0
Nexteer Automotive Group Limited is an investment holding company principally engaged in the development, manufacturing, and provision of steering and driveline systems. Along with subsidiaries, the company operates its business through four segments: the North America segment, Asia Pacific segment, the Europe & South America segment, and the Others segment. The company's products include electric power steering, hydraulic power steering (HPS), steering columns and intermediate shafts (CISs), driveline systems (DL), advanced driver assistance systems and automated driving (AD) products, among others.
Impacted by shortage of automobile chips, the whole vehicle manufacturing industry has slowed down production even as demand for passenger vehicles is rising. The company's product is one of the key components in a vehicle, and hence, its business is highly correlated to the sector's prospects.
Previously, the company announced the 1H21 results. Revenue grew by 43% YoY to US$1.7bn. Gross profit jumped by 85.5% YoY to US$226.5mn. Profit attributable to equity holders of the company jumped by 6300% YoY to US$83.1mn.
The current price has factored in the less favourable earnings. Although the recovery of the business has slowed due to the headwinds of the auto chip shortage which has resulted in a slower than expected recovery in the overall auto sector, this is transitory rather than permanent. In the coming months, we expect more positive sector news to emerge, such as the resumption of auto production or production target hikes for 2022. It is likely that good news will have more impact on the stock price rather than negative news, given the substantial price correction of its share price.
Updated market consensus of the estimated net profit growth in FY21/22/23 is 53.6%/45.1%/15.9% respectively, which translates to 14.2x/9.8x/8.4x forward PE. The current PE is 14.7x. Bloomberg consensus average 12-month target price is HK$19.8.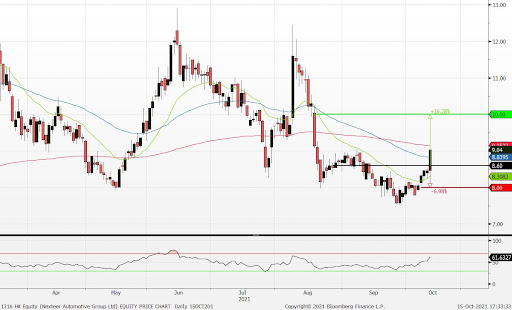 ---
Market Movers
United States
Alcoa Corporation (AA US). Shares of the commodity company surged 15.2% to their highest since April 2018 after 3Q21 earnings and revenue crushed analysts expectations. The company also announced plans to pay out a dividend for the first time since 2016. The company expects continued positive financial performance in 4Q2021 and is well-positioned to benefit from the strong market pricing.
Chinese EV makers, XPeng (XPEV US), Li Auto (LI US) and Nio (NIO US) rose between 4% and 9% last Friday after Chinese auto brands continued to carve out more market share in their local market, taking share away from German and Japanese automakers.
Coinbase Inc (COIN US). Shares rose 7.9% on Friday after the company announced that it plans to launch a marketplace that lets users mint, collect and trade NFTs, or non fungible tokens. NFTs are one-of-a-kind digital assets designed to represent ownership of online items like rare art or collectible trading cards. In addition, Russian president Putin announced yesterday that he recognises Crypto as a form of payment, which could have boosted crypto related shares. Bitcoin surged above US$60,000 over the weekend, the highest since April 2021.
Taiwan Semiconductor Manufacturing Co Ltd (TSM). Semicon sector rose collectively last week due to a spillover effect from the announcement of TSM's better-than-expected 3Q21 financial results. TSM shares gained 2.0% Friday. TSM reported quarterly earnings of US$1.08 per share, which beat estimates of US$1.04 per share, representing a 13.8% YoY increase. The company's quarterly revenue was US$14.88bn, also beating estimates of US$14.83bn, representing a 16.3% YoY increase. 4Q21 revenue is expected to be in a range between US$15.4bn and US$15.7bn. Wendell Huang, Vice President and CFO, commented that moving into 4Q21, the company expects its business to be supported by the strong demand for its industry-leading 5nm technology.
Wells Fargo & Company (WFC US) Shares closed 6.7% on Friday after 3Q21 results beat expectations thanks to the release of reserves for anticipated bad loans. Wells Fargo 3Q profits surged 59% YoY with net income hitting US$5.1bn, or US$1.17 per share, higher than consensus estimates of US$1.0 per share. Wells Fargo has risen more than 60% YTD, while consensus has a 12m TP of US$51.56 (7% potential upside from last close price).
Macy's (M US) closed the week higher after activist investor Jana Partners took a stake in Macy and is now pushing for a spinoff of the e-commerce business as a way to increase shareholder returns. Jana believes that the online unit could be worth US$14bn, which is almost double Macy's current market cap of around US$7bn.
---
Singapore
Hatten Land Ltd (HATT SP). Shares surged 12.9% on Friday, in tandem with rising Bitcoin prices. Last month, Hatten Land announced that it would be venturing into cryptocurrency mining and solar energy, landing its spot as Singapore's second listed crypto-related stock, next to OIO Holdings Ltd. On 7 October, the company announced that its subsidiary Hatten Technology, has signed an agreement with blockchain launchpad EnjinStarter to develop digital assets including a token system and non fungible tokens (NFTs). Bitcoin prices soared above US$59,000 on Friday as traders became increasingly confident the United States regulators would approve the launch of an exchange-traded fund (ETF) based on its futures contracts. Fellow crypto-related peer, OIO Holdings Ltd (OIO SP) was relatively flat on Friday, gaining less than 1%.
Genting Singapore Ltd (GENS). Shares rose 1.9% on Friday, gaining approximately 10% over the last week. Aviation and tourism-related sector shares have collectively gained momentum over the last few days after Singapore announced that it would be opening vaccinated travel lanes to 8 more countries on Tuesday, namely Canada, Denmark, France, Italy, Netherlands, Spain, UK and US, on top of Brunei and Germany which were announced previously. There are now 11 countries under Singapore's vaccinated travel lane scheme. The quarantine-free travel arrangement with South Korea will start on Nov 15. Last Monday, Singapore Airlines Ltd (SIA SP), jumped 7.6% after the news was announced. On Friday, the counter closed relatively flat.
Mermaid Maritime (MMT SP), Kim Heng Ltd (KHOM SP). Offshore and marine providers rose collectively on Friday. Mermaid Maritime gained 1.2% while Kim Heng gained 1.9% on Friday. WTI and Brent crude futures were trading around US$82 and US$85 per barrel level on Friday, near its 7-year high and 3-year high respectively. Shortages of natural gas in Europe and Asia continue to boost demand for oil as supply remains tight. The IEA said on Thursday that the energy crunch is expected to boost oil demand by 500,000 bpd. On the supply side, the EIA said that crude oil output in the US in 2021 is expected to decline more than previously forecasted. Oil counters Rex International (REXI SP) gained 1.6% while RH PetroGas (RHP) was flat on Friday, after a 2-week price rally.
Keppel DC Reit (KDCREIT SP). Units gained 1.3% on Friday, after the company announced that it has finalised agreements involving its M1 network asset monetisation deal. M1 unlocks value from S$580mn worth of network assets, while Keppel DC REIT will invest S$89.7mn into bonds issued by and preference shares of M1's unit, which will own the network assets. The proposed investment is expected to be DPU accretive for Keppel DC REIT. When completed, the transactions will free up capital for M1 which can be used to fund M1's growth initiatives.
---
Hong Kong
China East Education Holdings Ltd (667 HK) Education sector jumped with unusually high trading volumes following the surge in US-listed Chinese education companies on Wednesday and Thursday. There was no sector- or company-specific news. The recovery in prices was mainly due to them catching up as the Hong Kong market was closed for two days while the US market gained.
Chow Tai Fook Jewellery Group Ltd (1929 HK) Shares closed at a 52-week high and went up for 5 consecutive trading days. The company announced 3Q21 operating results. Retail sales value (RSV) growth was 55.8% YoY, of which mainland China RSV grew by 58% YoY and Hong Kong & Macau of China and other markets grew by 38.5% YoY. Meanwhile, same store sales growth in the respective locations were 23% YoY and 57.7% YoY. CitiGroup upgraded the rating to BUY from SELL and raised TP to HK$19.7 to HK$17 as the sales recovery in mainland China and Hong Kong & Macau was better than expected.
Fuyao Glass Industry Group Co Ltd (3606 HK) Automobile spare parts sector jumped. CICC report showed that the sector valuation lagged the automobile sector due to the 1) high material and transportation costs and 2) Auto chip shortage. The recent sell-down had priced in the headwinds. There was no company-specific news. H-share jumped on Friday was a catch-up as its A-share went up for the last consecutive 7 days, and during which Hong Kong market was closed on Wednesday and Thursday.
CGN New Energy Holdings Co Ltd (1811 HK) The company announced the September power generation update. The company and its subsidiaries on a consolidated basis amounted to 1,368.9GWh, representing an increase of 11.4% YoY. In particular, power generation of PRC wind projects increased by 67.8% YoY, power generation of PRC solar project increased by 8.6% YoY, power generation of PRC cogen and gas-fired projects decreased by 64.3% YoY, power generation of PRC hydro projects decreased by 30.7% YoY and power generation of Korea projects decreased by 2.9% YoY.
Smoore International Holdings Ltd (6969 HK) Shares broke out of the consolidation range lasting for a month. On 13th October, FDA authorized the marketing of 3 new tobacco products through the Premarket Tobacco Product Application pathway. According to an FDA press release, the administration issued marketing granted orders to the Vuse Solo closed ENDS device and its accompanying tobacco-flavored e-liquid pods from RJ Reynolds Vapor Company.
---
Trading Dashboard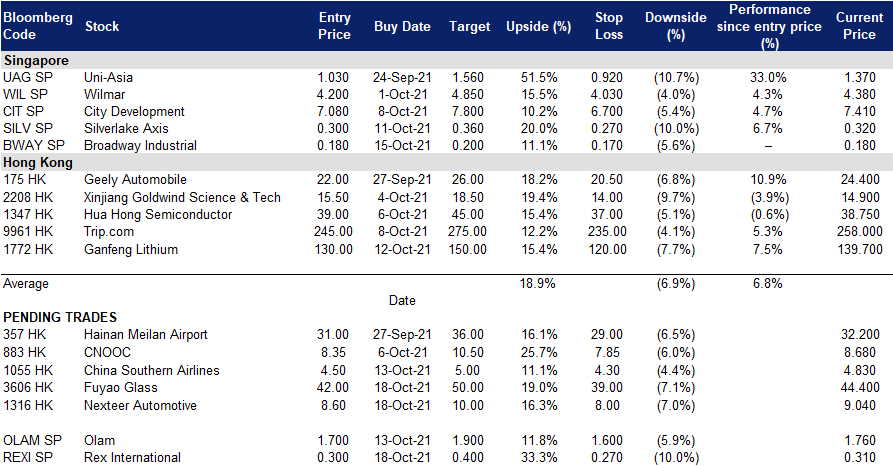 ---

---
Related Posts: