KGI DAILY TRADING IDEAS – 27 September 2021
Singapore Trading Ideas | Hong Kong Trading Ideas | Market Movers | Trading Dashboard
SINGAPORE
Hongkong Land (HKL SP): Aggressively buying back shares
BUY (USD) Entry – 4.60 Target – 5.00 Stop Loss – 4.45
HKL owns and manages more than 850,000sqm of prime office and retail properties in Hong Kong, Singapore, Beijing and Jakarta. Its portfolio of prime Hong Kong Central office space makes up around 50% of the company's gross asset value.
Valuations are just too cheap to ignore; significant buybacks. HKL currently trades at only 0.3x P/B, which is almost a 40% discount to its 10-year P/B average. Even the company has aggressively begun a buyback programme and has been buying back shares almost every other day over the past six trading days. Since it started its buyback programme in early September, it has bought back more than 2.2mn shares worth around US$10mn. The company intends to invest up to US$500mn to buy back its shares in a programme extending until the end of 2022.
Strong balance sheet and relatively high div yield. The company offers one of the highest dividend yields among Singapore-listed property developers. Bloomberg consensus is forecasting dividend yields of 5% over the next three years. Meanwhile, its balance sheet is a fortress amid the current turmoil facing other China-based property companies. HKK's debt/equity ratio is only at 18%, while cash stood at US$2.4bn as at end June-2021.
Bullish street estimates. There are currently 11 BUYS / 2 HOLDS / 1 SELL on HKL, and a 12m TP of S$5.84 (+25% upside potential).
HKL's historical P/B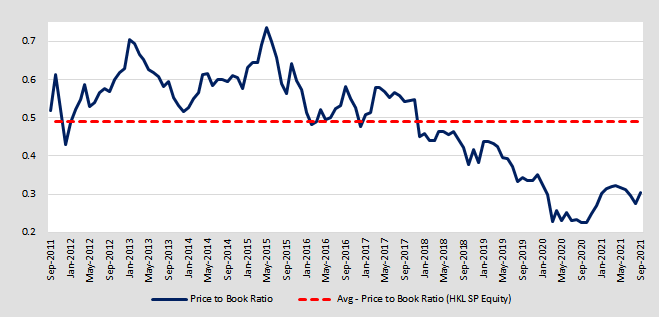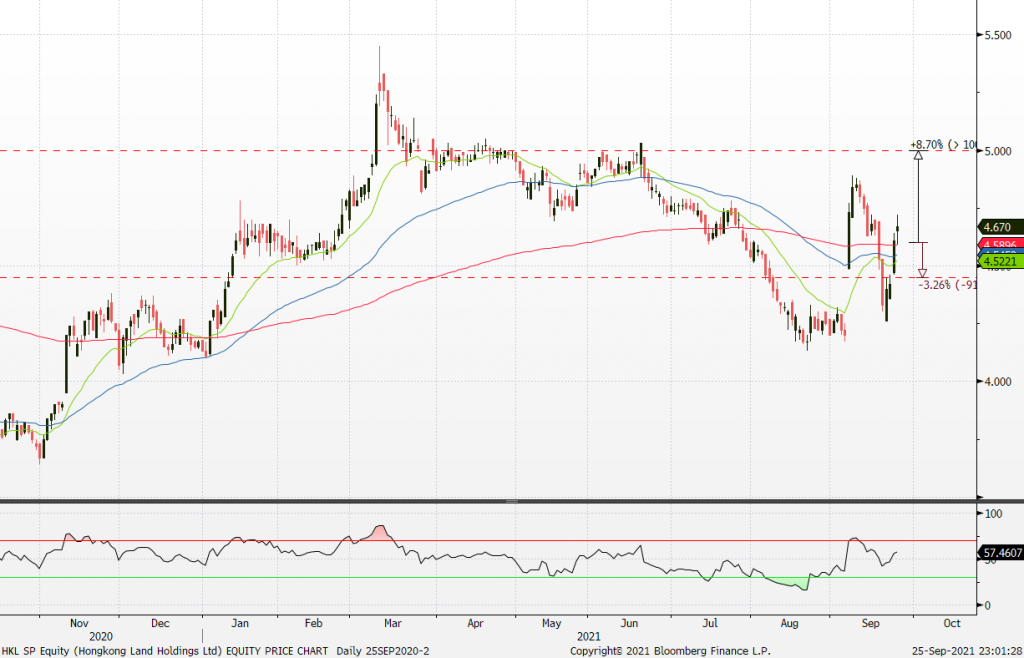 ---
Uni-Asia Group (UAG SP): Strength to strength
RE-ITERATE BUY Entry – 1.03 Target –1.56 Stop Loss – 0.92
UAG is an alternative investment company that owns and manages bulk carriers, invests in Hong Kong commercial offices and develops residential properties in Japan. The group derives around 65% of its revenues from charter income generated by its fleet of bulk carriers. The remainder of its revenue is from the property projects in HK and Japan.
Sky-high freight rates. The broad-based increase in commodity demand and the tight supply of vessels have pushed Baltic Freight rates to their highest in more than 10 years. The market for handysize, which UAG specialises in, is even more favourable as rates rise to their highest since 2008. Current charter rates for handysize carriers are now above US$30,000 per day, which is three times more than the average US$10,900 charter rate that UAG achieved in 1H2021.
More structural than expected. We expect charter rates to remain resilient at these levels, or even increase, amid historically low order book, rising scrap rates and further cuts in operating speeds.
UAG is set to benefit. Six of UAG's wholly-owned dry bulks will renew in 2H2021, three will renew in 1H2022 and one in 2H2022.
Attractive valuations. Valuations are attractive amid the stronger-than-expected bulk carrier upcycle. We have an OUTPERFORM recommendation and a TP of S$1.56, or an implied 0.7x FY2021F P/B, which is still a conservative 30% discount to international peers who are trading above 1.0x P/B.
Read our full report here.
Baltic Dry Index Handysize Index (2016-2021 YTD)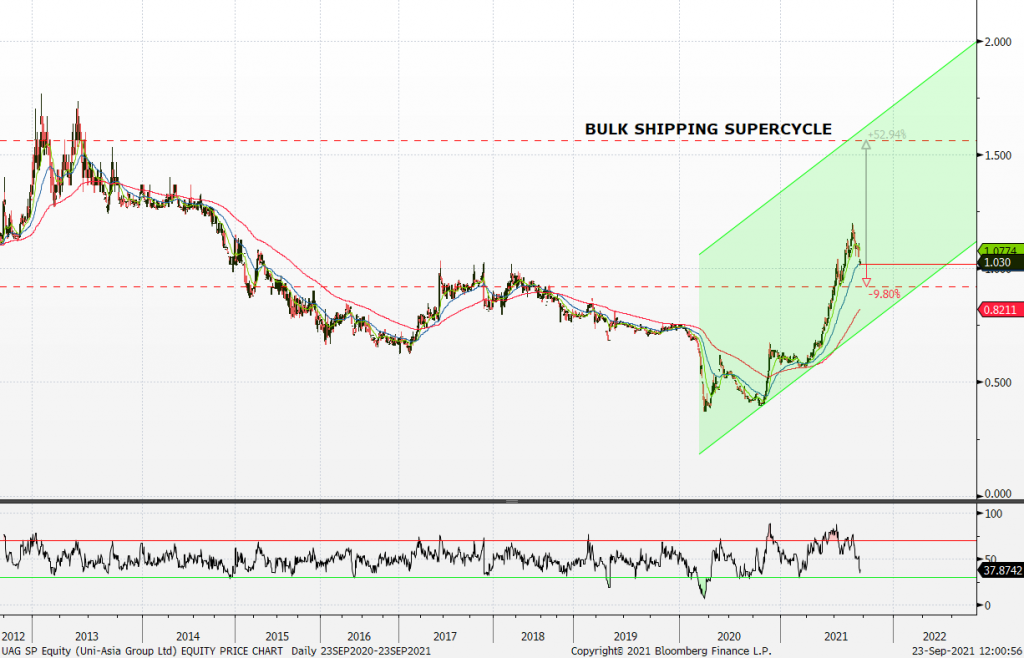 ---
HONG KONG
Hainan Meilan International Airport Company Limited (357 HK): Golden week holiday trade
Buy Entry – 31 Target – 36 Stop Loss – 29
The company operates through aeronautical businesses and non-aeronautical businesses. Its aeronautical businesses include the provision of terminal facilities, ground handling services and passenger services. Its non-aeronautical businesses include the leasing of commercial and retail spaces at Meilan Airport, airport-related businesses franchising, advertising spaces leasing, car parking businesses, cargo handling and the sales of consumable goods.
1H21 revenue increased by 46.9% YoY to RMB894mn. Net profit attributable to company shareholders jumped by 333.8% YoY to RMB345mn.
Business highlights:
| | | | |
| --- | --- | --- | --- |
| | 1H21 | 1H20 | YoY change |
| Passenger throughput | 10mn | 6mn | 66.7% |
| Aircraft takeoff and landing | 74,940 times | 50,830 times | 47.4% |
| Cargo and mail throughput | 86,828 tonnes | 69,948 tonnes | 24.1% |
The upcoming catalyst is the Golden week holiday (1st to 7th Oct) in China. The sporadic Delta variant infections ruined the summer holiday during July and August. At the moment, China managed to contain the situation. The past Mid-autumn Festival holiday recorded more than 80mn tourist traffic. The pent-up demand for travel is strong. Hainan province is the sweet spot for vacation goers as it has zero COVID cases, and it has the largest duty-free shop in China.
Updated market consensus of EPS growth in FY/22/23 is -4.8%/52.9% YoY respectively, which translates to 20.7x/13.6x forward PE. Current PER is 19.7x. Bloomberg consensus average 12-month target price is HK$47.01.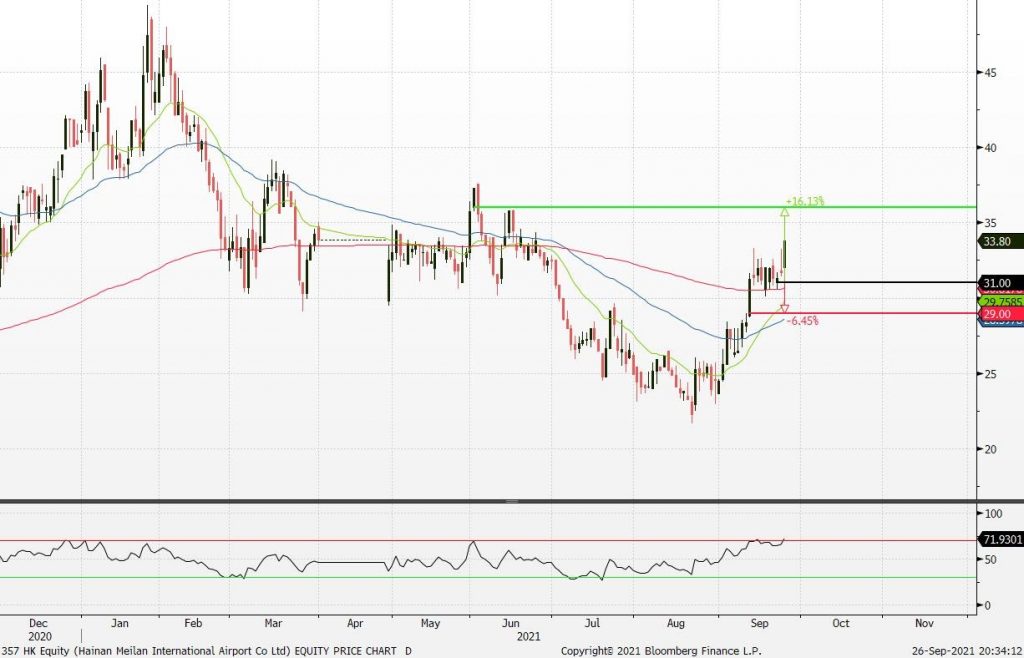 ---
Geely Automobile Holdings Limited (175 HK): The road is tortuous, but the future is bright
Reiterate Buy Entry – 22 Target – 26 Stop Loss – 20.5
Geely Automobile Holdings Ltd is an investment holding company principally engaged in the production and sales of automobiles. The company mainly develops, manufactures and sells automobiles, including cars, sport utility vehicles (SUVs), new energy and electrified vehicles. The company's car types include home, travel and sports. The company's new energy and electrified vehicles include electric vehicles, battery electric vehicles, hybrid electric vehicles, mild hybrid electric vehicles and plug-in hybrid electric vehicles. In addition, the company produces and sells automobile parts and related automobile components.
1H21 revenue grew by 22% YoY to HK$45bn. During the period, profit attributable to the equity holders grew by 4% YoY to HK$2.4bn. Total automobile sales volume grew by 19% YoY, ranking it third place in China with a market share of 6.3%. The overseas sales volume jumped by 173% YoY to 53,422 units. EV sales jumped by 189% YoY. The 2021 deliverable orders of new model ZEEKR 001 were sold out.
Chip shortage. The recent sell-down was due mainly to the unfavourable August sales resulting from the shortage of chips. Total sales volume of the Group (including the sales volume of LYNK & CO-branded vehicles sold by the Group's 50%-owned joint venture) for the month of August 2021 was 88,348 units, a decrease of approximately 22% from the same period last year and down approximately 11% from July 2021.
Catalysts from the IPO of Volvo. The chip shortage issue has been a bottleneck for auto makers globally. However, it is temporary, and the situation could be mitigated in 4Q21. There is another catalyst that could lift share prices. Volvo, where Geely is the largest shareholder, is seeking an IPO in Europe with an initial valuation of US$30bn.
Consensus estimates per the 12-month target price at HK$32.74, implying a 41% upside potential. EPS is forecasted to grow at 39.5%/40.7%/22.4% for FY2021/22/23F, which would bring forward P/Es down to 25.9x/18.4x/15.0x FY2021/22/23F.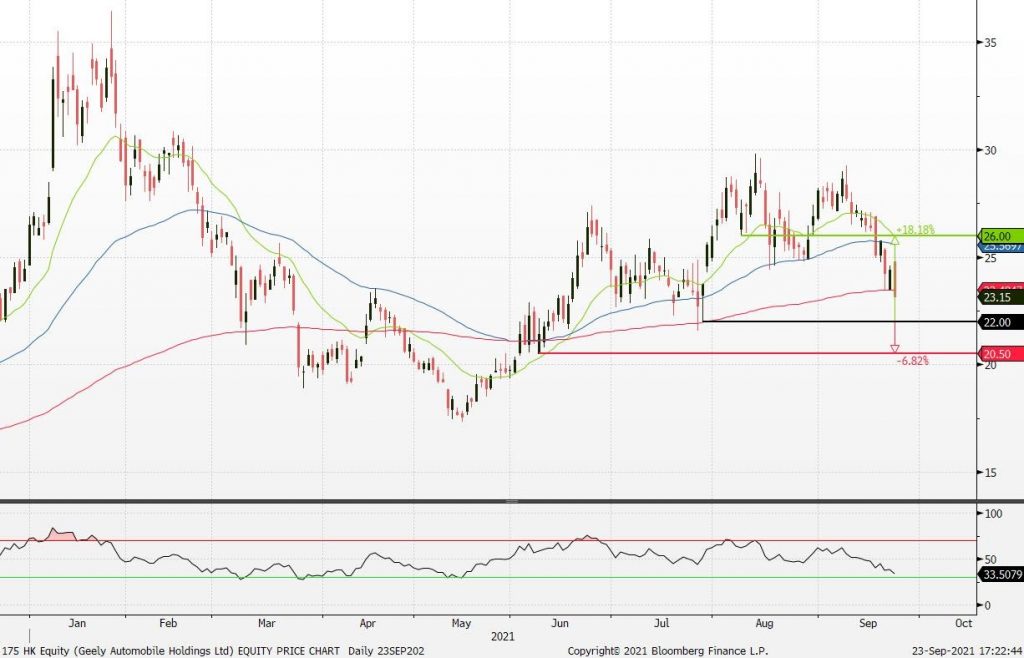 ---
Market Movers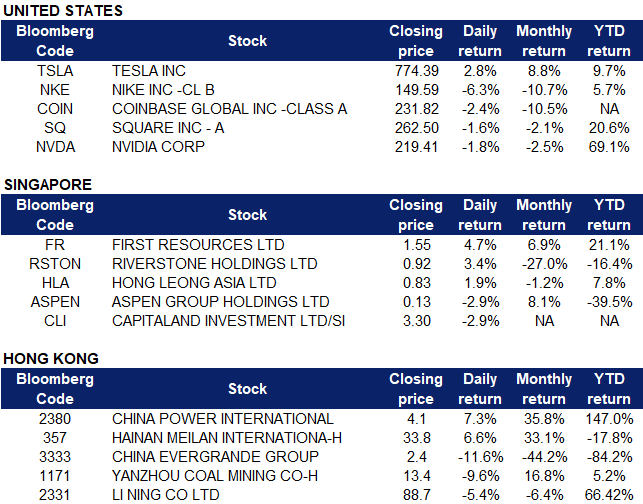 United States
Nike (NKE US) shares fell 6.26% on Friday after the sports apparel company released its fiscal 2022 first quarter earnings and cut its revenue forecasts due to supply chain issues due to labor shortages and production shutdowns in Vietnam. Nike CFO Matt Friend said "We've already lost 10 weeks of production, and that gap will continue. … It's going to take several months to ramp back to full production." Nike now expects full-year sales to increase at a mid-single-digit pace, compared with a prior outlook of low double-digit growth. Revenue climbed to $12.25 billion from $10.59 billion, falling short of analyst expectations of $12.46 billion. 
Shares of stocks with exposure to the crypto market fell after China furthered its crackdown on the industry, causing cryptocurrency prices to fall. Trading platforms Coinbase (COIN US) and Square (SQ US) shares fell 2.39% and 1.58% respectively. China's central bank declared on Friday that all cryptocurrency-related activities are now illegal, including trading cryptocurrencies and their derivatives on foreign exchanges. Nvidia (NVDA US), supplier of chips for cryptocurrency mining, also saw its shares falling as much as 2.2% before closing 1.78% lower at $220.81. 
Tesla (TSLA US) shares climbed 2.75% to close at $774.39 after company CEO Elon Musk predicted that chip shortage will be over soon, saying that "there's a lot of chip fabrication plants that are being built," and that the company "will have good capacity for providing chips by next year". 
---
Singapore
First Resources (FR SP) Shares rose 4.7% last Friday on higher-than-average trading volumes. The stock is riding on higher palm oil prices. Structural changes in the edible-oil sector may mean that palm oil prices could stay elevated for several years, according to Bloomberg Intelligence. A rebound in palm oil output in Indonesia this year, coupled with the highest average selling prices since 2011, will likely result in bumper profits for palm oil producers like First Resources.
Riverstone (RSTON SP) Shares rebounded by 3.4% on Friday, likely due a technical rebound following the 20% drop in share price after going ex-dividend on 20 September. RSI dropped below 20 last week and remains below 30, indicating that it is highly oversold, and due for a technical rebound. UOB KayHian recently downgraded the stock to a HOLD with a TP of S$1.32. Consensus is mixed on the outlook of the company, with 3 BUYS and 3 HOLDS, and an average TP of S$1.43.
Hong Leong Asia (HLA SP) shares climbed 1.85% after the company announced that its US-listed subsidiary China Yuchai entered into an agreement with the Government of Nanning Municipality for the development, construction and research of new production capacity for new energy technologies. It was previously announced last month that BRC Asia Limited (BRC SP), supplier of steel products, allocated over 31 million new shares to Hong Leong Asia at an issue price of $1.48 per share, making Hong Leong BRC's second-largest shareholder with a 20% stake. Hong Leong Asia also simultaneously entered into a sale and purchase agreement with five of BRC Asia's shareholders for the acquisition of 15 million ordinary shares at a unit purchase price of S$1.48, which amounts to a total cash consideration of S$22.2 million.
Aspen Group Holdings (ASPEN SP) shares dropped a further 2.9% on Friday coming down from the 35% surge earlier last week. The price surge prompted a query from SGX for unusual price and volume movements. The company responded to the query saying that it is not aware of any information not previously announced which might explain the trading. Aspen previously announced that it obtained two 510(k) premarket notification clearances from the US Food and Drug Administration to market its nitrile examination gloves and latex surgical gloves, which allows the company to design, manufacture and directly distribute the gloves under the "Aspen Glove" trademark in the U.S.
CapitaLand Investment (CLI SP) shares closed Friday 2.9% lower due to profit taking, after rising to a high of S$3.51 (24% higher than its implied IPO price) on Friday. Earlier in the week, Goldman Sachs and Morgan Stanley started their coverage on the company at "buy" and "overweight" with target prices of $3.64 and $3.75 respectively. Goldman Sachs believes CLI is set to benefit from improved earnings visibility and margins post CapitaLand's restructuring, while Morgan Stanley views CLI as a "deeply undervalued asset manager" whose strengths, such as its Singapore real estate investment trust platform and strong property management fee contributions, have been overlooked by the market.
Company buybacks: Companies with the highest share buybacks YTD are OCBC (S$299mn), Jardine Matheson (US$230mn), Top Glove (S$142mn), Wilmar (S$74mn) and UOB (S$44mn)
Trading Dashboard: Add Uni-Asia (UAG SP) at S$1.03
---
Hong Kong
China Power International Dev Ltd (2380 HK) Shares rose 7.3% on Friday, with total gains of approximately 38.4% over the last 5 trading days. Power sector stocks remain in a positive momentum as they are expected to benefit from China's shift towards sustainable renewable energy sources, in line with its carbon neutrality goal. China has decided not to build new overseas coal-fired power projects and in recent years, mainland power plants have actively transformed into sustainable renewable energy sources, stimulating the revaluation of the mainland power industry. News that provincial governments may approve the increase in electricity prices has driven a number of power stocks to outperform the market recently. In addition, HSBC has reiterated its BUY rating on China Power on Friday with a TP OF HK$4.40. According to Bloomberg consensus, China Power currently has a recommendation of 7 BUYS, 0 HOLDS and 0 SELLS, with a 12M TP of HK$3.76, which has already hit as of Friday's closing price of HK$4.10.
Hainan Meilan International Airport Co Ltd (357 HK) Shares rose 6.6% on Friday after Southwest Securities issued a BUY rating on Meilan with a TP of HK$43.38. The bank predicts that the company's profit will reach RMB 1.29bn by 2023, backed by the following reasons: 1) Meilan Airport is the core transportation hub of Hainan Island, which is responsible for nearly 40% of the passenger flow in and out of the island. It is estimated that Meilan's passenger throughput will reach 47mn in 2025, corresponding to a 5-year CAGR of 18% 2) The "Golden Decade" of Hainan's duty-free industry has just begun, and the island's duty-free scale is expected to reach RMB 250bn in 2025. According to Bloomberg consensus, Hainan Meilan currently has a recommendation of 10 BUYS, 1 HOLDS and 0 SELLS, with a 12M TP of HK$47.10, representing an upside of 39.1% as of Friday's closing price of HK$33.80.
China Evergrande Group (3333 HK) Shares declined 11.6% on Friday, after rebounding on Thursday following Evergrande's announcement that it would pay interest worth RMB 232mn (S$48.48mn) for its 5.8% 2025 onshore bond. However, Evergrande has other outstanding bonds, one of which was due on Thursday, a March 2022 bond with US$83.5mn in interest. As of Friday morning during Asia hours, the company had not made any announcement, or any filing to the Hong Kong Exchange, leaving investors in limbo. One portfolio manager with a private bank told CNBC that no interest payments for the March 2022 bond had flowed into his clients' accounts as of the end of Thursday. The possibility of a default yet again increases and investors are starting to sell their holdings in anticipation of the worst. Evergrande also has another US$47.5mn payment due on Sept 29 for its March 2024 notes.
Yanzhou Coal Mining Co Ltd (1171 HK) Yanzhou Coals's shares continued to decline on Friday, with total losses of around 27.3% since 14 September. Yanzhou's share price had previously rallied for 3 weeks from 23 August, gaining over 75.7%. Despite coal prices reaching an all-time high of US$181/T on Friday, shares declined due to its inverse relationship with Chinese Power stocks. China's shift towards sustainable renewable energy sources which is in line with its carbon neutrality goal would result in the overall decline in the "dirty" stocks, whereas power stocks which are ramping up on clean energy would stand to benefit.
Li Ning Co Ltd (2331 HK) Shares declined 5.4% on Friday as sporting industry shares fell collectively. Bank Of America issued a report on Monday stating that after communicating with Li Ning distributors in North China, it believes that the retail market would be sluggish in the third quarter and expects that the trend would continue in the fourth quarter. Citigroup has also recently issued a report which pointed out that most of the positive catalysts for domestic brands are already over, such as the Tokyo Olympics and interim profit announcements. Xtep International Holdings Ltd (1368 HK) shares dropped 7.6% while Bosideng International Holdings Ltd (3998 HK) shares dropped 9.2%.
Trading dashboard: Chinasoft International (354 HK) took profit at HK$13.90. Hua Hong Semiconductor (1347 HK) took profit at HK$41.75. Trip.com (9961 HK) took profit at HK$228.40.
---
Trading Dashboard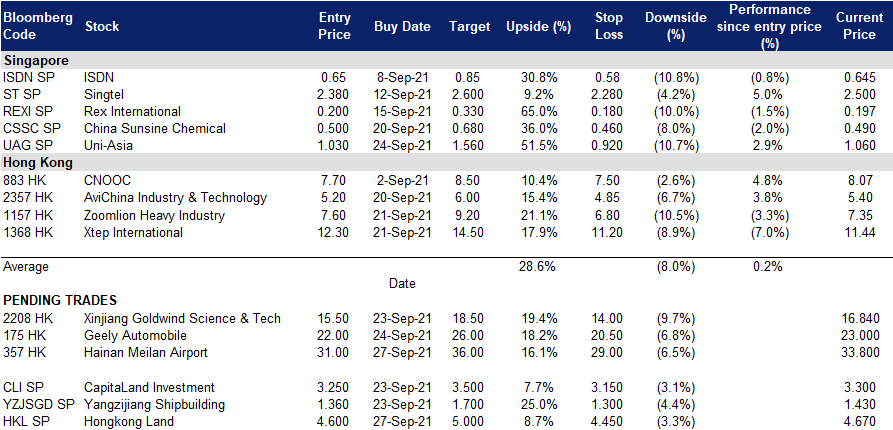 ---

---
Related Posts: