KGI DAILY MARKET MOVERS – 19 October 2021
In The Spotlight: MSCI China A50 Connect Futures | Market Movers | Trading Dashboard
MSCI China A50 Connect Index Futures: A more balanced index
The MSCI China A 50 Connect Index Futures was launched on Monday, 18 October and provides exposure to the broader Stock Connect. In terms of representation, it provides a good mix of China's old and new economy. The index will include at least two stocks from each sector. (see chart below for a comparison between the FTSE A50 and the MSCI A50 Index)
HKEX A50 futures will become the biggest offshore traded A-share equity futures product over the medium term, according to analysis done by Goldman Sachs. Meanwhile, JP Morgan estimates that in its base case scenario, the HKEX A50 will trade at around 5x the volume of SGX's A50.
Click here for more information on the new A50 Index Futures.

---
Market Movers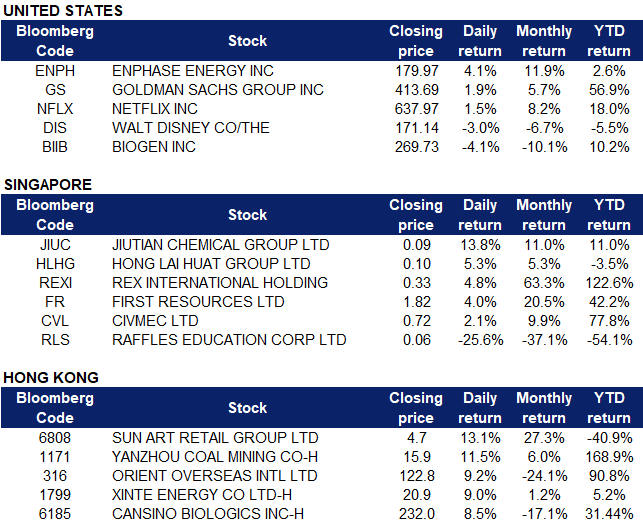 Netflix (NFLX) shares climbed 1.54% ahead of its third quarter earnings set to be released tonight. A media report by Bloomberg said that Netflix valued its recent hit show "Squid Game" at nearly $900 million, 40 times its cost of production. Bloomberg reported that more than 130 million users have streamed the South Korean show for at least two minutes, dethroning Bridgerton as the most watched Netflix series. The stock has risen 7.1% since the show started streaming on 17 September.
Enphase Energy (ENPH US) shares climbed 4.08% after the company announced that it has expanded its battery business beyond its North America and Germany markets. The solar microinverter-maker has also begun shipping its Encharge battery storage systems to Belgium, and added in a press release that Belgium is "a fast-growing solar market in Europe" and said it expects to receive "a warm reception for [its] all-in-one solution," which incorporates IQ 7 microinverters to translate direct current electricity into alternating current that can be used in customer homes. The Enphase stock is up 50% this year.
Goldman Sachs (GS US) shares climbed 1.88% on Monday after the bank said that it received approval from China's securities regulator to take full control of its securities business in mainland China, and buy the remainder of Goldman Sachs Gao Hua Securities Company Ltd (GSGH), and rename it as Goldman Sachs (China) Securities Company Ltd."This marks the start of a new chapter for our China business following a successful 17-year joint venture," Goldman Sachs said in a statement.
Disney (DIS US) shares closed 3.01% lower on Monday after Barclays analysts lowered their rating to 'equal weight' and target price on the media and entertainment group to $175, citing slower growth from its Disney+ streaming service. "Disney+ growth has slowed significantly," said analyst Kannan Venkateshwar. "In order to get to its long term streaming sub guide, Disney needs to more than double its current pace of growth to at least the same level as Netflix", adding that "long term streaming guidance could be at risk." Disney will publish its fiscal fourth quarter earnings on 10 November.
Biogen (BIIB US) shares fell 4.08% on Monday after the biotech company announced on Sunday the failure of a trial on its experimental drug tofersen as a treatment for amyotrophic lateral sclerosis (ALS). The company says that while the treatment for an inherited form of amyotrophic lateral sclerosis didn't reach the primary endpoint of the trial, the drug did show promising data, and it will engage with all the stakeholders to determine potential next steps.
---
Singapore
Jiutian Chemical Group Ltd (JIUC SP). Shares surged 13.8% yesterday after dimethylformamide (DMF) prices jumped more than 30% over the past week. DMF prices in China are now trading above RMB18,000 per tonne. We currently have an Outperform rating and a TP of S$0.145. The upcoming 3Q earnings, scheduled to be released on 11 November, will likely be a much-need upside catalyst to its share price.
Hong Lai Huat Group Ltd (HLHG SP). Shares were up 5.3% yesterday, after the company announced that it has entered into a Joint Venture Agreement with HSC Group, in which both parties will collaborate in the exploration and mining of mineral resources at the Cambodia Singapore Agriculture Hub. Following the signing of the JVA, HSCG shall obtain local regulatory approval required for the mining operation which is estimated to commence from the following month.
Rex International Holding Ltd (REXI SP). Shares rose 4.8% yesterday, in tandem with rising oil prices. WTI and Brent crude futures were trading around US$82 and US$85 per barrel level yesterday, near its 7-year high and 3-year high respectively. Shortages of natural gas in Europe and Asia continue to boost demand for oil as supply remains tight. The US, Australia and some Asian countries are beginning to ease restrictions for vaccinated travelers, removing quarantine requirements to spur tourism and other business activities. Also, power generators continue to switch from expensive gas and coal to oil and diesel as major industrial countries face power shortages. We maintain an OUTPERFORM recommendation on the company and raise our base case TP to S$0.40 from S$0.33 previously, as we factor in stronger oil prices.
First Resources Ltd (FR SP). Shares rose 4% yesterday on rising palm oil prices. Palm oil futures were trading around MYR 4,900 per tonne in mid-October, remaining close to a record high of MYR 4,969 per tonne hit earlier in the month, benefiting from higher demand for biofuels due to the global rally in energy prices, lower production and transport disruptions. Both the Malaysian Palm Oil Association and the US Department of Agriculture, have lowered their annual production estimate for Malaysian palm oil for the 2020-2021 season. Fellow palm oil player, Wilmar International Ltd (WIL SP) remained flat yesterday.
Civmec (CVL SP). Shares of Civmec gained almost 28% over the past 8 trading days ahead. UOB Kay Hian yesterday initiated with a BUY rating and a TP of S$0.98, citing the huge potential of its defence business. We have an Outperform rating on Civmec and a TP of S$0.90.
Raffles Education Corp Ltd (RLS SP). Shares plunged 25.6% yesterday, extending its losses over the past week. The company released its FY21 annual report on 15 Oct, recording a decline in revenue from S$100.5mn in FY20 to S$97.7mn in FY21. Even though it turned its losses of S$14.3mn in FY20 to profits of S$16.7mn in FY21, the turnaround was mainly due to an increase in other income which included a S$28.4mn gain on disposal of non current assets held for sale, S$3.3mn net bargain purchase on acquisition of a subsidiary and S$1.6mn gain on lease modification. Eliminating the one-off gains, the company maintains its loss-making position, recording losses of S$16.6mn in FY21. In addition, SGX queried Raffles Education last week following its audited report which highlighted a material uncertainty that may cast significant doubt on the ability of the group and company to continue as a going concern. Auditors earlier noted that the group's current liabilities exceeded its current assets by S$196.4mn for the financial year ended June this year.
---
Hong Kong
Sun Art Retail Group (6808 HK) Shares closed at a one-month high. China announced key macro data, including 3Q21 GDP growth, industrial production, retail sales, and fixed asset investment, as so forth. Only September retail sales growth of 4.4% YoY beat market expectation of 3.3% YoY, and the growth in the previous month was 2.5% YoY. Recently, the stock had bottomed out as CitiGroup and Bank of America Securities reiterated a BUY rating but lowered TP to HK$6.08 and HK$7.5 respectively.
Yanzhou Coal Mining Co Ltd (1171 HK) Coal sector jumped as China's coking coal and coke futures jumped about 9% on Monday to record highs. The most-traded coking coal futures on the Dalian Commodity Exchange, for January delivery, surged as much as 9% to RMB3,869 (US$601.24)/tonne before closing up 8.4% at RMB3,847/tonne.
Orient Overseas (International) Ltd (316 HK) Shares rebounded from a three-month low. This could be a technical rebound as shares have been trending downward from the peak of HK$179.6 in early September. Meanwhile, CICC believes the cyclical peak for the shipping sector is near as CMA CGM S.A., a French container transportation and shipping company, announced it would stop raising freight rates from September 2021 to February 2022.
Xinte Energy Co Ltd (1799 HK) Silicon prices continued to rally as the market expected shortages to maintain due to downstream demand remaining strong. Polysilicon price surged by 15.4% WoW and 213% YTD to RMB263/kg.
Cansino Biologics Inc (6185 HK) The company released the clinical updates of its new COVID-19 vaccine. According to the data, the combination of two inactivated virus vaccines and the new vaccine can boost the antibodies level by 250-300 times.
Trading Dashboard: Add Hainan Meilan Airport (357 HK) at HK$31.0.
---
Trading Dashboard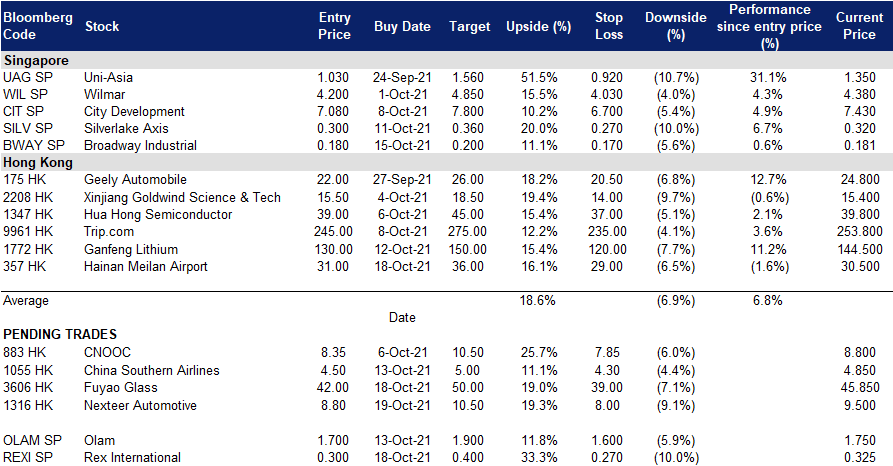 ---

---
Related Posts: