KGI DAILY TRADING IDEAS – 6 October 2021
Singapore Trading Ideas | Hong Kong Trading Ideas | Market Movers | Trading Dashboard
SINGAPORE
Rex International (REXI SP): Pure play on higher oil prices
BUY Entry – 0.20 Target – 0.33 Stop Loss – 0.18
Rex International Holding (Rex) is a pure-play oil & gas exploration and production company (Independent). It owns and operates an oil-producing field in Oman and has a portfolio of exploration licenses in Norway. This year, the company added the Brage oil field in Norway and was awarded two Production Sharing Contracts (PSCs) by Petroleum Nasional Berhad (PETRONAS), Malaysia's national oil corporation.
WTI prices highest since 2014; Brent highest since 2018. Oil markets are experiencing favourable supply and demand dynamics. Brent is now trading at the highest since October 2018 while WTI is at the highest since November 2014. Despite the higher oil prices, both OPEC+ and US shale are not rushing to add more supply. On Monday, OPEC+ agreed to maintain its 400,000 barrel/day supply hike scheduled each month until at least April 2022, which would phase out 5.8mn barrels/day of existing production cuts.
Gas spillover. The shortage of natural gas in Europe has sent prices of the fuel to the oil equivalent of US$190/barrel. The shortage of natural gas is spurring a switch to oil products for heating and manufacturing, boosting oil demand by 500,000 barrels/day, according to the CEO of Saudi Aramco. Meanwhile, demand for natural gas has exceeded pre-Covid-19 highs, according to the International Energy Agency (IEA).
Record free cash flows. Free cash flows generated by oil and gas companies are expected to break records this year with Brent and WTI Futures now trading near US$80 per barrel. For Rex, the windfall will continue to strengthen its already strong balance sheet and give it opportunities to diversify.
We have an Outperform recommendation and a DCF-backed target price of S$0.33.
Brent Futures (2016-2021)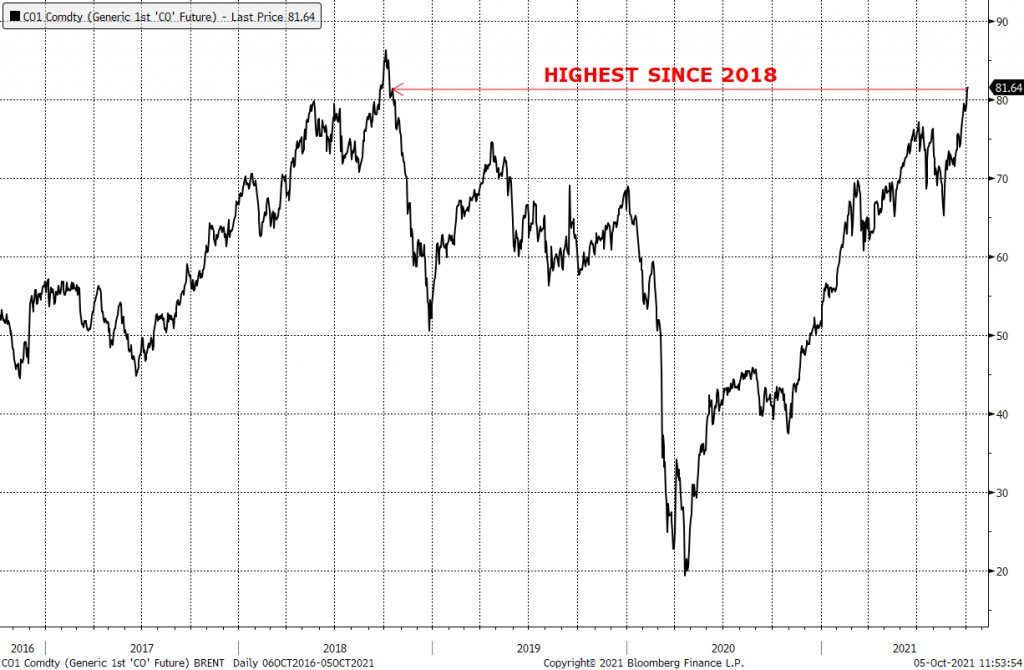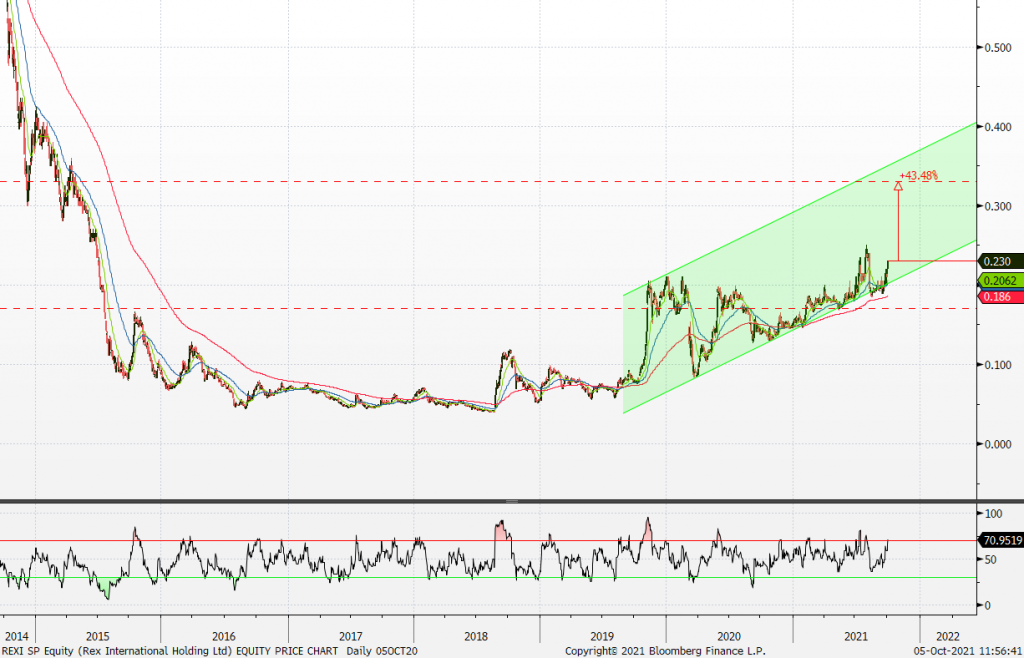 ---
Geo Energy (GERL SP): Winter is coming
BUY Entry – 0.30 Target – 0.42 Stop Loss – 0.26
Geo Energy is one of Indonesia's leading coal producers. The company has four mining concessions located in South and East Kalimantan. Geo Energy's two key mines have a total estimated coal reserve of 84 million tonnes, based on a Joint Reserves Committee (JORC) Compliant report issued in December 2020.
Coal prices are going ballistic. Geo Energy is set to have a record year ahead as coal prices have essentially gone through the roof. ICI 4 prices (4,200 kcal) are at more than 10-year highs, gaining almost 80% YTD. Current dynamics are very favourable for coal miners given the shortages being experienced in India and China. On the supply side of the question, there's less risk of an oversupply-related correction for coal markets as ESG pressure has pushed capital towards clean energy (e.g., solar, electric vehicles, wind farms), thus limiting rapid coal supply growth.
Cash generating machine. We estimate Geo Energy will generate at least US$247mn (S$333mn) of free cash flows in 2021 and 2022, almost equivalent to its current market cap of S$385mn. Our estimates are based on US$58/US$50 coal prices and 10.5mn/11.0mn tonnes of coal production in 2021 and 2022, respectively. Our assumptions are very conservative given that current ICI4 future prices are trading well above US$100/tonne. Even when accounting for the domestic market obligation (25% of production volume) where prices can be as much as 60-70% discount to export prices, our assumption of US$60 and US$50 per tonne for 2021 and 2022 is very conservative.
We currently have an Outperform and DCF-backed TP of S$0.42 on Geo Energy. Our fair value is based on DFC with a conservative set of assumptions: 1) 13.5% discount rate, 2) six-year mine life up to 2026, and 3) no terminal value. The strong cash flows over the next two years will provide the group options to diversify via acquisitions. The group currently trades at an average 3x P/E for 2021-2023F and offers an above-industry dividend yield of 8%, 5% and 4% for 2021-2023F, based on a conservative 30% payout ratio.
Read our full report here.
Indonesia ICI 4 Coal Price Index (4,200 kcal/kg)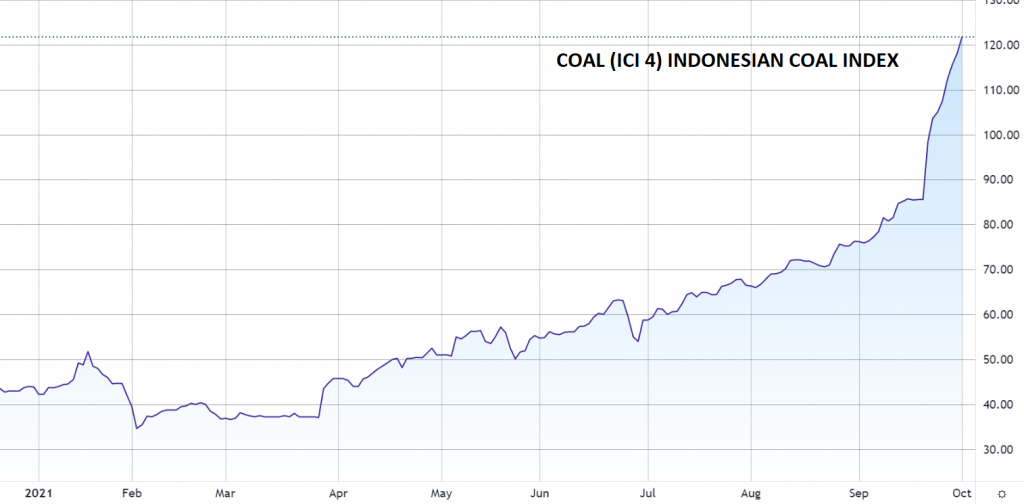 ---
HONG KONG
Hua Hong Semiconductor Ltd (1347 HK): Pull back to the lower bound of the trading range
Buy Entry – 39 Target – 45 Stop Loss – 37
Hua Hong Semiconductor Ltd is an investment holding company engaged in production and sales of semiconductor wafers. The company produces 200mm and 300mm-wafers. Its products are applied in general microcontroller (MCU), Type-C interface chips, image stabilization chips, touch control chips, and smart meter controller chips. The products also serve the Internet of Things (IoT), new energy vehicles, artificial intelligence and other markets.
1H21 results were better than market expectations. Revenue reached a record high of US$651mn, an increase of 52.0% YoY primarily due to increased wafer shipments and improved average selling price. Gross margin was 24.2%, an increase of 0.6ppts YoY, primarily driven by improved average selling price and capacity utilization, partially offset by increased depreciation expenses. Profit for the period attributable to owners of the parent was US$77.1 million, an increase of 102.3% YoY.
90nm eFlash, 90nm BCD, 55nm CIS, DT-SJ, and IGBT were mass produced in the 12-inch production lines, thereby better meeting the capacity needs of customers. The company is the first Pure Play Foundry in the world to mass produce advanced FS-Trench IGBT on both 8-inch and 12-inch production lines at the same time.
The company's simultaneous progress in its "8+12" production line technologies and its "IC + Discrete" technology platforms development strategy for the Embedded Non-Volatile Memory, Analog & Power Management, and Logic & RF IC device and Discrete device businesses will provide its customers with comprehensive and excellent technical support in foundry field.
Consensus estimates per the 12-month target price is at HK$54.95, implying a 26% upside potential. EPS is forecasted to grow at 72.5%/25.5%/20.0% for FY2021/22/23F, which would bring forward P/Es down to 36x/31x/27x FY2021/22/23F.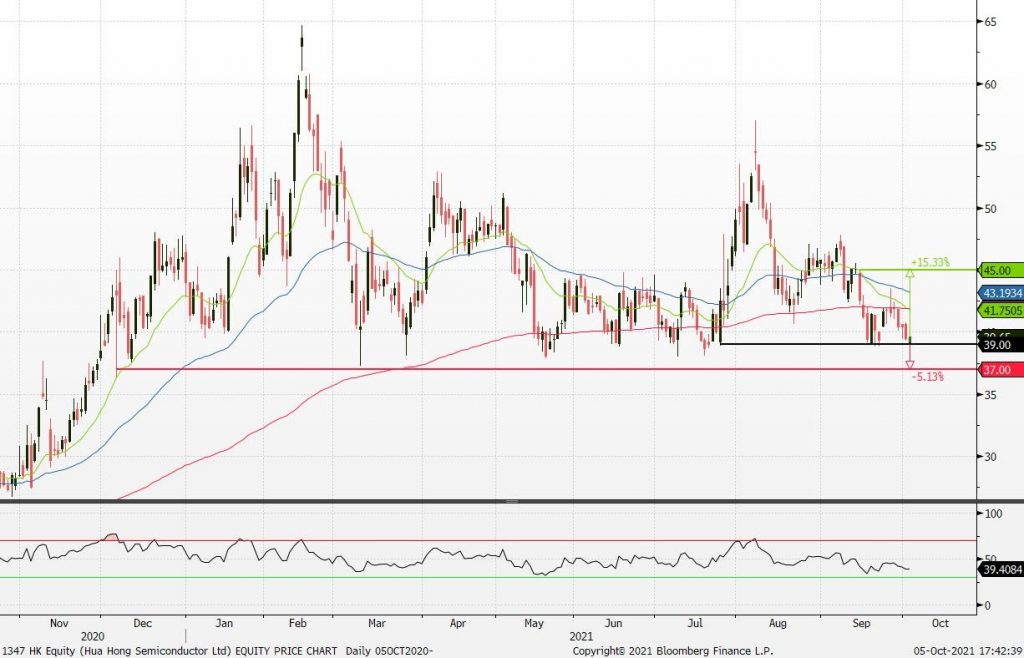 ---
CNOOC Limited (883 HK): Oil price just broke a 52-week high
Reiterate Buy Entry – 8.35 Target – 10.5 Stop Loss – 7.85
CNOOC Limited is a Hong Kong-based investment holding company principally engaged in the exploration, production and trading of oil and gas. Its businesses include conventional oil and gas businesses, shale oil and gas businesses, oil sands businesses and other unconventional oil and gas businesses. The company mainly operates businesses through three segments. The Exploration and Production segment is engaged in the exploration, development and production of crude oil, natural gas and other petroleum products. The Trading segment is engaged in the trading of crude oil, natural gas and other petroleum products. The company mainly operates businesses in China, Canada, the United Kingdom, Nigeria, Indonesia and Brazil, among others.
Stellar results. Previously, the company announced 1H21 results. Revenue jumped by 47.8% YoY to RMB 110.2bn. Net profit attributable to the shareholders of the company jumped by 221% YoY to RMB 33.3bn. The company declared an interim dividend of HK$0.3 per share.
International oil price rebound. As of 1st October, WTI closed at US$75.72/bbl, representing a 2.38% weekly gain, and Brent closed at US$79.14/bbl, representing a 1.45% weekly gain. The oil prices edged up due to a strong demand amidst gradual re-opening of borders in US and Europe.
The new wave of COVID-19 outbreak in China is under control. The recent oil price correction was partly due to concerns over the delta variant outbreak in China, which could result in weaker demand for petroleum. However, after China adopted draconian measures to control the outbreak, the new wave has been contained. The recovery in oil demand is expected to resume for the rest of 2021.
Updated market consensus of the estimated net profit growth in FY21 and FY22 are 204.2% and 2.9% respectively, which translates to 4.7x and 4.5x forward PE. The current PE is 6.7x. The FY21F/22F dividend yield is expected to be 9.0% and 9.3% respectively. Bloomberg consensus average 12-month target price is HK$12.09.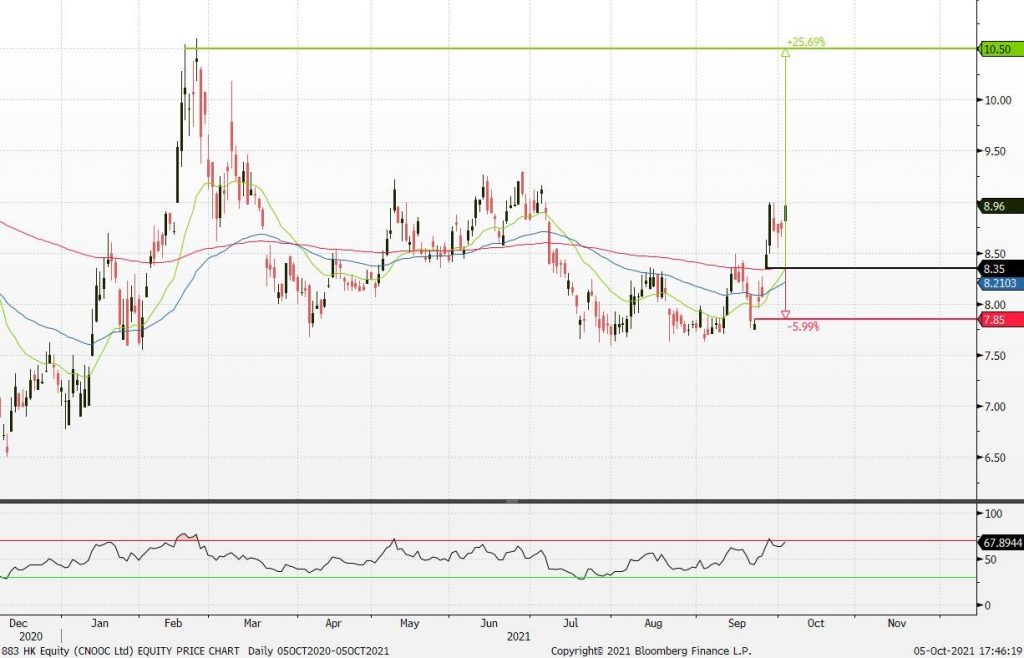 ---
Market Movers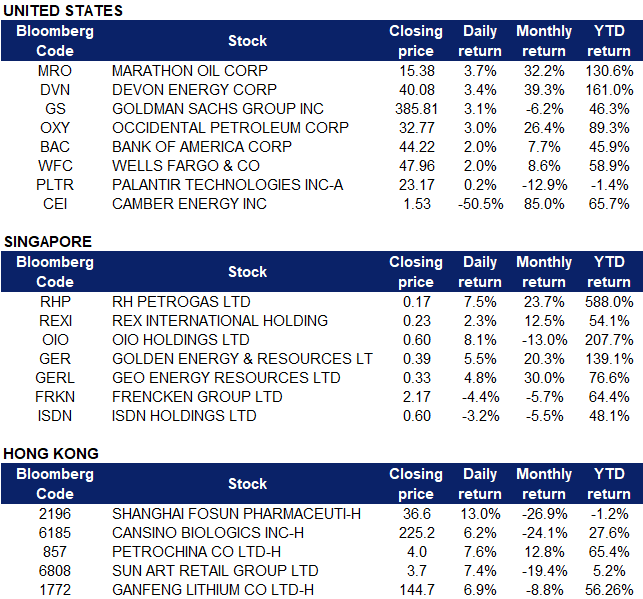 United States
Camber Energy (CEI US) shares lost half its value on Tuesday after Kerrisdale Capital released a scathing report, saying that the company was a "defunct oil producer". Shares plunged 50.49% by closing, and declined another 18.3% in postmarket trading. The stock soared last week when it became the highest trending name on StockTwits and the WallStreetBets Reddit thread. Camber Energy responded in a statement, saying that "we are not involved in, nor do we comment on, the day-to-day trading of the company's common stock," and that "business relationships are legitimate and that we are firmly committed to improving the organization's capitalization and executing on our growth strategy."
Palantir Technologies (PLTR US) shares closed 0.17% higher on Tuesday, but jumped as much as 26% in postmarket trading. The company announced that it was awarded a $823 million contract by the U.S. Army to deliver the Army's intelligence data fabric and analytics foundation under the Army's Capability Drop 2 (CD-2) program. CD-2 is one of several efforts the company is working on with the program executive officer for intelligence electronic warfare and sensors to modernize the Army's intelligence enterprise.
Bank stocks Goldman Sachs (GS US), Bank of America (BAC US) and Wells Fargo (WFC US) added 2-3% on Tuesday trading as the 10-year Treasury Yield rose back above 1.5% as a result of surging energy prices which intensified inflationary pressures. Banks generally benefit from rising interest rates, as they allow for higher margins and profits.
Moderna (MRNA US) shares rose as much as 2.65% on Tuesday before closing 1.92% higher at $332.11 after the company announced that the European Medicines Agency authorized a third dose of COVID-19 vaccine SpikeVax to severely immunocompromised individuals aged 12 years and older. The European Union has already placed orders for a total 460 million doses of Spikevax. Additionally, 92.2 million doses of Moderna's COVID-19 vaccine have been distributed to EU countries.
Energy stocks rallied again on Tuesday, following the surge in natural gas and crude oil futures to multi-year highs. Marathon Oil Corporation (MRO US), Occidental Energy (OXY US) and Devon Energy (DVN US) gained 3% or more. The rally in energy futures follows OPEC+'s decision on Monday to stick to its current output policy.
---
Singapore
RH Petrogas Ltd (RHP SP); Rex International Holding Ltd (REXI SP) Oil sector shares rose collectively yesterday in tandem with rising oil prices. RH Petrogas' shares rose 7.5% while Rex International's shares rose 2.3%. Oil jumped to a three-year peak on Monday after OPEC+ confirmed it would stick to its current output policy as demand for petroleum products rebounds, despite pressure from some countries for a bigger boost to production. Yesterday, WTI futures surged to their highest since November 2014 while Brent crude futures reached their highest since October 2018. We currently have an OUTPERFORM rating for Rex International, with a 12M TP of S$0.33, implying an upside of 43.5% as of yesterday's closing price of S$0.23.
OIO Holdings Ltd (OIO SP) Shares rose 8.1% yesterday, gaining a total of approximately 30% over the last 3 trading days. Shares rose in tandem with Bitcoin, which broke the US$50,000 mark yesterday. Bitcoin price rallied and gained a total of 22.6% over the past 7 days. Cryptocurrency investment products and funds recorded inflows for a seventh straight week as institutional investors warmed to more supportive statements from regulators, data from digital asset manager CoinShares showed on Monday.
Golden Energy & Resources Ltd (GER SP), Geo Energy Resources Ltd (GERL SP). Coal sector shares rose collectively yesterday on rising coal prices. Golden Energy shares rose 5.5% while Geo Energy's shares rose 4.8%. Coal futures continued to break fresh records to $240 per metric ton, after gaining 27% in September, and adding 171% so far on the year. Several factors have been pushing coal prices up, including tight supply in China as the country vows to achieve emissions standards and reach carbon neutrality by 2060; a lack of mine investment reflecting pressure from socially conscious investors; imports constraints due to coronavirus restrictions and a surge in natural gas prices amid prospects of a shortage in inventories.
Frencken Group Ltd (FRKN SP), ISDN Holdings Ltd (ISDN SP). Tech shares fell collectively yesterday due to a spillover effect from the US market. Frencken's shares declined 4.4% while ISDN shares declined 3.2% yesterday. S&P 500 tumbled 1.3% to 4,300.46 and the tech-rich Nasdaq Composite Index suffered the biggest losses out of major indices, ending down 2.1% at 14,255.48. Economic uncertainty such as rising interest rates as a result of bond tapering has caused the decline in big tech and semiconductor shares in the US. After enjoying a price rally in mid-2021, investors are likely diversifying their portfolios to include traditional and value stocks.
---
Hong Kong
Shanghai Fosun Pharmaceutical Group Co Ltd (2196 HK), Cansino Biologics Inc (6185 HK). Pharma stocks rebounded sharply yesterday after a broad sell-off on Monday. Shanghai Fosun's shares rose 13% while Cansino shares rose 6.2% yesterday. Shares plummeted on Monday after Merck (MRK US) released positive data for the clinical trial of a new oral antiviral treatment for the COVID-19 virus. The rise in share price yesterday was likely due to a technical rebound as RSI fell below 20 for both companies.
PetroChina Co Ltd (857 HK) Shares rose 7.6% yesterday, in tandem with rising oil prices. Oil jumped to a three-year peak on Monday after OPEC+ confirmed it would stick to its current output policy as demand for petroleum products rebounds, despite pressure from some countries for a bigger boost to production. Yesterday, WTI futures surged to their highest since November 2014 while Brent crude futures reached their highest since October 2018.
Sun Art Retail Group Ltd (6808 HK) Shares rose 7.4% yesterday. Shares were trading at an all-time low over the past week and were heavily oversold with RSI near 20. Yesterday, Bank of America released a research report, reiterating its BUY rating for Sun Art Retail, even though lowering its 2022-23 fiscal year earnings per share forecast by 34% and 10%. The target price was also lowered from HK$8.3 to HK$7.5. According to Bloomberg consensus, the company currently has a rating of 12 BUYS, 7 HOLDS and 1 SELLS, with a 12M TP of HK$6.24, implying an upside of 71% as of yesterday's closing price of HK$3.65.
Ganfeng Lithium Co Ltd (1772 HK) Shares rose 6.9% yesterday. Morgan Stanley released a research report stating that among its coverage of Chinese raw material stocks, aluminium and lithium are preferred, citing Ganfeng Lithium as a winner given its comprehensive resources, conversion capacity and high growth in the battery field. According to Bloomberg consensus, the company currently has a rating of 11 BUYS, 0 HOLDS and 0 SELLS, with a 12M TP of HK$203.83, implying an upside of 40.9% as of yesterday's closing price of HK$144.70.
---
Trading Dashboard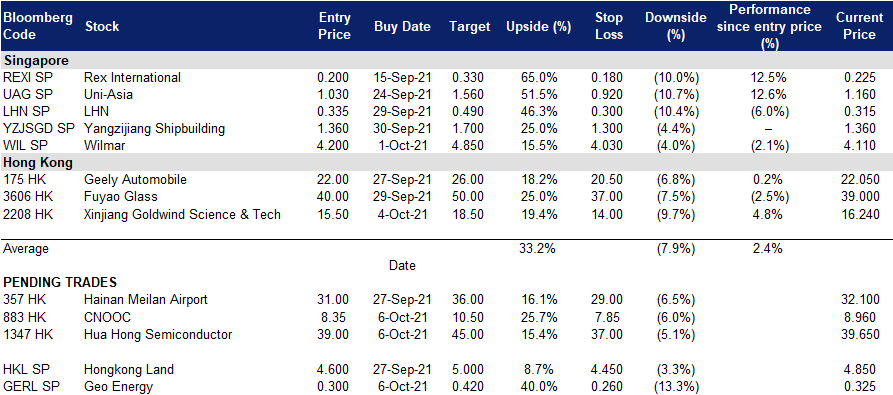 ---

---
Related Posts: