Geo Energy Resources (GERL SP)
Company Update Report: 30 August 2021
Cash machine
GEO is set to have a record year ahead as coal prices remain resilient. ICI 4 prices (4,200 kcal) are at more than 10-year highs. While we expect coal prices to soften in 2H2021, dynamics favour coal miners given the buoyant demand from India and China. On the other side of the equation, there's less risk of an oversupply-related correction for coal markets as ESG pressure has pushed capital toward clean energy (e.g., solar, electric vehicles, wind farms), thus limiting rapid coal supply growth.
GEO's two key mines have a total estimated coal reserve of 84 million tonnes, based on a Joint Reserves Committee (JORC) Compliant report issued in December 2020.
Our DCF calculation (13.5% WACC and no terminal value) estimates a fair value of S$0.42 based on a conservative 6-year mine life and 66mn tonnes production.
Upgrade to Outperform as we raise our fair value to S$0.42. We forecast GEO will generate US$247mn of free cash flows in 2021 and 2022, more than its current market cap. It currently trades at only 2.0x 2021F P/E and offers an above-industry 9% forward div yield.
---
ICI 4 (4,200 kcal GAR fob) coal price index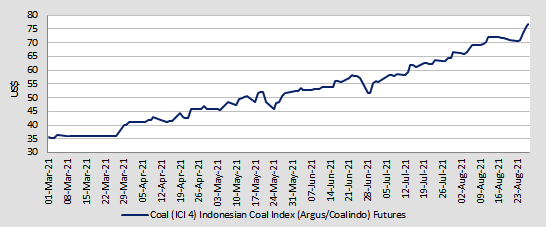 One for the record books
GEO reported a record semi-annual revenue of US$220mn and core net profit of US$48.5mn in 1H2021. Core net profit in the same period last year was -US$8.7mn when we exclude the one-off gain of US$75mn from the repurchase of senior notes. The strong 1H2021 performance was driven by volume and price increase. GEO delivered 5.4mn coal sales in 1H2021, an 8% YoY increase, while coal prices for ICI4 (4,200 GAR) rose to US$48/tonne in 1H2021 from US$31/tonne in 1H2020.
Cash generating machine
We estimate GEO will generate around US$247mn (S$333mn) of free cash flows in 2021 and 2022, more than its current market cap of S$330mn. Our estimates are based on US$58/US$50 coal prices and 10.5mn/11.0mn tonnes of coal production in 2021 and 2022, respectively. Our 10.5mn tonnes production assumption is 12.5% below the group's application to increase production to 12.0mn tonnes in 2021. Meanwhile, Current ICI4 future prices are trading well above US$70/tonne. Even when accounting for the domestic market obligation, (25% of production volume) and where prices can be as much as 46% discount to export prices, our assumption of US$60 and US$50 per tonne for 2021 and 2022 is reasonable.
An inconvenient truth.
While public perception is that thermal coal is in an inevitable decline, the hard data for the Asian region suggests otherwise. Asia will account for more than two-thirds of global electricity demand growth, supported by 150,000MW of new coal-fired capacity built across the region, according to Commodity Insights' research. The economic reality is that unlike in the US and Europe, Asia has a minimal supply of cheap gas for electricity, leaving coal as the primary supply over the decade ahead.
Valuation & Action
We upgrade GEO to Outperform and raise our TP to S$0.42. Our fair value is based on DFC with a conservative set of assumptions: 1) 13.5% discount rate, 2) six-year mine life up to 2026, and 3) no terminal value. The strong cash flows over the next two years will provide GEO options to diversify via acquisitions. GEO currently trades at an average 2.8x P/E for 2021-2023F and offers an above-industry dividend yield of 8.7%, 5.8% and 4.6% for 2021-2023F, based on a conservative 30% payout ratio.
Risks
Decline in thermal coal prices due to weaker demand/increased production from China. Regulatory risks in Indonesia
---

---