11 Nov 2021: Stocks making the biggest moves
Market Movers | Trading Dashboard
Market Movers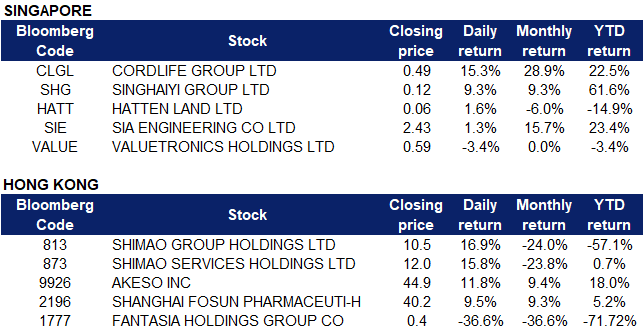 United States
Top Sector Gainers
Top Sector Losers
Coinbase (COIN US) shares fell 8% after the company reported third quarter earnings. The cryptocurrency exchange posted net income of $406 million or $1.62 per share for the third quarter, up from $81 million or $0.23 a year ago. However, this was below analyst expectations of $1.77. Revenue came in at $1.31 billion, more than quadrupling the year-earlier total of $315 million and matching analysts' estimates. For the fourth quarter, Coinbase said it expects trends usually seen in October to continue, including "…higher levels of activity among retail traders who have historically traded more on Coinbase during periods of heightened volatility."
Alphabet (GOOGL US) shares declined 2% after it was announced that the EU's General Court ruled Wednesday that the European Commission was right in fining Google $2.8 billion for an antitrust breach.
Affirm (AFRM US) shares soared more than 21% in after hours trading after the fintech company announced its plans to expand a partnership with Amazon (AMZN US). The stock initially closed 15.4%, which analysts attributed to the 6.2% increase in consumer price index (CPI), a strong indicator of inflation from October 2020. Additionally, Upstart Holdings (UPST US) saw a massive sell-off after reporting disappointing results which appeared to impact other fintech stocks in the sector. The stock quickly recovered after the company reported above-estimate quarterly results and its expanded Amazon partnership. Affirm will serve as the sole third-party "buy now pay later (BNPL)" option for the e-commerce giant in the U.S. However, credit card companies will still be able to offer BNPL options on Amazon in the future. Amazon will also integrate the platform into its digital wallet in the U.S. Affirm can be used for eligible purchases on Amazon of $50 or more.
Rivian Automotive (RIVN US) shares closed 29% higher on its trading debut day, giving the electric vehicle startup a market valuation of $86 billion. The stock was originally priced at $78 with an implied valuation of $91 billion an opened more than 37% higher at $106.75 per share. Rivian is backed by Amazon and Ford who hold approximately 20% and 12% stake in the company respectively.
Disney (DIS US) reported disappointing fiscal fourth quarter earnings on Wednesday after the bell, sending the stock 4% down in post-market trading. Earnings per share came in at $0.37 compared with $0.51 expectations, and revenue was at $18.53 billion compared with $18.79 billion expectations. Disney+ subscriptions also came in short of estimates at 118.1 million, compared to the forecast of 125.4 million
---
Singapore
Hatten Land (HATT SP) shares jumped over 4% on Wednesday trading, before closing 1.6% higher. The company announced that it was forming a joint venture (JV) with Bursa-listed Nestcon to secure, supply, construct, develop and manage solar panel facilities in Malaysia. The companies will pursue renewable energy activities, including the installation of over 6,000 solar panels on the roof of Melaka's largest mall Dataran Pahlawan Melaka Megamall, managed by Hatten Group. The JV company will be 30% owned by Hatten Land's wholly-owned subsidiary Hatten Renewable Energy and 70% owned by Nestcon's wholly-owned subsidiary Nestcon Sustainable Solutions.
Valuetronics (VALUE SP) shares declined 3.4% after the company announced its half yearly results. The electronics manufacturing company posted a 38.1% drop in net profit for the first half ended 30 September, largely attributed to certain shortages of key electronic components that have affected the company's ability to meet orders. Net profit for the period ended September 2021 was at HK$56.6 million compared with HK$91.5 million a year ago, earnings per share was at HK$0.13 compared with HK$0.21 previously, and revenue was down 7.3% to HK$1 billion.
Cordlife (CLGL SP) shares surged nearly 26% on Wednesday, reaching a high of $0.535 at one point before closing 15.3% up. According to ShareInvestor data, three married deals were recorded at $0.52 each, at 10:10am, 10:17am and 10:37am.
Singhaiyi Group (SHG SP) shares hit a 3.5-year high on Wednesday, after it announced that it had received a voluntary conditional offer from an investment holding company owned by Gordon Tang and his wife Celine Tang. The company previously requested for a trading halt on Tuesday morning which was lifted on Wednesday morning. The Tangs are offering S$0.117 per offer share in cash, with a view to delist. This represents a 21.8 per cent discount to the company's net asset value per share of S$0.1496 as at end-September 2021. Additionally, SingHaiyi reported earnings of S$12.5 million for H1 FY2022, compared to a loss of S$4.6 million in the same period a year ago as revenue surged for the half-year ended 30 September 2021.
SIA Engineering (SIE SP) shares gained 1.3% on Wednesday, extending its rally for 5 consecutive days. Singapore and Malaysia's Prime Ministers announced on Monday that travellers would be able to fly quarantine-free between Changi Airport and Kuala Lumpur International Airport (KLIA) from 29 November. DBS Group Research wrote in a report that SIE would likely gain from the implementation of more vaccinated travel lanes (VTLs), as traffic at Changi Airport, the main base for SIE's line maintenance operations, would be boosted. Additionally, The Business Times reported that bookings for Singapore-KL flights spike despite lack of VTL flight details.
---
Hong Kong
Top Sector Gainers
Top Sector Losers
Shimao Group Holdings Ltd (813 HK), Shimao Services Holdings Ltd (873 HK). Shares rose 16.9% and 15.8% respectively. On Tuesday, Standard & Poor (S&P) issued a report, adjusting the rating of Shimao Group to BB+. Faced with the impact of industry uncertainty, many real estate companies are currently experiencing rating adjustments, however Shimao Group's rating is still higher than the industry's level. In the report, S&P held a positive view on Shimao Group's cautious acquisition of land and strong non-real estate development income. S&P believes that the company's current prudent land acquisition will offset the impact of its credit indicators.
Akeso Inc (9926 HK). Shares rose 11.8% yesterday. At present, anti-tumor drugs such as PD-1 monoclonal antibody and CAR-T therapy have become a hot topic in the market. According to statistics from brokerage firms, this year's medical negotiations are expected to involve about 19 innovative drugs of category 1 that are not in the medical catalog, including double antibodies, ADC drugs (antibody-coupled drugs) and CAR-T therapy. Listed pharmaceutical companies which would benefit from these negotiations include Innovent Biologics Inc (1801 HK), BeiGene Ltd (6160 HK) which rose 4.8% and 5.9% respectively yesterday.
Shanghai Fosun Pharmaceutical (Group) Co Ltd (2196 HK). Shares rose 9.5% yesterday. It was announced yesterday that the Phase III clinical trial of Watson Bio's mRNA Covid-19 vaccine for sequential inoculation of inactivated Covid-19 vaccine for people over 18 years old (i.e the third dose of booster clinical trial) was approved by the state. The market is looking forward to the approval of Fubitai vaccine produced by Shanghai Fosun.
Fantasia Holdings Group Co Ltd (1777 HK). Shares plunged 36.6% yesterday. The Hong Kong-listed developer said in a filing late on Tuesday that it did not repay a US$ 205.7mn bond that was due on October 4. Fantasia's missed payment came just two weeks after the company said it had no liquidity issues and had "already prepared the funds" to redeem its bonds due this month. It had obtained HK$ 1.1bn (US$ 142mn) of financing from Chiyu Bank in June, it said at the time.On Tuesday's filing, the company also said that "Given the liquidity issue faced by the group, there is no guarantee that the group will be able to meet its financial obligations under its other financing documents".
---
Trading Dashboard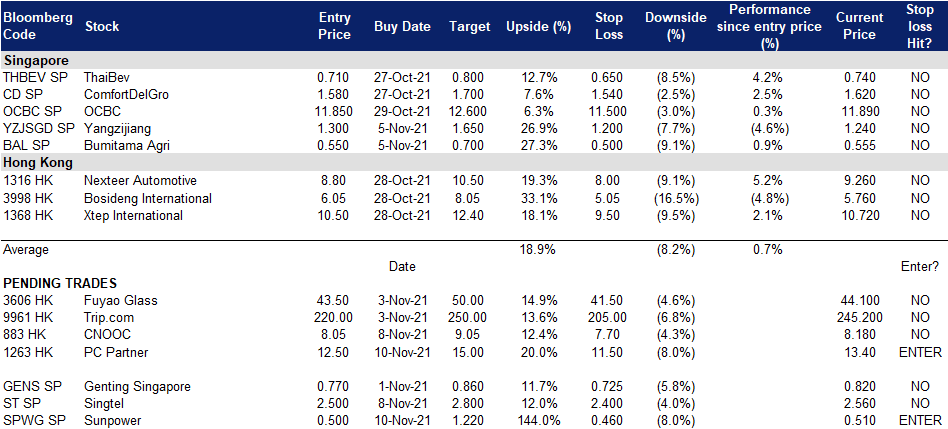 ---

---
Related Posts: