KGI DAILY TRADING IDEAS – 8 October 2021
Singapore Trading Ideas | Hong Kong Trading Ideas | Market Movers | Trading Dashboard
SINGAPORE
City Development (CIT SP): It hurts to let go, but sometimes it hurts more to hold on
BUY Entry – 7.08 Target – 7.80 Stop Loss – 6.70
City Dev is one of the largest property developers in Singapore. The company has a portfolio of income-producing and geographically diverse properties comprising residences, offices, hotels, serviced apartments, shopping malls and integrated developments. City Dev is also developing a fund management business and targets to achieve US$5bn in assets under management (AUM) by 2023.
Leaving the past behind. Shares of City Dev reacted positively to the announcement on 10 Sep that it was divesting its interest in China-based developer Chongqing Sincere Yuanchuang Industry (Sincere) for US$1.0. As a recap, City Dev had taken almost S$2 billion of impairments on its investment in Sincere. The complete divestment of Sincere finally removed a heavy overhang on City Dev's share price. Had City Dev remained the major shareholder of Sincere, it was likely to engage in a possibly long drawn bankruptcy reorganisation of the Chinese developer.
Restructuring and M&A; short-term catalysts. To optimise property returns, the company is currently undergoing a strategic review of assets. The company has around S$24bn worth of assets it can play around with. A short-term catalyst for City Dev could be the potential listing of its UK-focused office REIT that should help lift its fee income, as well as unlocking capital for recycling. This is in addition to the current strategic review of M&C's hotel portfolio.
Following in the footsteps of CapitaLand. Fellow property developer CapitaLand was able to unlock value from the separation of its property management business into the newly listed CapitaLand Investment (CLI SP). CLI's share price has performed very well since its debut last month, gaining more than 25%. We think that City Dev will likely follow a similar strategy of building up fee income from fund management activities, and potentially listing that entity in the future.
Positive consensus rating. Bloomberg consensus indicates 16 BUYS and 1 HOLD, with a 12m average TP of S$9.23 (+30% upside potential from the last close price). City Dev currently trades at a 26% discount to its 10-year historical P/B average.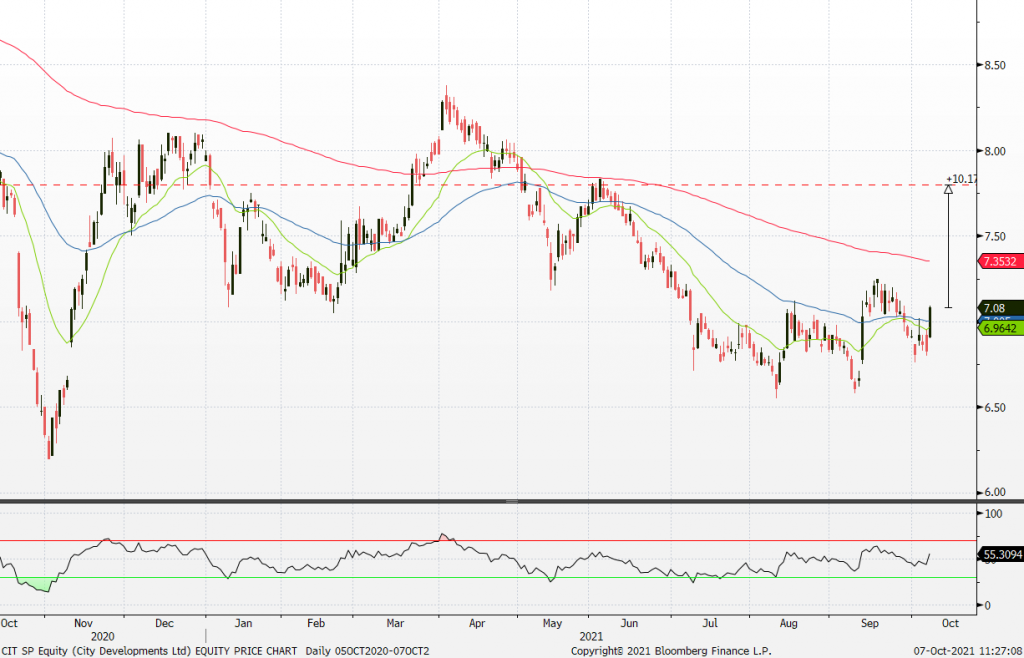 ---
Rex International (REXI SP): Pure play on higher oil prices
RE-ITERATE BUY Entry – 0.20 Target – 0.33 Stop Loss – 0.18
Rex International Holding (Rex) is a pure-play oil & gas exploration and production company (Independent). It owns and operates an oil-producing field in Oman and has a portfolio of exploration licenses in Norway. This year, the company added the Brage oil field in Norway and was awarded two Production Sharing Contracts (PSCs) by Petroleum Nasional Berhad (PETRONAS), Malaysia's national oil corporation.
WTI prices highest since 2014; Brent highest since 2018. Oil markets are experiencing favourable supply and demand dynamics. Brent is now trading at the highest since October 2018 while WTI is at the highest since November 2014. Despite the higher oil prices, both OPEC+ and US shale are not rushing to add more supply. On Monday, OPEC+ agreed to maintain its 400,000 barrel/day supply hike scheduled each month until at least April 2022, which would phase out 5.8mn barrels/day of existing production cuts.
Gas spillover. The shortage of natural gas in Europe has sent prices of the fuel to the oil equivalent of US$190/barrel. The shortage of natural gas is spurring a switch to oil products for heating and manufacturing, boosting oil demand by 500,000 barrels/day, according to the CEO of Saudi Aramco. Meanwhile, demand for natural gas has exceeded pre-Covid-19 highs, according to the International Energy Agency (IEA).
Record free cash flows. Free cash flows generated by oil and gas companies are expected to break records this year with Brent and WTI Futures now trading near US$80 per barrel. For Rex, the windfall will continue to strengthen its already strong balance sheet and give it opportunities to diversify.
We have an Outperform recommendation and a DCF-backed target price of S$0.33.
Brent Futures (2016-2021)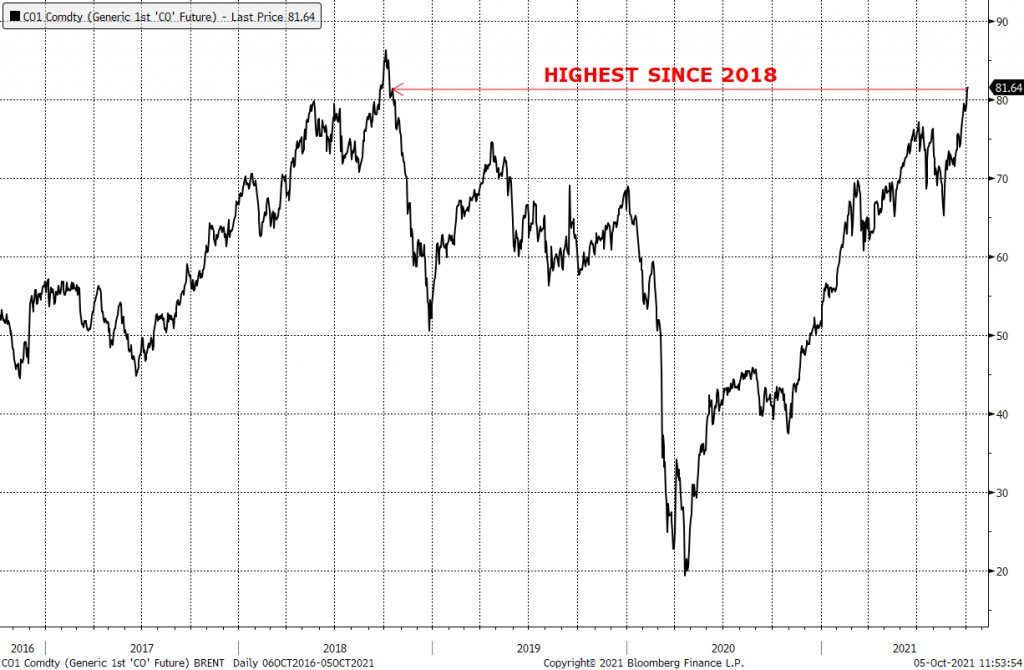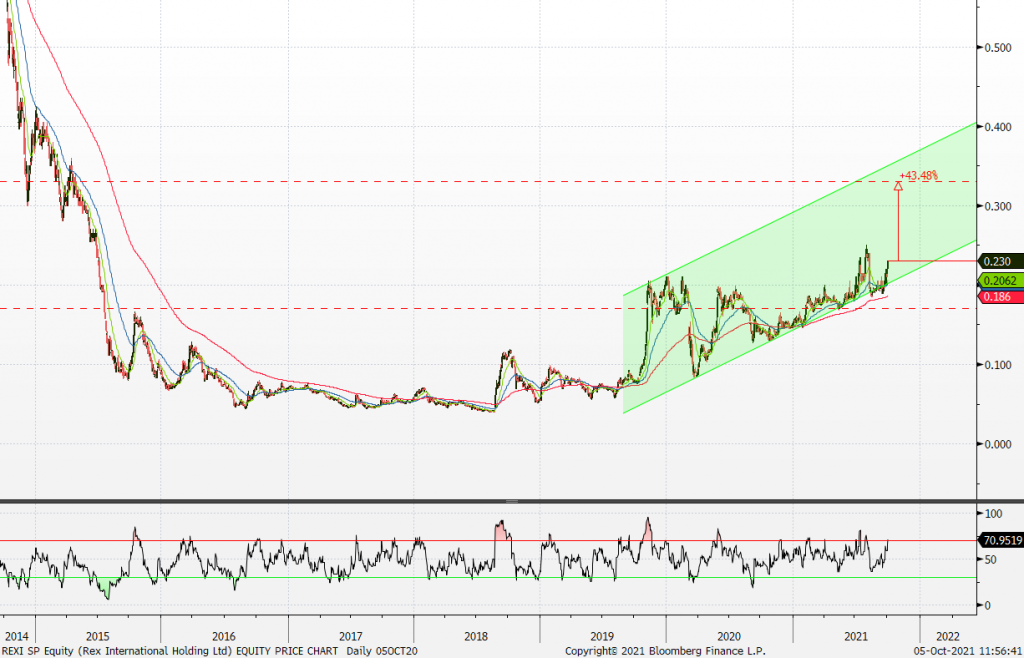 ---
HONG KONG
TRIP.COM (9961 HK): On-track recovery
Buy Entry – 245 Target – 275 Stop Loss – 235
Trip.com Group Limited, formerly Ctrip.com International, Ltd., is a travel service provider in China that provides accommodation booking, transportation ticketing, package tours and corporate travel management. The company aggregates hotel and transportation information to help leisure and business travellers make reservations. The company helps leisure travellers book travel packages and guided tours and helps corporate clients manage their travel needs. The company also offers a range of travel-related services to meet the different booking and travel needs of leisure and business travellers, including visitor reviews, attraction tickets, travel-related financial services, car services, travel insurance services and passport services. The company also offers package tours for independent leisure travellers, including tour groups, semi-tour groups and private groups, as well as package tours that require different transportation arrangements (such as cruise, buses or self-driving).
Promising recovery against COVID-19. Previously, the company announced 1H21 results. Total net revenue increased by 86% YoY and 43% QoQ to RMB10bn, driven by the strong recovery momentum of the China domestic market. Both domestic hotel and air-ticket GMV increased by about 150% YoY. Compared with the same pre-COVID period in 2019, both domestic hotel and air ticketing reservations achieved double-digit growth in 2Q21. Staycation travel continues to serve as a major driver of domestic recovery with local hotel reservations growing nearly 80% versus pre-COVID period in 2019. Revenues from corporate travel management grew 141% year over year and 26% compared with the pre-COVID period in 2019. In 1H21, the company reported a net profit of RMB 1bn compared to a net loss of RMB 5.8bn during the same period last year.
Pent-up travelling demand during the golden week holiday. The company published a report regarding domestic tourism during the National Day Holiday. The average single-trip air ticket price increased by 7% YoY to RMB821. Net air ticket booking volume increased by 161% WOW one week before the golden week. The average passenger-kilometer increased by 3% YoY to 1,286km.
Best performance among all the e-commerce large-cap Chinese companies. The crackdown of multiple sectors hammered share prices of technology stocks. Currently, there is no obvious sign of turnaround. However, tourism is one of the few sectors that are relatively immune to policy risks. The price performance of the company showed positive signs of turnaround amidst the recent bearish market sentiment.
The updated market consensus of the estimated net profit growth in FY22 and FY23 is 383.1% and 51.6% respectively, which translates to 27.4x and 18.1x forward PE. Bloomberg consensus average 12-month target price is HK$286.36.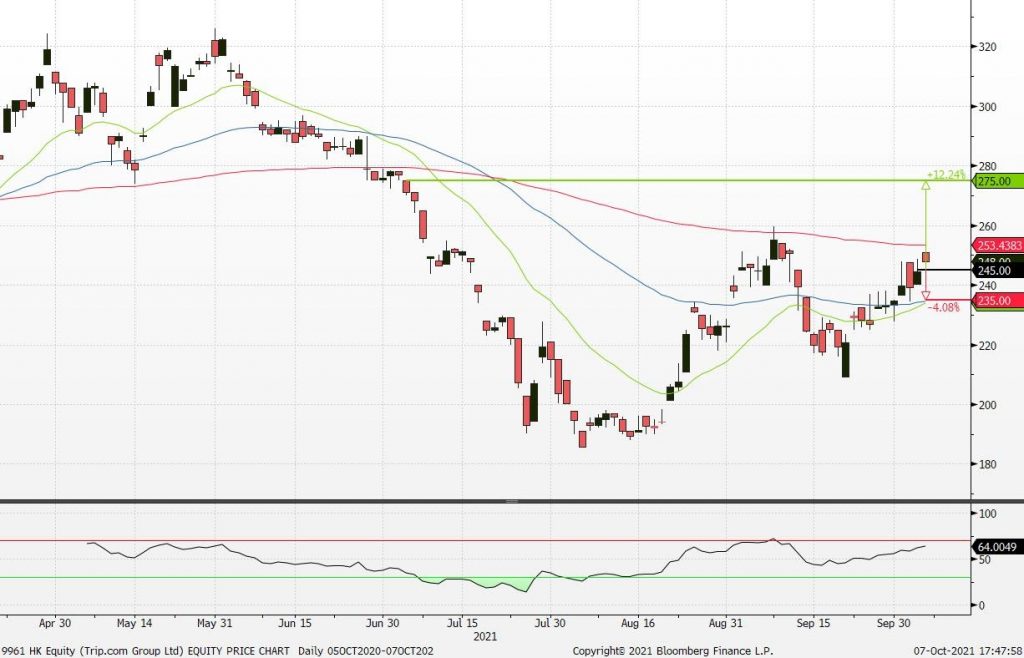 Hua Hong Semiconductor Ltd (1347 HK): Pull back to the lower bound of the trading range
Reiterate Buy Entry – 39 Target – 45 Stop Loss – 37
Hua Hong Semiconductor Ltd is an investment holding company engaged in production and sales of semiconductor wafers. The company produces 200mm and 300mm-wafers. Its products are applied in general microcontroller (MCU), Type-C interface chips, image stabilization chips, touch control chips, and smart meter controller chips. The products also serve the Internet of Things (IoT), new energy vehicles, artificial intelligence and other markets.
1H21 results were better than market expectations. Revenue reached a record high of US$651mn, an increase of 52.0% YoY primarily due to increased wafer shipments and improved average selling price. Gross margin was 24.2%, an increase of 0.6ppts YoY, primarily driven by improved average selling price and capacity utilization, partially offset by increased depreciation expenses. Profit for the period attributable to owners of the parent was US$77.1 million, an increase of 102.3% YoY.
90nm eFlash, 90nm BCD, 55nm CIS, DT-SJ, and IGBT were mass produced in the 12-inch production lines, thereby better meeting the capacity needs of customers. The company is the first Pure Play Foundry in the world to mass produce advanced FS-Trench IGBT on both 8-inch and 12-inch production lines at the same time.
The company's simultaneous progress in its "8+12" production line technologies and its "IC + Discrete" technology platforms development strategy for the Embedded Non-Volatile Memory, Analog & Power Management, and Logic & RF IC device and Discrete device businesses will provide its customers with comprehensive and excellent technical support in foundry field.
Consensus estimates per the 12-month target price is at HK$54.95, implying a 26% upside potential. EPS is forecasted to grow at 72.5%/25.5%/20.0% for FY2021/22/23F, which would bring forward P/Es down to 36x/31x/27x FY2021/22/23F.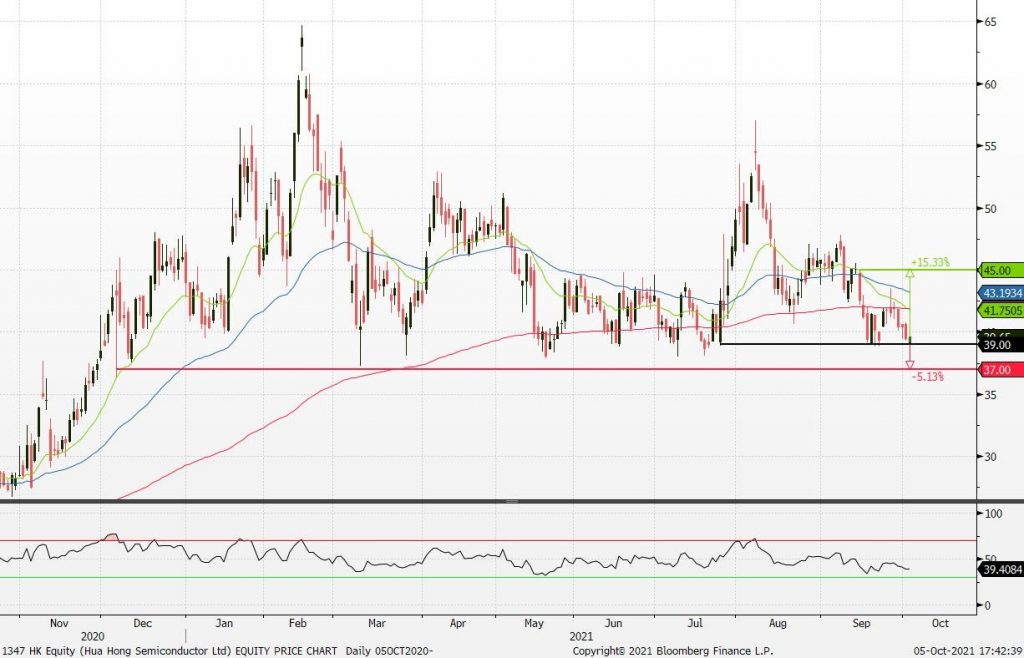 ---
Market Movers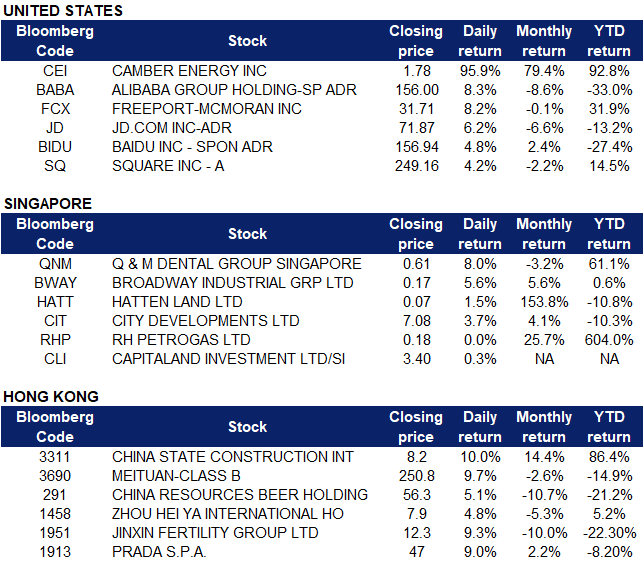 United States
Camber Energy (CEI US) shares traded significantly higher on Thursday, rebounding from recent weakness as a result of a short report on the company by Kerrisdale Capital. The stock soared 95.93% higher on Thursday trading, after it announced that it is not considering a reverse stock split. Additionally, Camber Energy has engaged the Schall Law Firm to investigate the claims made against the company, encouraging investors with losses to contact the firm. Camber Energy shares have been the most active NYSE stock for the last 11 trading days.
Chinese tech stocks Alibaba (BABA US), JD.com (JD US) and Baidu (BIDU US) rallied on Thursday trading, gaining 8.26%, 6.16% and 4.81% respectively. U.S. President Joe Biden and President Xi Jinping on Wednesday agreed to meet before the end of the year, possibly giving investors optimism about the possibility of tensions easing between China and the U.S..
Shares of mining company Freeport-McMoran (FCX US) rose 8.23% yesterday in tandem with rising copper prices. Copper prices rose on Thursday, aided by a rebound on global equities markets, falling inventories and the threat of supply disruption at a mine in Peru. Despite this, copper prices have however fallen from a record high of $10,747.50 in May as global economic growth faltered.
Square (SQ US) shares rose on Thursday, closing 4.2% higher at $249.16 after Jeffries upgraded the stock to BUY from hold, and raised their target price to $300. Analyst Trevor Williams said in a report that "amid a backdrop of accelerating disruption within payments and the broader financial technology ecosystem, we believe SQ is a must-own over the long term as a proven innovator." Williams also said that his $300 price-target implies a 0.7 times growth-adjusted multiple on fiscal 2023 gross profit versus a peer average of 1.06 times. The stock has climbed 14% YTD, amidst enthusiasm for the company's expanding financial business model. The company previously announced stellar earnings for the second quarter, as well as the $29 billion acquisition of Australian fintech company Afterpay.
---
Singapore
Q&M Dental Group (QNM SP) shares soared another 8.0% yesterday. It was announced on Monday that Aoxin Q&M Dental Group (AOXIN SP) will acquire a 49% interest in Acumen Diagnostics for $29.4 million. Q&M Dental Group currently holds a 51% stake in Acumen, and a 32.95% stake in Aoxin Q&M. Aoxin CEO Ong Siew Hwa in a press release on Monday that "our technical capabilities and infrastructure in molecular diagnostics, spanning R&D, manufacturing, clinical laboratory testing, positions us well to create value in the generation of both new patent assets and, revenues, through the sales of test kits and provision of testing services." With Q&M holding a majority 51% stake in Acumen Diagnostics, the acquisition, upon completion, will raise Q&M's total effective ownership in Acumen Diagnostics to 67.15%, based on Q&M's 32.95% equity stake in Aoxin.
Broadway Industrial (BWAY SP) Shares of the hard disk parts supplier gained almost 10% over the last three trading days after it commenced on its first share buyback since July 2019. The company bought back 1.4mn shares at a range of S$0.155 and S$0.159 on 5 and 6 October.
City Developments Ltd (CIT SP) shares rose 3.7% to close at $7.08 on Thursday. There was no company specific news. CGS-CIMB analysts maintained "add" on the company with an unchanged target price of $7.98 in a note on 5 October, saying that the company is "positioning for the future", and that its expansion into the private rented sectors in UK and Japan should contribute to its income streams. Analyst Lock Mun Yee wrote that "The potential listing of its UK-focused office S-REIT should also lift its fee income from fund management activities as well as potentially lighten its balance sheet, in our view."
Hatten Land (HATT SP) shares rose as much as 6.2% on Thursday morning trading, before closing 1.54% higher. The company announced that its subsidiary Hatten Technologies has signed an agreement with EnjinStarter, a blockchain gaming launchpad, to develop a token system that will help promote a digital economy in Melaka. Hatten Land said in its press release that EnjinStarter will develop a token strategy that will allow tokens and NFTs to be exchanged or connected with the current loyalty point system of the Hatten Group as well as other participating hotels, attractions, malls and shops, starting with Melaka. EnjinStarter will also provide maintenance and support services for Token System and Metaverse to be developed.
RH Petrogas (RHP SP) rose as much as 3.4% on Thursday before closing flat. The company announced that it has entered into a conditional capitalisation deed to allot and issue 90 million new shares at S$0.172 per share to Surreyville, an entity within the Tiong family group that holds around 28.6% direct shareholding interest in RH Petrogas. RH Petrogas said the total outstanding amount of shareholder loans owed by the company to Surreyville was S$17.7 million as of Wednesday.
CapitaLand Investment (CLI SP) shares rose as much as 2.1% on Thursday morning after it was announced that the company's business unit, The Ascott, has expanded its portfolio of co-living properties under the 'lyf' brand to a total of 117 properties consisting of over 3,000 units in 13 cities and nine countries. Additions to the portfolio include its first lyf-branded property in Hangzhou, China, as well as a secured management contract for its second lyf property in Bangkok. Ascott previously acquired its first lyf property in Europe through its private fund Ascott Serviced Residence Global Fund (ASRGF) in June. 10 more lyf properties are slated to open in Bangkok, Beijing, Cebu, Danang, Kuala Lumpur, Manila, Melbourne, Paris, Shanghai and Singapore between 2022 and 2025.
---
Hong Kong
Meituan (3690 HK), China Resources Beer Holdings Co Ltd (291 HK), Zhou Hei Ya International Holdings Co Ltd (1458 HK). Consumer related sector shares rose collectively yesterday. Shares rose 9.7%, 5.1% and 4.8% respectively yesterday, on renewed optimism over consumer stocks following a report published by Meituan. On 6 October, Meituan released the "2021 National Day Golden Week Consumer Trend Report". The report shows that with the improvement of the domestic epidemic prevention, consumer confidence of the Chinese people has further strengthened, and the consumer economy has continued to pick up during the Golden Week. Based on the consumption data of Meituan's various businesses (catering, accommodation, tourism, entertainment, travel, etc.), the overall consumption during this year's National Day increased 29.5% compared with the previous year and a 51.6% YoY increase compared to 2019.
Jinxin Fertility Group Ltd (1951 HK). Shares rose 9.3% yesterday. Even though there was no company specific news, the rise in share price was likely due to China's population crisis. New data from the Anhui government offers fresh insight into China's declining fertility rate and rapidly ageing population. Births in Anhui province this year may only reach 530,000, or about half the number it recorded in 2017, showing the fertility rate is 'falling off a cliff". Investors are likely buying ahead in anticipation of an increase in birth rates with new policies in place. Shares are currently trading near a YTD low.
Prada S.p.A. (1913 HK). Shares rose 9% yesterday after HSBC Securities upgraded Prada from "hold" to "buy" and increased its target price from HK$48 to HK$55. HSBC said in its research report that the company underwent a number of positive structural changes recently, including wholesale reorganization, cancellation of in-store discounts and management changes. The bank believes that few investors have seen Prada's investment potential, and now that the brand and the group has been reorganized to a more focused management approach, it believes that the stock looks attractive again.
---
Trading Dashboard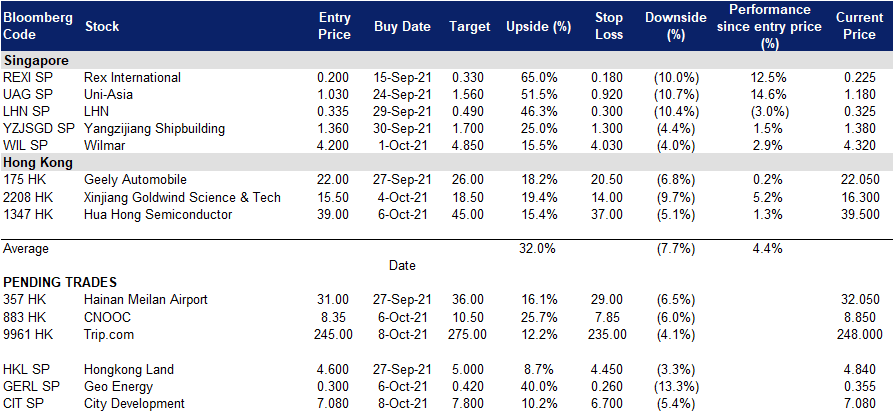 ---

---
Related Posts: