8 Dec 2021: Rex International Holding Ltd (REXI SP), China International Capital Corp Ltd (3908 HK)
Singapore Trading Ideas | Hong Kong Trading Ideas | Market Movers | Trading Dashboard
IPO Watch
Weibo Corporation Ltd (9898 HK): Uncertainty amidst tech regulations
Weibo is a leading social media platform in China for people to create, discover and distribute content. It is one of the top 10 mobile apps and one of the top 3 social media platforms in China in terms of MAUs and DAUs in June 2021, according to the CIC report. Weibo is currently listed on Nasdaq under the ticker WB US and is aiming for a dual-listing on the HKEX.
Financials. Revenue declined from US$1.72bn in 2018 to US$1.69bn in 2020, mainly due to the negative impacts from the Covid-19 pandemic. However, in 4Q20, the company's revenue recovered 10% YoY and further rebounded by 42% in 1Q21 and 48% in 2Q21, as advertising demand gradually recovered. Revenue grew by 39.5% YoY to US$1.64bn for the first three quarters of the year and net profit rose 10% YoY.
Valuations. Weibo is currently trading at 37.2x 2020 P/E, above the average of other internet peers. Amidst tightening internet regulation, there could be tangible risks associated with the company's operations and advertising revenue. Hence, we have a neutral rating on the company.
IPO details. IPO opened on 29 Nov and will close on 2 Dec. Results announcement date and dealing of shares will be on 7 Dec and 8 Dec respectively.
---
SINGAPORE
Rex International Holding Ltd (REXI SP): Power up on oil
BUY Entry – 0.295 Target – 0.340 Stop Loss – 0.270
Rex International Holding Limited operates as an independent oil exploration and production company. It operates through Oil and Gas, and Non-Oil and Gas segments. The company offers Rex Virtual Drilling, a liquid hydrocarbon indicator, which uses seismic data to search for oil. The company is involved in the oil and gas exploration and production activities with a focus in Oman and Norway.
Rebound in oil prices. WTI crude futures climbed more than 2% to above US$71 per barrel, while Brent crude futures gained about 2% to above US$74.5 per barrel yesterday. Both WTI and Brent crude futures gained a total of approximately 7.7% and 6.5% respectively, after the major sell-off 2 weeks ago when the Omicron variant was first announced. Oil prices recovered as uncertainties around the new variant and its economic implications start to ease, as a South African health official reported over the weekend that Omicron cases had only shown mild symptoms, while top US infectious disease official Dr. Anthony Fauci said that the initial data on the omicron variant was "encouraging."
Second producing field near completion. The company announced last Wednesday that the completion of Rex's 90% subsidiary Lime Petroleum AS's acquisition of 33.8% of the Brage Field is now expected to be completed by 15 December 2021. Brage Field will add around 3.4k barrels of oil production per day net to Rex's subsidiary, Lime Petroleum.
Diversifying into the clean and green space. In November, Rex announced that its 90% subsidiary Lime Petroleum AS has entered into an agreement with Nautilus Carbon Services AS to participate in the first phase of a larger project involving several other joint-industry project partners, which aims to secure a storage site in the Norwegian Continental Shelf where CO2 can be injected and safely stored permanently. This project is in line with the global goal to reach net-zero emissions by 2050.
Joining the big guys. Last Thursday, Rex announced that the company has submitted an application to SGX in relation to the proposed transfer from the Catalist to the Mainboard of the exchange, which approval signify the credibility of Rex, given that companies seeking a listing on the Mainboard must meet the entry criteria, which includes minimum profit and/or market capitalisation levels.
---
Singapore Airlines Ltd (SIA SP): Oversold on Omicron
REITERATE BUY Entry – 4.80 Target – 5.05 Stop Loss – 4.70
The Singapore Airlines Group has over 20 subsidiaries, covering a range of airline-related services, from cargo to engine overhaul. Its subsidiaries also include SIA Engineering Company, Scoot, Tiger Airways, Singapore Flying College and Tradewinds Tours and Travel. Principal activities of the Group consist of air transportation, engineering services and other airline related activities.
Oversold. Shares gapped down last Friday and entered the oversold territory where RSI fell below 30, after it was reported that a new Covid-19 variant, Omicron was discovered which originated from South Africa. Despite the heavy sell-off, shares rebounded and closed above the short-term support (S$4.80) last Wednesday, representing a double-bottom pattern.
Omicron: More transmissible but less severe. MOH said early clinical observations from South Africa and around the world suggest that Omicron may be more transmissible and have a higher risk of reinfection compared to the Delta and Beta variants of the virus. However, the ministry said cases that have been detected around the world have mostly displayed mild symptoms and no Omicron-related death has been reported so far. In addition, there is an emerging view amongst scientists around the world that existing COVID-19 vaccines will still work on the Omicron variant, especially in protecting people against severe illness.
Load up at the opportunity. Amidst the Omicron breakout, travel restrictions have been extended to more countries as Singapore steps up measures against Omicron. However, the restrictions do not ban travelling, but mandate all travellers entering Singapore on VTLs to take COVID-19 tests daily for seven days on arrival. The basis was formed as preliminary validation by the manufacturers show that ARTs remain effective in detecting COVID-19 cases of the Omicron variant. The new testing requirement will take effect on Dec 6, 11.59pm.
---
HONG KONG
China International Capital Corp Ltd (3908 HK): Benefitting from a new wave of dual listings
Buy Entry – 20.8 Target – 23.5 Stop Loss – 19.5
China International Capital Corp Ltd is a China-based company mainly provides investment banking services to domestic and overseas enterprises, institutions and individuals. The Company mainly operates its businesses through six segments. The Investment Banking segment mainly provides equity financing, debt and structured financing and financial consulting services for enterprises and institutions. The Stock segment mainly provides comprehensive financial services for stock business to professional investors. The Fixed Income segment mainly provides interest rate and foreign exchange, credit business, securitization business, derivatives and futures business. The Investment Management segment is mainly engaged in asset management business, fund management business and private equity investment fund business. The Wealth Management segment mainly provides wealth management products and services. The Research segment mainly provides research services to customers.
Monetary easing in China. The People's Bank of China also on Monday said it will reduce most banks' reserve requirement ratio by 0.5 percentage point next week, releasing RMB1.2tn (US$188bn) of liquidity. It is viewed as some relief for the property sector. However, the central government will not compromise once property prices resurge again. Hence, the curb on the property market will continue. The easing measures are more like a seasonally tactical tweak on the macro economy as liquidities are tight at the end of the year. Liquidity injection will benefit the equity market to some extent as the authority still restrict fund flows to the property market.
A wave of dual listing in Hong Kong could restart again. Recently, US-listed Chinese stocks were sold off due to the concern of VIE-based structure. Meanwhile, Didi Chuxing (DIDI US) announced it will delist from the US market and proposed to be listed in Hong Kong. These events could trigger another wave of dual listing in Hong Kong moving forward. CICC, as one of the largest investment bank in China could have more underwriting businesses. Furthermore, other Chinese unicorn companies are expected to choose Hong Kong as the primary listing location.
Updated market consensus of the EPS growth in FY22/23 are 19.2%/19.3% YoY respectively, which translates to 7.3x/6.1x forward PE. Current PER is 8.9x. Bloomberg consensus average 12-month target price is HK$26.37.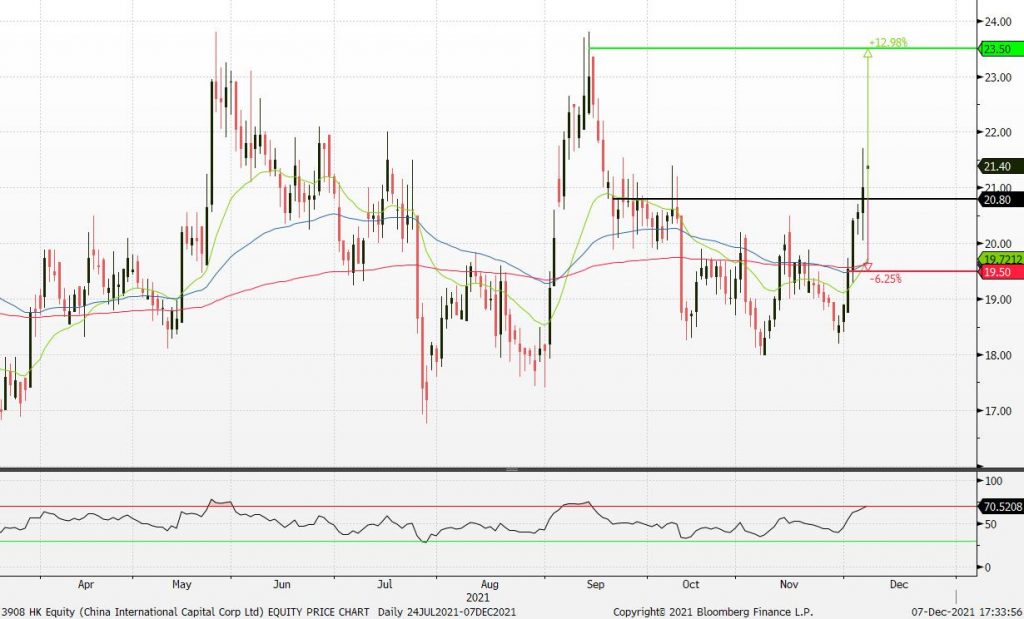 ---
Yanzhou Coal Mining Co Ltd (1171 HK): A seasonal trade
Buy Entry – 13.3 Target – 15.5 Stop Loss – 12.3
Yanzhou Coal Mining Company Limited is a coal producer in China and Australia, which is primarily engaged in the mining, washing, processing and distribution of coal through railway transportation. The Company's segments include Coal mining, which is engaged in underground and open-cut mining, preparation and sales of coal and potash mineral exploration; Coal railway transportation, which is engaged in the provision of railway transportation services; Methanol, electricity and heat supply, which is engaged in the production and sales of methanol and electricity and related heat supply services, and Equipment manufacturing, which is engaged in the manufacturing of coal mining and equipment. The Company offers a range of coal products and other mixed coal products, including thermal coal, semi-hard coking coal, semi-soft coking coal, pulverized coal injection (PCI) coal and other mixed coal products.
2022 annual thermal coal price fixed. National Development and Reform Commission proposed to set annual thermal coal prices for 2022 at between RMB550 and RMB850 (US$86-US$133) per tonne, and has told miners and power plants to maximise signing up next year's supplies via term contracts. As of 3rd December, China thermal coal price closed at RMB848.2/tonne. YTD high/low is RMB1982/588.2.
Winter season just started. The roller coaster movement of coal prices could have ended with a proposed price range reference by the National Development and Reform Commission. Moving forward, coal companies have more visibilities in terms of financial performance. More importantly, the authority believed high coal prices may not fall back to the pre-COVID low base levels in 2022. Coal sector has positive upward momentum due to the seasonality.
Updated market consensus of the EPS growths in FY22/23 is -13.78%/-9.9% YoY respectively, which translates to 4.05x/4.49x forward PE. Current PER is 4.39x. Dividend yield in FY22F/23F is 14.25%/12.93%. Bloomberg consensus average 12-month target price is HK$12.51.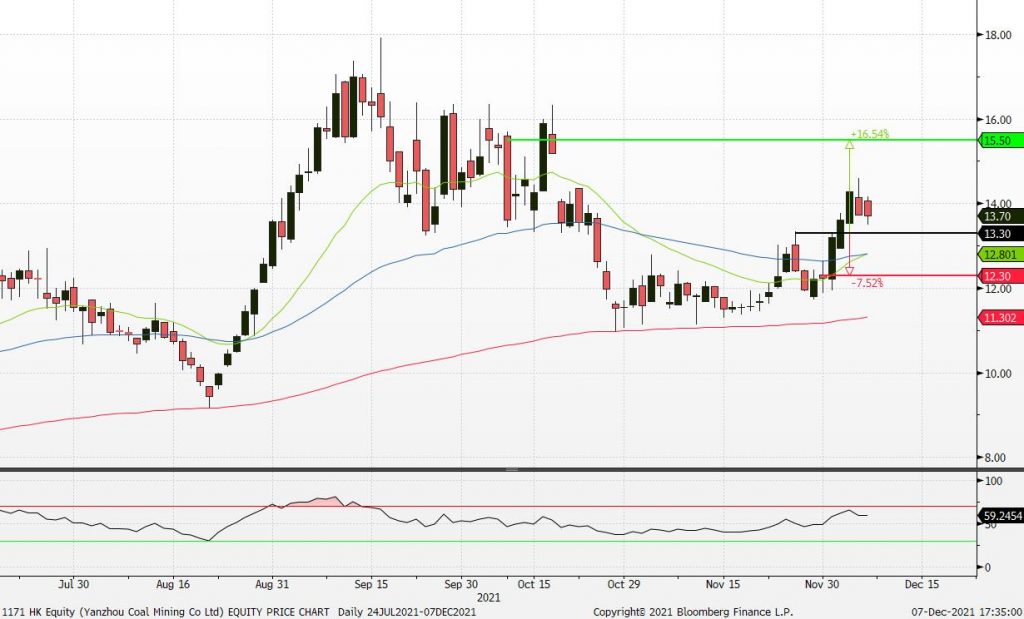 ---
Market Movers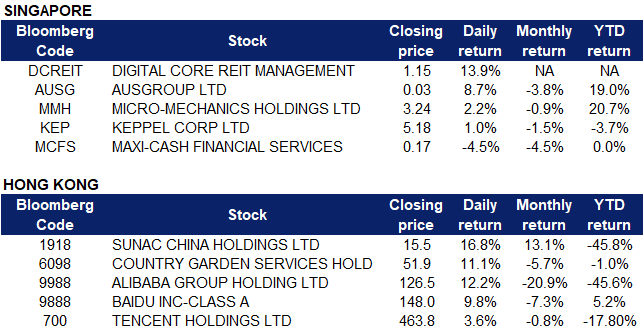 ---
United States
Top Sector Gainers
Top Sector Losers
Shares of Apple (AAPL US) rose to an all time closing high of $171.18 yesterday after Morgan Stanley analyst Katy Huberty raised her target price on the stock to $200, up from $164. Huberty sees the stock rising as traders seek out high-quality companies that are thought to be safer investments, now that volatility has returned to the financial markets. She also believes that new products from Apple, like an augmented reality headset or self-driving car, aren't yet baked into the share price.
Intel Corporation (INTC US) shares jumped 8.8% in premarket trading before closing 3.1% higher after the company said that it would take its Mobileye unit public in an initial public offering planned for mid-2022. An IPO could value Mobileye at over $50 billion.
Moderna (MRNA US) shares rose 6.4% yesterday after a study conducted by the University of Oxford showed that a second dose of Moderna's vaccine following a first dose of either the Pfizer-BioNTech vaccine or the AstraZeneca vaccine was more effective than two doses of the two other vaccines.
Novavax (NVAX US) shares surged 28.9% yesterday after European Medicines Agency head Emma Cooke told health ministers that Novavax's COVID-19 vaccine could be authorized in the "near future." Additionally, a study conducted by the University of Oxford showed that a second dose of Novavax's vaccine following an initial dose of AstraZeneca's (AZN US) vaccine was significantly more effective than two doses of the AstraZeneca vaccine. Shares of AstraZeneca declined 1.2%.
Nio (NIO US) shares jumped as much as 6% before closing 2.4% higher yesterday. LeasePlan, a car leasing company, revealed that it had signed a partnership with the Chinese electric vehicle maker to offer its flagship SUV ES8 in Norway. Additionally, Nio confirmed that it will host Nio Day on 18 December, where it will officially launch its sedan ET7 along with two other new models.
---
Singapore
Maxi-Cash Financial Services Corp (MCFS SP) shares declined 4.6% yesterday after the company announced that it will place up to 32 million ordinary shares for more than S$5.18 million altogether. Net proceeds from the placement exercise are estimated to amount to $5.06 million, which will be used for working capital purposes "to fund the expansion of its secured lending business and pawnshop network in the region", according to the Maxi-Cash board.
AusGroup (AUSG SP) shares jumped 8.7% yesterday after the company announced that it has secured a contract for the construction of a lithium refinery for Covalent Lithium, a joint venture between Australian-listed Wesfarmers and New York Stock Exchange-listed Sociedad Quimica y Minera de Chile. AusGroup will supply, fabricate and deliver 58 stainless steel and carbon steel tanks for the refinery
Digital Core Reit (DCREIT SP) closed 13.9% higher yesterday. The REIT listed on the mainboard on 6 December at 88 US cents per share with a listing value of about US$990 million. UOB Kay Hian analyst Jonathan Koh initiated coverage of the Reit with a buy call and target price of US$1.18 ($1.62). Koh noted that the REIT derives 68.5% of its base rental income from what is known as "hyperscalers" (tech giants such as Amazon, Facebook, Google, IBM, etc) that utilise data centres built on a massive scale with sizeable commissioned power of 20-100MW to support hundreds of millions of users. Koh added that demand for hyperscale data centres is projected to grow at a compound annual growth rate (CAGR) of 23% in 2020-24, outpacing a CAGR of 15% for the broader North America data centre market.
Keppel Corporation (KEP SP) shares climbed yesterday after the company announced that Keppel Land's Chinese unit is divesting the associate company behind its first project in the eastern city of Nanjing for 1.75 billion yuan. Keppel Land China is selling its entire 40% stake in Nanjing Jinsheng Real Estate Development Co to two subsidiaries of development project partner Gemdale Corp. The completion of the divestment is expected to take place by the first quarter of 2022.
Micro Mechanics (MMH SP) shares climbed 2.2% yesterday after DBS Group Research initiated coverage on the company with a "Buy" call and a target price of $4.05, based on its estimated FY2022 earnings per share of S$0.1446, and its estimated FY2022 price-to-earnings ratio of 28 times. Analyst Ling Lee Keng said the semiconductor supercycle has not peaked yet, and expects global chip sales will grow around 9% in 2022, which should continue to drive Micro-Mechanics' share price and revenue, which are positively correlated with the semiconductor industry. Ling also added that the company also has zero debt and sustainability dividend yields, which will help the company weather cyclical downturns more effectively.
---
Hong Kong
Top Sector Gainers
Top Sector Losers
Sunac China Holdings Ltd (1918 HK), Country Garden Services Holdings Co Ltd (6098 HK). Property sector rebounded yesterday. Sunac and Country Garden shares rose 16.8% and 11.1% respectively. Beijing signalled its first substantial policy loosening, in an effort to reassure investors bracing for the possible default of developer China Evergrande. The Chinese Communist party's politburo also pledged to maintain a proactive fiscal policy and "flexible" monetary policy in the coming year, according to state media. The official announcement came after Evergrande, announced last week that it would struggle to meet its $260mn obligations, sending its shares tumbling to an all-time low on Monday.
Alibaba Group Holding Ltd (9988 HK). Shares jumped 12.2% yesterday, on news that the company is replacing its long-standing chief financial officer and reshuffling the leaders of its commerce businesses, the most notable management changes since the Chinese firm survived a bruising antitrust investigation. Alibaba also said that it would form two new units to house its main e-commerce businesses – international digital commerce and China digital commerce, in a bid to become more agile and accelerate growth.
Baidu Inc (9888 HK), Tencent Holdings Ltd (0700 HK). Shares rose 9.8% and 3.6% respectively yesterday. It was announced yesterday that German luxury car brand Audi has formed tie-ups with several leading mainland technology companies, namely Alibaba Group Holding, Baidu and Tencent Holdings to leverage their strengths and make its vehicles more attractive to Chinese buyers. Collaboration would be in the fields of big data, Internet of Things and urban mobility.
Trading Dashboard: Cut Trip.com (9961 HK) at HK$205.
---
Trading Dashboard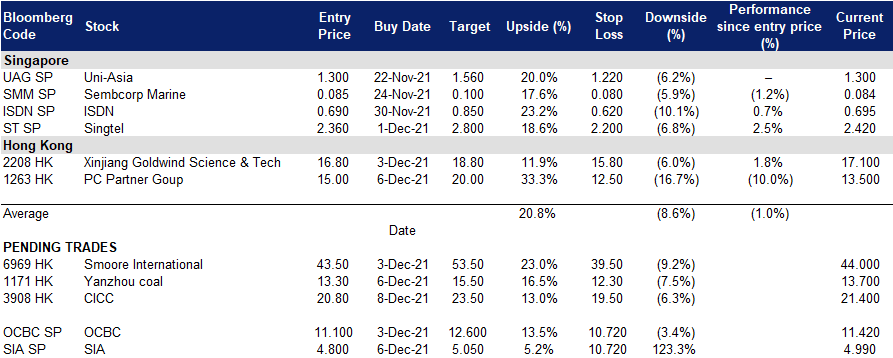 (Click to enlarge image)
---

---
Related Posts: