16 Nov 2021: Stocks making the biggest moves
Market Movers | Trading Dashboard
Market Movers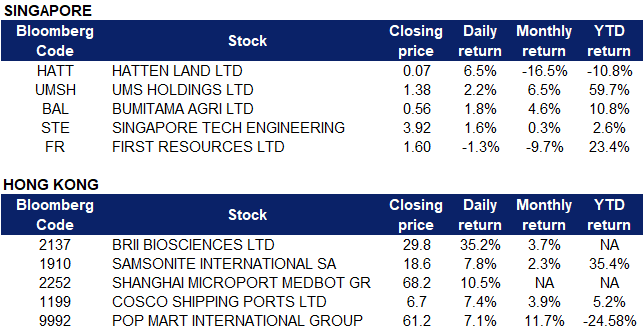 ---
United States
Top Sector Gainers
Top Sector Losers
Boeing Company (The) (BA US) Shares gained 5.5% yesterday, after China signalled that it may be close to recertifying the 737 MAX, nearly a year after the passenger jet was cleared to fly in the United States. Previously, China was the first nation to ground the MAX, following crashes in 2018 and 2019, and has not allowed the jet to fly since. Diplomatic tensions between the US and China have added to the uncertainty surrounding the return of the plane, a key American export and Boeing's main source of revenue. However, there are signs of a thaw, with presidents Biden and Xi slated to talk for the first time.
Wynn Resorts Ltd (WYNN US), Las Vegas Sands Corp (LVS US). Casino sector shares rose collectively yesterday, with Wynn Resorts gaining 4.4% and Las Vegas Sands gaining 4.1%. While casino operators continue to warn that travel restrictions will hold back near-term traffic, they note that pent-up demand is ready to be unleashed and the general outlook for the gaming license renewal process in 2022 is looking more positive.
Crowdstrike Holdings Inc (CRWD US). Shares declined 10.6% yesterday, after Morgan Stanley initiated coverage on CrowdStrike with an underweight rating and a $247 price target. The report highlighted that the potential for decelerating revenue growth and the stock's valuation of approximately 26x its 2023 sales creates an unfavorable risk-reward. Furthermore, CrowdStrike's first-mover advantages appear to be fading as its rivals' next-generation endpoint detection and response offerings catch up to it in terms of capability — and as its peers offer those services to customers for at least 15% to 20% less.
Tesla Inc (TSLA US). Shares declined 1.9% yesterday, extending to 3 consecutive days of losses. Shares tumbled after Elon Musk asked his followers on a Twitter pole whether he should sell some of his shares in the company, followed by news of him unloading stock worth about US$ 7bn after. Shares may have faced additional pressures from the blockbuster trading debut of Rivian Automotive (RIVN US), which gained a total of 91% since its IPO last Wednesday.
---
Singapore
Singapore Tech Engineering (STE SP) shares added 1.6% on Monday after the company announced that it has secured a smart city project in Kaohsiung City, Taiwan. Its smart mobility business will be awarded a contract by the Kaohsiung City Mass Rapid Transit Bureau to provide smart metro solutions, trains and a power supply system for the Kaohsiung MRT Red Line Extension, over a 7-year period, adding to the group's record of over 200 smart metro projects in more than 50 cities worldwide. STE also announced that its marine business has secured a contract to construct Falaj 3-class offshore patrol vessels for the UAE Navy.
First Resources (FR SP) shares lost as much as nearly 1.9% on Monday. The company reported its third quarter results with an underlying net profit of $71.1 million, up 44.9% from the year before. The company attributed this to the higher average selling prices and stronger sales volume. The group saw a 4.1% decrease in crude palm oil (CPO) production to 228,460 tonnes from 238,226 tonnes in Q3 2020. Chief executive officer Ciliandra Fangiono said that on the production front, Q3 2021 is shaping up to be the peak production quarter for the group as output for Q4 2021 is expected to taper off quarter on quarter.
Hatten Land (HATT SP) shares rose 4.8% on Monday after the company posted a net loss of$5.2 million for the first quarter ended 30 September, narrowing from RM16.6 million in the year-ago period. Revenue was down 58.9% to RM1.7 million from RM4.1 million a year ago which the company said was mainly due to decreased property viewings which led to lower sales. Hatten Land also said that "no dividend has been declared for 1Q FY2022 as the group is in a loss position during the financial period."
Bumitama Agri (BAL SP) shares rose 1.8% on Monday. The company recorded a record high 588.7 billion rupiah in net profit for the third quarter ended September as prices of palm oil increased globally. The company said in its quarterly update that the average selling price of its crude palm oil stands at 10,000 rupiah per kg, 27% higher than in the year-ago period. Sales volume grew 13% which drove Q3 revenue from CPO 43% to 2,679.8 billion rupiah. Bumitama is optimistic to meet its internal growth guidance for fresh fruit bunches (FFB). FFB harvest from both nucleus and plasma estates reached 2.7 million tonnes in the 9M period, 79% of the previous record high output in 2018. The company expressed that it is bullish on CPO prices remaining high, saying "several industry experts have voiced that the price at current level should sustain, as tightness in global inventory is anticipated to persist due to ongoing supply disruptions as well as post-pandemic demand recovery."
UMS Holdings (UMS SP) shares climbed 2.2% on Monday. The company announced its third quarter results last week, with net profit rising to$15.1 million, up 17 per cent from the$12.9 million posted last year. This is largely attributed to the strong growth in the global semiconductor industry. Earnings per share stood at $0.0284, up from $0.0243 a year earlier. Revenue for the quarter grew 50% to $67.6 million, up from $45.2 million the year before. The company has proposed an interim dividend of $0.01 cent per share for Q3 FY201, up from $0.005 per share paid in the same period last year in view of its "exceptional" performance. UMS shareholders have received YTD $0.03 in dividends and 1 bonus share for every 4 existing ordinary shares.
Trading Dashboard Update: Add UMS Holdings (UMSH SP) at S$1.43. Remove ThaiBev (THBEV SP) at S$0.725
---
Hong Kong
Top Sector Gainers
Top Sector Losers
Brii Biosciences Ltd (2137 HK), Samsonite International S.A. (1910 HK). Brii Biosciences' shares jumped 35.2% yesterday on news that China is expected to approve the country's first COVID-19 drug by year end. Consequently, this led to the rise of travel-related stocks, such as Samsonite, which gained 7.8% yesterday. Chinese researchers are rolling out a number of remedies specific for COVID-19 treatment and among the drug producers in China, a neutralizing monoclonal antibody combination therapy is expected to become the first in the country to get approval for market use in December. The combination therapy is co-developed by Tsinghua University, the Third People's Hospital of Shenzhen and Brii Biosciences, a company that has dual headquarters in China and the US. According to Bloomberg consensus, Brii Biosciences currently has a rating of 5 BUYS and 0 HOLD and SELL, with a 12M TP of HK$43.50, representing an upside of 46.2% as of yesterday's closing price.
Shanghai MicroPort MedBot Group Co Ltd (2252 HK). Shares rose 10.5% yesterday, gaining a total of 57.9% since its IPO on 2 November where shares were priced at HK$ 43.20. The company announced yesterday a 5.43mn placement of additional shares at an offer price of HK$43.20 per share, which would generate net proceeds of approximately HK$ 225mn. Additionally, it was reported that the company is actively carrying out strategic cooperation on a global scale, establishing partnerships with many top international surgical robot companies and accelerating the deployment of R&D centers in many overseas countries and regions such as Singapore. According to Frost & Sullivan's report, the global surgical robot market has increased from USD 3bn in 2015 to USD 8.3bn in 2020, and may reach USD 33.6bn in 2026.
COSCO SHIPPING Ports Ltd (1199 HK). Shares rose 7.4% yesterday as the company announced that it is seeking to turn the future mega-port of Peru's Chancay port into a hub for the South American region. The project, which is advancing in Phase 1 with the drilling of the tunnels that will connect the operational area with the Chancay logistics park, will add a port capacity of 1m teu and 6m tonnes of general and bulk cargo to Peru's port network.
Pop Mart International Group Ltd (9992 HK). Shares rose 7.1% yesterday. According to statistics, as of 12am on November 12, Pop Mart's online omni-channel sales exceeded RMB 270mn, an increase of over 60% YoY, and ranked first in sales at the flagship store of the Tmall toy industry for three consecutive years. According to Bloomberg consensus, Pop Mart currently has a rating of 21 BUYS and 0 HOLD and SELL, with a 12M TP of HK$82.93, representing an upside of 35.5% as of yesterday's closing price.
Trading dashboard: Add CNOOC (883 HK) at HK$8.05. Add PC Partner (1263 HK) at HK$12.5.
---
Trading Dashboard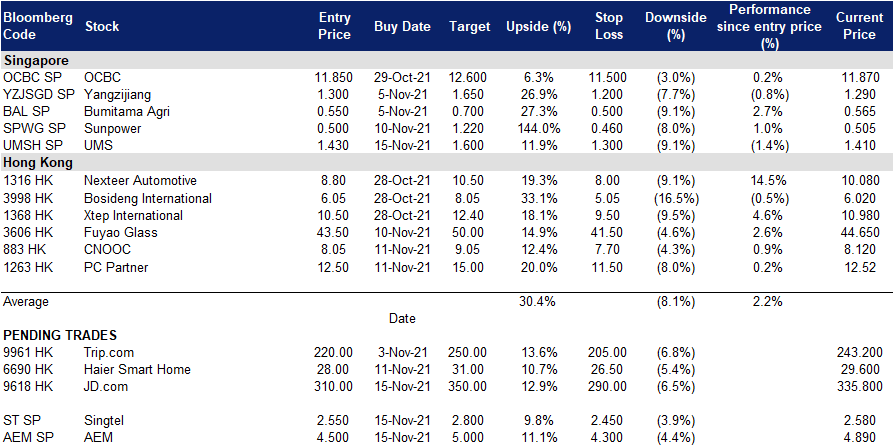 ---

---
Related Posts: