6 Dec 2021: Singapore Airlines Ltd (SIA SP), Yanzhou Coal Mining Co Ltd (1171 HK)
Singapore Trading Ideas | Hong Kong Trading Ideas | Market Movers | Trading Dashboard
IPO PERFORMANCE REVIEW
Grab (GRAB US): Late arrival
The much anticipated trading of GRAB fell flat on its face, falling 12% on the first day of trading on Thursday, before slightly rebounding by 2.8% on Friday.
The ride-hailing and delivery app merged with U.S. blank-check firm Altimeter Growth Corp in a special purpose acquisition company—or SPAC—deal valued at $40 billion, the largest ever.
The $4.5 billion that Grab raised in the deal makes it the largest IPO by a Southeast Asian company in U.S. history.
Financials. Revenue for the quarter ended 30 June (2Q21) jumped 132% YoY to US$180mn, however the company incurred a net loss of US$815mn, exceeding the US$718mn net loss recorded a year earlier. ​

---
SINGAPORE
Singapore Airlines Ltd (SIA SP): Oversold on Omicron
BUY Entry – 4.80 Target – 5.05 Stop Loss – 4.70
The Singapore Airlines Group has over 20 subsidiaries, covering a range of airline-related services, from cargo to engine overhaul. Its subsidiaries also include SIA Engineering Company, Scoot, Tiger Airways, Singapore Flying College and Tradewinds Tours and Travel. Principal activities of the Group consist of air transportation, engineering services and other airline related activities.
Oversold. Shares gapped down last Friday and entered the oversold territory where RSI fell below 30, after it was reported that a new Covid-19 variant, Omicron was discovered which originated from South Africa. Despite the heavy sell-off, shares rebounded and closed above the short-term support (S$4.80) last Wednesday, representing a double-bottom pattern.
Omicron: More transmissible but less severe. MOH said early clinical observations from South Africa and around the world suggest that Omicron may be more transmissible and have a higher risk of reinfection compared to the Delta and Beta variants of the virus. However, the ministry said cases that have been detected around the world have mostly displayed mild symptoms and no Omicron-related death has been reported so far. In addition, there is an emerging view amongst scientists around the world that existing COVID-19 vaccines will still work on the Omicron variant, especially in protecting people against severe illness.
Load up at the opportunity. Amidst the Omicron breakout, travel restrictions have been extended to more countries as Singapore steps up measures against Omicron. However, the restrictions do not ban travelling, but mandate all travellers entering Singapore on VTLs to take COVID-19 tests daily for seven days on arrival. The basis was formed as preliminary validation by the manufacturers show that ARTs remain effective in detecting COVID-19 cases of the Omicron variant. The new testing requirement will take effect on Dec 6, 11.59pm.
---
OCBC (OCBC SP): It's time to tame inflation
BUY Entry – 11.85 Target –12.60 Stop Loss – 11.50
OCBC is Singapore's longest established bank, formed in 1932 from the merger of three local banks. It is now the second largest financial services group in Southeast Asia by assets and one of the world's most highly-rated banks, with Aa1 by Moody's and AA- by both Fitch and S&P. Assets under management (AUM) at its private banking subsidiary, Bank of Singapore, grew 11% YoY to US$125bn (S$169bn) as at 30 June 2021.
Rate hikes to tame inflation. With inflation in the OECD area surging in October to the highest rate in almost 25 years, Fed Chair Powell has recently turned more hawkish, saying that inflation pressures will "linger well into next year." Markets are now pricing in a full quarter-point rate hike in June 2022, while a second rate hike is expected in November 2022. We also believe that global economic growth will start to re-accelerate in the second half of 2022 once supply chain issues are resolved, lending to further loan growth momentum for the banks.
Positive consensus estimates. There are 18 BUYS and 4 HOLDS with an average TP of S$14.00, implying a total return of 24%. OCBC currently trades at 0.99x forward P/B, an almost 40% discount to DBS, while offering a decent 5% forward dividend yield.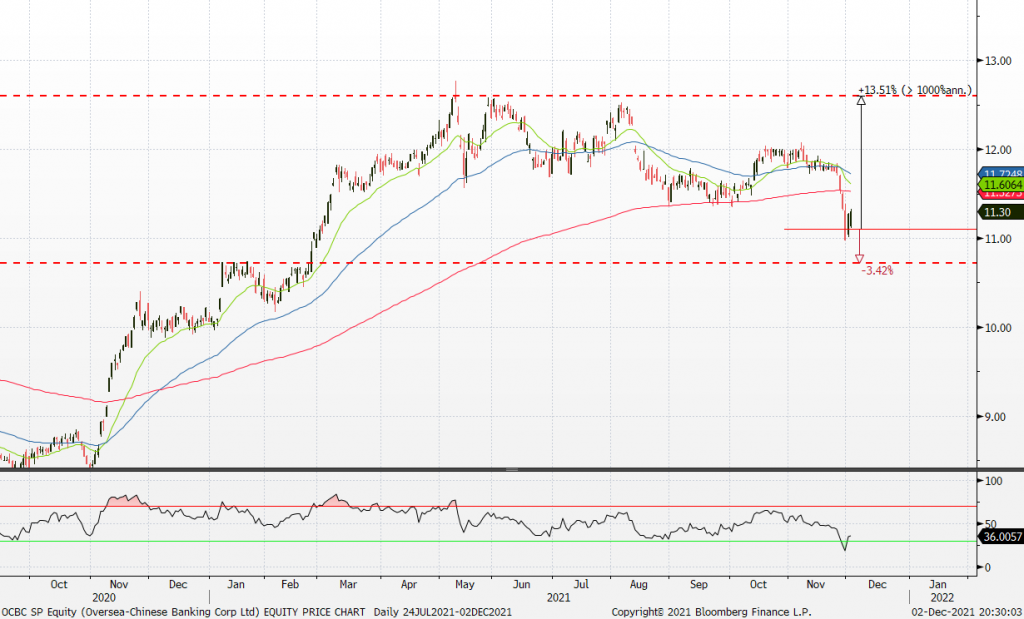 ---
HONG KONG
Yanzhou Coal Mining Co Ltd (1171 HK): A seasonal trade
Buy Entry – 13.3 Target – 15.5 Stop Loss – 12.3
Yanzhou Coal Mining Company Limited is a coal producer in China and Australia, which is primarily engaged in the mining, washing, processing and distribution of coal through railway transportation. The Company's segments include Coal mining, which is engaged in underground and open-cut mining, preparation and sales of coal and potash mineral exploration; Coal railway transportation, which is engaged in the provision of railway transportation services; Methanol, electricity and heat supply, which is engaged in the production and sales of methanol and electricity and related heat supply services, and Equipment manufacturing, which is engaged in the manufacturing of coal mining and equipment. The Company offers a range of coal products and other mixed coal products, including thermal coal, semi-hard coking coal, semi-soft coking coal, pulverized coal injection (PCI) coal and other mixed coal products.
2022 annual thermal coal price fixed. National Development and Reform Commission proposed to set annual thermal coal prices for 2022 at between RMB550 and RMB850 (US$86-US$133) per tonne, and has told miners and power plants to maximise signing up next year's supplies via term contracts. As of 3rd December, China thermal coal price closed at RMB848.2/tonne. YTD high/low is RMB1982/588.2.
Winter season just started. The roller coaster movement of coal prices could have ended with a proposed price range reference by the National Development and Reform Commission. Moving forward, coal companies have more visibilities in terms of financial performance. More importantly, the authority believed high coal prices may not fall back to the pre-COVID low base levels in 2022. Coal sector has positive upward momentum due to the seasonality.
Updated market consensus of the EPS growths in FY22/23 is -13.78%/-9.9% YoY respectively, which translates to 4.05x/4.49x forward PE. Current PER is 4.39x. Dividend yield in FY22F/23F is 14.25%/12.93%. Bloomberg consensus average 12-month target price is HK$12.51.
---
Smoore International Holdings Ltd (6969 HK): Legalisation of E-cigarette turns out to be a tailwind
Buy Entry – 43.5 Target – 53.5 Stop Loss – 39.5
Smoore International Holdings Ltd is a China-based investment holding company. The Company is mainly engaged in the research, design, manufacture and sales of vaping devices and components and self-branded advanced personal vaporizers (APV). The Company distributes its products to tobacco companies, independent vaping companies and retail clients. The Company's APV brands include Vaporesso, Renova and Revenant Vape. The Company mainly operates its businesses in the United States, Mainland China, Hong Kong, Japan, Switzerland and the United Kingdom, among others.
3Q21 financial results updates. 3Q21 unaudited adjusted net profit edged up by 7.6% YoY to RMB1.25bn.
Uncertainties were cleared. China issues draft rules requiring e-cigarette firms to obtain licences. According to the draft rules, companies selling e-cigarettes in China must meet national standards in order to register with the tobacco authority and do business legally. Companies engaged in the production of e-cigarettes must also receive a special licence from the tobacco authority, provided they can prove that they have the funds for production and a facility with equipment that meets standards.
Updated market consensus of the EPS growths in FY22/23 are 30.4%/28.5% YoY respectively, which translates to 34.1x/26.5x forward PE. Current PER is 48.0x. Bloomberg consensus average 12-month target price is HK$64.90.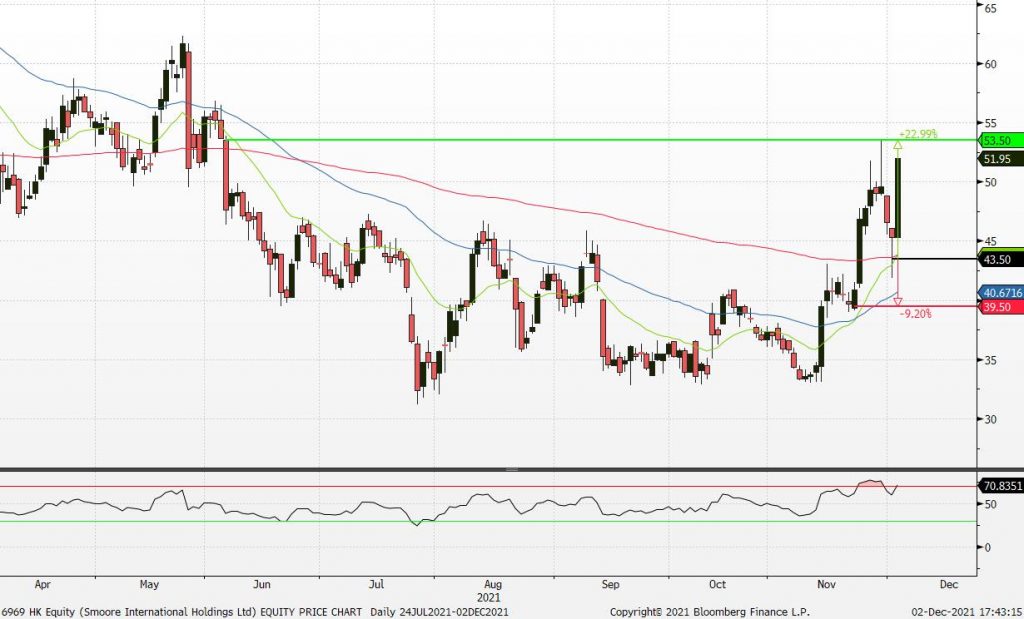 ---
Market Movers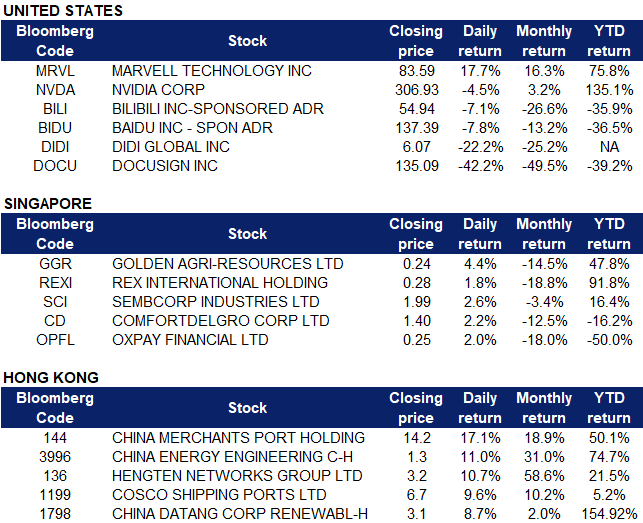 ---
United States
Top Sector Gainers
Top Sector Losers
DiDi Global (DIDI US) shares tumbled 22.2% on Friday after the company announced plans to delist from the NYSE immediately and begin preparations for a separate listing in Hong Kong. The U.S. shares are to be converted into "freely tradeable shares" on another international exchange, according to a statement. DiDi shares have been hit by regulatory woes in China ever since its initial public offering in the U.S. earlier this year. The stock has now roughly halved from that listing price. Shares of other U.S.-listed Chinese stocks Baidu (BIDU US) and Bilibili (BILI US) also reacted poorly to the news, losing 7.8% and 7.2%.
Nvdia (NVDA US) shares lost 4.5% on Friday after it was announced that the company's $40 billion acquisition of U.K. chip designer Arm is looking increasingly unlikely to go through. The deal was set to be completed by March 2022 but Nvidia CEO Jensen Huang admitted in August that it would probably go beyond that date. The deal is facing a growing number of regulatory probes around the world, according to Gartner semiconductor analyst Alan Priestley, who pointed out concerns in the U.K., the EU, the U.S. and China.
Docusign (DOCU US) shares plummeted 42.2% on Friday after the company issued fourth quarter sales guidance that was lower than what analysts were expecting. DocuSign gave a range of $557 million to $563 million, while analysts expected $573.8 million.
Marvell Technology (MRVL US) shares jumped 17.7% the chipmaker reported better than expected fiscal 2022 third quarter results. Marvell reported adjusted earnings of 43 cents per share on $1.21 billion of revenue compared to analyst expectations of 39 cents per share and $1.15 billion.
---
Singapore
Golden Agri-Resources Ltd (GGR SP), Rex International Holding Ltd (REXI SP) shares climbed 4.4% and 1.8% on Friday respectively, in tandem with the rebound in oil prices. WTI crude futures rose about 2% to above US$68 a barrel on Friday, while Brent crude futures rebounded towards US$72 per barrel. OPEC and its oil-producing allies decided on Thursday to hike production by 400,000 barrels per day in January, amidst the emergence of the new omicron variant, which could dent demand. However the alliance said in a statement that "the meeting remains in session," meaning they can "make immediate adjustments" should the current market conditions shift.
Sembcorp Industries (SCI SP) shares rose 2.6% yesterday, extending its rally to 3 consecutive trading days. The company announced on Thursday that it is acquiring a 35% interest in SDIC New Energy, a power company in China with a portfolio of 30 operational wind and solar photovoltaic (PV) assets, for 1.5 billion yuan or S$320 million. Sembcorp said that the investment is part of the group's target to reach 10GW in gross installed renewables capacity by 2025.
ComfortDelGro Corp Ltd (CD SP) shares rose 2.2% on Friday. On Tuesday, the company announced that ComfortDelGro Engineering, a wholly owned subsidiary of ComfortDelGro, has entered into a second joint venture with Engie South East Asia to develop and manage solar energy solutions. With a target to operate by the second half of 2022, ComfortDelGro Engie Solar intends to first install and operate rooftop solar panels atop three buildings in Loyang, Pandan and Ubi, operated by ComfortDelGro Engineering.
OxPay Financial Ltd (MCPP SP) shares rose 2% on Friday after the company announced that it entered into a partnership agreement with ASX listed IOUpay to enable the buy now pay later ("BNPL") option in Malaysia. Mr Kim Moon Soo, Managing Director of the Group's Malaysian operations commented that this alternative payment solution will further drive the roll out of OxPay's O2O payment acceptance platform to retailers in Malaysia and businesses across the region, thereby boosting sales amid the business recession during this COVID-19 pandemic.
---
Hong Kong
Top Sector Gainers
Top Sector Losers
China Merchants Port Holdings Co Ltd (144 HK). Port sector jumped as Ningbo Zhoushan Port Co announced to increase prices by 10% for some unloading services. Shares closed at a 52-week high. There was no company-specific news. Morgan Stantley reiterated the OVERWEIGHT rating with unchanged TP of HK$17.4. The bank believed the port sector has a rerating catalyst after Ningbo port hiked unloading fees.
China Energy Engineering Corp Ltd (3996 HK). Shares closed at a 3-month high. The company announced that, China Energy Engineering Group Guangdong Electric Power Design Institute Co., Ltd., a subsidiary of the company, has entered into the EPC general contract for Yuedian Yangjiang Qingzhou No.1 offshore wind power farm project. The respective contract amount is approximately RMB7.767bn and RMB7.453bn.
HengTen Networks Group Ltd (136 HK). The board proposed to change the English name of the company from ''HengTen Networks Group Limited'' to ''China Ruyi Holdings Limited'' and to adopt the Chinese name ''中國儒意控股有限公司'' as the secondary name of the company in replacement of ''恒騰網絡集團有限公司''.
COSCO SHIPPING Ports Ltd (1199 HK). Shares closed at a 3-week high. There was no company-specific news. The surge was due to the positive sector sentiment resulting from the Ningbo port fees hike.
China Datang Corp Renewable Power Co Ltd (2380 HK). There was no company-specifice news. AllianceBernstein L.P increased share holdings by another 5.01mn shares with an average price of HK$2.99.
Trading Dashboard: Xinjiang Goldwind Science & Tech (2208 HK) at HK$16.8.
---
Trading Dashboard

(Click to enlarge image)
---

---
Related Posts: