KGI DAILY TRADING IDEAS – 23 August 2021
Singapore Trading Ideas | Hong Kong Trading Ideas | Market Movers | Trading Dashboard
SINGAPORE
ISDN (ISDN SP): Accelerating the pace of industrial automation
BUY Entry – 0.61 Target –0.85 Stop Loss – 0.55
ISDN is a leading provider of industrial automation solutions throughout Asia. The company has more than 10,000 customers, and 74 offices spanning key Asian growth markets, and has a 35-year history of innovating alongside the growing technology needs of its customers. Today, ISDN's solutions power advanced industrial sectors including semiconductors, Industry 4.0 manufacturing, medical devices, aerospace, and clean energy. The group generates around 68% of sales from China.
Record revenue and profits in 1H2021. ISDN 1H2021 rose 30% YoY to S$217mn while net profit surged 51% YoY to S$19mn. This was on the back of better gross profit margins which rose 2.1% points to 26.8%.
Growing productivity. ISDN has continued its strategic buildout by expanding its solutions portfolio to include industrial internet-of-things (IoT) connectivity, deepening advanced engineering, growing industrial systems projects, and advancing software and cloud solutions. Covid-19 and geopolitical tensions have reduced global labour mobility and increased employee health risk, leading to an acceleration in labour automation for the group's customer base.
Riding on semiconductor wave. ISDN is set to benefit further from its semiconductor segment, where the group's solutions power global semiconductor capital equipment and production.
Fundamental OUTPERFORM and TP to S$0.85. ISDN currently trades at only 6x forward EV/EBITDA, a significant discount to its international peers who are trading at around 10x EV/EBITDA.
Peer comparison table – Singapore technology manufacturers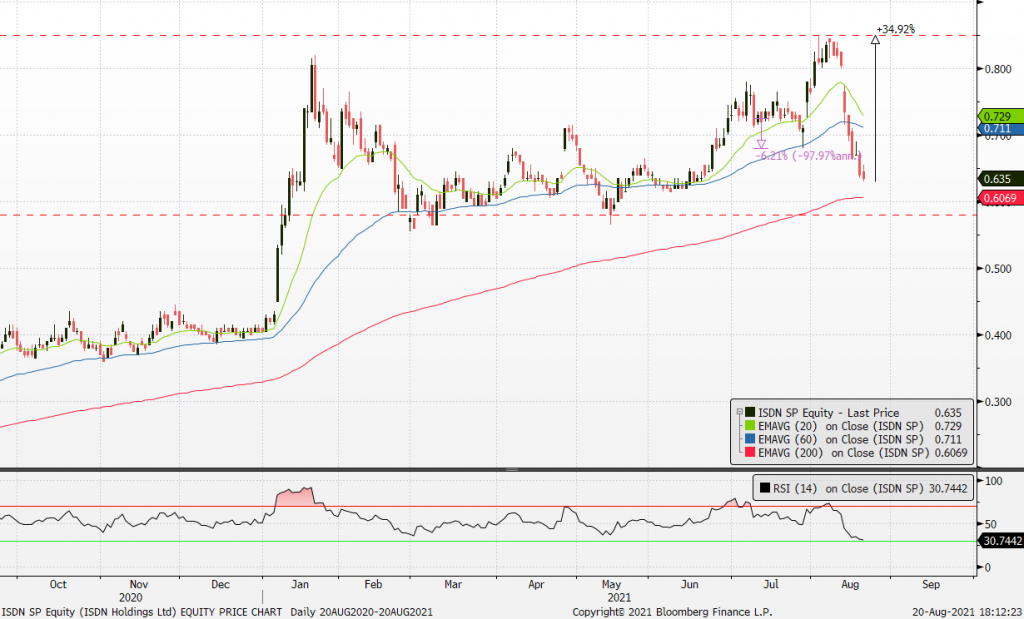 ---
Riverstone Holdings (RSTON SP): Short-term play ahead of ex-dividend date
RE-ITERATE BUY Entry – 1.20 Target – 1.32 Stop Loss – 1.15
Riverstone Holdings Limited produces, sells, and distributes clean-room products for use in highly controlled and critical environments. The company's products include nitrite and natural rubber gloves and clean-room packaging materials and finger cots, as well as face masks, face pouches, hoods, caps, jumpsuits, and swabs.
Fundamental view. While the pandemic-induced demand for gloves in 2020 helped push Riverstone's share price to a high of S$2.35 (90% higher than its current share price of S$1.23), the company's business outlook is likely to be driven by production of cleanroom products, which are more sustainable and typically command higher margins. These products are primarily used in semiconductor, pharmaceuticals, biotech, life science, aerospace and military applications.
Technical view. Shares are currently consolidating between the S$1.18 and S$1.34 levels. We think it may continue to trade within this range given the lack of a strong catalyst to propel the stock price higher.
Short-term play ahead of ex-div date. Riverstone will be paying out a MYR 10 cents (equivalent to 3.2 Sing cents), with ex-date on 19 September 2021, while payment will be on 6 October 2021. Riverstone's shares have historically tend to rally ahead of ex-div dates.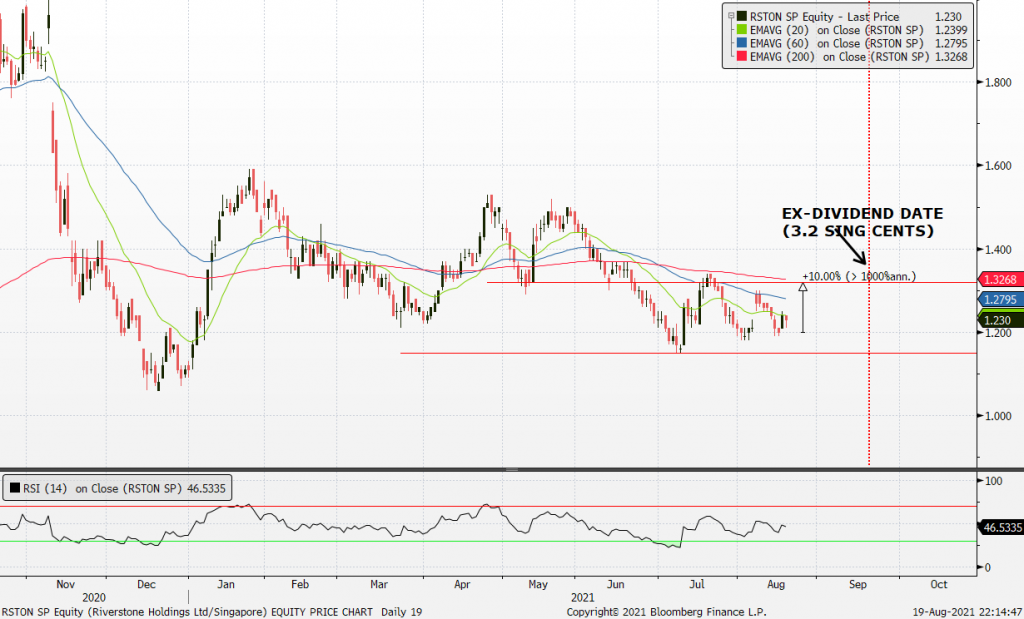 ---
HONG KONG
Chinasoft International Limited (354 HK): A tech company under a protective umbrella
BUY Entry – 12.5 Target – 14.5  Stop Loss – 14.5
Chinasoft International Limited is a Hong Kong-based investment holding company principally engaged in the provision of information technology (IT)-related services. The company operates through two segments. Technical Professional Services segment is engaged in the development and provision of solutions, emerging services and IT outsourcing services for banks and other financial institutions, telecommunication carriers and other multinational companies, including the sales of products. Internet IT Services segment is engaged in the development and provision of solutions and IT outsourcing services for government, tobacco industry and other small companies and training businesses.
The Ministry of Industry and Information Technology announced that total revenue of the domestic software sector grew by 23.2% YoY to RMB4.42tn, and net profit grew by 13.6% YoY to RMB500bn. 
The recent prevailing crack-down on the technology industry has created panic among investors. However, the software sector, which is the subsector of the larger technology industry, was also mistakenly sold off. The regulations announced are mainly toward Internet and platform companies. 
Chinasoft's businesses, meanwhile, are supportive of both traditional industries and new economy sectors. More importantly, it is one of the key themes that China's government is promoting – which is the domestic operating system (OS). Huawei has been developing the Harmony OS, the most promising domestic OS in China. Chinasoft is also engaged in the OS development as Huawei is its largest client. 
Among all the big tech companies, Huawei is under national protection rather than regulatory crackdown. Therefore, Huawei-themed companies are another safe haven for investors to look for growth stocks.      
Updated market consensus of the estimated net profit growth in FY21 and FY22 are 16.1% and 27.6% respectively, which translates to 24.2x and 19.0x forward PE. The current PE is 28.8x. Bloomberg consensus average 12-month target price is HK$19.68.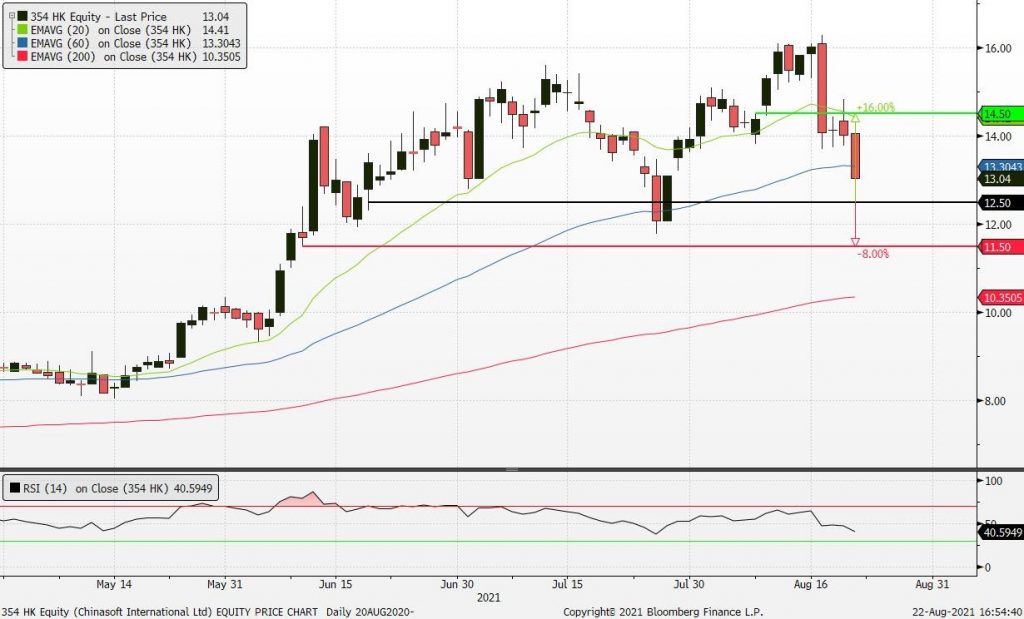 ---
Geely Automobile Holdings Limited (175 HK): Relatively policy risk-free
Reiterate BUY Entry – 23.5 Target – 29 Stop Loss – 21.5
Geely Automobile Holdings Ltd is an investment holding company principally engaged in the production and sales of automobiles. The company mainly develops, manufactures and sells automobiles, including cars, sport utility vehicles (SUVs), new energy and electrified vehicles. The company's car types include home, travel and sports. The company's new energy and electrified vehicles include electric vehicles, battery electric vehicles, hybrid electric vehicles, mild hybrid electric vehicles and plug-in hybrid electric vehicles. In addition, the company produces and sells automobile parts and related automobile components.
The company just announced 1H21 interim results. Revenue grew by 22% YoY to HK$45bn. Profit attributable to the equity holders grew by 4% YoY to HK$2.4bn. Total automobile sales volume grew by 19% YoY, ranking it third place in China with a market share of 6.3%. The overseas sales volume jumped by 173% YoY to 53,422 units. EV sales jumped by 189% YoY. The 2021 deliverable orders of new model ZEEKR 001 were sold out.
The recent regulations have negatively impacted a lot of sectors. Investors are in a panic mood. However, the EV and automobile sector is one of the few sectors that the government favors as its development is in line with carbon neutrality and environmental protection.
Updated market consensus of the estimated growth of net profit in FY21 and FY22 are 53.5% and 33.9% respectively, which translates to 27.4x and 20.4x forward PE. The current PE is 51.2x. Bloomberg consensus average 12-month target price is HK$31.3.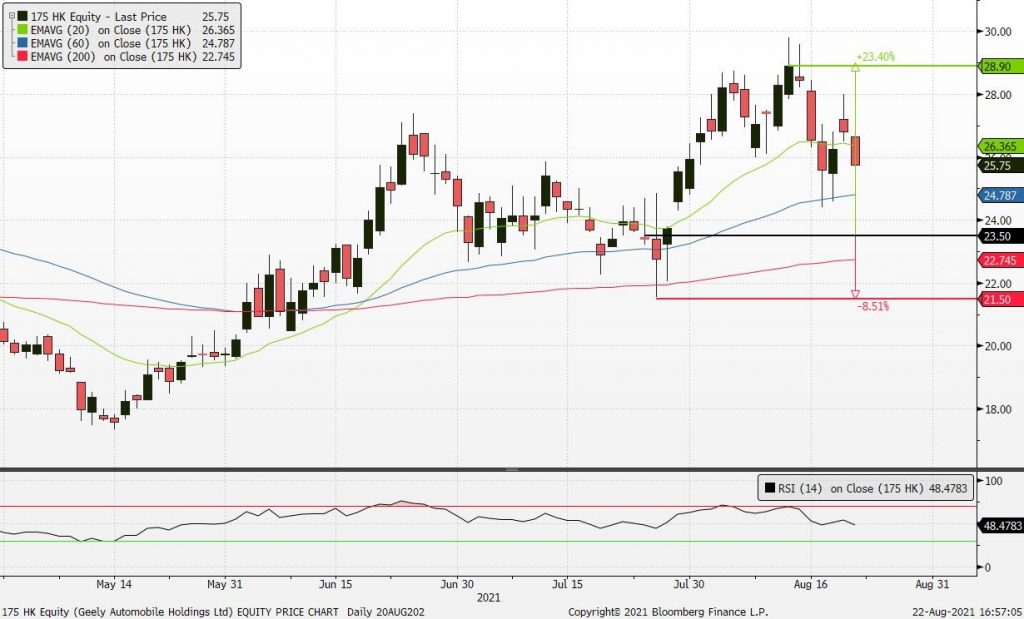 ---
Market Movers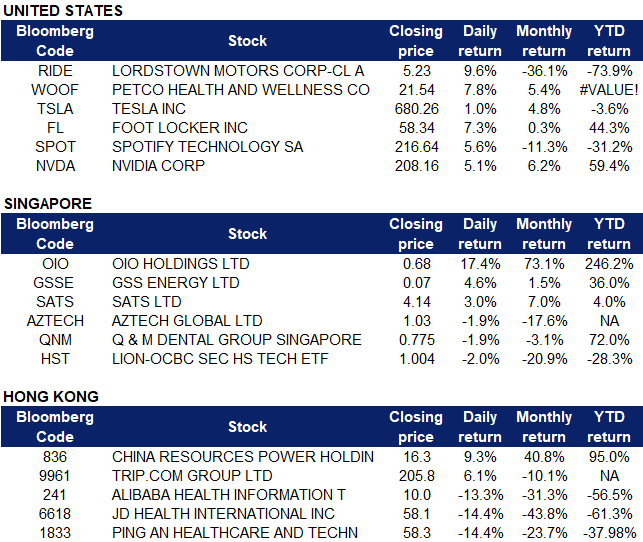 United States
Lordstown Motors (RIDE US). The electric vehicle startup saw its stock close 9.64% higher on Friday, recovering part of the 9.5% drop on Thursday, the lowest the stock has been since going public. The company has been under fire recently for misrepresenting details surrounding the progress in launching its Endurance pickup truck, and has also admitted it needed additional funding to continue operations.
Petco (WOOF US) stocks jumped 7.75% to close at $21.54 after Credit Suisse upgraded their rating for the company to Outperform, citing Petco's ability to differentiate itself even with new competition arising. Petco released second quarter financial results on Thursday. Revenue was up 19% YOY at $1.4 billion with adjusted earnings per share of 25 cents, both of which topped analyst estimates.
Foot Locker (FL US) shares surged 7.26% after reporting strong second quarter results. Earnings per share were at $2.21, beating analyst estimates of $1.01, and a 6.9% rise in comparable store sales helped drive revenue up to 9.5% YOY to $2.3 billion, largely fueled by sales of women's and children's footwear, apparel and accessories.
Spotify (SPOT US) shares rose 5.64% on Friday after the music streaming company announced that its board approved a $1 billion stock buyback. The company's Chief Financial Officer Paul Vogel said that the move demonstrates their confidence in Spotify's business and growth opportunities over the long term.
Nvidia (NVDA US) shares were up 5.14% on Friday after positive comments from Benchmark Capital, who initiated coverage with a buy rating and a $230 target price. Benchmark called Nvidia's performance "solid", and they see the semiconductor giant as being well-positioned to keep taking advantage of favourable trends such as digital transformation.
---
Singapore
OIO Holdings Limited (OIO SP). Shares surged by 17.4% on Friday after the huge sell-off on Thursday. Even though there was no company specific news, the rise in share price could be in tandem with the rise in Bitcoin prices last week. In addition, there were various positive news on Crypto last week, for example Coinbase teaming up with MUFG to start japan crypto exchange and Singapore's Central Bank building a Bitcoin inspired currency using JP Morgan Technology. Singapore's Central Bank, the Monetary Authority of Singapore (MAS), is working to streamline the global economy by changing how money moves across borders using central bank digital currencies inspired by bitcoin. Even though there was no news that OIO's Moonstake staking platform would benefit from this, the overall positive sentiment on cryptocurrencies could have fuelled investors' positive confidence in the stock, especially amid the overall weak market sentiment in Asia.
GSS Energy Limited (GSSE SP). Shares rose by 4.6% on Friday after the company entered into a subscription agreement, whereby the company will allot and issue to the subscribers, an aggregate of 83,333,300 new ordinary shares at an issue price of S$0.06, amounting to an aggregate gross consideration of S$4,999,998. Read here for the full announcement.
SATS Limited (SATS SP). Shares rose by 3.0% on Friday and closed at S$4.14, near a one-month high of S$4.15. Even though there was no company specific news, investors are likely entering positions due to industry positive news. The Straits Times published on Thursday that with over three-quarters of the population fully vaccinated, Singapore is cautiously moving to re-open borders through the introduction of vaccinated travel lanes (VTL) with two countries next month as a starting point. The VTLs will be launched with Germany and Brunei, which will allow arriving travellers to do away with serving a stay-home notice (SHN) period. In addition, Singapore will unilaterally open its borders to travellers from Hong Kong and Macau with immediate effect, without the need for them to undergo SHN upon arrival in Singapore. Singapore Airlines (SIA SP) share price increased by 1.4% on Friday as well.
Aztech Global Limited (AZTECH SP). Shares dropped another 1.9% on Friday, bringing total losses to almost 12% for the week, and ending the week at an all-time low. Aztech was the second worst performer among Singapore's technology-related manufacturers last week, only outperforming Nanofilm which lost 33% for the week. While Aztech reported a 126% YoY surge in net profit to S$29.4mn, it still fell short of street expectations. Aztech's H1 results came in "slightly below" DBS's expectations, weighed down by industry-wide component shortages. Shares continued to decline after DBS and CGS-CIMB analysts lowered their TP for Aztech Global as they remained cautious amid operational risks arising from component shortages.
Q&M Dental (QNM SP). Shares fell 3% after the stock went ex-dividend on Friday 20 August. The company paid out a 1.0 Sing cents dividend. Separately, the 1-for-5 bonus issue was approved by SGX (1 bonus share for every 5 existing shares). Q&M says the proposed bonus issue is to reward shareholders for their loyalty and continuing support. The theoretical ex-bonus share price is around S$0.665 based on a daily weighted average price of S$0.798 in the month before.
Lion-OCBC Securities Hang Seng Tech ETF. The ETF declined 10% for the week and almost 20% over the past month after regulatory fears continued to ensnare more stocks. Technology stocks bore the full brunt of selling pressure after China passed legislation setting out tougher rules for how companies handle user data. The move added to the wave of selling on Thursday after authorities said it was studying proposals to ensure the rights of drivers working for online companies and to increase oversight of the live streaming sector.
Trading dashboard: Add Uni-Asia (UAG SP) at S$1.05 and Riverstone (RSTON SP) at S$1.20. Remove Yangzijiang (YZSGD SP) at S$1.43 and Innotek (NNOT SP) at S$0.81.
---
Hong Kong
China Resources Power Holdings Co Ltd (836 HK). Shares closed at a 52-week high. The company announced 1H21 interim results. Revenue grew by 35.4% YoY to HK$42.2bn. Profit attributable to owners of the company grew by 12.7% YoY to HK$5.1bn. The group had an operational generation capacity of 59,186MW and an attributable operational generation capacity of 47,063MW as of 1H21, of which respective attributable operational generation capacity of thermal power and renewable (wind, hydro and photovoltaic) power generation capacity combined accounted for 68.3% and 31.7%. The company declared a HK$0.25 interim dividend.
Trip.com Group Ltd (9961 HK). With the gradual containment of the new wave of infections, the tourism sector is expected to recover in the near term. The gross merchandise value of the company's business trip services grew by 150% YoY in 1H21.
Alibaba Health Information Technology Ltd (241 HK), JD Health International Inc (6618 HK), Ping An Healthcare and Technology Co Ltd (1833 HK). Online healthcare stocks plunged after a state-run newspaper called for greater supervision of prescription drugs sold on the internet, sparking fears that the government is preparing to introduce new regulations. People's Daily suggested that prescriptions filled by online healthcare platforms should be reviewed by professional clinical pharmacists. The commentary said some of the internet hospitals do not have a review system for their online prescriptions, while also lacking professional pharmacists, which has led to problems like "overprescriptions" and "distributing medicines before prescriptions are actually issued."
---
Trading Dashboard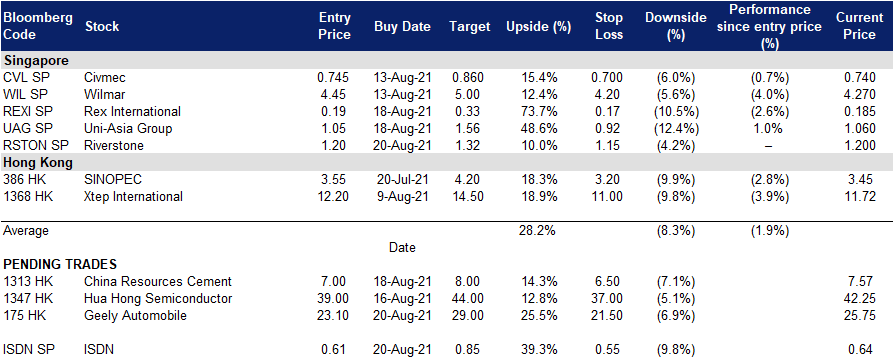 ---

---
Related Posts: