12 January 2022: Singtel (ST SP), CNOOC Limited (883 HK)
Singapore Trading Ideas | Hong Kong Trading Ideas | Market Movers | Trading Dashboard
SINGAPORE
Singtel (ST SP): Show me the money
BUY Entry – 2.41 Target –2.58 Stop Loss – 2.36
Singtel provides an extensive range of telecommunications and digital services to consumers and businesses across Asia, Australia, Africa and the US. It serves over 753 million mobile customers in 21 countries, including Singapore, Australia (via wholly-owned subsidiary Singtel Optus) and the emerging markets of India, Indonesia, the Philippines, Thailand and Africa.
Show me the money. Bloomberg on Monday evening reported that Singtel is considering options such as the potential sale of its fibre assets of its Australian subsidiary SingTel Optus Pty. The deal could potentially fetch a few billion dollars for Singtel, and help it raise cash for its other business ventures, such as the Digital Bank. Singtel shares reacted positively yesterday to the news, gaining as much as 3.9% and was the second most heavily traded shares by dollar value.
Banking on digital. In the next 12 months, a key driver will be Singtel's digital banking plans together with its partner, Grab Holdings. The Singtel-Grab consortium will allow it to take deposits and offer banking services to retail and corporate customers. For now, we think Singtel's share price has not factored in contribution from the digital bank business, and will likely be a positive boost to its shares when visibility emerges.
Consensus estimates. Consensus has an overall positive outlook on Singtel, with 18 BUYS / 1 HOLDS / 0 SELL, and a 12m TP of S$3.09 (+18% upside potential). EPS is forecasted to finally grow 303% and 20% for FY2022 (YE March) and FY2023. The stock offers a decent dividend yield of 4.2% for FY2022 and 5.0% for FY2023.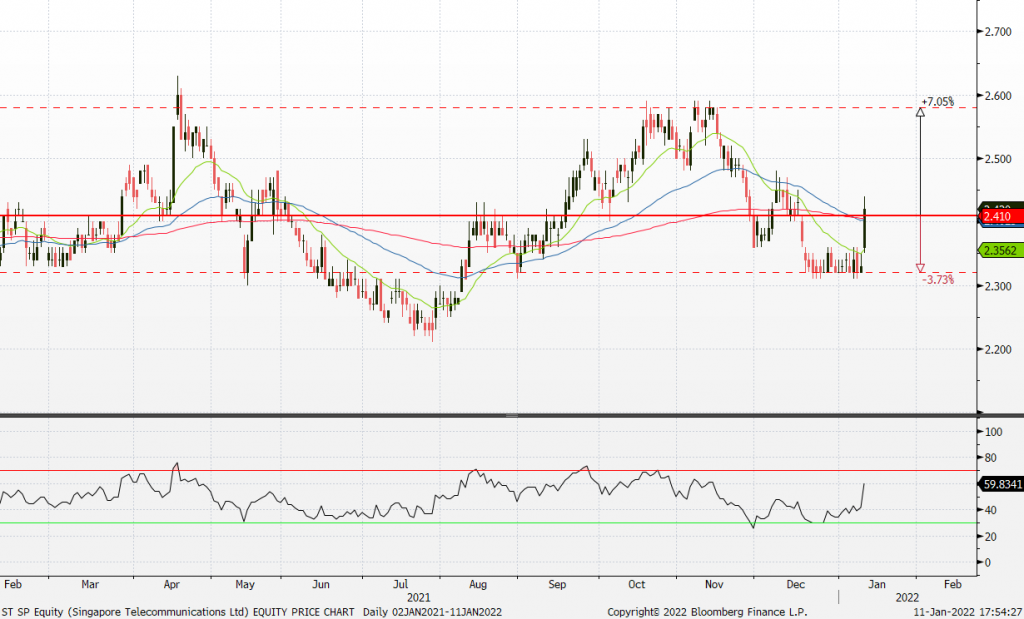 ---
Mapletree Commercial Trust (MCT SP): Buy the dip
RE-ITERATE BUY Entry – 1.82 Target – 1.98 Stop Loss – 1.74
MCT is a Singapore-focused real estate investment trust (REIT) that comprises five properties in Singapore. Its properties include VivoCity (Singapore's largest mall), Mapletree Business City, mTower (previously known as PSA building), Mapletree Anson and Bank of America Merrill Lynch HarbourFront. Its portfolio has a total Net Lettable Area (NLA) of 5mn square feet, valued at S$8.8bn.
Oversold. Units of MCT dropped by as much as 10% over the last two trading sessions, triggered by the REIT's announcement of its merger with Mapletree North Asia Commercial Trust (MNACT). We think this is likely due to MNACT's geographical diversified asset base in North Asia, which is a significant contrast to MCT's focus on the Singapore market. Furthermore, investors may have reservations over MCT's higher gearing after the merger. Post-merger, MCT's gearing is estimated to increase from 33.7% to between 38.0% (scrip-only) and 39.2% (cash-and-scrip), depending on if unitholders were to elect to receive only 100% scrip or a combination of cash and scrip.
Third largest REIT post-merger. Assuming MCT receives 50% of the total number of votes cast for the proposed merger to proceed, the merged REIT entity will be Singapore's third-largest REIT by market capitalization, just below CapitaLand Integrated Commercial Trust (CICT) and Ascendas REIT (AREIT).
Consensus forecast and valuations. After the 10% drop, MCT now trades at a 10% discount to the 10-year P/B average of 1.18x. MCT is forecasted to provide a 5.1% and 5.4% dividend yield for FY2022 and FY2023 (March YE). After the announcement of the merger, consensus estimates are mixed with 7 BUYS, 6 HOLDS and 1 SELL. The 12m average TP is S$2.24, implying a 23% upside potential.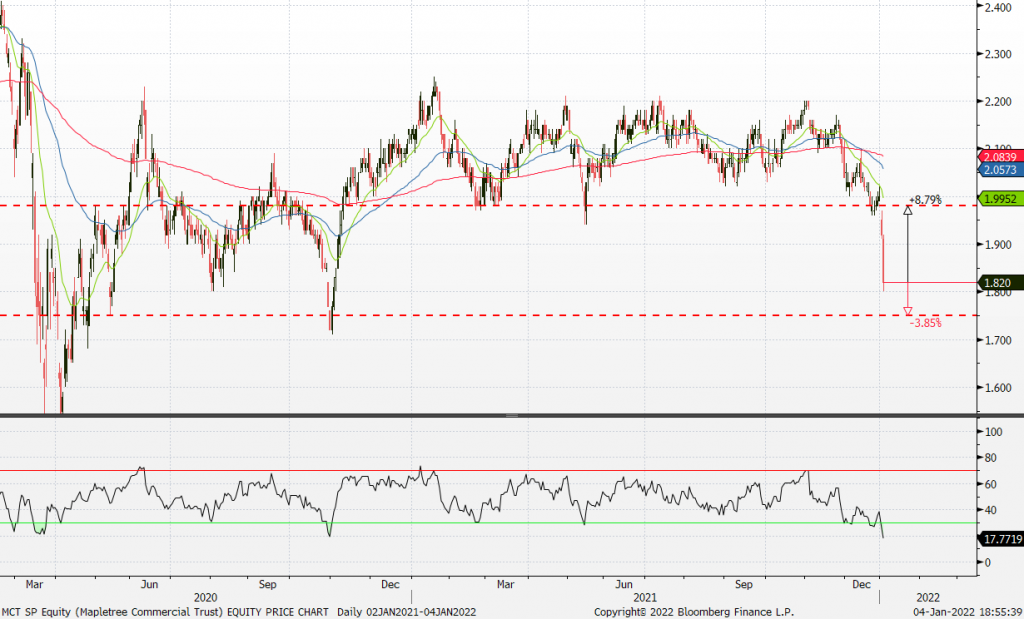 ---
HONG KONG
CNOOC Limited (883 HK): Ang Bao for Chinese New Year
BUY Entry – 8.75 (buy stop) Target – 10.5 Stop Loss – 8.0
CNOOC Limited is a Hong Kong-based investment holding company principally engaged in the exploration, production and trading of oil and gas. Its businesses include conventional oil and gas businesses, shale oil and gas businesses, oil sands businesses and other unconventional oil and gas businesses. The company mainly operates businesses through three segments. The Exploration and Production segment is engaged in the exploration, development and production of crude oil, natural gas and other petroleum products. The Trading segment is engaged in the trading of crude oil, natural gas and other petroleum products. The company mainly operates businesses in China, Canada, the United Kingdom, Nigeria, Indonesia and Brazil, among others.
Oil and gas is one of the 2022 top sector picks globally. We are heading into the third year since the COVID-19 outbreak. With most people vaccinated, death rates and inpatient rates have been dropping substantially. Health specialists believe the pandemic will probably end by the end of 2022. Hence, the reopening of borders and economies may come sooner rather than later. Accordingly, the demand for oil is expected to rise, driven by the recovery of production and travelling activity. Due to insufficient investments in exploration and production in the oil and gas sector over the past few years, we will see an imbalance of supply and demand dynamics, but this time there is insufficient supply rather than glut. 
Upbeat announcement. The company announced the production target in 2022 and the dividend plan. The company proposes that the dividend payout ratio to be no less than 40% from 2022 to 2024. The annual absolute dividend is expected to be no less than HK$0.70/share regardless of the operational results. Meanwhile, the company plans to pay a 20th anniversary special dividend in addition to the 2021 year-end regular dividend. In 2022, the company will appropriately implement the share buybacks subject to the authorization granted at the general meeting of shareholders.
The updated market consensus of the EPS growth in FY22/23 is 8.85%/0.42% YoY respectively, which translates to 4.0x/4.0x forward PE. Current PER is 6.5x. Bloomberg consensus average 12-month target price is HK$12.61.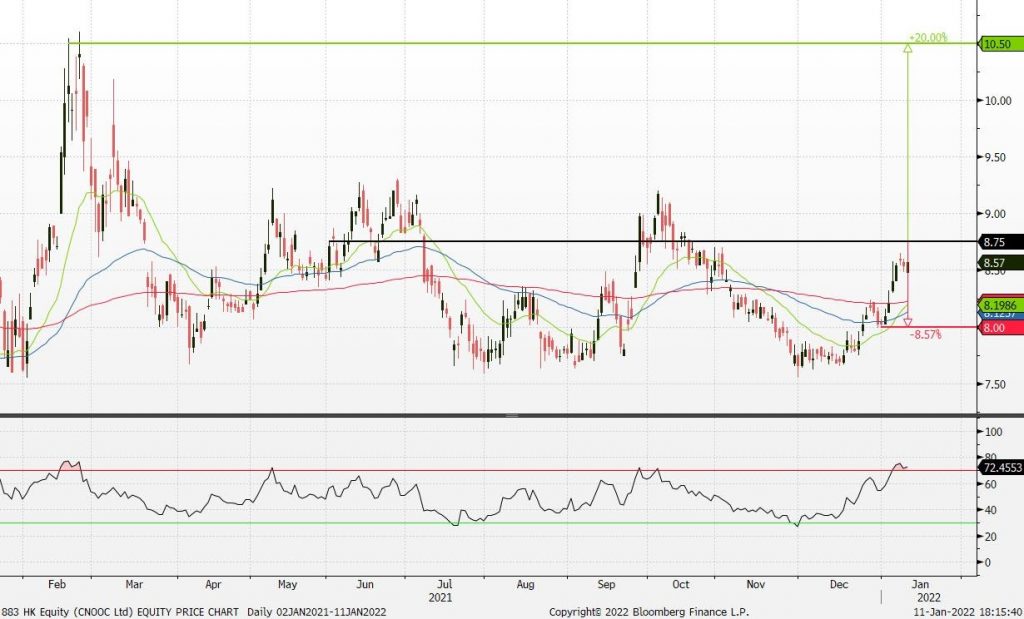 ---
China Resources Cement Holdings Limited (1313 HK): Value for money
Buy Entry – 6.5 Target – 7.5 Stop Loss – 6.0
China Resources Cement Holdings Limited is a Hong Kong-based investment holding company principally engaged in the cement and concrete businesses. The Company operates through two business segments. The Cement segment is engaged in the manufacture and sales of cement and related products. The Concrete segment is engaged in the manufacture and sales of concrete and related products. The Company is also involved in the trading of fly ash, mortars and shotcrete, as well as the property holding business through its subsidiaries.  
Some easing on the China property sector. According to the South China Morning Post, Beijing's loan limit for real estate companies has been partially relaxed. Chinese policymakers plan to exclude debt raised by a developer to acquire distressed assets of another home builder when calculating their compliance with the three red lines. According to the new rule, companies will be allowed to borrow more from banks and increase their debt level by 5 per cent annually for each red line threshold that they meet, subject to a maximum yearly debt increase of 15 per cent.
Cement price is under correction but remains at multiple year-highs. As of 10th January 2022, the China cement price index was at 178.24, up 16.2% YoY. The recent peak was 213.71 in October 2021. The soft demand for cement was due to the slowdown in the property construction and infrastructure project in 4Q21. However, clean energy projects as well as new infrastructure such as 5G and internet of things could uphold the demand for cement this year. 
Value stocks will shine amidst the rate hike cycle. Global economy is entering into the rate hike cycle in 2022. Value stocks (low PE and high dividend yield) are expected to have decent returns in the volatile market.  
Updated market consensus of the EPS growth in FY22/23 are 7.0%/4.2% YoY respectively, which translates to 5.4x/5.2x forward PE. Current PER is 6.8x. FY22F/23F dividend yields are 8.6%/9.1% respectively. Bloomberg consensus average 12-month target price is HK$8.88.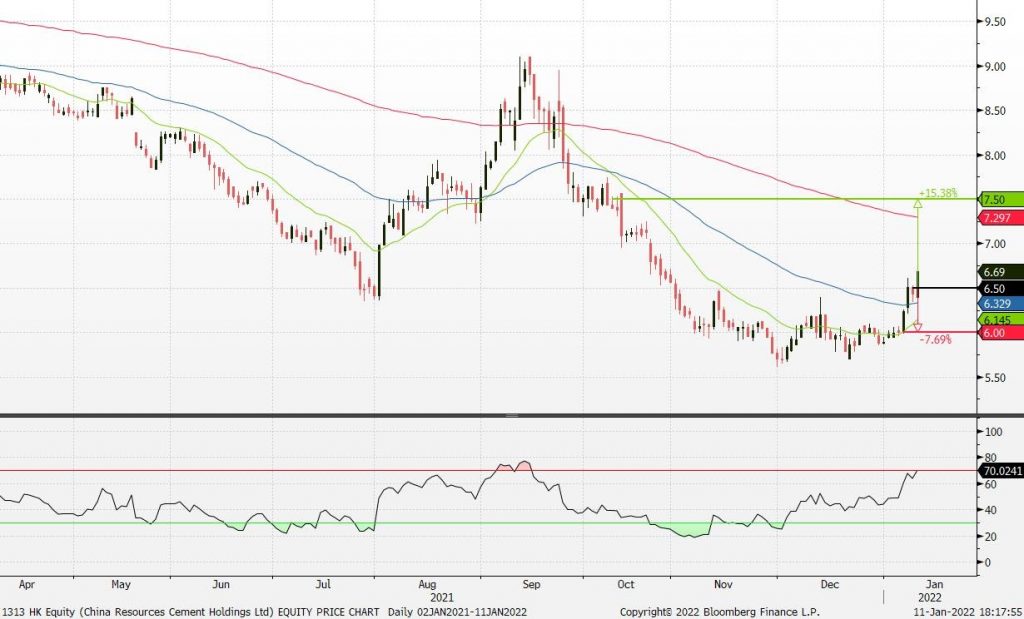 ---
MARKET MOVERS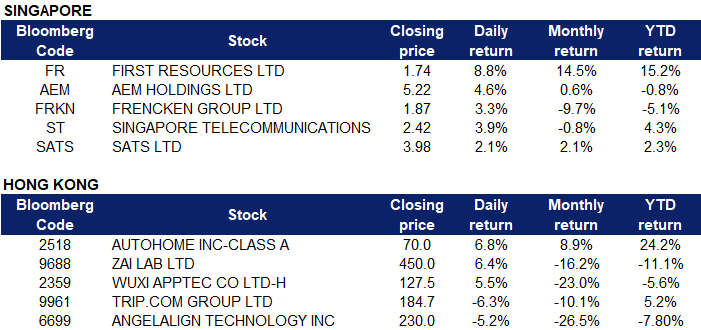 ---
United States
Top Sector Gainers
Top Sector Losers
Occidental Petroleum Corp (OXY US), Exxon Mobil Corp (XOM US) shares gained 7.2% and 4.2% respectively yesterday, in tandem with rising oil prices. WTI futures closed above US$80 a barrel yesterday, while Brent futures closed above US$83 a barrel. Oil prices are supported by tight supply and hopes that rising coronavirus cases and the spread of the Omicron variant will not derail a global demand recovery. Recent outages in Libya have also buoyed prices, and the National Oil Corp said it was suspending exports from the Es Sider terminal. In what would be a further indication of tight supply, the latest weekly reports on U.S. inventories are expected to show U.S. crude stockpiles fell by about 2 million barrels. This would be the seventh straight week of decline.
Las Vegas Sands Corp (LVS US) shares rose 6.6% yesterday after JPMorgan upgraded the company to an Overweight rating from Neutral with the risk-reward profile finally looking better on the casino stock. The firm adds LVS to its Analyst Focus List as a value pick. Analyst Joseph Greff stated "We think the risk-reward is favourable after massive share price underperformance in 2021 lagging the rest of the re- opening sectors (U.S. Gaming, Lodging, Cruise lines)". He also mentioned that risks are priced in after a year of incremental regulatory concerns and the sell side cutting estimates as travel mobility tightened/failed to ease after COVID spikes in the region amid a near-zero case tolerance policy by Mainland China.
Advanced Micro Devices (AMD US) shares gained 4% yesterday after KeyBanc upgraded it to overweight from sector weight. The firm said, "AMD is poised to benefit from robust high teens cloud data center growth in 2022 and should meaningfully outpace industry growth given significant share gains." KeyBanc said it expects AMD's acquisition of Xilinx (XLNX) to "well position the company for the [long-term] transition to heterogeneous compute architectures."
General Electric Company (GE US) shares rose 2.4% yesterday after Bernstein initiated coverage of the stock with an outperform rating. The firm said it is bullish on the conglomerate's break up into three separate businesses. "GE's component parts are easily scalable public companies, and improved line of sight to financials and end markets will only benefit shareholders," the company said.
Singapore
First Resources Ltd (FR SP) shares rose 8.8% yesterday. It was announced yesterday that Eight Capital Inc had acquired a total of 4mn shares in First Resources for a total consideration of S$6.48 mn via off-market transactions from Director/CEO, Ciliandra Fangiono and Fang Zhixiang. In addition, Malaysian palm futures extended gains in January to rise above MYR 5,000 per tonne, hovering around the highest level on record, after data from the country's palm oil board showed Malaysia's December palm oil end-stocks plunged more than expected, down 12.88% from the previous month to 1.58 million tonnes. In addition, production slumped 11.26%, while exports fell 3.48%.
AEM Holdings Ltd (AEM SP) and Frencken Group Ltd (FRKN SP) shares rose 4.6% and 3.3% respectively yesterday. Yesterday, AEM announced its financial guidance for FY2022 (YE 31 Dec 2022). The Group expects FY2022 revenue to be between S$670mn to S$720mn, and CAPEX to be around S$10mn. For FY2022, the Group expects some margin compression in view of higher supply chain costs and an increase in R&D spend as it engages customers on new projects. Frencken's share price likely enjoyed a boost from AEM's positive financial guidance given that it is operating in the semiconductor space as well.
Singapore Telecommunications Ltd (ST SP) shares gained 3.9% yesterday, following rumours in a Bloomberg report that the telco was considering a potential stake sale in the fibre assets of its Australian subsidiary Singtel Optus. Singtel has held talks with potential advisers to prepare for a strategic review of the Australian fibre business, according to sources in the Bloomberg report who asked to not be identified because the information is private.
SATS Ltd (SATS SP) shares rose 2.1% yesterday. On Monday, Transport Minister S. Iswaran said that Singapore is committed to steadily reopening its borders and aims to set up more quarantine-free travel agreements, despite the Omicron spread. Speaking in Parliament earlier, Health Minister Ong Ye Kung said the borders couldn't be closed as that would "cause tremendous suffering." And he called on people to get vaccinated. Passenger traffic will improve this year at Singapore's Changi Airport after reaching about 15% of pre-pandemic levels at the end of 2021 from 3% a year ago, though a full recovery will likely "several years," Iswaran said.
---
Hong Kong
Top Sector Gainers
Top Sector Losers
Autohome Inc (2518 HK) shares rose 6.8% yesterday. Recently, Chairman and CEO Long Quan issued an internal letter stating that in the future, it will firmly implement strategic upgrades and divest low-value businesses. Moving forward into 2022, it will focus on innovative strategic businesses such as used cars, new energy, and data technology to create a second growth curve. Additionally, in the future, the company will abolish or integrate low-value and non-main businesses such as finance and tourism, thereby reducing costs.
Zai Lab Ltd (9688 HK) shares gained 6.4% yesterday. Recently, the China National Medical Products Administration has accepted the company's new drug marketing application for magetuximab. Magituximab is a novel Fc-engineered monoclonal antibody targeting HER2. According to Zai Lab's press release, the indication of the drug is for the treatment of adult patients with HER2-positive breast cancer in combination with chemotherapy. This is also Zai Lab's sixth new drug marketing application accepted by CDE.
WuXi AppTec Co Ltd (2359 HK) shares rose 5.5% yesterday. Lyon lowered its target price for WuXi from HK$212.9 to HK$200, however, maintaining a "buy" rating. The bank believes that the company will strengthen its leadership in global small molecule drug R&D outsourcing through its comprehensive services and strong execution. Benefiting from the rising demand for research and development in the world and in China, customer orders continue to fill the company's expanded production capacity. The bank forecasts that WuXi 's revenue and net profit will grow at a compound annual growth rate of 33% and 36%, respectively, from 2020 to 2023.
Trip.com Group Ltd (9961 HK) shares declined 6.3% yesterday, likely due to news that China has declared another lockdown. China's national health commission reported 110 new locally transmitted Covid-19 cases for Monday, including 87 in Henan province, 13 in Shaanxi, and 10 in Tianjin. Millions or more people in China have been ordered into lockdown and Hong Kong has banned transit passengers from 150 places as China continues to battle outbreaks across several provinces a few weeks before the Winter Olympics.
Angelalign Technology Inc (6699 HK) shares declined 5.2% yesterday, after Credit Suisse reiterated its "underperform" rating on Angelalign, with a lowered target price from HK$287 to HK$240. Credit Suisse said in the report that the company's management lowered its shipment target for the full year of 2021 by 10%, from 200,000 units to 180,000 units. Considering the epidemic and weak consumer sentiment in the fourth quarter of last year, the bank estimated that shipments in the fourth quarter may decline, and challenges may continue into the first half of 2022. Additionally, the December 17 shareholder sell-off could trigger further downside re-ratings in the coming months. The bank said it expects the company to underperform its peers as it faces a double whammy from fundamentals and capital flows.
---
Trading Dashboard
Trading Dashboard Update: Cut loss on Ascendas REIT (AREIT SP) at S$2.86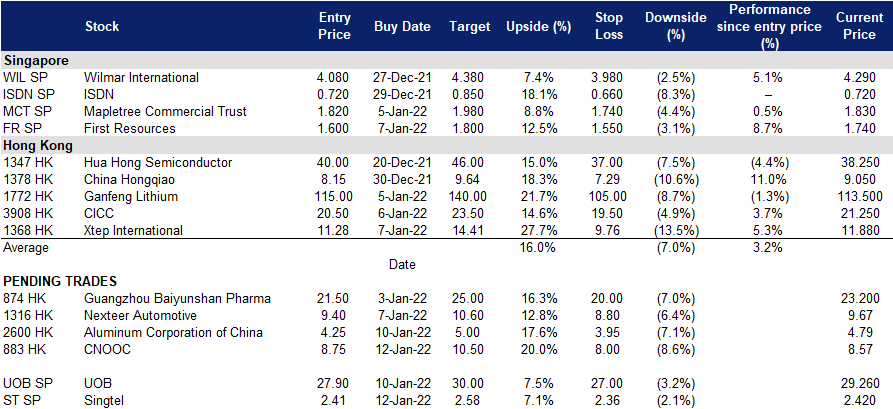 (Click to enlarge image)
---