KGI DAILY TRADING IDEAS – 9 July 2021
Singapore Trading Ideas | Hong Kong Trading Ideas | Market Movers | Trading Dashboard
IPO Watch
LinkDoc Technology (LDOC US): Data in the East stays in the East
LinkDoc Technology has shelved its plans for the US IPO after recent news behind China's clampdown on overseas listing by its domestic firms.
Listing in the US was appealing for Chinese firms as the capital markets were fairly active, while technology firms enjoyed high valuations, which attracted various Chinese tech firms to list in the US instead.
We expect less Chinese firms to seek foreign listings given the harsher regulatory stance from China, as well as tougher US regulations on auditing foreign companies on their stock exchanges. Other Chinese firms that could shelve their IPO include Atour Lifestyle Holdings and Daojia Limited, who have made public filings with the SEC to list in the US.
---
SINGAPORE
Samudera Shipping (SAMU SP): Higher prices are coming for you
BUY Entry – 0.38 Target –0.43 Stop Loss – 0.36
Samudera Shipping Line is primarily engaged in container shipping transportation of cargo in the Asia region. The company's vessels and services currently ply trade routes connecting various ports in Southeast Asia, the Indian Subcontinent, the Far East and the Middle East
As of end-2020, Samudera's operating fleet, which comprises vessels owned by the group as well as those on leases, currently stands at 30. This consists of 27 container vessels, 2 chemical tankers and 1 gas tanker.
Fast and furious on the high seas. The WCI Composite Container Freight Benchmark rate, which tracks eight major trade routes, surged to US$8,796, a 333% increase from the same period last year. Drewry expects rates to increase further in the coming week. (See the chart below).
Upcoming semi-annual results is a key catalyst. The company is likely due to report its first half results in the last week of July. A better-than-expected performance may provide another booster shot to its share price.
WCI Composite Container Freight Benchmark Rates per 40 Foot Box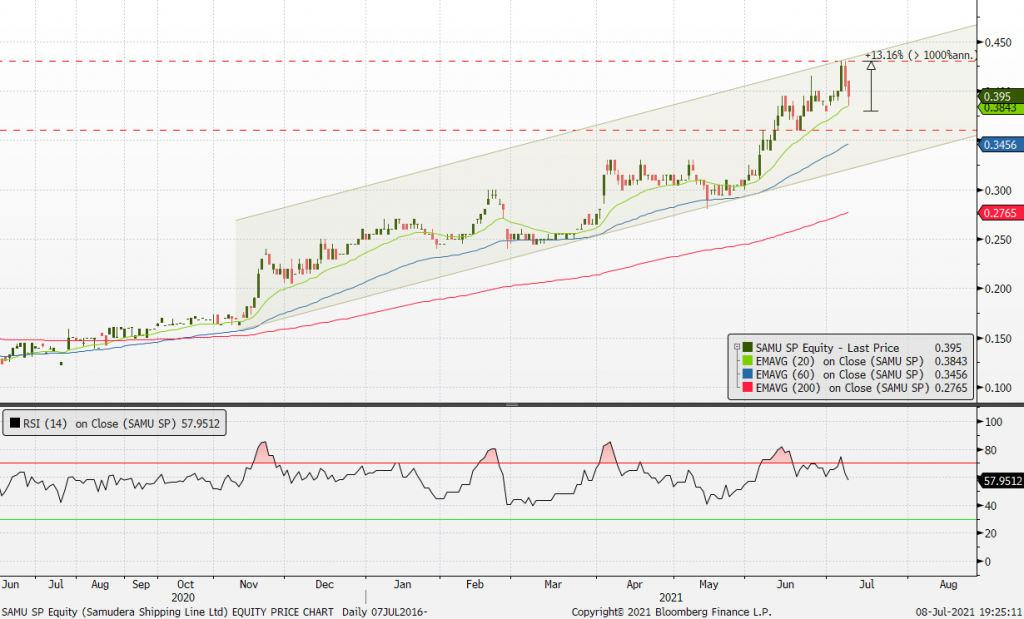 ---
Golden Energy & Resources (GER SP): A hidden GEM
RE-ITERATE BUY Entry – 0.32 Target –0.43 Stop Loss – 0.26
GER owns and operates thermal coal mines in Indonesia (through 63% owned PT Golden Energy Mines), and metallurgical coal (75% owned Stanmore Resources) and gold mining (50% owned Ravenswood Gold) in Australia. Stanmore has coal resources estimates of 1.7 billion tonnes, marketable coal reserves estimates of 130.0 million tonnes and a coal handling preparation plant capacity of up to 3.5 million tonnes per annum. PT Golden Energy Mines (GEMS) has more than 2.9 billion tonnes of energy coal resources and more than 1 billion tonnes of coal reserves. Meanwhile, Ravenswood Gold has 3.9 million ounces of gold resources and 2.6 million ounces of gold reserves, and a gold processing facility of up to 5.0 million tonnes per annum.
Record production; long-life assets. The company has ramped up production significantly over the past 10 years. For its Indonesian operations, production increased from 1.8mt in 2010 to 33.5mn in 2020. Meanwhile, its assets in Australia are made up of high quality met coal mines and sizable gold reserves and resources. Post expansion, GER's Ravenswood Gold is expected to be one of the largest gold producers in Queensland, Australia.
Coal prices are near their highest in a decade, as a combination of natural gas shortfall, rebounding electricity usage and limited rainfall in China have lifted demand for thermal coal. Thermal coal prices have almost doubled from last year, and we expect prices to remain firm going into the second half of 2021. While global demand for coal peaked in 2014, the dearth of new supplies combined with the surge in electricity demand could lead to even higher prices.
GER's share price should be around 34-48 cents based on the previous time that coal prices were trading at these levels in 2017-2018. In fact, current coal prices are more than 30% higher than the previous cycle peak in 2018.
ICI 4 Indonesian Coal Index (Argus/Coalindo) Futures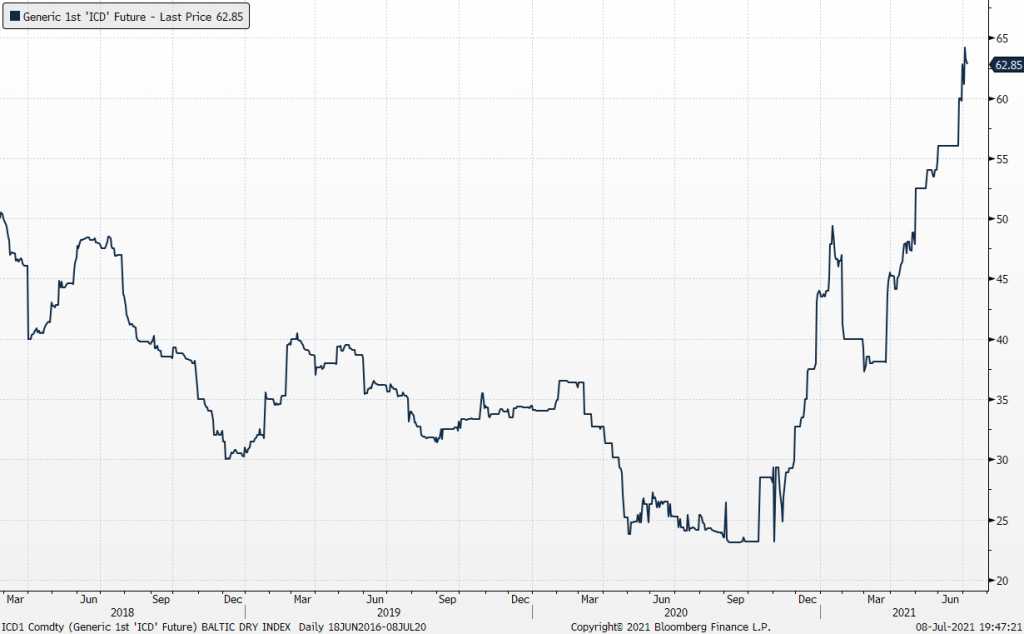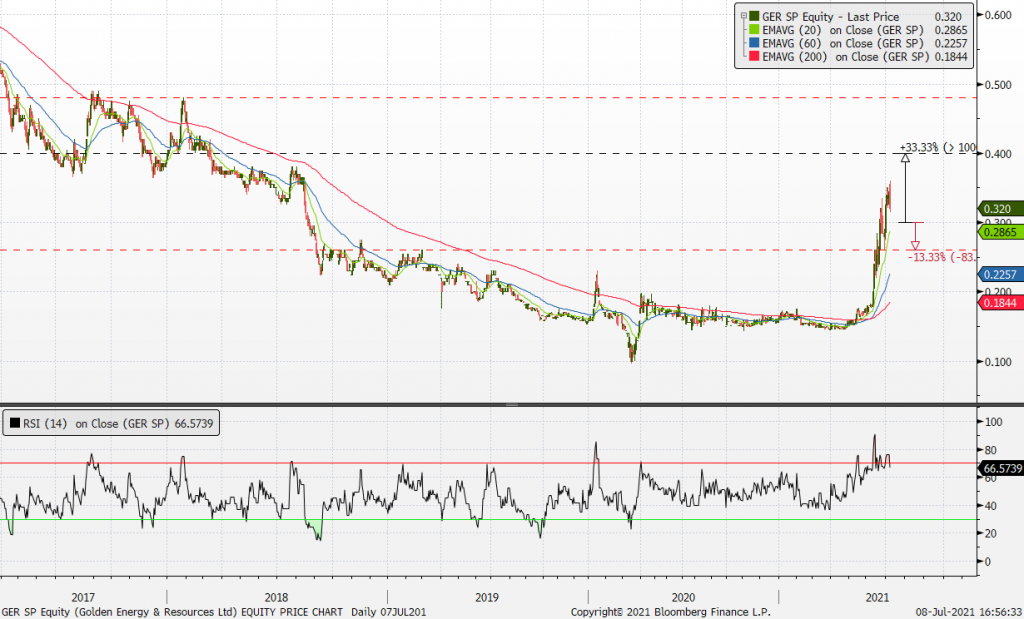 ---
HONG KONG
China Petroleum & Chemical Corp (386 HK): 8% to 10% dividend yield in FY22F
Buy Entry – 3.55 Target – 4.20 Stop Loss – 3.2
China Petroleum & Chemical Corporation is a China-based energy and chemical company. The Company's segments include Exploration and Development segment, Refining segment, Marketing and Distribution segment, Chemicals segment, and Corporate and Others segment. Exploration and Development segment explores and develops oil fields, as well as produces crude oil and natural gas. Refining segment processes and purifies crude oil, which is sourced from Exploration and Development segment and external suppliers. The Marketing and Distribution segment owns and operates oil depots and service stations in China. Chemical segment manufactures and sells petrochemical products, derivative petrochemical products and other chemical products to external customers.
Oil prices are undergoing a correction at the moment due to geopolitical issues related to OPEC+. The uptrend is still intact owing to the imbalanced supply and demand dynamics. Market forecasts Brent will be higher in 4Q21 than in 3Q21 (Average: US$70/bbl vs US$67/bbl)
The company is one of the oil majors globally and Big Three Oil in China. Benefiting from the uptrend of oil prices, the company has turned its performance around. It reported RMB0.15 EPS in 1Q21 (the best quarter since 3Q18). The improving profitability is expected to stretch to FY22.
This is a value stock as it has high dividend yield and cheap valuation.
Updated market consensus of the estimated growth of EPS in FY21 and FY22 are 90.25% and 0.84% respectively, which translates to 6.0x and 5.9x forward PE. The current PE is 5.3x. The respective estimated dividend yield is 9.9% and 10.1% in FY21 and FY22. Bloomberg consensus average 12-month target price is HK$5.46.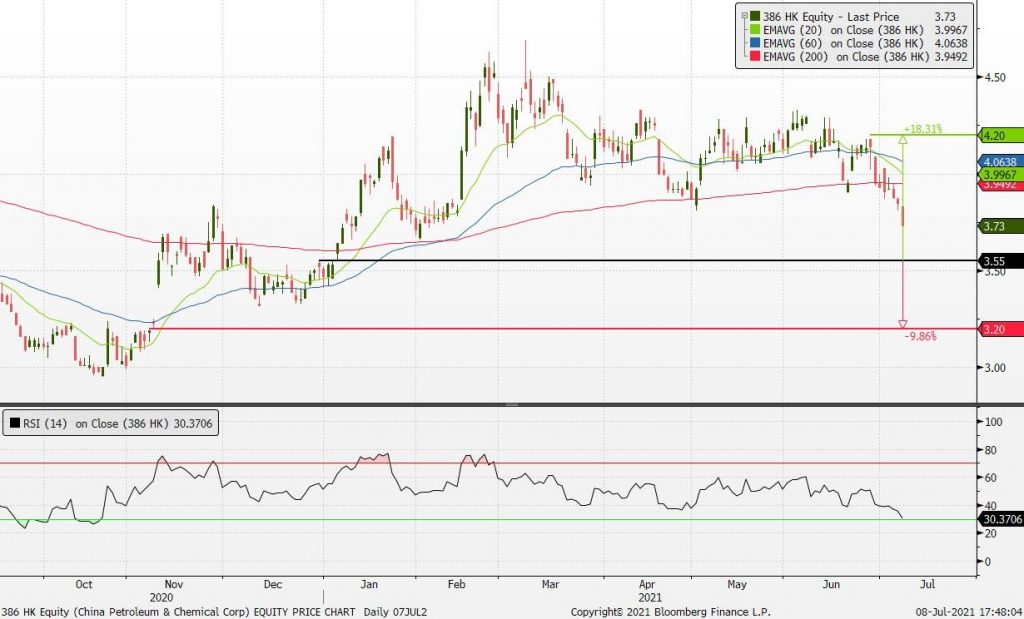 ---
Yadea Group Holdings Ltd (1585 HK): Two-wheeled is as good as four-wheeled
Reiterate Buy Entry – 16 Target – 19 Stop Loss – 14.5
Yadea Group Holdings Ltd. is an investment holding company principally engaged in the development, manufacture and sales of electric two-wheeled vehicles and related accessories. The company's main products include electric scooters, batteries and chargers, electric bicycles and electric two-wheeled vehicle parts.
The company just announced a positive profit alert where 1H21 net profit growth will be no less than 40% YoY, attributable to the increase in the sales of electric two-wheeled vehicles.
Electric vehicles have been the main investment theme. The company's main product is a subsegment of the theme. As the market leader of the electric two-wheeled vehicles, the company dominates around 25% of the domestic market in terms of sales volumes. The company has a target to achieve 35% market share in the next couple of years. The revenue and net profit CAGR over the past five years was 23.8% and 17.3% respectively. Hence, the company is still in an expansionary mode.
Range bound trading. Shares have been trading range bound between HK$15 and $20 since March this year. Technically, the stock has formed a support at HK$15.
Consensus estimates. Market consensus of net profit growth in FY21 and FY22 are 69.6% YoY and 39.3% YoY, which implies forward PERs of 28.3x and 20.3x. Bloomberg consensus average 12-month target price is HK$31.1.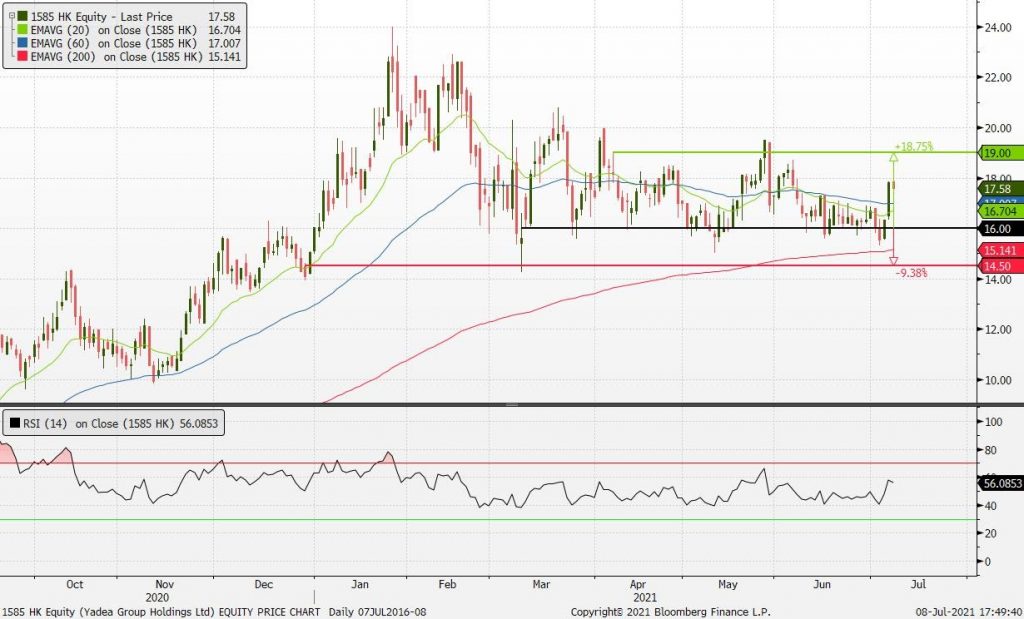 ---
Market Movers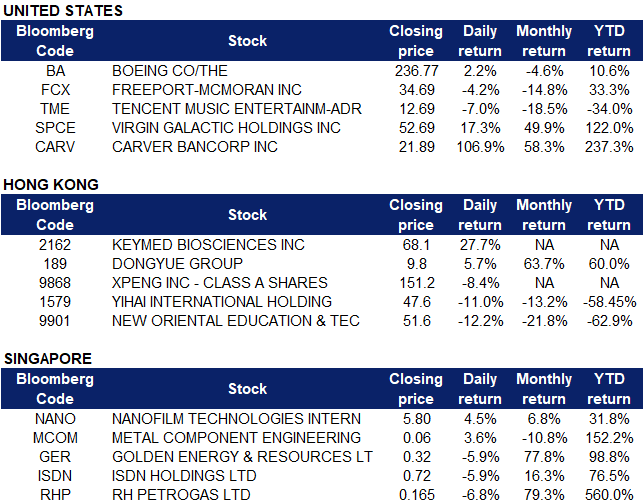 United States
Most stocks largely fell on Thursday as treasury yields fell further, but Boeing (BA US) bucked the reflation trade selldown, and continued trading upwards in market after-hours after news of Chinese aviation officials having interest in conducting flight tests with Boeing's 737 MAX.
Freeport Mc-MoRan (FCX US) fell below its trading channel after the Federal Reserve confirmed plans to tighten monetary policy sooner than expected. Copper futures fell around 1.3% on Thursday, and have stayed range bound between US$4.23-4.30 per pound over the past 2 weeks.
The bulk of Chinese ADRs fell with Tencent Music Entertainment (TME US) falling to a 1-year low. Tencent Music Entertainment is down over 50% since the Archegos saga in March, and continues to face headwinds despite increased institutional activity in the stock.
Virgin Galactic (SPCE US) rocketed amidst a weak trading day ahead of founder Richard Branson's first flight, scheduled on Sunday, 11 July. 
While Newegg (NEGG US) fell, Carver Bancorp (CARV US) took its place as the next short squeeze play. The small cap Black-owned US bank with about 60% short interest saw its share price more than triple at its Thursday peak before settling at US$21.89 for a 107% daily gain.
---
Singapore
Nanofilm Technologies International (NANO SP) There was no company specific news yesterday. Rise in share price continued from 7 July following the announcement that Nanofilm was named as one of the inaugural winners of Deloitte's Best Managed Companies Singapore 2021 Award. In addition, Business Times featured nanofilm as a stock to watch on news published on 6 July. A positive earnings surprise is also likely ahead of its first half results.
Metal Component Engineering Limited (MCOM SP) Shares rose after the company received in-principle approval to issue new shares (13mn new shares at 3.7 Sing cents per share) in relation to its proposed acquisition of a healthcare business. In the company's EGM held yesterday, it highlighted diversification plans for the coming years through exploration of potential and suitable acquisitions, joint ventures and strategic alliances which would generate sustainable revenue streams. The first opportunity identified was Gainhealth Pte Ltd, a vertically integrated healthcare service provider with physical clinics, homecare business and healthcare technology through its ePharmacy arm.
Golden Energy & Resources Limited (GER SP) There was no company specific news yesterday, but its shares could have succumbed to profit taking amid the weak market sentiment. Shares have almost doubled over the past month as coal prices rose to their highest in 10 years. We have a Trading Buy and a target price of S$0.43. Read our trading note here.
ISDN Holdings Limited (ISDN SP) There was no company specific news yesterday. Shares followed the broad-based sell off among other technology related stocks in the US and HK. Shares also went ex-dividend on 6 July; the company will be giving out a 0.8 Sing cent dividend, payable on 27 August 2021. We have an Outperform recommendation and a S$0.85 target price. Read our full report here.
RH PetroGas (RHP SP) Shares dropped as the oil and gas sector stocks collectively plunged yesterday, led by the US market. Oil prices continued to dip yesterday, following a strong rally in the first half of the year, affecting investors' outlook on the oil and gas sector.
Trading Dashboard: Remove Mermaid Maritime (MMT SP) at S$0.076.
---
Hong Kong
Keymed Biosciences Inc (2162 HK) The company was listed yesterday, 8 July, on the HKEX. Shares were trading at HK$78 when market opened, and touched an intraday high of HK$79.8. Total market value was at HK$ 18.43bn at the closing price. The offering price is HK$53.3. Keymed Biosciences is a biotechnology company which focuses on the development and industrialization of innovative monoclonal antibody drugs and other therapeutic protein drugs. Surge in share price was due to investors' positive sentiment in innovative drug pharma companies, following the recent listing of Hutchmed.
Dongyue Group (0189 HK) Shares closed at a 52-week high. Rise in shares was due to huge trading volume, with a buy-sell ratio at 68:32 and a net active inflow of funds at RMB 128mn. Positive sentiment was fuelled by the rise in prices of high value-added fluorine materials PVDF (polyvinylidene fluoride resin) which would benefit Dongyue as it is the leading enterprise in the fluorosilicone industry in China and the largest fluorosilicone producer in Asia. Additionally, high demand for lithium batteries and photovoltaic backplanes also benefits the company as PVDF is a raw material for lithium batteries.
XPeng Inc (9868 HK) EV sector stocks collectively tumbled yesterday, in response to the drop in share price of US EV leader, Tesla. In addition, subsequent to recent events of China clamping down on US listed Chinese stocks, investors' started to have a negative outlook on Chinese stocks and started selling down.
Yihai International Holding (1579 HK) Shares dipped as Goldman Sachs downgraded Yihai's TP and earning forecasts, recommending a SELL. TP was lowered from HK$ 100 to HK$ 42, due to increasing competition and sales promotion expenses, which would impact the company's profitability.
New Oriental Education and Technology Ltd (9901 HK) Shares dipped to a 52-week low. Education sector shares were one of the worst performing this year and New Oriental was continuously hit with negative news, such as fines for pricing violations and false propaganda.
Trading dashboard: Add CNOOC (883 HK) at HK$8.5.
---
Trading Dashboard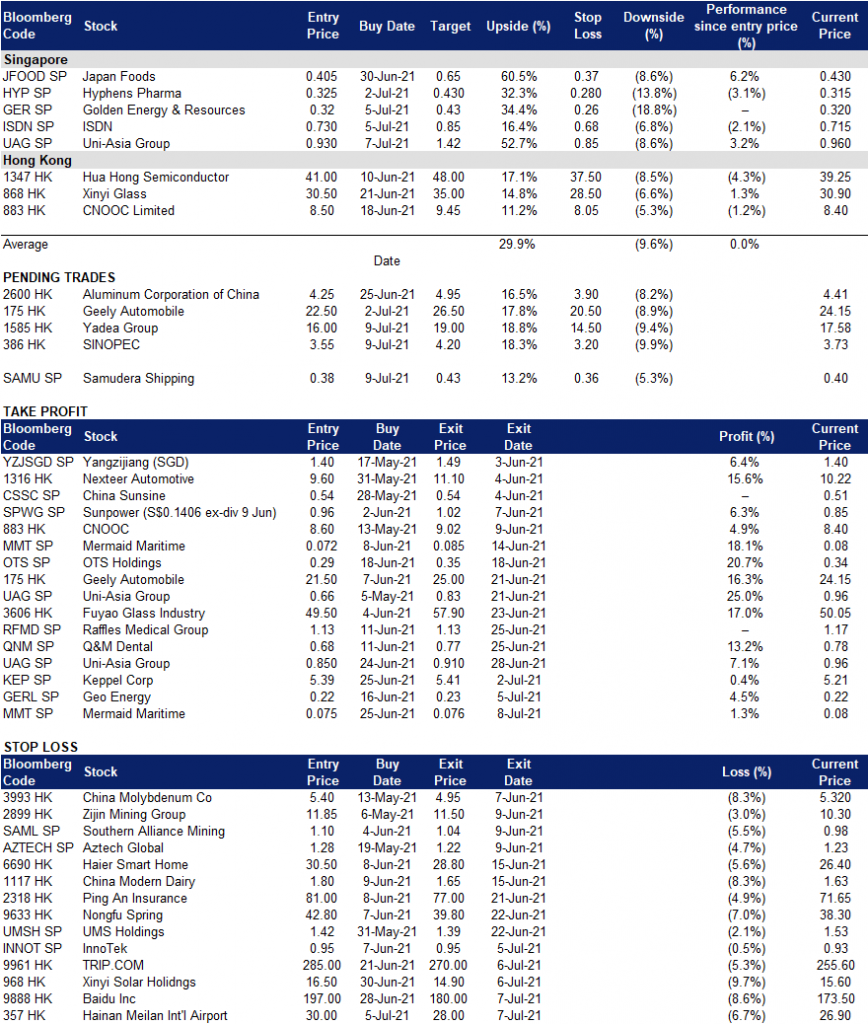 ---

---
Related Posts: