12 Nov 2021: AEM Holdings Ltd (AEM SP), PC Partner Group (1263 HK)
Singapore Trading Ideas | Hong Kong Trading Ideas | Market Movers | Trading Dashboard
SINGAPORE
AEM Holdings Ltd (AEM SP): Riding the semicon wave
BUY Entry – 4.25 Target –4.72 Stop Loss – 4.13
AEM Holdings Limited is a Singapore-based company, which offers application specific-intelligent system test and handling solutions for semiconductor and electronics companies serving computing, fifth generation (5G) and artificial intelligence (AI) markets. Its segments include Equipment systems solutions (ESS), System Level Test & Inspection (SLT-i), Micro-Electro-Mechanical Systems (MEMS), Test and Measurement Solutions (TMS) and Others.
Raised full year guidance. Yesterday, AEM reported revenue of S$338.5mn and profit before tax of S$63.3mn for 9M21. Top and bottom line was lower compared to 9M20 as AEM's key customer was preparing to phase over to the company's next generation test platforms. QoQ revenue increased from S$112mn in 2Q21 to S$146.2mn in 3Q21. The company also raised FY21 revenue guidance to between S$525mn and S$550mn.
Positive momentum to follow through 4Q21 and beyond. QoQ revenue growth was mainly due to the volume ramp up for AEM's next gen System Level Testing (SLT) handlers, primarily driven by Intel's logic chips . The company expects the ramp to continue through 4Q21 and into FY22.
Strong demand for semicon continues. Amidst the semicon shortage, front-end industry leaders such as TSMC are heavily investing in building more chip plants to meet the strong demand. TSMC recently announced that it would be setting up a new chip factory in Taiwan's Kaohsiung City and will be teaming up with Sony to open a chip plant in Japan. As supply chain issues are alleviated, upstream to downstream flows are expected to normalise. Coupled with increased end user demand, would lead to increased SLT, benefitting AEM in the future.
Positive consensus forecast. According to Bloomberg consensus estimates, AEM currently has 4 BUYS, 0 HOLD and 0 SELL, with a 12M TP of S$5.53, representing an upside of 26.3% as of yesterday's closing price.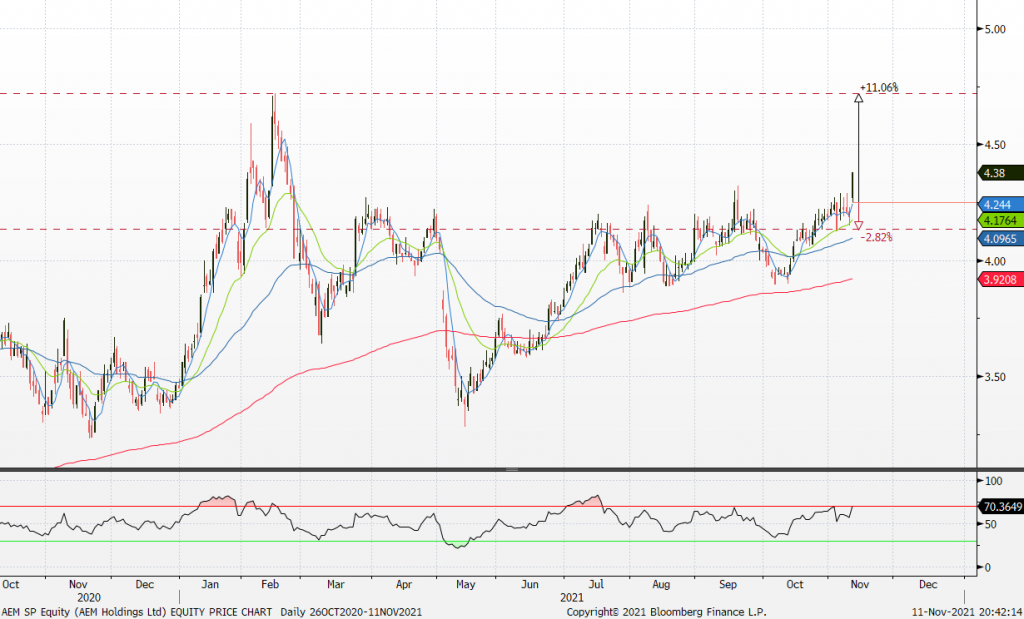 ---
Sunpower Group (SPWG SP): Buy the dip
REITERATE BUY Entry – 0.50 Target –1.22 Stop Loss – 0.46
Sunpower invests, develops and operates centralised steam, heat and electricity generation plants. The group is strongly positioned to capitalise on the enormous market opportunities in the environmental protection sector in China and build a valuable portfolio of assets that generates attractive investment returns, as well as recurring, long-term and high-quality income and cash flows based on typically 30-year concession agreements.
Profit guidance for 3Q. Shares of Sunpower dropped by as much as 20% from October levels after the company issued a profit guidance for 3Q results. The group expects net profit for 3Q to be negatively impacted by the recent rise in commodity prices and power rationing occurring in China. Rising commodity prices have pushed up the group's feedstock costs, leading to cost pressures on its production operations of its green investment projects. Meanwhile, power rationing resulted in downstream customers reducing their steam consumption.
Cost pressures abating in 4Q. The Chinese government early this month intervened heavily in the coal market after prices surged to a record in October. So far, the intervention has been very effective. Benchmark coal futures on the Zhengzhou Commodity Exchange have dropped more than 50% from the peak reached in mid October (see chart below). This should be a positive development for companies like Sunpower.
We currently have an OUTPERFORM recommendation with a target price of $$1.22. Read our full report here.
Zhengzhou Thermal Coal Futures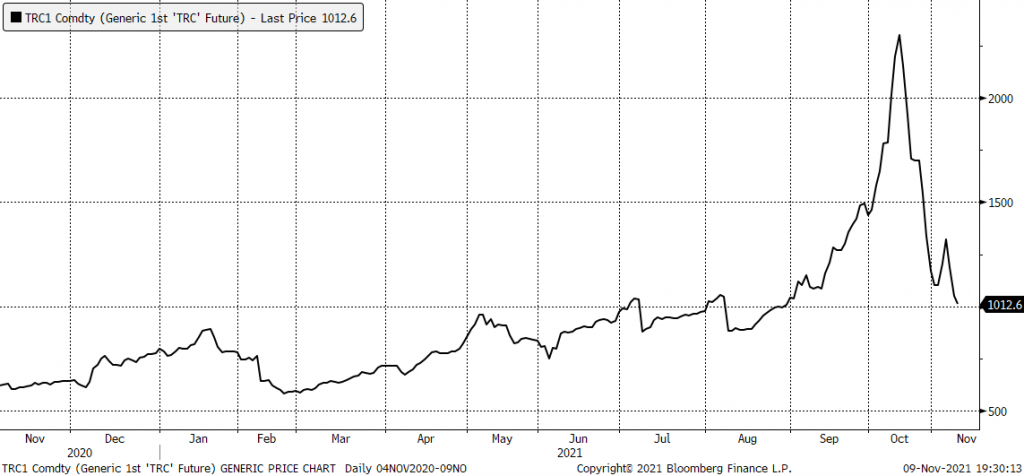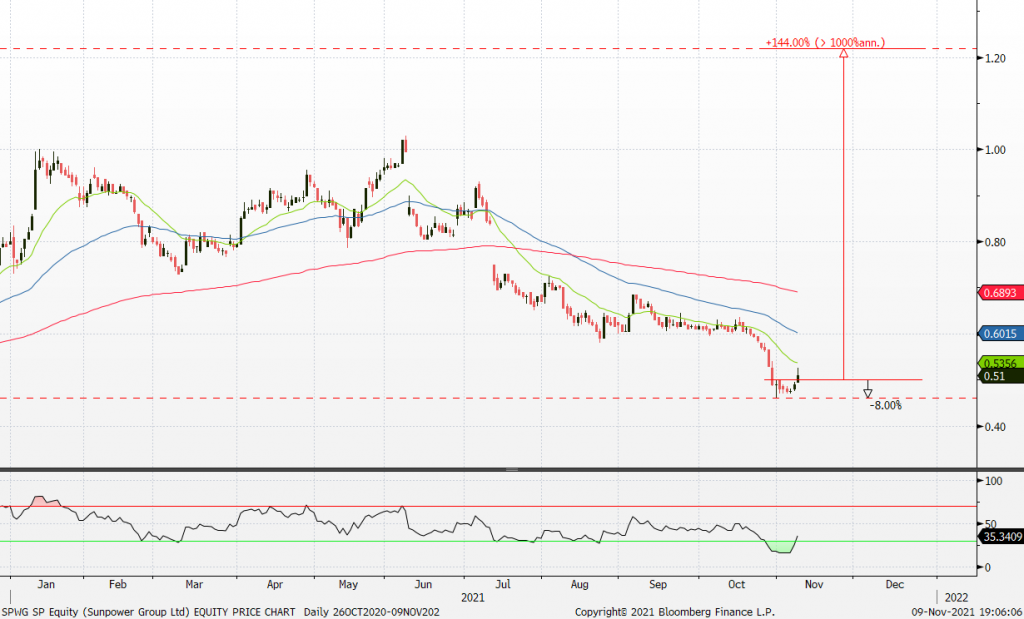 ---
HONG KONG
Haier Smart Home Co., Ltd., (6690 HK): Walking out of the woods
Buy Entry – 28 Target – 31 Stop Loss – 26.5
Haier Smart Home Co., Ltd., formerly QINGDAO HAIER CO., LTD., is a China-based company principally engaged in the research, development, manufacture and sales of household electrical appliances. The Company's main products include refrigerators/freezers, washing machines, air-conditioners, water heaters, kitchen appliances products, small home appliances and U-home smart home products. The Company also provides the customers with integrated smart home solutions. The Company is also involved in channel integration service business, including logistics, as well as the distribution of home appliances and other products. The Company distributes its products in the domestic market and overseas.
3Q21 financial results update. Revenue slightly dipped by 0.58% YoY to RMB58.3bn. Net profit attributable to the company shareholders dropped by 12.4% YoY to RMB3.1bn. The unfavourable performance was due to the impact from Delta variant and high material costs.
Boost from "Double 11". The "Double 11" sales figures were quite promising. According to Tmall, Haier recorded RMB800mn sales for the first 30 mins. It ranked the top on Tmall and JD.com among other household appliance brands in terms of sales as of 1am 11th November.
Headwinds tapered. Material prices started to top out in 3Q21 as the government has proactively clamped down on commodity prices. Meanwhile, overseas countries have started to open borders, easing supply chain disruptions.
Positive consensus forecast. Updated market consensus of the estimated EPS growth in FY22/23 are 19.7%/15.2% respectively, which translates to 14x/12x forward PE. The current PE is 17.8x. The FY21F/22F/23F dividend yield is expected to be 2.1%/2.7%/3.2% respectively. Bloomberg consensus average 12-month target price is HK$40.16.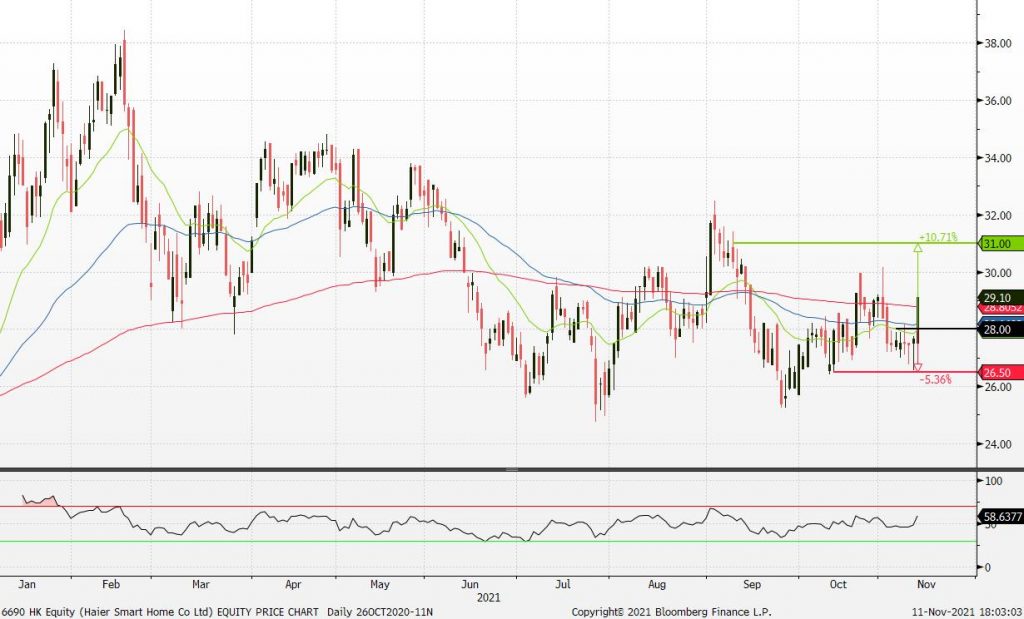 ---
PC Partner Group Limited (1263 HK): A metaverse-themed stock
REITERATE BUY Entry – 12.5 Target – 15 Stop Loss – 11
PC Partner Group Limited is an investment holding company principally engaged in the electronics and personal computer (PC) parts and accessories businesses. Its main business includes the design, development and manufacturing of video graphics cards for desktop PCs, the provision of electronics manufacturing services, as well as the manufacturing and trading of other PC related product components. The Company is also engaged in the provision of technical support services through its subsidiaries. Its primary products are video graphics cards, motherboards and mini-PCs. Its primary brands include ZOTAC, Inno3D and Manli. Its businesses are mainly conducted in Mainland China, Hong Kong, Macau, Korea and the US.
Expecting 3Q21 to reach a new record. Prices of graphic cards continue to rise. The price hikes of RTX 3080 or lower, GTX 10 series, and RX 6000 series range from 3% to 7% in September. AMD (AMD US) announced its 3Q21 results. Its Computing and Graphics segment revenue jumped by 44% YoY or 7% QoQ to US$2.4bn. In 1H21, PC Partner's graphic card revenue grew by 140.8% YoY to HK$6.0bn. The group's gross profit margin increased to 27.2% from 9% during the same period. It is expected that PC Partner Group's 3Q21 results will be stellar.
Metaverse theme hype. Facebook (FB US) recently changed its name to META, announcing the metaverse as its core development for the next decade. Previously, Nvidia (NVDA US) also announced plans to develop the metaverse area. In the foreseeable future, the demand for graphic cards will have exponential growth. PC Partner can be viewed as one of the few metaverse-themed stocks listed in Hong Kong. AMD announced its next-gen Zen 4-based EPYC "Genoa" CPUs at its Accelerated Data Center event, as well as the world's first MCM-based "Aldebaran" GPU that will power AMD's new Instinct MI250X and MI250 accelerators. Meanwhile, they also announced that they have secured Meta, the company formerly known as Facebook, as a new customer. Meta will be using AMD EPYC CPUs inside of its data centres.
Cryptocurrencies on the bull run. Another driver for sales growth is the positive uptrend of the crypto market. Bitcoin has surpassed US$60,000. Ethereum also climbed back to the record high. With higher crypto prices, mining activities will accelerate globally, pushing higher demand for graphic cards.
The company's valuation is attractive. The stock is currently trading at only 3.4x PE.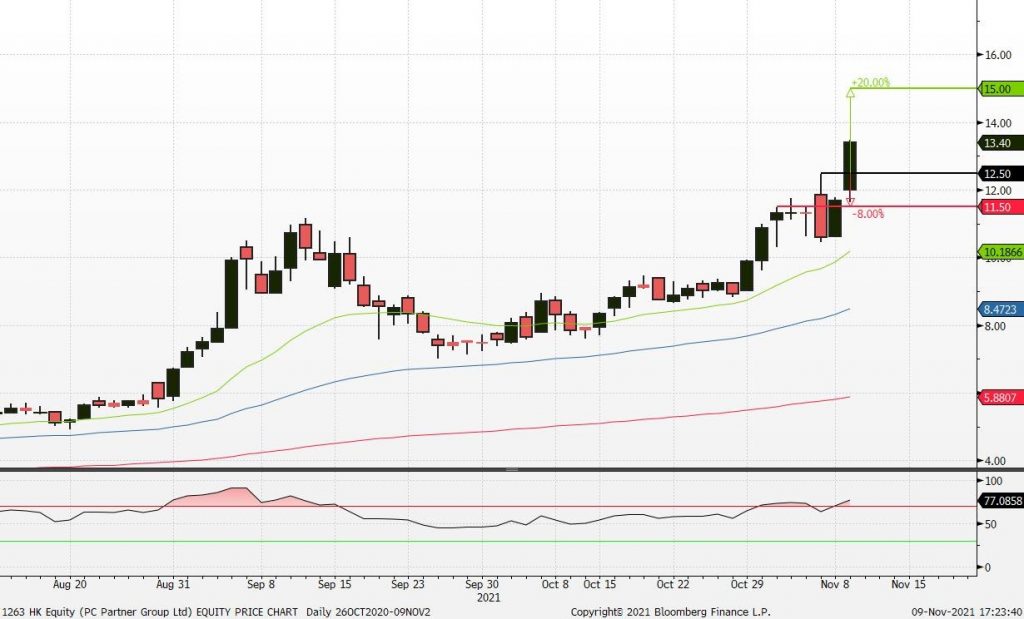 ---
Market Movers

---
United States
Top Sector Gainers
Top Sector Losers
| | | |
| --- | --- | --- |
| Sector | Loss | Related News |
| Hotels/Resorts/Cruise lines | -2.8% | NA |
| Industrial Conglomerates | -2.2% | NA |
| Airlines | -2.0% | NA |
Chinese e-commerce stocks Alibaba (BABA US) and JD.com (JD US) jumped 2.4% and 8.3% respectively on Thursday, 11 November, also known as Singles Day, a massive online shopping event. Singles Day traditionally was a 24 hour flash-sale type of event, but has gotten longer each year, allowing e-commerce players to grow their sales. JD.com reported that it has racked up 311.4 billion yuan ($48.6 billion) in sales across its platforms as of 2:09 p.m. Beijing time during the Singles Day shopping event, smashing through its record last year of 271.5 billion yuan. Alibaba recorded 540.3 billion yuan ($84.54) billion in orders, marking a roughly 14% increase from the year prior.
Rivian Automotive (RIVN US) shares soared 22% on its second day of trading, vaulting its valuation past General Motors. Rivian is now worth $107 billion, making it the fifth-largest automaker by market cap, and the second largest U.S. automaker after Tesla. Rivian's IPO was the biggest U.S. IPO since Alibaba went public in 2014; it has allowed Rivian to raise about $12 billion to fund growth, which could rise to $13.7 billion if the full over-allotment of shares is exercised. Shares of Lucid Group (LCID US) and battery maker QuantumScape (QS US) also received an extra tailwind, jumping 10.4% and 16.1% respectively.
Solar energy stocks JinkoSolar (JKS US) and Enphase Energy (ENPH US) popped 11% and 8% respectively on Thursday as the industry received good news about potential tariffs. The U.S. Department of Commerce rejected a request from unnamed solar manufacturers for tariffs to be levied on solar panels from three countries in Southeast Asia. Additionally, the Solar Energy Industries Association said the proposed tariffs would have cost the U.S. 46,000 jobs over the next two years.
---
Singapore
Shares of SPH (SPH SP), Keppel Corporation (KEP SP) and SPH Reit (SPHREIT SP) saw active trading on Thursday after Keppel Corp said it would raise its privatisation offer for SPH. SPH shares traded 7% higher, while Keppel Corp and SPH Reit traded as low as 5.2% and 1% lower respectively. Keppel announced it would raise its privatisation offer for SPH to $2.351 per share by increasing its cash component. The final offer comprises cash of $0.868 per share, 0.596 Keppel Reit unit (valued at S$0.685 as at 9 Nov) and 0.782 SPH Reit unit (valued S$0.798 as at 9 Nov) per SPH share.
Propnex (PROP SP) shares climbed 1% yesterday. Analysts from DBS Group Research and UOB Kay Hian raised their target price for the stock to $1.84 and $2.17 respectively. DBS said that its "hold" recommendation was based on the stock's rich valuation, while UOB Kay Hian said that the upgraded target price and "buy" call are due to greater confidence in PropNex's prospects in 2022, barring any economic downturn. PropNex's management previously indicated in their earnings call a higher payout for its final dividend, stating that it "aims to pay out 75-80% of its 2021 profits to shareholders".
ComfortDelgro Corporation (CD SP) shares slumped 3% after the company announced that it is no longer pursuing an IPO for its wholly-owned Australian subsidiary ComfortDelGro Corporation Australia on the Australian Stock Exchange. The company said that IPO conditions in Australia have become more challenging since August, which was when CD first considered listing ComfortDelgro Australia. ComfortDelGro said it will continue to focus on growing the business through mergers and acquisitions, contract renewals and new contract tenders.
Q&M Dental Group (QNM SP) shares added 2.7% on Thursday after the company announced its third quarter results. Q&M posted a 69% increase in net profit for the fiscal third quarter from a year ago, with strong contributions coming in from the medical laboratory and dental equipment and supplies segment. Net profit for the quarter ended 30 September amounted to S$9.5 million. Revenue increased by 48% to $57.7 million from $39.1 million, fueled by an increase in the number of clinics in both Singapore and Malaysia. Q&M's board has also proposed a third interim dividend of S$0.01 per share, to be paid out on 3 December 2021.
---
Hong Kong
Top Sector Gainers
Top Sector Losers
Kintor Pharmaceutical Ltd (9939 HK). Shares surged 20.4% yesterday, extending its total gains to 62.9% over the last 4 trading days. The company announced last week that it had finished dosing the first patients with its small-molecule compound drug Pukru amine at a US clinical center. Previously, another COVID-19 drug based on neutralizing antibodies was authorized for emergency use in 15 countries and regions.
Uni-President China Holdings Ltd (220 HK). Shares rose 14% yesterday after the company announced its third quarter results. Even though the company's after-tax profit for the first nine months of this year was RMB 1.489bn, a YoY decrease of 11.56%, interim net profit was RMB 847mn, indicating a positive growth rate of 4% in the third quarter. Goldman Sachs' latest research report pointed out that the company has some potential positive catalysts in the short term, including product price increase and possible launches of more pasta products compared to its peers. In addition, the company may also consider increasing the payout ratio to more than 100%. The bank hence raised its target price for Uni-President from HK$7.8 to HK$7.9, maintaining a NEUTRAL rating. In addition, Macquarie upgraded its rating from NEUTRAL to OUTPERFORM, even though lowering its target price from HK$8.5 to HK$8.2 to reflect the expected decline in gross profit margin and pressure on input costs.
CIFI Holdings (Group) Co Ltd (884 HK), Sunac Services Holdings Ltd (1516 HK). Property sector shares rose collectively yesterday, with CIFI and Sunac gaining the most at 12.5% and 9.4% respectively. China's bank lending to property developers rose sharply last month and the momentum is expected to extend into November, the country's flagship securities newspapers reported, adding to signs that credit conditions may be easing for the battered real estate industry. Mortgages also picked up in the month, the central bank said in a separate report, releasing rare monthly data in an apparent attempt to calm concerns. In another positive development for developers, the local government in the north-eastern Chinese city of Shenyang held a meeting with property developers and told them it will ease curbs on home purchases and sales, Cailian reported late on Wednesday.
China Education Group Holdings Ltd (839 HK), China Yuhua Education Corp Ltd (6169 HK). Education sector shares rose collectively yesterday. China Education shares gained 7.8% while China Yuhua's shares gained 7%. The Chinese government has recently relaxed its restrictions on the education sector, following the sector crackdown in July where profit-after-school tutoring was banned. Recently, it was announced that the Chinese government plans to issue more than a dozen licenses that would allow companies to offer after-school tutoring.
---
Trading Dashboard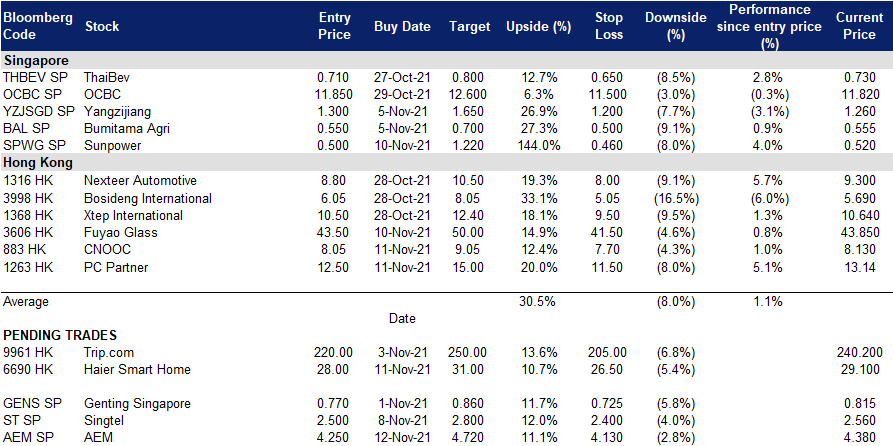 ---

---
Related Posts: