KGI DAILY TRADING IDEAS – 27 October 2021
Singapore Trading Ideas | Hong Kong Trading Ideas | Market Movers | Trading Dashboard
SINGAPORE
ComfortDelGro (CD SP): Unlocking value + Reopening play #2
BUY Entry – 1.58 Target – 1.70 Stop Loss – 1.54
CD is one of the largest land transport companies in the world, operating in seven countries and with a global network of over 40,000 vehicles. The company's businesses include bus, taxi, rail, car rental and leasing, automotive engineering, inspection and testing services, drive centres and outdoor advertising. Singapore is the largest contributor of revenue, making up 55% in FY2020, followed by UK/Ireland (23% of total revenue), Australia (19%) and China (4%).
Unlocking value. CD is looking to unlock the value of its Australian assets by the public listing of ComfortDelGro Australia. Australia is CD's single largest overseas investment destination, with a total investment of S$1.17bn. According to media reports, CD's Australian operations could be worth about A$1bn on a market capitalization basis.
More reopenings. The reopening of Singapore and Australia's borders should be a positive rerating catalyst for CD's share price. Vaccinated travellers from Australia and Switzerland will be able to enter Singapore w/o quarantine from 8 Nov. Likewise, Australia will be reopening its international borders from Nov.
Valuations look attractive after the recent sell off. It currently trades at 19x FY2021F P/E and only 15x FY2022F P/E, while offering a dividend yield of 3.3% in FY2021 and 5.1% in FY2022.
Positive consensus ratings. Street estimates are overall positive on CD with 11 BUYS / 0 HOLD / 0 SELL and an average 12-month target price of S$1.93.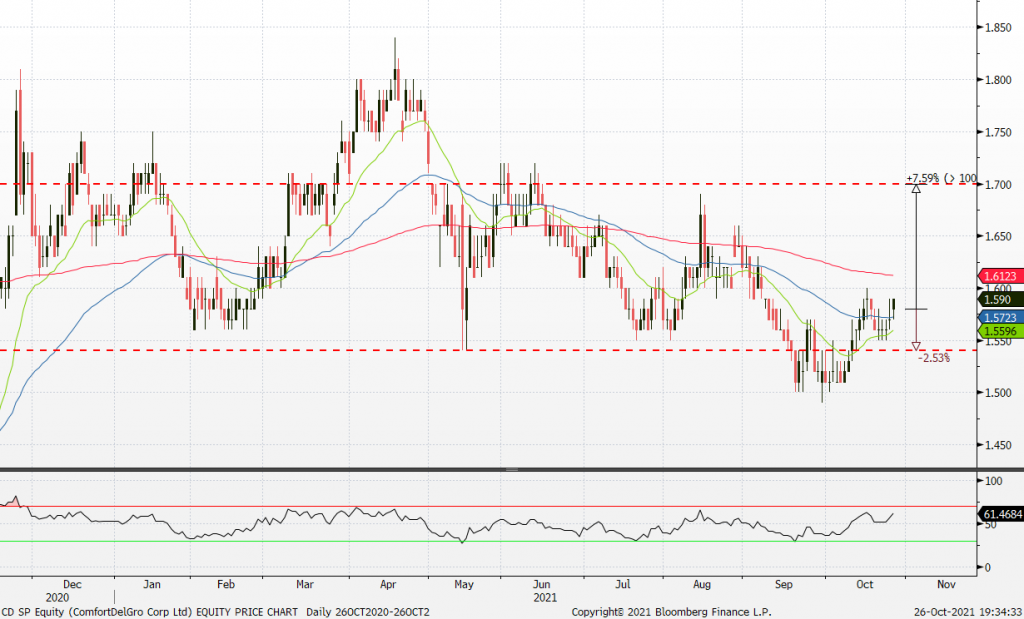 ---
Mermaid Maritime (MMT SP): Oil price winner
REITERATE BUY Entry – 0.10 Target – 0.12 Stop Loss – 0.09
MMT is a Thailand-based but SGX-listed company that provides drilling and sub-sea engineering services for the offshore & marine industry. The company's subsea engineering segment services clients mainly in Southeast Asia and the Middle East. MMT is a 58% owned subsidiary of Thailand-listed Thorsen Thai Agencies.
Dismal performance from 2014-2020. MMT's share price has significantly underperformed the broader market since 2014 when oil prices collapsed due to oversupply from US shale production. This underperformance is not specific to MMT but cuts through the whole O&G sector, as investors have severely underweighted exposure to the sector.
Oil's on a roll. Ironically, the global push towards renewables is helping to lift oil prices higher. The decline in capex to replenish depleting oil wells, combined with massive stimulus policies to prop up the global economy, are creating a favourable environment for oil prices going into 2022. WTI crude futures are now trading above US$80 a barrel, the highest since 2014.
New contracts are finally coming in. The company announced on 19 October that it had won contracts in Thailand, Angola and Saudi Arabia worth a total of US$120mn. The contracts consist of subsea construction, IRM, subsea wellhead cutting and removal in Thailand and Survey in Angola and multiple Cable Lay scopes and Sat Diving interventions with long standing clients in Saudi Arabia. We expect the company to win more such contracts on the back of the favourable oil price environment.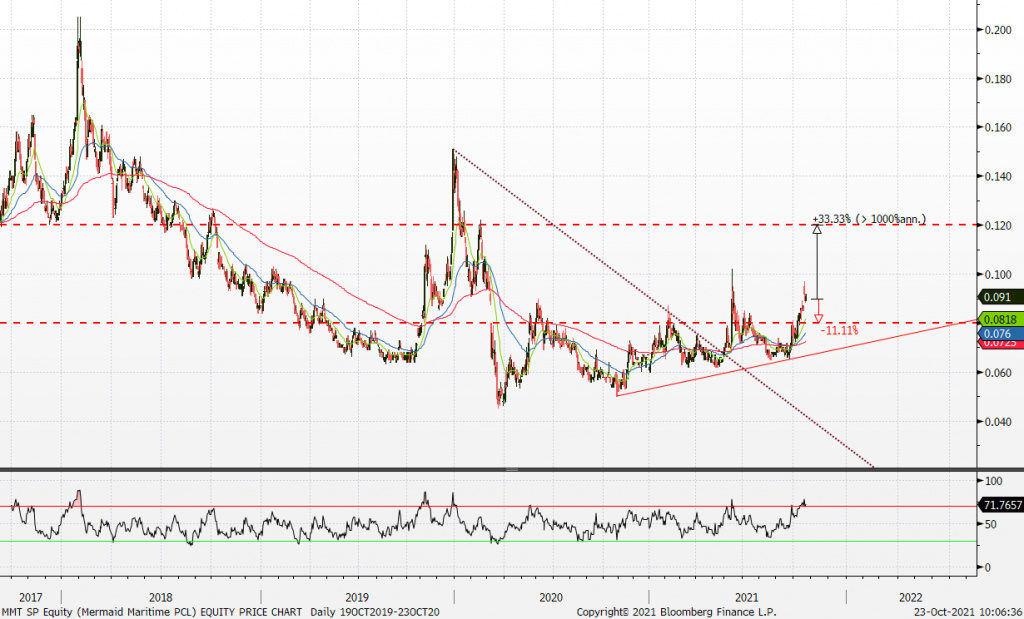 ---
HONG KONG
Xtep International Holdings Limited (1368 HK): Double 11 Festival coming soon
BUY Entry – 10.5 Target – 12.4 Stop Loss – 9.5
Xtep International Holdings Limited is principally engaged in the design, development, manufacturing, sales, marketing and brand management of sportswear, including footwear, apparel and accessories. Its products are mainly sold under the self-owned brand of Xtep.
Operation updates. Previously, the company announced its 3Q21 core Xtep brand operational data. Retail sell-through growth (including offline and online channels) grew by mid-teens. Retail discount level was 20% to 25%. Retail inventory turnover was around 4 months.
Crisis is not over but sentiment has started to turn positive. The latest news was that Evergrande has won a more than three-month extension to the maturity of a US$260mn bond beyond 3rd October after agreeing to provide extra collateral. Ping An's shares had high trading volumes at the price level of the low 50s, implying institutional investors could have collected cheap shares. Meanwhile, the company will be announcing its 3Q21 results on 27th October. Investors are expecting the management to address the issues of its real estate investments.
Ping An is experiencing the HSBC moment. Investors should focus on the core business fundamentals of Ping An. Similar to HSBC whose shares were hammered during China-US trade tensions, Ping An's shares once plunged to below book value, which had never happened since its listing. Negative sentiment pushed prices down to oversold levels. Ping An's core business remains intact once the company writes off the impairments in poor real estate investments.
Updated market consensus of the estimated net profit growth in FY21/22/23 is -11.7%/21.9%/11.7% respectively, which translates to 7.2x/5.9x/5.3x forward PE. The current PE is 6.7x. Bloomberg consensus average 12-month target price is HK$91.02.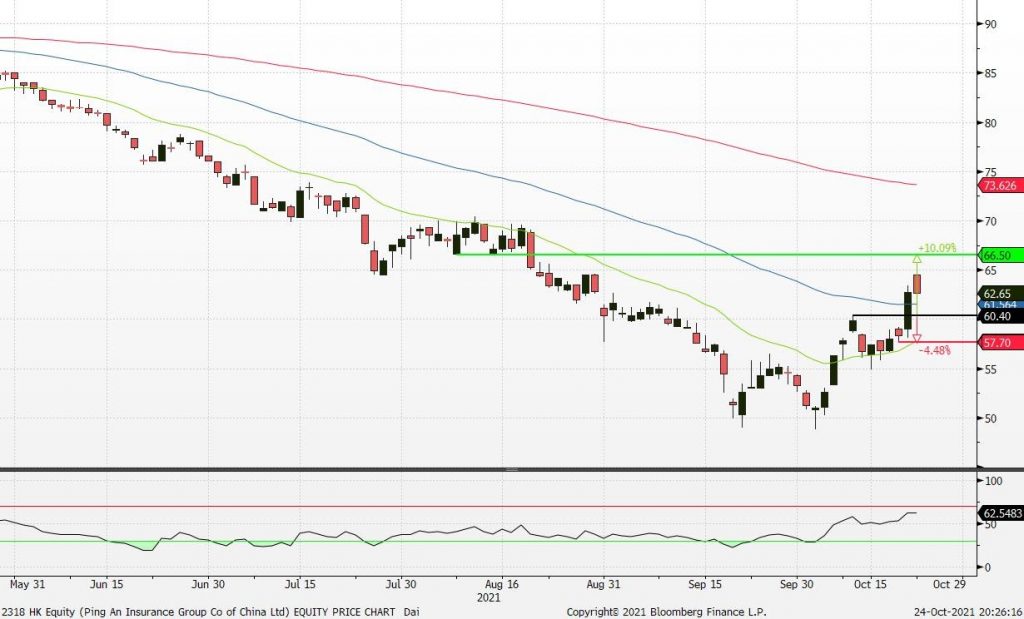 ---
China Molybdenum Co., Ltd. (3993 HK): Fall in metals stockpile could be a buying opportunity
REITERATE Buy Entry – 5.2 Target – 6.0 Stop Loss – 4.8
China Molybdenum Co., Ltd. is a China-based company, principally engaged in the mining, smelting, processing and trading of metals, such as molybdenum, tungsten and copper. The company operates its businesses through five segments. Its Molybdenum, Tungsten and Related Products segment is mainly engaged in the mining of molybdenum and tungsten. Its Copper, Gold and Related Products segment is mainly engaged in the mining of copper and gold. The Niobium and Related Products segment is engaged in the niobium manufacturing business. The Phosphorus segment is engaged in phosphate manufacturing business. The Copper and Cobalt segment is engaged in the production of Copper and Cobalt. The Company conducts its businesses mainly in China, Australia, Brazil and Congo.
1H21 operating revenue jumped by 81.45% YoY to RMB84.8bn. Net profit attributable to shareholders jumped by 139.0% YoY to RMB10bn. The stellar performance was due to the increases in both sales volumes and ASPs.
Production guidance as of June 2021:
| | | |
| --- | --- | --- |
| Principal products | Production volume (tonnes) | |
| | FY21F | 1H21 |
| TFM copper metal | 187,300 – 228,900 | 98,149 |
| Cobalt metal | 16,500 – 20,100 | 7,010 |
| Molybdenum metal | 13,800 – 16,900 | 7,999 |
| Tungsten metal (excluding Yulu Mining) | 6,900 – 8,400 | 4,272 |
| Iron concentrates (65%) | NA | 144,950 |
| Niobium metal | 8,700 – 10,600 | 3,947 |
| Phosphate fertilizer (HA+LA) | 999,000 – 1,221,000 | 520,506 |
| NPM copper metal (80% equity interest of NPM) | 24,100 – 29,400 | 11,656 |
| NPM gold (80% equity interest of NPM) | 21,300 – 26,000 (ounces) | 9,643 (ounces) |
| | IXM metal trading (sales volume) | |
| Concentrate products | 4,790,000 – 5,850,000 | 1,303,955 |
| Refined metal products | NA | 1,844,022 |
Ongoing economic recovery benefits the industrial sector. Industrial metals market remained buoyant after topping out over the past few months. The price rally was due mainly to the supply chain issues. With the gradual reopening of borders among major economies from 4Q21 onwards, the disruptions on the global supply chain are expected to be mitigated. In FY22, we expect to see normalization of production activities, and which will be positive for the supply and demand dynamics. However, inflation will still be the main theme in 2022. As long as basic metal prices stay afloat, the growth in production will help the extension of growth till next year.
Short-term catalyst. As of 22th October Friday, the copper inventory in the mainstream Chinese markets dipped by 14,400 mt from Monday to 94,700 mt. The impact from the previous power shortage started to spill over to the stockpile of industrial metals. With the slowdown of production during winter in China, the metal shortage could result in a year-end rally in industrial metal prices.
The consensus estimate per the 12-month target price is HK$7.16. EPS is forecasted to grow at 4.6%/7.4%/51.1% for FY2022/23/24F, which would bring forward FY2022/23/24F P/Es down to 17.2x/16.4x/15.3x.
---
Market Movers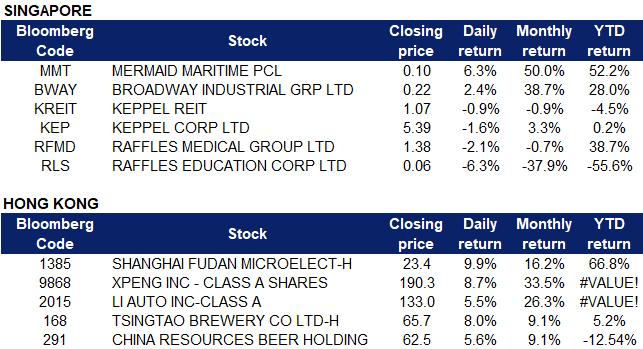 United States
United Parcel Service (UPS US) shares climbed 6.95% after reporting quarterly earnings that topped forecasts. Earnings per share were at $2.71, UPS's revenue from U.S. operations rose over 7% to $14.20 billion. International revenue jumped 15% to $4.72 billion. UPS also hiked guidance for annual adjusted operating margin to around 13%, indicating that it is still able to pass on to customers the higher input costs that it has warned of previously.
Shares of Facebook (FB US) sank 3.92% on Tuesday after the social media company reported 3Q results. Revenue jumped 33% YOY to $29 billion, monthly active users were at 2.91 billion and average revenue per user was at $10, all of which missed analyst estimates of $29.6 billion, 2.93 billion and $10.15 respectively. Management anticipates revenue of $31.5 billion to $34 billion in the fourth quarter, while analysts' forecasts had called for $34.8 billion in sales.
Nvidia (NVDA US) shares jumped as much as 7.5%, rallying to a new intraday all-time-high of $252.59 before closing 6.7% higher at $247.17. Facebook announced plans to increase its capital spending for 2022 to build out its new products such as the metaverse. Chipmakers could potentially sell more chips for AI and machine learning if Facebook spends more on data and network infrastructure.
Pinterest (PINS US) shares declined 5.51% after it was revealed that Cathie Wood's ARK ETF reportedly unloaded more than 336,000 shares of Pinterest on Monday.  The stock has declined a total of 17.5% in the week after news that Paypal is not buying the company. Pinterest is set to report third quarter results on 4 November. 
Lockheed Martin (LMT US) shares plummeted 11.8% after it released third quarter results. Earnings plunged 65% YOY to $2.21 per share which still beat analyst expectations of $1.97. Sales declined in all four of Lockheed's main business segments at $16 billion, compared to expectations of $17 billion. The company's latest guidance is for full-year revenue of only $67 billion compared to its earlier guidance range of revenues of $67.3 billion to $68.7 billion, signalling slower growth than investors had hoped to see.
---
Singapore
Raffles Education (RLS SP) shares lost another 6.35% on Tuesday after the company responded to SGX RegCo's queries on a number of items in its annual report. The company previously responded to tycoon Oei Hong Leong's allegations, saying that the allegations are "clearly baseless and nothing more than a rehash of the same assertions" that Oei previously raised and declined to purchase after the company responded on three occasions in October 2020, as well as May and June 2021. The stock previously lost 11.62% on Monday.
Shares of Mermaid Maritime (MMT SP) climbed another 6.25% on Tuesday, adding to its 5.5% gains on Monday after oil prices extended gains on continued tight supply. The stock is now trading at its highest since February 2020. We have a Buy recommendation on Mermaid Maritime with a TP of S$0.12.
Keppel Corporation (KEP SP) shares fell 1.64% after the company announced on Monday that its subsidiary Keppel Offshore & Marine is being sued in the US over a loss of an investment and interest of US$819.85 million. The claims are over the alleged aiding and abetting the fraud committed by Petroleo Brasileiro and Sete Brasil Participacoes which was settled with US prosecutors for US$422 million. A date for the hearing has not been fixed, while the relevant legal documents for the application are due on 2 November.
Keppel Reit (KREIT SP). The manager announced in its Q3 business update that its distributable income from operations for the first nine months of 2021 was up by 20.8% YOY at $159.9 million. This is largely attributed to contributions from Victoria Police Centre in Melbourne, Pinnacle Office Park in Sydney and Keppel Bay Tower in Singapore. Keppel Reit units fell as much as 1.85% before closing 0.93% lower at $1.07.
Broadway Industrial (BWAY SP) shares rose another 2.38% yesterday, adding to its 10.5% gains on Monday. Seagate Technology (STX US) previously reported a better-than-expected 1QFY22 performance, and guided for a stronger quarter ahead. Broadway is a major supplier of actuator arms to the hard disk sector. Broadway also bought back 1.75mn shares last week at a range of S$0.179 to S$0.191.
Raffles Medical Group (RFMD SP) shares declined another 2.13% yesterday. Policy changes regarding PCR testing for passengers arriving at Changi Airport were announced on Monday. From 27 Oct, passengers from a number of countries will no longer need to undergo PCR tests upon arrival. Only Vaccinated Travel Lane (VTL) will require PCR tests.
---
Hong Kong
Shanghai Fudan Microelectronics Group Co Ltd (1385 HK). Shares rose 9.9% yesterday after releasing a profit alert. Shanghai Fudan issued an announcement that the group expects to obtain a net profit of approximately RMB 388mn attributable to owners of the parent company in its 3Q21 results, compared to approximately RMB 106mn for the same period in 2020, representing a YoY increase of 266%. It is reported that the main reason for the increase in the group's performance is the strong industry demand, the increase in orders from downstream customers, and the increase in the prices of major products to varying degrees, which promotes the increase in operating income and the increase in product gross profit margin.
XPeng Inc (9868 HK), Li Auto Inc (2015 HK). Shares extended their price rally and rose 8.7% and 5.5% respectively yesterday, mainly due to a spillover effect from US-listed Tesla, which rose 12.7% yesterday and hit an all-time high. Some brokerages predict that China's new energy vehicle production and sales volume is expected to exceed 3mn units in 2021, a significant YoY increase of over 120%. In addition to the bullish sentiment on EV stocks recently, XPeng announced on Monday that HT Aero, an affiliate backed by the company and its founder He Xiaopeng, showcased a flying car at XPeng's annual Tech Day event on Sunday. While the car is not yet available to consumers, the company said it has plans to mass-produce the car and make it available to customers by 2024. The price is currently expected to be RMB 1mn. XPeng also said it plans to continue to build out its network of charging stations. The company is planning to introduce the next generation of its X-Power supercharger, which will charge a vehicle for driving of up to 200 kilometers (roughly 124 miles) within about five minutes.
Tsingtao Brewery Co Ltd (168 HK), China Resources Beer Holdings Co Ltd (291 HK). Shares rose 8% and 5.6% respectively yesterday, on rumors of recent beer price hikes by the food analyst team of CITIC Securities. China Resources Beer launched a new packaging in September, which is gradually promoting price increases in various regions. Shanghai, Shandong and many other places have received notices of price increases, which are around 10% . Tsingtao Brewery is studying the possibility of price increases in Q421-Q122. If the price increase is implemented, it is expected to adjust the prices of main products in East China, South China and other regions (Qingdao Chunsheng, etc.), with a price increase of approximately 10%. According to Bloomberg consensus estimates, Tsingtao Brewery has a rating of 18 BUYS, 4 HOLDS, 1 SELL and a 12M TP of HK$84.54, representing an upside potential of 28.8%. China Resources Beer has a rating of 35 BUYS, 1 HOLD, 4 SELLS and a 12M TP of HK$75.54, representing an upside potential of 21%.
---
Trading Dashboard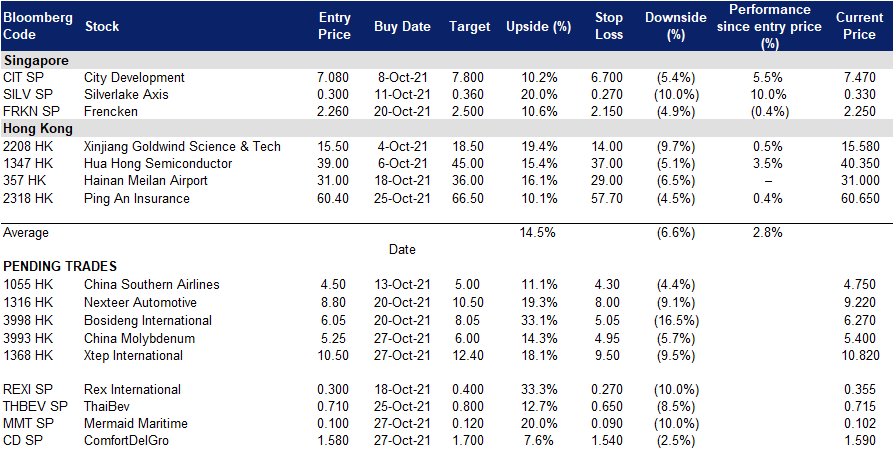 ---

---
Related Posts: