KGI DAILY TRADING IDEAS – 8 November 2021
Singapore Trading Ideas | Hong Kong Trading Ideas | Market Movers | Trading Dashboard
SINGAPORE
Singtel (ST SP): Banking on digital
BUY Entry – 2.50 Target –2.80 Stop Loss – 2.40
Singtel provides an extensive range of telecommunications and digital services to consumers and businesses across Asia, Australia, Africa and the US. It serves over 753 million mobile customers in 21 countries, including Singapore, Australia (via wholly-owned subsidiary Singtel Optus) and the emerging markets of India, Indonesia, the Philippines, Thailand and Africa.
Five years of underperformance. Shares of Singtel have lost almost 50% from their 10-year peak of S$4.57 that they traded at in April 2015. The underperformance was due to the sequential underlying earnings decline over the past four years, mainly because of the drag from Bharti Airtel, its Indian associate.
Improving outlook. Consensus anticipates an improving outlook for Bharti as the Indian wireless industry becomes a quasi-duopoly, which should drive revenue and earnings growth going forward. Meanwhile, its 100%-owned Australian subsidiary, Optus, is seeing a better competitive environment as operators remove discounts and are offering less bonus data.
Banking on digital. In the next 12-24 months, a key driver will be Singtel's digital banking plans together with its partner, Grab Holdings. The Singtel-Grab consortium will allow it to take deposits and offer banking services to retail and corporate customers. For now, we think Singtel's share price has not factored in contribution from the digital bank business, and will likely be a positive boost to its shares when visibility emerges.
Consensus estimates. Consensus has an overall positive outlook on Singtel, with 17 BUYS / 2 HOLDS / 0 SELL, and a 12m TP of S$2.97 (+17% upside potential). EPS is forecasted to finally grow 31% and 18% for FY2022 (YE March) and FY2023. The stock offers a decent dividend yield of 4.0% for FY2022 and 4.7% for FY2023.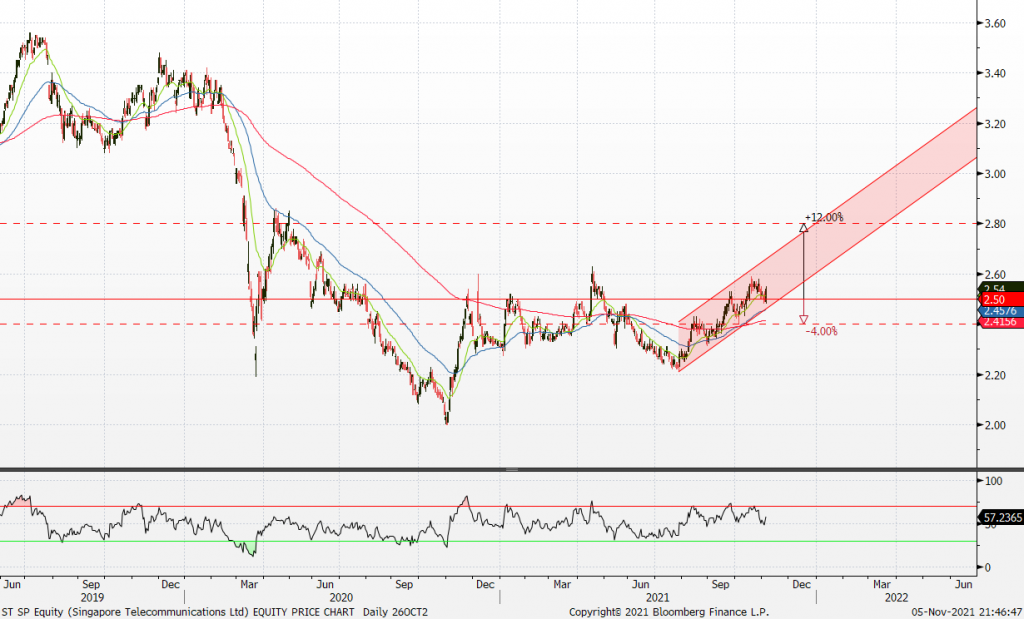 ---
Bumitama Agri (BAL SP): Palm oil prices to the moon
REITERATE BUY Entry – 0.55 Target – 0.70 Stop Loss – 0.50
A palm oil play. Bumitama Resources is a leading producer of palm oil and palm kernel in Indonesia. The group has a total planted area of 187,917 hectares and operates 14 CPO mills with a combined processing capacity of 6mn tonnes of fresh fruits bunches annually.
To the moon. Palm oil, the most consumed edible oil, has been leading this year's rally in global vegetable oil markets. Palm oil futures recently traded above RM5,000 per tonne, the highest on record, and an increase of more than 60% from the start of the year. The key reason has been lower supplies in Malaysia, lower crop yields of alternatives such as canola, and stronger-than-expected demand as economies reopen.The Malaysian Palm Oil Association warned that output in the world's second largest producer may drop to 18mn tonnes in 2021, which will be more than 1mn lower than in 2020.
Potential to exceed estimates. Consensus estimates are mixed, with 2 Buys and 2 Holds, and a 12m TP of S$0.65 (+14% potential upside). The low expectations may provide upside, given that Bumitama's valuations are relatively cheap at 8.5x FY2021 P/E, a 30% discount to Wilmar's 12.6x FY2021 P/E.
Bursa Malaysia Ringgit Denominated Crude Palm oil Futures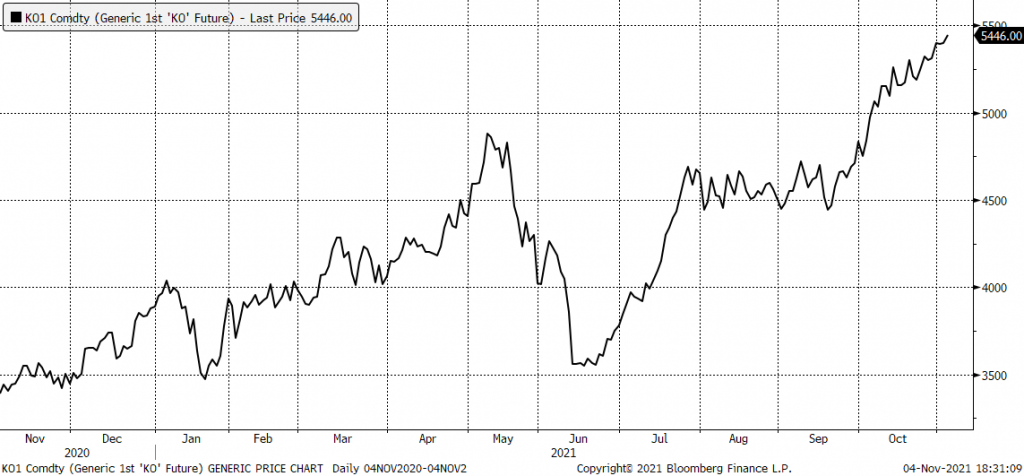 Bumitama Agri Share Price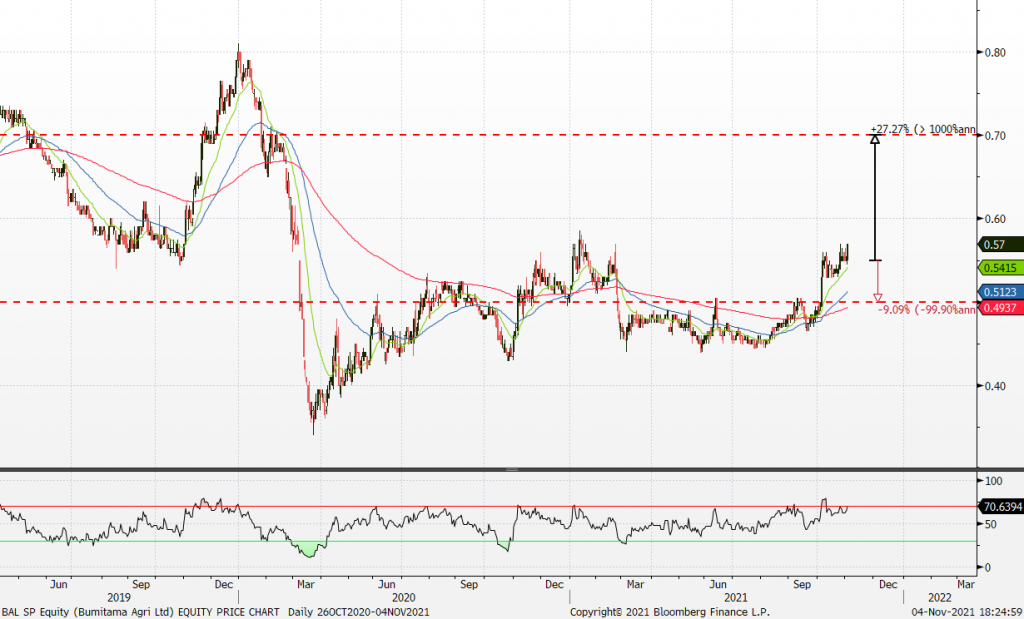 ---
HONG KONG
CNOOC Limited (883 HK): Good news to pump for another round
Buy Entry – 8.05 Target – 9.05 Stop Loss – 7.7
CNOOC Limited is a Hong Kong-based investment holding company principally engaged in the exploration, production and trading of oil and gas. Its businesses include conventional oil and gas businesses, shale oil and gas businesses, oil sands businesses and other unconventional oil and gas businesses. The company mainly operates businesses through three segments. The Exploration and Production segment is engaged in the exploration, development and production of crude oil, natural gas and other petroleum products. The Trading segment is engaged in the trading of crude oil, natural gas and other petroleum products. The company mainly operates businesses in China, Canada, the United Kingdom, Nigeria, Indonesia and Brazil, among others.
3Q21 financial results update. The unaudited oil and gas sales revenue reached approximately RMB58.03bn for 3Q21, representing an increase of 63.3% YoY, mainly due to combined effects of the increase in international oil and gas prices, and the increased oil and gas sales volume. During the quarter, the average realised oil price increased by 63.6% YoY to US$70.38 per barrel. The company's average realised gas price increased by 21.0% YoY to US$7.08 per thousand cubic feet.
3Q21 operating results update. The company achieved a total net production of 144.1 million barrels of oil equivalent ("BOE") for the 3Q21, representing an increase of 9.9% YoY. Production from China increased by 13.0% YoY to 100.mn BOE, mainly attributable to production growth from the commencement of new projects including Caofeidian 6-4 oilfield, Luda 21-2 oilfield and the production growth from onshore unconventional gas fields. Overseas production increased by 3.2% YoY to 43.9mn BOE.
Upbeat outlook of oil price. The bullish view of oil prices remains intact as the reopening of borders and recovery of transportation continue. Last Friday, Pfizer (PFE US) announced that its Covid-19 pill reduced hospitalizations and deaths in high-risk patients by 89%, a result that has the potential to upend how the disease caused by the coronavirus is treated and alter the course of the pandemic. The news boosted the confidence in further economic recovery and resumption of travelling. Accordingly, the demand for oil will improve.
Updated market consensus of the estimated net profit growth in FY21/22/23 are 214.1%/5.6%/-1.1% respectively, which translates to 4.2x/4.0x/4.0x forward PE. The current PE is 6.2x. The FY21F/22F/23F dividend yield is expected to be 9.9%/10.5%/10.4% respectively. Bloomberg consensus average 12-month target price is HK$12.21.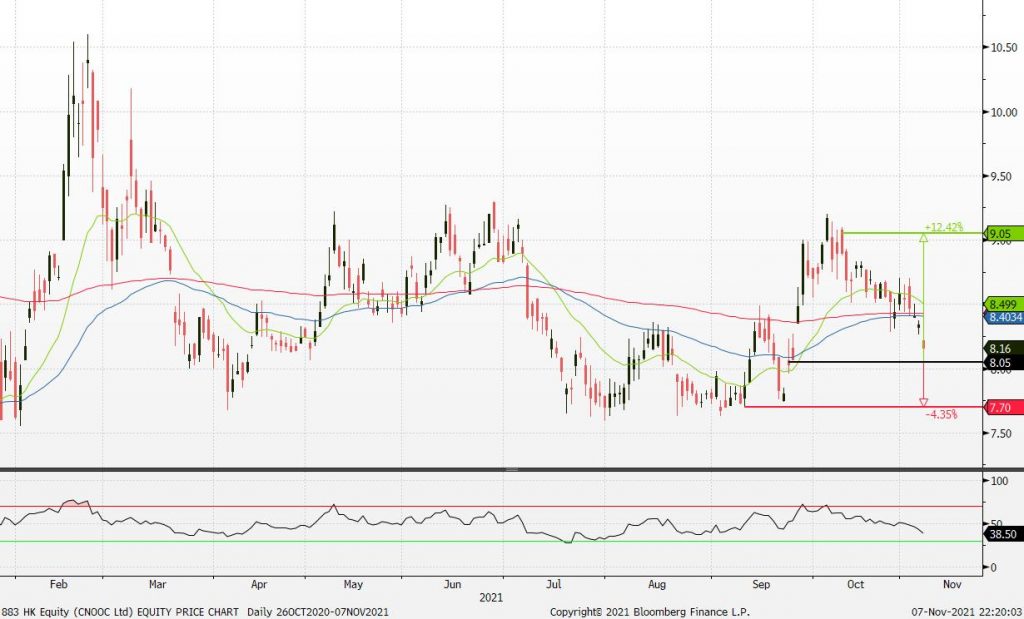 ---
TRIP.COM (9961 HK): Contrarian trade, buy the dip when lockdown comes
REITERATE Buy Entry – 220 Target – 250 Stop Loss – 205
Trip.com Group Limited, formerly Ctrip.com International, Ltd., is a travel service provider in China that provides accommodation booking, transportation ticketing, package tours and corporate travel management. The company aggregates hotel and transportation information to help leisure and business travellers make reservations. The company helps leisure travellers book travel packages and guided tours and helps corporate clients manage their travel needs. The company also offers a range of travel-related services to meet the different booking and travel needs of leisure and business travellers, including visitor reviews, attraction tickets, travel-related financial services, car services, travel insurance services and passport services. The company also offers package tours for independent leisure travellers, including tour groups, semi-tour groups and private groups, as well as package tours that require different transportation arrangements (such as cruise, buses or self-driving).
Speed bump again. Tourism and recreation sector is on a tortuous path of recovery. Countries who have 60% to 70% of vaccination rates gradually open the borders. However, China still strictly adopts the zero-infection policy domestically. Recently, there were rising infection cases in China, and related cities and districts were locked down again. This led to the sell-down of the stock, breaking the recovery of price. However, it is a buying opportunity now as the past performance showed a resiliency to such kind of news.
Promising recovery against COVID-19. Previously, the company announced 1H21 results. Total net revenue increased by 86% YoY and 43% QoQ to RMB10bn, driven by the strong recovery momentum of the China domestic market. Both domestic hotel and air-ticket GMV increased by about 150% YoY. Compared with the same pre-COVID period in 2019, both domestic hotel and air ticketing reservations achieved double-digit growth in 2Q21. Staycation travel continues to serve as a major driver of domestic recovery with local hotel reservations growing nearly 80% versus pre-COVID period in 2019. Revenues from corporate travel management grew 141% year over year and 26% compared with the pre-COVID period in 2019. In 1H21, the company reported a net profit of RMB 1bn compared to a net loss of RMB 5.8bn during the same period last year.
Best performance among all the e-commerce large-cap Chinese companies. The crackdown of multiple sectors hammered share prices of technology stocks. Currently, there is no obvious sign of turnaround. However, tourism is one of the few sectors that are relatively immune to policy risks. The price performance of the company showed positive signs of turnaround amidst the recent bearish market sentiment.
The updated market consensus of the estimated net profit growth in FY22 and FY23 is 383.1% and 51.6% respectively, which translates to 27.4x and 18.1x forward PE. Bloomberg consensus average 12-month target price is HK$286.36.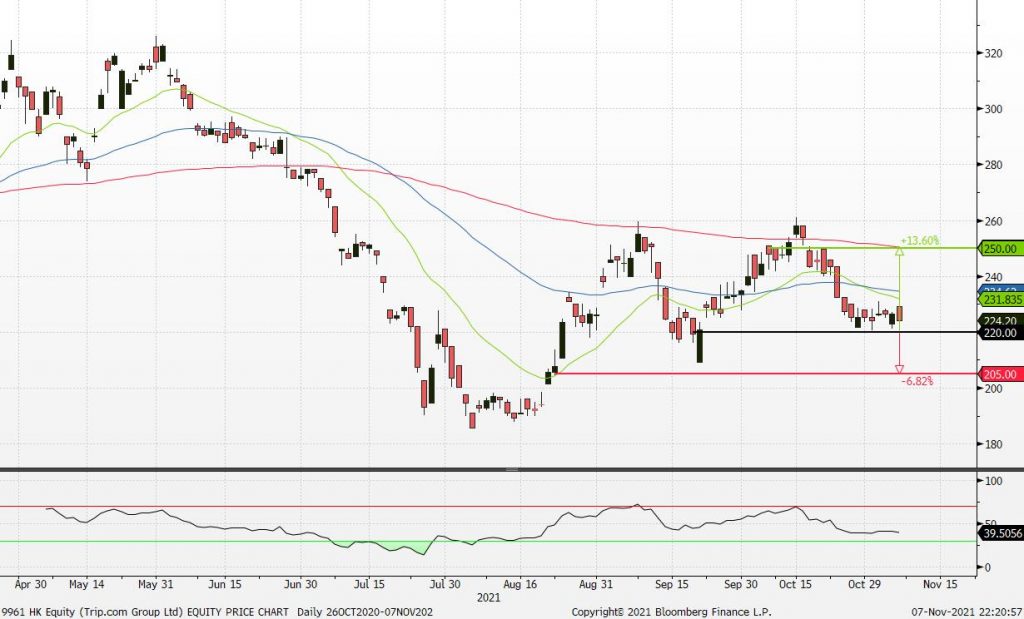 ---
Market Movers

United States
Pfizer (PFE US) shares added nearly 11% on Friday after the pharmaceutical company released positive data on its antiviral oral COVID-19 pill, which administered in combination with a widely used HIV drug, will cut the risk of hospitalization or death by 89% in high-risk adults who've been exposed to the coronavirus. Pfizer CEO Albert Bourla added that despite the company's promising data on an antiviral oral Covid pill, vaccines and vaccine boosters are still important in the fight against the virus. The Pfizer candidate is now the second antiviral pill following Merck to demonstrate strong effectiveness for treating Covid at the first sign of illness. Other COVID-19 related stocks such as Merck (MRK US) declined 9%, while Moderna (MRNA US) continued to tumble about 16% after reporting weaker than expected third quarter results.
Cruise stocks Royal Caribbean (RCL US), Carnival (CCL US) and Norwegian Cruise Line (NCLH US) also rose in tandem with positive news of Pfizer's game-changing COVID-19 oral pill. Treatment developments might be inspiring demand for travel as the holiday season draws near.
Expedia (EXPE US) shares jumped nearly 16% on Friday, as analysts reacted positively to the online travel company's stronger than expected profit and revenue results for the third quarter. The company earned $3.53 per share excluding items, well above the $1.65 Wall Street was expecting. Revenue came in at $2.96 billion, also ahead of the expected $2.73 billion. Oppenheimer analyst Jed Kelly said that "Investors are encouraged by improving travel trends into more border reopenings and a record margin quarter that implies solid execution on $750 million of cost-cutting initiatives."
---
Singapore
Venture Corporation (VMS SP) shares closed nearly 2% lower on Friday after the company released third quarter results. The electronics manufacturing company posted net profits of $77 million for the third quarter ended 30 September, and earnings per share was at $0.264. Revenue rose to $769.9 million, which was lower than $818.4 million in the year-ago period. Maybank KE analysts downgraded its call on the company from "Buy" to "Hold", and lowered its target price to $19.18 from $25.13, which could most likely be the reason why the stock traded lower on Friday. Maybank KE analyst Lai Gene Lih also added that he expects the ongoing global component shortage to persist in FY2022, and hence limit the pace of Venture's anticipated earnings recovery.
SIA Engineering (SIE SP) shares rose 1.4% on Friday after the company announced that it has signed an inventory technical management programme with Thai VietJet to provide component support coverage to the airline's fleet of Airbus A320 aircraft for a term of 6 years. Thai VietJet is a low cost carrier based in Bangkok's Suvarnabhumi Airport, and has a fleet of 16 aircraft and operates domestic routes within Thailand, as well as international flights to Vietnam and mainland China.
Sembcorp Marine (SMM SP) shares climbed 3.8% on Friday. Temasek's mandatory general offer for SMM with 8% acceptances on Wednesday, 3 November, bringing Temasek's total stake in the group to about 54.6%. Sembcorp Marine will remain listed on the SGX following the close of the MGO.
Singpost (SPOST SP) shares gained 1.5% on Friday. The postal service and courier company reported earnings of $35.05 million for 1HFY2021 ended 30 September which was 13% higher YOY, while underlying net profit was at $37.4 million, up 18% YOY. Revenue rose 3.3% YOY to $173.4 million, which the company said was led by growth in its domestic post and parcel, logistic and property segments, offset by a reduction in the international post and parcel segment. SingPost also highlighted its accelerated investment in Australia. Group CEO Vincent Phang said, "We are accelerating our growth plans for our eCommerce logistics business, as demonstrated by our reaching an agreement to bring forward the plan to increase our shareholding in Freight Management Holdings (FMH) in Australia from 28% to 51%."
UOB (UOB SP) shares climbed 1.4% on Friday. The bank reported third quarter earnings with a 57% YOY increase in third-quarter net profit to $1.05 billion – slightly above the $1 billion consensus estimate of four analysts on Bloomberg. The group's net profit rose 4 per cent from the previous quarter. Its earnings for the first nine months of this year rose 37 per cent to $3.06 billion. UOB chief Wee Ee Cheong said the bank's results came amid a challenging macroeconomic backdrop with disruptions in global supply chains, a slowdown in China's economy and resurgent Covid-19 infections across the region. Additionally, UOB bought back 72,000 shares at $27.07 – $27.36 per share on Wednesday.
---
Hong Kong
Haidilao International Holding Ltd (6862 HK). Shares rose 5.5% on Friday, even though there was no company specific news. The rise in share price was likely due to a technical rebound as shares were heavily oversold with 9 consecutive days of losses on news of China's new covid wave. RSI fell below 20 last week and closed near 30 on Friday. According to Bloomberg consensus, Haidilao has a rating of 25 BUYS, 10 HOLDS and 3 SELLS, with a 12M TP of HK$21.05, representing an upside of 53.2% as of Friday's closing price.
Pop Mart International Group Ltd (9992 HK). Shares rose 3% yesterday, gaining a total of 24.3% over the last week, as a couple of banks gave Pop Mart a BUY rating. Goldman Sachs reiterated its BUY rating with a target price of HK$94, with drivers being the company's online promotion strategy, strong pricing power and rich product portfolio. Citic Securities also released a research report stating that as the peak season is approaching, the bank is optimistic about the fourth quarter, with catalysts being Double 11 and Christmas. Coupled with store expansion and new product launches, this would boost full year performance. According to Bloomberg consensus, Pop Mart has a rating of 21 BUYS, 0 HOLD and 0 SELL, with a 12M TP of HK$82.93, representing an upside of 45.7% as of Friday's closing price.
Shimao Group Holdings Ltd (813 HK), Sunac China Holdings Ltd (1918 HK). Property sector shares collectively slumped last Friday, as Kaisa Group's missed payment triggered fresh property fears. Shimao's shares declined 13.3% while Sunac's shares declined 6.8%. Kaisa Group Holdings Ltd (1638 HK) and three of its units had their shares suspended from trading on Friday, a day after an affiliate missed a payment to onshore investors as China's snowballing property debt crisis jolted other developers."Kaisa could likely be another Evergrande," said Raymond Cheng, head of China research at CGS-CIMB Securities, adding that the companies' woes had intensified market concerns over developers' liquidity conditions.
China Aoyuan Group Ltd (3883 HK). China Aoyuan's shares dipped 13.1%. The property developer said last Thursday that Aoyuan Healthy Life Group Co. has held preliminary talks with "several independent third parties for a possible disposal of interests" in subsidiaries that provide property management and related services. In addition, Fitch Ratings on Thursday cut China Aoyuan's credit rating deeper into junk territory, citing the company's "decreasing financial flexibility" amid volatile markets. Fitch estimates that China Aoyuan has at least RMB 8.8bn of debt maturing or becoming puttable through end-2022, including $688 million in senior notes due January 2022.
Trading Dashboard: Hua Hong semiconductor (1347 HK) took profit at HK$44.2, Hainan Meilan Airport (357 HK) cut loss at HK$29; Add China Southern Airlines (1055 HK) at HK$4.5.
---
Trading Dashboard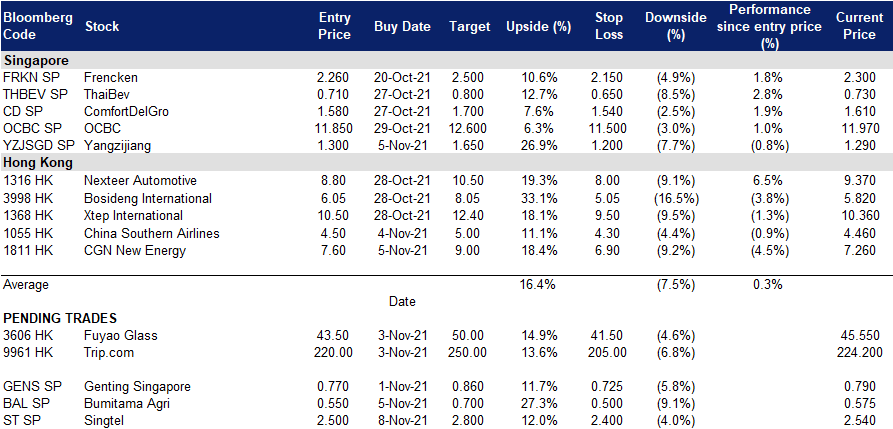 ---

---
Related Posts: