In the Spotlight: ProShares Bitcoin Strategy ETF (BITO US)
ProShares will be launching the first bitcoin futures-linked ETF in the U.S. tonight. 
The fund will seek to provide capital appreciation primarily through actively managed exposure to bitcoin futures contracts.  The fund does not invest directly in bitcoin. 
The ETF will be benchmarked against the CF Bitcoin-Dollar US Settlement Price which is a once a day benchmark index price for Bitcoin that aggregates trade data from multiple Bitcoin-USD markets operated by major cryptocurrency exchanges that conform to the CF Constituent Exchange Criteria.
---
For traders with a short-term view of Bitcoin. BITO will track front-month Bitcoin futures, providing high sensitivity to Bitcoin over the short term. However, the ETF's ability to track spot prices will break down over the medium and long term due to the high costs to keep the front-month exposure, which Blomberg estimates will be around 10-20 percentage points a year. 
Inflation hedge. Besides the launch of the Bitcoin futures ETF which could attract fund inflows and boost the recent rally, inflation concerns have also reinforced market sentiment in seeking related hedges. Back in the 1970s, when the US underwent stagflation amid a rate-hike cycle, gold was one of the hedges against the overall price appreciation. However, Bitcoin has been the alternative to gold as an inflation hedge in the post-global financial crisis era due to its decentralized-finance (DeFi) attribution and 24/7 trading period.  
Inverse relation to gold. Since 2020, Bitcoin has traded inversely to gold prices. This is likely due to retail and institutional investors moving towards Bitcoin as a hedge against inflation, as the acceptance of digital assets as a viable alternative to traditional asset classes increases.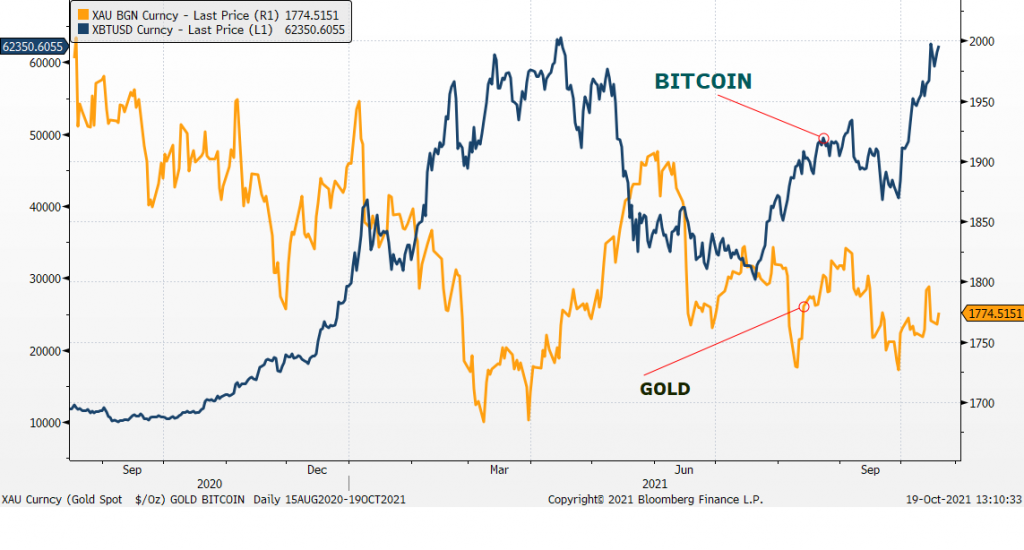 ---

---
Related Posts: