KGI DAILY TRADING IDEAS – 9 August 2021
Singapore Trading Ideas | Hong Kong Trading Ideas | Market Movers | Trading Dashboard
SINGAPORE
The SG market is closed today for a public holiday (National Day). Trading resumes on Tuesday, 10 August 2021.
---
HONG KONG
Yanzhou Coal (1171 HK): Green light to expand production
Buy Entry – 10.70 Target – 12.30 Stop Loss – 10.10
Yanzhou Coal Mining Company Limited is a coal producer in China and Australia, which is primarily engaged in the mining, washing, processing and distribution of coal through railway transportation. The company offers a range of coal products and other mixed coal products, including thermal coal, semi-hard coking coal, semi-soft coking coal, pulverized coal injection (PCI) coal and other mixed coal products.
China restarting coal mines. Last Thursday, China's authorities authorised more coal mines to restart production amid surging power demand. Operations will restart for a year at 15 coal mines across the northern provinces including Shanxi and Xinjiang region, which is an addition to the restarting of 38 coal mines in Inner Mongolia in the prior week period.
Strong demand for coal driving record high prices. The decision to restart the coal mines were driven primarily by strong demand as a result of the extreme summer heat and a rebound in industrial output. China's thermal coal prices have jumped by around 36% year-to-date, hitting a record in May. Officials have warned that coal prices are expected to stay elevated due to China's power shortage that is poised to worsen.
Bloomberg consensus. Yanzhou Coal currently trades at 4x FY 2021-2023 P/E and at 0.7x FY2021 P/B while offering a 14-16% ROE per annum over the next three years. Bloomberg consensus average 12-month target price is HK$11.39.
Zhengzhou Thermal Coal Futures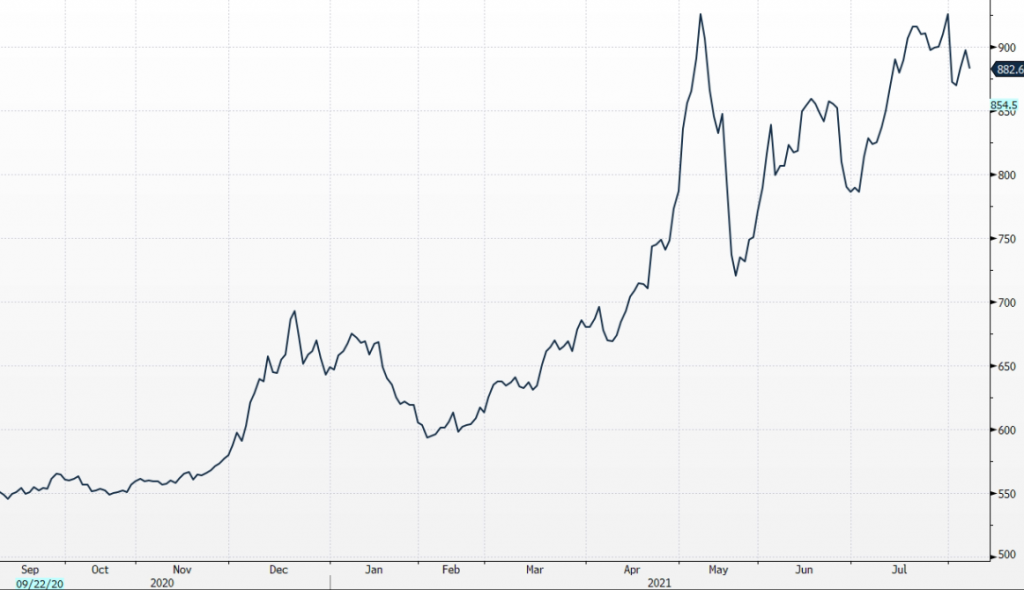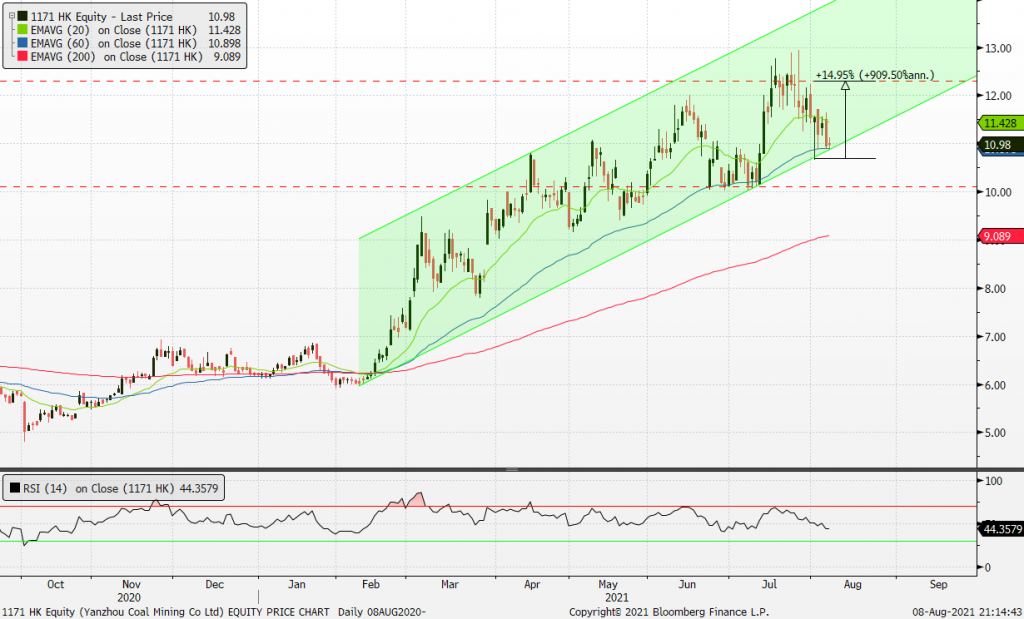 ---
Xtep International Holdings Limited (1368 HK): Government gives the greenlight. Sprint!
Reiterate Buy Entry – 12.2 Target – 14.5 Stop Loss – 11
Xtep International Holdings Limited is principally engaged in the design, development, manufacturing, sales, marketing and brand management of sportswear, including footwear, apparel and accessories. Its products are mainly sold under the self-owned brand of Xtep.
The sportswear sector has definitely been one of the best performing sectors YTD as demand has surged on the back of more people choosing to exercise during the pandemic and also due to the boycott against foreign brands. The Tokyo Olympics is expected to translate the pro-China sentiment into more consumption of domestic brands' sportswear.
Recently the State Council issued a national exercise plan from 2021 to 2025, to ensure the population's fitness and exercise demands. The plan vowed to increase the number of people who often participate in regular exercise by 38.5% and expand the scale of the nationwide sports industry to 5 trillion yuan ($773.69 billion) by 2025. This was the one of the few positive news for the market given the government initiated clamp-downs on the various sectors. Sports sector is now officially supported by the authorities. Hence, we expect fund flows to flow into it.
Based on the peers' comparison, we think the company still has upside potential to catch up with the market leaders such as Anta Sports and Li Ning.

Updated market consensus of the EPS growths in FY21 and FY22 are 46.6% YoY and 21.5% YoY respectively, which translates to 35.4x and 29.1x forward PE. Current PER is 51.8x. Bloomberg consensus average 12-month target price is HK$14.98.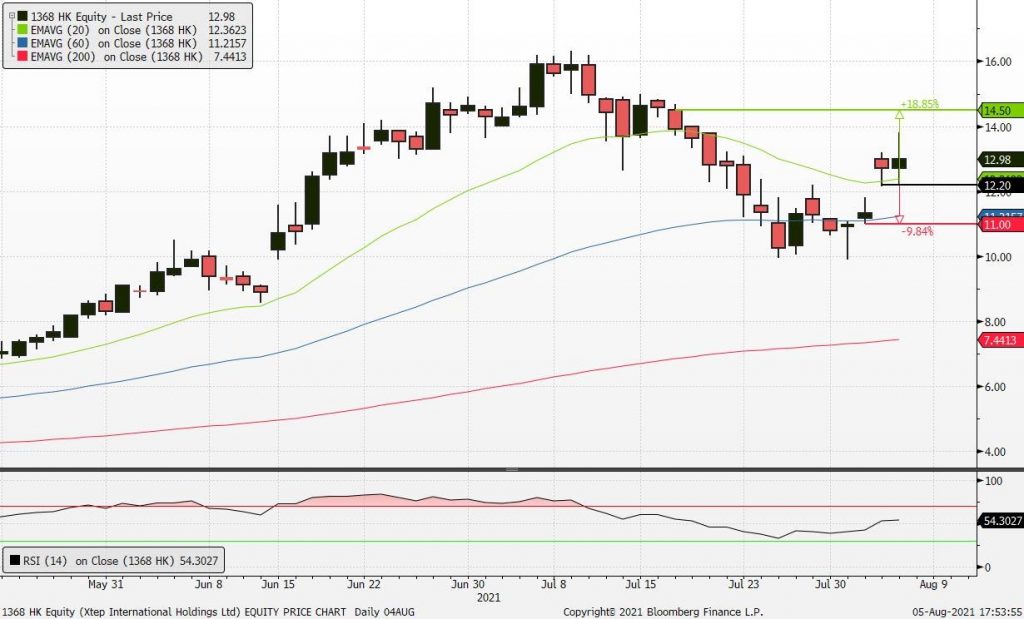 ---
Market Movers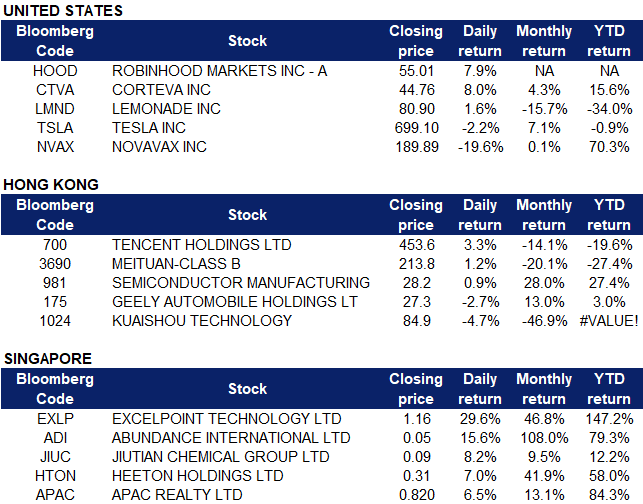 United States
Novavax (NVAX US) shares plummeted 19.61% on Friday after the company said it would delay seeking emergency use authorization for its COVID-19 vaccine. The drug maker previously hoped to obtain regulatory clearance by May, before delaying it to 3Q, and now expects to submit its application to the U.S. Food and Drug Administration (FDA) in 4Q. The company also posted a wider-than-expected loss, as well as revenue that fell short of analyst expectations.
Lemonade (LMND US) traded as much as 4.5% higher on Friday morning before closing 1.58% up at $80.90 after analysts at Oppenheimer reinstated their bullish outlook on the stock, raising their target price from $85 to $95 with an Outperform rating. The AI insurance platform recently reported 2Q earnings per share loss of $0.90 on total revenue of $28.2 million, which led the stock to drop about 11% on Thursday.
Robinhood Markets (HOOD US) bounced back 7.93% on Friday after Robinhood issued a press release to assure investors that the company would not be selling any additional securities that would dilute its shareholders, and that its filing of the Resale S-1 on Thursday merely fulfilled a "pre-existing contractual obligation". The company also explained that the 97.9 million shares covered by the Resale S-1 cannot be sold until the SEC has declared the S-1 effective.
Corteva (CTVA US) shares surged 8.01% on Friday after releasing second quarter results that trumped analyst expectations. The agriscience company's 2Q sales were up 8% to $5.6 billion, GAAP earnings per share were up 36% to $1.37 per share. Corteva also upped its full-year guidance for the second straight quarter.
Tesla (TSLA US). The electric car kingpin saw its stock dip 2.17% on Friday, closing at $699.10 after seven consecutive days of improved stock prices. There was no company related news. However, Tesla's absence from President Biden's electric vehicle summit on Thursday raised a few eyebrows as representatives from Ford, General Motors and Stellantis were present. Additionally, White House Press Secretary Jen Psaki stated that "Ford, GM, and Stellantis "are the three largest employers of the United Auto Workers, so I'll let you draw your own conclusions". Elon Musk responded to Tesla's non-invitation with a tweet.
---
Singapore
Excelpoint Holdings Limited (EXLP SP) Shares continued to rise from 5 August, Thursday following the company's announcement of its 1H21 results. Shares jumped by 29.6% on Friday and closed at a 5-year high. Excelpoint's revenue increased by 45.3%, from US$510mn in 1H20 to US$740.9mn in 1H21, while net profit surged by an outstanding 483.8% to US$12mn. The company's CEO, Mr Albert Phuay, commented that despite the challenges posed by the pandemic, the group achieved a good set of results with record revenue and improved margins for the first half of the year. He also had a positive outlook on the company moving forward, contributed by the strong demand coming from the accelerated adoption of technologies for automation and intelligence in the consumer, commercial and industrial sectors. The company will continue to see a rising need for semiconductor chips and solutions. Read here for the full results.
Abundance International Limited (STRTR SP) Shares rose by 15.6% and closed at a 52-week high on Friday. Investors are likely buying ahead of the company's earnings results expected to be released on 13 August. Abundance International posted a positive profit alert on 21 July, where the group is expected to report a profitable 1H21 as compared to a loss-making 1H20. This is mainly driven by a significantly better performance from the company's subsidiary, Orient-Sale Chemicals which is in the chemical trading business, coupled with its other subsidiaries in China and Japan. 
Jiutian Chemical Group Limited (JIUC SP) Shares rose by 8.2% on Friday and closed at a one-month high, even though there was no company specific news. This could be due a spillover effect from positive profit guidance news from the chemical sector. Jiutian's peers, Abundance International and China Sunsine, posted positive profit guidance news on 21 July and 30 July respectively. Abundance International is expected to report a profitable 1H21 as compared to a loss-making 1H20, whereas China Sunsine is expected to report a substantial increase in consolidated net profit in 1H21 as compared to 1H20, due to an increase in both average selling price and sales volume. Read here for the profit guidance posted by Abundance International  and China Sunsine.
Heeton Holdings Limited (HTON SP), Heeton Holdings' shares rose by 7% to close at a 52-week high last Friday, ahead of the release of its 1H2021 earnings after market closed. The company reported a 1H2021 PATMI of S$1.7mn, a reversal from the S$8.1mn loss in the prior year period. The group anticipates that international tourism and business travel will resume commencing in 4Q2021, which will help its 14 world-wide hotels. Meanwhile, the company's three condominium projects (Park Colonial, Affinity @ Serangoon and Rezi24) are slated to be completed by 3Q2022. The group is optimistic on Singapore's residential sector as it continues to participate in land tenders. 
APAC Realty Limited (APAC)  Shares rose by 6.5% last Friday, closing at a 52-week high. Investors could have a positive outlook on the property sector due to the surge in property prices since the start of the year. It was published in The Straits Times last Friday that HDB resale prices rose for 13 straight months into July, although the pace of growth has started to slow down.
---
Hong Kong
Tencent Holdings (700 HK) shares rose 3.33% after Goldman Sachs reiterated its buy rating on the company while including the stock to its Conviction Buy list due to Tencent's increasing investment in online gaming worldwide and its strengthening monetization potential from advertising and video business. However, because of uncertain regulatory risk factors on tech companies, they lowered their target price from $906 to $759.
Meituan Dianping (3690 HK) stocks dipped as low as $205.20 on Friday morning before closing up 1.23% at HK$213.80. China plans to levy a fine of about USD 1 billion on the company for abusing its market position to prevent companies from selling products on platforms run by rivals, as antitrust regulators wrap up a four-month long investigation as reported by Dow Jones. Meituan would be mandated to revamp its "One out of Two" operating mode which currently forces companies to take sides.
Semiconductor Manufacturing International Corp (0981 HK) shares jumped as much as 10% on Friday morning trading after the company raised its annual sales outlook as the prolonged chip shortage worldwide drove up prices of chip sets. The company's revenue rose 43% to US$1.34 billion, beating analyst estimates of US $1.30 billion. The stock has since rallied about a third this year, as investors have high hopes of semiconductor firms benefiting from China's crackdown on the tech sector.
Geely Auto (175 HK) shares slid 2.7% on Friday after announcing that total sales volume of the Geely Group for July 2021 in China was 92,221 units, a decrease of approximately 8%.
Shares of video-sharing mobile app company Kuaishou (1024 HK) tumbled as much as 11.8% on Friday morning trading, after a six-month lock up period for many of the company's shareholders expired, allowing them to sell their stake in the company. A People's Daily opinion piece called for Chinese online platforms to rein in the promotion of celebrities to avoid negatively influencing the nation's youths. The piece comes after Chinese-Canadian pop star Kris Wu was detained by police amid allegations of assault on underage women. Kuaishou responded to its recent price volatility via its official WeChat account on Friday through song names via a playlist, mainly asking its "friends" to stay calm and to anticipate a better tomorrow.
---
Trading Dashboard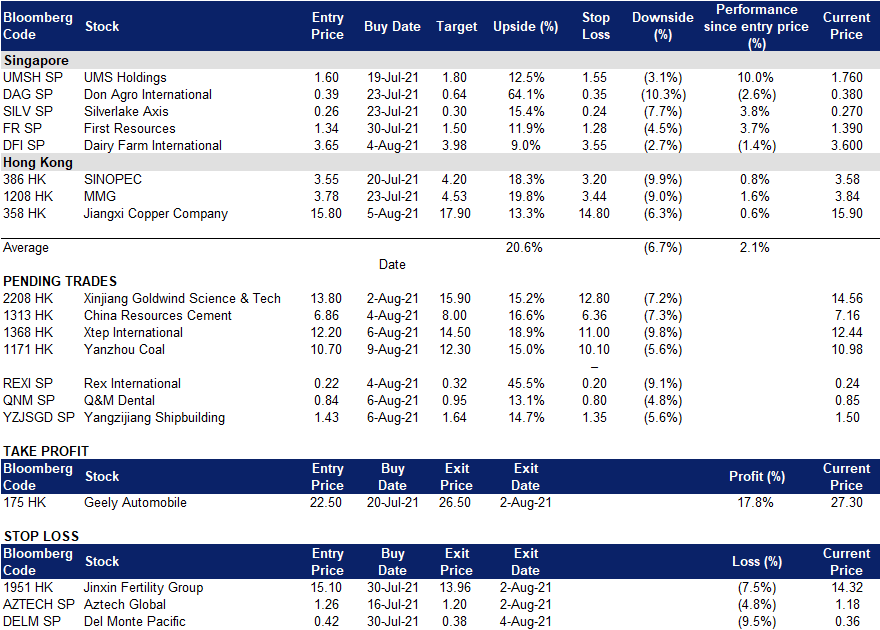 ---

---
Related Posts: