04 May 2022: – Samudera Shipping Line Ltd (S56 SP), Tsingtao Brewery Company Limited (168 HK)
Singapore Trading Ideas | Hong Kong Trading Ideas | Market Movers | Trading Dashboard

Samudera Shipping Line Ltd (S56 SP): Benefited amidst the wane-and-wax
BUY Entry – 0.97 Target – 1.10 Stop Loss – 0.90
Samudera Shipping Line Ltd. offers efficient and reliable container shipping services in the Middle East, Indian Sub-continent, South East Asia, Indo-China and the Far East markets.
Container freight rates remained high in April. The lock-down of Shanghai had been more than a month. However, covid cases in Shanghai have yet subsided. The halt of Shanghai port operations benefited other shipping routes, especially those in Southeast Asia (SEA). The freight rates from SEA to North America in April stabilised at the high grounds.
Southeast Asia to North America Container Rates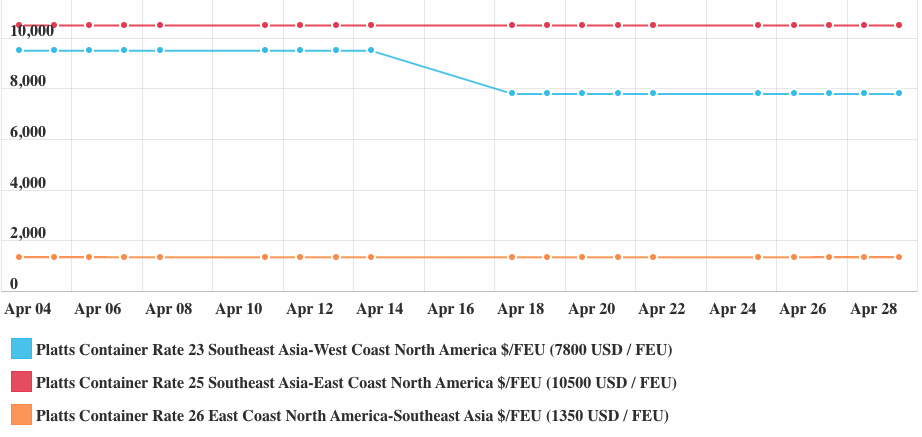 Source: S&P Global
Southeast Asia to North America Bunker Charges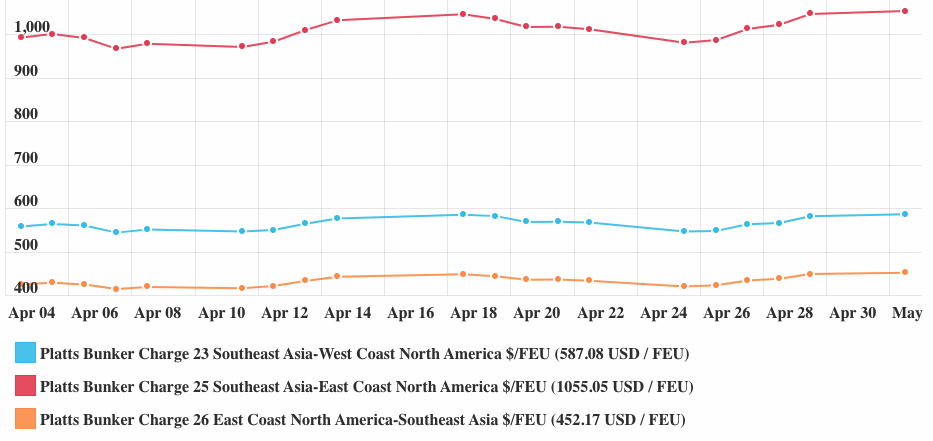 Source: S&P Global
FY21 results review. Revenue jumped by 51.5% YoY to US$527mn. Gross profit reached a record high of US$146.9mn compared to US$29.6mn in FY20. Net profit reached a record high of US$127.8mn compared to US$15.2mn in FY20. The company declared a special dividend of 12.75 SG cents (12.75% dividend yield as of the last closing price of S$1.0 last Friday) in February 2022.
Positive outlook in the near term to mid-term. The global supply chain has been disrupted during the COVID-19 period, and it will be redesigned and redeployed moving forward as multinational companies have suffered from the concentration and geopolitical risks. The Southeast region will be the sweet spot for the manufacturing base alternative to China. Accordingly, the shipping boom will last in the longer run.
Relatively cheap valuation. Currently, shares are trading at 3x P/E and 1.2x P/B.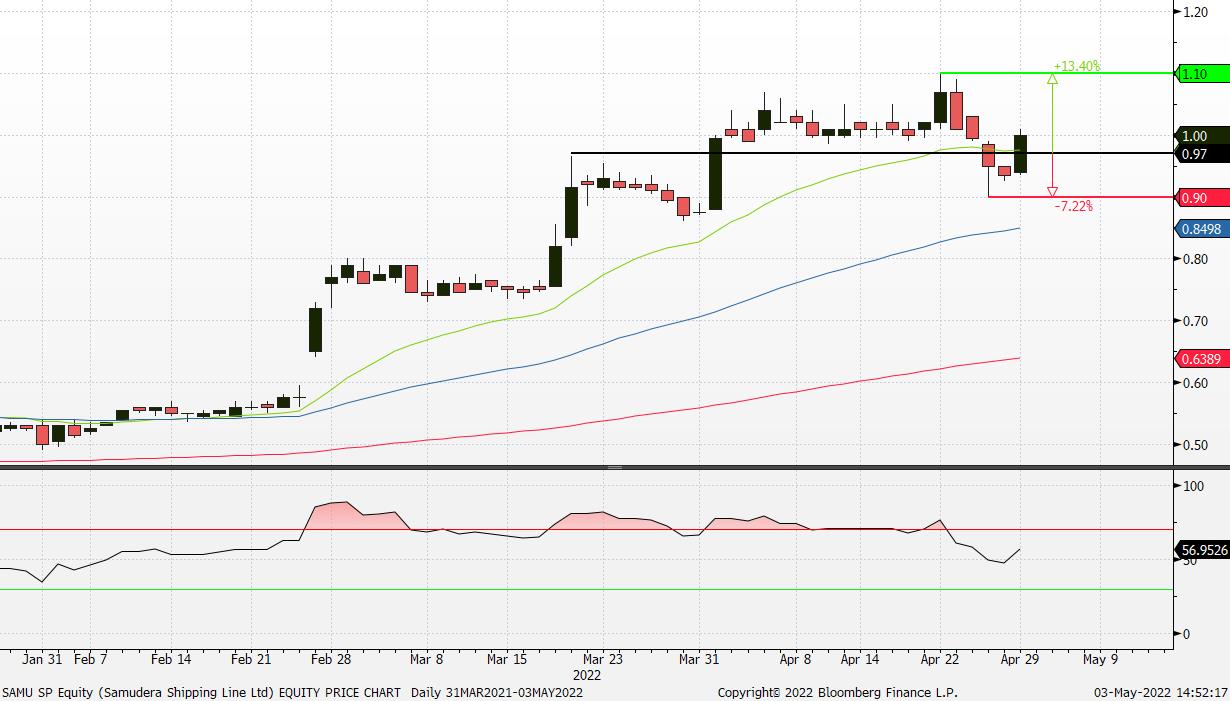 (Source: Bloomberg)

Keppel Corp Ltd (KEP SP): An O&M powerhouse following the merger with Sembcorp Marine
RE-ITERATE BUY Entry – 6.75 Target – 7.23 Stop Loss – 6.54
Keppel Corporation is a Singaporean conglomerate headquartered in Keppel Bay Tower, HarbourFront. The company consists of several affiliated businesses that specialise in offshore & marine, property, infrastructure and asset management businesses.
Big powerhouse. Yesterday, the proposed merger of Keppel Offshore & Marine (O&M) with Sembmarine was announced. The combination would result in one of the world's largest offshore energy players worth $8.7 billion. The merger would help Keppel realise about $9.4 billion in value. This includes $500 million in cash from Keppel O&M to settle outstanding interest and partial redemption of certain perpetual securities previously issued to Keppel. It also includes $4.05 billion from the sale of Keppel O&M's legacy rigs and associated receivables to a separate company that will be 90% owned by other investors, with Keppel holding a 10% stake. Keppel will also get a bigger share at 56% of the new entity arising from the merger, while Sembmarine shareholders will own 44%.
1Q22 results. Revenue was 9% higher at S$2.1bn for 1Q22, underpinned mainly by Energy & Environment, while net profit in 1Q22 was higher YoY, with improved performance in Energy & Environment, Connectivity and Asset Management. All key business units apart from Keppel O&M were profitable, however, Keppel O&M significantly reduced net loss and was EBITDA positive.
Improving oil prices to bolster the O&M segment. With improving conditions in the offshore & marine sector, underpinned by the improving oil price and the increasing utilisation rates and day rates of offshore drilling rigs, Keppel O&M's legacy rigs can be substantially monetized in the next 3-5 years. Energy markets worldwide are dealing with massive disruptions to supply following Russia's invasion of Ukraine and subsequent sanctions slapped on Moscow by the United States and its allies. Despite the volatility in oil prices in the first quarter of 2022, WTI and Brent Crude oil prices are still trading above pre-invasion prices and have closed around the US$100/bbl mark yesterday.
Positive consensus estimates. Currently, Keppel Corp has a consensus estimate of 10 BUYS, 1 HOLD and 1 SELL, with a 12M target price of S$7.30.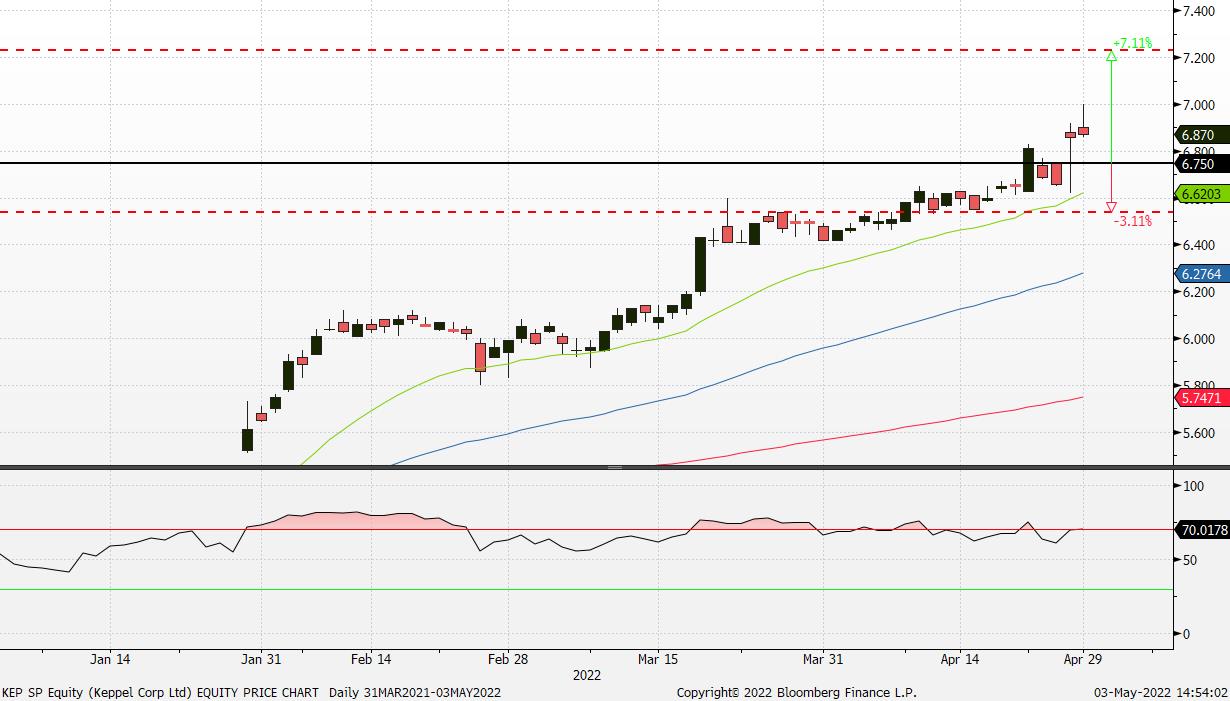 (Source: Bloomberg)


Tsingtao Brewery Company Limited (168 HK): Strong pricing power in the domestic beer industry
BUY Entry 63.40 – Target – 70.50 Stop Loss – 59.30
Tsingtao Brewery Company Limited, together with its subsidiaries, engages in the production, distribution, wholesale, and retail sale of beer products worldwide. The company sells its beer products primarily under the Tsingtaoand and Laoshan brand names. It also provides wealth management, and agency collection and payment services; and financing, construction, and logistics services, as well as technology promotion and application services.
Strong results amidst the pandemic. In the first quarter of 2022, Tsingtao Brewery's revenue was RMB9.2bn, a YoY increase of 3.1%, whereas net profit after tax was RMB1.1bn, a YoY increase of 10.2%. In addition, the gross profit margin increased by 1.30 ppts to 36.7%.
Higher selling prices to cushion inflationary cost pressures. Despite rising raw material costs such as malt and packaging materials, the strength of the domestic beer industry maintains, and the adjustment in prices is expected to continue moving forward as companies continue to pass rising costs to customers. Other major Chinese beer companies, such as China Resources Beer Holdings Co Ltd (291 HK) have seen increases in average unit price and profit margins over the last 2 years.
Every cloud has a silver lining. Hong Kong reopened gyms, beauty parlours, theme parks and cinemas on Thursday for the first time in more than four months, as authorities relaxed some of the world's toughest Covid-19 curbs, which have weighed on people and businesses. Many restaurants were booked out for weeks ahead after the hours for dining out were extended until 10 p.m. from 6 p.m., while group sizes have been expanded to four from two.
Valuation and consensus estimates. Tsingtao Brewery has a consensus rating of 19 BUYS, 3 HOLDS and 1 SELL, and a 12 month target price of HK$83.38. Tsingtao Brewery currently trades at 24x FY22 P/E, significantly lower than the average P/E of 38x over the past 3 years and 30x P/E during the 2020 pandemic era.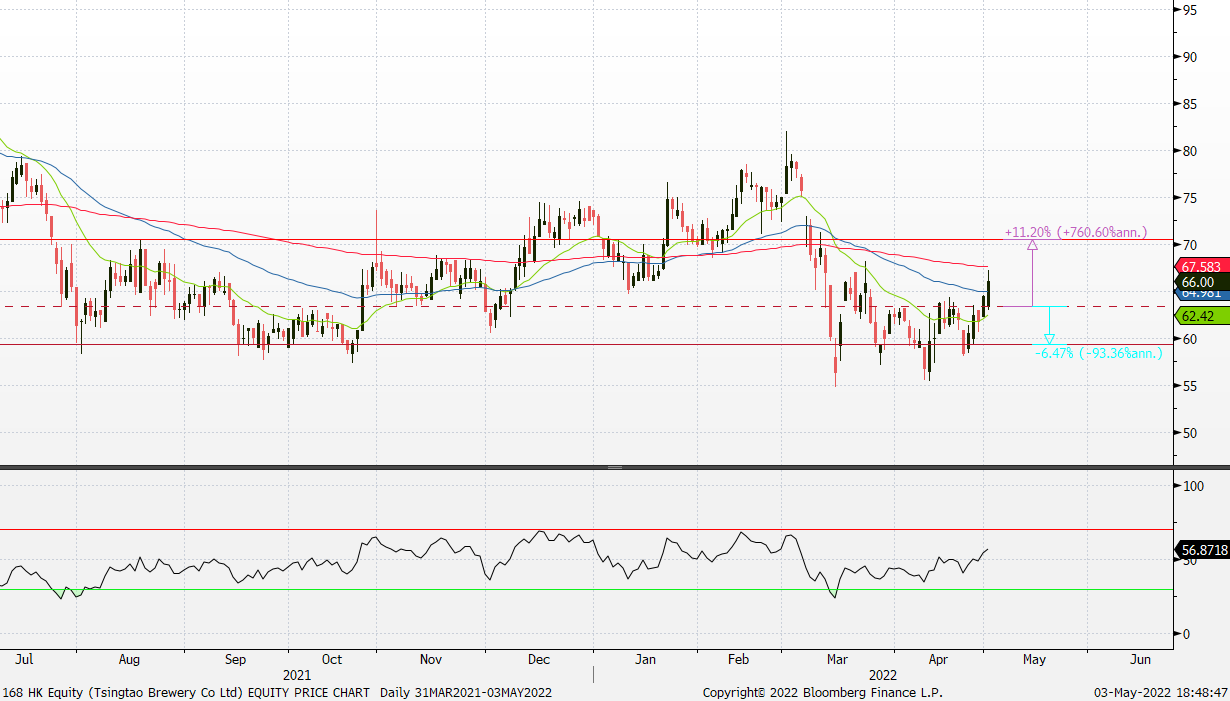 (Source: Bloomberg)

BYD Company Limited (1211 HK): China to promote EV sales in rural areas
RE-ITERATE BUY Entry 220 – Target – 240 Stop Loss – 210
BYD COMPANY LIMITED is a China-based company principally engaged in the manufacture and sales of transportation equipment. The Company is also engaged in the manufacture and sales of electronic parts and components and electronic devices for daily use. The Company's products include rechargeable batteries and photovoltaic products, mobile phone parts and assembly, and automobiles and related products. The Company mainly conducts its businesses in China, the United States and Europe.
1Q22 performance review. Revenue from operations jumped by 63.0% YoY to RMB66.8bn. Net profit attributable to shareholders jumped by 240.6% YoY to RMB808.4mn. The stellar performance was due mainly to the growth of the industry of new energy vehicles.

Policy to uphold EV consumption. On 25th April, China unveiled guidelines to further tap the country's consumption potential. One of the guidelines will promote the sales of automobiles, especially EVs in the country's rural areas.
First combustion engine car maker to go full EV production. The company announced that as of last month it stopped making combustion engine vehicles and only produced electric and hybrid vehicles. Moving forward, BYD will be the domestic largest pure EV company. The implication is that the valuation for the company will be elevated as the combustion engine car segment will no longer drag the company.
Updated market consensus of the EPS growth in FY22/23 is 116.3%/58.6% YoY respectively, which translates to 83.5×/52.6x forward PE. Current PER is 152.2x. Bloomberg consensus average 12-month target price is HK$328.34.

(Source: Bloomberg)





United States
Top Sector Gainers
Top Sector Losers
BP Plc (BP US) shares jumped 8% after the oil company reported better-than-expected earnings and revenue for its latest quarter. BP did take a $25.5 billion charge for exiting its Russian operations.
Clorox Co (CLX US) shares rose 3% after the maker of cleaning products surpassed earnings expectations. Clorox earned $1.31 per share on revenues of $1.81 billion in its most recent quarter. Analysts surveyed by Refinitiv forecast 97 cents earnings per share on revenues of $1.79 billion. The firm also lowered its full-year gross margin estimates.
Pfizer Inc (PFE US) shares rose 2% after earnings and revenue in the first quarter beat estimates on the top and bottom lines. The company reported a profit of $1.62 per share on revenues of $25.66 billion. Analysts expected $1.47 per share on $23.86 billion in revenue, according to Refinitiv.
Expedia Group Inc (EXPE US) shares tumbled 14% after the company reported a mixed earnings report that led at least eight Wall Street analysts to cut their price targets on the stock. Expedia posted a loss of 47 cents per share for its most recent quarter, although that was narrower than the loss expected by analysts, by 15 cents per share, according to Refinitiv.
Estee Lauder Companies Inc (EL US) shares lost 5.8% after the beauty company missed revenue estimates in its latest quarterly report. Estee Lauder posted revenue of $4.25 billion versus the Refinitiv consensus estimate of $4.31 billion.
---
Singapore
Lippo Malls Indonesia Retail Trust (D5IU SP) shares rose 7.1% last Friday after the REIT announced its 1Q22 results. Distribution per unit (DPU) grew by 12.5% YoY to S$0.0009 due mainly to the easing of Covid-19 restrictions in Indonesia, which led to reduced rental or service charge discounts to tenants. The YoY improvement was also bolstered by a full quarter contribution from Lippo Mall Puri, which was acquired near the end of January 2021.
Samudera Shipping Line Ltd (S56 SP) shares rose 7.0% last Friday. There was no company-specific news. The parent company PT Samudera Indonesia Tbk (SMDR ID) shares rose 6.4% last Friday. The movement could be due to positive expectations of the 1Q22 results.
Golden Energy and Resources Ltd (AUE SP) shares rose 5.5% last Friday. There was no company-specific news. China announced to scrap tariffs on coal imports from May 1 2022 to March 31 2023 on Thursday, marking a rare move to ensure energy security amid growing uncertainties in global coal supply due to geopolitical volatility and other factors.
Jardine Matheson Holdings Ltd (J36 SP) shares fell 4.99% last Friday. Jardine Strategic has failed to convince the Bermuda court to strike out the claims of dissenting shareholders who are seeking the court's appraisal of fair value of the shares because they had bought the shares after the announcement of its amalgamation.
Yangzijiang Financial Holding (YF8 SP) shares fell 12.1% last Friday. There was no company-specific news. The plunged could be due to concerns over China's economic outlook.
Hong Kong
Top Sector Gainers
Top Sector Losers
United Energy Group Ltd (467 HK) Shares rose 6.45% yesterday. There was no company specific news. International oil prices (Brent and WTI) held up at above US$100/bbl amid the correction in equities market.
Inner Mongolia Yitai Coal Company Ltd (3948 HK) Shares rose 5.58% yesterday. There was no company-specific news. Previously, China announced that it will cut import tariffs for coal to zero from May 1 to March 31, 2023, to help guarantee energy supplies.
Haier Smart Home Co Ltd (6690 HK) Shares rose 5.63% yesterday. The stock has been up for three consecutive trading days since the 1Q22 result was announced on 28th April. 1Q22 operating revenue grew by 10% YoY to RMB60.3bn. Net profit attributable to shareholders of the listed company grew by 15.1% YoY to RMB3.5bn. CITIC Securities initiated a coverage with a TP of HK$35 and a BUY rating. The brokerage firm believed that the company's strategy of targeting the high-end markets is on track.
JD.com Inc (9618 HK) Shares fell 5.95% yesterday. There was no company-specific news. Chinese tech stocks tumbled in Hong Kong as traders looked for signals China will halt its year-long crackdown on the sector. Last Friday, the tech sector jumped as rumors stating that China could lift the regulations on the big tech companies. Yesterday's correction in the tech sector could be due to some profit-taking movements.
HUTCHMED (China) Limited (13 HK) Share fell 17.70% yesterday. The US Food and Drug Administration said two positive trials in China and a US study did not support an approval for Hutchmed's surufatinib for the treatment of pancreatic and extra-pancreatic neuroendocrine tumors.

Trading Dashboard Update: No deletions or additions of stocks.