KGI DAILY MARKET MOVERS – 5 October 2021
Market Movers | Trading Dashboard
---
Market Movers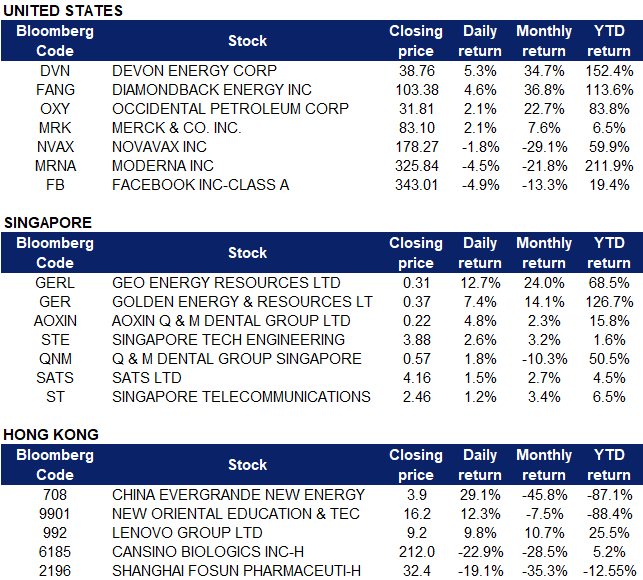 United States
Facebook (FB US) shares fell 4.89% after a former employee Frances Haugen accused the company of putting profits over the impact of hate speech during CBS' '60 minutes' on Sunday night. Haugen, a former product manager, revealed herself as a whistleblower behind a series of documents leaked to the Wall Street Journal and Congress, exposing the social media company's role in contributing to a toxic online environment for teen girls, and that Facebook applies different rules to high-profile accounts. Haugen also said that Facebook played a role in the 6 January attack on the Capitol Building. Facebook responded by denying the allegations, stating that "to suggest we encourage bad content and do nothing is just not true … We continue to make significant improvements to tackle the spread of misinformation and harmful content."
Shares of COVID-19 vaccine makers Moderna (MRNA US) and Novavax (NVAX US) declined for a second trading day following the positive results of Merck's (MRK US) new COVID-19 antiviral pill molnupiravir in a clinical trial. MRNA and Novavax shares slid 4.47% and 1.83% respectively, while Merck shares climbed 2.09%.
Energy stocks advanced on Monday trading as oil and gas prices surged to a new high as OPEC+ agreed to stick to its plan to gradually resume production, making it likely that oil supply will remain in deficit for the next few months. Devon Energy (DVN US), Diamondback Energy (FANG US) and Occidental Petroleum (OXY US) shares climbed 5.3%, 4.57% and 2.12% respectively.
---
Singapore
Geo Energy (GERL SP); Golden Energy and Resources (GER SP) Shares of the coal miners rose 7-13% yesterday. Coal prices continued to rise as China accelerated a global struggle for resources. Earlier last week, Chinese Vice Premier Han Zheng ordered state-owned energy firms to secure fuel supplies for winter at any cost. China consumes half of the world's coal, and is also the largest importer. We have an Outperform rating on Geo Energy and a DCF-backed TP of S$0.42 (+36% upside potential), and an Outperform rating on Golden Energy & Resources and a TP of S$0.64 (+73% upside potential).
ST Engineering (STE SP) announced on Sunday that it will be spending US$2.7 billion on two U.S. transport solutions firms, making it the company's biggest deal ever. ST Engineering will be acquiring an entire interest in transportation technical solutions and engineering companies TransCore Partners and TLP Holdings. The stock traded as high as 4.2% on Monday morning before closing 2.65% higher. The last time the stock closed near this price was on 18 August at $4.10. Consensus has 9 BUYS / 3 SELLS and a 12m TP of S$4.34 (+12% upside from last close price). Dividend yield is projected to be around 4.0% per year for the next 3 years.
Singtel (ST SP) shares closed 1.23% higher on Monday, after RHB, UOB Kay Hian and CGS-CIMB analysts viewed the company's recent proposed divestment of a 70% stake in Australia Tower Network as well as its plans to build a regional data centre business as beneficial developments to the company. RHB reiterated its buy call and raised its target price to $3.37, while UOBKH maintained its buy call with a target price of $2.75. CGS-CIMB reiterated its add call and its target price of $2.90 after the news was announced. Singtel offers a forecasted dividend yield of 4% and 5% for FY2022 and FY2023 (YE March).
Q&M Dental Group (QNM SP) saw its stock climbing as high as 2.7% on Monday after it was announced that Aoxin Q&M Dental Group (AOXIN SP) will acquire a 49% interest in Acumen Diagnostics for $29.4 million. Q&M Dental Group currently holds a 51% stake in Acumen, and a 32.95% stake in Aoxin Q&M. In an announcement by Aoxin and Q&M, the companies said that the preliminary valuation of Acumen amounts to $60 million. Aoxin shares closed 4.76% higher on Monday.
Shares of food solutions provider SATS Ltd (SATS SP) rose as much as 1.7% yesterday, following news of the resignation of the president, CEO and executive director, Alex Hungate. The company has yet to name a successor.


---
Hong Kong
China Evergrande New Energy Vehicle Group Ltd (708 HK). Shares surged 29.1% yesterday. Shares of both China Evergrande Group (3333 HK) and Evergrande Property Services Group Ltd (6666 HK) were halted yesterday ahead of major restructuring changes. It was announced that China Evergrande Group will sell a half-stake in its property management unit to Hopson Development for more than US$5b. The possible deal seemed to rekindle broader concerns about the risk of contagion or of a hit to China's property sector and the broader economy if Evergrande collapses or is liquidated at rock-bottom prices. In addition, Beijing has prodded government-owned firms and state-backed property developers to buy some of Evergrande's assets.
New Oriental Education & Technology Grp Inc (9901 HK). Education sector shares rose collectively yesterday on news that education and training institutions would be transformed. New Oriental shares jumped 12.3% yesterday. New Oriental announced that it has ceased to provide subject counseling services during national holidays, weekends and school holidays. It would also take further actions in the near future on subject counseling services for compulsory education students to comply with regulations, including the closure of some learning centers and layoffs.
Lenovo Group Limited (992 HK) Shares rose 9.8% yesterday after Nomura maintained a BUY rating on Lenovo with a TP of HK$10. The bank said that the Shanghai Stock Exchange announced last week that it accepted Lenovo's application for listing on the Shanghai Science and Technology Innovation Board. Nomura believes that the company will soon begin investor roadshows and continue to make progress in the listing process. According to the prospectus, the group will issue no more than 13.4bn Chinese Depository Receipts (CDRs) and plans to raise RMB 10bn for new product and project development, industry strategic investment, and strengthening operating cash. According to Bloomberg consensus, Lenovo currently has a rating of 28 BUYS, 3 HOLDS and 1 SELLS, with a 12M TP of HK$11.26, representing a potential upside of 22.5% as of yesterday's closing price of HK$9.19.
Cansino Biologics Inc (6185 HK), Shanghai Fosun Pharmaceutical Group Co Ltd (2196 HK). Pharma stocks declined collectively yesterday. Cansino shares dropped 22.9% while Shanghai Fosun shares dropped 19.1% yesterday. The decline in the sector was likely due to Merck (MRK US) releasing positive data for the clinical trial of a new oral antiviral treatment for the COVID-19 virus. The company announced that its oral antiviral medication molnupiravir cut the risk of hospitalization for COVID-19 by half. Additionally, none of the patients who received molnupiravir in the study passed away, whereas eight patient deaths were recorded in the placebo wing of the trial.
---
Trading Dashboard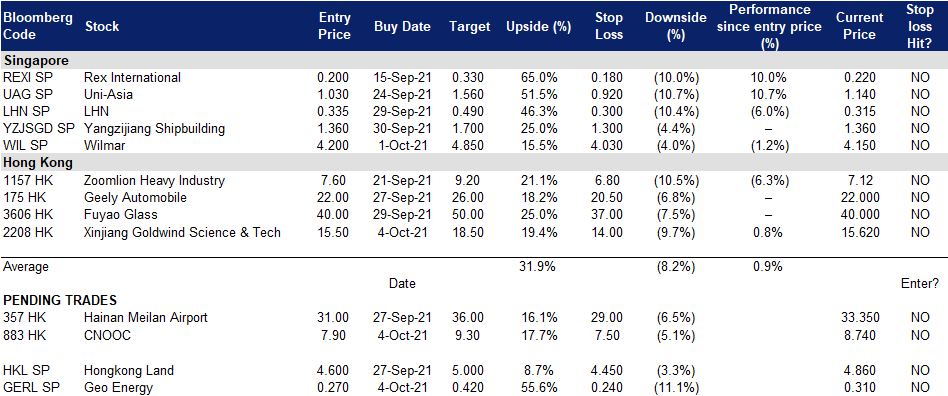 ---

---
Related Posts: