26 October 2022: Bumitama Agri Ltd (BAL SP), China Resources Power Holdings Company Limited (836 HK)
Singapore Trading Ideas | Hong Kong Trading Ideas | Market Movers | Trading Dashboard
Bumitama Agri Ltd (BAL SP): Seasonally strong palm oil prices
BUY Entry – 0.580 Target – 0.620 Stop Loss – 0.560
Bumitama Agri Ltd produces Crude Palm Oil (CPO) and Palm Kernel (PK), with its oil palm plantations and mills located in Indonesia. The Company's primary business activities are cultivating and harvesting oil palm trees, processing fresh palm fruit bunches from its oil palm plantations, plasma plantations and third parties into CPO and PK, and selling CPO and PK in Indonesia.
Rising palm oil prices. Palm oil prices are likely to strengthen further as excessive rain in key producing countries curbs output, while demand increases for its use in food and biofuels. The increase in exports and decrease in production would help reduce the buildup of inventory for palm oil producers in Indonesia and Malaysia. Since the prices of palm oil as compared to other edible oils is lower, the demand of palm oil has been gradually increasing, which would also contribute to the rise in palm oil prices.
Palm oil futures price one-year performance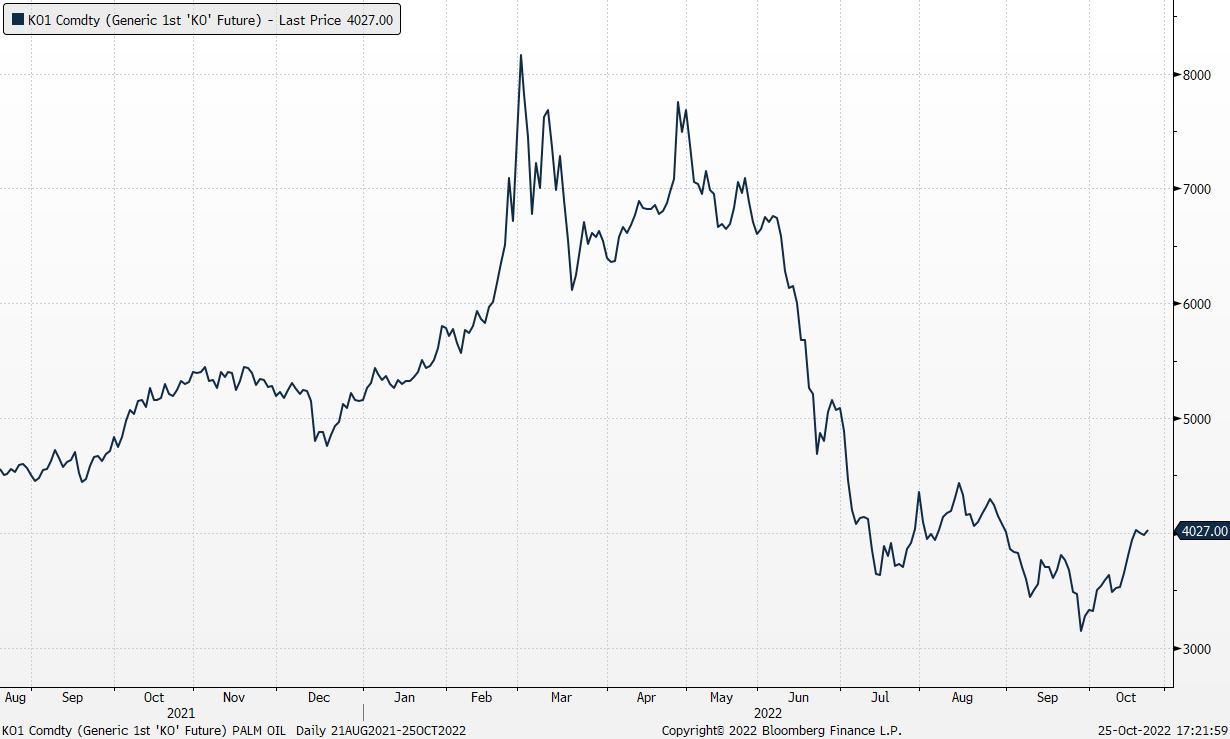 (Source: Bloomberg)
Lower production quantities. Indonesia and Malaysia account for more than 80% of the global production of palm oil. From November, palm oil output is normally seen to taper off in the two countries. Furthermore, with the heavy rainfall across Southeast Asia, the floods and heavy rain make it difficult for workers to harvest the palm oil crop and move the fruit to factories for processing.
1H22 results review. On 12 August, Bumitama Agri Ltd reported IDR8,968.35 billion in revenue during 1H22, which translates to a 65% YoY. Sales contribution from CPO spiked during the period, attributable to 75% YoY growth in selling price, which averaged IDR 14,327/kg. Following the operational outperformance amidst good commodity pricing environment, Bumitama Agri has accumulated a considerable amount of cash liquidity in recent quarters. Both current and net gearing ratios have improved, from 1.49x and 0.50x in 1H21 to 3.02x and 0.20x in 1H22, respectively.
Updated market consensus of the EPS growth in FY22/23 is 101.31%/-38.12% YoY respectively, which translates to 3.29x/5.31x forward PE. Current PER is 3.31x. Bloomberg consensus average 12-month target price is S$0.83.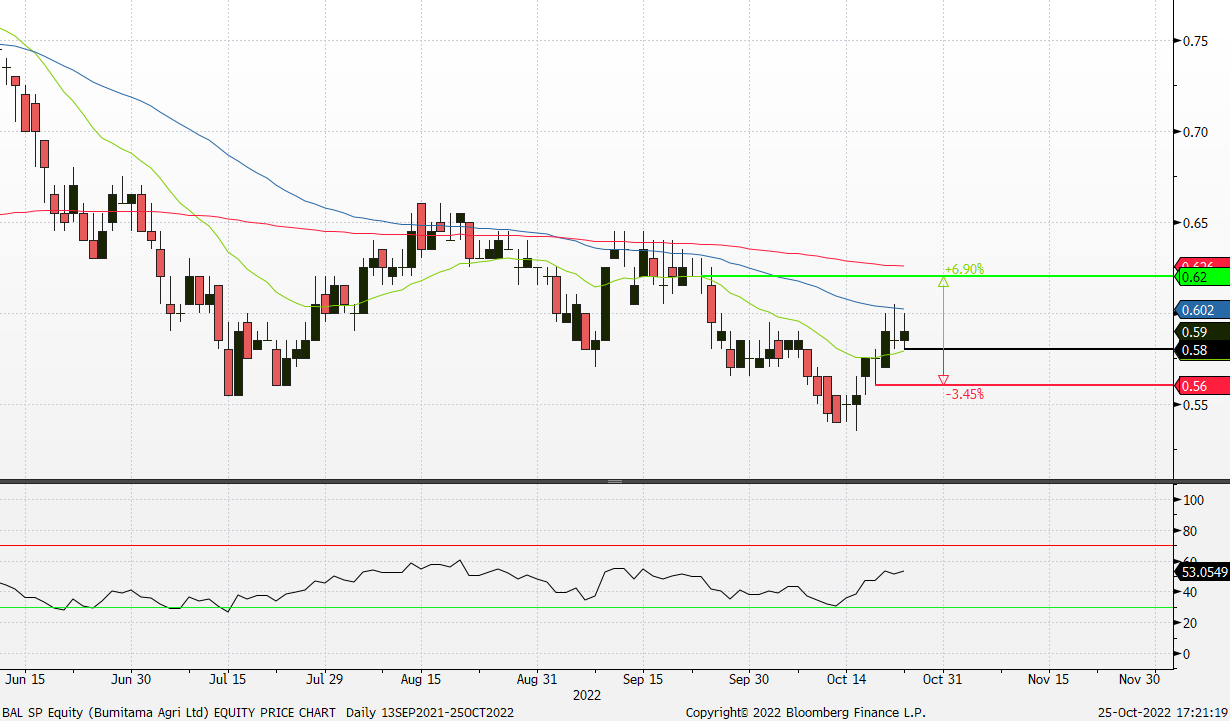 (Source: Bloomberg)

Genting Singapore (GENS SP): "Rooms" are hot
RE-ITERATE BUY Entry – 0.780 Target – 0.835 Stop Loss – 0.750
Genting Singapore is best known for its award-winning flagship project Resorts World Sentosa, one of the largest fully integrated destination resorts in South East Asia. Genting Singapore is one of the constituent stocks of the FTSE Straits Times Index.
Hotel prices hit a 10-year high. Singapore hotel room prices exceeded the pre-Covid level and hit a high in almost a decade in July 2022. As of July, the average room rate reached S$259/night, up c.70% YoY. The strong demand was driven by the increase in visitor arrivals amidst easing Covid-19 restrictions. Even though August figures showed mild corrections, the September figures will be another new highs as F1 and finance conferences were held in Singapore during the period, pushing hotel prices even higher. Visitor arrivals in Singapore rose for the eighth straight month in September to 726,140, up from 728,740 in August, according to the tourism board.
Singapore hotel room price by tier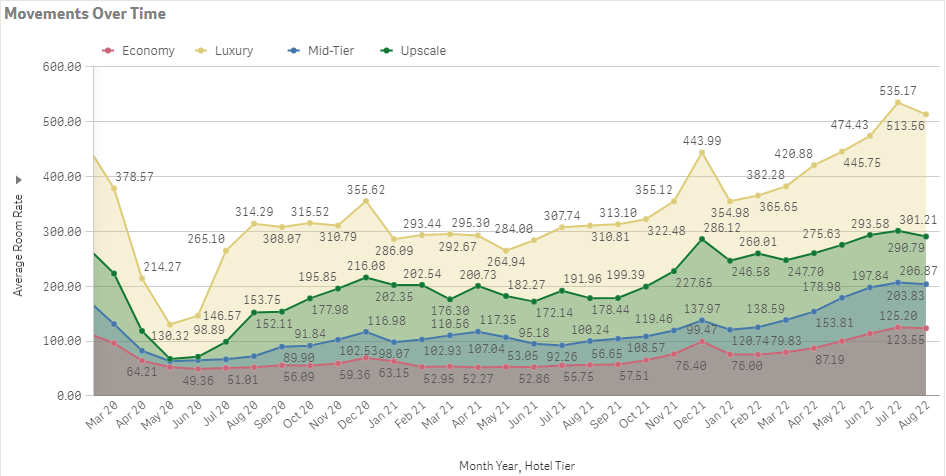 (Source: Singapore Tourism Analytics Network)
Upcoming high-profile events pushing hotel prices higher. For the rest of the year, a total of 28 Mice events have been lined up to be held in Singapore, some of the events include, the Singapore FinTech Festival, Future Travel Experience APEX Asia Expo, Bloomberg New Economy Forum and OSEA (Offshore Southeast Asia) 2022. With the Tour de France Prudential Singapore Criterium to be held this month, which will feature 32 riders from eight of the world's most lauded professional cycling teams, this event is bound to get sports fans out of their seats. Furthermore, some Mice events to be hosted in Singapore next year are already on the timeline. Some key events such as Silmo Singapore, a leading eyewear and lifestyle trade show, and Vinexpo Asia, a major wine and spirits exhibition, will join Comexposium's stable of existing events in Singapore, including Milipol Asia-Pacific, the Asia-Pacific's largest homeland security event. Additionally, Italian Exhibition Group (IEG), a big meetings, incentives, conventions and exhibitions player, will establish its South-east Asia regional headquarters in Singapore by end-2023 and expand its business in the region under its three-year pact with STB. Additionally, well-known artists such as JJ Lin, Maroon 5 and Mayday will be performing in Singapore this year.
Updates of bid for the gaming concession in Macau. According to GGRAsia, the Macau Special Administrative Region is said to have unconditionally accepted Genting Malaysia Bhd's indirect subsidiary GMM SA's bid for the award of a new 10-year gaming concession involving casino operations.
Updated market consensus of the EPS growth in FY22/23 is 84.2%/57.4% YoY respectively, which translates to 28.2x/18.0x forward PE. Current PER is 53.1x. Bloomberg consensus average 12-month target price is S$0.95.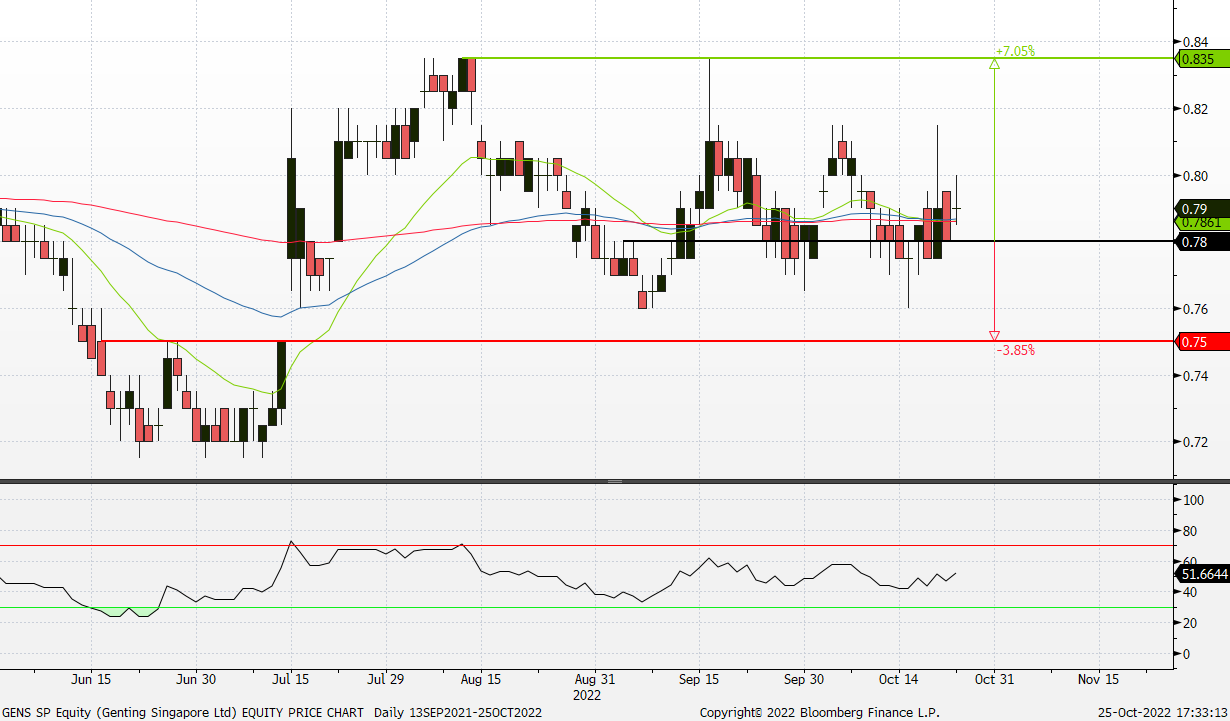 China Resources Power Holdings Company Limited (836 HK): A sound state-owned company with less selling pressures
Buy Entry – 12.8 Target – 14.2 Stop Loss – 12.1
China Resources Power Holdings Company Limited is a Hong Kong-based investment holding company principally engaged in the investment, development and operation of power plants. The Company operates through three segments. Thermal Power segment is engaged in the investment, development, operation and management of coal-fired power plants and gas-fired power plants, as well as the sales of heat and electricity. Renewable Energy segment is engaged in wind power generation, hydroelectric power generation and photovoltaic power generation, as well as the sales of electricity. Coal Mining segment is engaged in the mining of coal mines, as well as the sales of coal. The Company mainly operates businesses in China.
Power is a defensive sector. The downturn of the Hong Kong equity market persisted due mainly to the global rate hike cycle, China's economy slowdown, and deteriorating China-US relations. The broad market selloff has yet ended, however, power sector is one of the few relatively outperforms. Not only does the sector provide consistent and positive cash flows, but also expand businesses into clean energy fields which are in line with global ESG theme and supported by the domestic policies.
September operations update. Total net generation of subsidiary power plants in September-22 increased by 5.9% YoY to 14,614,489MWh,subsidiary wind farms increased by 3.4% YoY to 2,244,858MWh, subsidiary photovoltaic plants increased by 4.9% YoY to 106,268MWh.
1H22 earnings review. Turnover grew by 17.78% YoY to HK$50.4bn. The increase was mainly attributable to a YoY increase of 23.9% in the average on-grid tariffs (tax exclusive) of subsidiary coal-fired power plants and a YoY increase of 19.9% in the average sales price of heat supply of subsidiary coal-fired power plants. Net profit attributable to shareholders of the company dropped by 22.46% YoY to HK$4.4bn. The fall in net profit was due to the increase in operating expenses resulted from higher raw material costs.
The updated market consensus of the EPS growth in FY22/23 is 278.9%/29.9% YoY, respectively, translating to 7.0×/5.4x forward PE. The current PER is 74.1x. FY22F/23F dividend yield is 6.0%/8.0% respectively. Bloomberg consensus average 12-month target price is HK$20.86.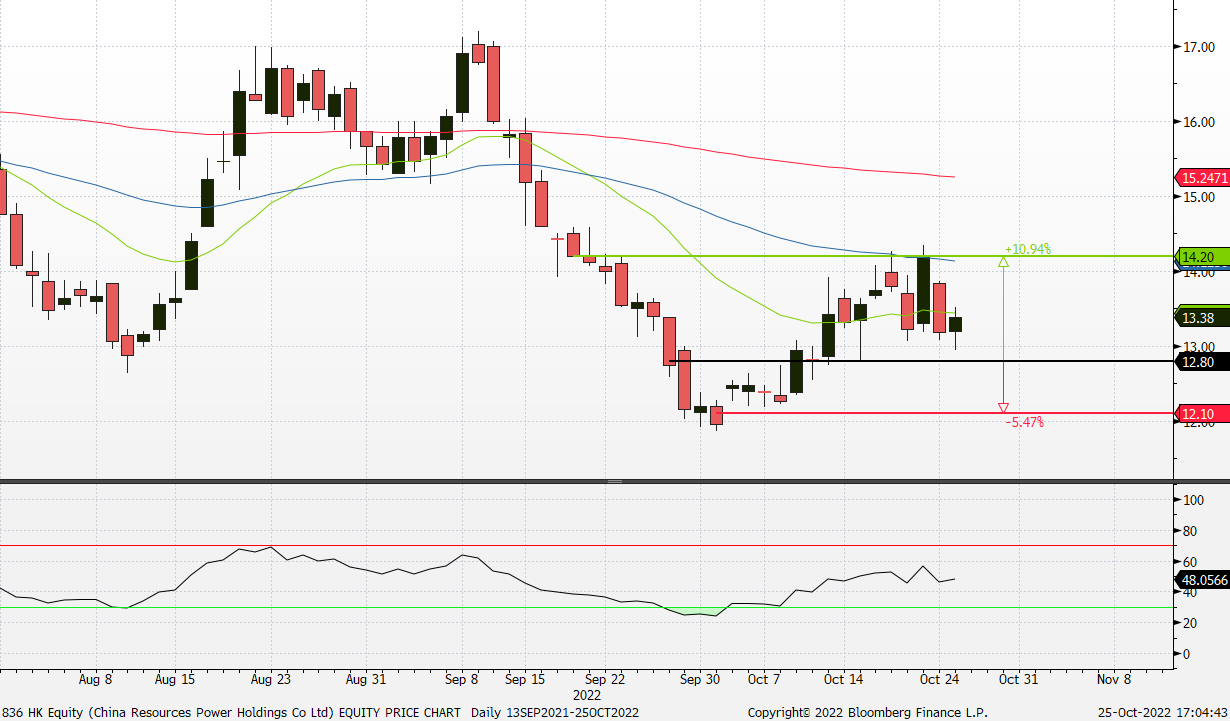 (Source: Bloomberg)
Dongfang Electric Corp Ltd. (1072 HK): 4Q22 more power-related projects to commence construction
Dongfang Electric Corp Ltd is a China-based company mainly engaged in the manufacturing and sales of power generation equipment. The Company operates five major reporting segments: Clean and High-Efficiency Energy Equipment segment, Renewable Energy Equipment segment, Engineering and Trade segment, Modern Manufacturing Service Industry segment, and Emerging Growth Industry segment. The Company's main products include water turbine generator sets, steam turbine generators, wind turbine generator sets, power station steam turbines and power station boilers as well as gas turbines. he Company distributes its products within the domestic market and to overseas market.
Ongoing investment in power grid and power source infrastructure. As of August, the cumulative investment of power grid and power source infrastructure in 8M22 grew by 10.7% and 18.7% YoY to RMB266.7bn and RMB320.9bn respectively. In August, China's Power Grid announced that it planned to invest more than RMB150bn (US$22 billion) in the 2H22 in ultra-high voltage power transmission lines. Owing to the slowdown in economic growth in China, the central government has been pushing for infrastructure expansion. We expect more power projects to kickstart in 4Q22 as the authority tries to maintain full-year economic growth.
1H22 results review. Operating income grew by 23% YoY to RMB27.3bn, driven by the growth of thermal power, engineering contracting, international trade, wind power and other segments. Net profit attributable to shareholders of the company jumped by 31.6% YoY to RMB1.8bn. The new effective orders grew to RMB36.7bn. The company will announce its 3Q22 results on 28th October.
The updated market consensus of the EPS growth in FY22/23 is 15.9%/22.7% YoY respectively, which translates to 13.0x/10.6x forward PE. The current PER is 12.7x. Bloomberg consensus average 12-month target price is HK$14.17.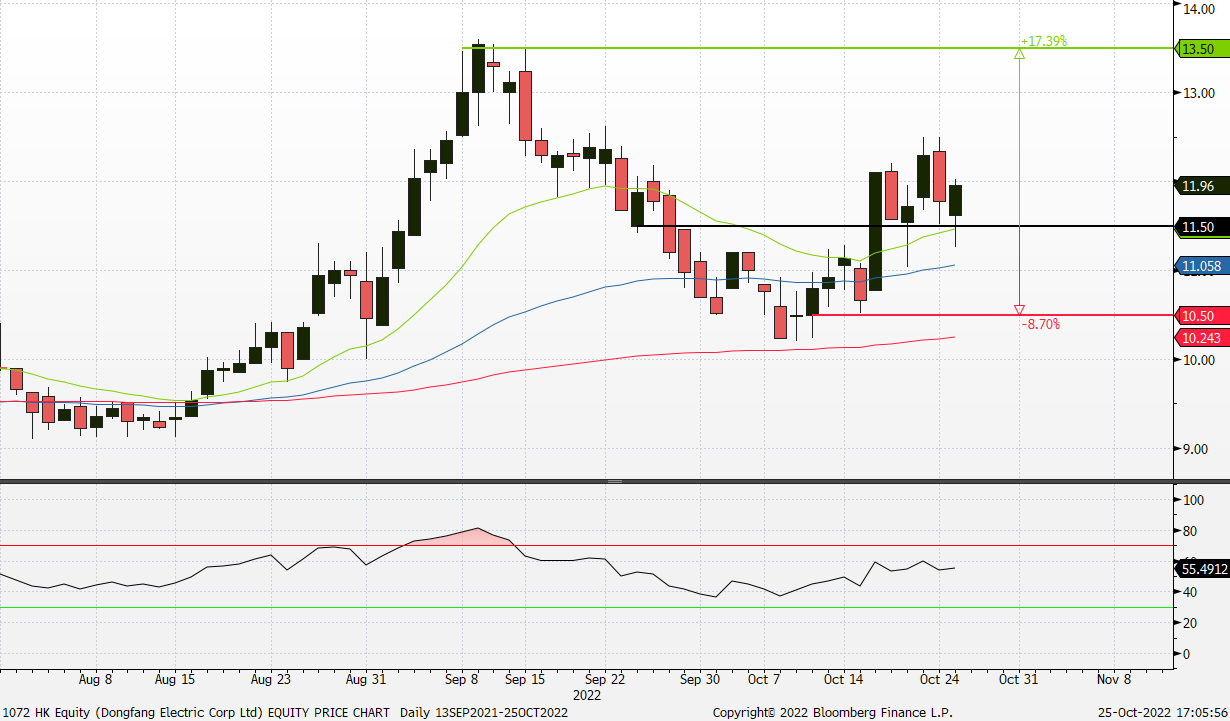 (Source: Bloomberg)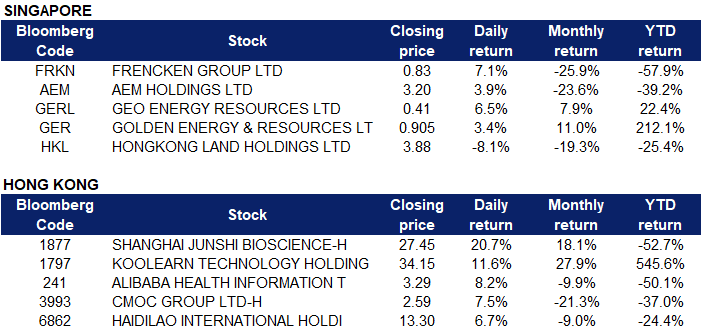 United States
Top Sector Gainers
Top Sector Losers
Logitech International SA (LOGI US) jumped 11.0% after Logitech reiterated its full-year guidance, which was lowered in July. Logitech has struggled with weaker demand after a boom in sales during the height of the pandemic.
Upstart Holdings Inc (UPST US) surged nearly 11.9% even after Mizuho initiated Upstart with an underperform rating, saying that there are more challenges ahead for the consumer lending company.
Stem Inc (STEM US) rose roughly 12.9% after UBS initiated Stem as a buy, saying that AI-driven energy storage company is a market leader that will get a boost from the Inflation Reduction Act.
Xerox Holdings Corp (XRX US) plunged 14.0% after the seller of print and digital document products and services reported disappointing earnings and cut its full-year revenue guidance. Xerox CEO Steve Bandrowczak said in a release that "profitability remains challenged by persistently high inflation and continued supply chain constraints."
Hibbett Inc (HIBB US) advanced 10.1% following an upgrade from Bank of America to a buy rating. The bank highlighted the company relationship with Nike and product availability among its reasons for liking the stock.
Singapore
Frencken Group Ltd (FRKN SP) and AEM Holdings Ltd (AEM SP) climbed 7.1% and 3.9% respectively yesterday. There was no company specific news. U.S. stocks advanced on Monday, extending last week's gains as signs of economic softness suggested the effects of the Fed's aggressive policy aimed at cooling the economy, thereby curbing decades-high inflation, are beginning to take root. All three major U.S. stock indexes gained momentum throughout the first session of a week jam-packed with high profile corporate earnings and crucial economic data.
Geo Energy Resources Ltd (GERL SP) and Golden Energy & Resources Ltd (GER SP) increased 6.5% and 3.4% respectively yesterday. China's coal imports rose 12.2 per cent in September from a month earlier as the world's top consumer of the fuel brought in larger shipments of cheap Indonesian coal. Coal imports totalled 33.05 million tonnes last month, up from 29.46 million tonnes in August and slightly higher than last September's 32.88 million tonnes, data from the General Administration of Customs showed on Monday. Spot prices for thermal coal with energy content of 5,500 kilocalories (kcal) climbed by 40 per cent in the month from late August. China brought in 20.7 million tonnes of coal from top supplier Indonesia in September, up from 15.82 million tonnes in August, customs data showed.
Hongkong Land Holdings Ltd (HKL SP) fell 8.1% yesterday. China's real estate investment in January-September fell 8.0 per cent from the same period a year earlier, official data showed on Monday, worsening from the 7.4 per cent decline seen in the first eight months of the year. Property sales by floor area dropped 22.2 per cent in the first nine months from a year earlier, according to data from the National Bureau of Statistics, compared with a 23.0 per cent slump in the first eight months of the year.

Hong Kong
Top Sector Gainers
Top Sector Losers
Shanghai Junshi Biosciences Co Ltd (1877 HK) Shares jumped 20.66% yesterday. On 24 Oct, Junshi Bio released an announcement saying that under the investigation of many institutions, the company has completed preclinical research and phase I clinical research on oral nucleoside anti-SRS-CoV-2 drug VV116 (JT001). Its favourable safety and efficacy were seen in the first clinical study in Omicron-infected patients and in the head-to-head Phase III clinical study of Nematevir/Ritonavir (ie PXLOVID). At present, a number of international multi-center registration clinical studies of VV116 are in progress. The company will actively promote the research and development progress of VV116 and explore the possibility of its commercialization in the global market.
Koolearn Technology Holding Ltd (1797 HK) Shares climbed 11.60% yesterday. the Hong Kong stock market ushered in a slight rebound. As of the close, the Hang Seng Index fell 0.10% to close at 15165.59 points and the Technology Index rose 2.96% to close at 2884.79 points. Cinda Securities pointed out that with the improvement of product selection and supply chain capabilities, the improvement of the anchor team, and the increase in the GMV and SKU of Koolearn Technology Online's self-operated products, Koolearn has gradually become a new consumer brand in the reform of live broadcast e-commerce.
Alibaba Health Information Technology Ltd (241 HK) Shares popped 8.22% yesterday. At 8 pm on October 24th, the 2022 Tmall Double 11 pre-sale officially opened. Previously, platforms such as JD.com, Vipshop, and Pinduoduo have already started pre-sale for "Double Eleven". Bank of Communications said that the e-commerce Double 11 event will be launched, and multiple institutions will enter Taobao Live, the joining of diversified anchors will stimulate user activity, and the platform's mature service operation system will provide merchants with higher room for growth. The bank expects that the growth rate of e-commerce GMV in the fourth quarter will be basically the same as that in the third quarter, and the profit side will improve year-on-year.
CMOC Group Ltd (3993 HK) Shares climbed 7.47% yesterday. China Molybdenum announced that based on his confidence in the company's future development and recognition of the company's long-term investment value, the company's independent director Mr. Wang Yougui will increase his holdings of the company's H-share public shares through methods permitted by laws and regulations. The number of additional shares held this time will not exceed 60 million H shares. There is no upper or lower price limit for this increase.
Haidilao International Holding Ltd (6862 HK) Shares rose 6.74% yesterday. Hong Kong stocks pared losses, following the market's worst sell-off since the 2008 global financial crisis, as bargain hunters piled in to pick up undervalued stocks described by JPMorgan Chase as being "disconnected from fundamentals." The Hang Seng Index slipped 0.1 per cent to 15,165.59 at the close of trading on Tuesday, clawing back most of 1.5 per cent slide. Panic-selling gripped yuan-denominated stocks on Monday after President Xi Jinping's re-election as the Communist Party's boss for an unprecedented third term, with foreign investors dumping a record US$2.5 billion worth of onshore shares.


Trading Dashboard Update: Add Sinopharm Group (1099 HK) at HK$15.5.