KGI DAILY MARKET MOVERS – 28 September 2021
Market Movers | Trading Dashboard
---
Market Movers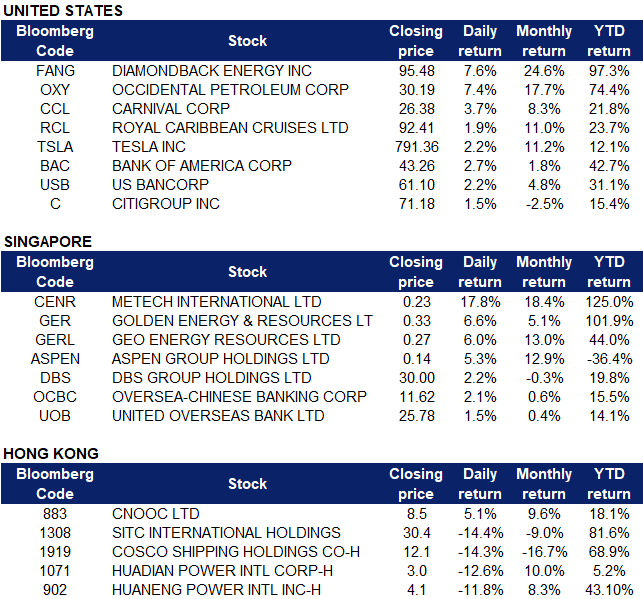 United States
Energy stocks rose as the price of crude oil continued its September run, topping $75 a barrel. Shares of Diamondback Energy (FANG US) and Occidental Petroleum (OXY US) climbed 7.62% and 7.44% respectively. The energy sector led the S&P 500 on Monday, jumping more than 3%.
Cruise line stock Carnival Corporation (CCL US) and Royal Carribbean (RCL US) were up as much as 7.7% and 5% respectively on Monday amid reopening optimism as investors consider vaccine progress and booster shot developments. Additionally, the U.S. will relax travel limits on airline passengers from the U.K. and European Union countries in early November, allowing fully vaccinated passengers to travel freely as long as they have a negative COVID-19 test within 72 hours of departure, and no quarantine will be necessary.
Tesla (TSLA US) shares climbed as much as 2.5% on Monday before closing 2.15% higher at $791.36. The company over the weekend announced that it had activated the "request" button on its vehicles, which allows Tesla owners to apply to join the beta test of the company's Full Self-Driving (FSD) software program. FSD beta will start as soon as 1 Oct.
U.S. bank stocks rallied as US 10-year Treasury Yields rose above the 1.40% level on Monday. Shares of Bank of America (BAC US), Citigroup (C US) and U.S. Bancorp (USB US) all rose 2% or more, as bank stocks tend to benefit from rising interest rates that allow for higher margins and profits. Watch KGI's Call of the Day note on interest rates here.
---
Singapore
Geo Energy Resources (GERL SP), Golden Energy and Resources (GER SP) Shares of the Singapore-listed coal miners rose 6-7% yesterday. The companies are set to benefit from strong thermal coal prices which are trading near record highs. Bloomberg reported yesterday that India's coal plants' coal stockpiles are near a four-year low, which may force the country to buy more seaborne coal. Coal buyers from the UK to China are challenged with energy shortages due to a rebound in demand. We have Outperform ratings on both Geo Energy and Golden Energy. 
Singapore banks. Shares of banks DBS, OCBC and UOB climbed 2.21%, 2.11% and 1.5% respectively after US 10-year Treasury Yields rose above the 1.40% level. After last week's FOMC meeting, there is an increasing likelihood that US interest rates are going to be rising soon, and nine Federal Reserve officials now expect an interest rate increase next year, in late 2022 or early 2023, as the US central bank charges ahead with a reduction of its massive stimulus programme that will probably be announced in November. Additionally, the Monetary Authority of Singapore and Bank Negara Malaysia that plans are underway to start a phased linkage of Singapore's PayNow and Malaysia's DuitNow real-time payment systems.
Metech International (CENR SP). Shares of the e-waste management solutions company surged 17.8% yesterday, after the company announced that its wholly-owned subsidiary Asia Green Tech has entered into a joint venture with X Diamond Capital to manufacture and distribute lab-grown diamonds. Asia Green Tech will own 51% of the share capital, while X Diamond will own the remainder. "With our joint venture, we have the capabilities to create our own quality diamonds in Singapore and establish new channels to make it accessible to a wider consumer base," said Deputy CEO Samantha Hua Metech previously called for a trading halt on Friday before making the announcement, and resumed trading today.
Aspen Group Holdings (ASPEN SP) shares rose 5.26% yesterday. The company responded on Thursday night to further questioning by SGX, asking Aspen to elaborate why it claimed it was unaware even though the 510(k) premarket notification clearance for its latex examination powder free (LEPF) gloves was "successfully obtained" on Sept 20, citing another Aspen announcement released that morning. The company clarified that the 510(k) clearance was dated Sept 20, but its glove unit had only received it from its appointed consultant at 7.46pm on Sept 22, hours after its first response to SGX at noon. Aspen previously announced that it obtained two 510(k) premarket notification clearances from the US Food and Drug Administration to market its nitrile examination gloves and latex surgical gloves, which allows the company to design, manufacture and directly distribute the gloves under the "Aspen Glove" trademark in the U.S.


---
Hong Kong
CNOOC Ltd (883 HK) Shares rose 5.1% yesterday and closed at a 2-month high. CNOOC announced yesterday that it plans to raise RMB 35bn (US$ 5.4bn) by listing on the Shanghai Stock Exchange. The company will issue up to 2.6bn new shares and will use the proceeds for project development, with excess funds to be used for working capital. The move opens a new capital market for CNOOC after NYSE said in February that it would delist the firm's American depository receipts after the Trump administration added it to a blacklist, restricting its access to U.S. technology without specific permission.
SITC International Holdings Co Ltd (1308 HK), COSCO Shipping Holdings (1919 HK) Shipping stocks fell collectively yesterday. SITC shares declined 14.4% while COSCO shares declined 14.3%. Container rates have been on an uptrend following the surge in shipping demand due to congestions, weather conditions and labour shortages. However, investors are likely selling off shipping stocks as there could be possible government intervention to correct sky-high shipping prices soon. During a press conference held by the State Council Information Office recently, Sun Wenjian, spokesperson for the Ministry of Transport and head of the Policy Research Office, mentioned that there has been active guidance towards international liner companies to increase the capacity and container supply of China's mainland export routes to improve the efficiency of container transportation. The current monthly production capacity has increased from 200,000 TEUs in the past to 500,000 TEUs, the highest in history. Despite the sell-off, COSCO Shipping currently has a bloomberg consensus rating of 12 BUYS, 0 HOLS and 0 SELLS with a 12M TP of HK$22.51, representing an upside of 86.3% as of yesterday's closing price of HK$12.08.
Huadian Power International (1071 HK), Huaneng Power International Inc (902 HK) Huadian's shares declined 12.6% yesterday while Huaneng's shares declined 11.8%. Citi Research stated yesterday that both Chinese power-plant operators are likely to report losses in 3Q21 on rising unit coal prices. The coal-fired plan operators are not likely to be able to raise electricity prices to compensate for higher coal costs due to regulatory constraints. Efforts to expand their renewable energy generation have provided a boost in both companies' share price but the price rally looks excessive according to the bank. Citi has a SELL rating for both companies. According to Bloomberg consensus, Huadian currently has a rating of 5 BUYS, 1 HOLDS and 3 SELLS, while Huaneng has a rating of 8 BUYS, 6 HOLDS and 4 SELLS, both representing a negative return potential.
---
Trading Dashboard
---

---
Related Posts: