25 Nov 2021: Stocks making the biggest moves
Market Movers | Trading Dashboard
IPO WATCH
Digital Core REIT (DCREIT SP): Data is king
DCREIT will be offering 267mn shares for subscription at US$0.88 per unit. Initial market cap is estimated to be US$990mn.
The Digital Core REIT IPO Portfolio comprises 10 institutional quality, 100% freehold data centres concentrated within top-tier markets in the US and Canada with an aggregate appraised valuation of US$1.4bn.
DCREIT is backed by US-listed Digital Realty, who will take a 10% stake in the REIT. Digital Realty is the largest owner, operator, developer and acquirer of data centres in the world. As of 30 June 2021, Digital Reality had a total committed active investment of US$5bn.
The REIT will have a projected distribution yield of 4.75% for FY2022 and DPU growth of 5.26% from FY2022 to FY2023. For reference, DCREIT's DPU is higher than Keppel DC REIT's (KDCREIT) forecasted yield of 4.3% for FY2021 and 4.5% for FY2022.
Overall, we think DCREIT offers an attractive opportunity given that it will be able to tap on the sponsor's huge pipeline of data centres globally.
Digital Core REIT portfolio of 10 data centres in North America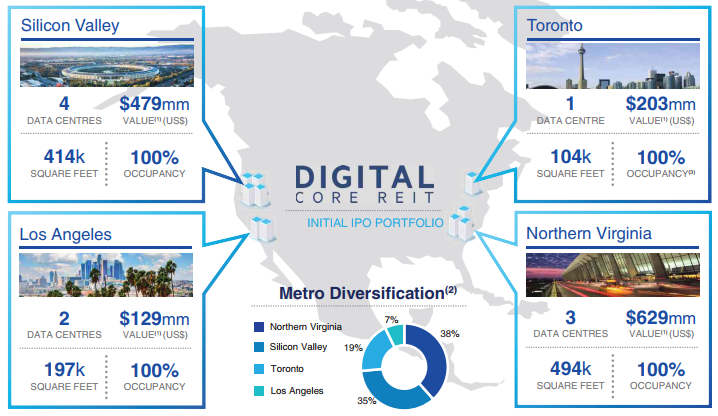 Market Movers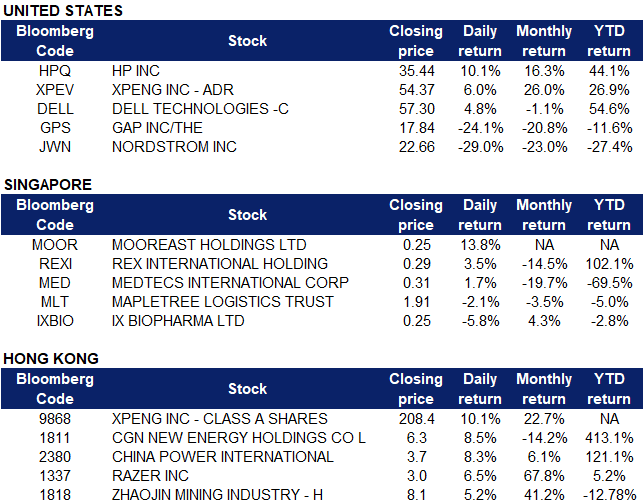 United States
Top Sector Losers
HP (HPQ US) rose 10% after 4Q earnings came in above expectations, driven by 25% growth in commercial PC. Non-GAAP earnings surged 52% YoY to 94 cents as it reflected higher revenues and favourable pricing, product mix currency exchange rates, partially offset by higher commodity costs and increased investments.
Dell Technologies (DELL US) shares rose 4.8% on heavy volume after reporting a quarterly outlook led by robust PC sales, reflecting the strong earnings from those of HP.
Xpeng (XPEV US) shares continued gains and surged another 6.0% after the Chinese EV maker reported stronger-than-expected third quarter revenues amid the global shortage in semiconductor supplies. The company delivered 25,666 cars over the three months ending in October, a 200% increase from the same period last year that powered a 187.4% surge in overall revenues to RMB 5.72 billion, well above analyst expectations. Citi raised its TP to US$92 from US$87 and kept a Buy rating while BofA increased its TP to US$66 from US$63, also maintaining a Buy rating.
Nordstrom (JWN US); Gap (GPS US) both plunged 24-29% in overnight trading after reporting weaker-than-expected quarterly results and warned of supply chain problems ahead of the US holiday shopping season. As a result, JP Morgan downgraded Gap to Neutral from Buy and lowered its TP to US$22 from US$39, while maintaining a Sell rating on Nordstrom.
---
Singapore
Mooreast Holdings (MOOR SP) made its debut on the SGX Catalist board yesterday, 13.8% or 3 cents above its IPO price of $0.22. The mooring systems company previously announced on Tuesday evening that shares for its IPO were subscribed by 1.3 times in total, adding that the public offer was about 17.3 times subscribed while the placement received strong interest from investors. Read our IPO note on the company here.
Medtecs International (MED SP) shares lost 1.6% yesterday, likely on profit-taking. The company previously announced that its wholly-owned subsidiary Medtecs (Asia Pacific) and US healthcare market player ACO International are in discussions to enter into a share subscription agreement.
iX Biopharma (IXBIO SP) shares tumbled 5.8% yesterday after it was announced that the company has signed an exclusive license agreement with Seelos Therapeutics for its product, Wafermine. iX Biopharma will receive an upfront payment of $12 million to be satisfied in cash and shares, while Seelos will fund all future development, manufacturing and commercialisation of the licensed products.
Units of Mapletree Logistics Trust (MLT SP) lost 2% yesterday after the Reit priced its private placement and preferential offering at $1.88 and $1.84 per unit respectively. Total gross proceeds will be approximately $692.8 million, comprising $400 million from the private placement and $292.8 million from the preferential offering. 97.5% or $675.5 million of the gross proceeds will be used to fund these acquisitions, while 2.5% or $17.3 million will be used to pay for fees and expenses in connection with the acquisitions and equity fundraising. Additionally, Maybank Kim Eng maintained its "BUY" call on the stock with an unchanged target price of S$2.35 for MLT following the latest acquisitions, citing the 17 new assets, which are set to boost the trust's assets under management by 13.5% to $12.2 billion, and that they are backed by strong fundamentals, with upside to rents and valuations in the medium term, underpinned by tight supply.
Rex International (REXI SP) shares jumped 3.5% yesterday. The White House announced that the U.S. will release 50 million barrels of crude from the Strategic Petroleum Reserve to calm 2021′s rapid rise in fuel prices.. The move is a coordinated release between the U.S., India, China, Japan, Republic of Korea and the United Kingdom, and is the first of its kind. U.S. oil dipped 1.9% to a session low of $75.30 per barrel following the announcement, before recovering those losses and moving into positive territory.
---
Hong Kong
Top Sector Gainers
Top Sector Losers
Xpeng Inc (9868 HK). Shares gained 10.1% yesterday after the company reported its third-quarter earnings. Xpeng reported a beat on revenue in the third quarter, coming in at RMB 5.72bn, topping expectations of RMB 5.03bn. However, the company incurred greater-than-expected losses of RMB 1.77 per share, versus expectations of RMB 1.17. In addition, last week, Xpeng revealed a new electric SUV, the G9, which is designed for the international and Chinese markets and said deliveries over the fourth quarter would range between 34,500 and 36,500 vehicles. According to Bloomberg consensus, the company currently has a rating of 11 BUYS, 0 HOLD and 0 SELL, with a 12M target price of HK$239.07, representing an upside potential of 14.7% as of yesterday's closing price.
CGN New Energy Holdings Co Ltd (1811 HK), China Power International Development Ltd (2380 HK). Clean energy power generation shares rose collectively yesterday. CGN New Energy shares rose 8.5% while China Power shares rose 8.3%. According to the news, Fang Xinghai, Vice Chairman of the China Securities Regulatory Commission, said in a speech at the 2021 China-Singapore (Chongqing) Strategic Interconnection Demonstration Project Financial Summit that the Commission is currently studying and formulating policies which support carbon peaks and carbon neutrality. Policy measures include increasing financing support for green and low-carbon companies, studying and improving the environmental information disclosure system of listed companies, and actively participating in the sustainable finance work of the International Organization of Securities Regulators (IOSCO).
Razer Inc (1337 HK). Shares rose 6.5% yesterday after CMB International Securities maintained its BUY rating on Razer with a target price of HK$3.47. The bank believes that Razer is one of the main beneficiaries of the recent strong expansion of the gaming industry and driven by changes in work/game lifestyles and increased demand for streaming media/games, the market will continue to grow after the epidemic. Razer is expected to achieve higher sales growth than its peers. In view of the strong growth trend, CMB expects Razer's total revenue to grow by 23.5%/15.8% YoY in 2022/23 fiscal year. According to Bloomberg consensus, the company currently has a rating of 5 BUYS, 0 HOLD and 0 SELL, with a 12M target price of HK$3.46, representing an upside potential of 16.5% as of yesterday's closing price.
Zhaojin Mining Industry Company Ltd (1818 HK). Shares rose 5.2% yesterday. It was recently announced that Zhaojin Mining participated in the equity financing by Australian-listed company Tietto Minerals which placed new shares to raise AUD 85mn, to finance the Abuja project which is due for operation by the end of 2022. Zhaojin Mining and its related parties will also become the largest shareholder of Tietuo Mining after completing this financing. Xu Jianzhuo, Investment Director of Zhaojin Mining, said that the Abuja gold project is a traditional open-air project with low cost, high recovery rate and high profit rate. The company's future strategic development plan will increase investment in similar high-quality projects.
Trading Dashboard Update: Add Prada (1913 HK) at HK$56.0
---
Trading Dashboard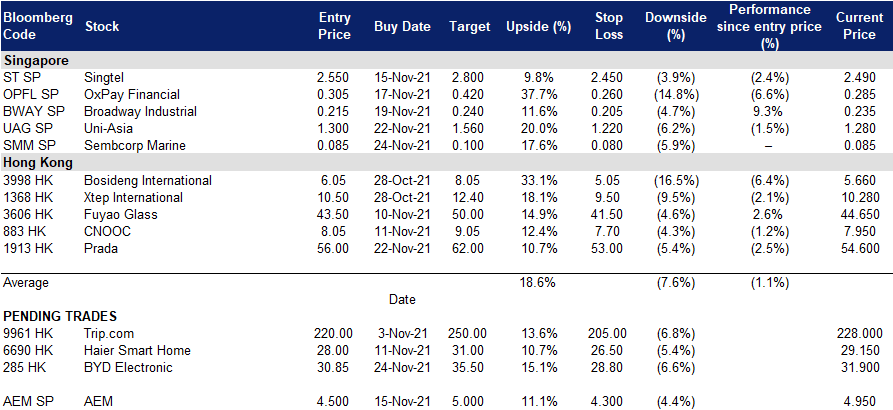 (Click to enlarge image)
---

---
Related Posts: