23 Dec 2021: Stocks making the biggest moves
Market Movers | Trading Dashboard
Market Movers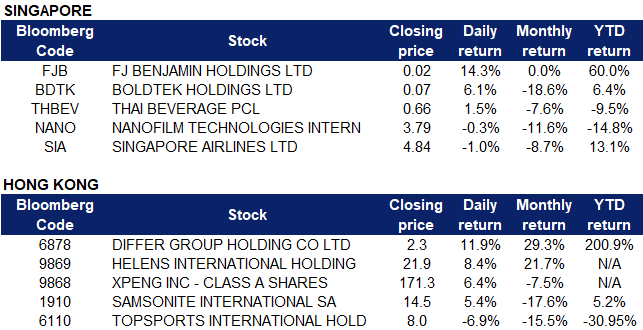 ---
United States
Top Sector Gainers
Top Sector Losers
Pfizer (PFE US) shares climbed 1% yesterday after it was announced that its COVID-19 pill Paxlovid gained clearance from the Food and Drug Administration for emergency use in the U.S.. Paxlovid is expected to maintain its effectiveness against omicron and other emerging variants. The drug blocks the activity of an enzyme that the coronavirus needs to replicate. The virus is unlikely to mutate in a manner that will alter its dependence on this enzyme. Moderna (MRNA US) shares declined 6.3% in tandem with the news, as people might choose to remain unvaccinated due to the effectiveness of Pfizer's pill.
Coinbase (COIN US) shares closed 2.8% higher as the crypto markets recovered this week, with Bitcoin approaching $50,00 and Ethereum over $4,000. It was also revealed that Cathie Wood's ARK funds bought a total of 23,414 shares of Coinbase, worth $5.8 million.
Lucid Group (LCID US) shares gained as much as 5% before closing 1.8% higher yesterday. The stock started trading on the Nasdaq-100 index on 20 December. Lucid also announced recently that it has completed the sale of senior convertible notes and raised roughly $2 billion in gross proceeds for general purpose use and business expansion. The company's Lucid Air also got a detailed review by popular Youtube channel Throttle House, comparing it to Tesla's Model S Plaid, saying that Air Dream is closest to the "perfect EV" they've seen so far.
Alibaba (BABA US) shares declined 4.2% yesterday after the Chinese Ministry of Industry and Information Technology (MIIT) suspended "a cooperative partnership" with Alibaba's Alibaba Cloud subsidiary. Alibaba Cloud failed to "immediately report vulnerabilities" in its software to the Apache Log4j2 zero-day exploit. As punishment for this failure, MIIT has ceased cooperating with Alibaba Cloud on cybersecurity threats and information sharing, and won't even consider partnering up with Alibaba again for at least six months.
Tesla (TSLA US) shares jumped 7.5% yesterday after Elon Musk said on a podcast interview that he has sold all that he intends to for now. Musk has sold 13.5 million Tesla shares to date, adding that he's close enough to his goal to sell what he needed to pay his taxes of $11 billion.
---
Singapore
Singapore Airlines (SIA SP) shares lost 1% yesterday after the Singapore government said that it was freezing ticket sales for Vaccinated Travel Lane (VTL) flights and buses into the country. All new ticket sales for travel into Singapore from Thursday (Dec 23) to Jan 20 next year would be frozen to reduce the country's exposure to imported Omicron cases. After 20 January, VTL quotas and ticket sales will be temporarily reduced – from 21 January, the capacity for the VTL (Land) with Malaysia will be halved and the total ticket sales for designated VTL flights will be capped at half of the allocated quota. Travellers who already hold a ticket for a VTL flight or bus and meet all the other requirements can continue to travel under the VTL. The freeze does not affect sales of tickets for flights that enter Singapore after Jan 20, which can still be bought.
FJ Benjamin (FJB SP) shares surged 14.3% yesterday after the company announced that it will raise $3 million from a Far East Organization unit for expansion. Western Properties, a member of the Far East Organization group of companies, has agreed to subscribe to 120 million new FJB shares at $0.025 each. FJ Benjamin will also explore strategic opportunities to collaborate with Far East Organization for new businesses as well as within its present brand portfolio.
Thaibev (THBEV SP) shares climbed 1.5% yesterday; there was no company specific news. RHB analyst Shekhar Jaiswal said in a note last week that he has a sanguine outlook for Singapore equities in 2022, despite uncertainties caused by the emergence of the Omicron variant, and that "Singapore offers opportunities to accumulate stocks that leverage on economic re-opening, and counters that now offer better earnings visibility despite macroeconomic risks." The stock was one of Jaiswal's top picks for mid-to-large-cap stocks.
Nanofilm Technologies (NANO SP) shares climbed as much as 1% yesterday before closing 0.3% lower, likely on profit taking. The company previously provided a business update for the fourth quarter ended 31 December, noting that it has incurred plant and equipment qualification costs. Nanofilm executive chairman and former CEO Shi Xu also said Nanofilm has in place a strategy to accelerate the commercialisation and increase adoption of its nanotechnology solutions across multiple existing and new areas.
Boldtek Holdings (BDTK SP) shares jumped 6% yesterday. The construction engineering company previously called for a trading halt on Tuesday morning, and trading resumed yesterday morning. The company announced that it will raise S$4.40 million from a share placement to strengthen its financial position in pursuit of quality projects with partners. This comprises 73,332,000 new ordinary shares at an issue price of S$0.06 per share to raise gross proceeds of S$4.40 million, and proceeds will be used for general working capital purposes to strengthen the Group's financial position.
---
Hong Kong
Top Sector Gainers
Top Sector Losers
Differ Group Holding Co Ltd (6878 HK) shares rose 11.9% yesterday. On December 19, the Cherry Seed Automobile Brand Project under Dingfeng Group opened in Changsha, Hunan. The car city is the country's first smart store demonstration store. In the next three years, the company plans to open 283 stores to achieve full coverage of key cities and core areas across the country.
Helens International Holdings Co Ltd (9869 HK) shares rose 8.4% yesterday. Haitong Securities issued a research report giving the company an Outperform rating, with a target price of HK$ 23.4 to HK$ 26.3. Growth drivers include: 1. High income growth and short-term pressure on net profit. 2. Site selection focuses on cost-effective properties in "first-class business districts, second-rate locations", effectively balancing rent and passenger flow. 3. According to data, the size of China's pub market in 2020 is RMB 77.6bn, and it is expected to reach RMB 183.9bn in 2025, with a CAGR of 12.5% ​​over 2021-2025.
Xpeng Inc (9868 HK) shares rose 6.4% yesterday. Citic Securities believes that under the influence of advanced technology, expansion of the autonomous driving scene and mass production of L3 models, the commercial development of high-level autonomous driving is expected to explode. It is recommended to pay attention to Xiaopeng Automobile-W and Geely Automobile, which have the leading comprehensive strength in automatic driving among automakers.
Samsonite International S.A. (1910 HK) shares rose 5.4% yesterday. Hermes Investment Management Ltd increased its holdings of approximately 1.5386mn shares of Samsonite at a price of HK$ 16.13 per share, with a total consideration of approximately HK$ 24,818,100. After the increase in holdings, the latest number of shares held is approximately 115mn shares, and the latest shareholding ratio is 7.99%.
Topsports International Holdings Ltd (6110 HK) shares declined 6.9% yesterday. The company announced that as of the third quarter ended November 30, 2021, the total sales of the group's retail and wholesale business declined 20-30% YoY. CICC issued a report maintaining an Outperform rating on the company, however revised its target price down 11% to HK$ 11.21. The growth of online channel sales has made up for the pressure of offline sales, where offline passenger flow fell about 30% in November. The company continues to promote the optimization of existing stores and the selection of new stores. As of the end of November, the total number of stores increased by a single digit compared with the end of August.
---
Trading Dashboard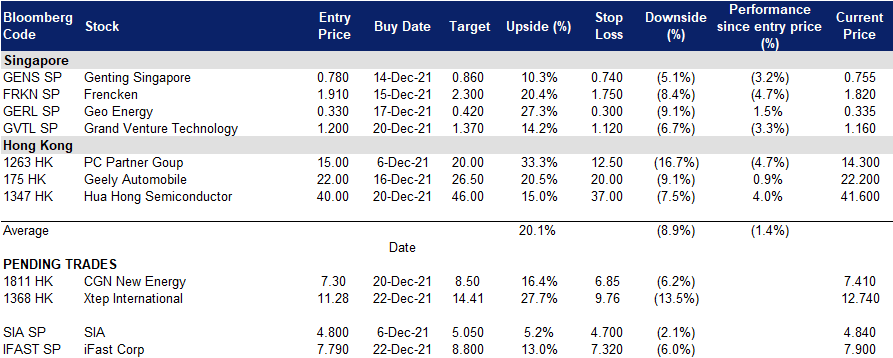 (Click to enlarge image)
---

---
Related Posts: