16 Dec 2021: Stocks making the biggest moves
Market Movers | Trading Dashboard
Market Movers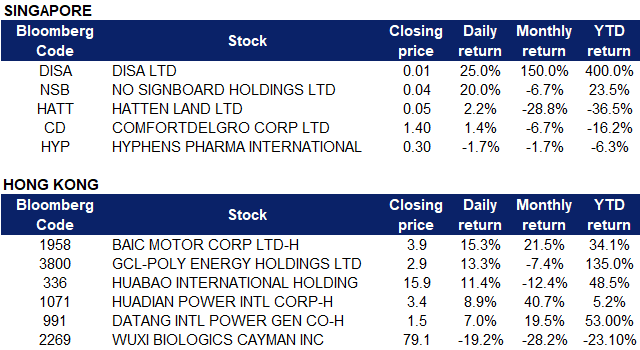 ---
United States
Top Sector Gainers
Top Sector Losers
Nvidia (NVDA US) shares ended its losing streak yesterday, gaining 7.5%, and was one of the top three performers in the S&P 500. The markets got a nice recovery yesterday, spurred by the Fed meeting concluding with policymakers agreeing to speed up the bond taper, sending the S&P 500 ending the day with a 1.6% gain. Additionally, KeyBanc analyst John Vinn's "November cloud instance tracker" showed strong demand for cloud computing services, which Nvidia's semiconductors largely contribute to, highlighting that computing services being used grew by 29% year over year in November, and by 6% in comparison to October.
Nio (NIO US) shares declined as much as 10% before closing 4.7% lower yesterday. TCW Group's David Loevinger said on CNBC yesterday that he predicts that "most" Chinese stocks currently listed in the U.S. will be delisted by 2024. The company is expected to officially launch at least one new model on its upcoming crucial event, the annual Nio day on 18 December. 
Coinbase (COIN US) shares fell as much as 5.3% yesterday before recovering and closing 1% higher. A glitch on the platform incorrectly displayed cryptocurrency trading prices, with some people "seeing inflated values for non-tradable crypto assets on Coinbase.com and Coinbase Wallet." The company, however, assured that it was "a display issue only and does not impact trading," and it was resolved within moments.
Pfizer (PFE US) shares jumped yesterday after UBS analyst Colin Bristow gave the stock a 'Buy' rating and raised his target price from $52 to $60. Bristow expects that Pfizer will earn at least $14 billion in sales from its new oral antiviral treatment, Paxlovid. The pill has been shown to reduce the risk of hospitalization or death in high-risk patients with COVID-19 by nearly 90% in clinical trials. Bristow also expects that Pfizer will earn as much as $50 billion in sales from COVID-19 vaccines and treatments in 2022.
Vir Biotechnology (VIR US) shares jumped 12.1% yesterday after it announced that sotrovimab, the investigational monoclonal antibody treatment it developed with GlaxoSmithKline (GSK US), retained its effectiveness against the omicron variant in a preclinical study. The stock is on track to post its fifth straight day of gains.
---
Singapore
Hyphens Pharma (HYP SP) shares declined 1.7% after the company announced that it has signed an exclusive licensing deal with Favorex, a subsidiary of DKSH, to commercialise an antibody biosimilar drug (Ustekinumab biosimilar) in Singapore, Malaysia, and the Philippines, in order to expand their dermatology product offerings for Asia. Hyphens added that the exclusive licence and supply agreement will not have a material effect on the net tangible assets or earnings per share of Hyphens Pharma International for the financial year ending Dec 31.
Hatten Land (HATT SP) shares gained 2.2% yesterday after it announced that it is seeking the approval from shareholders to diversify its property business to include renewable energy, physical-digital malls, cryptocurrency mining and the metaverse. With shareholders' approval, the group will invest, acquire, purchase or dispose of assets, investments, shares or interests that are in line with these new businesses. Hatten Land will hold its EGM on 30 December at 10:30am.
ComfortDelgro (CD SP) shares added 1.5% yesterday after it was announced that the transport operator will acquire Stagecoach's remaining 35% stake in Scottish Citylink Coaches. Scottish Citylink, which became a 65%-owned subsidiary of the company in 2005, will then become a wholly owned subsidiary. Upon completion of the acquisition, ComfortDelgro will then own 150 intercity coaches across the UK, up from the current 100, and is set to become the second largest intercity coach operator.
DiSa Limited (DISA SP) shares surged another 25% yesterday. The company previously announced its partnership with the National University of Singapore and SingHealth to commercialise the new saliva-based COVID-19 antigen rapid test (ART) kits. DiSa emphasized the need for the ART kits to be tamper-free, considering the strong demand for these as Vaccinated Travel Lanes open up. Demand is expected to increase further as countries reopen and testing becomes more regular.
No Signboard Holdings (NSB SP) shares jumped 20% yesterday. The company previously reiterated earlier this week that litigation over beer deliveries will not materially affect its financial position and ability to do business. SGX previously queried the restaurant operator over claims involving its subsidiary Danish Brewery Pte Ltd (DBPL) and wholesale distributors Sprawl Transport & Logistic. The board of No Signboard Holdings has now disclosed that no provision was made for liabilities arising from the claims, as the directors believe that the claims are "unmeritorious" and "unlikely to succeed".
---
Hong Kong
Top Sector Gainers
Top Sector Losers
BAIC Motor Corp Ltd (1958 HK) shares rose 15.3% yesterday. The company announced recently that in order to strengthen the long-term strategic cooperation between the two parties, it has continued to invest in Daimler AG another 9.98% of shares, surpassing Geely to become Daimler's largest shareholder. In recent years, BAIC Motor and Daimler AG have followed the development trend of the "four new modernizations" of the automotive industry. By the end of 2021, Mercedes-Benz will introduce a total of four pure electric models in China, including EQA, EQB, EQC and EQS.
GCL-Poly Energy Holdings Ltd (3800 HK) shares rose 13.3% yesterday. The company issued yesterday that it plans to issue no more than 2.037bn shares, which is equivalent to 8.13% of the company's existing issued share capital. The placing price is HK$2.49, a discount of about 2.4%, compared to the closing price of HK$2.55 on the 14th. GCL-Poly stated that the funds obtained from the placement of shares will be used for capital expenditures and general working capital purposes. Among them, it will provide funds for the construction of its three major FBR granular silicon production bases to speed up project construction.
Huabao International Holdings Ltd (336 HK) shares rose 11.4% yesterday. The company previously announced that it was considering the feasibility of proposing to spin off its condiment business for listing on the HKEX. In addition, on December 9th, the company announced that it intends to place 122mn shares on a first-to-new basis, accounting for approximately 3.78% of the enlarged share capital. The allotment price per share was RMB 17.88, a discount of 11.92% from the closing price of the previous trading day. The net proceeds from the placing would amount to HK$ 2.16bn.
Huadian Power International (1071 HK), Datang International Power Generation Co Ltd (991 HK). Power generation stocks rose collectively yesterday. Shares rose 8.9% and 7% respectively. China's state planner said on Monday it would strengthen construction of the country's energy system, from production to storage and distribution, in order to ensure supplies of coal, power and natural gas. In a statement on implementing guidance from last week's Central Economic Work Conference, the National Development and Reform Commission also said it would promote construction of large-scale wind and solar power bases in desert areas, as well as the upgrading of key industries and enterprises whose energy efficiency is below the benchmark level.
WuXi Biologics (Cayman) Inc (2269 HK) shares plunged 19.2% yesterday. The decline came after the Financial Times reported that the U.S. Commerce Department on Thursday is expected to place some Chinese companies involved in biotechnology on its entity sanction list, which is designed to limit access to key U.S. exports.
---
Trading Dashboard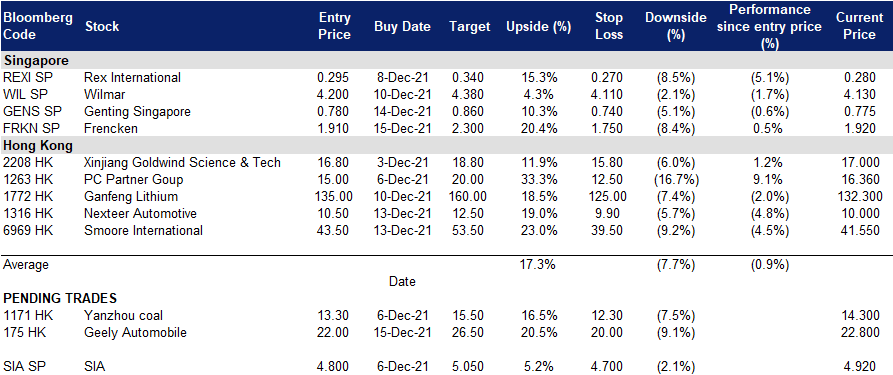 (Click to enlarge image)
---

---
Related Posts: