21 Dec 2021: Stocks making the biggest moves
Market Movers | Trading Dashboard
Market Movers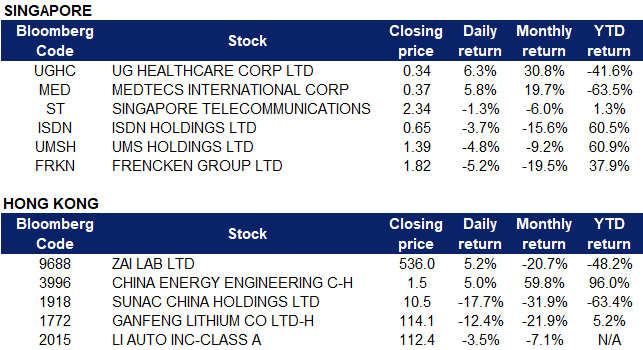 United States
Top Sector Gainers
Top Sector Losers
Energy stocks Devon Energy (DVN US), Diamondback Energy (FANG US) and Exxon Mobil (XOM US) fell 2.4%, 3.2% and 1.5% respectively as oil prices dropped on Monday in tandem with surging cases of the Omicron COVID-19 strain in Europe and the U.S.. Brent crude futures declined $2, or 2.7%, to end the day at $71.52 per barrel, while U.S. West Texas Intermediate (WTI) crude futures settled 3.7%, or $2.63, lower at $68.23 per barrel.
Moderna (MRNA US) stocks jumped 7% in the premarket after the company said that a booster shot of its COVID-19 vaccine increased protection against the omicron variant. However, the stock, along with other vaccine stocks BioNTech (BNTX) and Novavax (NVAX US) closed 6.3%, 4.2% and 7.1% lower. The sell-offs were likely due to news of the omicron variant spreading rapidly in many areas of the world.
Alibaba (BABA US) shares fell 5.8% yesterday after the chief of China's Anti-Monopoly Bureau, Gan Lin, said that his unit would step up enforcement of anti-monopoly rules and regulations, claiming that some businesses in China's new tech economy have faced "insufficient punishment" for anti-competitive behaviors.
---
Singapore
UG Healthcare (UGHC SP), Medtecs Int'l (MED SP) shares of the glove and PPE makers gained 6% on Monday as a resurgence of Covid cases in the US and Europe drove investor interest among pandemic favourites. Europe's travel and leisure stocks, represented by the Stoxx Travel and Leisure index, fell as much as 3.4% in Monday trading, over concerns about tightening restrictions over the Christmas period. Across the Atlantic, Goldman Sachs cut US real GDP forecast for 1Q2022 to 2.0% from 3.0% previously, and marginally reduced growth expectations for 2Q and 3Q.
Singtel (ST SP) shares lost 1.3% on Monday, dropping to its lowest since 28 Sep 2021, after it failed in an attempt to get almost US$895mn deducted from taxable income it earned through Optus earlier last decade. The company had tried to claim deductions based on interest paid on loans between two subsidiaries but in a landmark decision, the Australian Federal Court said the lending did not comply with "arms length" requirements.
Semiconductor-related stocks Frencken (FRKN SP), UMS (UMSH SP) and ISDN (ISDN SP) collectively fell between 4% and 5% on Monday. The weakness in Singapore's semiconductor sector was broad-based and followed losses across the region including Hong Kong and Taiwan listed chip stocks like SMIC (-3.4%), Hua Hong Semiconductor (-3.5%) and TSMC (-1.5%).
---
Hong Kong
Top Sector Gainers
Top Sector Losers
Zai Lab Ltd (9688 HK) shares rose 5.2% yesterday, extending its rally from last week. Yesterday, Goldman Sachs maintained a BUY rating on Zai Lab and raised its TP slightly higher from HK$ 1,474.25 to HK$ 1,482.57. According to the report, its partner Argenx recently announced that the FDA has approved VYVGART (efgartigimod alfa-fcab) for the treatment of systemic myasthenia gravis in adult patients. The current approval of efgartigimod proves Zai Lab's ability to launch other than oncology drugs. In addition, Zai Lab has the exclusive right to commercialise the drug in Greater China. It is expected that the drug will be launched in China in 2023 with sales until 2030. It reached a peak of US$ 330mn.
China Energy Engineering Corp Ltd (3996 HK) shares rose 5% yesterday. The investment company of China Energy successfully issued the country's first "Carbon Neutral" REIT on the Shanghai Stock Exchange. The "CICC-China Energy Construction Investment Wind Power Green Asset Support Special Plan" raised a total of RMB 834mn, with a subscription multiple of 3.57x and a priority interest rate of 3.50%. The issuance rate is the lowest in the market for central enterprise REITs. All the funds raised will continue to be used to support the investment and
Sunac China Holdings Ltd (1918 HK) shares declined 17.7% yesterday. According to media reports, Sunac China recently successfully sold three projects including office buildings in Shanghai Hongqiao Business District, hotels and office buildings in the core area of ​​Hangzhou, with an estimated transaction price of RMB 2.68bn. Since the end of October, Sunac has used a variety of methods to cash out the company, including the transfer of the equity of the two Hangzhou projects to its partner Binjiang, with a return of RMB 1.673bn and a rights issue financing of RMB 6.08bn..
Ganfeng Lithium Co Ltd (1772 HK), Li Auto Inc (2015 HK), Xpeng Inc (9868 HK). EV and EV related stocks fell collectively yesterday after US Senator Joe Manchin's surprise rejection of a US$ 1.75tr economic plan with crucial climate provisions. Ganfeng Lithium shares declined 12.4% while Li Auto and Xpeng declined 3.5% yesterday. As passed by the House in November, the Bill would have set aside roughly US$ 300bn to expand tax credits for renewable power, biofuels, energy efficiency and electric vehicles. This includes increasing the current US$ 7,500 EV tax credit to up to US$ 12,500 for union-made US vehicles as well as creating a credit of up to US$ 4,000 for used vehicles.
---
Trading Dashboard
Trading Dashboard Update: Added Grand Venture Tech (GVTL SP) at S$1.20. Cut loss on Rex International (REXI SP) at S$0.27, Xinjiang Goldwind Science & Tech (2208 HK) at HK$15.80, Ganfeng Lithium (1772 HK) at HK$125 and Smoore International (6969 HK) at HK$39.50.

(Click to enlarge image)
---

---
Related Posts: