KGI DAILY TRADING IDEAS – 8 September 2021
Singapore Trading Ideas | Hong Kong Trading Ideas | Market Movers | Trading Dashboard
SINGAPORE
Manulife US REIT (MUST SP): Back to the office
BUY Entry – USD 0.73 Target –0.82 Stop Loss – 0.70
MUST is the first pure-play US office REIT listed in Asia. Manulife US REIT's portfolio comprises nine prime, freehold and Trophy or Class A quality office properties strategically located in California, Atlanta, New Jersey and Washington D.C. and Virginia. The current portfolio valued at US$2.0 billion, has an aggregate Net Lettable Area of 4.7 million sq ft and an occupancy rate of 91.7% as at 30 June 2021.
Impact from Covid-19. MUST declared a 1H2021 DPU of 2.70 US cents, a decline of 11.5% YoY. The decline comes amid a fall in portfolio occupancy from 96.2% as at end 2Q2020 to 91.7% as at end 2Q2021. Three out of its nine buildings – Michelson, Centrepoint and Capitol – led the decline in rental income. On a positive note, management has guided that leasing activity is accelerating and that around 60% of its tenants have indicated plans to return to the office from September.
Office leasing transactions heating up. After more than four quarters of a subdued office market in the US, leasing activity has started to pick up in 2Q2021. Gross leasing activity rose by 29% QoQ to 35mn sqft in 2Q2021, the first time it has gone above 30mn sqft since the start of Covid-19. Occupancy losses have slowed, and many tenants have now withdrawn space previously placed on the sublease market. According to JLL Research, the positive momentum will accelerate in the second half of 2021, albeit with wide variance based on asset quality and location.
Upgrade to Outperform with a TP of US$0.82. MUST offers a yield of 7.4%, 7.5% and 7.6% for FY2021, FY2022 and FY2023 respectively. MUST's gearing of 42.1% as of 30 June 2021 remains well below the regulatory 50% limit. Overall, the USD-denominated REIT provides an excellent proxy to ride on the "return to office" theme in the US.
Read our full report here.
US overall US office transaction volume rose by 28.7% in 2Q2021 as tenants begin to execute long-awaited deals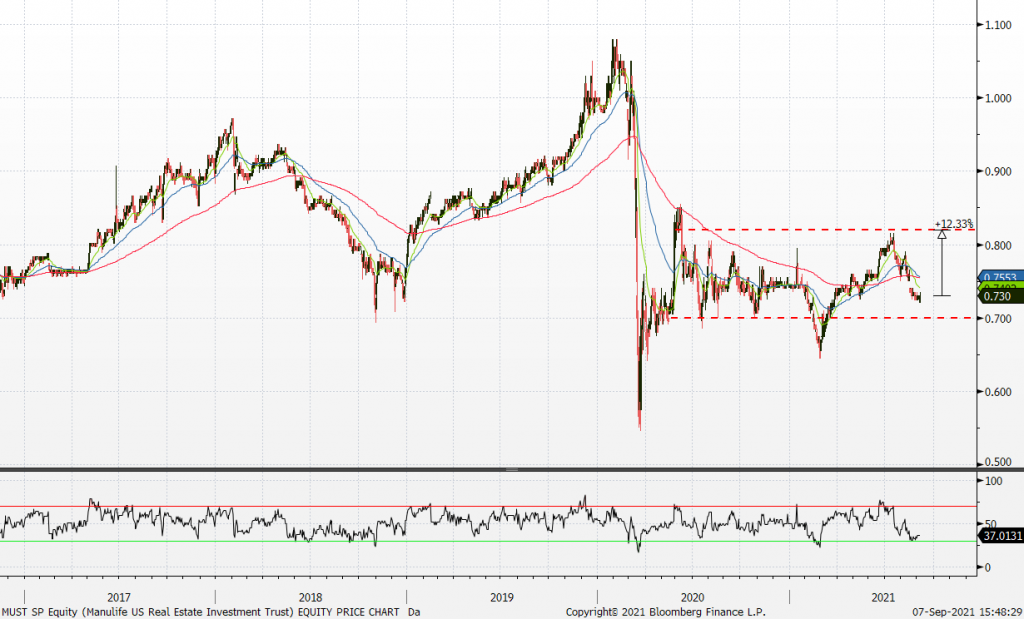 ---
ISDN (ISDN SP): Accelerating the pace of industrial automation
RE-ITERATE BUY Entry – 0.65 Target –0.85 Stop Loss – 0.58
ISDN is a leading provider of industrial automation solutions throughout Asia. The company has more than 10,000 customers, and 74 offices spanning key Asian growth markets, and has a 35-year history of innovating alongside the growing technology needs of its customers. Today, ISDN's solutions power advanced industrial sectors including semiconductors, Industry 4.0 manufacturing, medical devices, aerospace, and clean energy. The group generates around 68% of sales from China. 
Record revenue and profits in 1H2021. ISDN 1H2021 rose 30% YoY to S$217mn while net profit surged 51% YoY to S$19mn. This was on the back of better gross profit margins which rose 2.1% points to 26.8%. 
Growing productivity. ISDN has continued its strategic buildout by expanding its solutions portfolio to include industrial internet-of-things (IoT) connectivity, deepening advanced engineering, growing industrial systems projects, and advancing software and cloud solutions. Covid-19 and geopolitical tensions have reduced global labour mobility and increased employee health risk, leading to an acceleration in labour automation for the group's customer base. 
Riding on semiconductor wave. ISDN is set to benefit further from its semiconductor segment, where the group's solutions power global semiconductor capital equipment and production. 
Fundamental OUTPERFORM and TP to S$0.85. ISDN currently trades at only 6x forward EV/EBITDA, a significant discount to its international peers who are trading at around 10x EV/EBITDA.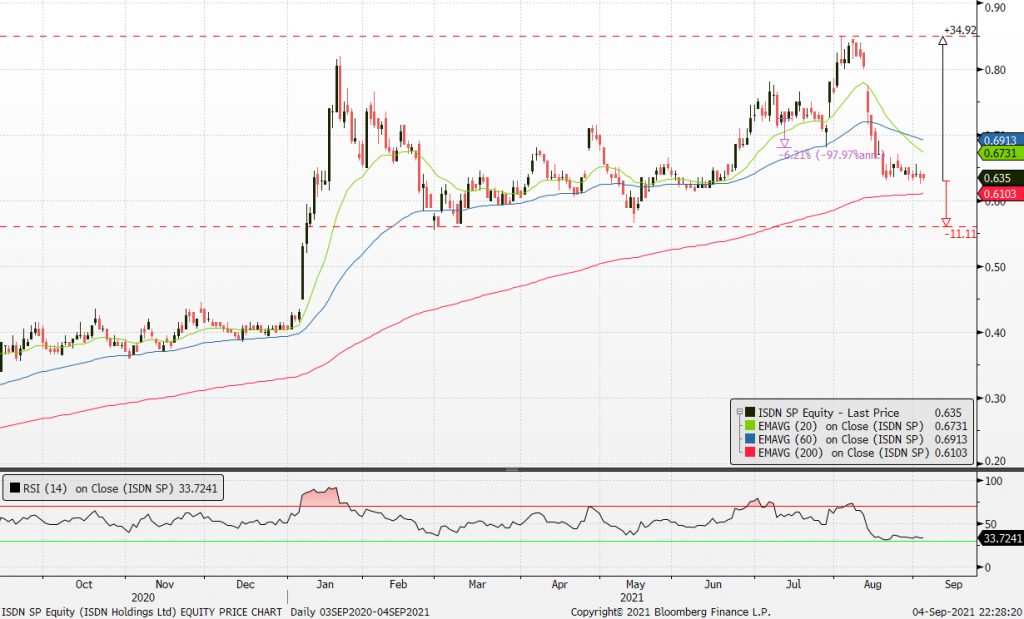 ---
HONG KONG
PC Partner Group Limited (1263 HK): Video games and crypto
BUY Entry – 8.4 Target – 10 Stop Loss – 7.8
PC Partner Group Limited is an investment holding company principally engaged in the electronics and personal computer (PC) parts and accessories businesses. Its main business includes the design, development and manufacturing of video graphics cards for desktop PCs, the provision of electronics manufacturing services, as well as the manufacturing and trading of other PC related product components. The Company is also engaged in the provision of technical support services through its subsidiaries. Its primary products are video graphics cards, motherboards and mini-PCs. Its primary brands include ZOTAC, Inno3D and Manli. Its businesses are mainly conducted in Mainland China, Hong Kong, Macau, Korea and the United States of America.
Strong financial performance. Previously, the company announced 1H21 interim results. Revenue jumped by 108.1% YoY to HK$6.8bn. Gross profit jumped by 526.6% YoY to HK$1.9bn. GPM jumped from 9% in 1H20 to 27.2% in 1H21. Net profit attributable shareholders jumped by 2840.7% YoY to HK$932.2mn. The stellar result was due to the strong demand for video graphics cards.
Demand drivers. The stock is an indirect beneficiary of the upsurge in demand for graphic cards which was mainly driven by cryptocurrency mining and video gaming. Currently, Bitcoin and Etherum have resumed their uptrend move and could retest the all-time highs by the end of the year. The consistent fund inflows into the cryptocurrency market will incentivise miners to expand their mining capacities, which will result in more demands for graphics cards and related mining processor cards.
The company's valuation is attractive. The stock is currently trading at 3.4x PE. The company declared an interim dividend of HK$0.84 per share.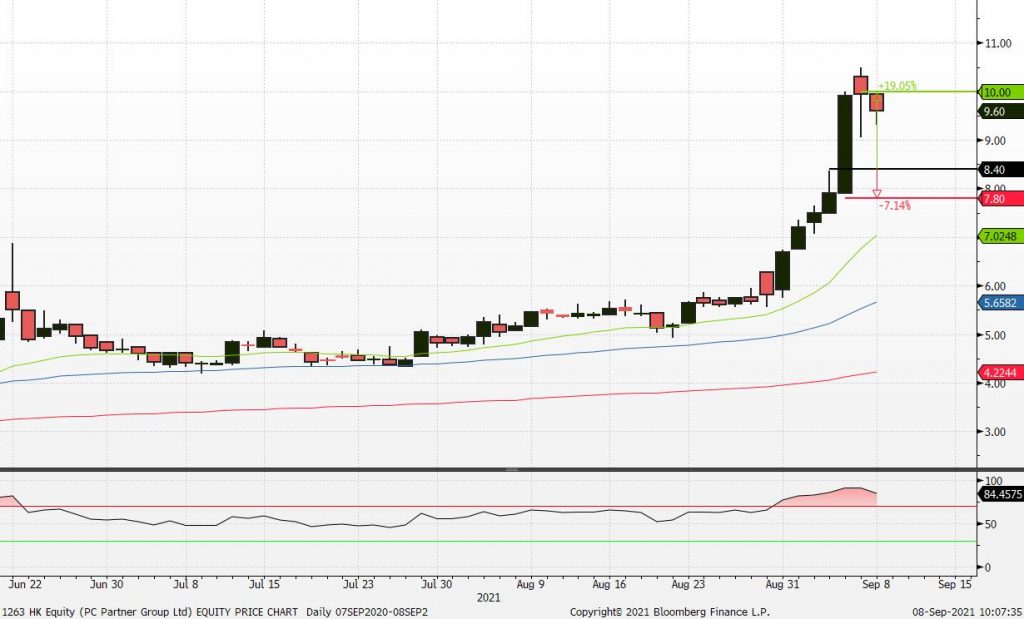 ---
Zoomlion Heavy Industry Science And Technology (1157 HK): Infrastructure plays never die
Buy Entry – 7.6 Target – 9.2 Stop Loss – 6.8
Zoomlion Heavy Industry Science And Technology Co., Ltd. is principally engaged in the research, development, manufacture and sales of engineering equipment, environmental sanitation equipment and agricultural equipment. The company operates through four segments. The Engineering Equipment segment includes concrete equipment, lifting equipment, earthmoving equipment, foundation construction equipment, road construction equipment and forklifts, which mainly serve the construction of infrastructure and real estate. The Environmental Industry segment is engaged in the production of sanitation equipment, as well as environmental management investment and operating business. The Agricultural Equipment segment consists of farming machinery, harvesting machinery, drying machinery and agricultural machinery, among others. The Financial segment provides financial leasing and other financial services.
Previously, the company announced 1H21 interim results. Revenue jumped by 47.3% YoY to RMB42.5bn. Net profit attributable to the equity holders grew by 21.1% YoY to RMB4.9bn.
The China July and August manufacturing PMI missed the expectations. Caixin manufacturing August PMI dropped below 50, implying the manufacturing sector contracted last month. Zoomlion shares jumped on the dates when these data was released. The rationale is investors expect China to resume infrastructure expansion to boost the economic growth as domestic consumptions and exports weakened.
The market consensus of net profit growth in FY21/22/23 is 5.6%/13.5%/7.3% YoY, which implies forward PERs of 6.3x/5.6x/5.2x. The current PER is 6.5x. Bloomberg consensus average 12-month target price is HK$12.1.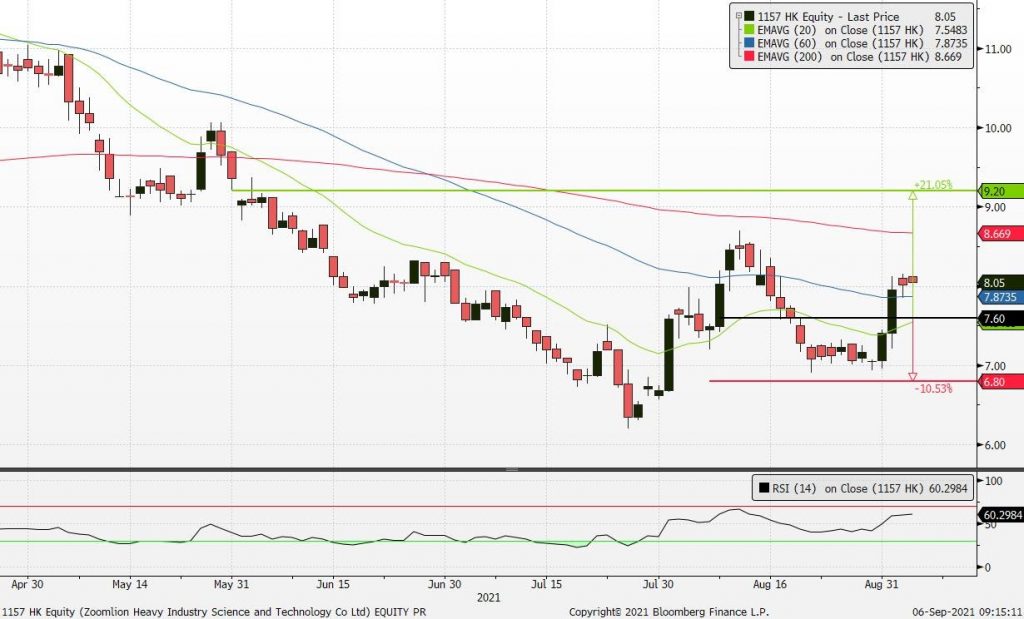 ---
Market Movers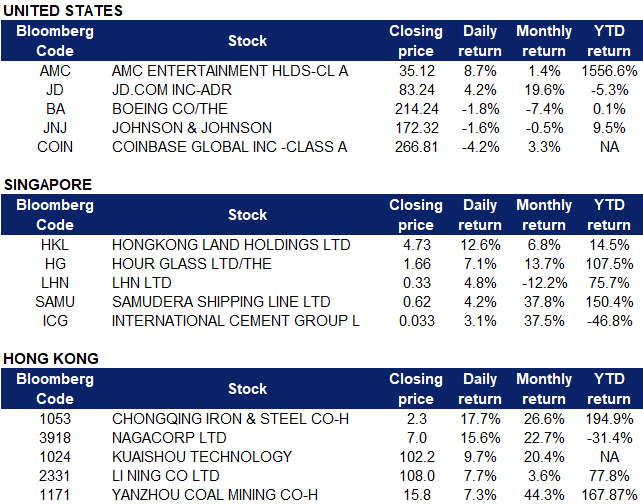 United States
AMC Entertainment (AMC US) shares rallied on Tuesday, closing 8.66% higher at $47.83. The company announced strong Labor Day weekend box office results between 2-5 September, with an additional 800,000 moviegoers at its international locations, marking a record for Labor Day weekend sales. The spike in moviegoers were largely fueled by the release of Disney's Shang Chi and the Legend of the Ten Rings, which generated $90 million in sales during its opening weekend.
JD.com (JD US) stocks rose 4.24% after the Chinese e-commerce giant announced the appointment of new president Lei Xu, who will lead day-to-day operations and collaborative development of various business units. CEO and Chairman of JD.com Richard Liu will devote more time to work on the company's long-term strategies, mentoring younger management and contributing to the revitalization of rural areas.
Boeing (BA US). Shares of the aerospace company slipped 1.8% after European airline Ryanair, one of Boeing's largest customers, ended talks for the purchase of 737 MAX 10 jets. Ryanair Chief Executive Michael O'Leary said in note that the company has "a disciplined track record of not paying high prices for aircraft" and that "both sides have agreed to waste no more time on these negotiations." In August, Ryanair said that it did not expect to deal with Boeing this year on new orders, but said that it might order up to 250 of the 737 MAX 10 jets if prices were lowered.
Johnson & Johnson (JNJ US) along with other large cap pharmaceutical stocks Merck and Amgen fell after Morgan Stanley analysts downgraded their rating, saying the company's upside is limited. The company's stock closed 1.55% lower at $172.32.
Coinbase (COIN US) along with other cryptocurrency stocks dropped on Tuesday after El Salvador officially made Bitcoin legal tender. The price of Bitcoin plunged from $51,000 to $43,000. Coinbase users were experiencing delayed or canceled transactions at 'elevated rates' in the morning, according to the company. Coinbase shares closed 4.18% lower at $266.81.
---
Singapore
Hong Kong Land Holdings Ltd (HKL SP) Shares surged by 12.6% yesterday on the company's proposed share buyback plan. Hongkong Land announced its intention to buy back up to US$500mn of its shares in a programme extending until 31 Dec 2022. The purpose of the share buyback is to reduce the company's capital. Even though the company reported a net loss of US$865mn in 1HFY2021, compared to a net loss of US$1.83bn in FY2020, underlying profit to shareholders rose 12% to US$394mn, suggesting that the company's business is gradually gaining traction. In addition, CGS-CIMB issued an ADD recommendation and a TP of US$5.70 for the stock. Lim & Tan Securities continues to reiterate ACCUMULATE on Hongkong Land. with TP of US$5.81. Read here for the full article published by The Edge yesterday. Hong Kong Land currently has a Bloomberg consensus rating of 12 BUYS, 2 HOLDS and 1 SELL, with 12M TP of US$5.81, representing an upside of 22.8% as of yesterday's closing price of US$4.73.
The Hour Glass Ltd (THG SP) Shares have gained approximately 16% over the last 5 trading days as the company had been aggressively buying back shares. Tranches of shares that were purchased over the last week as summarised: 1) 18,000 purchased yesterday at S$1.54, 2) 252,000 shares purchased on 3 September at S$1.51, 3) 163,000 shares purchased on 2 September at S$1.49, 4) 211,000 shares purchased on 1 September at S$1.44, 5) 382,100 shares purchased on 31 August at S$1.43
LHN Ltd (LHN SP) Shares rose by 4.8% yesterday even though there was no company-specific news. The rise in share price was likely due to a technical rebound as RSI hit slightly below 30 on Monday. Since its all-time high in mid-June this year, shares have suffered total losses of 30% as of yesterday's closing price. Two months ago in mid-July, the company announced its acquisition of Tuas South Industrial property for S$21mn. Coupled with stellar 1H21 results, this could have boosted investors' confidence in the stock.
Samudera Shipping Line Ltd (SAMU SP) Shares rose by 4.2% yesterday, gaining approximately 41% over the past 9 trading days. The stock is now trading at a new 52-week high of $0.62. The rise in share price was likely lifted by record-high trans-pacific liner rates ahead of the seasonal peak season. The Drewry Hong Kong-Los Angeles container-rate benchmark rose 2.6% sequentially to a record of US$7,961 per 40-foot container in the week ended 1 September, unchanged from the previous week ended 25 August. Current rates are 164% above their five-year average, driven by supply chain dislocations and port congestion in both China and the US.
International Cement Group Ltd (ICG SP) Shares rose by 3.1% yesterday, bringing total gains to approximately 33% over the last 5 trading days. Shares were trading at a 52-week low prior to the price rally. The rebound in share price was likely due to investors diversifying into traditional sector stocks, a safer option compared to other industries. The rise in share price could also be due to a spillover effect from the recent rally in Hong-Kong listed Chinese infrastructure-related stocks, such as China Resources Cement Holdings (1313 HK) which gained approximately 15% over the last week. As the company is also involved in aluminium manufacturing and distribution, the prices of aluminium currently trading at a 10-year high could have contributed to the rebound in the stock.
Trading dashboard: Add Sunpower (SPWG SP) at S$0.68. Take profit on Uni-Asia Group (UAG SP) at S$1.12. Cut loss on Fortress Minerals (FMIL SP) at S$0.46
---
Hong Kong
Chongqing Iron & Steel Co Ltd (1053 HK) Shares closed at a three-month high. Steel sector jumped due to the recent sell-down of iron ore which had dropped for 8 consecutive weeks from the peak of US$220/tonne to the current price of below US$140/tonne, implying steel companies' margins were expanding. Previously, the company announced 1H21 interim results. Revenue jumped by 107% YoY to RMB22.7bn. Net profits attributable to equity shareholders jumped by 2122% YoY to RMB2.7bn. The respective production of main products such as iron, steel, and billets grew by 62.8% YoY, 53.4% YoY and 54.7% YoY to 4.67mn tonnes, 5.03mn tonnes and 4.86mn tonnes.
NagaCorp Ltd (3918 HK) Shares closed at a two-month high. Management (Chen Lip Keong) repurchased shares for three consecutive days: 378,000 shares and 338,000 shares on 2nd and 1st September, and 1.656mn shares on 31st August. Bank of America Securities lowered the TP to HK$13.4 from HK$15.7 and maintained a BUY rating. The company management believes Cambodia will follow Singapore to gradually reopen its border, and hence, for business to recover accordingly.
Kuaishou Technology (1024 HK) Shares closed at a one-month high and regained the HK$100 ground. Technology sector continued to recover as there were no more new regulations released last week. Investors slowly regained confidence on the oversold counters.
Li Ning Co. Ltd. (2331 HK) Shares closed at an all-time high. Sportswear sector jumped. JP Morgan maintained an OVERWEIGHT rating for the sector as sales are expected to grow by 38% YoY in 2H21 and 33% YoY in full FY21. Meanwhile, the bank maintained an OVERWEIGHT rating on Li Ning and a TP of HK$110.
Yanzhou Coal Mining Co. Ltd. (1171 HK) Shares closed at a 52-week high as coal prices continued to edge up. CICC upgraded the TP to HK$16 from HK$10 and maintained a NEUTRAL rating.
---
Trading Dashboard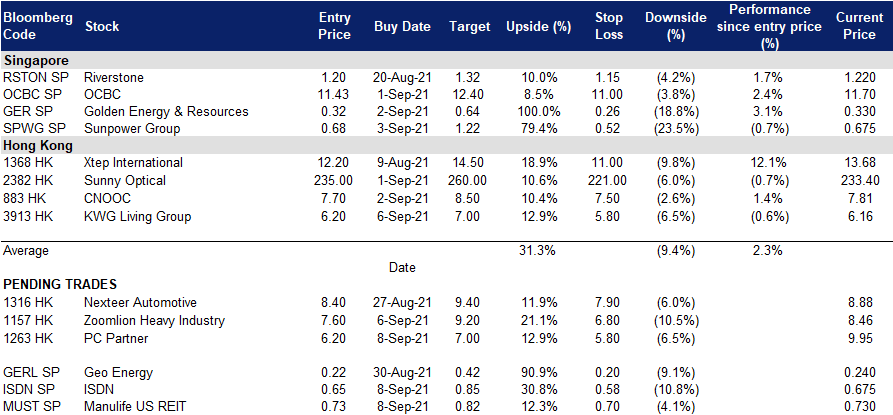 ---

---
Related Posts: