19 January 2022: Jiutian Chemical (JIUC SP), Yankuang Energy Group Company Limited (1171 HK)
Singapore Trading Ideas | Hong Kong Trading Ideas | Market Movers | Trading Dashboard
IPO WATCH
Vertex Tech (VTAC SP): First Singapore SPAC
Singapore's first special purpose acquisition company (SPAC) will start trading at 2pm on Thursday (20 Jan). Offering opened on Thursday (13 Jan) and will close 12pm on Tuesday (18 Jan).
A total of 11.8mn units will be offered at an offer price of S$5. However, 11.2mn will be offered via international placement that includes institutional and other investors in Singapore, as well as foreign institutional and selected investors outside the US. Only 600,000 units will be offered via public offering in Singapore.
Each unit will comprise 1 share and 0.3 of a warrant, which will be issued at the completion of the offering. An additional right to 0.2 of a warrant per share will be issued at a later time to holders of shares which have not been tendered for redemption at or around the completion of the initial business combination.
Shares and warrants comprising the units will start trading at separate counters at 9am on the 45th day from the listing date – 7 March.
VTAC will focus on targets in six sectors: Artificial Intelligence, Cyber Security and enterprise Solutions, Consumer Internet and technologies, Financial technologies, Autonomous driving and new-energy vehicles, and Biomedical technologies and digital healthcare.
---
SINGAPORE
Jiutian Chemical (JIUC SP): Robust chemical prices
BUY Entry – 0.082 Target – 0.100 Stop Loss – 0.075
Jiutian is the second largest Dimethylformamide (DMF) producer in China, with a total annual capacity of 150,000 tons of DMF and methylamine (MA). Both these chemicals are important ingredients in industries as diverse as consumer goods, petrochemicals, electronics, pharmaceuticals and fertilisers. In addition, it now produces chemicals for fast growing sectors such as batteries that are used in electric vehicles.
Robust selling prices and declining raw material costs. DMF prices traded between RMB 14,500 and RMB 18,500 per tonne in 4Q2021, which is at least 48% higher than our base case of RMB 9,800 for the full-year 2021. Meanwhile, methanol prices, the main raw material used for the production of DMF, have declined almost 50% from the peak in October 2021.
Potentially strong 4Q2021. Jiutian reported 9M2021 PATMI of RMB 217mn, an increase of 147% from 9M2020 PATMI of RMB 88mn. The strong PATMI growth came amidst DMF/Methylamine volume in 3Q2021 that were down 8%/4% YoY due to severe flooding in Henan Province in early July 2021, as well as a scheduled maintenance shutdown for both plants in 3Q2021. Looking into the last quarter of 2021, market prices of DMF have risen between 7% and 37% from Jiutian's average selling prices in 3Q2021. Together with higher utilisation rates, it is likely that Jiutian will beat our 2021 full year forecast of RMB 290mn core PATMI by at least 20%.
Higher dividend even with impairment. The company may potentially have to recognise a RMB 145mn asset impairment due to a non-trade amount to an associate company (Anyang Jiujiu Chemical Technology) in 4Q2021. However, we note this will be non-cash and will likely not impact Jiutian's higher potential dividend payout for the full year. If we assume a 30% payout ratio based on the RMB 290mn core net profit, we arrive at a DPS of at least RMB4.7 cents or 1 Sing cents, an implied 12% yield based on the last close price of 8.2 Sing cents.
Trading at 2.6x FY2021F P/E. Jiutian currently trades at 2.6x FY2021F P/E based on our core PATMI forecast of RMB 290mn.
Earnings watch and catalyst. The company will report its 2021 full year earnings in the third week of February 2022. This is likely to be a catalyst given the buoyant spread between DMF prices and methanol.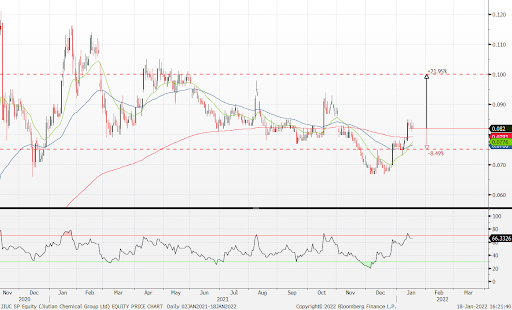 ---
Olam International (OLAM SP): The return of the king
RE-ITERATE BUY Entry – 1.78 Target – 1.92 Stop Loss – 1.71
Olam is a leading food and agri-business operating across the value chain in more than 60 countries, supplying food, ingredients, feed and fibre to more than 17,300 customers worldwide. Listed on 11 February 2005 on the mainboard of SGX, Olam currently ranks among the top 30 largest listed companies in Singapore in terms of market capitalisation and is a Singapore constituent stock of the FT Global All Cap Ex US Index.
Higher food prices are good for Olam but bad for our pockets. The FAO Food Price Index (FFPI), which measures the monthly change in international prices of a basket of food commodities, came in at 133.7 points in Dec 2021, down slightly from Nov 2021, but up 25% YoY (see chart below). Essentially, food prices are at the highest level in more than 10 years, which is set to benefit food producers such as Olam. Bad weather, labour shortages and supply chain bottlenecks are among the factors leading to higher food prices.
Catalyst from the listing of Olam Foods Ingredients (OFI) and entry into STI. OFI intends to seek a primary listing on the London Stock Exchange and a concurrent secondary listing in Singapore in the first half of 2022. The London listing could raise about 2 bn pounds (US$2.8 bn). OFI reported a 29.5% YoY increase in 1H2021 EBIT and the company expects its strong business momentum to continue into the second half of 2021. An additional catalyst for Olam is the inclusion in the STI Index. It is likely that Olam may replace ComfortDelGro in the STI when the quarterly review is announced on 3 March 2022.
Technical analysis. Olam share price has gained 45% from the lows of 2021, and is currently trading within the price range of S$1.67-1.80. Key resistance level is at S$1.80. Since the rally from August 2021, the 100 day EMA has provided firm support to its ongoing uptrend.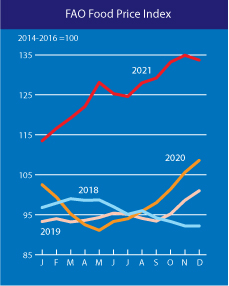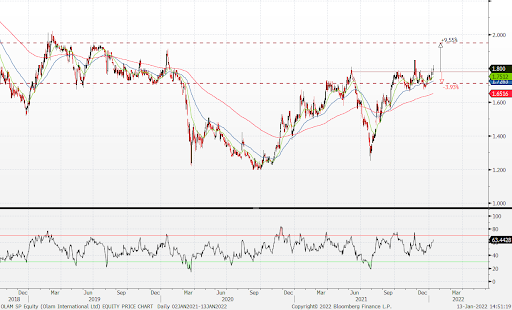 ---
HONG KONG
Yankuang Energy Group Company Limited (1171 HK): Sufficient power supply comes first
BUY Entry – 16 Target – 18 Stop Loss – 15
Yankuang Energy Group Co Ltd, formerly Yanzhou Coal Mining Co Ltd, is a China-based company mainly engaged in trade business. The Company operates six segments. Non-coal Trading segment is mainly engaged in the wholesale and sales of other non-coal products. Coal Business segment is mainly engaged in coal production, sales and trade, mainly including power coal, injection coal and coking coal. Coal Chemical, Power and Heat segment is engaged in fuel power generation, heat supply and coal chemical business, including methanol, acetic acid, ethyl acetate, crude liquid wax and others. Mining Equipment Manufacturing segment is mainly engaged in electromechanical equipment manufacturing. The Company also operates Loan and Financial Leasing segment and Railway Transportation Business segment. The Company's products are exported to Japan, South Korea, Singapore, Australia and other countries.
Indonesia relaxed its coal export ban. The world's largest thermal coal exporter had allowed 37 loaded coal vessels to depart after they secured approvals, according to the Coordinating Ministry of Maritime and Investment Affairs on 13th January. There were about 120 vessels either loading or pending to load off Indonesia's coal ports in Kalimantan on the island of Borneo as of 13th Jan.
China needs to prioritise power supply during the New Year holiday. China's coal output in December 2021 reached a record high of 384.67mn tonnes, up 9.3% YoY and 3.7% MoM. Meanwhile, authorities have continued to encourage miners to ramp up production to ensure sufficient energy supplies during the remaining winter season.
China's thermal coal prices edged up YTD. The thermal coal prices increased by 11.48% YTD to RMB749.4/tonne as of 18th Jan.
The updated market consensus of the EPS growth in FY22/23 is -6.9%/-12.4% YoY respectively, which translates to 4.5x/5.1x forward PE. Current PER is 5.1x. The FY22F/23F dividend yield is 11.5%/9.05% respectively. Bloomberg consensus average 12-month target price is HK$12.94.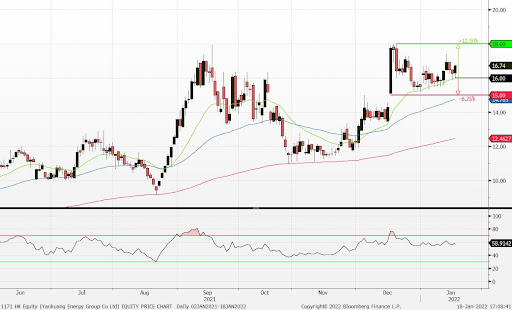 ---
Zijin Mining Group Company Limited (2899 HK): Round 2 of the commodities supercycle
RE-ITERATE BUY Entry – 9.5 Target – 11.0 Stop Loss – 8.8
Zijin Mining Group Company Limited is a China-based company principally engaged in the exploration, mining, smelting and sales of gold and other metal minerals. The Company's main products include gold products, copper products, lead and zinc products, iron products, silver products, among others. Its gold products mainly include the mineral gold, standard gold bullions, gold ingots and gold concentrates, among others. The Company is also involved in the geographic survey businesses through its subsidiaries.
Gold and copper performed well during the last rate hike cycle. The last rate hike cycle began in December 2015 and ended in July 2019. There were nine rate hikes lifting the fed fund rate (upper bound) from 25bps to 250bps. The first rate hike was in 2015 , followed by once in 2016, three times in 2017, and four times in 2018.

First year performance: Gold price surged by 30% from the low in December 2015 to the peak in July 2016. Copper jumped by 19% from the low in February 2016 to the peak in May 2016.
Full cycle performance: Gold was up 35%, and copper was up 29%.

Echoes of the commodity super cycle. Commodities prices saw a spectacular jump in 2021. Just right before the bullish cycle kick-started, the market had called a super cycle. Even though those prices have corrected from the peak in 3Q21, the cycle may not have ended as the post-pandemic recovery upholds demand which is outpacing supply. For gold, we see an inverse correlation with cryptocurrencies. The further selldown of crypto could push some funds back to the yellow metal. For copper, it peaked twice in 2021, one in May and the other in October, and has nicely consolidated at above US$9,000/tonne after March 2021. Recently, copper has regained some upward momentum probably due to inventory build before Chinese new year.
Updated market consensus of the EPS growth in FY22/23 are 34.5%/7.4% YoY respectively, which translates to 9.8x/9.2x forward PE. Current PER is 15.8x. FY22F/23F dividend yields are 4.3%/4.8% respectively. Bloomberg consensus average 12-month target price is HK$15.9.
---
MARKET MOVERS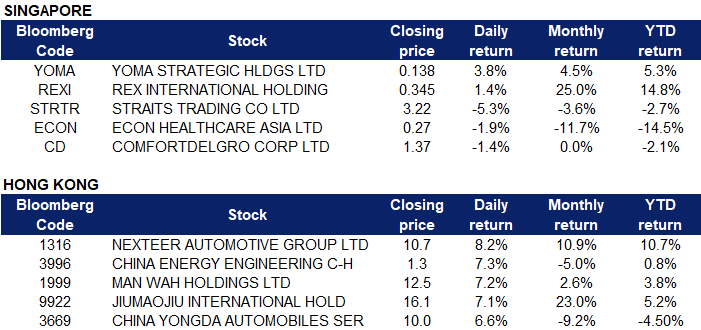 ---
United States
Top Sector Gainers
Top Sector Losers
Activision Blizzard Inc (ATVI US) shares jumped 25.9% yesterday after Microsoft announced that it plans to buy the powerhouse but troubled video game company Activision Blizzard for nearly US$70bn, its biggest deal ever and one that places a major bet that people will be spending more and more time in the digital world. Microsoft is valued at more than US$2.3tr, second only to Apple. The takeover of Activision would make Microsoft the world's third-largest gaming company by revenue, behind Tencent and Sony, the company said. Gaming sector peers, Electronic Arts Inc (EA US) gained 2.7% yesterday, likely due to a spillover effect from the announcement of Activision's deal.
GlaxoSmithKline Plc (GSK US) shares gained 3% yesterday. Unilever said on Monday that it remained interested in the joint venture of GlaxoSmithKline and Pfizer, after its previous takeover bids had been rejected. "GSK Consumer Health would be a strong strategic fit," Unilever said in a statement, adding that a deal "would also deliver value and certainty for the shareholders of GSK and Pfizer." Monday's announcement was effectively a signal of intent that Unilever was willing to pursue one of the costliest takeover fights in the consumer health business in recent years.
Goldman Sachs Group Inc (GS US) shares lost 7% yesterday after the company reported a mixed fourth quarter. Goldman earned US$10.81 per share for the quarter, compared with a consensus estimate of US$11.76. However, revenue from global markets fell 7% in the fourth quarter to nearly US$4bn, owing to declines in both equities and fixed income trading revenues compared with a year ago. Wage inflation has crimped banks' profits as top Wall Street banks have raised salaries for junior bankers, in particular, over the past year to attract and retain top talent.
Gap Inc (GPS US) shares lost 6.7% yesterday after Morgan Stanley downgraded the apparel retailer's stock to "underweight" from "equal-weight," and lowered the price target on Gap to US$14 a share from US$20 prior. "On the back of last week's worse-than-expected holiday updates/lowered 4Q21 outlooks & alarming surge in November U.S. apparel imports, we are concerned that retail promotions & discounts could return for apparel retailers as soon as 1Q22, leading margins lower," Greenberger wrote.
---
Singapore
Yoma Strategic (YOMA SP) shares jumped 3.8% yesterday, after the company announced on Monday that its subsidiary Yoma MFS Holding has entered into a new share purchase agreement with Telenor Group to acquire a controlling interest in Digital Money Myanmar (Wave Money) in a US$53mn deal. Under the deal, Yoma MFS will fork out US$53mn in cash to acquire Telenor's 51% stake in Wave Money, comprising 510,000 ordinary shares and 17.9mn redeemable preference shares. Yoma said it intends to restructure the holding of its interest in Wave Money, such that Yoma MFS will hold the group's existing 44% interest in Wave Money.
Rex International Holdings Ltd (REXI SP) shares gained 1.4% yesterday, in tandem with rising oil prices. WTI crude futures rose more than 1.5% to above US$85.5 per barrel on Tuesday, while Brent crude futures rose more than 1.5% to above US$88 per barrel, the highest since October 2014 on concerns over potential supply disruptions, following attacks by Yemen's Iran-aligned Houthi rebel group on fuel tankers in the United Arab Emirates. Oil prices surged more than 13% since the start of the year, amid concerns over tightness in the oil market, with investors shrugging off a potential hit to fuel demand from the omicron variant.
Straits Trading Company (STRTR SP) shares plunged 5.3% yesterday, after the company announced that it has launched its private placement to raise gross proceeds of $80.9mn. The company will be issuing 26mn shares, priced at S$3.11 each, "to encourage both institutional and individual share ownership". Net proceeds from the private placement will be used to fund acquisitions and anticipated growth for the group's businesses in real estate, resources and hospitality, as well as for general working capital and administrative purposes.
Econ Healthcare (ECON SP) shares lost 1.9% yesterday, after a slight rebound on Monday. DBS Group Research downgraded the stock to "Hold" from "Buy", and lowered its target price to $0.28. The company recently invested about S$4mn of its idle working capital into 11.8mn shares in Hong Kong-listed interior design firm Crosstec, which saw its stock nosedive 84% last week, implying a potential loss of $3.2mn for Econ Healthcare. The nursing home operator recently announced that its auditing committee will be undertaking a comprehensive review of its investment policy and related controls and safeguards.
ComfortDelgro (CD SP) shares lost 1.4% yesterday, after the company announced that it commenced work on New Zealand's Auckland Rail Franchise on Monday through Auckland One Rail, a joint venture with Australia-based rail company UGL Rail Services. Auckland One Rail took over the entire issued share capital of the network's previous operator, Transdev Auckland Limited for NZ$10,100.
---
Hong Kong
Top Sector Gainers
Top Sector Losers
Nexteer Automotive Group Ltd (1316 HK) shares jumped 8.2% yesterday. The company said it is optimistic about the growth in demand brought about by industry replenishment this year. Nexteer also confirmed that Tesla, a major customer, had already contributed revenue in Q4 last year. According to information by CITIC Securities, the company supplies power columns and other components for Tesla's Asia-Pacific Model 3\Y, with a unit price of about $150.
China Energy Engineering Corp Ltd (3996 HK) shares gained 7.3% yesterday. The company announced that in 2021, there were 7,234 newly signed engineering construction projects with a total contract value of RMB 800.89bn, a YoY increase of 45.7%. In 2021, the company's total business will total RMB 872.61bn, a YoY increase of 51.0%.
Man Wah Holdings Ltd (1999 HK) shares gained 7.2% yesterday. Man Wah Industrial Co., Ltd. (the "Purchaser"), a wholly-owned subsidiary of the Company, entered into a Land Purchase Agreement with Hua Fu Shan Industrial Park Development Co., Ltd. ( "Seller"). Man Wah agreed to purchase a land with a total area of ​​338,921.73 square meters in North America's Huafushan Industrial Park located in Monterrey, Nuevo Leon, Mexico, for the construction of a plant.
Jiumaojiu International Holdings Ltd (9922 HK) shares rose 7.1% yesterday, after CICC released a research report maintaining an OUTPERFORM rating on the company, even though lowering its target price 35% to HK$20.8. CICC pointed out that Taier continues to actively innovate products and maintain its brand awareness. Taier is also expected to continue to expand stores steadily and rapidly.
China Yongda Automobile Services Hldg Ltd (3669 HK) shares rose 6.6% yesterday. Daiwa said in a research report that it reiterated its positive view on the auto dealer industry. Yamato also said that the rebound in car sales have offset the decline in gross profit margins, and 70% to 80% of the gross profit of dealers comes from after-sales service rather than new car sales. In addition, the bank is optimistic about the industry prospects. It is believed that after XPeng Motors and others, will have more cooperation with dealers for new energy vehicles in the future.
---
Trading Dashboard
Trading Dashboard Update: No additions/deletions to trading dashboard.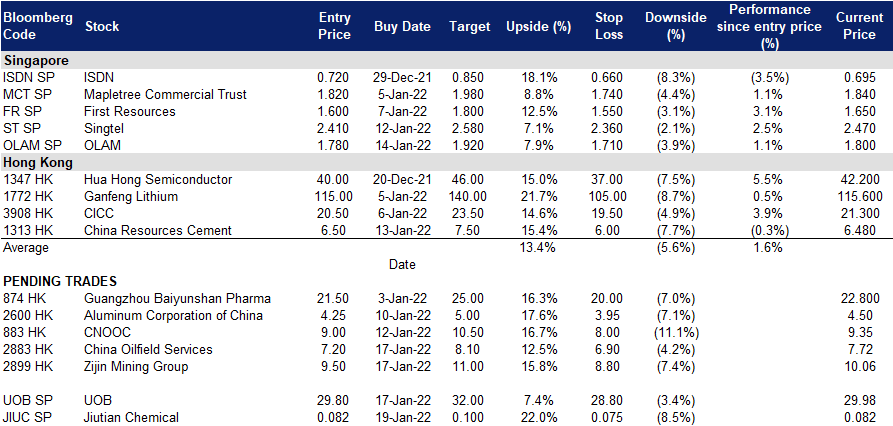 (Click to enlarge image)
---