KGI DAILY TRADING IDEAS – 17 September 2021
Singapore Trading Ideas | Hong Kong Trading Ideas | Market Movers | Trading Dashboard
SINGAPORE
China Sunsine Chemical (CSSC SP): Strong fundamentals to buffer upcoming price headwinds
BUY Entry – 0.50 Target – 0.68 Stop Loss – 0.46
CSSC is the largest producer of rubber accelerators in the world and the largest producer of insoluble sulphur in China.
Buoyant rubber chemical industry. As of July 2021, rubber chemicals prices have kept their upward momentum with growth of 30% to 40% YoY, extending the surge in 2Q21. Strong demand and abundant monetary liquidity have been key drivers keeping the positive momentum going.
Higher margins. Sunsine's 1H21 GPM and NPM regained the levels above 30% and 15% respectively, which was last seen in 2Q19. The jump in both average selling price and sales volumes were in line with the buoyant rubber chemicals market.
New capacity to offset any potential price weakness. Sunshine is expected to add 30,000 tonnes insoluble sulphur and 30,000 tonnes anti-oxidant TMQ capacity in 2H2021. To quantify, theoretical production volume of insoluble sulphur is expected to increase by 100% YoY in 2H21 and 50% YoY in FY21; production volume of anti-oxidant is expected to increase by 66.7% YoY in 2H21 and 33% YoY in FY21. Meanwhile, we believe the ASP in 2H21 will be comparable to 1H21 on a conservative assumption.
Outperform. We maintain OUTPERFORM with an unchanged TP of $0.68 as we expect the increase in sales volume in FY22 and FY23 to offset the potential downswing in ASPs. Read our full report here.
---
Rex International (REXI SP): Pure play on higher oil prices
BUY Entry – 0.20 Target – 0.33 Stop Loss – 0.18
Rex International Holding (Rex) is a pure-play oil & gas exploration and production company (Independent). It owns and operates an oil-producing field in Oman and has a portfolio of exploration licenses in Norway. This year, the company added the Brage oil field in Norway and was awarded two Production Sharing Contracts (PSCs) by Petroliam Nasional Berhad (PETRONAS), Malaysia's national oil corporation.
Expanding into Asia. Early this month, Rex made its first foray into Asia. The company was awarded two PSCs by PETRONAS. The two PSCs are related to the development and production of the Rhu-Ara and Diwangsa Clusters located in offshore Peninsular Malaysia. These previously discovered fields have a total estimated recoverables of 23.4 MMstb. The participating interests of Rex and Duta Marine Sdn Bhd (DMSB) are 95% and 5% respectively with Rex being the operator of the PSCs.
Good start; even better second half. Rex International Holding (Rex) reported its highest semi-annual revenue since listing in 2013. Rex's 1H2021 PATMI of US$24.0mn is a significant reversal from the US$20.1mn loss in 1H2020, driven by higher production and oil prices. We expect better performance ahead as the group grows organically and through acquisitions.
Record free cash flows. Free cash flow generated by oil and gas companies are expected to break records this year with oil currently trading above US$70 per barrel. For Rex, the windfall will continue to strengthen its already strong balance sheet and give it opportunities to diversify.
Increasing oil demand going into 2022. While OPEC recently trimmed its oil demand forecast for 4Q2021 due to the Delta variant, the organisation has increased its 2022 oil demand growth forecast to 4.15mn barrels of oil per day, compared to 3.28mn in the previous month's report. This basically means that oil demand will exceed pre-pandemic levels next year.
We have an Outperform recommendation and a DCF-backed target price to S$0.33.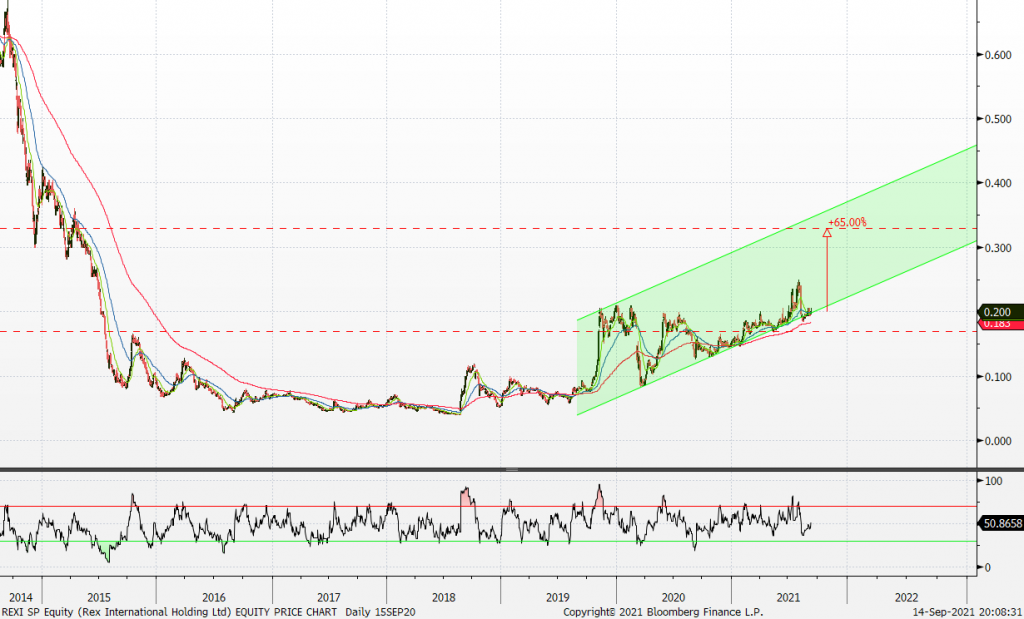 ---
HONG KONG
Xtep International Holdings Limited (1368 HK): A relatively safe sector amidst full-blown crackdowns
BUY Entry – 12.3 Target – 14.5 Stop Loss – 11.2
Xtep International Holdings Limited is principally engaged in the design, development, manufacturing, sales, marketing and brand management of sportswear, including footwear, apparel and accessories. Its products are mainly sold under the self-owned brand of Xtep.
The sportswear sector has definitely been one of the best performing sectors YTD as demand has surged on the back of more people choosing to exercise during the pandemic and also due to the boycott against foreign brands. The Tokyo Olympics is expected to translate the pro-China sentiment into more consumption of domestic brands' sportswear.
Recently the State Council issued a national exercise plan from 2021 to 2025, to ensure the population's fitness and exercise demands. The plan vowed to increase the number of people who often participate in regular exercise by 38.5% and expand the scale of the nationwide sports industry to 5 trillion yuan ($773.69 billion) by 2025. This was the one of the few positive news for the market given the government initiated clamp-downs on the various sectors. Sports sector is now officially supported by the authorities. Hence, we expect fund flows to flow into it.
Based on the peers' comparison, we think the company still has upside potential to catch up with the market leaders such as Anta Sports and Li Ning.

Updated market consensus of the EPS growths in FY21/22/23 is 62.9%/27.4%/21.3% YoY respectively, which translates to 32.3x/25.4x/20.9x forward PE. Current PER is 39.4x. Bloomberg consensus average 12-month target price is HK$16.91.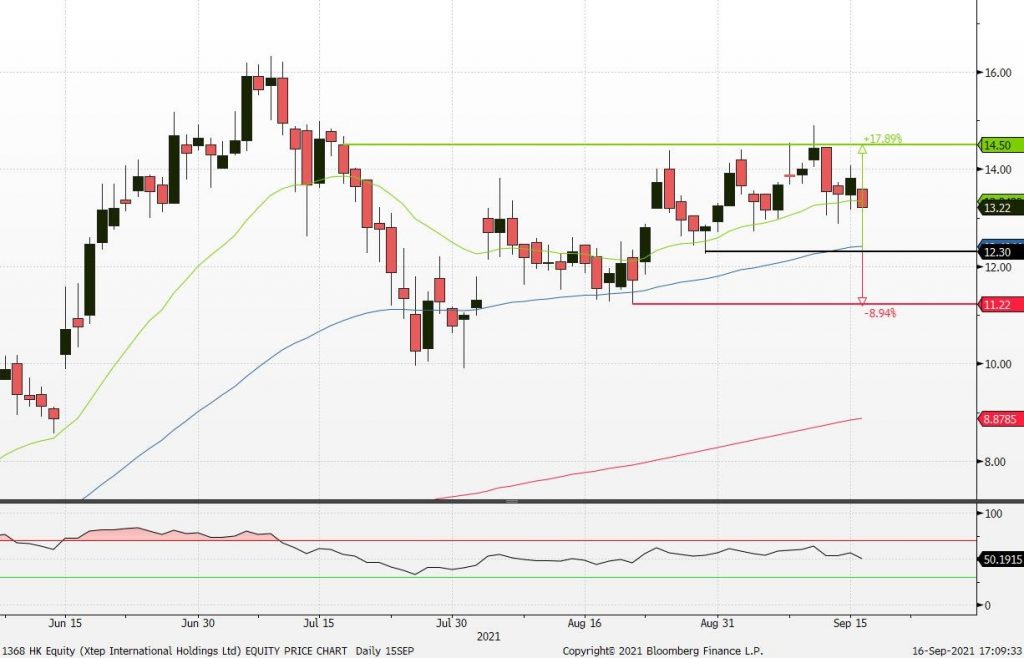 ---
Hua Hong Semiconductor Ltd (1347 HK): A quality semicon play amid weak market sentiment
Buy Entry – 39 Target – 45 Stop Loss – 37
Hua Hong Semiconductor Ltd is an investment holding company engaged in production and sales of semiconductor wafers. The company produces 200mm and 300mm-wafers. Its products are applied in general microcontroller (MCU), Type-C interface chips, image stabilization chips, touch control chips, and smart meter controller chips. The products also serve the Internet of Things (IoT), new energy vehicles, artificial intelligence and other markets.
1H21 results were better than market expectations. Revenue reached a record high of US$651mn, an increase of 52.0% YoY primarily due to increased wafer shipments and improved average selling price. Gross margin was 24.2%, an increase of 0.6ppts YoY, primarily driven by improved average selling price and capacity utilization, partially offset by increased depreciation expenses. Profit for the period attributable to owners of the parent was US$77.1 million, an increase of 102.3% YoY.
90nm eFlash, 90nm BCD, 55nm CIS, DT-SJ, and IGBT were mass produced in the 12-inch production lines, thereby better meeting the capacity needs of customers. The company is the first Pure Play Foundry in the world to mass produce advanced FS-Trench IGBT on both 8-inch and 12-inch production lines at the same time.
The company's simultaneous progress in its "8+12" production line technologies and its "IC + Discrete" technology platforms development strategy for the Embedded Non-Volatile Memory, Analog & Power Management, and Logic & RF IC device and Discrete device businesses will provide its customers with comprehensive and excellent technical support in foundry field.
Consensus estimates per the 12-month target price at HK$54.4, implying a 26% upside potential. EPS is forecasted to grow at 74.1%/22.5%/19.2% for FY2021/22/23F, which would bring forward P/Es down to 41x/33x/28x FY2021/22/23F.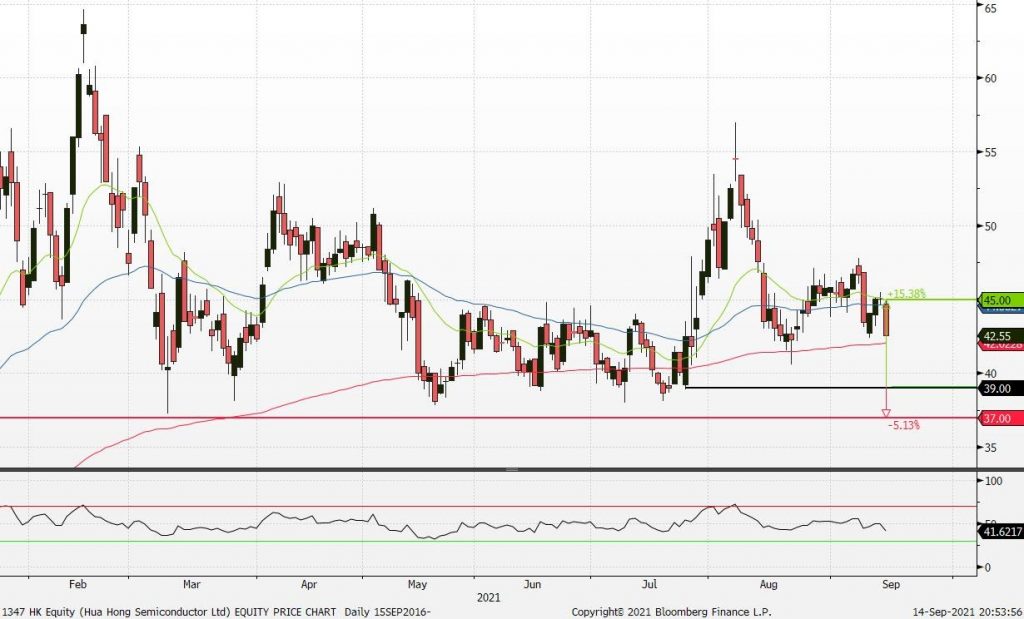 ---
Market Movers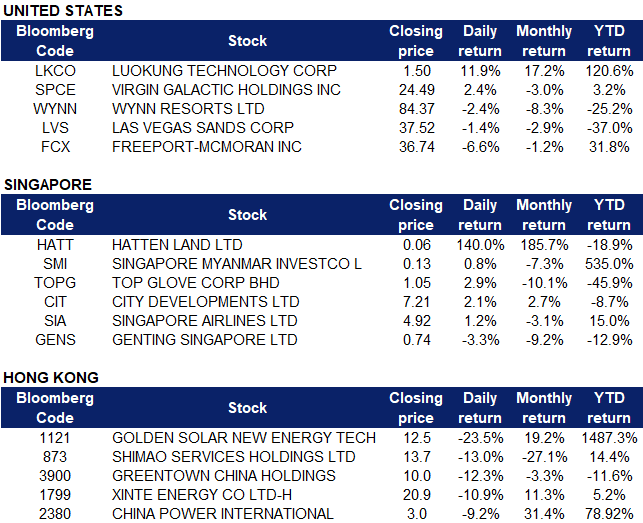 United States
Luokong Technology (LKCO US) stocks climbed as high as 34% on Thursday before closing 11.94% after the Chinese big data services company announced that its operating affiliate eMapgo Technology has signed a cooperation agreement with Microsoft to launch autonomous driving services for automakers. eMapgo and Microsoft have already been partners for years, but this deal could mark the beginning of eMapgo's growth beyond China in the global autonomous vehicle market. Preliminary numbers suggest Luokung generated revenue worth $37.8 million in the first half of 2021, up from only $7.1 million in the year-ago period.
Virgin Galactic (SPCE US) shares rose 2.43% after competitor SpaceX successfully launched its Inspiration4 mission on Wednesday evening from NASA's facility in Florida, bringing an an-civilian crew into space.
Casino stocks continued to decline as officials in Macau review the licensing rules and regulations around the gambling industry. Wynn Resorts (WYNN US) and Las Vegas Sands (LVS US) shares dropped 3.9% and 3.3% respectively. Analysts at JP Morgan downgraded both stocks to neutral from overweight, and cut their target price to $89 for Wynn and $38 for Las Vegas Sands, saying that there was too much "uncertainty and opacity surrounding Macau and China policy, particularly after this announcement, and particularly at a time when the Macau government is encouraging (preferring/sort of requiring) further potential meaningful capex in Macau/Hengqin island as a consideration of a license renewal."
Freeport-McMoran (FCX US) shares fell 6.64% largely due to the decline in copper. Although copper futures prices have rallied from August 2020 to May 2021, the commodity price has weakened since its highs. As copper contributes a substantial share to the American mining company's annual EBITDA, its profits are affected by changes in copper futures. Deutsche bank analysts lowered their target price from $47 to $46.
---
Singapore
Hatten Land (HATT SP) shares surged 140% after the company announced its plans to venture into cryptocurrency mining and solar energy. The company's wholly owned subsidiary Hatten Technology had signed a memorandum of understanding with Singapore Myanmar Investco (SMI SP) to jointly explore business opportunities in energy-efficient "green" crypto mining. The property development company will also raise up to $1.8 million from a proposed share placement, which will help fund these initiatives. Hatten Land previously called for a trading halt on Monday, and resumed trading on Thursday.Singapore Myanmar Investco Ltd (SMI SP) shares closed 0.79% higher following the news.
Top Glove Corporation (TOPG SP) shares rose 3.85% after the company withdrew its listing application for a US$1 billion dual primary listing on the HKEX which lapsed on 26 August. The company, now dual-listed in Malaysia and Singapore, said it will resubmit a listing application to Bursa Malaysia after it re-submits its listing application to the HKEX. Top Glove is set to announce its financial results for the fourth fiscal quarter of 2021 ended August on 17 September.
City Development Ltd (CIT SP) shares climbed another 2.12% yesterday after CGS-CIMB Research analyst Lock Mun Yee reiterated her overweight rating for the Singapore property sector despite slowing home sales in August. In Lock's research note released on 15 September, City Developments was one of the analyst's preferred picks, to which she has an "add" call with a target price of $8.97. The company previously announced on Monday that it was selling its stake in Sincere Property Group for US$1, as it ends the tumultuous backing of the cash-strapped Chinese developer.
Singapore Airlines (SIA SP) shares closed 1.23% higher after the aerospace company announced that its passenger capacity remained steady month-on-month at around 32% of pre-COVID-19 levels. The group saw a five time surge in passenger capacity of 5,116.4km in August. SIA Cargo registered a cargo load factor (CLF) of 87.6%, which is 5.8 percentage points up year-on-year. Cargo loads rose by 56.2% due to a 46% increase in capacity. SIA's passenger network covered 67 destinations as of end August, while Scoot served 25 cities.
Genting Singapore Ltd (GENS SP) stocks continued its decline, falling another 3.3%. The selling pressure comes amid the sell-off among HK-listed gaming stocks due to concerns over regulatory risks as China tightens its grip on the gambling hub. The Macau government announced a 45-day public consultation that included a proposal for direct supervision over the gambling industry, which has faced increasing scrutiny from authorities in recent years.
Trading Dashboard: Remove OCBC (OCBC SP) at S$11.60
---
Hong Kong
Golden Solar New Energy Technology Holdings Ltd (1121 HK) Shares plummeted 23.5% yesterday, reversing from the price rally following the company's diversification into the solar business. There was no company specific news, however, the major sell-off was most likely due to funds rebalancing their portfolio and taking profit as shares hit a 52-week high the day before.
Shimao Services Holdings Ltd (0873 HK), Greentown China Holdings Ltd (3900 HK) Property sector stocks plummeted yesterday, with developers like Shimao Services and Greentown China declining 13.0% and 12.3% respectively. Shimao Services closed at a 6-month low while Greentown China dipped 22.4% over the last 3 trading days. The overall industry took a hit as China Evergrande (3333 HK), a fellow property peer, was continuously battered with negative news on its liquidity and debt issues. Yesterday, The Ministry of Housing and Urban-Rural Development told banks in a meeting this week that Evergrande won't be able to pay its debt obligations due on 20 September. Evergrande's inability to repay bank interest is the strongest sign yet of liquidity stress at the world's most-indebted developer, which is sitting on more than US$300 billion of liabilities. Chinese authorities are already laying the groundwork for a debt restructuring, assembling accounting and legal experts to examine the finances of the group. China Evergrande's shares declined 6.4% yesterday.
Xinte Energy Co Ltd (1799 HK) Shares declined 10.9% yesterday as JP Morgan reduced its holdings by 2.8mn shares at a price of HK$25.6 per share, with a total consideration of HK$70.5mn. Over the last 4 trading days, shares have lost 20.5%.
China Power International Development Group Ltd (2380 HK) Shares declined 9.2% yesterday, after the company issued an announcement regarding a proposed asset restructuring proposal with Jilin Power Co Ltd. The proposal involves using certain clean energy assets as Jilin Power's shares to become its direct controlling shareholder.
Trading dashboard: Cut Sunny Optical (2382 HK) at HK$221. Add Hua Hong Semiconductor (1347 HK) at HK$39.
---
Trading Dashboard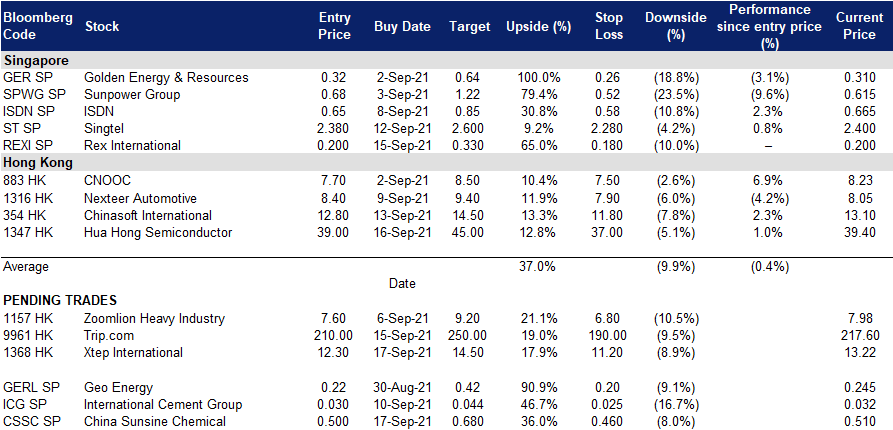 ---

---
Related Posts: