KGI DAILY TRADING IDEAS – 13 September 2021
Singapore Trading Ideas | Hong Kong Trading Ideas | Market Movers | Trading Dashboard
SINGAPORE
Singtel (ST SP): Finally turning around
BUY Entry – 2.38 Target –2.60 Stop Loss – 2.28
Singtel provides an extensive range of telecommunications and digital services to consumers and businesses across Asia, Australia, Africa and the US. It serves over 753 million mobile customers in 21 countries, including Singapore, Australia (via wholly-owned subsidiary Singtel Optus) and the emerging markets of India, Indonesia, the Philippines, Thailand and Africa.
Five years of underperformance. Shares of Singtel have lost almost 50% from their 10-year peak of S$4.57 that they traded at in April 2015. The underperformance was due to the sequential underlying earnings decline over the past four years, mainly because of the drag from Bharti Airtel, its Indian associate.
Improving outlook. Consensus anticipates an improving outlook for Bharti as the Indian wireless industry becomes a quasi-duopoly, which should drive revenue and earnings growth going forward. Bharti recently announced revisions to its prepaid and postpaid plans that could improve ARPU by 4-7%, according to estimates by JP Morgan. Meanwhile, its 100%-owned Australian subsidiary, Optus, is seeing a better competitive environment as operators remove discounts and are offering less bonus data.
Longer-term driver. Beyond the next 12-24 months, a key driver will be Singtel's digital banking plans together with its partner, Grab Holdings. The Singtel-Grab consortium will allow it to take deposits and offer banking services to retail and corporate customers. For now, we think Singtel's share price has likely not factored in contribution from the digital bank business, and will likely be a positive boost to its shares when visibility emerges.
Consensus estimates. Consensus has an overall positive outlook on Singtel, with 17 BUYS / 2 HOLDS / 0 SELL, and a 12m TP of S$2.94 (+23% upside potential). EPS is forecasted to finally grow 32% and 18% for FY2022 (YE March) and FY2023. The stock offers a decent dividend yield of 4.2% for FY2022 and 5.0% for FY2023.
Singtel's financial summary (2016-2021)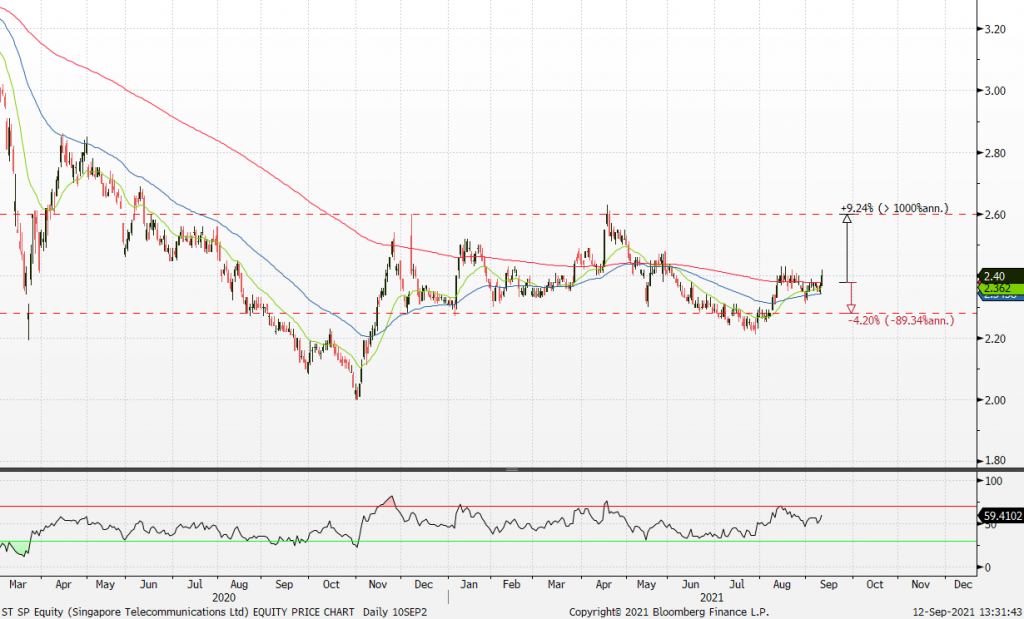 ---
International Cement Group Ltd (ICG SP): Traditional sector play – Cement and Aluminium
BUY Entry – SGD 0.028 Target –0.044 Stop Loss – 0.025
International Cement Group Ltd., together with its subsidiaries, primarily engages in the production, sale, and distribution of cement in Singapore, Malaysia, Australia, Tajikistan, Afghanistan, Uzbekistan, and internationally. It is also involved in the manufacture and marketing of aluminum extrusions, aluminum panels, and associated architectural aluminum products used for the construction industry.
The company is backed by strong financials and potential growth through acquisitions. Furthermore, being a traditional sector play, the company is relatively safer compared to other stocks amidst a potentially weaker market in the months ahead.
Strong 1H21 financials. Revenue rose 35% YoY to S$85mn in 1H21, on the back of a 36% surge in revenue from the group's cement segment. Net profit jumped by 66.5% to S$18.7mn, while PATMI more than doubled to S$13.0mn, mainly due to favourable foreign currency translation differences. Gross profit margin improved by 4ppts to 44%, contributed by the higher profit margin from Alacem Plant as it benefitted from lower costs in raw materials in Kazakhstan.
Inorganic growth via cement segment. The group's main revenue driver is from the cement segment, which contributes approximately 94% to 95% of total revenue. On 9 April 2021, Sharcem LLP, a newly incorporated 60% subsidiary of the group, entered into a sales and purchase agreement with Kazakhccement LLP and Development Bank of Kazakhstan to acquire cement-related assets located in Jarminsky district in East Kazakhstan. The plant has an annual production capacity of 1mn metric tonnes and is expected to be completed by end September. Upon completion, the group's combined annual cement production capacity in Central Asia will increase from 3mn metric tonnes to 4mn metric tonnes.
Aluminium segment. Even though aluminium is a small contributor to the group's revenue, approximately making up only about 5% to 6%, there is potential for growth in the short to long-term as Singapore's construction industry recovers from Covid-19. Singapore's construction industry is forecasted to recover by 30% in 2021, after contracting by 35.9% in 2020. The industry is projected to continue to expand in 2022, registering real growth of 8.1%, and then expand by 3.3% over the remainder of the forecast period (2023-2025). Aluminium prices have rallied since mid-2020, with prices rising above US$2,740 a tonne in September, the highest since May 2011, which could also provide a catalyst to the group's revenue from the aluminium segment.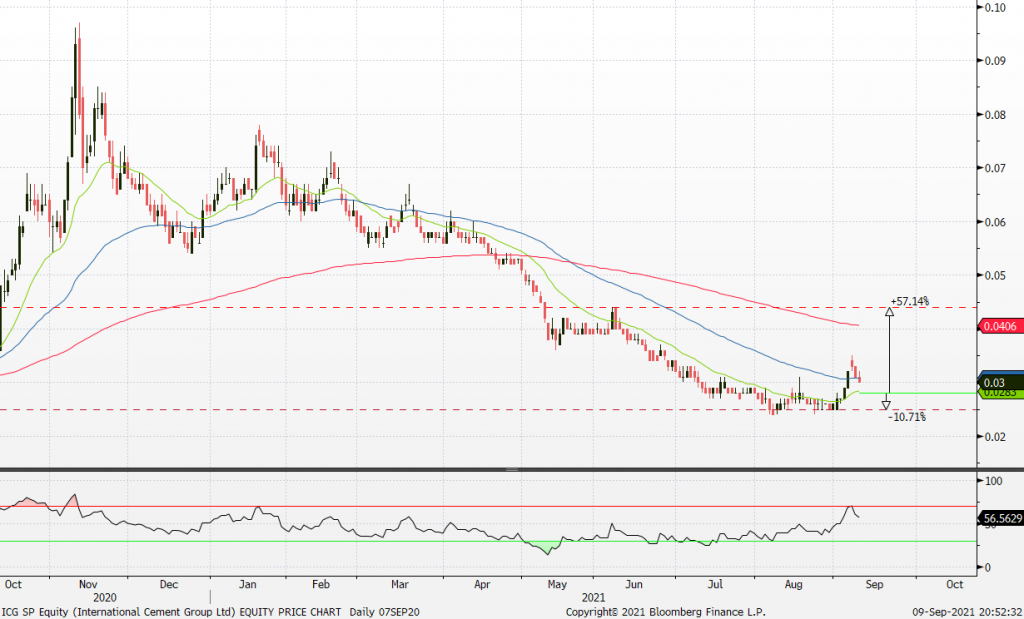 ---
HONG KONG
TRIP.COM (9961 HK): Seasonal trade based on the upcoming holiday
Reiterate BUY Entry – 245 Target – 265 Stop Loss – 235
Trip.com Group Limited, formerly Ctrip.com International, Ltd., is a travel service provider in China that provides accommodation booking, transportation ticketing, package tours and corporate travel management. The company aggregates hotel and transportation information to help leisure and business travellers make reservations. The company helps leisure travellers book travel packages and guided tours and helps corporate clients manage their travel needs. The company also offers a range of travel-related services to meet the different booking and travel needs of leisure and business travellers, including visitor reviews, attraction tickets, travel-related financial services, car services, travel insurance services and passport services. The company also offers package tours for independent leisure travellers, including tour groups, semi-tour groups and private groups, as well as package tours that require different transportation arrangements (such as cruise, buses or self-driving).
The new wave of COVID-19 outbreak in China is under control. Though summer vacation was ruined, this was factored in the recent sell-down of the stock. The pent-up travelling demand could boost the seasonal sales for the upcoming golden week (Mid-autumn festival and national day Holiday) in late September.
The company will announce 1H21 interim results on 24th September.
The updated market consensus of the estimated net profit growth in FY22 and FY23 is 193.8% and 31.5% respectively, which translates to 22.1x and 16.8x forward PE. Bloomberg consensus average 12-month target price is HK$313.15.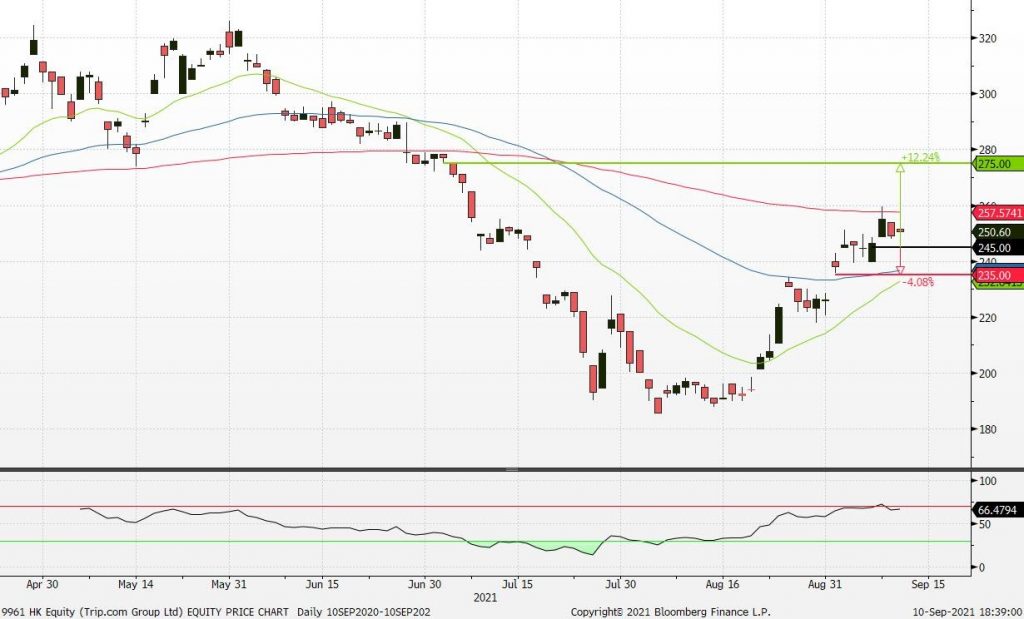 ---
Chinasoft International Limited (354 HK): Immune to crackdown and selldown
Buy Entry – 12.8 Target – 14.5 Stop Loss – 11.8
Chinasoft International Limited is a Hong Kong-based investment holding company principally engaged in the provision of information technology (IT)-related services. The company operates through two segments. Technical Professional Services segment is engaged in the development and provision of solutions, emerging services and IT outsourcing services for banks and other financial institutions, telecommunication carriers and other multinational companies, including the sales of products. Internet IT Services segment is engaged in the development and provision of solutions and IT outsourcing services for government, tobacco industry and other small companies and training businesses.
1H21 revenue jumped by 37.7% YoY to RMB8.3bn, and net profit attributable to the owner of the company jumped by 29% YoY to RMB517.7mn. The growth was mainly driven by the rapid growth of cloud intelligence business and the steady growth of the core large customer businesses.
The recent prevailing crack-down on the technology industry has created panic among investors. However, the software sector, which is the subsector of the larger technology industry, was also mistakenly sold off. The regulations announced are mainly toward Internet and platform companies.
Chinasoft's businesses, meanwhile, are supportive of both traditional industries and new economy sectors. More importantly, it is one of the key themes that China's government is promoting – which is the domestic operating system (OS). Huawei has been developing the Harmony OS, the most promising domestic OS in China. Chinasoft is also engaged in OS development as Huawei is its largest client.
Among all the big tech companies, Huawei is under national protection rather than under a regulatory crackdown. Therefore, Huawei-themed companies are another safe haven for investors to look for growth opportunities.
The updated market consensus of the estimated net profit growth in FY21/22/23 is 13.2%/28.1%/17.7% respectively, which translates to 25.3x/19.8x/25.5x forward PE. The current PE is 27.5x. Bloomberg consensus average 12-month target price is HK$17.6.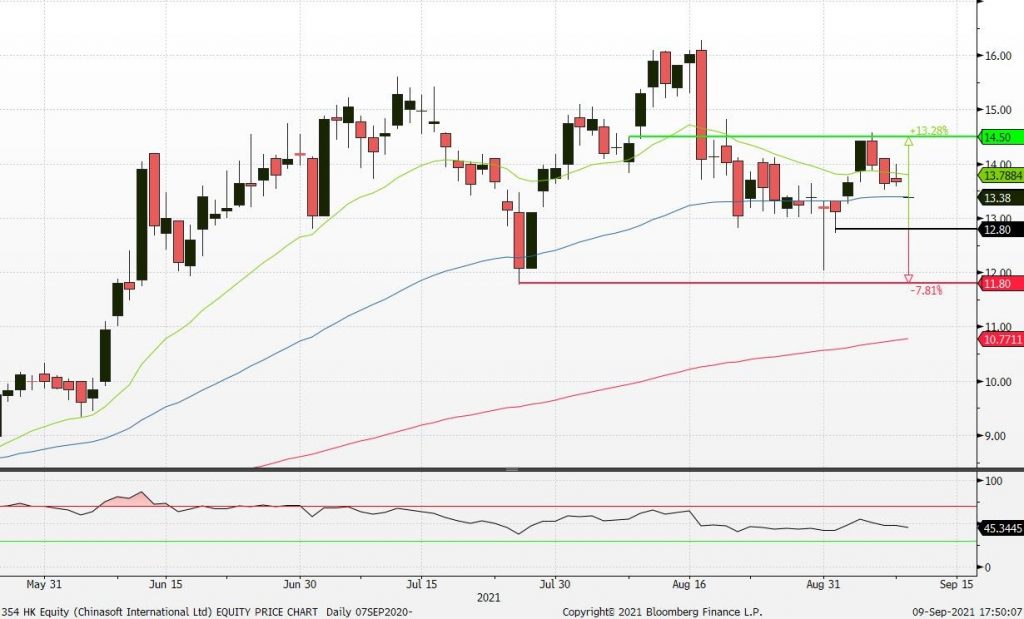 ---
Market Movers
United States
Affirm (AFRM US) soared 22.4% in premarket trading before closing 34.37% higher on Friday, after the company announced fourth quarter fiscal 2021 revenue results, and issued guidance above analyst estimates. The company reported $262 million in revenue and a 38-cent-per share loss, compared to expectations of $224 million in revenue and a 26-cent loss. Active customers jumped 97% to 7.1 million. Management now expects Affirm's revenue to grow by roughly 35% to $1.2 billion in fiscal 2022.
Up Fintech (TIGR US) shares surged 8.59% on Friday after the company posted its second quarter results before the market opened. The online brokerage company posted a non-GAAP (adjusted) loss per American depositary share of $0.03 on revenue of $60.23 million, while the average analyst estimate had called for adjusted earnings of $0.15 per share on sales of $74.78 million. Despite missing sales targets, Up Fintech's sales still grew 98.7% YOY. The total number of customers with deposits rose approximately 215% YOY to reach 529,1000. The company now expects to add 350,000 new funded accounts this year.
Following the antitrust ruling placed on Apple, stocks that thrive on Apple's platform such as Roblox (RBLX) and Zynga (ZNGA US) traded higher at 1.77% and 6.28% respectively. With access to lower commission rates, the companies could claim the 30% commission for themselves, resulting in higher profitability.
Apple (AAPL US) shares dropped 3.3% on Friday after U.S. District Judge Yvonne Gonzalez Rogers issued an injunction that prohibits Apple from denying developers the ability to direct users to other payment methods outside its App store. If consumers buy apps outside of the App Store, Apple would no longer be able to collect 30% of commission on app sales or a lower 15% commission it collects on companies that make less than $1 million a year. The decision was an effect of Epic Games' (maker of the game Fortnite) lawsuit against Apple that claimed that Apple was a monopoly, and sought to loosen the App Store restrictions.
---
Singapore
Del Monte Pacific Ltd (DELM SP) Shares rose by 6.8% on Friday, and closed the week 9.9% higher. Del Monte announced positive 1Q22 results on Thursday. The group generated sales of US$462.1mn, up 12% versus the prior year period on higher sales in the USA and international markets. The group achieved a net profit of US$18.3mn in the first quarter, a marked turnaround from the US$3.2mn loss in the prior year's same quarter. Read the full details of the company's results here. On another note, Del Monte is exploring the IPO of its 93.6% owned US subsidiary, Del MOnte Foods Inc (DMFI) as an option to improve its capital structure and business performance. The IPO could take between 18-24 months to materialise. Last month, the group announced its decision to delay the IPO of its 87% owned Philippines subsidiary DMPI on the Philippines Stock Exchange due to the recent surge in Covid cases.
Mercurius Capital Investment Ltd (MCI SP) Shares rose by 6.5% on Friday and gained a total of approximately 110% over the last two weeks as the company's CEO, Chang Wei Lu aggressively bought back shares to increase his shareholdings. On 3 September, it was announced that a total of 9,962,100 shares were bought for a total consideration of S$393,795. On 7 September, 9,074,900 shares were bought for S$635,243, while on 8 September, another 7,607,000 shares were bought for S$543,900.
ISDN Holdings Ltd (ISDN SP) Shares rose by 3.8% on Friday even though there was no company specific news. Overall, semiconductor related stocks such as Frencken, AEM and UMS rose on Friday. Positive sentiment on the semiconductor industry could be due to industry specific news, such as China still requiring ASEAN markets to chip in for its domestic semiconductor goals. In addition, according to the Worldwide Semiconductor Equipment Market Statistics (WWSEMS) Report, China, Europe and North America recorded strong quarterly billings, with overall billings surging 48% YoY to a record high US$24.9bn in 2Q21. We currently have an outperform recommendation with a TP of S$0.85, implying an upside of 25% from Friday's closing price of S$0.68.
Singtel Holdings Ltd (ISDN SP) Shares rose by 1.3% on Friday after the company announced on Thursday that its subsidiary NCS has reached agreements to acquire three companies, ClayPOS, Velocity Business Solutions and Riley, with capabilities in data analytics and cloud. The trio of acquisitions will boost the capabilities of NCS's digital services organisation, NCS NEXT, where it will help its government and enterprise clients become digital at their core. Read here for the full article published by The Edge. According to Bloomberg consensus ratings, Singtel currently has 17 BUYS, 2 HOLDS and 0 SELLS, with a 12M TP of S$2.94, implying an upside potential of 22.5% as of Friday's closing price of S$2.40.
Grand Venture Technologies Ltd (GVTL SP) Shares declined by 3% on Friday, bringing total losses to approximately 6% since Thursday after the company announced SGX's approval of its share placement. 25mn new shares would be issued at an offer price of S$1.14 per share.
---
Hong Kong
Helens International Holdings Co Ltd (9869 HK) It was the first trading day of its listing. Helens International Holdings Co Ltd is a China-based investment holding company mainly engaged in bar operation and franchise business. The company mainly provides customers with a product portfolio (mainly own branded products and supplemented by external products) and offline social spaces. Its own branded alcoholic drinks include Helen's draft beer, Helen's craft beer, Helen's fruit-flavoured beer and Helen's milk beer. The company mainly conducts business within the domestic market. Shares opened at HK$23.05, and the intraday high and low was HK$25.75 and HK$23. The issue price is HK$19.77.
Hainan Meilan International Airport Co Ltd (357 HK) Shares closed at a 2-month high. It is expected that the domestic tourist traffic will be more than 80mn in the upcoming Mid-autumn Festival holiday. Investors are positive about the tourism sector's recovery.
SOHO China Ltd (410 HK) Investors were speculating that the previously announced acquisition would go through. However, the company announced that Blackstone had abandoned the US$3.05 billion offer for Soho China after the market closed.
Greentown China Holdings Limited (3900 HK) Property sector jumped after CitiGroup issued a report which saw some signals of the sector bottoming out. From January to August 2021, Greentown Group recorded a saleable area of 6,150,000 sqm, with a contracted sales amounting to approximately RMB174.4bn (increased by 85% YoY); of which approximately RMB 93.5bn was attributable to the Greentown Group.
XD Inc (2400 HK) There was no company-specific news. The jump could be due to a technical rebound after the fall on Thursday when Chinese regulators temporarily suspended approval for all new online games.
---
Trading Dashboard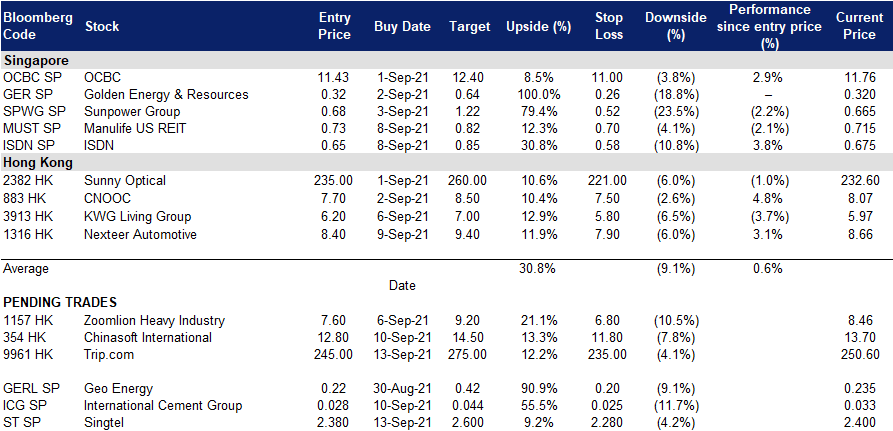 ---

---
Related Posts: