KGI DAILY MARKET MOVERS – 5 August 2021
Market Movers | Trading Dashboard
---
Market Movers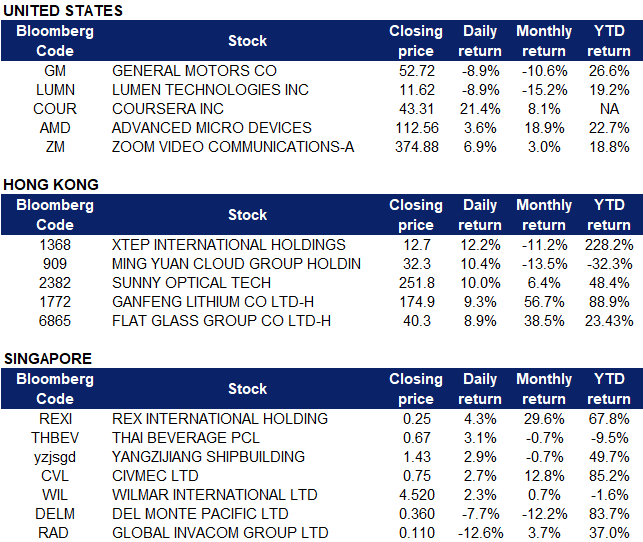 United States
General Motors (GM US) shares were down 8.91% after reporting its second quarter earnings. The company reported revenue of $34.2 billion which beat expectations of $31 billion, but earnings per share fell short of analyst estimates. Strong results were reported due to high demand and strong pricing for full-size pickups and SUVs, but this was partially offset by warranty costs due to vehicle recalls.
Lumen Technologies (LUMN US) tumbled 8.86% and closed at $11.62 on Wednesday following the company's second quarter earnings update. The telecommunications company reported a 5% YOY decline in revenue. Sales have been stuck in decline for years as legacy telecommunication services lose value over time. Additionally, the company has long-term debt of $28.6 billion.
Coursera (COUR US) shares rallied 21.38% to $43.31 at closing on Wednesday after announcing financial results for Q2 2021. The online course provider crossed the $100M mark in quarterly revenue for the first time, and raised its revenue guidance for Q3 sales ($109 million) and full year 2021 sales ($410 million).
Advanced Micro Devices (AMD US) shares soared on Wednesday, climbing as high as $122.48 before closing at $118.77. AMD debuted its Radeon PRO W6000X series GPUs for Apple's Mac Pro on Tuesday. Additionally, news of the U.K. consideration of blocking rival Nvidia's (NVDA US) $40 billion bid for Arm on national security grounds could have given AMD's stock a lift.
Zoom (ZM US) saw its stock price jump on Wednesday by as much as 7% before closing up 6.86% at $400.58. There was no company specific news. Zoom became the go-to service for communicating with friends and family during global lockdowns last year, which drove the stock price up in 2020. Investors may be warming back up to Zoom due to concerns of more restrictions as the COVID-19 delta variant spreads across the U.S..
---
Singapore
Rex International Limited (REXI SP) shares gained another 4% on Wednesday, bringing week-to-date gains to 17%. On Monday, we initiated on Rex with an Outperform recommendation and a TP of S$0.32. Rex is set to generate record free cash flows this year and we forecast the company's net cash position to surge to US$107mn by FY2022F based on S$65 oil prices. Rex's strong balance sheet, free cash flow generation and access to capital, differentiates it from many other E&P companies. Rex is the only game in town (at least on the SGX) for investors looking for direct exposure to the neglected O&G sector.
ThaiBev (THBEV SP) shares jumped 3% yesterday on higher-than-average trading volumes on a likely technical rebound, as RSI was below 30 prior to yesterday's gains. Shares have lost 16% over the past 6 months given the tightened restrictions in Thailand and the deferred IPO of its beer business. Maybank recently recommended Thai Bev as a reopening play. Street estimates remain positive on the company, with 19 BUYS / 1 HOLD / 0 SELL and a 12-m TP of S$0.89 (+33% upside). Valuations are currently attractive at only 16/14x FY2021/22 P/E.
Yangzijiang (YZJSGD SP) shares received a boost after CGS-CIMB raised its TP to S$1.91 from S$1.63 previously, citing the company's strong orderbook year-to-date. The research firm increased EPS estimates for FY2021 to FY2023 by 1% to 26%. Yangzijiang recently signed new orders worth US$1.08bn, bringing year-to-date orders to US$6.67bn and raising its net orderbook to US$8.74bn. The most recent orders secured were for the building and delivery of 10 units of dual-fuel 7,000TEU containerships and 2 units of 50,000DWT MR tankers. Yangzijiang will report its 1H2021 results after market close today.
Civmec Limited (CVL SP) shares rose by 2.7% yesterday on higher than average trading volume, even though there was no company specific news. Iron ore dropped to the lowest in 2.5 months after China ramped up its commitment to reduce emissions by cutting steel output amid a slowdown in global manufacturing. However, iron ore prices started to rebound slightly yesterday to US$191.5, which may have boosted investors' confidence in Civmec, given the company's background as a heavy engineering and construction provider to Australia's mining industry.
Wilmar International (WIL SP). Adani Wilmar, a 50/50 JV between Wilmar and Adani Group, has filed its draft red herring prospectus with the Securities and Exchange Board of India for the proposed IPO to raise as much as US$600mn on the BSE and National Stock Exchange of India. It will use the proceeds to expand manufacturing facilities, repay borrowings and make strategic acquisitions and investments. Consensus is overall bullish on Wilmar, with 13 BUYS / 1 HOLD / 0 SELLS and a 12m TP of S$6.17 (+37% upside).
Del Monte Pacific (DELM SP). Shares were heavily sold down yesterday after the company delayed the IPO of its Philippines subsidiary, citing market volatility fueled by a surge in Covid-19 cases. The decision to delay the IPO comes amid rising virus cases that have hit investor sentiments in the country, with the Philippines benchmark down about 6% over the past month, making it one of the world's worst performers and on par with the underperformance of the Hang Seng Index.
Global Invacom Group Limited (RAD SP). Shares dipped by 12.6% yesterday after the company announced profit guidance for its 1H2021's results. The Group expects to report a net loss of approximately US$1.2mn in 1H2021 against a net profit of US$0.3mn in 1H2020. Group revenue in 1H2021 is expected to be approximately US$40.4mn versus US$52.8mn 1H2020. The expected net loss for 1H2021 is mainly attributable to higher operating costs and higher material costs arising from the ongoing global COVID-19 pandemic.
Trading Dashboard: Add Dairy Farm International (DFI SP) at US$4.65. Cut loss on Del Monte (DELM SP) at S$0.38
---
Hong Kong
Xtep International Holdings Limited (1368 HK). The sportswear sector jumped following the central government's issuance of a national exercise plan. The State Council issued a national exercise plan from 2021 to 2025 to ensure the population's fitness and exercise demands. The plan vowed to increase the number of people who often participate in regular exercise by 38.5% and expand the scale of the nationwide sports industry to 5 trillion yuan ($773.69 billion) by 2025.
Ming Yuan Cloud Group Holdings Limited (909 HK). The company announced it would acquire the remaining 29.9% holdings of its non wholly-owned subsidiary Shenzhen Mingyuan Yunke Electronic Commerce Co., Ltd. for a total amount of RMB 598.1mn.
Sunny Optical Technology (Group) Co. Ltd (2382 HK). Apple themed stocks jumped after some media outlets said Apple (AAPL US) will seek more China suppliers for the new iPhone. The company was included in Apple's supply chain for the first time this year. Meanwhile, HSBC maintained a BUY rating with a high TP of HS$277.1.
Ganfeng Lithium Co Ltd (1772 HK). Daiwa Securities maintained a BUY rating with a higher TP of HK$205. Previously, the company announced its subsidiary Ganfeng Li Energy Technology Co., Ltd will have 20 strategic investors injecting capital. The main investor is Xiaomi (1810 HK), according to Daiwa's report.
Flat Glass Group Co Ltd (6865 HK) shares recovered from Tuesday's sell-down and closed at an all-time high. Previously, the company and JA Solar entered into a sales contract on 30 July 2021 for the supply and sale of an aggregate of approximately 230,000,000 square meters of photovoltaic rolled glass (for use in solar modules) between the sellers and the purchaser from 1 August 2021 to 31 July 2024. The contract is estimated to be worth approximately RMB4.618 billion (including tax).
---
Trading Dashboard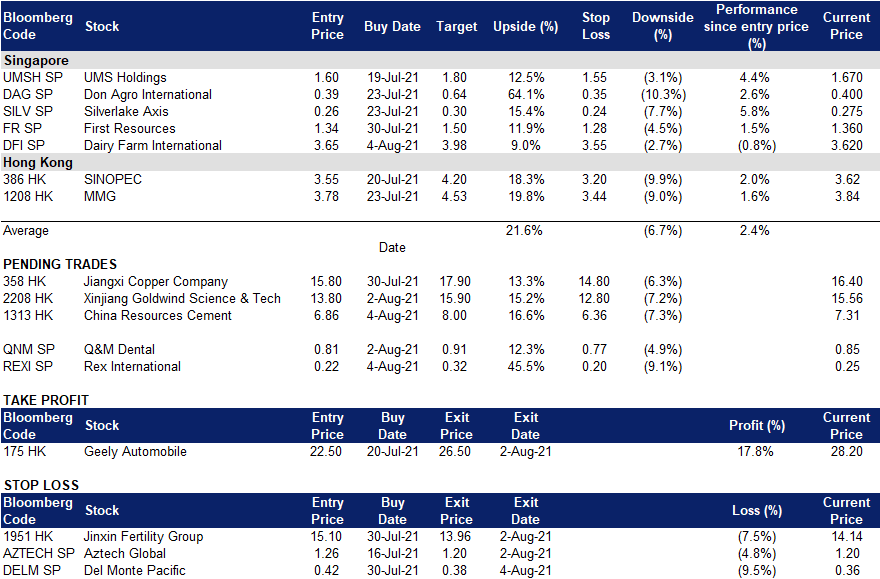 ---

---
Related Posts: