KGI DAILY MARKET MOVERS – 30 September 2021
Market Movers | Trading Dashboard
---
Market Movers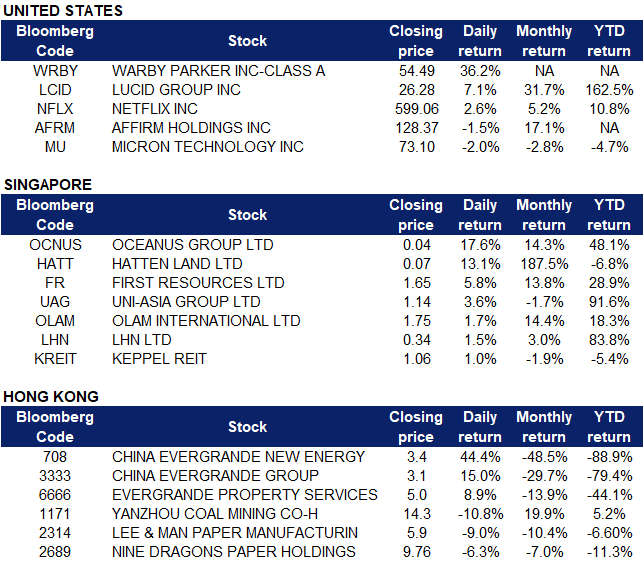 United States
Warby Parker (WRBY US), an online eyewear retailer, made its public debut on Wednesday via a direct listing at a reference price of $40 per share. The company finished its first trading day with approximately $6.8 bn valuation, twice what it was in private funding last year. Shares closed 36% above its reference price at $54.49.
Lucid Motors (LCID US) shares jumped 7.09% after it announced that production of its first cars for customers is underway. The company plans to deliver its first luxury sedans in late October.
Affirm (AFRM US) shares declined 1.53% after the financing firm announced on its investors' day that it will offer a debit card and allow customers to execute cryptocurrency transactions from savings accounts. The company said the new debit card is in the final stages of testing.
Micron (MU US) traded 2% lower on Wednesday after announcing its fiscal fourth quarter financial results and issue guidance below estimates. Revenue surged 37% from year-ago levels to $8.27 billion, and net income more than doubled year over year,YOY. Micron expects fiscal first quarter earnings to be in a range of $2 – $2.20 per share versus the estimate of $2.61 per share, and expects fiscal first quarter revenue to be in a range of $7.45 billion to $7.85 billion versus the estimate of $8.63 billion.are beat expectations.
Netflix (NFLX US) shares rose as much as 4% on Wednesday, before closing 2.61% higher at $599.06. The streaming company announced that it has completed the acquisition of Night School, a videogame maker, making its debut in the gaming sector in its efforts to diversify its revenue sources.
---
Singapore
Oceanus Group (OCNUS SP) on Wednesday announced its exit from SGX's watch list since being put on it nearly six years ago in December 2015. SGX's financial exit criteria say that firms may exit the watch list if they record consolidated pre-tax profit for the most recently completed financial year, and post an average daily market capitalization of at least S$40 million over the last six months. The Group has consistently achieved profitability since the second quarter ending 30 June 2020, and in its latest financials for the half-year period ending 30 June 2021, Oceanus hit a record-high turnover and net profit. The Group's total revenue surged 553% to S$52.5 million, from S$8.0 million in the corresponding period. Net profit rose significantly by 597% to S$5.0 million, up from S$0.7 million in 1H 2020. Read the company's press release here. Oceanus' shares closed 20.59% higher on Wednesday.
Hatten Land (HATT SP) shares surged 13.11% after the property developer announced that it has signed a definitive agreement with Frontier Digital Asset Management to share proceeds from jointly operating 1,000 cryptocurrency mining rigs. The rigs will be built in phases from Q4 2021 by repurposing Hatten Land's existing retail mall infrastructure in Melaka.This will bring the total number of crypto mining rigs to be installed at Hatten Land's properties in Melaka to 3,000. This includes the memorandum of understanding signed recently with Myanmar Investco (SMI) to procure up to 2,000 rigs.
First Resources (FR SP) shares of the palm oil company rose 5.6%, closing at its highest in more than six months. Crude palm oil prices are expected to stay firm until February next year, according to industry leading analyst Dorab Mistry. Crude palm oil prices have rallied due to a labour shortage in Malaysia, the world's second largest producer. Consensus currently has 7 BUYS and 2 HOLDS, with DBS bank recently assigning a S$1.83 fair value on the company.
Uni-Asia Group (UAG SP) Shares of the bulk shipping company rose 3.6% on the back of rising charter rates. China's energy crisis has sent shipping costs significantly higher as the country looks to buy more coal ahead of the winter season. Interestingly, it was reported that China's power generators are prioritizing procuring enough coal at the moment and are willing to pay whatever the freight costs. The Baltic Dry Index, which measures rates for bulk commodity shipping, is nearing 5,000 points, the highest since 2008. On a separate note, it was also announced that major shareholder, Ham Yong Kwan, increased his stake in Uni-Asia from 9.14% to 10.02% with the purchase of 690,600 shares worth S$0.8mn in August 2021. We currently have an OUTPERFORM rating on Uni-Asia with a TP of S$1.56 (+37% potential upside).
Keppel REIT (KREIT SP) climbed as much as 2.9% to $1.08 yesterday before closing 0.95% higher at $1.06. The company announced on Tuesday that Koh Wee Lih, outgoing Executive Director and CEO of AIMS APAC Reit will take over as Keppel Reit's CEO, following current CEO Paul Tham's abrupt resignation last month. The announcement of Tham's departure came less than one month after Keppel Corporation said it would be entering into a S$3.4 billion ($2.5 billion) deal to purchase the non-media business of Singapore Press Holdings, in a transaction that would include S$1.16 billion in Keppel REIT shares as part of the compensation for SPH's assets.
Trading Dashboard: Add LHN (LHN SP) at S$0.335


---
Hong Kong
China Evergrande New Energy Vehicle Group Ltd (708 HK), China Evergrande Group (3333 HK), Evergrande Property Services Group Ltd (6666 HK). Evergrande group shares collectively rebounded sharply yesterday by 44%, 15% and 8.9% respectively. Evergrande said that it has entered into an agreement to sell the 1.75bn shares it owns in Shengjing Bank to the Shenyang Shengjing Finance Investment Group at RMB 5.70 per share, for a total consideration of RMB 99.93bn. The shares amount to 19.93% of the issued share capital of the bank. The property firm already missed one key US$83.5 million coupon payment last week, on an offshore March 2022, US$2 billion bond. Markets are closely watching to see if the firm will meet its US$47.5 million interest payment due Wednesday.
Yanzhou Coal Industry Co Ltd (HK 1171). Shares declined 10.8% yesterday, likely on profit-taking after Tuesday's gain of 15.5%. Shares of the coal miner surged as much as 90% in August and early September on the back of rising coal prices. As electricity demand in China has risen, it has pushed up coal prices to generate electricity. However, Chinese regulators have not enabled a raise in utility rates enough to cover the rising cost of coal. As such, coal industry companies are suffering bottlenecks in coal sales.
Lee & Man Paper Manufacturing Ltd (2314 HK), Nine Dragons Paper Holdings Ltd (2689 HK) shares declined 9% and 6.3% respectively. China's energy crisis is shaping up as the latest shock to global supply chains as factories in the world's biggest exporter are forced to conserve energy by curbing production. Chinese manufacturers warn that strict measures to cut electricity use will slash output in economic powerhouses like Jiangsu, Zhejiang and Guangdong provinces, which together account for almost a third of the nation's gross domestic product. As Nine Dragons and Lee & Man Paper's production facilities are located in Dongguan and Jiangsu respectively, production constraints are expected for the paper companies due to power shortages.
Trading Dashboard: Add Fuyao Glass (3606 HK) at HK$40.00
---
Trading Dashboard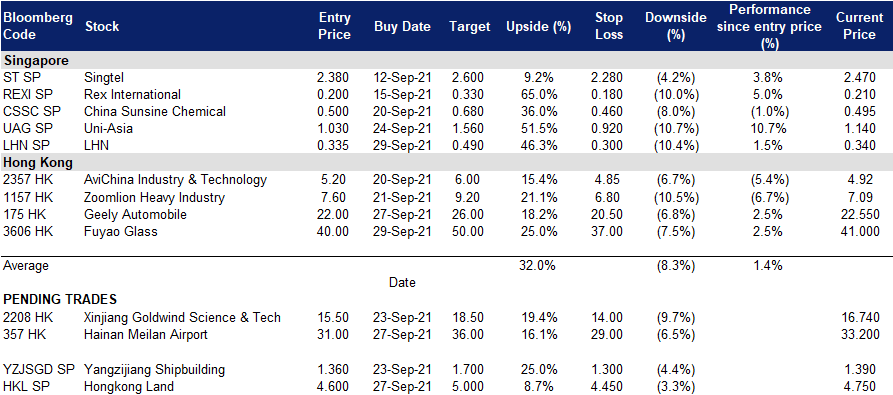 ---

---
Related Posts: