KGI DAILY MARKET MOVERS – 3 August 2021
Market Movers | Trading Dashboard
---
Market Movers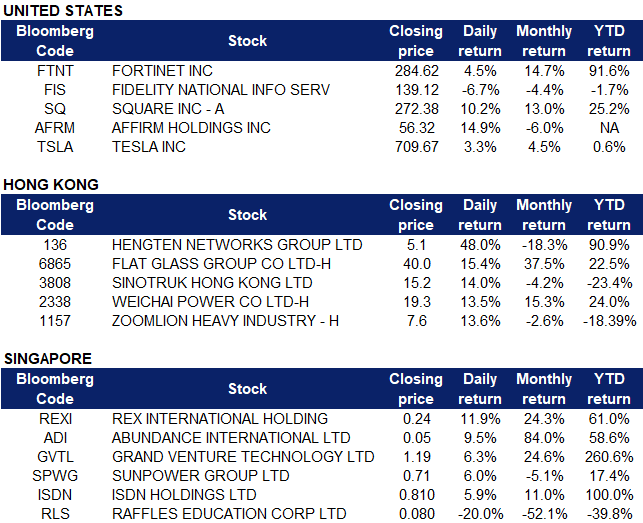 United States
Fortinet (FTNT US) shares rose 4.54% to close at $284.62 on Monday, hitting a 52-week high, surpassing its previous peak of $277 which the company achieved on 26 July 2021. The company's strong second quarter earnings showed a 30% YOY increase in total revenue to $801.1 million and has surpassed consensus EPS estimates four times over the last four quarters. 
Fidelity National Information Services (FIS US) shares plunged 6.66% to $139.12 on Monday, on what looked to be an all-around poor trading session for the market. This is the stock's second consecutive day of losses. FIS is set to report its earnings on 3 August 2021 before market open.
Square (SQ US) shares jumped 10% and closed at $272.38 on Monday. The fintech giant made a major strategic move by acquiring Australia's Afterpay in a deal worth $29 billion. Afterpay provides a "buy now pay later" service, and is used by over 16 million consumers and nearly 100,00 merchants around the world. The transaction is pending regulatory and shareholder approval, and is expected to close in 1Q 2022.
Shares of Affirm Holdings (AFRM US) rose 14.9%, following news of Square's plans to acquire Afterpay, signalling that demand for the service category is heating up, boosting investor confidence. Affirm now has an estimated market cap of $17.1 billion.
Tesla (TSLA US) shares rose 3.27% and closed at $709.67, even as Chinese competitors reported monthly results displaying continuing growth and made gains on Monday. EV competitors NIO (NIO US) and Xpeng (XPEV US) closed 2.62% and 7.06% respectively; Tesla investors are anticipating that the strength will flow in their China sales as well. Tesla also reported record earnings last week on 26 July, where they sold over 200,000 vehicles in 2Q and net income surpassed $1 billion.
---
Singapore
Rex International Limited (REXI SP). Shares surged by 11.9% yesterday and was the second most actively traded stock in the local market after Sembcorp marine. We initiated on Rex with an Outperform recommendation and a TP of S$0.32. Rex is set to generate record free cash flows this year and we forecast the company's net cash position to surge to US$107mn by FY2022F based on S$65 oil prices. Rex's strong balance sheet, free cash flow generation and access to capital differentiates it from many other E&P companies. Rex is the only game in town (at least on the SGX) for investors looking for direct exposure to the neglected O&G sector.
Grand Venture Technology Limited (GVTL SP). Shares rose by 3.7% and closed at an all-time high even though there was no company specific news on Monday. Grand Venture is a manufacturing solutions and services provider for semiconductor, analytical life sciences, electronics and other industries. Investors are likely buying ahead of its 1H2021 results that will be released by mid-August. Last month, SAC Capital initiated with a BUY recommendation and a TP of S$1.18.
Q & M Dental Group (Singapore) Limited (QNM SP) Shares rose by 3.1% on Friday, as investors continued to buy in, following an article published by The Edge on 28 July. DBS Group Research is keeping its BUY call on Q&M Dental Group with an increased TP of S$1.00 from S$0.84 previously, implying a potential upside of 25%. With Q&M entering the COVID-19 testing business, the research team believes that testing will be the new norm in an endemic world, because of the possibility of reinfections from new variants and asymptomatic transmission. Furthermore, testing will allow for the removal of quarantine measures which has been a showstopper for travel.
ISDN Holdings Limited (ISDN SP). Shares continued to rally from last Wednesday, 28 July after the company announced a positive profit guidance based on the latest available information and a preliminary review of the unaudited financial results. The group is expected to record an increase in profit after tax of more than 50% for 1H21, as compared to that in 1H20, driven by continued strong growth from ISDN's core industrial automation business. We currently have a TP of S$0.85 for ISDN, an upside of 5% from yesterday's closing price of S$0.81. Read our full report here.
Sunpower Group (SPWG SP). Shares gained ahead of its 1H2021 results that will be released mid-next week. The company could be attracting attention given that it operates in a sector that is less exposed to regulatory risk. Sunpower operates clean centralized facilities that supply clean steam, heating and electricity, generating long-term, recurring and high quality income cash flows.
Raffles Education Limited (RLS SP). Shares dropped by 20% on Monday, further adding on the 38% losses it sustained last Friday. Last week, the company announced its subsidiaries have been served writs and statement of claim filed by Affin Bank Berhad on 27 May 2021 in the High Court of Malaysia. The writs are related to certain alleged non-repayments under the facility, and Affin Bank has sought an immediate repayment of the entire outstanding amounts of around RM 410 million.
Trading Dashboard Update: Cut loss on Aztech Global (AZTECH SP) at S$1.20
---
Hong Kong
HengTen Networks Group Ltd (136 HK). The company announced that Solution Key Holdings Limited, a wholly-owned subsidiary of China Evergrande Group (3333 HK), entered into a share sale and purchase agreement with Water Lily Investment Limited, a wholly-owned subsidiary of Tencent (700 HK). Solution Key will sell 11% of the holdings to Water Lily and another purchaser at HK$3.2 per share. 7% of the holdings are to be sold to Water Lily and the rest 4% to be allocated to another purchaser. After the completion of the transactions, Solution Key, Water Lily, and the other purchaser will hold 26.55%, 23.9%, and 4% of the company respectively.
Flat Glass Group Co Ltd (6865 HK). The company and JA Solar entered into a sales contract on 30 July 2021 for the supply and sale of an aggregate of approximately 230,000,000 square meters of photovoltaic rolled glass (for use in solar modules) between the sellers and the purchaser from 1 August 2021 to 31 July 2024. The contract is estimated to be worth approximately RMB4.618 billion (including tax).
Sinotruk (Hong Kong) Limited (3808 HK), Weichai Power Co Ltd (2338 HK), Zoomlion Heavy Industry Science and Technology Co Ltd (1157 HK). The engineering and machinery sector jumped after China's July manufacturing PMI was released and came in lower than expected. Market expects the government will revive infrastructure spending to boost economic growth in 2H21. Meanwhile, the rebuilding of infrastructure in the post-flood period in Hainan province could drive demand for machinery.
Trading Dashboard Update: Take profit on Geely Automobile (175 HK) at HK$26.5. Cut loss on Jinxin Fertility Group (1951 HK) at HK$13.96.
---
Trading Dashboard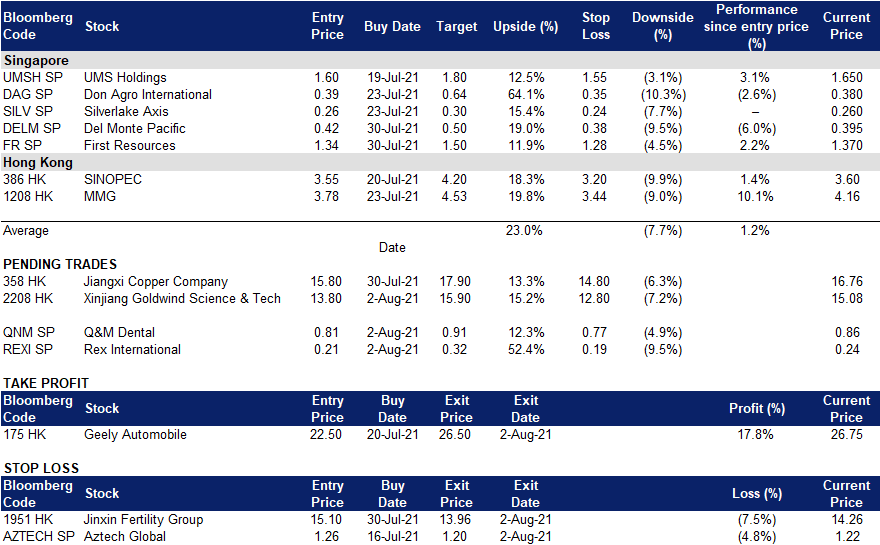 ---

---
Related Posts: