KGI DAILY MARKET MOVERS – 19 August 2021
Market Movers | Trading Dashboard
---
Market Movers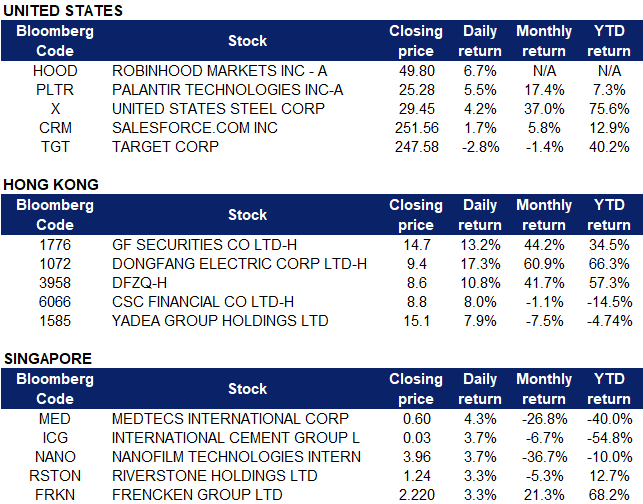 United States
Robinhood Markets (HOOD US) shares rose 7.7% ahead of its first ever earnings report as a public company, before tumbling more than 5% in after hours trading. The company reported a loss of $2.16 per share, which was within the expected net loss of $487 million to $537 million forecast by the company. Revenue more than doubled to $565 million, boosted by a massive surge in cryptocurrency trading.
Palantir (PLTR US) has been trading higher since the company reported better than expected results last week. The stock closed 5.47% higher on Wednesday at $25.28. Palantir reported quarterly adjusted earnings of 4 cents per share, beating the estimate of 3 cents per share. The company reported quarterly revenue of $376 million, which beat the estimate of $353.23 million and represented a 49% increase YOY. Cathie Wood has been buying Palantir shares for all of her ETFs over the last week. It was also disclosed in its latest earnings statement that Palantir bought $50 million in gold bars this month, a move that is seen as a brace against uncertainty from surprise developments and government policies.
United States Steel (X US) shares closed 4.21% higher at $29.45 on Wednesday. There was no company specific news. The U.S. Senate voted to pass a $1 trillion bipartisan infrastructure bill on Tuesday, which include $550 billion that will go to new spendings on roads, bridges and internet access, which could have been a boost for steel stocks that might supply materials in the infrastructure rollout.
Shares of Salesforce.com (CRM US) climbed as high as 3% on Wednesday before closing 1.71% up after JMP Securities' Patrick Walvarens reiterated his Outperform rating on the company and boosted his target price from $282 to $320, 9.3 times his projected revenue in fiscal 2022. The SaaS company is set to release second quarter results on Wednesday, 25 August 2021.
Target (TGT US) stocks slipped 2.8%, despite strong financial results for its second quarter. The retailer reported adjusted earnings of $3.64 per share on revenue of $25.16 billion compared to analyst expectations of $3.49 per share on revenue of $25.08 billion. However, in-store comps grew 8.7%, down from 18% in the previous quarter, while digital comps were at 10%, down from 50% the prior quarter and down from a 118% gain in Q4 2020. The company raised its forecast for H2 2021, citing a good start to back-to-school spending.
---
Singapore
Medtecs International Corporation Limited (MED SP). Shares rebounded slightly by 4.3% yesterday, following the large sell-offs on Monday and Tuesday after Medtecs announced disappointing 1H21 results. Revenue decreased by 47.5% YoY to US$85.3mn in 1H21, while net profit decreased by 52.4% to US$18.5 mn. This was due to reduced PPE demand in 1H2021 from customers that had already stocked up in FY2020, resulting in more stable market prices and supply chain situation. The rebound yesterday was likely a technical rebound after the RSI dropped below 30, indicating oversold levels.
International Cement Group Limited (ICG SP). Shares rose by 3.7% yesterday on the highest trading volume since November 2020, even though there was no company specific news. The company released its 1H21 results on 13 August where revenue rose by 35% to S$84.9mn driven by the 36% surge in revenue from the group's cement business. Contributions from the new Alacem cement plant in Kazakhstan, which commenced in 3Q20, boosted revenue by S$25.8mn and gross profit margin by 4 ppt to 44%. The group expects to continue expanding its operations through acquisitions and new builds to capture growing demand in China. Investors are likely buying in traditional sector stocks which are relatively stable, especially since share price on Tuesday closed at S$0.027, near a 52-week low of S$0.024 on 6 August.
Nanofilm Technologies International Limited (NANO SP). Shares rose by 3.7% yesterday, after the massive sell off on Monday and Tuesday following Nanofilm's disappointing results and the resignation of the company's COO. The company addressed market feedback yesterday, highlighting some positive news, which could have boosted investors confidence in the company. Key things highlighted was that within the Advanced Materials Business Unit (AMBU), 3C segment revenue grew 17% YoY and Automotive segment grew 103% YoY. This was achieved despite severe global supply chain disruptions. 1H2021 costs incurred for the new Shanghai Plant 2 and equipment qualification were S$2.6mn, involving materials, utility and manpower. These costs were largely incurred at the cost of sales level, negatively impacting gross profit margin. Lastly, the departure of CEO Mr Lee, announced on 23 June 2021, was due to health reasons. Mr Lee is currently on medical leave and has stepped down from all executive positions since the date of announcement. Read the full announcement here.
Riverstone Holdings Limited (RSTON SP). Shares rose by 3.3% yesterday even though there was no company specific news. Investors are likely buying ahead of the company's ex-dividend date on 20 September, with the payout on 6 October. Riverstone will be paying out a MYR 0.10 (around 3.2 Sing cents) interim dividend. Bloomberg consensus has a 12m TP of S$1.43 (+15% upside) on 3 BUYS and 3 HOLDS.
Frencken Group Limited (FRKN SP). Shares rose by 3.3% yesterday, even though there was no company specific news. However, the company announced strong 1H2021 results last week where PATMI surged by 67.2% YoY to S$31.3mn, the highest on record. The company guided for stronger performance for majority of its business segment, specifically in the semiconductor space. Read the full results here.
Trading Dashboard: Add Rex International (REXI SP) at S$0.190
---
Hong Kong
Stocks of China-based brokers in Hong Kong soared on Wednesday, with GF Securities Co Ltd (1776 HK), Orient Securities Co Ltd (3958 HK), CSC Financial Co Ltd (6066 HK) gaining 13.21%, 10.84% and 7.97% respectively. The securities sector jumped as the market expects the PBOC to lower the deposit required reserve rate again in 3Q21. The whole sector is still undervalued and has a positive outlook.
Dongfang Electric Corp Ltd (1072 HK) There was no company specific news. Electricity equipment stocks jumped. The company previously secured 5 onshore wind power contracts with a total installed capacity of 410MW. The company's 1H21 results will be released on 27th August.
Yadea Group Holdings Ltd (1585 HK). There was no company specific news. The company previously released a positive 1H21 profit guidance. Net profit is expected to increase by no less than 40% YoY. The results will be released on 27th August.
WH Group (288 HK). Shares fell 11% and to its lowest since November 2020 after a controversial article was posted on a WeChat account allegedly written by the son of the company's ex-CEO and top shareholder Wan Long. The article said Wan Long did not report an income of US$200mn he made 15 years ago, and did not pay taxes. Consensus has 20 buy recommendations and an average 12m TP of HK$9.05 (implied 52% upside).
---
Trading Dashboard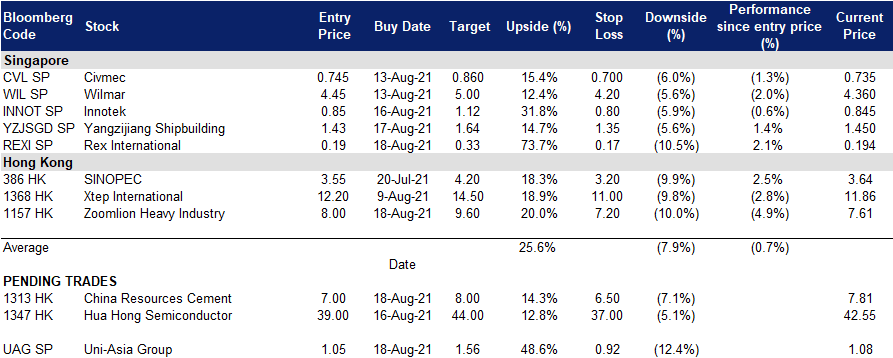 ---

---
Related Posts: