24 March 2022: Stocks making the biggest moves
Market Movers | Trading Dashboard
Market Movers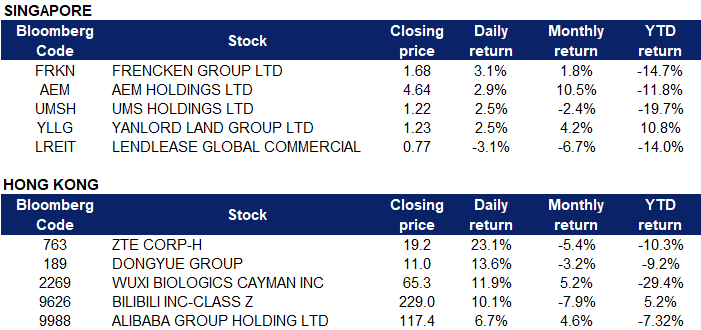 ---
United States
Top Sector Gainers
Top Sector Losers
Gamestop Corp (GME US) shares rose 14.5% yesterday after Chairman Ryan Cohen bought another 100,000 shares of the video game retailer, bringing his ownership to 11.9% as the activist investor tries to push the company into e-commerce.
CF Industries Holdings Inc (CF US) and Mosaic Co (MOS US) shares gained 3.7% and 3.6% yesterday. Shares of fertiliser companies continue to enjoy popularity among investors who see huge gains ahead for the company following any shortages from the Russia-Ukraine conflict. Combined, Russia and Belarus accounted for more than 40 per cent of global exports of potash last year, one of three critical nutrients used to boost crop yields, Dutch lender Rabobank said this month.
Adobe Inc (ADBE US) shares lost 9.3% yesterday. Adobe beat earnings, but reported a weak outlook. In the first quarter, Adobe beat estimates by 3 cents, reporting adjusted quarterly earnings of $3.37 per share. However, the company expects a $75 million hit to its business from the Russia-Ukraine conflict.
Boeing Company (BA US) shares lost 2.6% yesterday, mostly erasing Tuesday's rebound, as investors continued to monitor the investigation of a plane crash in China. One of the two black boxes from the flight, which could reveal the reason for the crash, has been found, according to Chinese state media.
---
Singapore
Frencken Group Ltd (FRKN SP), AEM Holdings Ltd (AEM SP) and UMS Holdings Ltd (UMSH SP) shares rose 3.1%, 2.9% and 2.5% respectively yesterday. Recently, RHB upgraded Singapore technology stocks to "overweight" as the recent correction across the global tech sector has resulted in these stocks having undemanding valuations. With the outlook of certain companies still robust, RHB analyst Jarick Seet said in a report on Thursday (Mar 17) that the risk-reward profile at these valuation levels has made the counters an attractive option. Seet highlighted China's Vice-Premier Liu He's comments on Wednesday that the central government will ensure any capital market regulations will be coordinated with financial management departments in advance. "We believe this should have a positive impact on the sentiment on global tech stocks – and should also spell a positive outlook for Singapore's tech counters as well," he said. Semiconductor equipment firms continue to invest in capital expenditure, with equipment billings surging 38% to US$26.8 billion in the third quarter of 2021, compared to the same period a year ago. Seet also said that shares of electronic manufacturing services players, which have been relatively muted, could change in the second half of 2022 when global component shortage is alleviated.
Yanlord Land Group Ltd (YLLG SP) shares rose 2.5% yesterday. DBS Group Research recently upgraded its call on Yanlord Land Group from "hold" to "buy" earlier this month, following the property developer's earnings performance for the financial year ended Dec 31, 2021. DBS credited the increase in valuation to the property developer's gross margins and pre-sales outlook; it observed that gross margins show signs of bottoming in FY2021, and that the pre-sales outlook is likely to stage a solid pickup relative to peers in FY2022.
Lendlease Global Commercial REIT (LREIT SP) units lost 3.1% yesterday. The manager had announced a private placement and preferential offering on Tuesday – proceeds of which would help finance the real estate investment trust's S$2.1 billion acquisition of the remaining stake in Jem mall that it does not already own. The private placement was priced at S$0.725, the lower end of its S$0.725 and S$0.74 issue price range, representing a 9% discount to the Reit's volume-weighted average price of S$0.7964 per unit on Mar 21 – before the equity fundraising was announced.
---
Hong Kong
Top Sector Gainers
Top Sector Losers
ZTE Corp (763 HK) shares surged 23.1% yesterday after a US court ended ZTE's five-year probation arising from its guilty plea in 2017 for breaking US trade sanctions on Iran and North Korea. In addition, the company recently announced that it will be working together with Converge ICT, the leading fibre optic broadband network provider in the Philippines. A commercial 10-Gigabit-capable symmetric passive optical network (XGS-PON) infrastructure will be launched in South Luzon and the Visayas in the Philippines by May 2022.
Dongyue Group Ltd (189 HK) shares rose 13.6% yesterday. The National Development and Reform Commission issued the "Medium and Long-Term Plan for the Development of Hydrogen Energy Industry (2021-2035)", which proposed to accelerate the technological innovation of proton exchange membrane fuel cells, improve mass production capacity, battery reliability, stability and durability. It also supports the development of new fuel cells and other technologies. Efforts will be made to promote the R&D and manufacturing of core components and key equipment.
WuXi Biologics (Cayman) Inc (2269 HK) shares rose 11.9% yesterday after Goldman Sachs reiterated its BUY rating on Wuxi Biologics with a target price of HK$110.70. The company has been actively negotiating with the U.S. Commerce Department, which is expected to be a key catalyst for the stock price this year. According to the report, the company's sales increased 83.3% YoY, and net profit increased 100%. Excluding one-off gains, core profit increased 92.6% YoY, and gross profit margin increased to 46.9%, mainly due to the robust business growth and the continuing undertaking of operational efficiency improvement programs.
Bilibili Inc (9626 HK) shares rose 10.1% yesterday after the company announced a motion to pursue the voluntary conversion to dual-primary listing on the main board of the Hong Kong Stock Exchange. After the primary conversion, Bilibili will become a dual-listed company on HKEX's mainboard and Nasdaq Global Select Market, with the price of shares on two different exchanges being exactly the same after accounting for the exchange rate.
Alibaba Group Holding Ltd (9988 HK) shares extended their gains and rose 6.7% yesterday, after the company raised its share buyback programme to $25 billion, the largest ever repurchase plan by the e-commerce giant. This is the second time Alibaba Group Holding Ltd has expanded its buyback programme in a year. It had hiked the programme from $10 billion to $15 billion last August.
---
Trading Dashboard
Trading Dashboard Update: No additions or deletions to the trading dashboard.

(Click to enlarge image)
---

---
Related Posts: