10 February 2022: Stocks making the biggest moves
Market Movers | Trading Dashboard
Market Movers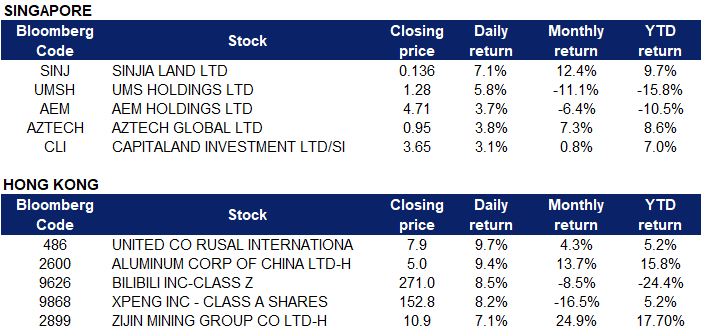 ---
United States
Top Sector Gainers
Top Sector Losers
Enphase Energy Inc (ENPH US) shares surged 12% yesterday following the company's quarterly earnings, which showed record revenues for the fourth quarter and beats on both the top- and bottom-lines. Enphase earned an adjusted 73 cents per share, as compared with estimates of 58 cents. Revenue came in at $412.7 million, compared to expectations of $397 million.
Chipotle Mexican Grill Inc (CMG US) shares surged 10.2% yesterday on better-than-expected earnings. The company reported EPS of $5.58 VS $5.25 expected while revenue generated was $1.96 billion VS $1.96 billion expected. Next quarter, the burrito chain expects same-store sales growth to slow due to the omicron variant. To date, Chipotle has raised menu prices by 6% in 2022, according to Niccol. Compared with a year ago, customers are paying about 10% more for their orders. Niccol told CNBC's Sara Eisen that the chain hasn't seen any resistance to higher prices yet from customers. Menu price hikes helped offset inflation without hurting customer demand. 
Lyft Inc (LYFT US) shares gained 6.8% yesterday. The company beat estimates on adjusted earnings per share and revenue but said it had fewer active riders than in the prior quarter. Lyft reported 18.73 million active riders in the last quarter of 2021, up nearly 50% YoY but short of StreetAccount analyst expectations of 20.2 million riders for the quarter. Lyft is expecting the omicron surge of the Covid-19 pandemic to lower first quarter results in 2022. It expects Q1 revenue between $800 million and $850 million. Analysts expected guidance of $989.9 million, per StreetAccount. "Despite short-term headwinds from omicron, we remain optimistic about full-year 2022," Lyft's new CFO Elaine Paul said in a statement. Still, the pace of recovery is uncertain.
Nvidia Corporation (NVDA US) shares gained 6.4% yesterday. Nvidia stock was on the receiving end of some bullish comments by Spouting Rock Asset Management's chief investment officer, Rhys Williams, according to Barron's. After the share price fell as much as 34% from its November highs, Williams argues that the selling is overdone and Nvidia stock is a buy, particularly in light of the massive opportunity presented by the metaverse. Williams calls Nvidia stock "one of the best plays on the metaverse." He goes even further, citing several secular tailwinds, concluding that the company is "hitting on all the touchpoints on where the world's going."
Penn National Gaming Inc (PENN US) shares gained 5.6% yesterday. Analyst Joseph Stauff called PENN a stock with a steady regional land-based casino portfolio whose most sensitive value driver is linked to the success of its emerging digital offering. Stauff and team think PENN has been de-risked at its current trading levels. Looking ahead, the firm thinks Penn's digital segment can reflect positively on the back of new market penetrations, important integration milestones in Q3 and on the competitive landscape a view that Caesars Entertainment is likely to lower its digital investments. Susquehanna assigned a price target of $65 to rep more than 30% upside potential.
---
Singapore
Sinjia Land Ltd (SINJ SP) shares surged 7.1% yesterday. Catalist-listed backpacker hostel operator Sinjia Land's reverse takeover (RTO) by sorghum producer Binex Singapore may not be based on the price tag of $2 billion that had been previously announced, the board told the bourse regulator on Saturday (Feb 5). Instead, Sinjia Land said that it has appointed EY Corporate Advisors as an independent qualified valuer whose upcoming valuation report will take precedence over a preliminary report that earlier calculated the valuation of Binex to be between US$2.5 billion (S$3.36 billion) and US$3.1 billion.
UMS Holdings Ltd (UMSH), AEM Holdings Ltd (AEM SP). Semicon shares rose collectively yesterday. UMS and AEM shares rose 5.8% and 3.7% respectively. Maybank Securities is remaining positive on semiconductor equipment makers, citing "attractive" valuations and "robust" fundamentals even as Singapore tech stocks have seen a decline of 2 to 20% year-to-date. In a report published on Thursday (Feb 3), analyst Gene Lih Lai said that while rate-hike fears have sparked a sector sell-off, he perceives Singapore tech stocks to have a short duration due to "strong" current earnings growth and cash flows. Maybank Securities' preferred picks are AEM Holdings, UMS Holdings, Frencken Group and Aztech Global. Their shares are trading at 7 to 12 times the brokerage's estimated FY2022 earnings, which Lai sees as "undemanding" and "reminiscent" of early cycle or down-cycle valuations.
Aztech Global Ltd (AZTECH SP) shares extended their gains and rose 3.8% yesterday, after UOB Kay Hian added Aztech Global and Thai Beverage shares to its alpha picks for the month of February. In a strategy note on Thursday (Feb 3), the brokerage said that Aztech was added with a target price of S$1.55 as its share price correction presented a good buying opportunity due to its strong order book and intact operations. Analyst John Cheong finds the company's current trading price unjustified, as it is trading at 7 times its price-to-earnings ratio, compared to its peers trading at above 10x."
Capitaland Investment Ltd (CLI SP) shares gained 3.1% yesterday. It was announced previously that Ascott Reit, through wholly owned subsidiaries, had entered into two conditional sale and purchase agreements to acquire four student accommodation properties. On 30 December 2021, the Managers announced the completion of the acquisition of three of the Properties. Yesterday, the Managers announced that the acquisition of the fourth property, the Kent Property, has been completed.
---
Hong Kong
Top Sector Gainers
Top Sector Losers
OK Rusal MKPAO (486 HK) Aluminum Corporation of China Limited (2600 HK) LME aluminium futures reached a record high since 2008. As of 9th February, LME aluminium futures closed at US$3,240.25/tonne, up 2.29%. The prices of lightweight metal, used for packaging and transport, has increased by around 14% since the beginning of this year after a 42% increase in 2021 as China restricted the production to reduce pollution. China offers more than half of the global supply of aluminium. OK Rusal MKPAO closed at an almost one-month high. Aluminum Corporation of China Limited closed at a high since October 2021.
Bilibili Inc (9626 HK) There was no company-specific news. The Hong Kong technology sector rebounded, following the rally in the US technology sector overnight. Hua Tai Securities believes that the company can achieve the 400mn MAU target by 2023 with a respective growth rate of 28% and 25% this and next year. The estimated adjusted net losses will drop from RMB540mn in 2021 to RMB460mn in 2022 and RMB270mn in 2023.
Xpeng Inc (9686 HK) The stock was included in the China-Hong Kong connect, effectively on 9th February.
Zijin Mining Group Company Limited (2899 HK) There was no company-specific news. The non-ferrous metal sector jumped as the aluminium futures reached a new high.
---
Trading Dashboard
Trading Dashboard Update: Take profit on Aluminum Corporation of China (2600 HK) at HK$5.00.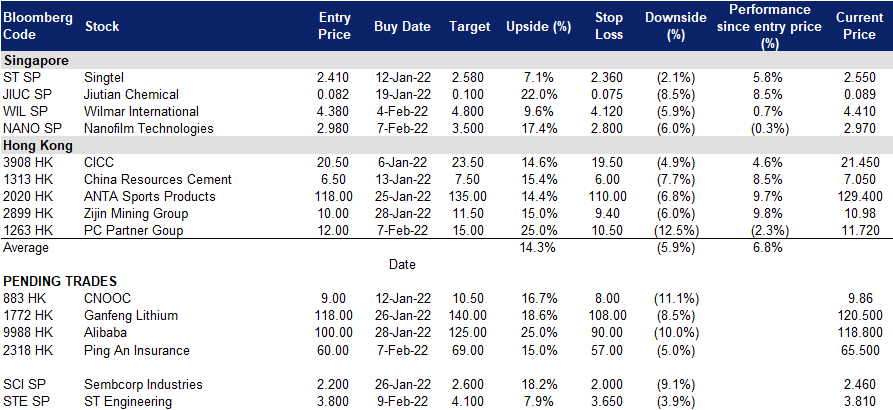 (Click to enlarge image)
---

---
Related Posts: