7 March 2022: Fortress Minerals Limited (FMIL SP), Jiangxi Copper Co Ltd (358 HK)
Singapore Trading Ideas | Hong Kong Trading Ideas | Market Movers | Trading Dashboard
SINGAPORE
Fortress Minerals Limited (FMIL SP): Rebounding iron ore prices
BUY Entry – 0.49 Target – 0.60 Stop Loss – 0.44
Iron ore play. Fortress Minerals engages in the exploration, mining, production, and sale of iron ore concentrates. The company is also involved in the wholesale trade of various goods; transportation of iron ore and minerals; rental of transport equipment and vehicles; extraction, dredging, and dealing of industrial sand; acquisition of mines, mining rights, metalliferous land, and quarries; and provision of supporting services for transport equipment and vehicles. It sells its iron ore concentrate primarily to steel mills in Malaysia. The company also exports its products to China and Vietnam.
Recovery in iron ore prices. Iron ore prices rose for the week as the war in Ukraine and recovering Chinese demand drove prices higher. Iron ore on the Singapore Exchange April 62% Fe futures settled near US$160/t. Chinese port data showed that iron ore inventory slipped 430,000 tonnes to 153.6mn tonnes. Blast furnaces have been building stocks as restrictions around the Winter Olympics have eased. The ongoing war and limited prospect for an immediate resolution may mean that iron ore prices may be supported for some time.
Set to benefit. Fortress Minerals reported disappointing 3QFY2022 results, where net profit declined 35% YoY to US$2.8mn due to lower selling price.The group achieved an average realised selling price of US$87.44 in 3QFY2022 vs US$110.06 in the prior year period. However, we expect this decline to reverse in the next quarter due to rising iron ore prices.
SGX Iron Ore 62% Futures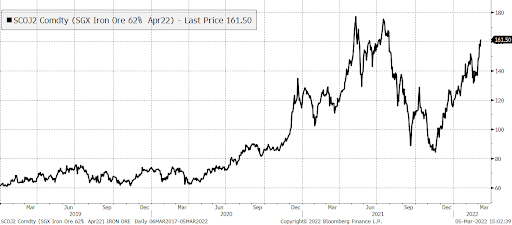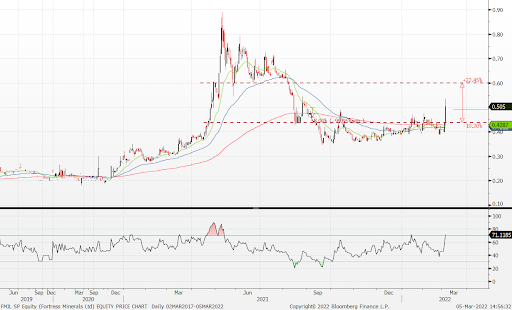 ---
Mermaid Maritime (MMT SP): Back to the good old days
RE-ITERATE BUY Entry – 0.084 Target – 0.100 Stop Loss – 0.075
An indirect play on oil prices. MMT is Thailand-based but SGX-listed company that provides drilling and sub-sea engineering services for the offshore & marine industry. The company's subsea engineering segment services clients mainly in Southeast Asia and the Middle East. 
Fuel to the fire. The commodities space is getting out of control. Brent oil surged to almost US$120 yesterday while WTI scaled US$116 as the effects of international sanctions disrupt global supply chains. Brent is now trading at the levels when oil companies were partying like there's no tomorrow. 
OPEC keeps still. Despite the high oil prices, OPEC+ group decided on Wednesday to raise output by the widely anticipated 400,000 barrels per day. In essence, this will not have much impact on the current supply/demand dynamics. Even if the group wanted to increase production by more, only Saudi Arabia and UAE have the spare capacity to do so. 
Lagging behind. Oil and gas exploration and production (E&P) companies are among the first to rally in a commodity bull cycle. SG-listed E&P players like Rex International (REXI SP) and RH PetroGas (RHP SP) have surged by between 30% and 85% over the past month. Meanwhile, downstream companies like Sembcorp Marine (shipyard) and Mermaid Maritime (offshore support vessels and subsea services) are only starting to react to the higher oil prices. With oil prices back at where they were trading during the good all days, lagging oil companies should start to follow their upstream peers. 
Brent oil prices are back to the good old days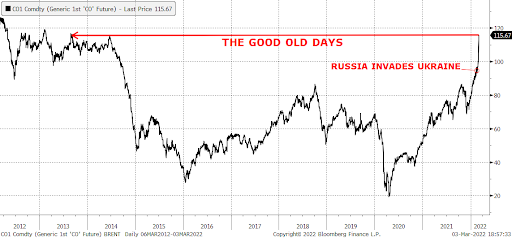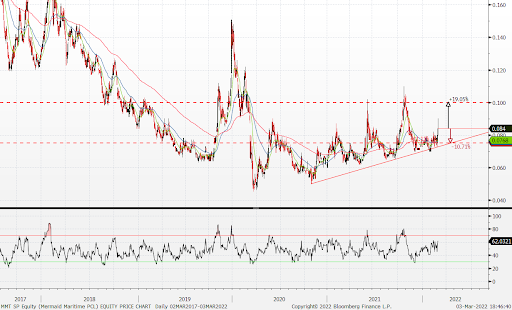 ---
HONG KONG
Jiangxi Copper Co Ltd (358 HK): A copper miner market leader with a lagging price performance
BUY Entry – 14.8 Target – 17.4 Stop Loss – 13.6
Jiangxi Copper Company Limited is a China-based company, principally engaged in the mining, smelting and processing of copper. The Company is also engaged in the extraction and processing of precious metals and dissipated metals, sulfur chemical industry business, and financial and trading businesses. The company's products include cathode copper, gold, silver, sulfuric acid, copper rods, copper foils, selenium, tellurium, rhenium, bismuth and others. The Company mainly conducts its businesses within Mainland China and Hongkong. 
Copper futures closed at an all-time high last Friday. Comex copper futures closed at US$4.938/lb, up 10.09% on the first week of March. The squeeze was driven by sanctions on Russia and Chile's supply shortage. Though Russia accounts for 3.5% of the global supply, it ranks the third-largest copper export, together with Australia. Previously, Chile, which accounts for 25% of global production reported that its production dropped by 7% YoY or 15% MoM to 4257,000 tonnes, the lowest January output since 2011. 
Proposed spin-off and listing of a subsidiary .  The company proposed to spin off and list its 70%-owned subsidiary Jiangxi Copper Yates Copper Foil Company Limited. The subsidiary is mainly engaged in the research and development, production and sales of various types of high performance electrolytic copper foils. The main products categorised by application areas include electronic circuit copper foil and lithium-electric copper foil. The spin-off and listing enable the subsidiary to access direct financing in capital markets. Meanwhile, the parent company will remain the largest shareholder upon the completion of spin-off and listing. 
Positive earnings alert. Previously, the company announced its positive FY21 earnings alert. Realised net profit attributable to the shareholders jumped by 125%-155% YoY to RMB5.22-5.92bn.  
The updated market consensus of the EPS growth in FY22/23 is -0.90%/-8.4% YoY respectively, which translates to 7.3x/7.9x forward PE. The current PER is 7.8x. Bloomberg consensus average 12-month target price is HK$16.5.
COMEX Copper futures reached an all-time high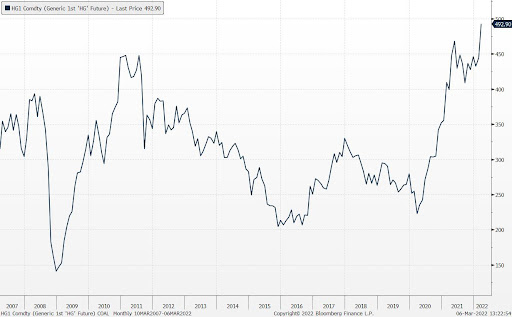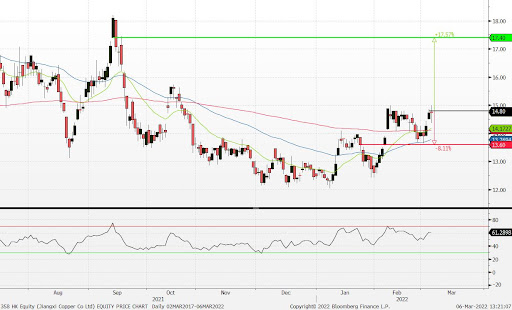 ---
Ganfeng Lithium Co Ltd (1772 HK): High oil prices accelerate the end of petroleum vehicle era
RE-ITERATE BUY Entry – 120 Target – 140 Stop Loss – 110
GANFENG LITHIUM CO., LTD. is a China-based company principally engaged in the research, development, production and sales of deeply processed lithium products. The Company's main products include lithium compounds, lithium metal and lithium batteries. The Company's products are mainly used in electrical vehicles, chemicals and pharmaceuticals. The Company distributes its products in the domestic market and to overseas markets.
Lithium carbonate reached another record high. Lithium carbonate prices in China rose to RMB483,500/tonne as of 4th March due to high global demand and tight supplies. Prices have jumped more than 87% YTD. China is expected to double the EV sales in 2022 to more than 5mn units. Meanwhile, battery producers rush to secure long-term supply contracts with lithium mining companies. The recent sanction on Russia pushed oil prices back to more than US$100/bbl. The outlook for oil is still very bullish. Accordingly, the demand for petroleum vehicles will be further suppressed.  On the contrary, the demand for EVs, especially in Europe and the US will be further propelled. As a result, lithium, the main raw material for batteries, is expected to see stronger demands. 
Positive FY21 earnings alert. The company announced the FY21 earnings alert. Net profit attributable to shareholders of the company jumped by between 368.45% and 436.76% YoY to between RMB4.8bn to RMB5.5bn. Net profit after deduction of non-recurring gains and losses jumped by between 621% and 795.04% YoY to between RMB2.9bn and RMB3.6bn. 
Resumption of uptrend. Share price has corrected by 41% from the peak of HK$185 in August 2021 to the low of HK$109 in December 2021. Driven by the positive earnings guidance, shares have been trading upward since February. 
Updated market consensus of the EPS growth in FY22/23 is 67.8%/7.0% YoY respectively, which translates to 20.6x/19.3x forward PE. Current PER is 44.4x. Bloomberg consensus average 12-month target price is HK$203.37.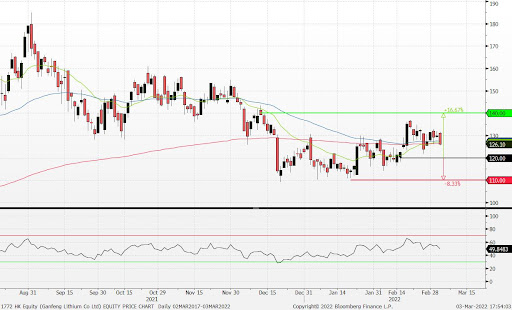 ---
MARKET MOVERS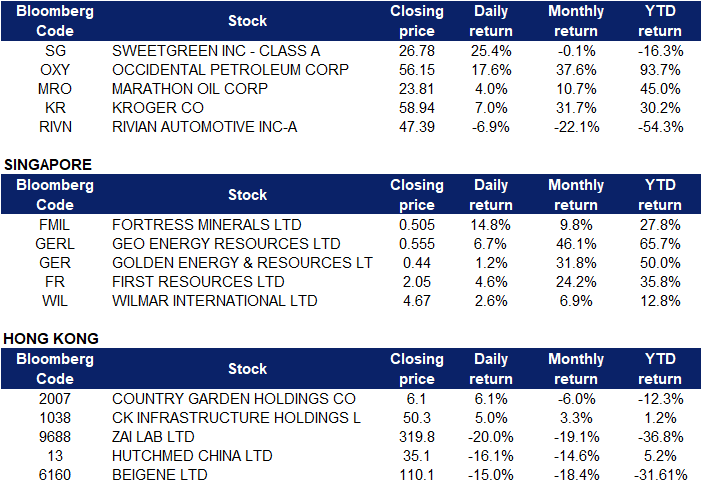 ---
United States
Top Sector Gainers
Top Sector Losers
Sweetgreen Inc (SG US) shares surged 25.4% on Friday, after posting impressive sales growth in its first quarterly report since IPO. Net sales rose 63% to $96.4 million, topping expectations of $84.7 million, according to a survey of analysts by Refinitiv. The chain reported a fourth-quarter net loss of $66.2 million, or $1.14 per share, compared with a loss of $41.1 million, or $2.49 per share, a year earlier. Most of the credit for the quarterly jump in same-store sales comes from an increase in orders, although the chain also reported a 4% benefit from price hikes.
Occidental Petroleum Corp (OXY US), Marathon Oil Corp (MRO US). Oil stocks jumped on Friday. WTI crude futures surged almost 8% to above $115-per-barrel on Friday, not far from a 14-year high of $116.57 hit in the prior session, and posting their biggest weekly gain since May of 2020 as US lawmakers push to cut off US imports of oil and petroleum products from Russia. Brent crude futures jumped back above $118 per barrel on Friday following reports that smoke was visible from a nuclear power plant in Ukraine, the largest in Europe, after Russian troops attacked. Despite widening sanctions on Moscow, OPEC+ will stick to an existing pact for a gradual increase in production. OPEC+ agreed to boost output by 400,000 bpd for March, leaving it with another 2.6 million bpd of cuts to unwind by the end of September.
Kroger Co (KR US) shares gained 7% on Friday, after it provided a business update including its digital push to drive 2022 sales and a commitment to shareholder returns of 8% to 11% over time. The increase follows a boost in shares Thursday after it reported strong earnings.
Rivian Automotive (RIVN US) shares lost 6.9% on Friday, after Baird lowered its price target on the stock to $100 per share from $150. Baird did, however, reiterate Rivian as an outperform and said it's still bullish long-term, despite several recent missteps by company management.
Singapore
Fortress Minerals Ltd (FMIL SP) shares rose 14.8% on Friday. Prices for iron ore cargoes with a 63.5% iron content for delivery into Tianjin rose above $150 per tonne, the highest since August last year, amid expectations of increased demand in China. The world's top consumer said it would renew its stimulus package for the infrastructure sector in the face of slowing economic growth. Also, the latest data showed manufacturing activity in China expanded slightly in February, despite downward pressure and global uncertainty amid the Russia-Ukraine conflict.
Golden Energy & Resources Ltd (GER SP), Geo Energy Resources Ltd (GERL SP) Coal sector shares extended their rally on Friday. Newcastle coal futures broke another record high at $400 per tonne and are now up more than 100% since the beginning of 2022, as mounting sanctions on Russia for invading Ukraine led to an international energy crunch and exacerbated concerns over commodities supply. Asian customers have also been scrambling to find alternative supplies to replace Russian coal. Aside from Ukraine headlines, investors were already bullish on coal since early 2022 amid supply disruptions in top exporting countries such as Indonesia and Australia.
First Resources (FR SP), Wilmar International Holdings Ltd (WIL SP). Palm oil sector shares extended their rally on Friday. Even though Malaysian palm oil futures declined to MYR 6,300 a ton as oil prices eased from multi-year highs, prices stayed close to an all-time high of MYR 7,108, amid tight market conditions and the Ukraine crisis. The ongoing war in Ukraine has added to upside risks in the palm oil market, as sunflower oil exports from the Black Sea region were disrupted, boosting further demand for alternative palm oil. On the supply side, the Malaysian Palm Oil Board estimated the country's production in February fell 1.79% from the previous month, while exports for Feb. 1-25 rose over 25.1% to 1,095,753 tonnes from 876,056 tonnes shipped during the same period of January.
---
Hong Kong
Top Sector Gainers
Top Sector Losers
Country Garden Holdings Co Ltd (2007 HK) shares gained 6.1% on Friday. On March 3, Country Garden and China Merchants Bank signed a "Strategic Cooperation Agreement on Real Estate M&A Financing". According to the cooperation agreement, China Merchants Bank will grant Country Garden a M&A financing quota of RMB 15 billion, which is dedicated to Country Garden 's real estate M&A business, including but not limited to M&A loans, M&A funds and asset securities
CK Infrastructure Holdings Ltd (1038 HK) shares rose 5% on Friday. According to media reports, a consortium led by Macquarie Group and KKR & Co. is negotiating the acquisition of UK Power Networks, the largest power distribution company in the UK controlled by the Li Ka-shing family. The parent company of UK Power Networks is CK Infrastructure Holdings. Sources said the consortium is interested in UK Power Networks and could be valued at as much as £15bn ($20bn) and an agreement could be reached in coming weeks.
Zai Lab Ltd (9688 HK) shares plunged 20% on Friday after reporting disappointing annual results. The company announced on March 2 that its operating income in 2021 was US$144 million, a YoY increase of 194.77%. However, the net loss attributable to the parent company was US$704 million, expanding 161.98% YoY. The increase in net loss was mainly attributable to expenses related to new business development activities.
Hutchmed China Ltd (13 HK) shares slumped 16.1% on Friday. The company announced that the net loss for the year ended December 31 was approximately RMB 194.6 million, an increase from 2020's annual loss of RMB 125.7 million. The company said that it has more than $1 billion in cash and plans to further divest non-core assets, and believes that it has sufficient resources to complete the plan.
Beigene Ltd (6160 HK) shares plunged 15% on Friday. BeiGene announced that Huang Weijuan, a core technical staff member, recently submitted a resignation application to the company due to personal career planning considerations . After resigning as Chief Medical Officer of Haematology, Huang Weijuan will continue to provide services to the company as a consultant. The company is actively approaching a replacement for the Chief Medical Officer of Hematology.
---
Trading Dashboard
Trading Dashboard Update:  Add Alibaba (9988 HK) at HK$100. Add Ganfeng Lithium (1772 HK) at HK$120. Add Mermaid Maritime (MMT SP) at S$0.084. Take profit on China Oilfield Services (2883 HK) at HK$9.02. Cut loss on Broadway Industrial (BWAY SP) at S$0.205 and Hua Hong Semiconductor (1347 HK) at HK$37.70.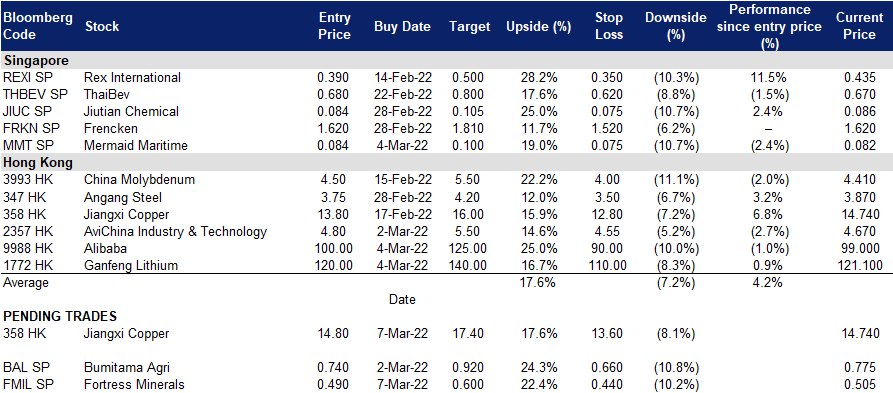 (Click to enlarge image)
---