11 February 2022: Grand Venture Technology (GVTL SP), China Molybdenum Co Ltd (3993 HK)
Singapore Trading Ideas | Hong Kong Trading Ideas | Market Movers | Trading Dashboard
SINGAPORE
Grand Venture Technology (GVTL SP): Booster shot from acquisitions
BUY Entry – 1.08 Target – 1.37 Stop Loss – 0.98
Grand Venture Technology (GVTL) provides engineering, assembly, testing and product lifecycle management services for the manufacture of complex precision machining and sheet metal components and modules. Its clients are mainly in the semiconductor, analytical life sciences and electronics sectors, and includes multinationals such as Teradyne and BE Semiconductor Industries.
Flying into aerospace and diving into medical diagnostics. GVTL in December 2021 announced the S$20mn acquisition of two homegrown companies. The acquisitions are expected to be completed by 1Q2022 and will augment the group's capabilities in China and Malaysia, and help GVTL gain access to clients in the aerospace, medical and semiconductor industries.
Street consensus has 2 BUYS and 1 HOLD, with a 12m average TP of S$1.71 (+56% upside from last close price). FY2021F and 22F EPS is forecasted to grow 124% YoY and 80% YoY, respectively, bringing down forward P/Es to 22x and 12x.
Currently trading below placement price. GVTL is currently trading just slightly below the S$1.14 placement price where it raised gross proceeds of S$39mn back in September 2021.
Upcoming results. Full-year results will likely be announced on Friday, 25 February 2022. This could provide a much-needed catalyst for its shares after having corrected by as much as 30% from the peak.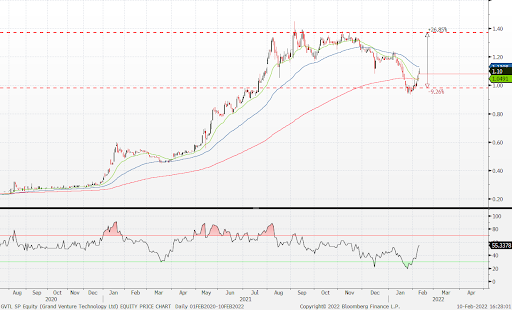 ---
ST Engineering (STE SP): Building the future
RE-ITERATE BUY Entry – 3.80 Target – 4.10 Stop Loss – 3.65
STE is a global technology, defence and engineering group serving customers in more than 100 countries. The group uses technology and innovation through its diverse portfolio of business across the aerospace, smart city, defence and public security segments. STE is a component stock of the FTSE Straits Times Index, MSCI Singapore, iEdge SG ESG Transparency Index and iEdge SG ESG Leaders Index.
Good first half. STE reported a 15% YoY increase in 1H2021 net profit to S$296mn. Defence & Public Security segment still contributes more than half of overall sales, followed by Commercial Aerospace at 31% of 1H2021 sales and 15% from Urban Solutions & Satcom. Almost a third of sales is derived from Asia, followed by 21% from the US and 15% from Europe.
Short-term challenges…STE, in its 3Q business update, indicated that the chip shortage has impacted IoT, satcom and speciality vehicles. We note that this is not only specific to STE, but has impacted many of the technology-related manufacturers we follow in Singapore.
…offset by rock-solid order book. Despite the short-term challenges from the chip shortage, the group's order book rose to another record of S$18.2bn at the end of 3Q2021, up from the previous record of S$16.8bn it reported at the end of 2Q2021. STE expects international flights to help drive greater Maintenance, Repair and Overhaul (MRO) recovery.
Positive consensus estimates. Street estimates are overall bullish, with 10 BUYS and 2 SELLS. The average 12m TP if S$4.39, implying a 15% return. STE currently trades at 21x FY2021 and 20x FY2022 P/E. STE will report its full year ended 31 Dec 2021 on 25 February 2022, before the Singapore trading market opens. An analyst & media briefing will be held on the same day at 11am.
STE reports its second consecutive quarter or record high order book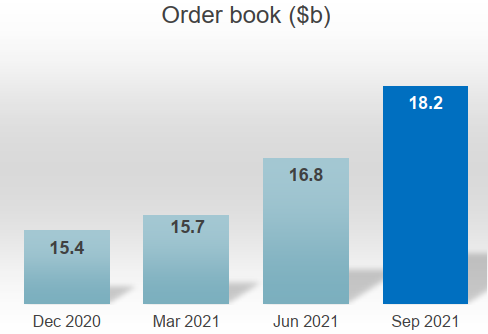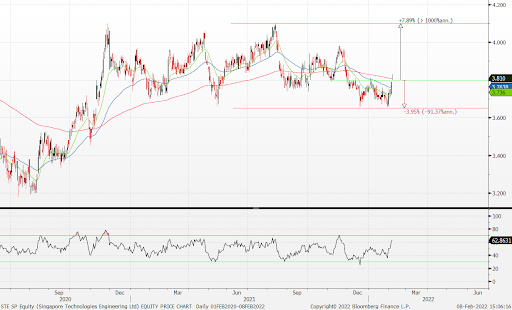 ---
HONG KONG
China Molybdenum Co Ltd (3993 HK): Reignite the fire
BUY Entry – 4.5 Target – 5.5 Stop Loss – 4.0
China Molybdenum Co., Ltd. is a China-based company, principally engaged in the mining, smelting, processing and trading of metals, such as molybdenum, tungsten and copper. The Company operates its businesses through five segments. Its Molybdenum, Tungsten and Related Products segment is mainly engaged in the mining of molybdenum and tungsten. Its Copper, Gold and Related Products segment is mainly engaged in the mining of copper and gold. The Niobium and Related Products segment is engaged in niobium manufacturing business. The Phosphorus segment is engaged in phosphate manufacturing business. The Copper and Cobalt segment is engaged in the production of Copper and Cobalt. The Company conducts its businesses mainly in China, Australia, Brazil and Congo.
Basic metals' new year rally. Aluminum reached a new record high of US$3,313/tonne. Copper broke out of consolidation and reached a high of US$783/tonne since October 2021. Iron ore continued the uptrend and reached a high of US$151/tonne since September 2021. Basic metals regained the upward momentum due to the seasonal restocking period after the Chinese New Year. Meanwhile, the zero-covid policy in China continued to restrict the ramp-up in production. The supply and demand dynamics are tightening.
High Inflation is expected to last throughout 2022. Federal Reserves had turned hawkish regarding monetary policies in 2022 and 2023. However, global hard commodities such as oil, coal, and basic metals are edging up regardless of the rate hike and balance sheet reduction. As long as China sticks to its draconian lockdown measures, global supply chain disruptions will remain status quo. Therefore, liquidity contraction will not solve the problem completely. The decisive factor is that demand growth will outpace supply growth.
Updated market consensus of the estimated net profit growth in FY22/23 is 17.5%/6.8% respectively, which translates to 13.6x/12.8x forward PE. The current PE is 19.3x. Bloomberg consensus average 12-month target price is HK$6.19.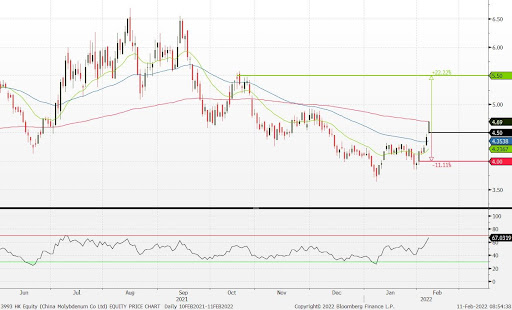 ---
Zoomlion Heavy Industry Science And Technology (1157 HK): Infrastructure could be the life buoy for China's economic growth in 2022
RE-ITERATE BUY Entry – 5.2 Target – 5.8 Stop Loss – 4.9
Zoomlion Heavy Industry Science And Technology Co., Ltd. is principally engaged in the research, development, manufacture and sales of engineering equipment, environmental sanitation equipment and agricultural equipment. The company operates through four segments. The Engineering Equipment segment includes concrete equipment, lifting equipment, earthmoving equipment, foundation construction equipment, road construction equipment and forklifts, which mainly serve the construction of infrastructure and real estate. The Environmental Industry segment is engaged in the production of sanitation equipment, as well as environmental management investment and operating business. The Agricultural Equipment segment consists of farming machinery, harvesting machinery, drying machinery and agricultural machinery, among others. The Financial segment provides financial leasing and other financial services.
Only one alternative for China to maintain economic growth amidst a soft landing. China's GDP growth dropped further to 4% YoY in 2021, down 90bps from 2020. The slowdown is not surprising as the second largest economy had been adopting the most draconian lockdown measures to maintain its zero-covid policy. Meanwhile, the authorities have aggressively demanded the real estate sector to de-leverage and have imposed a series of regulations upon the fast-growing sectors such as education and technology. Last year, the only driver that has prevented China from tipping into recession is its exports. However, Southeast Asia countries are expected to recover quickly in 2022, regaining market share of low-end production from China. Therefore, it is inevitable to see China's export growth slow down this year. Given the weak domestic consumption which is difficult to be pushed by administrative measures, China has to resort to the old measure, fixed asset investment. And the recent loose monetary policies have paved the way for it to push infrastructure expansion to maintain economic growth.
Go intelligent. The company announced that it proposed to acquire 29.99% of the equities in Shenzhen RoadRover Technology Co., Ltd. with RMB780mn. RoadRover is principally engaged in the development, manufacturing, sales and provision of service relating to automotive information, automotive intelligence and smart transportation system products. The deal shows that the company is aiming to have its products more value-added.
Updated market consensus of the estimated net profit growth in FY22/23 is 2.0%/13.9% respectively, which translates to 5.5x/4.9x forward PE. The current PE is 4.4x. The FY22/23 dividend yield is expected to be 6.0%/7.2% respectively. Bloomberg consensus average 12-month target price is HK$5.89.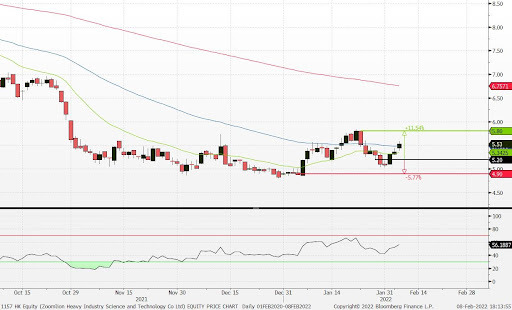 ---
MARKET MOVERS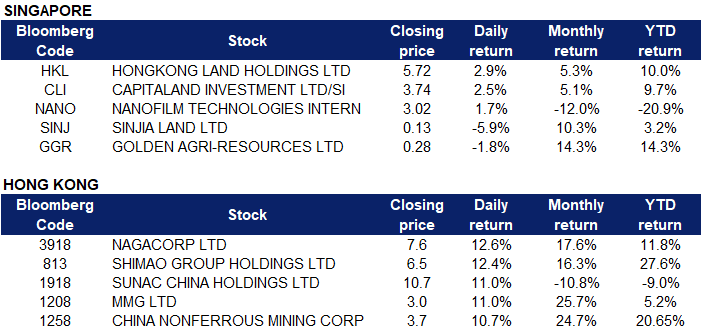 ---
United States
Top Sector Gainers
Top Sector Losers
Datadog Inc (DDOG US) shares surged 12.3% yesterday after its December-quarter earnings and revenue handily beat estimates, while 2022 revenue guidance also came in above expectations. Datadog recorded earnings of 20 cents per share on an adjusted basis, up 233% from 6 cents a year earlier. The enterprise software maker's revenue jumped 84% to $326.2 million, amid an expanding partnership with Amazon Web Services, the cloud computing unit of Amazon.com. Meanwhile, analysts expected Datadog to report profit of 11 cents a share on $291.5 million revenue. In the year gone by, the number of customers with annual recurring revenue of at least $1 million more than doubled to 216. For the current quarter, the company expects revenue between $334 million and $339 million.
Walt Disney Co (DIS US) shares rose 3.4% yesterday after beating Wall Street forecasts on the top and bottom lines for its latest quarter. Disney earned an adjusted $1.06 per share, well above the 63 cents per share consensus estimate, helped by growth in its Disney+ subscriber base and record profit from its theme parks. Nearly 12 million Disney+ subscriptions were added in the first quarter and the service also saw average revenue per user (ARPU) in the U.S. and Canada grow to $6.68 per month from $5.80 a year ago. Disney's parks, experiences and consumer products division saw revenues reach $7.2 billion during the quarter, double the $3.6 billion it generated in the prior-year quarter. Disney said the growth in revenue came as more guests attended its theme parks, stayed in its branded hotels and booked cruises.
Micron Technology Inc (MU US) shares gained 3.3% yesterday after competitor, Western Digital announced that the contamination of some key materials at two of their Japanese production sites would hurt the companies' output of NAND. NAND is a modern storage medium that is rapidly displacing hard-disk drives in many tech applications, which are crucial to support the boom in semiconductors. Wells Fargo analyst Aaron Rakers estimates the problem could affect as much as 10% of the industry's quarterly output. That big of a reduction could cause material increases in NAND flash prices in the near term, and those heightened profits would go to competitors, with Micron being a main beneficiary.
Affirm Holdings Inc (AFRM US) shares plunged 21.4% yesterday after the company reported fiscal second-quarter results ahead of schedule. Affirm is one of several hot "buy now, pay later" companies, which offer short-term and low-interest loans to users when they buy consumer goods online. The company recorded a loss of $0.57 per share for the quarter ending December, however, revenue generated was $361 million, beating estimates of $328.8 million. Affirm said it expected between $1.29 billion and $1.31 billion in revenue for the year, ahead of the $1.27 billion expected by analysts.
Pulte Group Inc (PHM US) shares lost 5.6% yesterday. The home building sector declined collectively, as yields on the 10-year Treasury note jumped 12 basis points to about 2.05%, the first time that the benchmark rate reached 2% since August 2019. The consumer price index, which measures the costs of dozens of everyday consumer goods, rose 7.5% compared to a year ago, the Labor Department reported yesterday. Yields pushed higher in afternoon trading after St. Louis Fed President James Bullard told Bloomberg News that he was open to a 50-basis point hike in March and wanted to see a full percentage point of hikes by July.
---
Singapore
Hongkong Land (HKL SP) shares gained 2.9% yesterday. PT Astra International Tbk and Hongkong Land announced a joint venture with LOGOS SE Asia Pte Ltd in the management and development of modern logistics warehouses in Indonesia. Stephen Hawkins, LOGOS' Chairman of South East Asia said: "We are very pleased to be partnering with Astra and HKL to meet the growing demand for modern logistics warehouses in this market and importantly to support local economic growth. The JV will leverage the synergies of both companies; ALI's track record in the Indonesian property market and LOGOS' strong experience in developing sustainable, integrated logistics solutions for international and local customers."
Capitaland Investment Ltd (CLI SP) shares extended their gains from Wednesday and rose 2.5% yesterday after UOB Kay Hian and Maybank Securities both initiated coverage with buy calls and target prices of S$4.02 and S$4.03 respectively. It was also announced previously that Ascott Reit, through wholly owned subsidiaries, had entered into two conditional sale and purchase agreements to acquire four student accommodation properties. On 30 December 2021, the Managers announced the completion of the acquisition of three of the Properties. Yesterday, the Managers announced that the acquisition of the fourth property, the Kent Property, has been completed.
Nanofilm (NANO SP) shares gained 1.7% yesterday. The company announced yesterday that its financial results for the year ended 31 December 2021 will be released on 23 February 2022 after market closes. Investors are likely buying ahead in anticipation of the company's earnings.
Sinjia Land Ltd (SINJ SP) shares lost 5.9% yesterday, after surging 7.1% on Wednesday. Catalist-listed backpacker hostel operator Sinjia Land's reverse takeover (RTO) by sorghum producer Binex Singapore may not be based on the price tag of $2 billion that had been previously announced, the board told the bourse regulator on Saturday (Feb 5). Instead, Sinjia Land said that it has appointed EY Corporate Advisors as an independent qualified valuer whose upcoming valuation report will take precedence over a preliminary report that earlier calculated the valuation of Binex to be between US$2.5 billion (S$3.36 billion) and US$3.1 billion.
Golden Agri Resources (GERL SP) shares declined 1.8% yesterday, likely on profit-taking. Shares have gained approximately 16% since last Friday and were overbought with RSI > 70. Palm oil prices lost approximately 1% yesterday compared to the previous trading session. Investors are now awaiting the Malaysia Palm Oil Board's January data on Thursday for a clear picture of the country's production and exports situation.
---
Hong Kong
Top Sector Gainers
Top Sector Losers
Nagacorp Ltd (3918 HK) shares surged 12.6% yesterday. Goldman Sachs released a research report yesterday, maintaining its "Neutral" rating on the company. However, the target price of the company was lowered by 14.7% from HK$9.5 to HK$8.1. Nagacorp's 2021 results were in line with market expectations, and its casinos have resumed operations since mid-September 2021. Management has a positive view that its business will continue to recover and is confident that it can remedy the decline in VIP gaming revenue. Goldman Sachs' latest forecast is that mass gaming revenue will recover to 75% of pre-pandemic levels in 2022 while VIP room revenue will recover to 34%. The bank also commented that the company's 2023 forecast of 7.5 times valuation is still relatively attractive for gaming stocks.
Shimao Group Holdings Ltd (813 HK), Sunac China Holdings Ltd (1918 HK). Property sector shares gained collectively yesterday, with shares rising 12.4% and 11% respectively. The People's Bank of China said in a statement on Tuesday that bank loans to fund low-cost rental projects will no longer be subject to regulatory curbs. The move is one of the clearest signs yet that Chinese policy makers are easing up on a clampdown on leverage in the property sector that's slowing growth in the world's second-largest economy. The latest easing comes after banks were recently urged to lend more to developers and speed up mortgage approvals. Authorities have also made it easier for companies to obtain financing to buy assets from weaker real estate firms by excluding such debt from regulatory limits on borrowing.
MMG Ltd (1208 HK), China Nonferrous Mining Corp Ltd (1258 HK). Copper sector stocks rose collectively yesterday, with shares gaining 11% and 10.7% respectively. Copper futures climbed to above $4.6 per tonne, the highest since October last year boosted by concerns about supply disruptions and thin inventories. MMG Ltd said production at its Las Bambas copper mine in Peru may stop by February 20th after a local community blocked again a road used by the miner, causing the company to curtail operations. Also, China's National Development and Reform Commission outlined plans to bolster the construction of new infrastructure, a source of copper demand. Meanwhile, the dollar was under pressure, making greenback-priced metals cheaper to holders of other currencies.
---
Trading Dashboard
Trading Dashboard Update: Take profit on Aluminum Corporation of China (2600 HK) at HK$5.0 and CICC (3908 HK) at HK$21.35.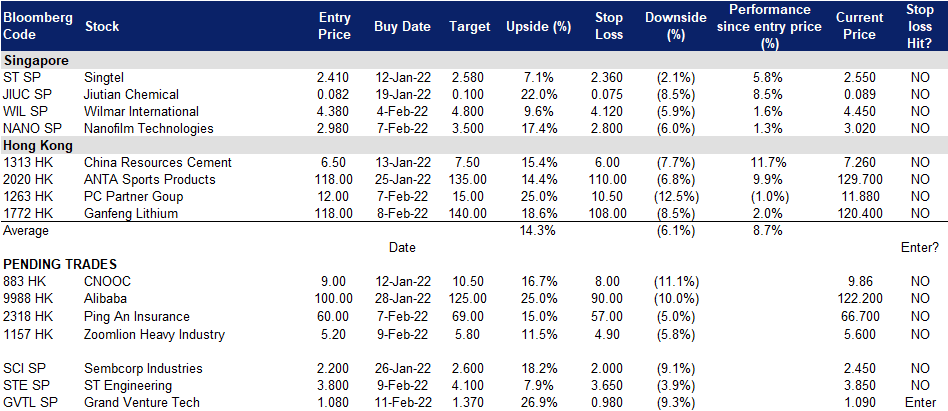 (Click to enlarge image)
---