25 May 2022: YZJ Financial (YZJFH SP), Fuyao Glass Industry Group Co Ltd (3606 HK)
Singapore Trading Ideas | Hong Kong Trading Ideas | Market Movers | Trading Dashboard

YZJ Financial (YZJFH SP): Seeking shareholders' approval for buyback mandate
BUY Entry – 0.475 Target – 0.550 Stop Loss – 0.450
Yangzijiang Financial is a spin-off from Yangzijiang Shipbuilding, and is focused on investment management business, which seeks capital appreciation and investment income and debt investment business, which is primarily made up of debt investments. The firm also intends to enter into the fund/wealth management business to generate recurring fee-based income.
Proposed 10% buyback mandate. YZJ Financial is proposing a share buyback mandate that will allow it to repurchase 10% of its outstanding 3.95bn shares at 105%/120% of on/off market purchases. YZJ Financial believes that the resolution, if passed, will give its directors flexibility to undertake share buybacks when circumstances permit. In terms of signalling, the mandate provides investors with some assurance that management could place a floor on share price, especially since the stock has come off 23.4% since its opening debut close of S$0.62.
Investment management services gaining traction. Recently, YZJ Financial announced that GEM Asset Management had engaged it to provide investment advisory services for AUM of about S$500m. The firm is currently in discussions with various parties to set up family office and asset management funds in Singapore. This will help the firm consistently grow its AUM.
Trading at a tight range. There is currently no coverage on the stock. Nonetheless, we believe that YZJ Financial will trade at a similar range as its peers listed in China, which currently trade at about 0.4x-0.7x P/B. We expect YZJ Finance to recover from its lacklustre performance post listing, to trade at about 0.67x P/B, with a target of S$0.55, implying a 15.8% gain from last close of S$0.475.

(Source: Bloomberg)

ThaiBev (THBEV SP): To Spin off BeerCo to unlock value
RE-ITERATE BUY Entry – 0.700 Target – 0.770 Stop Loss – 0.665
ThaiBev is Thailand's largest and one of Southeast Asia's largest beverage companies. THBEV has a 28.5% stake in SGX-listed Fraser & Neave Ltd (FNN SP) and a 28.3% stake in Frasers Property Limited (FPL SP). It also has a 53.6% stake in Saigon Beer-Alcohol-Beverage Corporation (SABECO), Vietnam's largest beer company. ThaiBev has a 90% market share of Thailand's spirit market.
Strong 2Q22 performance. ThaiBev announced its 2Q22 (YE Sep) business update. Revenue in the quarter increased by 11% YoY to THB65.8bn. Net profit grew by 20% YoY to THB7.1bn. The stronger growth was driven by the recovery in the beer (+20.3% YoY sales) and food (+41.6% YoY sales) segments. Balance sheet also improved with net gearing dropping to 0.77x as of Mar-2021 vs 0.86x as of Sep-2021.
Resumption of proposed spin-off of BeerCo unit. Its wholly-owned subsidiary International Beverage Holdings, which holds all the issued ordinary shares of BeerCo, will conduct a public offering of up to 20% of the total number of issued ordinary shares of BeerCo. BeerCo has 3 breweries in Thailand and a network of 26 breweries in Vietnam. Its business includes the production, distribution and sales of beer including the Chang and Bia Saigon brands. BeerCo posted a net profit of S$104mn (+12.1% YoY) and revenue of S$1.16bn (+30.7% YoY) in 2Q22.
Positive consensus estimates. Consensus has 15 BUYS and 1 HOLD on ThaiBev, with an average TP of S$0.90, implying a 26.8% upside potential from the last close price. Earnings are expected to recover 7-15% per annum over three years, which would bring its forward P/E down to 15.8x/14.7x/13.6x FY2022/23/24F (YE Sep).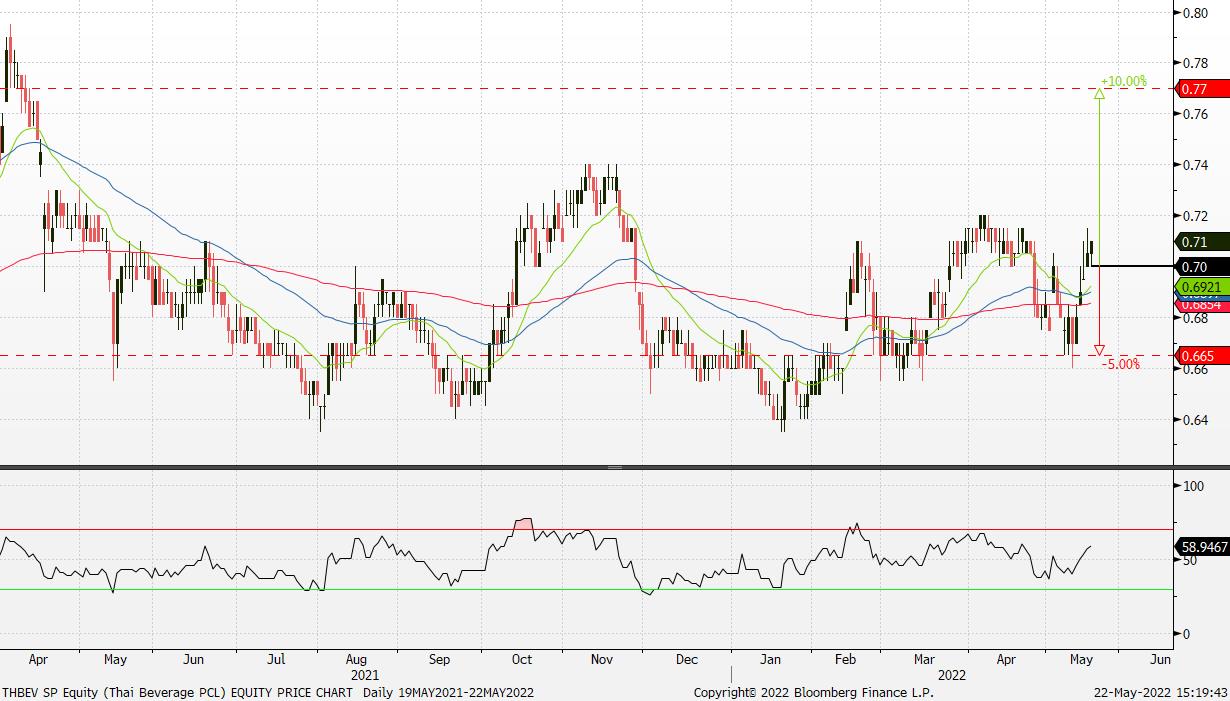 Fuyao Glass Industry Group Co Ltd (3606 HK): Short–term headwinds are priced in
Buy Entry – 34 Target – 38 Stop Loss – 32
Fuyao Glass Industry Group Co Ltd is a China-based company, principally engaged in the manufacture and distribution of float glasses and automobile glasses. The company's products portfolio consist of automobile glasses, such as coating glasses and others, which are applied in passenger cars, buses, limousines and others, and float glasses. The company distributes its products within domestic markets and to overseas markets.
1Q22 earnings review. Operating revenue grew by 14.75% YoY to RMB6.5bn. Net profit attributable to company shareholders grew by 1.86% YoY to RMB871.2mn. Three negatives resulted in mediocre results, including appreciation of RMB, high raw material costs, and high freight rates. The appreciation of RMB led to a decrease of RMB50.4mn in the gross profit. The high material costs and freight rates led to a decrease of RMB70.2mn and RMB53.1mn in total profit respectively. The company announced a final dividend of RMB10 (tax inclusive) (equivalent to HK$11.6) in cash per 10 shares.
Headwinds are priced in. Rising covid cases and ensuing lockdowns of cities in China, rising materials costs resulting from Russia-Ukraine conflicts and ongoing supply chain disruptions have been factored in the previous sell-off. We believe the next catalysts such as lifting lockdown measures and reopening ports will provide a short-term relief rally as automobile sales are expected to rebound, and supply chain issues will be mitigated.
Consensus estimates per the 12-month target price are at HK$43.97. EPS is forecasted to grow at 25.2%/22.0% for FY22F/23F, which would bring forward P/Es down to 19.3x/15.9x for FY22F/23F. The current PER is 24.3x.
(Source: Bloomberg)
WH Group Ltd (288 HK): Riding on the upswing of pig prices
RE-ITERATE BUY Entry – 5.55 Target – 6.20 Stop Loss – 5.25
WH Group Ltd is an investment holding company mainly engaged in the pork business. The Company operates its business through three segments. The Packaged Meats segment is engaged in the production, wholesale and retail of low temperature and high temperature meat products. The Pork segment is engaged in the slaughtering, wholesale and retail of fresh and frozen pork and hog farming businesses. The Others segment is engaged in the slaughtering and sales of poultry. The Segment is also engaged in the sales of ancillary products and services such as provision of logistics services, manufacturing of flavouring ingredients and natural casings, manufacture and sales of packaging materials, operating finance companies, property development companies, a chain of retail food stores, sales of biological pharmaceutical materials, trading of meat related products and others.
Live pig price rebounding. As of 20th May, the average live pig price in the rural retail market arrived at RMB20.9/kg, up 13.6% MoM. The turnaround was due mainly to supply chain disruptions resulting in traffic congestion. But the utilisation rates of the meat processing plants started to edge up. Currently, the number of pig stock is 424mn, compared to 449mn at the end of 2021. The number of pig breeds dipped by 0.2% MoM and fell by 4.3% YoY in April. The destocking of live pigs has come to an end. The demand weighs more among factors impacting live pig prices in the near term. With China easing lockdowns soon, the demand is expected to revive again.
China Retail Price: Rural Market Fair: Live Pig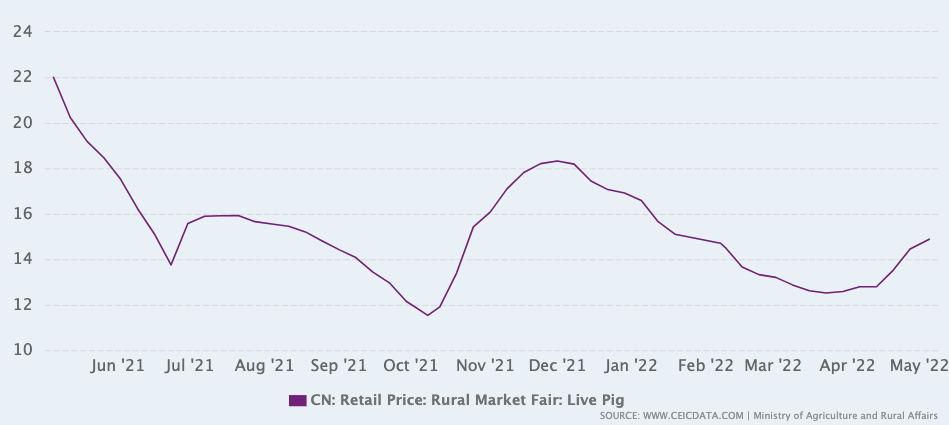 Source: CEIC
1Q22 results review. Total operating income dropped by 24.7% YoY to RMB13.8bn. Net profit dipped by 1.6% YoY to RMB1.5bn. Operating margin increased by 3.6ppts to 13.8%. Shuanghui Development's external sales volume of meat products increased by 1.8% YoY to 0.76mn metric tonnes.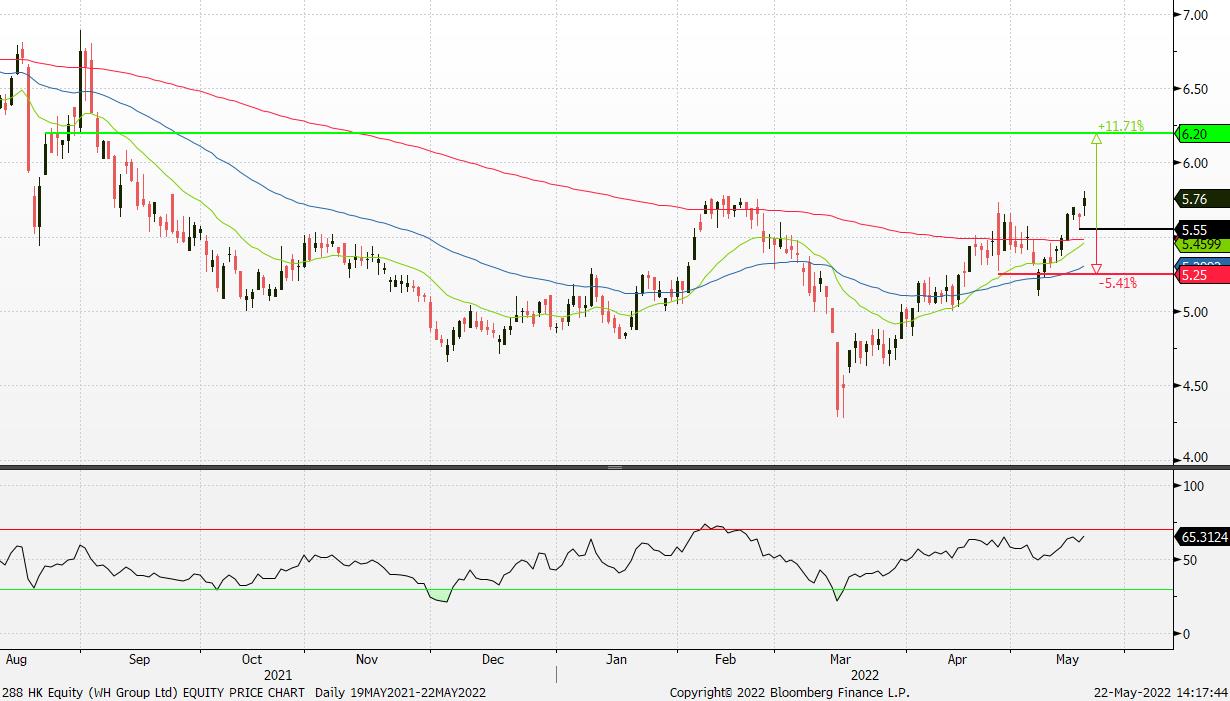 United States
Top Sector Gainers
Sector
Gain
Related News
Utilities
+1.5%
N/A
NextEra Energy Inc (NEE US)
Communications
+1.0%
N/A
Verizon Communications Inc (VZ US)
Consumer Non-Durables
+0.9%
N/A
Procter & Gamble Company (PG US)
Top Sector Losers
Zoom Video Communications Inc (ZM US) shares jumped 5.6% after the videoconferencing company surpassed earnings expectations and raised its outlook. Zoom said it is working on products to service a hybrid workplace. The company posted earnings of $1.03 per share compared with a Refinitiv consensus estimate of 87 cents per share.
Snap Inc (SNAP US) shares plummeted 43.1% after Snap said it's unlikely to meet revenue and earnings estimates in the current quarter and plans to slow hiring to tame expenses. The social media company cited inflation, supply chain shortages and uncertainties surrounding Apple's privacy changes among the reasons for the warning. Consequently, fellow social media giant, Meta Platforms Inc (FB US) shares lost 7.6% yesterday.
Abercrombie & Fitch Co (ANF US) shares tumbled 28.6% after the company reported that freight and product costs weighed on sales for the fiscal first quarter. The company also slashed its sales outlook for fiscal 2022, adding that economic headwinds could remain through at least the end of the year.
Roblox Corp (RBLX US) shares of Roblox plunged 10% after Atlantic Equities downgraded the online gaming platform's stock to neutral, citing weakening user engagement and app downloads.
---
Singapore
Yangzijiang Financial Holdings Ltd (YZJFH SP) shares rose 9.2% yesterday. Yangzijiang Financial Holding plans to call for an EGM on June 8, to get the mandate from shareholders to commence share buybacks. With a total base of around 3.95 billion shares, YFH can potentially buy back up to around 395 million shares – given the 10% cap – until the next mandate is needed. Prior to the listing, YFH's management had said the company will consider buying back shares if its share price is below its NTA of $1.07 per share as at Dec 31 2021.
Sembcorp Marine Ltd (SMM SP) shares extended their rally and rose 2.9% yesterday. In a business update, Sembcorp Marine (SCM) announced that its cash flow and liquidity management have improved following the completion and successful deliveries of several projects in 1Q2022. As a result, the Group's net debt/equity ratio has improved to 0.38 times at end 1Q2022 from 0.49 times at end 4Q2021. In March 2022, Sembcorp Marine secured a landmark contract from Maersk for the construction of a WTIV. The WTIV brings breakthrough design to the wind market with the vessel designed to operate at a high level of efficiency and to handle the next generation of larger wind turbines.
Golden Agri-Resources Ltd (GGR SP) shares rose 1.8% yesterday. Malaysian palm oil futures consolidated above the MYR 6,400-a-tonne level, rebounding further from a five-week low around MYR 5,925. Indonesia allowed a resumption of palm oil exports from Monday (May 23) after a three-week ban, but shipments were not expected to get underway until details emerged on new rules aimed at securing domestic supplies of the edible oil.
Geo Energy Resources Ltd (GERL SP) and Golden Energy & Resources Ltd (GER SP) shares lost 6.4% and 5.1% respectively yesterday. Newcastle coal futures, the benchmark for top consuming region Asia, consolidated above the $400-per-tonne mark and just 10 dollars shy of its record peak, supported by continued robust demand against a tightening market backdrop. Along with increasing demand for power generation with a resumption in economic activity after the coronavirus-induced slump, soaring natural gas prices in Europe and Asia in late 2021 boosted coal consumption. Still, soaring production from top consumers China and India should ease a global supply deficit and help cool down prices in the long term.
Hong Kong
Top Sector Gainers
| | | |
| --- | --- | --- |
| Sector | Gain | Related News |
| Industrial Goods | +0.65% | Kingboard Holdings Limited (148 HK) |
| Alternative Energy | +0.33% | CGN New Energy Holdings Co Ltd (1811 HK) |
| Automobile Retailing, Maintenance & Repair | +0.32% | China Yongda Automobiles Services Holdings Limited (3669 HK) |
Top Sector Losers
| | | |
| --- | --- | --- |
| Sector | Loss | Related News |
| Biotechnology | -3.84% | WuXi Biologics (Cayman) Inc.(2269 HK) |
| Household Appliances | -2.61% | Haier Smart Home Co Ltd (6690 HK) |
| Software | -2.15% | Kingdee International Software Group Co. (268 HK) |
Great Wall Motor Co Ltd (2333 HK) and Geely Automobile Holdings Ltd (175 HK) shares rose 5.1% and 3.5% respectively yesterday. Shares of several Chinese automakers are up in early trade following reports that Beijing plans to cut taxes on some passenger vehicles in a bid to boost economic activity. The increases come after state media reported Monday that Chinese officials in a recent State Council meeting planned to cut purchase taxes on some passenger vehicles for a certain period of time, waiving a total of 60 billion yuan ($9 billion) of taxes. The cuts would apply to internal combustion engine vehicles; new-energy vehicles in China aren't currently subject to purchase taxes.
Fuyao Glass Industry Group Co Ltd (3606 HK) shares rose 3.9% yesterday. China's State Council announced yesterday (23rd) to provide a reduction of RMB 60 billion in purchase tax for passenger vehicles, reported Credit Suisse. As new energy vehicles (NEVs) are currently exempt from purchase tax, the tax reduction will only benefit internal combustion engine (ICE) vehicles. On the back of the new policy, the passenger vehicle demand was estimated to increase by 1.5-2 million units this year. Credit Suisse, therefore, ramped up the 2022-24E profit for Fuyao Glass by 4.6-7.1%. The target price for Fuyao Glass was likewise lifted from $27 to $48, with its rating upgraded from Underperform to Outperform.
Xpeng Inc (9868 HK) shares lost 9.1% yesterday. Xpeng reported revenue of 7.4 billion yuan (US$1.2 billion) for the quarter, in line with the 7.4 billion yuan consensus forecast by eight analysts polled by Bloomberg. Its net loss, however, widened to 1.7 billion yuan from 786.6 million yuan a year earlier, and was slightly worse than the analysts' estimate of 1.67 billion yuan. The EV maker's quarterly results come on the heels of huge supply-chain disruptions caused by China locking down major cities such as Shanghai to contain outbreaks of the more infectious Omicron variant. Consequently, EV peer Nio Inc (9866 HK) shares fell 8.1% yesterday.


Trading Dashboard Update: No additions or deletions to trading dashboard.