24 June 2022: ST Engineering (STE SP), Nexteer Automotive Group Ltd (1316 HK)
Singapore Trading Ideas | Hong Kong Trading Ideas | Market Movers | Trading Dashboard

ST Engineering (STE SP): Share buybacks to provide price floor
BUY Entry 3.88 – Target – 4.23 Stop Loss – 3.77
ST Engineering is a global technology, defence, and engineering group with offices across Asia, Europe, the Middle East, and the US. It uses technology and innovation to solve real-world problems and improve lives through its diverse portfolio of businesses across the aerospace, smart city, defence, and public security segments.
Bought back 2 million shares since April 2022. After securing a share buyback mandate for max 62.4 million shares on 21 April 2022, STE has recently started to acquire shares in the open market at S$3.91 to S$3.97 apiece. We believe that these open market acquisitions would help place a price floor on the stock. With about 97% of its mandate still available for use until next year, we reckon that STE will be able to time its purchases opportunistically.
1Q22 results saw broad based growth across all business units. STE announced 1Q22 revenue of S$2bn (+13%YoY), in line with its pre-pandemic performance. This was achieved by broad based revenue growth across Commercial Aerospace (+22% YoY), Urban Solutions & Satcom (+12% YoY), and Defence & Public Security (+9% YoY). STE also reported a robust order book, growing to S$21.3bn (+10% YoY) with 1Q22 new contracts mainly coming from Defence & Public Security (S$1.3bn), followed by Commercial Aerospace (S$0.9bn), and Urban Solutions & Satcom (S$0.2bn).
Positive consensus estimates. The Street is mostly positive on STE's prospects with 11 BUYS, 2 HOLDS and 1 SELL, and a 12M TP of S$4.50. The updated market consensus of the EPS growth in FY22/23 stands at 3.3%/12.2% YoY, respectively, translating to 20.9×/18.7x forward PE. FY22F/23F dividend yield is 4.0%/4.1% respectively.
UnUsUaL Ltd (UNU SP): Buying opportunity into an overlooked recovery trade
RE-ITERATE BUY Entry 0.143– Target – 0.184 Stop Loss – 0.134
UnUsUaL Group (UNU SP) is a producer and promoter of large-scale live events and concerts in Singapore and the region. Currently, UNU has presence across Singapore, Malaysia, Hong Kong, and is looking to expand further in the Asia Pacific region by leveraging on its major shareholder, mm2 Asia.
Strong US debut for associate artiste. According to American site, allkpop.com, a K-pop UNU-associated artiste, Kang Daniel, was given rave reviews for his performance of the song 'Parade' on American talk show, 'The Kelly Clarkson Show'. Kang was the show's first K-pop male soloist performance and marked the very first performance of the single. The artist is expected to expand his international activities and is scheduled to perform at Japan's largest music festival, 'Summer Sonic 2022' in August. UNU has currently not yet announced any concert for Kang Daniel, although it has been strongly marketing the artist's activities on social media.
Overlooked recovery trade to return to profitability. We expect UNU to return to profitability in FY23F with revenue/PATMI of S$45.6m/S$5.2m, a stunning turnaround from FY22A's S$3.6m/-S$4.2m. This would be driven by a resumption of concerts, with UNU producing and promoting at least 15 live events in FY23F. On blended ASPs, our starting point was S$160/ticket and built in a 4-year CAGR of 4.1%. On breakeven costs, we have assumed that core EBIT margins will turnaround in FY23F to 14.9% (FY22: -92.4%).
Profit taking post initiation bump. UNU saw some profit taking on 21 June after closing 14.1% above our initiation price. We believe this presents a clear and present buying opportunity for investors looking to garner exposure to an overlooked recovery trade. At S$0.143, UNU would be trading at an undemanding 13.7x FY24F P/E, substantially lower than peers' median of 22.8x. Read our fundamental initiation report here.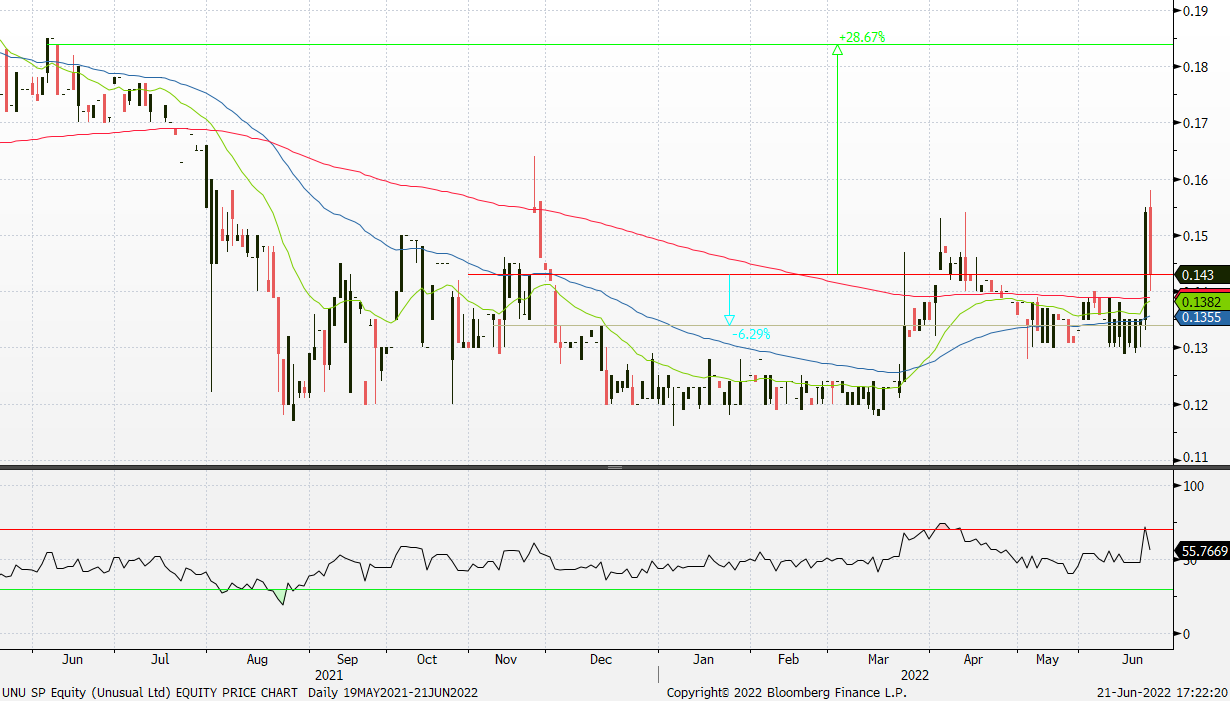 Nexteer Automotive Group Ltd (1316 HK): Riding on the auto sector recovery
Buy Entry – 5.25 Target – 6.00 Stop Loss – 4.85
Nexteer Automotive Group Limited is an investment holding company. The Company through its subsidiaries are primarily engaged in the design and manufacture of steering and driveline systems, advanced driver assistance systems (ADAS) and automated driving (AD) and components for automobile manufacturers and other automotive-related companies. Its operations are in the United States of America (USA), Mexico, Poland and the People's Republic of China (China). The principal markets for the Company's products are North America, Europe, South America, China and India. The Company has approximately 27 manufacturing plants, one global technical center, over two regional technical centers, one software service center and approximately 13 customer service centers. Its subsidiaries include Nexteer US Holding I LLC, Rhodes I LLC, Steering Solutions IP Holding Corporation, Chongqing Nexteer Steering Systems Co., Ltd., CNXMotion, LLC and Dongfeng Nexteer Steering Systems (Wuhan) Co., Ltd.
Automobile production to accelerate from June onwards. Previously, the authority announced an auto purchase tax cut, and major cities started to ease the lockdown measures. The expected improving demand for automobiles will drive producers to accelerate production as supply chain disruptions mitigate. The global EV leader, Tesla planned to manufacture more than 71,000 units of both Model 3 and Model Y in June. Due to Shanghai's lockdown from March to May, Tesla's Shanghai factory halted production for three weeks, and its daily production was 1,000 units in 2HApril. Therefore, Tesla has boosted its capacity utilization rate to 100% since the lockdown measures were lifted. Auto part manufacturers are expected to benefit from the turnaround of the sales and production of the sector.
New orders to uphold the growth. In 1Q22, the total value of new order signed amounted to US$2.73bn, four times of the total value signed in 1Q21. With the recovery in the auto markets in Europe and Asia Pacific, the oder book is expected to grow healthily in FY22.
Updated market consensus of the EPS growth in FY22/23 is 21.9%/51.4% YoY respectively, which translates to 11.7x/7.8x forward PE. The current PER is 15.2x. Bloomberg consensus average 12-month target price is HK$6.75.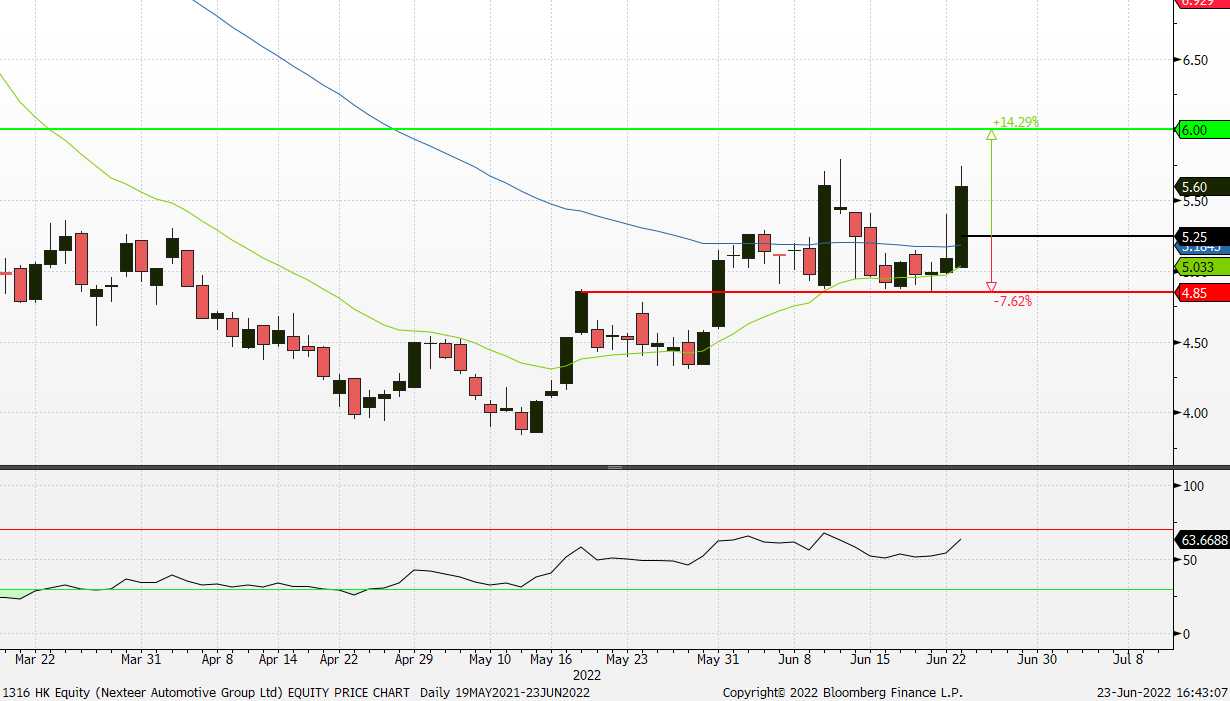 (Source: Bloomberg)

Tongcheng Travel Holdings Limited (780 HK): Summer holiday to revive the domestic tourism
RE-ITEREATE Buy Entry – 15.5 Target – 17.5 Stop Loss – 14.5
Tongcheng Travel Holdings Ltd, formerly Tongcheng-Elong Holdings Ltd, is a China-based holding company mainly providing online tourism products and services. The Company is mainly engaged in transportation ticketing services, accommodation reservation services and other services. The transportation ticketing services mainly include air ticket and train ticket booking, sales of tourism insurance and other transportation related services. The accommodation reservation services mainly provide accommodation booking services. Other services mainly include attraction ticketing, ancillary value-added user services and advertising services.
Resumption of inter-provincial group tours. At the beginning of June, more than ten Chinese localities moved to restart inter-provincial group tours, after the Ministry of Culture and Tourism (MCT) announced more targeted anti-epidemic measures in an effort to boost tourism. Accordingly, the tourism sector picked up during the three-day Dragon Boat Festival holiday.
Promising outlook of the upcoming summer holiday. According to the 2022 Summer Vacation Trend Forecast issued by Trip.com, as of 10th June, the air ticket bookings for summer vacation jumped by 162% WoW, tour group bookings jumped by 109% WoW, and hotel bookings jumped by more than 50% WoW. Meanwhile, the overall visitor traffic is expected to recover to 70% of the 2019 level during the same period.
1Q22 financials and operations review. Revenue grew by 6.5% YoY to RMB1.72bn. Adjusted net profit dropped by 18% YoY to RMB298.9mn. Average MAUs grew by 4.5% YoY to 234.2mn. Average MPUs grew by 16.1% YoY to 27.3mn.
The updated market consensus of the EPS growth in FY22/23 is 21.2%/63.8% YoY, respectively, translating to 34.1×/20.8x forward PE. The current PER is 46.0x. Bloomberg consensus average 12-month target price is HK$17.22.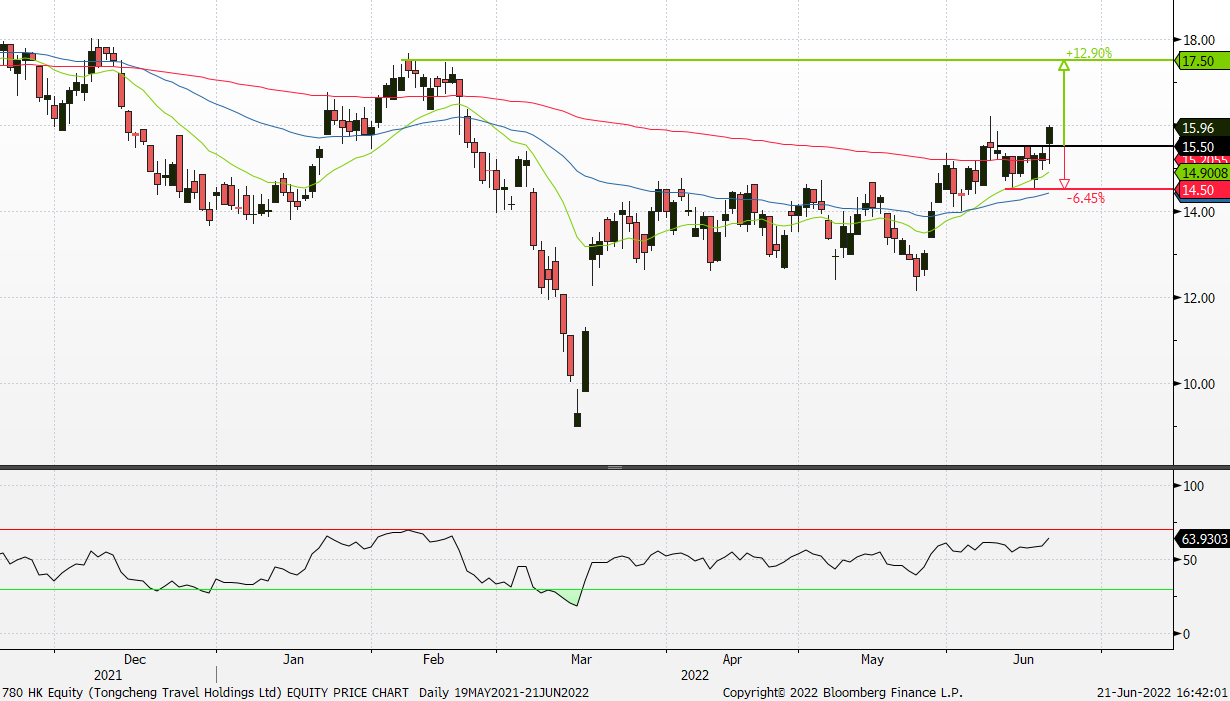 (Source: Bloomberg)



United States
Top Sector Gainers
Top Sector Losers
WeWork (WE US) shares jumped more than 15.7% after Credit Suisse initiated coverage of the office-sharing stock with an outperform rating and an $11 price target, more than double its Wednesday closing level. The firm said the company is poised to benefit from its first mover advantage.
Snowflake (SNOW US) saw its shares advance 12.4% after JPMorgan upgraded them to overweight from neutral and said the company is "reaching an inflection point in terms of material Free Cash Flow generation." The firm also reiterated its price target, which is about 30% from where the stock closed Wednesday.
United Airlines (UAL US) shares dropped 2.5% after the company cut 12% of flights out of Newark in a bid to reduce delays. United Airlines is trimming 50 flights on a daily basis starting July 1.
Marathon Oil Corporation (MRO US) and ConocoPhillips (COP US) shares fell 4.7% and 5.6% respectively yesterday. Oil prices dropped by nearly $2 a barrel on Thursday after another round of remarks from Federal Reserve Chair Jerome Powell fanned worries U.S. interest rate hikes would slow economic growth.

Singapore
Golden Agri-Resources Ltd (GGR SP) and First Resources Ltd (FR SP) shares dropped by 7.5% and 3.8% respectively yesterday. Palm oil wiped out its gains for the year on expectations of surging exports from Indonesia and as a slide in petroleum prices reduces its biofuel appeal.
Rex International Holding (REXI SP) and RH PetroGas Ltd (RHP SP) shares declined 3.4% and 2.1% respectively yesterday. WTI crude futures fell below $104 per barrel on Thursday, extending a sharp decline from the previous session, amid mounting concerns that aggressive US interest rate hikes could trigger a recession and hurt fuel demand. Federal Reserve Chair Jerome Powell said on Wednesday that the central bank is not trying to engineer a recession to stop inflation but is fully committed to bringing prices under control, even at the risk of an economic slowdown.
Nio Inc (NIO SP) shares rose 5.5% yesterday. Shares of Chinese automakers jumped after state television reported Wednesday evening that the government may extend tax exemptions on electric-car purchases in a bid to boost the auto sector.

Hong Kong
Top Sector Gainers
Top Sector Losers
LK Technology Holdings Ltd (0558 HK) shares rose 15.1% yesterday. They expect to record a profit attributable to shareholders of not less than HK$620 million for the year ended March 31, 2022, compared to last year's HK$344 million. This substantial expected increase is mainly due to an increase in the Group's sales revenue. They may start indirectly supplying 9000T large die-casting parts to Volkswagen, through Rongtai Industry, to speed up its production of electric cars.
Xpeng Inc (9868 HK), Li Auto Inc (2015 HK) Geely Automobile Holdings Ltd (0175 HK) shares rose 9.8%, 9.4% and 7.4% respectively yesterday, after state media reported that Beijing is considering extending tax exemptions, from the 10% vehicle purchase tax, due to expire this year. The aim of the extended tax exemption would be "to support the consumption of new energy vehicles", CCTV said in its report. The State Council discussed a package of measures worth 200 billion.yuan ($29.8 billion) aimed at spurring car sales.
Minth Group Ltd (0425 HK) shares rose 9.5% yesterday. Renault Group announced that it would be entering a joint venture with Chinese parts manufacturer Minth Group to expand an existing production facility to manufacture battery parts. The new production facility will focus on "battery casings," aiming to make 300,000 casings a year by 2025. The expansion will consist of two new production lines and aims to be up and running by early 2023.


Trading Dashboard Update: Cut loss on The Hour Glass (HG SP) at S$2.2. Add Tongcheng Travel (780 HK) at HK$15.5.

^ Back To Top