21 November 2022: Thai Beverage PCL (THBEV SP), Tsingtao Brewery Company Limited (168 HK)
Singapore Trading Ideas | Hong Kong Trading Ideas | Market Movers | Trading Dashboard
Thai Beverage PCL (THBEV SP): An SG-listed FIFA World Cup-themed stock
BUY Entry – 0.610 Target – 0.655 Stop Loss – 0.590
Thai Beverage Public Company Limited is Thailand's largest and leading beverage producer and distributor. Its operation is considered among the leading distillers and brewers and in Southeast Asia. ThaiBev's leading products include a variety of well-established spirits brands, including its famous brew Chang Beer. In the non-alcoholic beverage category, key products include water, tonic soda, energy drink, ready-to-drink coffee and green tea.
FIFA World Cup. With the FIFA World Cup happening from 20 Nov to 18 Dec, many football fans will have their eyes on the 64 matches among 32 qualified national teams, streamed globally. Many fans enjoy drinking while watching the games streamed over live television. During this FIFA season, alcohol sales are expected to rise as fans go to various establishments to watch the matches.
Relaxed Covid measures. With the relaxation of Covid-19 measures globally, there has been an increase in social activity, leading to an increase in the consumption of both alcoholic and non-alcoholic drinks. Nightlife has also resumed, contributing to the increase in the consumption of beverages.
Consumer staple. Their extensive beverage range ensures that there is still demand for their products despite inflation. Consumers will still purchase their products but maybe in smaller quantities as compared to before.
3Q22 results. Their nine months sales revenue increased 8.2% YoY to BAHT207,922M and EBITDA rose 6.7% YoY to BAHT39,110M.
Updated market consensus of the EPS growth in FY22/23 is 14.85%/6.23% YoY respectively, which translates to 14.5x/13.7x forward PE. Current PER is 15.4x. Bloomberg consensus average 12-month target price is S$0.83.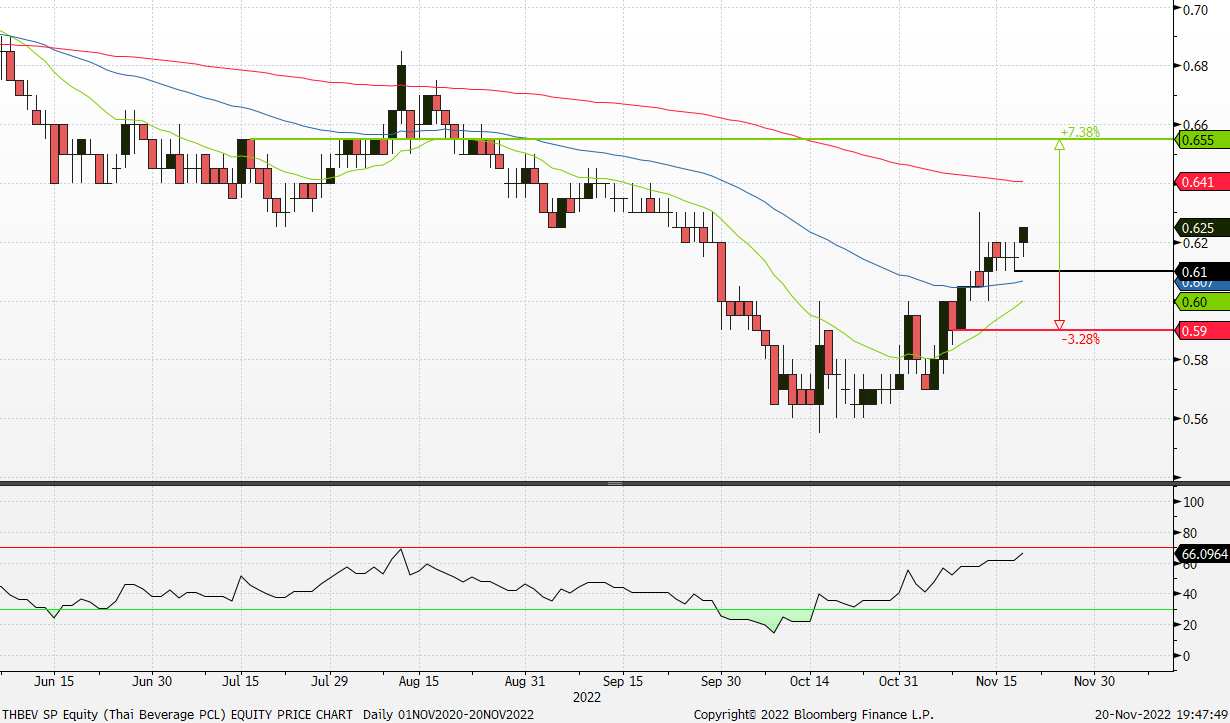 (Source: Bloomberg)

Samudera Shipping Line Ltd (SAMU SP): Shipping peak season comes
Samudera Shipping Line Ltd provides feeder services to Main Line Operators between the deep-harbor "hub" ports and the outlying "spoke" ports. It also provides inter-region and intra-region Container Shipping services to the end users. Singapore and Dubai are the main "hub" ports that the Company serves. Serving several major ports in China, Samudera's Far East service acts as a bridge between South East Asia and China reflecting the growing intra-Asia trade. In addition to Container Shipping, the Group, through its wholly-owned subsidiary Foremost Maritime Pte Ltd, is engaged in Industrial Shipping. It positions itself as a reliable logistics partner to its industrial customers in distributing their bulk cargo – liquid, gas and dry.
China recalibrating Covid Zero. With a detailed 20-point playbook regarding changes to the Covid Zero policy, China is easing its isolation from the world as well as the impact of the virus mitigation measures on the ground. China has announced the easing of quarantine measures for tourists and close contacts to a total of 8 days instead of 10 days and is pulling back on testing. Furthermore, the system that penalises airlines for bringing virus cases into the country will also be scrapped. China's reopening process will likely remain slow and cautious, however, businesses will gradually start to pick up with the new measures implemented. This will also increase the shipments in and out of China as manufacturing output increases.
Holiday sales. With the holiday season coming up, there will be a surge in demand for shipping as retailers and consumers order goods to stock up their shelves and to order gifts for the holidays. Indonesia-based Samudera Shipping is riding on a big pickup in shipping services in the wake of disruption to global supply chains triggered by the pandemic.
3Q22 profit guidance. Based on a preliminary assessment of the Financial Results, the Group has recorded a significant improvement in revenue and earnings for 9M2022 as compared to 9M2021. This was primarily due to an increase in container volume handled and higher freight rates in 2022. The Group's performance for the full year ended 31 December 2022 is expected to be significantly better than its performance for the full year ended 31 December 2021.
Updated market consensus of the EPS growth in FY22/23 is 101.31%/-38.12% YoY respectively, which translates to 3.29x/5.31x forward PE. Current PER is 1.45x. Bloomberg consensus average 12-month target price is S$0.83.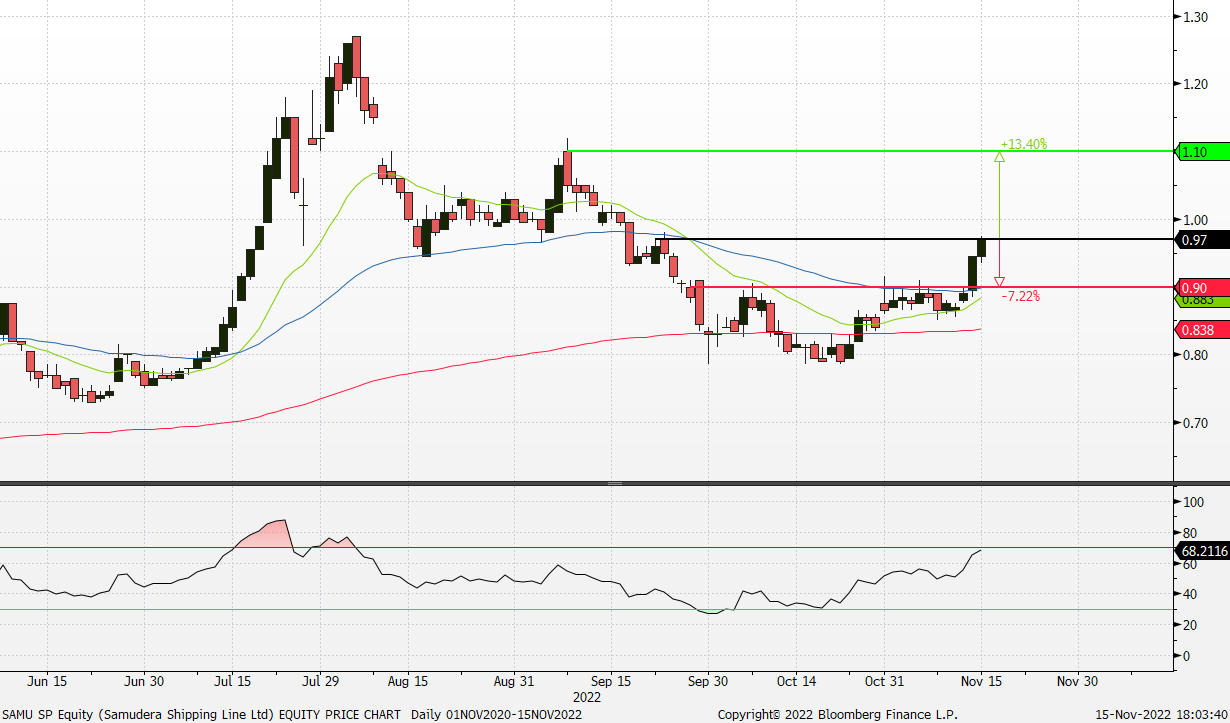 (Source: Bloomberg)


Tsingtao Brewery Company Limited (168 HK): FIFA World Cup begins
Buy Entry – 68.0 Target – 75.0 Stop Loss – 64.5
Tsingtao Brewery Company Limited, together with its subsidiaries, engages in the production, distribution, wholesale, and retail sale of beer products worldwide. The company sells its beer products primarily under the Tsingtaoand and Laoshan brand names. It also provides wealth management, and agency collection and payment services; and financing, construction, and logistics services, as well as technology promotion and application services.
FIFA World Cup Qatar 2022 kick started. The once in every four years FIFA World Cup is going to take place from November to December 2022. This is the largest global sports event after the Tokyo Olympic Games, and it is expected to attract a record high of spectators as most countries have eased COVID restrictions. Accordingly, it will stimulate sales of alcohol and other drinks. The beer feast will take place during the world cup period.
Raw materials prices pulling back. After a short-term price rebound of beer's key raw materials such as wheat and barley, both started to fall in November. So did the key packing material like glass. Moving forward, the company's profit margins will gradually improve with inflation tapering.
Key raw materials prices performance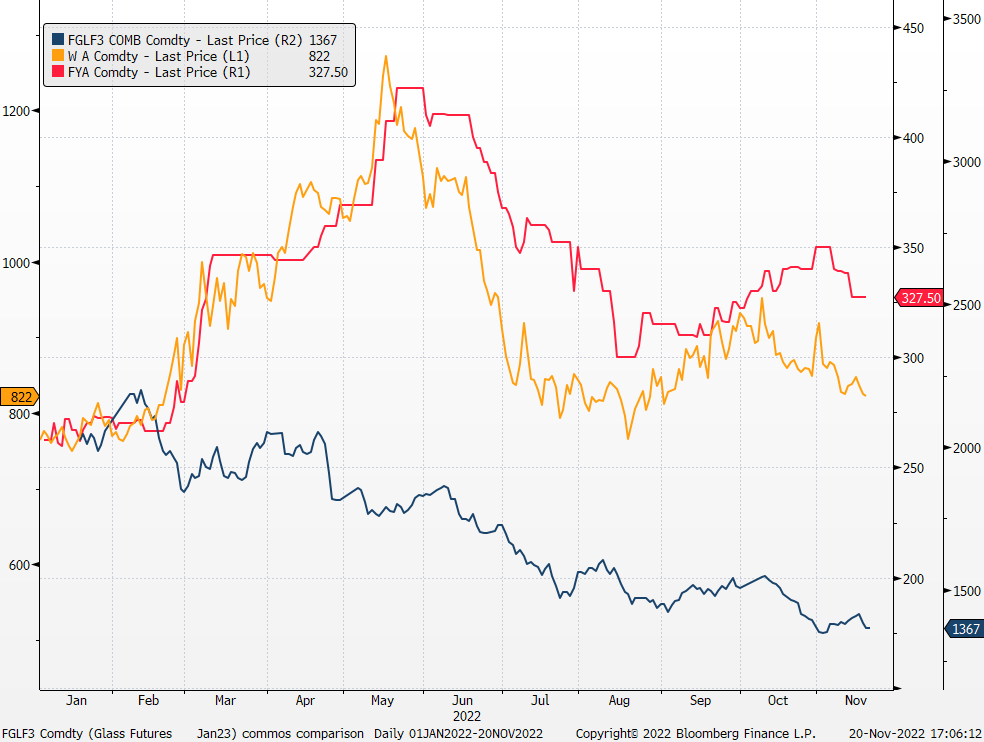 *Blue line: Glass (RMB/tonne), orange line: wheat (USD/bushel), red line: barley (AUD/tonne)
(Source: Bloomberg)
3Q22 earnings review. 3Q22 revenue grew by 16.0% YoY to RMB9.8bn. 3Q22 net profit attributable to shareholders of the company grew by 18.4% YoY to RMB1.4bn. 9M22 revenue grew by 8.7% YoY to RMB29.1bn. 9M22 net profit attributable to shareholders of the company grew by 18.2% YoY to RMB4.3bn.
The updated market consensus of the EPS growth in FY22/23 is 19.7%/15.2% YoY, respectively, translating to 25.8×/22.4x forward PE. The current PER is 22.4x. Bloomberg consensus average 12-month target price is HK$86.69.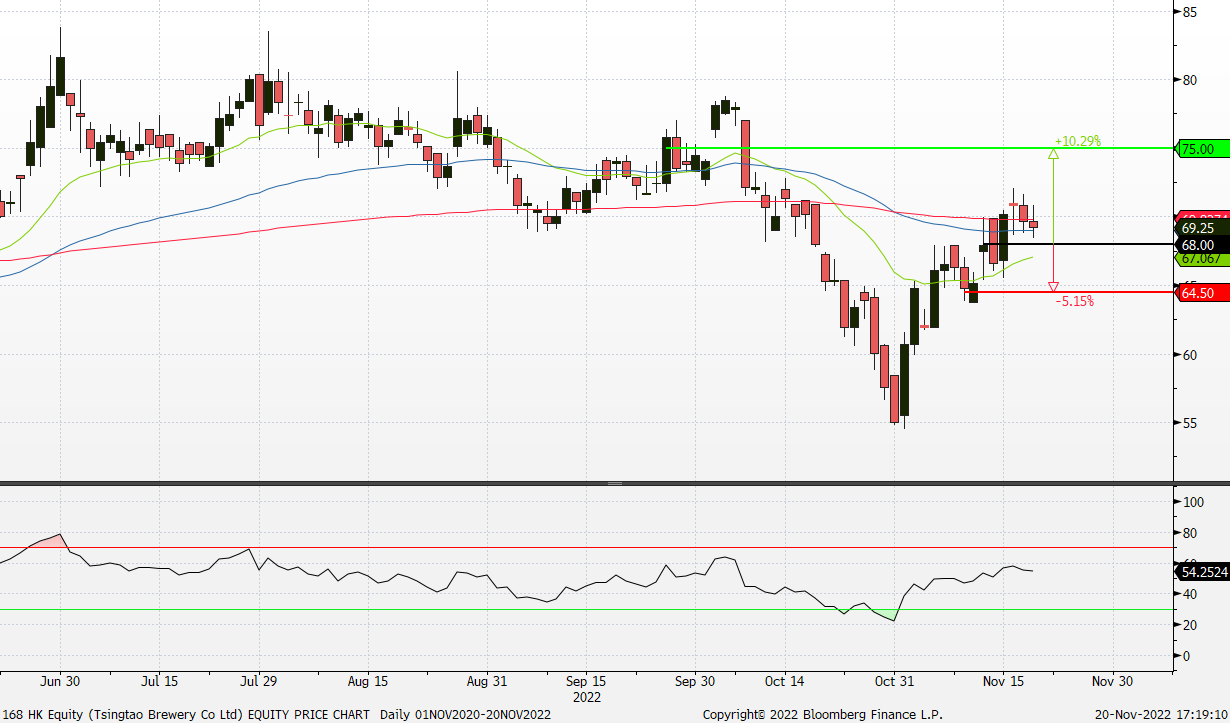 (Source: Bloomberg)

CSOP Hang Seng TECH Index ETF (3033 HK): More positive confirmations of a turnaround
The investment objective of the Sub-Fund is to provide investment results that, before deduction of fees and expenses,closely correspond to the performance of the Hang Seng TECH Index.
Positive signals of the China-US relations from the G20 summit. The first time face-to-face meeting of both China and the US top leaders since the COVID outbreak was held on Monday. Both leaders agreed to resume bilateral talks on climate change, economical stability, and health and food security. Though disputes remain, China and the US tensions are expected to relieve temporarily as both sides are back to conversations. The China-US relations are the bellwether of the Hong Kong equity market performance. The temporary shift from confrontation to cooperation sends positive sentiments to investors.
Easing of restrictive measures. After the 20th National Congress of the Chinese Communist Party, the authority moderately unwound the Covid prevention and control measures. Meanwhile, the People's Bank of China and the China Banking and Insurance Regulatory Commission jointly announced supportive policies for the real estate market which has been under a downturn. The central government starts to overhaul the economic development.
Rebuilding confidence in the tech sector. HK-listing technology companies remain the most dynamic growth driver for China's economy. China's big techs are hammed more badly than the US ones are, and the sector has bottomed given the valuations and outlook.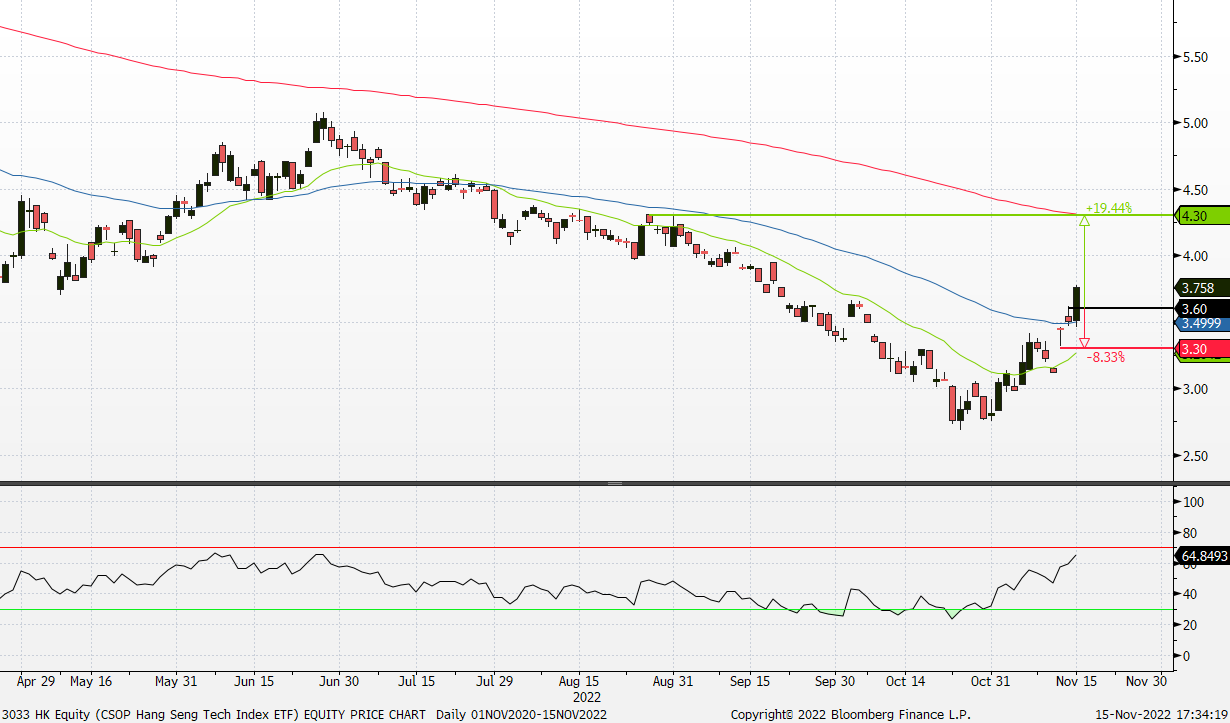 United States
Top Sector Gainers
Top Sector Losers

Hong Kong
Top Sector Gainers
Top Sector Losers


Trading Dashboard Update: No stock additions/deletions.