17 June 2022: Tianjin Pharmaceutical Da Re Tang Group Corp Ltd (TIAN SP), Ganfeng Lithium Co Ltd (1772 HK)
Singapore Trading Ideas | Hong Kong Trading Ideas | Market Movers | Trading Dashboard

Tianjin Pharmaceutical Da Re Tang Group Corp Ltd (TIAN SP): Traditional Chinese Medicine play, a hedge against inflation
BUY Entry – 1.08 Target – 1.16 Stop Loss – 1.04
The Group's businesses cover a wide range of products including Chinese patent medicine, Chinese medicinal drinks, Chinese medicinal raw materials, biotechnology medicine, chemical raw material medicine and preparations, and nutritional and health products. It has over 800 medicinal products in over 20 types of formulations.
2021 and 1Q22 financials review. FY21 revenue rose 4.6% YoY to RMB 6.9bn while net profit after tax grew 15.8% YoY to RMB 786.9mn. Gross margins increased by 0.9ppts to 39% in FY21, compared to 38.1% in the previous year. Net profit margin also grew to 11.4% in FY21, compared to 10.3% in FY20. For 1Q22, revenue rose 3% YoY to RMB1.9bn, however net profit after tax declined 7% YoY to RMB 201.90mn.
Lagging A Shares. SG-listed shares are currently trading at a T12M P/E of 7.57x, while A-shares are trading at 24.35x, indicating a valuation lag for SG-listed shares. A- shares have also gained approximately 33% from its recent low as of 16 June 2022's closing price and are forming an upward parallel channel trend, while SG-listed shares just broke out of the consolidation levels yesterday, indicating potential upside.
Inflationary hedge against inflation. The US hot inflation report last Friday, showing the fastest pace of price increases since 1981, showed little sign of alleviating price pressures in the month of May. Combined with other economic data showing the worst reading of consumer confidence since the 1970s, the pessimistic outlook pushed the Fed to entertain the idea of abandoning its prior plan. The Federal Reserve on Wednesday raised interest rates by 0.75%, the largest move it has made in a single meeting since 1994. The central bank messaged that further interest rate hikes will come this year, as the Fed leans on higher borrowing costs to dampen demand and work to slow faster-than-expected inflation.
Equity Price Chart (A Shares): Tianjin Pharmaceutical Da Re Tang Group Corp Ltd (600329 CH)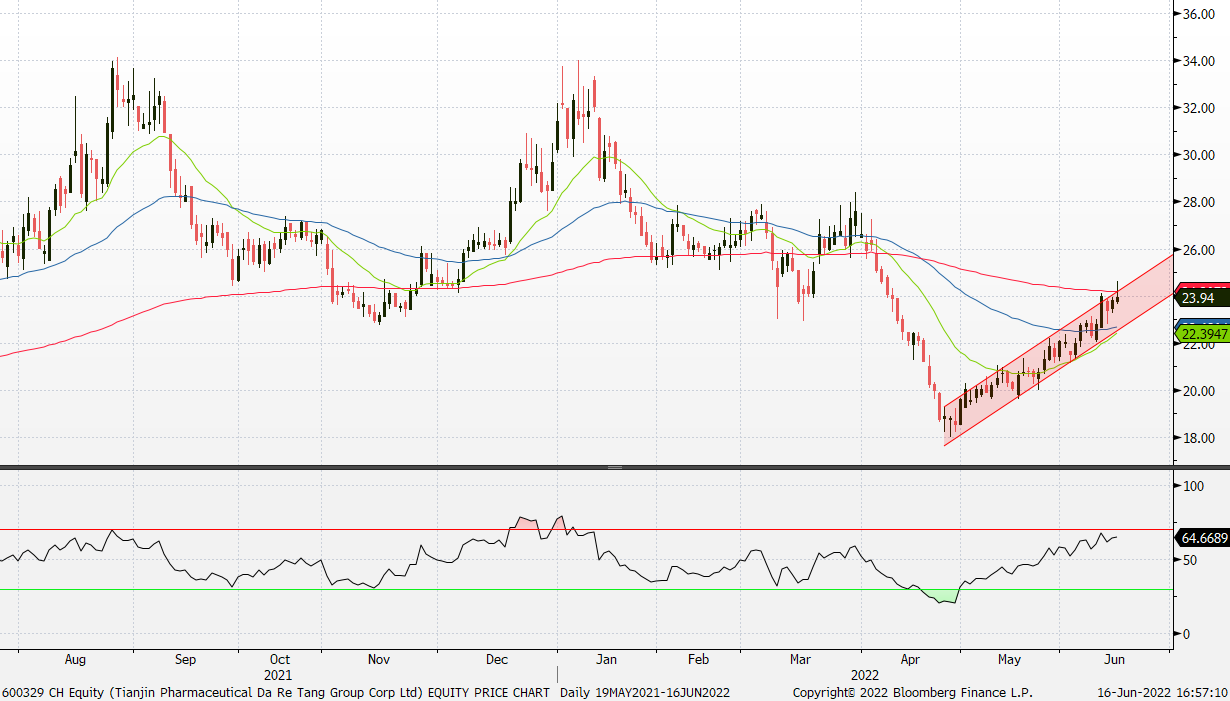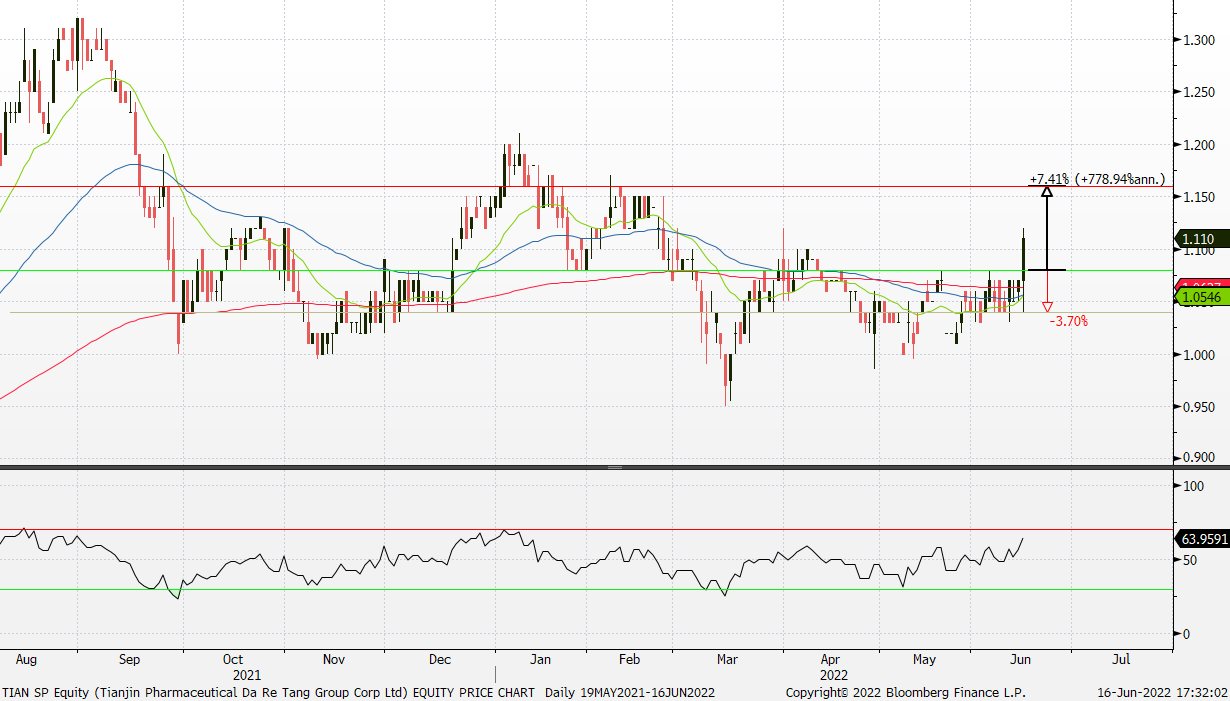 (Source: Bloomberg)

Capitaland Integrated Commercial Trust (CICT SP): Further ease of restriction measures of nightlife
RE-ITERATE BUY Entry – 2.05 Target – 2.25 Stop Loss – 1.95
CapitaLand Integrated Commercial Trust (CICT) is the first and largest real estate investment trust (REIT) listed on Singapore Exchange Securities Trading Limited (SGX-ST). CICT owns and invests in quality income-producing assets primarily used for commercial (including retail and/ or office) purposes, located predominantly in Singapore.
1Q22 financials and businesses review. CICT recorded gross revenue of S$339.7mn and net property income of S$248.3mn in 1Q22, an increase of 1.5% and 0.5% YoY respectively. As of 1Q22, CICT's aggregate leverage was 39.1%, well below MAS' regulatory limit of 45% to 50%. The average cost of debt was stable at 2.3% per annum. The respective occupancy rate of the retail/office/integrated department was 96.6%/91.4%/97.6% in 1Q22, and the occupancy rate of the overall portfolio was 93.6%.
Reopening play. Nightlife establishments with dancing among patrons will no longer be subjected to a capacity limit from 14th June. Patrons will also no longer need to obtain a negative antigen rapid test (ART) result to enter the venue, said the Ministry of Health (MOH) on 10th June. The expiry of leases in Clarke Quay resulted in a slight drop in the occupancy rate of the retail segment in 1Q22, and it is expected to recover in 2H22.
Inflationary hedge. Out of CICT's total borrowings of S$8.8bn as of 1Q22, 85% are on fixed interest rates, which is able to shield the impact of interest rate hikes. In addition, because rents and property value tend to increase amidst the increase in overall prices, the REITs whose properties are able to capitalise on that can provide an inflation hedge.
Positive consensus estimates. Currently, CICT has a consensus rating of 17 BUYS, 3 HOLDS and 0 SELL, and a 12M TP of S$2.47.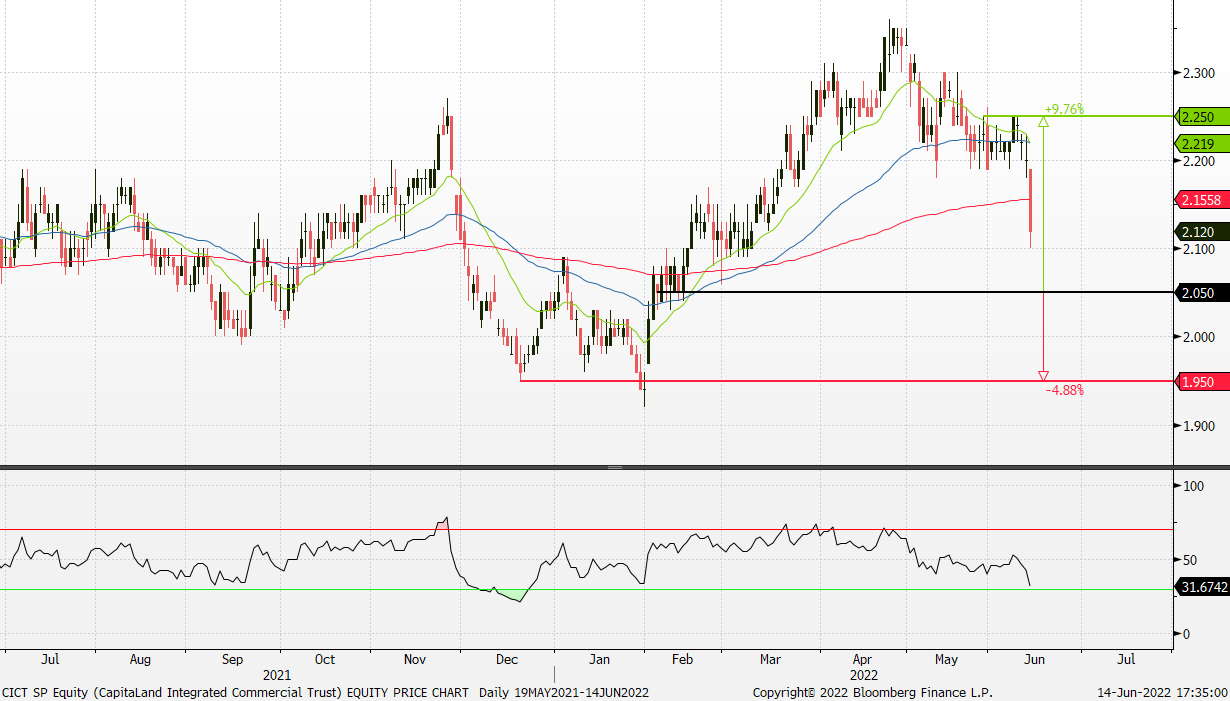 (Source: Bloomberg)


Ganfeng Lithium Co Ltd (1772 HK): Range-boud trade
Buy Entry – 100 Target – 115 Stop Loss – 93
GANFENG LITHIUM CO., LTD. is a China-based company principally engaged in the research, development, production and sales of deeply processed lithium products. The Company's main products include lithium compounds, lithium metal and lithium batteries. The Company's products are mainly used in electrical vehicles, chemicals and pharmaceuticals. The Company distributes its products in the domestic market and to overseas markets.
A large lithium mining project commenced operation. The company and its subsidiary Litio Minera Argentina kicked off this week the construction phase of their Mariana lithium project, located in Argentina's northwestern Salta province. Based on a feasibility study completed in 2019, the Mariana project has a measured and indicated resource of 4,410,000 tonnes of lithium carbonate equivalent and an inferred resource of 786,000 tonnes of LCE. Once fully operational, total production should reach 20,000 tons of lithium chloride per year.
Stellar 1Q22 results. Operating income jumped by 233.9% YoY to RMB5.4bn. Net profit attributable to shareholders of the listed company jumped by 640.4% YoY to RMB3.5bn. Net profit attributable to shareholders of the listed company after deduction of non-recurring gains and losses jumped by 956.4% YoY to RMB3.1bn.
Lithium carbonate prices remained at high levels. Lithium carbonate prices in China were at 477,500 yuan/tonne in June, rising from the three-month lows of 457,700 that held through May amid a rebound in demand projections as strict Covid lockdowns in Shanghai were relaxed. The recent fiscal stimulus for the automobile sector was expected to boost EV sales, propelling demand for lithium and related EV battery raw materials.
The updated market consensus of the EPS growth in FY22/23 is 133.9%/7.8% YoY, respectively, translating to 10.6×/9.8x forward PE. The current PER is 15.2x. Bloomberg consensus average 12-month target price is HK$155.4.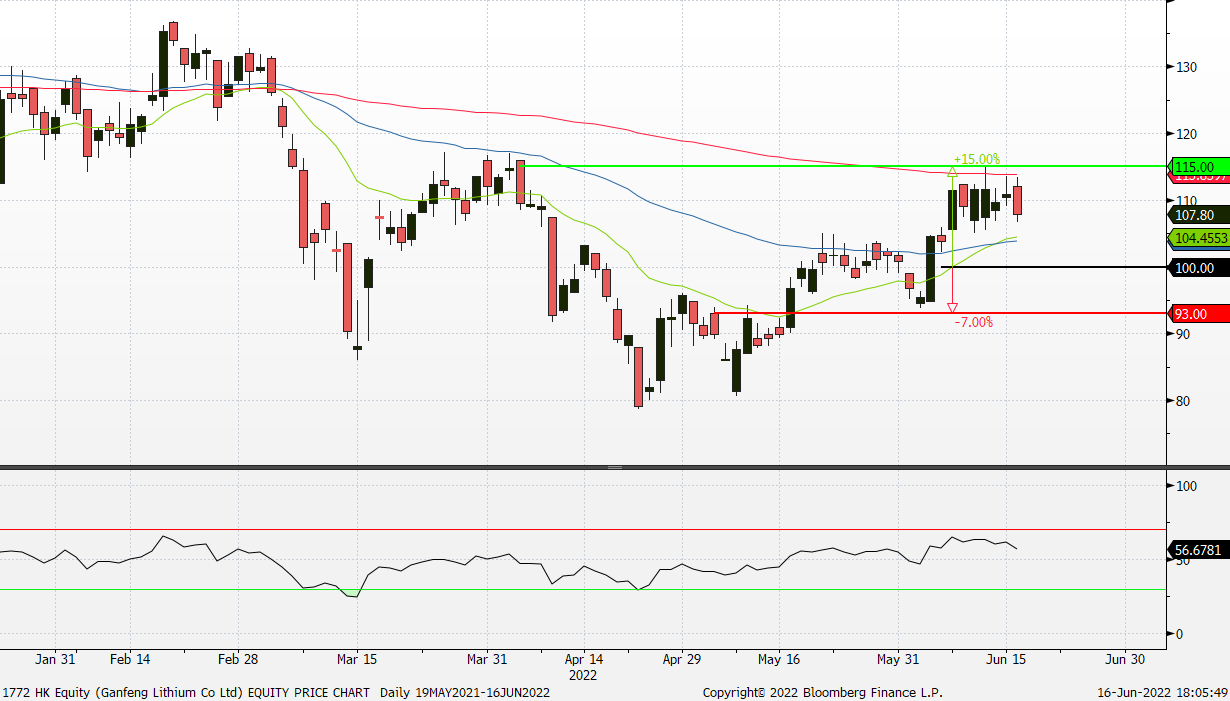 (Source: Bloomberg)

Sinopharm Group Co., Ltd. (1099 HK): A defensive counter amidst sell-off
RE-ITERATE BUY Entry – 17.0 Target – 19.5 Stop Loss – 16.5
Sinopharm Group Co Ltd is a China-based company principally engaged in pharmaceutical and medical devices distribution business. The Company operates its business through four segments. Pharmaceutical Distribution segment is engaged in the distribution of pharmaceutical products to hospitals, other distributors, retail pharmacy stores and clinics. Medical Devices segment is engaged in the distribution of medical devices, as well as provides installation and maintenance services. Retail Pharmacy segment is engaged in the operation of chain pharmacy stores. Other Business segment is engaged in the distribution of laboratory supplies, manufacture and distribution of chemical reagents, production and sale of pharmaceutical products.
1Q22 earnings review. 1Q22 revenue grew by 6.86% YoY to RMB17.15bn. Net profit attributable to shareholders dropped by 23.25% YoY to RMB252.36mn. The decrease in profit was mainly attributable to the decline in the results of Sinopharm Accord's associates due to the impact of the Covid-19 pandemic, which resulted in a corresponding decrease in investment income of Sinopharm Accord. At the same time, due to the impact of the pandemic, the retail sector has seen a decline in store traffic, and the new stores opened in 2021 cost a large initial investment, the benefits of which have not yet emerged, resulting in a decrease in the margin levels.
A defensive stock amidst market sell-off. The Hong Kong market has been hammered by both domestic crackdowns and unfavourable China-US tensions. Growth, value, and cyclical sectors, as well as other thematic stocks, have been sold off indiscriminately. However, this stock is relatively outperforming the rest as its business is largely immune to inflation and policy risks. The business driver is the distribution volume rather than profit margins. The growth in demand for medicines and medical devices is stable with low price sensitivity.
The updated market consensus of the EPS growth in FY22/23 is -0.32%/9.63% YoY respectively, which translates to 5.7x/5.2x forward PE. The current PER is 8.2x. The FY22F/23F dividend yield is 5.3%/5.7%. Bloomberg consensus average 12-month target price is HK$24.38.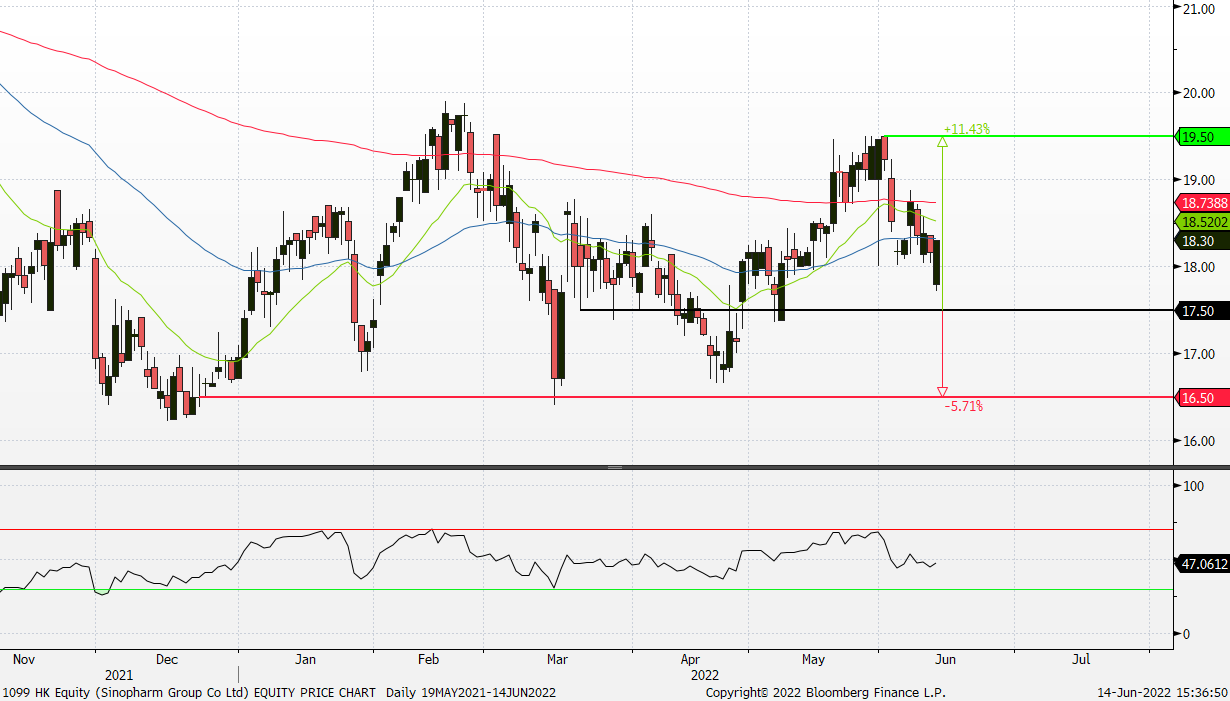 United States
Top Sector Gainers
Top Sector Losers
Royal Caribbean Cruises Ltd (RCL US) and Norwegian Cruise Lines Holdings (NCLH) shares fell 11.4% and 11.5% respectively as investors grappled with growing signs of a recession in the U.S..
Unity Software Inc (U US) shares fell 9.2% after Benchmark initiated coverage of the stock with a sell rating. The investment firm said an economic slowdown and post-pandemic decline in video game user growth would be negatives for Unity.
Tesla Inc (TSLA US) shares dropped 8.5% as investors dumped growth stocks amid fears of an economic recession. Reuters also reported that Tesla was planning to hike prices on its cars in the United States to account for rising costs.
Warner Bros. Discovery Inc (WBD US) shares dropped 8.1% following a downgrade to neutral from overweight by JPMorgan. Analysts said they're waiting for more clarity around Warner Bros. Discovery's direct-to-consumer strategy. The downgrade comes after a restriction period when JPMorgan removed its rating on the stock.
---
Singapore
Silverlake Axis Ltd (SILV SP) shares rose 1.4% yesterday. Last week, PhillipCapital initiated "buy" on Silverlake Axis (SAL), a Singapore-listed customised software solutions and core banking systems provider. The brokerage has also given the company a target price of 38 cents, which is pegged to an FY2022 P/E of 20x. The target price is also an 11% upside to peer valuations of around 18x P/E, writes analyst Glenn Thum in his June 6 report.
Nio Inc (NIO SP) shares extended their rally and rose 1.9% yesterday. Nio will hold a product launch event on 15 June 8pm Singapore time, and although the company hasn't specified what product will hold the spotlight, it should be its ES7 SUV. Nio released a teaser video of the new model today, giving a sneak peek into its camera and lidar sensor system. It's an important event, as Nio has been postponing ES7's launch since April amid COVID-19 restrictions in China. ES7 will be Nio's sixth EV and is a mid-to-large-size five-seater SUV, between the ES6 and ES8.
Thai Beverage PCL (THBEV SP) shares rose 1.6% yesterday. Thai Beverage has received its eligibility to list from the Singapore Exchange for the proposed separate listing of its beer subsidiary. "The receipt of the eligibility to list letter is one of the requirements which has to be met in order for ThaiBev to proceed with the proposed spin-off listing," says ThaiBev on June 15.
RH Petrogas Ltd (RHP SP) and Dyna-Mac Holdings Ltd (DMHL SP) shares lost 3.8% and 7.8% respectively yesterday. WTI crude futures rose 1% to above $116 per barrel on Thursday after falling nearly 5% in the previous two sessions, as investors assessed the impact of the Federal Reserve's aggressive rate hike and rising US crude output on the markets. Oil prices came under pressure overnight after the Fed raised interest rates by 75 basis points as the central bank seeks to combat surging inflation, raising the risk of a recession. On top of that, EIA data showed that US crude production unexpectedly rose to 12 million barrels a day last week, hitting the highest level since April 2020.
Hong Kong
Top Sector Gainers
Top Sector Losers
Koolearn Technology Holding Ltd (1797 HK) shares jumped 72.7% and closed at a 52-week high yesterday. Koolearn's channel went viral in the past week and gross merchandise volume rose to more than RMB40mn (US$6.0mn) on Tuesday, compared with about RMB22mn the previous day, while followers of its channel rose to about 3.8mn this week from less than a million earlier this month.
China Ruyi Holdings Ltd (136 HK) shares jumped 13.1% and closed at a 52-week high yesterday. There was no company-specific news. China has recorded its highest weekly box office in more than three months, as Universal Pictures Ltd.-produced "Jurassic World Dominion" roared onto the big screen, and more theaters reopened after authorities eased Covid restrictions. For the week ending June 12, China's box office revenue totalled RMB467mn (US$69mn), compared to RMB114mn for the week ending May 15.
Kuaishou Technology (1024 HK) shares fell 8.8% yesterday. There was no company-specific news. The technology sector was sold off as the Federal Reserve announced the most aggressive interest rate increase in nearly 30 years, raising the benchmark borrowing rate by 0.75 percentage points on Wednesday as it battles against surging inflation.
Dongyue Group Limited (189 HK) shares fell 12.2% yesterday. There was no company-specific news. Daiwa Securities downgraded the rating to OUTPERFORM from BUY and slashed the TP to HK$12.5 from HK$26.6. The brokerage firm believed that the net profit growth in 2H22 will slow down compared to 170% YoY growth in 5M22. The estimated respective price of PVDF/R142b was adjusted upward to RMB300,000/tonne and RMB130,000/tonne in 2022 but adjusted downward to RMB150,000/tonne and RMB70,000/tonne in 2023.
Everbright Securities Company Limited (6178 HK). Shares fell 14.0% yesterday. There was no company-specific news. The stock jumped 46% over the past 6 trading days before it hit a 52-week high. The drop could be due to profit-taking movements.


Trading Dashboard Update: Cut loss on Golden Energy & Resources (GER SP) at S$0.6, Nexteer Automotive (1316 HK) at HK$5.3, Bumitama Agri (BAL SP) at S$0.68. Add Rex International (REXI SP) at S$0.32.