16 March 2022: OxPay Financial Ltd (OPFL SP), Ganfeng Lithium Co Ltd (1772 HK)
Singapore Trading Ideas | Hong Kong Trading Ideas | Market Movers | Trading Dashboard
SINGAPORE
OxPay Financial Ltd (OPFL SP): From losses to profits
BUY Entry – 0.150 Target – 0.173 Stop Loss – 0.140
The turnaround. OxPay announced adjusted net profit of S$3.2mn in FY21 VS FY20's net loss of S$1.9mn, driven by a surge in revenue of 53.2% YoY in FY21. Gross profit margin jumped to 62% in FY21, from 32% in FY20, mainly due to an increase in remittance activities from its merchants.
Riding on the BNPL trend. OxPay recently entered into multiple partnerships in the "Buy Now Pay Later" (BNPL) space, such as with IOU Pay and PaySlowSlow. Pursuant to the partnership with IOU Pay, OxPay will be able to add the BNPL option into its online e-invoicing, Quickpay and web payment acceptance platform in Malaysia, thereby catering to the growing consumer demand for deferred payment choices. OxPay has also collaborated with BNPL brand PaySlowSlow in Singapore and will provide the brand with payment gateway and merchant acquiring services. PaySlowSlow Singapore targets to roll out BNPL services in 1Q22, with 500 merchants and monthly gross transaction value of approximately S$1.0mn, which is expected to translate into additional processing volume for OxPay.
Reinforcing foothold in the F&B and retail space. Capitalising on its specialty in the F&B and retail space, OxPay has also acquired up to 20% stake in AppPOS, a network of over 300 F&B and retail merchants. AppsPOS has more than 1mn users on its mobile apps/website in Asia, facilitating over S$300mn worth of Gross Merchant Value annually.
Neobanking in UK and European markets. OxPay announced earlier this year that it has partnered with TranSwap, a global banking-as-a-service platform with multiple central bank licenses across the UK, Singapore, Hong Kong and Indonesia. TranSwap will integrate its neobank technology stack in OxPay's current platform. With this partnership, OxPay will offer neobanking products such as the issuance of local and global virtual name bank accounts to clients for collection, payment and conversion of currencies, as well as global cross-border payment and issuance of cards.
Summary. Despite being a fintech company, OxPay managed to turnaround its losses from the previous year and generated adjusted net profits in FY21. The company has low levels of debt, a negative net gearing ratio and the business is free from large capex commitments, inventory and operates on a straightforward revenue model.
While we have a technical buy TP of S$0.173, we have a fundamental outperform rating and TP of S$0.30 based on 18x P/E (Previously 25x) to FY22F EPS of S$0.017. Read our fundamental report here.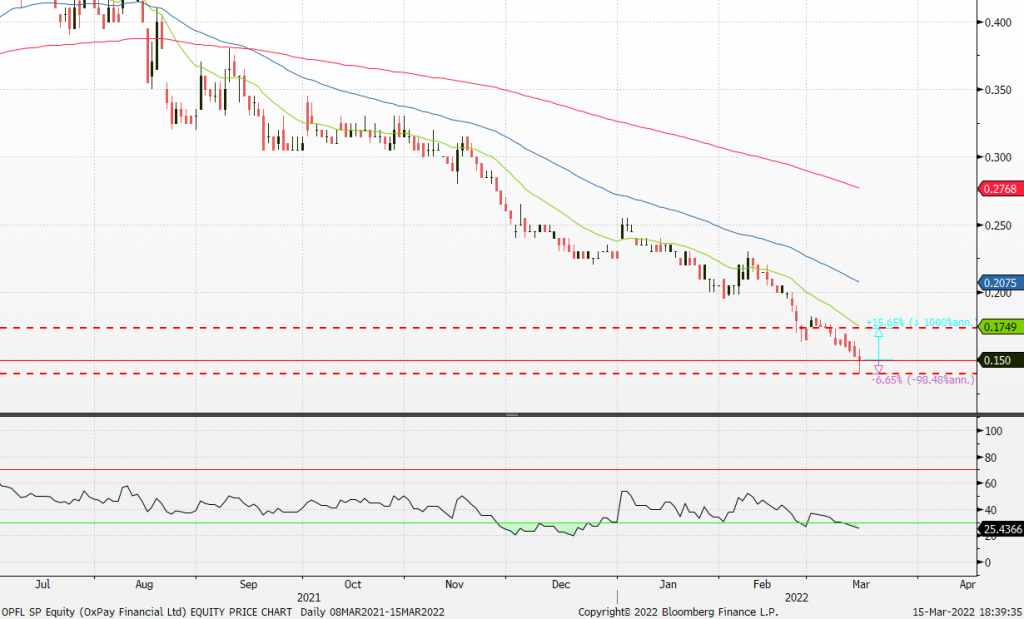 ---
Civmec (CVL SP): A value stock with strong fundamentals and growth opportunities
RE-ITERATE BUY Entry – 0.63 Target – 0.70 Stop Loss – 0.60
Civmec is an integrated, multi-disciplinary construction and engineering service provider to the Oil & Gas, Metals & Minerals and Defence & Infrastructure sectors. The group provides services in Australia and its manufacturing facilities are located in Western Australia and New South Wales.
Outstanding 1H22 results. Civmec's revenue rose 27.4% YoY to A$389.3mn in 1H22, while net profit after tax jumped 50.4% YoY to A$22.6mn. Even though gross margin declined slightly by 0.5ppts to 10.8% in 1H22, the overall strength in bottom-line was due to prudent cost spending, with admin expenses decreasing slightly by 0.4% to A$9.2mn, and other expenses declining 93% to A$0.1mn in 1H22.
All engines fired up and ready to go. All of Civmec's three business divisions are set to benefit from higher commodity prices and increased government spending in Australia. The group expects its maintenance and capital works division to be the growth driver in the short to medium term. Meanwhile, it is set to benefit from public infrastructure and defence spending as the Australian government is investing $110bn over 10 years in land transport. In the commodities space, the decarbonisation drive and supply-chain disruptions due to the Russian war is driving demand for Australian-sourced metals such as aluminum, copper and lithium.
Attractive valuations and strong balance sheet. Civmec currently trades at 8x FY2022F P/E and 1.0x P/B against 13% FY2022-23F ROE and a strong balance sheet.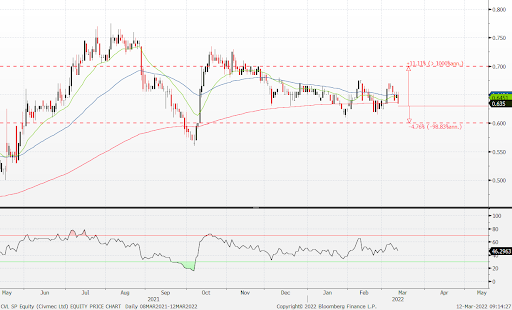 ---
HONG KONG
Ganfeng Lithium Co Ltd (1772 HK): A quality stock for bottom fishing
BUY Entry – 90 Target – 110 Stop Loss – 81
GANFENG LITHIUM CO., LTD. is a China-based company principally engaged in the research, development, production and sales of deeply processed lithium products. The Company's main products include lithium compounds, lithium metal and lithium batteries. The Company's products are mainly used in electrical vehicles, chemicals and pharmaceuticals. The Company distributes its products in the domestic market and to overseas markets.
Lithium carbonate reached another record high. Lithium carbonate prices in China rose to RMB493,500/tonne as of 14th March due to high global demand and tight supplies. Prices have jumped more than 87% YTD. China is expected to double the EV sales in 2022 to more than 5mn units. Meanwhile, battery producers rush to secure long-term supply contracts with lithium mining companies. The recent sanction on Russia pushed oil prices back to more than US$100/bbl. The outlook for oil is still very bullish. Accordingly, the demand for petroleum vehicles will be further suppressed. On the contrary, the demand for EVs, especially in Europe and the US will be further propelled. As a result, lithium, the main raw material for batteries, is expected to see stronger demands.
Positive FY21 earnings alert. The company announced the FY21 earnings alert. Net profit attributable to shareholders of the company jumped by between 368.45% and 436.76% YoY to between RMB4.8bn to RMB5.5bn. Net profit after deduction of non-recurring gains and losses jumped by between 621% and 795.04% YoY to between RMB2.9bn and RMB3.6bn.
Oversold due to panic mode. Share prices fell to last April/May levels. However, lithium carbonate prices stayed firmly at the record high of RMB493,500/tonne as of 14th March. The panic selling was due to the broad market sell-off in the Hong Kong market.
Updated market consensus of the EPS growth in FY22/23 is 67.8%/7.0% YoY respectively, which translates to 16.8×15.7x forward PE. Current PER is 31.3x. Bloomberg consensus average 12-month target price is HK$204.85.
Lithium carbonate spot price in China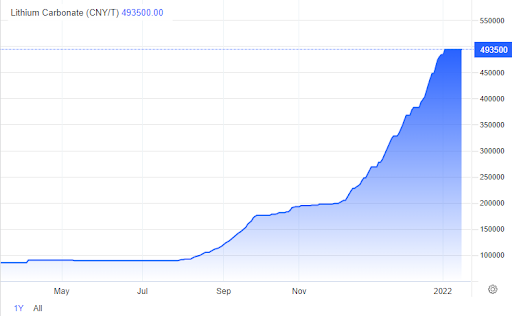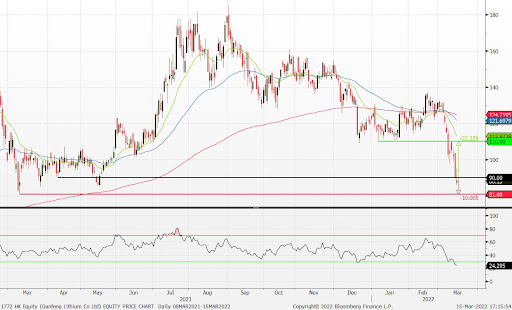 ---
CSOP Hang Seng TECH Index Daily (-2x) Inverse Product (7552 HK): A fire insurance amidst burning houses
RE-ITERATE BUY Entry – 19 Target – 25 Stop Loss – 17
The investment objective of the Product is to provide investment results that, before fees and expenses, closely correspond to the two times inverse (-2x) of the Daily performance of the Hang Seng TECH Index
Sell-off accelerates. The U.S. Securities and Exchange Commission identified five Chinese firms last week that could be subject to delisting if they failed to comply with specific auditing requirements. Driven by the renewed regulatory risk, Chinese stocks with dual listings in the US and Hong Kong experienced further sell-off last Friday. Meanwhile, the geopolitical risks could escalate, spilling over to Chinese companies as China's stance over the Russia-Ukraine conflict tilts to Russia. Chinese companies, especially those that are listed in the US could be the scapegoats.
Key week to decide the market direction. The US Fed is expected to hike 25bps for the Fed fund rate, the first-rate hike since 2018 at the FOMC meeting. Meanwhile, investors are eyeing the Fed's economic outlook, balance sheet reduction guidance, and interest rate projections. This Friday is the quadruple witching day with the trillions worth of options expiring, resulting in a surge in volatilities.
Commodities crisis. The sanctions on Russia has led to the Russian commodities being unwanted by western countries. As the bulk of the collaterals of commodities is Russian goods, brokers are forced to increase margins and resort to non-Russian commodities. The direct impact is that the commodities market is draining liquidity from the broader market, contributing to the further sell-off in emerging markets.
FRA-OIS 3M Spread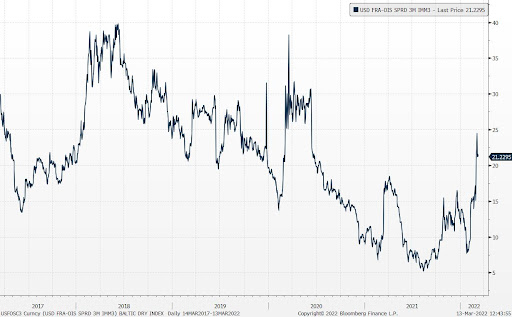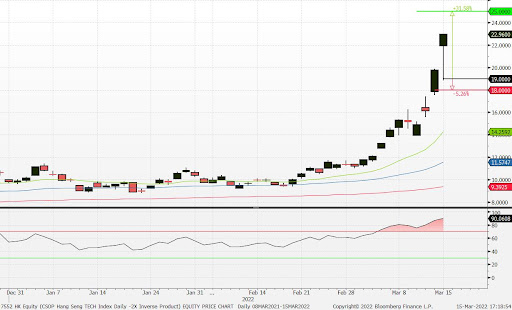 ---
MARKET MOVERS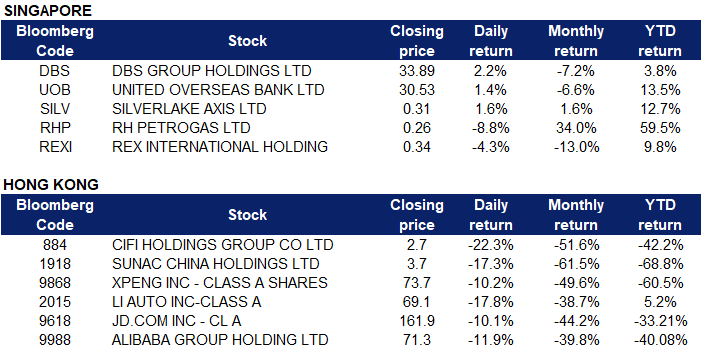 ---
United States
Top Sector Gainers
Top Sector Losers
Peloton Interactive Inc (PTON US) shares rose 11.9% yesterday after Bernstein initiated coverage of the stock with an "outperform" rating. The analyst mentioned Peloton's healthy underlying business, new management and recent stock price plunge. Her $40 price target implies the stock could nearly double over the next year.
Delta Airlines Inc (DAL US) and American Airlines Group Inc (AAL US) shares jumped 8.7% and 9.3% yesterday, as airlines bet a surge in travel demand will help offset fuel costs. Travel demand has bounced back faster than expected this year, major airlines said Tuesday, a welcome trend for an industry battered by Covid and a sign that carriers expect to pass along higher fuel prices and other costs on to customers. "We are very, very confident of our ability to recapture over 100% of the fuel price run-up in the second quarter and through probably the end of the summer," Delta Air Lines President Glen Hauenstein said during a JPMorgan investor conference. Delta reiterated that bookings are outpacing 2019 and Hauenstein said the airline last week had its highest one-day cash sales in its more than 90-year history. In addition, CEO Doug Parker of American Airlines said, "We can make money at oil prices of $100 a barrel or higher, and we will".
AMC Entertainment Holdings Inc (AMC US) shares rose 6.8% yesterday after announcing it agreed to purchase a roughly 22% stake in a tiny gold and silver miner, Hycroft Mining. In a quarterly securities filing released in November, Hycroft included a "going concern" clause, saying it would likely need to raise additional cash to meet its financial obligations over the next year. Additionally, in 2015 the company filed for bankruptcy protection. At the time, Hycroft was filing so it could restructure its debt, which stood at $543 million.
Starbucks Corporation (SBUX US) shares rose 4.8% yesterday after it announced a partnership with Volvo Cars to research the usage and potential scalability of electric vehicle chargers at Starbucks stores nationwide. Meanwhile, Starbucks also unveiled the latest steps it's taking to reduce its disposable cup use.
---
Singapore
Bank stocks, DBS Group Holdings Ltd (DBS SP) and United Overseas Bank Ltd (UOB SP) were up 2.2% and 1.4% respectively yesterday, likely in anticipation of the Federal Reserve's 2-day meeting which concludes its monetary policy. The Federal Reserve meets this week and is expected to begin unwinding the massive economic help it provided during the pandemic. That process will likely start with an interest rate hike of a quarter percentage point, but policymakers also will update their outlook for rates as well as GDP, inflation and unemployment. Outside the questions over rates, inflation and growth, the Fed also is expected to discuss when it will start paring the bond holdings on its nearly $9 trillion balance sheet. To be sure, the central bank is not expected to take any firm action on this issue this week.
Silverlake Axis Ltd (SILV SP) shares extended its gains and rose 1.6% yesterday after announcing that it is offering to buy back up to 242.4 million shares – representing around 9.1% of the total number of its shares in issue – at S$0.33 each in cash, as part of an off-market equal access offer. The buyback will enhance shareholders' value as it reduces the number of shares in circulation, hence raising the earnings per share of the company, it said in a bourse filing on Monday (Mar 14).
RH Petrogas Ltd (RHP SP) and Rex International Holding Ltd (REXI SP) shares extended their losses and declined 8.8% and 4.3% respectively yesterday. WTI crude futures declined almost 6% to around $97 per barrel on Tuesday, falling below the $100 level for the first time since March 1, while Brent crude futures dropped almost 6% to around $100 per barrel on Tuesday, the lowest in two weeks. Oil prices corrected amid ongoing ceasefire talks between Russia and Ukraine and fears of a demand slowdown from China following the reimposition of fresh lockdowns. Meanwhile, China is facing its worst Covid crisis since early 2020, raising demand concerns from the world's largest crude importer.
---
Hong Kong
Top Sector Gainers
| | | |
| --- | --- | --- |
| Sector | Gain | Related News |
| Diversified Food & Beverage | +1.92% | NAUni-President China Holdings Ltd (220 HK) |
Top Sector Losers
CIFI Holdings (Group) Co Ltd (884 HK) shares plunged 22.3% yesterday. The company announced yesterday it has completed the issuance of the first tranche of medium-term notes in 2022 which amounted to RMB 1bn. The interest rate of the notes is 4.75%, and the term is four years from March 14, 2022. The funds raised are planned to be used for 8 projects located in Dalian, Urumqi, Xi'an, Hefei, Hangzhou, Wuhan and Changsha. As of March 8, 2022, the outstanding bonds of CIFI Holdings Group and its subsidiaries were RMB 13.476bn. Meanwhile, other property sector stocks, such as Sunac China Holdings Ltd (1918 HK) lost 17.3% yesterday. The National Bureau of Statistics reported that from January to February, the sales area of ​​commercial housing was 157.03mn square metres, a YoY decrease of 9.6%, of which residential sales area decreased by 13.8%. Commercial housing sales were RMB 1,545.9bn, down 19.3% YoY, of which residential sales decreased by 22.1% YoY.
Xpeng Inc (9868 HK) and Li Auto Inc (2015 HK) shares extended their losses and declined 10.2% and 17.8% respectively yesterday. A basket of metals, including cobalt and nickel, that go into EV batteries has jumped about 70% year to date. The overall sector decline was likely reinforced when Tesla (TSLA) CEO Elon Musk tweeted Sunday that his company was seeing inflationary pressures. In addition, China's apparent implied support of Russia in the current conflict is another reason for selling pressure.
JD.com Inc (9618 HK) and Alibaba Group Holding Ltd (9988 HK) shares extended their losses and declined 10.1% and 11.9% yesterday as Chinese companies faced renewed regulatory risks in the US. The Securities and Exchange Commission last week named five Chinese companies that could face delisting under a Trump-era law that aims to scrutinise firms with potential ties to foreign governments or the Chinese Communist Party. The companies have three years to comply and turn over the information.
---
Trading Dashboard
Trading Dashboard Update:  Cut loss on Rex International (REXI SP) at S$0.35, Xinte Energy at HK$15.5.

(Click to enlarge image)
---