15 June 2022: Capitaland Integrated Commercial Trust (CICT SP), Sinopharm Group Co., Ltd. (1099 HK)
Singapore Trading Ideas | Hong Kong Trading Ideas | Market Movers | Trading Dashboard

Capitaland Integrated Commercial Trust (CICT SP): Further ease of restriction measures of nightlife
RE-ITERATE BUY Entry – 2.05 Target – 2.25 Stop Loss – 1.95
CapitaLand Integrated Commercial Trust (CICT) is the first and largest real estate investment trust (REIT) listed on Singapore Exchange Securities Trading Limited (SGX-ST). CICT owns and invests in quality income-producing assets primarily used for commercial (including retail and/ or office) purposes, located predominantly in Singapore.
1Q22 financials and businesses review. CICT recorded gross revenue of S$339.7mn and net property income of S$248.3mn in 1Q22, an increase of 1.5% and 0.5% YoY respectively. As of 1Q22, CICT's aggregate leverage was 39.1%, well below MAS' regulatory limit of 45% to 50%. The average cost of debt was stable at 2.3% per annum. The respective occupancy rate of the retail/office/integrated department was 96.6%/91.4%/97.6% in 1Q22, and the occupancy rate of the overall portfolio was 93.6%.
Reopening play. Nightlife establishments with dancing among patrons will no longer be subjected to a capacity limit from 14th June. Patrons will also no longer need to obtain a negative antigen rapid test (ART) result to enter the venue, said the Ministry of Health (MOH) on 10th June. The expiry of leases in Clarke Quay resulted in a slight drop in the occupancy rate of the retail segment in 1Q22, and it is expected to recover in 2H22.
Inflationary hedge. Out of CICT's total borrowings of S$8.8bn as of 1Q22, 85% are on fixed interest rates, which is able to shield the impact of interest rate hikes. In addition, because rents and property value tend to increase amidst the increase in overall prices, the REITs whose properties are able to capitalise on that can provide an inflation hedge.
Positive consensus estimates. Currently, CICT has a consensus rating of 17 BUYS, 3 HOLDS and 0 SELL, and a 12M TP of S$2.47.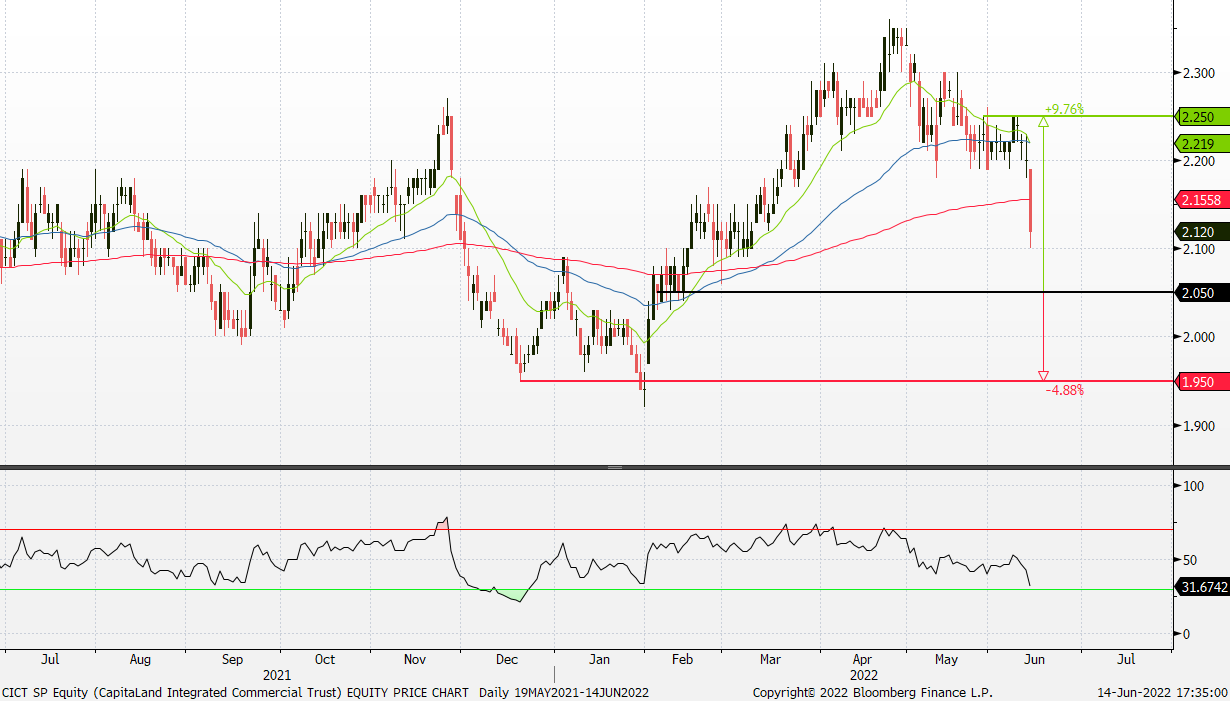 (Source: Bloomberg)

Rex International Holding Ltd (REXI SP): Renewed supply concerns arise from Libyan crisis
RE-ITERATE BUY Entry – 0.320 Target – 0.365 Stop Loss – 0.300
Rex International Holding Limited operates as an independent oil exploration and production company. It operates through Oil and Gas, and Non-Oil and Gas segments. The company offers Rex Virtual Drilling, a liquid hydrocarbon indicator, which uses seismic data to search for oil. The company is involved in the oil and gas exploration and production activities with a focus in Oman and Norway.
Recovery in China's demand for oil. China, the world's top crude oil buyer, imported 45.83 million tonnes last month, data from the General Administration of Customs showed on Thursday, equivalent to 10.79 million barrels per day (bpd). That compares to 10.5 million bpd in April and to a 2021 average of 10.3 million bpd. Meanwhile, China's May exports jumped 16.9% from a year earlier as easing COVID curbs allowed some factories to restart, the fastest growth since January this year and more than double analysts' expectations.
Supply remains tight. Oil supplies are tight, with OPEC and allies unable to fully deliver on pledged output increases because of a lack of capacity in many producers, sanctions on Russia and unrest in Libya that has slashed output.
Libya's crisis is another factor impeding supply. Libya's oil production has almost fully halted as a political crisis leads to more shutdowns of ports and fields. The OPEC member's daily output — which averaged 1.2 million barrels last year — is down by about 1.1 million barrels, Oil Minister Mohamed Oun told Bloomberg on Monday. That suggests Libya is pumping only about 100,000 barrels a day.
Potential headwinds. Shanghai locked down almost everyone in the city over the weekend to conduct mass testing. The effort was triggered by a rebound of infections found in the community less than two weeks after the financial hub exited a bruising two-month shutdown. A renewed surge by the U.S. dollar on expectations for the U.S. Federal Reserve to ramp up its aggressive monetary tightening efforts was a headwind for crude and other commodities priced in the unit. A stronger dollar makes them more expensive to users of other currencies.
Positive consensus estimates. According to Bloomberg consensus estimates, the company currently has a rating of 3 BUYS, 0 HOLD and 0 SELL, with a 12M TP of S$0.58, representing approximately an 81.6% potential upside as of 14 June 2022.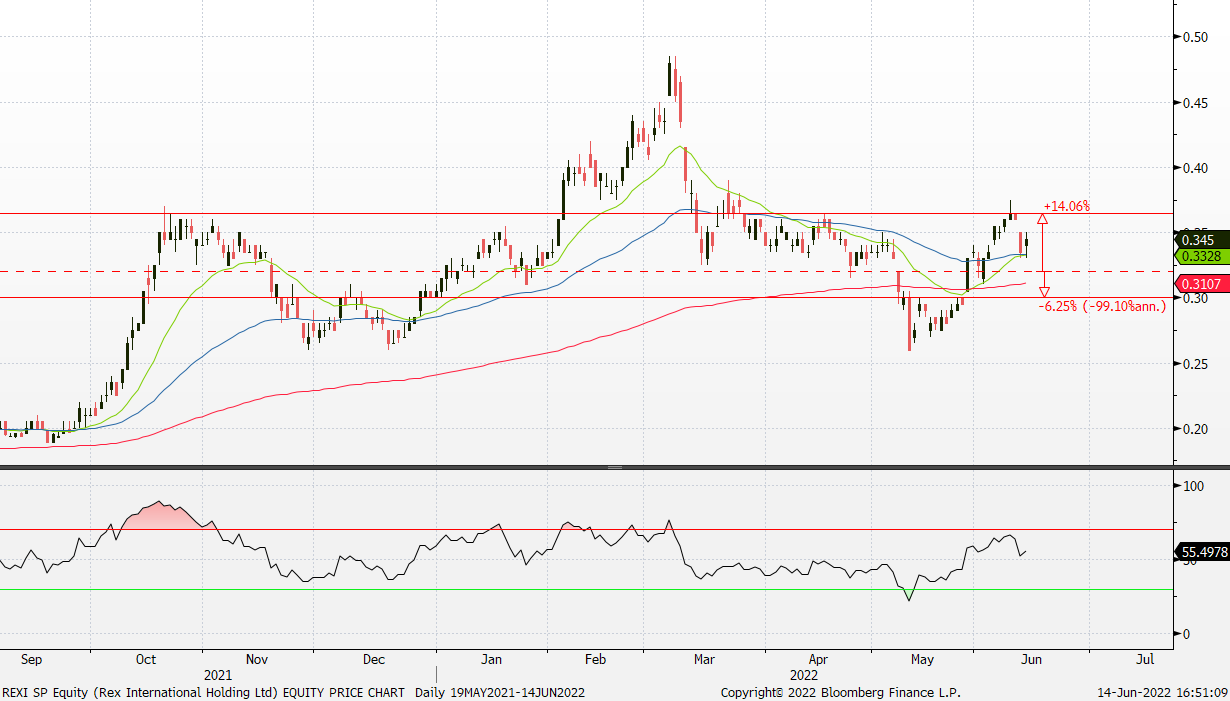 (Source: Bloomberg)


Sinopharm Group Co., Ltd. (1099 HK): A defensive counter amidst sell-off
BUY Entry – 17.5 Target – 19.5 Stop Loss – 16.5
Sinopharm Group Co Ltd is a China-based company principally engaged in pharmaceutical and medical devices distribution business. The Company operates its business through four segments. Pharmaceutical Distribution segment is engaged in the distribution of pharmaceutical products to hospitals, other distributors, retail pharmacy stores and clinics. Medical Devices segment is engaged in the distribution of medical devices, as well as provides installation and maintenance services. Retail Pharmacy segment is engaged in the operation of chain pharmacy stores. Other Business segment is engaged in the distribution of laboratory supplies, manufacture and distribution of chemical reagents, production and sale of pharmaceutical products.
1Q22 earnings review. 1Q22 revenue grew by 6.86% YoY to RMB17.15bn. Net profit attributable to shareholders dropped by 23.25% YoY to RMB252.36mn. The decrease in profit was mainly attributable to the decline in the results of Sinopharm Accord's associates due to the impact of the Covid-19 pandemic, which resulted in a corresponding decrease in investment income of Sinopharm Accord. At the same time, due to the impact of the pandemic, the retail sector has seen a decline in store traffic, and the new stores opened in 2021 cost a large initial investment, the benefits of which have not yet emerged, resulting in a decrease in the margin levels.
A defensive stock amidst market sell-off. The Hong Kong market has been hammered by both domestic crackdowns and unfavourable China-US tensions. Growth, value, and cyclical sectors, as well as other thematic stocks, have been sold off indiscriminately. However, this stock is relatively outperforming the rest as its business is largely immune to inflation and policy risks. The business driver is the distribution volume rather than profit margins. The growth in demand for medicines and medical devices is stable with low price sensitivity.
The updated market consensus of the EPS growth in FY22/23 is -0.32%/9.63% YoY respectively, which translates to 5.7x/5.2x forward PE. The current PER is 8.2x. The FY22F/23F dividend yield is 5.3%/5.7%. Bloomberg consensus average 12-month target price is HK$24.38.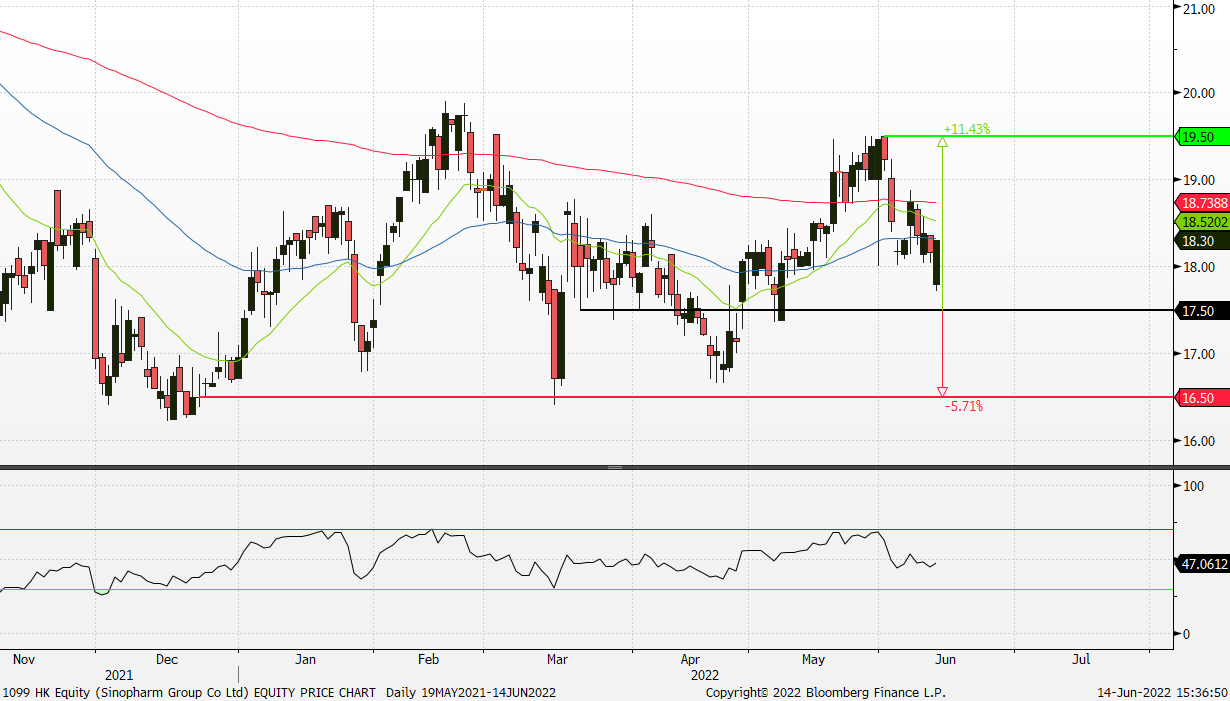 (Source: Bloomberg)
Nexteer Automotive Group Ltd (1316 HK): Riding on the auto sector recovery
RE-ITERATE Buy Entry – 5.3 Target – 6.0 Stop Loss – 4.9
Nexteer Automotive Group Limited is an investment holding company. The Company through its subsidiaries are primarily engaged in the design and manufacture of steering and driveline systems, advanced driver assistance systems (ADAS) and automated driving (AD) and components for automobile manufacturers and other automotive-related companies. Its operations are in the United States of America (USA), Mexico, Poland and the People's Republic of China (China). The principal markets for the Company's products are North America, Europe, South America, China and India. The Company has approximately 27 manufacturing plants, one global technical center, over two regional technical centers, one software service center and approximately 13 customer service centers. Its subsidiaries include Nexteer US Holding I LLC, Rhodes I LLC, Steering Solutions IP Holding Corporation, Chongqing Nexteer Steering Systems Co., Ltd., CNXMotion, LLC and Dongfeng Nexteer Steering Systems (Wuhan) Co., Ltd.
Automobile production to accelerate from June onwards. Previously, the authority announced an auto purchase tax cut, and major cities started to ease the lockdown measures. The expected improving demand for automobiles will drive producers to accelerate production as supply chain disruptions mitigate. The global EV leader, Tesla planned to manufacture more than 71,000 units of both Model 3 and Model Y in June. Due to Shanghai's lockdown from March to May, Tesla's Shanghai factory halted production for three weeks, and its daily production was 1,000 units in 2HApril. Therefore, Tesla has boosted its capacity utilization rate to 100% since the lockdown measures were lifted. Auto part manufacturers are expected to benefit from the turnaround of the sales and production of the sector.
New orders to uphold the growth. In 1Q22, the total value of new order signed amounted to US$2.73bn, four times of the total value signed in 1Q21. With the recovery in the auto markets in Europe and Asia Pacific, the oder book is expected to grow healthily in FY22.
Updated market consensus of the EPS growth in FY22/23 is 21.9%/51.4% YoY respectively, which translates to 11.7x/7.8x forward PE. The current PER is 15.2x. Bloomberg consensus average 12-month target price is HK$6.75.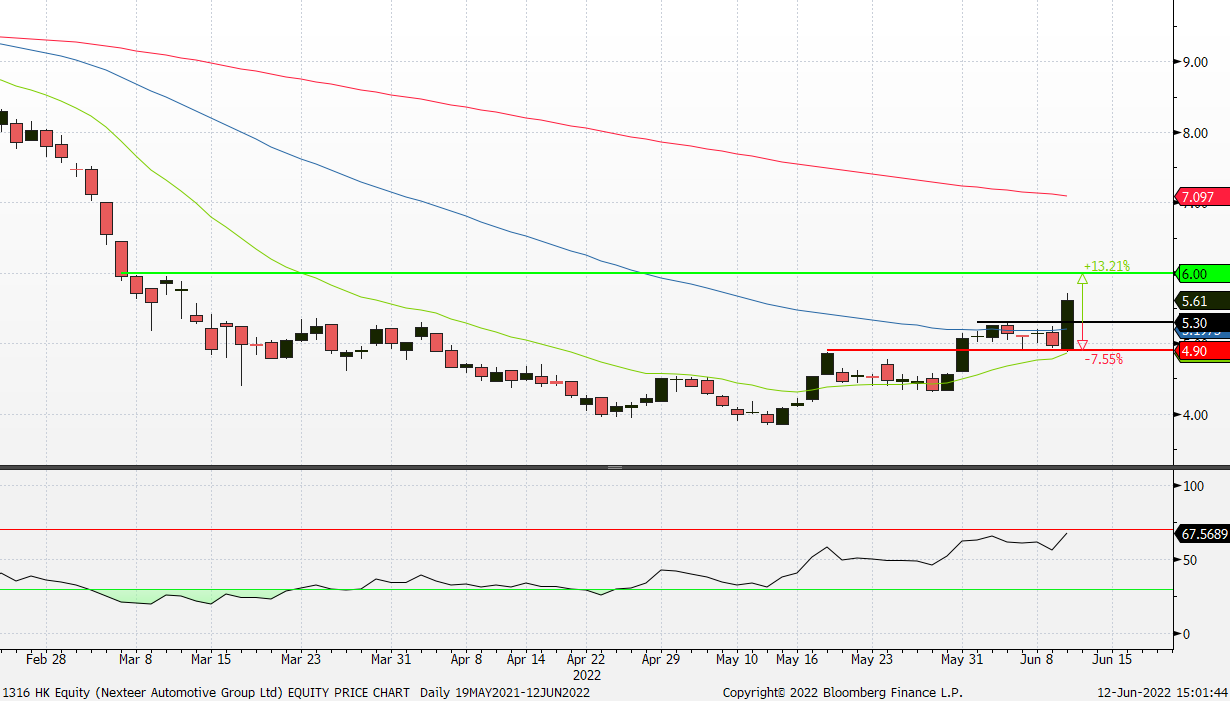 (Source: Bloomberg)





United States
Top Sector Gainers
Top Sector Losers
Continental Resources Inc (CLR US) shares soared 15.1% after the shale company announced an all-cash buyout proposal from the family trust of billionaire founder Harold Hamm. Continental Resources said it's yet to review the offer that would take the company private in a $25.4 billion deal.
FedEx Corp (FDX US) shares jumped 14.4% after FedEx raised its quarterly dividend by more than 50% to $1.15 per share. FedEx also said it added two directors to its board as part of an agreement with hedge fund D.E. Shaw.
Oracle Corp (ORCL US) shares popped 10.4% after the company reported fiscal fourth-quarter results that exceeded analysts' estimates on the top and bottom lines. CEO Safra Catz said the company saw a "major increase in demand" for cloud infrastructure.
Occidental Petroleum Corp (OXY US) and Phillips 66 (PSX US) shares jumped 3.8% and 2.7% respectively on the back of rising oil prices on Tuesday. WTI crude futures steadied around $121 per barrel on Tuesday, as a still tight global oil market countered fears over a possible recession and potential new Covid curbs in China that threatens to hit demand. A drop in Libyan oil exports amid a political unrest that has hit output and ports exacerbated supply tightness, at a time other OPEC+ producers are struggling to meet their output targets and Russia is facing bans on its oil over the war in Ukraine.
---
Singapore
Silverlake Axis Ltd (SILV SP) shares rose 12.5% yesterday. Last week, PhillipCapital initiated "buy" on Silverlake Axis (SAL), a Singapore-listed customised software solutions and core banking systems provider. The brokerage has also given the company a target price of 38 cents, which is pegged to an FY2022 P/E of 20x. The target price is also an 11% upside to peer valuations of around 18x P/E, writes analyst Glenn Thum in his June 6 report.
Dyna-Mac Holdings Ltd (DMHL SP) and RH Petrogas Ltd (RHP SP) shares rose 6% and 9.8% respectively yesterday. WTI crude futures steadied around $121 per barrel on Tuesday, as a still tight global oil market countered fears over a possible recession and potential new Covid curbs in China that threatens to hit demand. A drop in Libyan oil exports amid a political unrest that has hit output and ports exacerbated supply tightness, at a time other OPEC+ producers are struggling to meet their output targets and Russia is facing bans on its oil over the war in Ukraine. On the demand side, a Covid outbreak at a bar in Beijing stoked fears of fresh lockdowns just as restrictions were being eased. Investors are also weighing the impact of a possible recession on energy demand, with elevated inflation readings likely to push the Federal Reserve to consider a bigger 75 basis point rate hike this week.
First Resources Ltd (FR SP) and Golden Agri-Resources Ltd (GGR SP) shares rose 1.5% and 1.8% respectively yesterday. Indonesia on Tuesday issued regulations backing recently announced changes on palm oil export tax policy, including lowering the maximum levy rate to $200 a tonne from $375 and charging special rates for its export acceleration programme. The new rates took effect starting on Tuesday, holding until July 31, when the export acceleration programme ends, according to two trade ministry regulations. The maximum export levy will be raised on Aug. 1 to $240 per tonne for shipments of crude palm oil for when the reference price hits at least $1,500 a tonne.

Hong Kong
Top Sector Gainers
Top Sector Losers
China Power International Development Limited (2380 HK) Shares jumped 13.17% and closed near a three-month high. There was no company-specific news. The power sector jumped. The nation will start construction on more than 200 pumped hydro stations with a combined capacity of 270 gigawatts by 2025, Ding Yanzhang, chairman of Power Construction Corp. of China, the country's largest builder of such projects, said in a Monday commentary in the Communist Party-run People's Daily. That's more than the capacity of all the power plants in Japan, and would be enough to meet about 23% of China's peak demand.
SenseTime Group Inc (20 HK) Shares jumped 10.5% after the company announced that it entered into the Software License Agreement with JCV, pursuant to which SenseTime HK agreed to grant a license and provide certain supporting services to JCV in respect of the Software, which is a computer vision product developed by the Group with various image recognition capabilities.
Huitongda Network Co Ltd (9878 HK) Shares rose 8.9% and closed at a new high since listing yesterday. CMB International Capital Corporation initiated coverage with a TP of HK$66 and a BUY rating. The bank expects its revenue 2021-24 CAGR to be 34%, driven by the expansion of outlets and SaaS services. And the net profit CAGR during the period is expected to be 57% due to the improvement of revenue structure and operating cost control.
Everbright Securities Company Limited (6178 HK) Shares jumped 12.6% and closed at a high since September 2021 yesterday. CSC Financial Co., Ltd (6066 HK) Shares rose 5.9% and closed at a two-month high yesterday. There was no company-specific news for both companies. The brokerage sector jumped as the valuation of the sector is low, attracting some fund inflows.


Trading Dashboard Update: Cut loss on Capitaland Integrated Commercial Trust (CICT SP) at S$2.13. Add The Hour Glass (HG SP) at S$2.3 and Nexteer Automotive (1316 HK) at HK$5.3.