06 July 2022: Sheng Siong Group (SSG SP), Wilmar International (WIL SP)
Singapore Trading Ideas | Hong Kong Trading Ideas | Market Movers | Trading Dashboard

Sheng Siong Group (SSG SP): High inflation expectations to provide second tailwind
BUY Entry 1.55 – Target – 1.65 Stop Loss – 1.50
SSG operates the Sheng Siong groceries chain. Its stores are primarily located in retail locations in the heartlands of Singapore, and designed to provide customers with both "wet and dry" shopping options, including a wide assortment of live, fresh and chilled produce, such as seafood, meat and vegetables, in addition to processed, packaged and/or preserved food products as well as general merchandise such as toiletries and essential household products. The Group has also developed a selection of house brands to offer customers quality alternatives to national brands at substantial savings. To support its retail operations, the Group also has an extensive distribution network, food-processing facilities, and warehousing facilities.
Retail sales show turnaround for supermarkets. May 2022 retail sales for supermarkets & hypermarkets marked a turnaround with 0.6% MoM (April: -6.3%) growth. On YoY basis however, retail sales for the industry fell 10.3% (May 2021: +5.1%) mainly due to higher demand for groceries in the prior period as more people stayed home during the Phase 2 (Heightened Alert) period.
Inflation expectations to channel demand to house brands. SSG recently added more than 800 house brand items to price comparison app, Price Kaki. SSG has 23 house brand labels including Tasty Bites, Heritage Farm and Happy Family, spanning across seven product categories – groceries, frozen, dried food, seafood, meat, fruits and vegetables. It was also shared that its house brands are affordably priced at savings of approximately 5%-20% compared to other products. Given rising inflation expectations, we reckon that Singapore's large middle class will more likely than not shift their grocery spending towards cheaper alternatives. This is mainly so as other sources of inflation such as petrol prices, mortgage servicing are difficult to mitigate.
FY22F results to taper off after record FY21. The Street is fairly mixed on SSG's prospects with 3 BUY, 3 HOLD, and 2 SELL ratings, and an average 12M TP of S$1.65. The street is expecting FY22F EPS to decline 10.2% YoY after a record FY21. Thereafter, SSG is expected to grow its FY23F EPS by 5.1% YoY. While FY22F DPS is expected to fall to S$0.057/share from FY21's S$0.062/share, FY23F DPS should resume growth to S$0.058/share (+1.8% YoY). SSG is currently trading at 19.8x and 18.8x FY22F/23F P/E and 3.7%/3.7% FY22F/23F dividend yield respectively.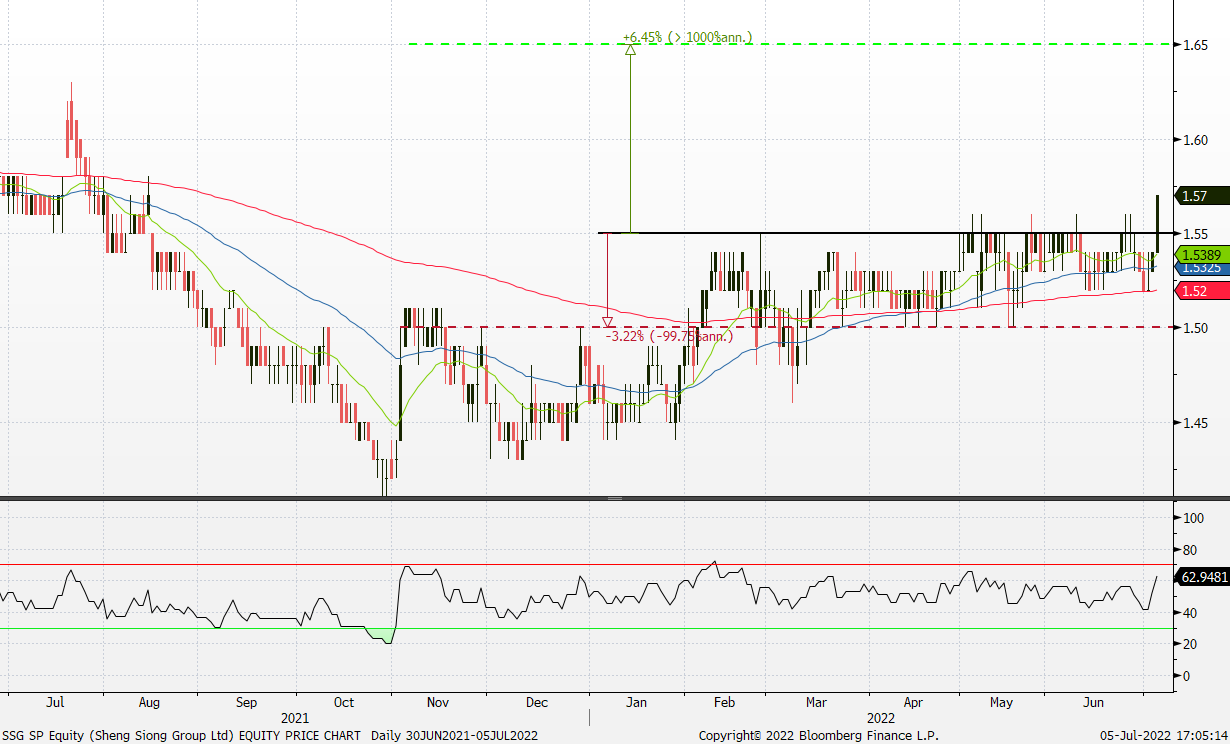 (Source: Bloomberg)
Wilmar International (WIL SP): Soft commodities could rebound; Buybacks offer safety
RE-ITERATE BUY Entry 4.08 – Target – 4.40 Stop Loss – 3.98
WIL is an integrated agribusiness business that encompasses the full value chain of the agricultural commodity business, from cultivation and milling of palm oil and sugarcane, to processing, branding and distribution of a wide range of edible food products in consumer, medium and bulk packaging, animal feeds and industrial agri-products such as oleochemicals and biodiesel. It has over 500 manufacturing plants and an extensive distribution network covering China, India, Indonesia and some 50 other countries and regions.
Soft commodities are still seeing supply tightness. Despite a sharp decline in CPO prices since the beginning of the month, prices are expected to rebound as the c.30% correction in prices does not appear to be justifiable given the tight supply, pent-up demand from consumer countries with low inventory, attractive pricing, as well as additional biofuel demand. We note that MPOC benchmark prices have stabilised at c.MYR4,900 mark last week, after slumping to MYR4,499 the week before.
Share buybacks to support share price in the near and medium term. Since the approval of its share buyback mandate on 21 April, WIL has routinely carried out open market acquisitions of its shares. As at last update, WILhas bought back over 33m shares since April. Last week alone, it bought back 1.4m shares at an average price of S$4.03 apiece, providing pricing support at those levels. WIL currently has about 95% of its buyback mandate remaining till next year, providing it with ample breathing room to acquire back more shares.
After record FY21, WIL should return to fair growth. The Street is fairly bullish on WIL's prospects with 13 BUYs and only 1 HOLD rating, and an average 12M TP of S$5.78. The street is expecting FY22F EPS to slip 2.3% YoY after a record FY21. Thereafter, WIL is expected to grow its FY23F EPS by 4.1% YoY. While FY22F DPS is expected to fall to S$0.124/share from FY21's S$0.155/share, FY23F DPS should resume growth to S$0.131/share (+5.6% YoY). WIL is currently trading at an undemanding 10x and 9.6x FY22F/23F P/E and 4.3%/4.5% FY22F/23F dividend yield respectively.
(Source: Bloomberg)


Hainan Meilan International Airport Co Ltd (357 HK): More upbeat tailwinds in this summer
Buy Entry – 22.0 Target – 25.5 Stop Loss – 20.2
Hainan Meilan International Airport Company Limited, formerly Regal International Airport Group Company Limited, is a Hong Kong-based investment holding company principally engaged in aviation and related businesses. The Company operates through aeronautical businesses and non-aeronautical businesses. Its aeronautical businesses include the provision of terminal facilities, ground handling services and passenger services. Its non-aeronautical businesses include the leasing of commercial and retail spaces at Meilan Airport, airport-related businesses franchising, advertising spaces leasing, car parking businesses, cargo handling and the sales of consumable goods.
Major stimulus package to boost offshore duty-free sales. On 14th June, Hainan province's Department of Commerce issued an action plan on promoting the island's offshore duty-free sales to enhance its role as a magnet for overseas consumer spending. The action plan proposed various high-quality expos, events and festivals — such as the China International Consumer Goods Expo (also called the Hainan Expo) and the Hainan International Tourism Island Carnival. In addition, the plan specified that the island will hold no less than 10 large-scale duty-free shopping promotion activities this year, with provincial-level funding of no less than RMB 20 million (about USD 3 million) to be raised and distributed in the form of vouchers which can be redeemed against duty-free purchases across the island.
Duty-Free Shopping Festival kick started. On 28th June, The first Hainan International Offshore Duty-Free Shopping Festival was launched in Sanya. The international tourism island sets to hold more than 50 promotional events during the half-year festival period to boost the recovery of duty-free shopping.
The updated market consensus of the EPS growth in FY22/23 is -69.7%/171.2% YoY, respectively, translating to 40.1×/14.8x forward PE. The current PER is 12.2x. Bloomberg consensus average 12-month target price is HK$21.88.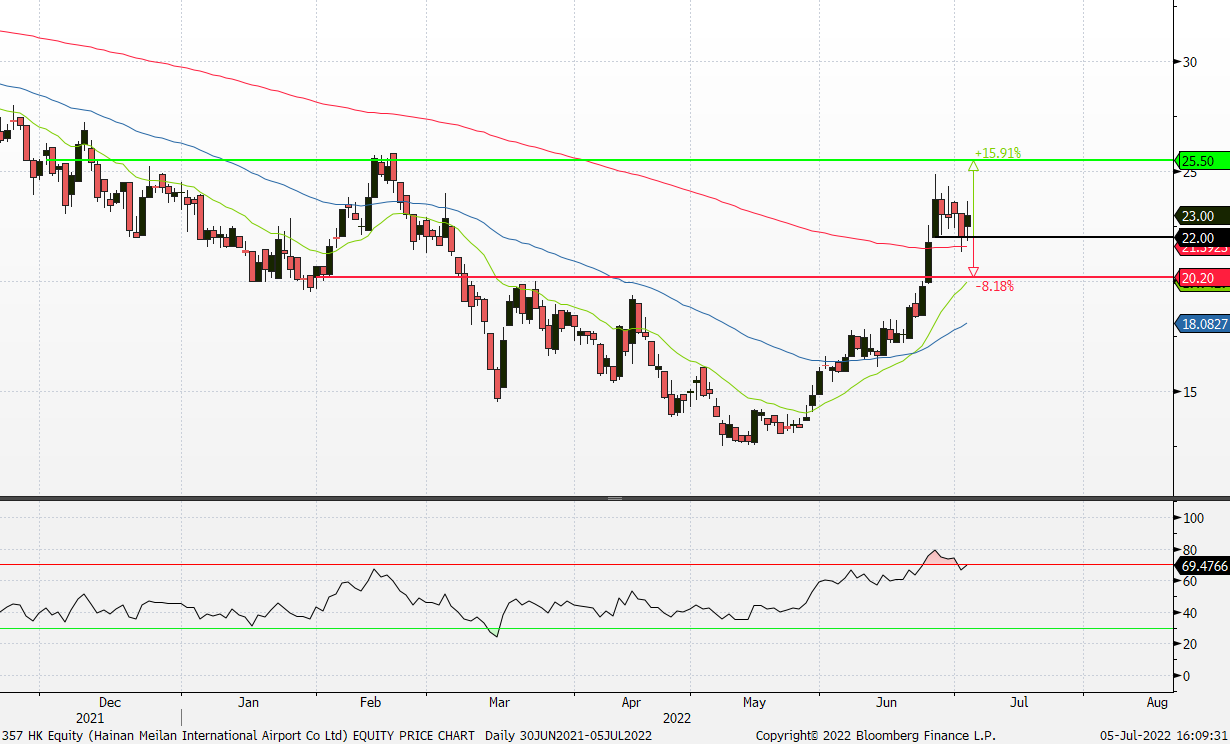 (Source: Bloomberg)
China Resources Power Holdings Company Limited (836 HK): A seasonality trade
RE-ITERATE Buy Entry – 15.8 Target – 18.0 Stop Loss – 14.7
China Resources Power Holdings Company Limited is a Hong Kong-based investment holding company principally engaged in the investment, development and operation of power plants. The Company operates through three segments. Thermal Power segment is engaged in the investment, development, operation and management of coal-fired power plants and gas-fired power plants, as well as the sales of heat and electricity. Renewable Energy segment is engaged in wind power generation, hydroelectric power generation and photovoltaic power generation, as well as the sales of electricity. Coal Mining segment is engaged in the mining of coal mines, as well as the sales of coal. The Company mainly operates businesses in China.
A new round of subsidies for renewable energy electricity. China's Ministry of Finance recently issued a notice on allocating the budget of local funds for additional subsidies for renewable energy electricity prices in 2022. More than RMB2.75bn (US$ 403mn) has been invested. This includes RMB1.47bn (US$219mn) for wind power, RMB1.25bn (US$186.9mn) for photovoltaic and RMB28.9mn (US$4.3mn) for biomass. The Chinese government will continue its subsidies and preferential policies to support the renewable energy industry.
The peak season of high demand for electricity. The demand for power surges during the summer season (June-August) in China. Last year, coal prices, especially thermal coal, skyrocketed due to supply chain issues and the manufacturing sector's recovery. Learning from last year's lessons, electricity suppliers had restocked coal inventories beforehand. Meanwhile, the manufacturing sector's recovery is not expected to be as strong as last year because 1). Some orders were shifted from China to other developing countries when China locked down Shanghai and other big cities during April and May; 2). The US consumption weakened due to inflation and soft consumer sentiment. Therefore, power companies are expected to maintain a healthy profit margin this summer.
Lastest operation updates. Total net generation of subsidiary power plants in 5M22 increased by 0.4%YoY to 71,132,707MWh, among which, subsidiary wind farms increased by 11.0% YoY r to 15,348,623MWh, subsidiary photovoltaic plants increased by 60.4% YoY to 564,697MWh.
The updated market consensus of the EPS growth in FY22/23 is 271.9%/30.2% YoY, respectively, translating to 8.6×/6.6x forward PE. The current PER is 49.1x. FY22F/23F dividend yield is 5.5%/6.8%. Bloomberg consensus average 12-month target price is HK$20.26.
Price seasonality over the past decade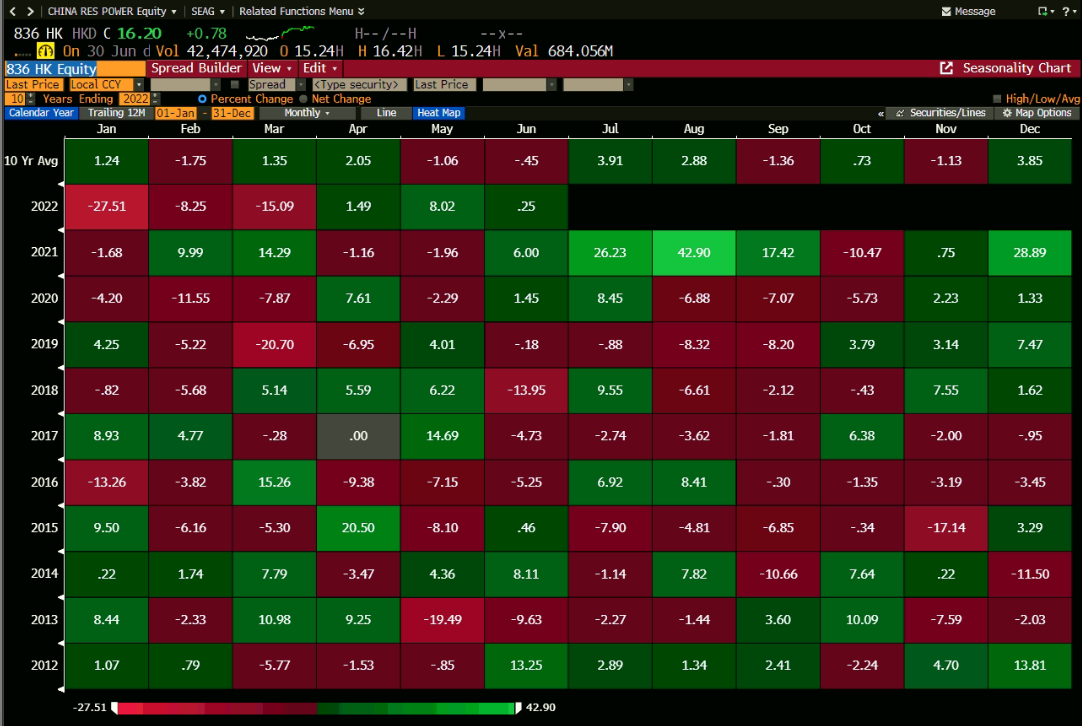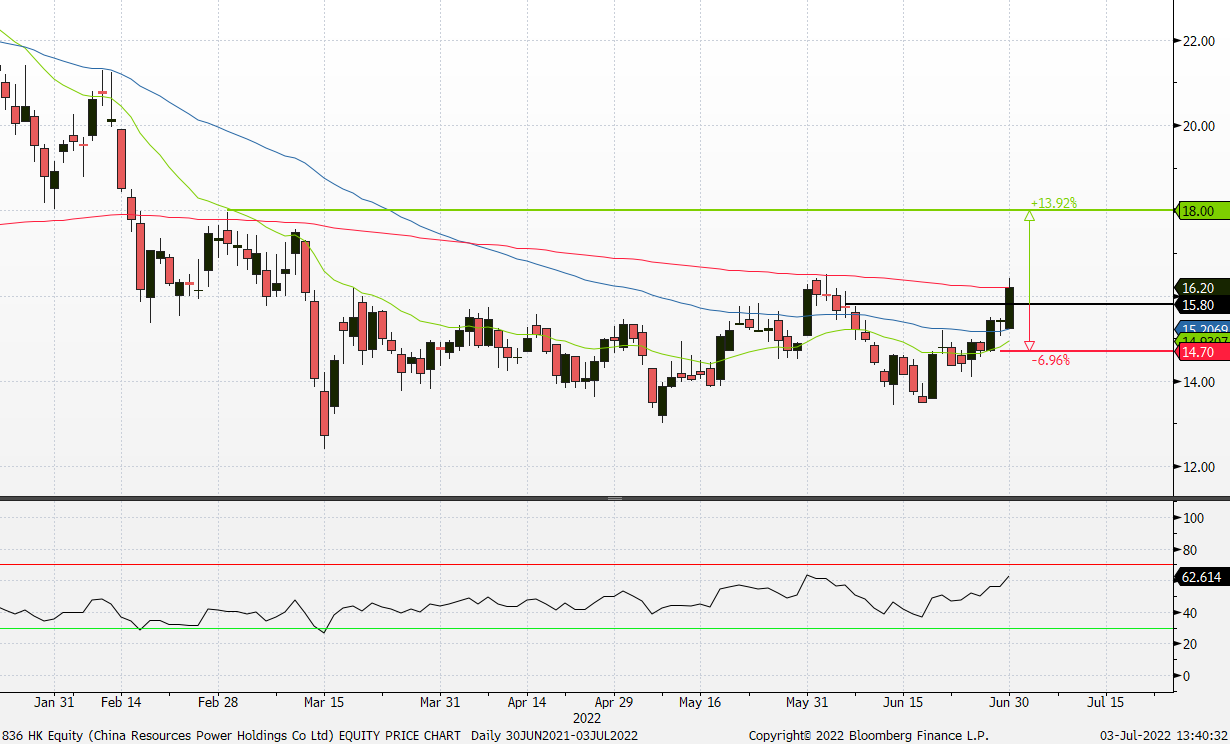 (Source: Bloomberg)



United States
Top Sector Gainers
Top Sector Losers
Crocs Inc (CROX US) shares jumped 12.2% after Loop Capital upgraded Crocs to buy from hold. Loop said in a note to clients that Crocs should not be considered a pandemic-era fad and that the recent decline for the stock has gone too far.
Ford Motor Company (F US) shares dropped 1.1% and hit a new 52-week low after the company reported a slight increase in new vehicle sales for the second quarter that missed automotive analysts' expectations. The company said sales rose 1.8% to 483,688 new vehicles in the second quarter compared to a year earlier. Analysts expected the Detroit automaker's sales to rise between 3.3% and 5.1%.
Marathon Oil Corporation (MRO US), Conocophillips (COP US) and Halliburton Company (HAL US) fell 6.3%, 7.0% and 8.1%, respectively. Energy stocks dipped on Tuesday as oil fell 8% and the U.S oil benchmark traded below $100. The S&P 500′s energy sector traded 5% lower on the day.
Singapore
Rex International Holding Ltd (REXI SP) shares rose 1.9% yesterday. Saudi Arabia, the world's top oil exporter, raised August crude oil prices for Asian buyers to near record levels amid tight supply and robust demand. The official selling price (OSP) for August-loading Arab Light to Asia was raised by $2.80 a barrel from July to $9.30 a barrel over Oman/Dubai quotes, people familiar with the matter said, close to the record high premium of $9.35 per barrel hit in May.
Sheng Siong Group Ltd (SSG SP) shares rose 1.9% yesterday. Sheng Siong announced that all its house brand grocery products will be listed on mobile application Price Kaki. Sheng Siong is the first supermarket to make available all its house brand grocery products on Price Kaki amidst recent consumer concerns over inflationary pressures and cost of living issues.
Golden Agri-Resources Ltd (GGR SP) and First Resources (FR SP) shares fell 2.0% and 2.5% respectively yesterday. Indonesia has raised the palm oil export quota in a bid to cut soaring inventories of the edible oil, a Trade Ministry official said on Tuesday, as a council member in a plantation area warned farmers faced an "emergency" due to tumbling prices. The world's top palm oil producer has been forced to overhaul its policies after a three-week export ban that ended on May 23 caused a massive build-up of domestic stocks and angered farmers by sending prices of palm fruit lower.
Golden Energy and Resources Ltd (GER SP) shares rose 1.1% yesterday. Coal prices are likely to remain high in the near term, as supply is squeezed by sanctions imposed on Russian coal in response to the nation's invasion of Ukraine, Maybank said in a Monday (Jul 4) report. Maybank analyst Richard Suherman noted that Russia is a major supplier of coal, producing the equivalent of 4.2 per cent of the world's coal and exporting 16 per cent of the world's total coal imports in 2021.

Hong Kong
Top Sector Gainers
Top Sector Losers
SenseTime Group Inc (0020 HK) shares rose 8.3% yesterday. After lifting the ban, pre-listing investors and cornerstone investors took advantage of the situation to reduce their holdings, by selling off their shares. The sell-offs erased more than HK$120 billion (US$15.3 billion) from SenseTime's market capitalization in the span of three days. However, being a leading Chinese artificial intelligence software maker, analysts and investors alike are optimistic about its future development.
JL Mag Rare-Earth Co Ltd (6680 HK) shares rose 8.6% yesterday. It announced on 4 July that net profit in the first half of the year is expected to be between 440 million yuan to 510 million yuan, a year-on-year increase of 100%-130%. Additionally, its new energy vehicles and auto parts operating income increased by about 230% over the same period last year. The operating income in the fields of energy-saving inverter air conditioners, wind power generation, 3C line, and industrial energy-saving motors also saw relatively high growth.
Shanghai Electric Group Co Ltd (2727 HK) shares rose 9.3% yesterday. According to reports, it has successfully developed products with 5kW/25kW/50kW stacks, which can be integrated into 100kW/MW containerized vanadium flow battery energy storage systems, and has the ability to provide customers with customised energy storage products and energy storage solution services.
Shanghai MicroPort MedBot Group Co Ltd (2252 HK) shares rose 11.2%. They recently announced that the Group's self-developed Toumai® endoscopic surgical robot has successfully completed the world's longest-distance 5G remote robot operation between Jiangsu Provincial People's Hospital and Xinjiang Kezhou People's Hospital. It is reported that MicroPort recently announced that it plans to issue no more than about 116 million A shares to be listed on the Science and Technology Innovation Board.
United Co RUSAL International PJSC (0486 HK) shares rose 11.3% yesterday. Billionaire Vladimir Potanin, the biggest investor in MMC Norilsk Nickel PJSC, said he's ready to discuss merging the mining giant with United Co Rusal International PJSC as sanctions against Russia weigh on both companies. Potanin said that Nornickel is not under sanctions despite the penalties imposed against him by the UK.


Trading Dashboard Update: Take profit on Hongkong Land (HKL SP) at S$5.05. Add Capitaland Integrated Commercial Trust REIT (CICT SP) at S$2.05