06 April 2022: SATS (SATS SP), BYD Company Limited (1211 HK)
Singapore Trading Ideas | Hong Kong Trading Ideas | Market Movers | Trading Dashboard
SINGAPORE
SATS (SATS SP): Ready for recovery in 2022
BUY Entry – 4.36 Target – 4.64 Stop Loss – 4.22
SATS is Asia's leading provider of food solutions and gateway services with 13,000 employees in over 55 locations and 33 countries across the Asia Pacific, UK and the Middle East. SATS is part of the STI with a market cap of almost S$5bn as of 5 April 2022.
Singapore reopens. The Singapore government announced on 25 March 2022 that all vaccinated travellers can enter Singapore without quarantine from the first of April. Travellers will no longer be required to take only designated flights to enter Singapore quarantine-free, and will not have to take the antigen rapid test (ART) within 24 hours of arrival. This latest round of easing will make travelling as seamless as it was before the pandemic.
Twin engines of growth. SATS has a dominant 80% share of inflight catering and gateway services at Changi Airport and a strong presence in regional airport hubs in key Asian cities, and would thus benefit from the recovery of air travel. Furthermore, SATS has diversified into non-aviation businesses such as central kitchens, which should provide another venue of growth while its main business recovers from the pandemic-induced slump.
Inflection point. Overall international traffic in Asia Pacific so far remains at -88% of 2019 peaks, compared to -42% for North America and European international traffic. However, reopenings in the region (except for major countries like China and Japan) should start to accelerate going into 2Q2022 with more governments announcing relaxation of restrictions. According to a report by Pacific Asia Travel Association (PATA), international visitor arrivals into Asia is forecasted to jump by 100% between 2022 and 2023
Positive consensus estimates. There are 5 BUYS and an average 12m TP of S$4.79, implying a return of 9% from the last close price. SATS trades at 156x FY2022F P/E and 44x FY2023F P/E (YE March). While expensive on a headline P/E level, investors may accord a premium to SATS given the strong balance sheet and positive earnings growth going forward.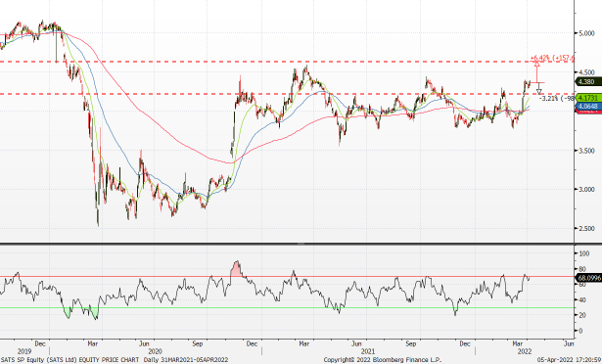 ---
Singtel (ST SP): In favour of defensive assets
BUY Entry – 2.64 Target – 2.83 Stop Loss – 2.52
Singtel provides an extensive range of telecommunications and digital services to consumers and businesses across Asia, Australia, Africa and the US. It serves over 753 million mobile customers in 21 countries, including Singapore, Australia (via wholly-owned subsidiary Singtel Optus) and the emerging markets of India, Indonesia, the Philippines, Thailand and Africa.
Headwinds are easing. Singtel is forecasted to post mid-single digit EBITDA growth in FY2022, a turnaround from the 16% decline in the prior year financial period. Stabilising Singapore average revenue per user (ARPU) and higher Optus ARPU may drive EBITDA growth higher. Furthermore, dividends from associates, which make up more than 25% of operating cash flow, may finally be turning around, driven mainly by the easing of competition of associate Bharti Airtel.
Defence over offence. The risk of recession is rising due to the surge in oil prices, which will also be exacerbated by the US Federal Reserve hiking rates by 50bps in May and in June. Massive surges in oil prices have historically preceded recessions, as was the case in 2008, early 2000s and 1991. It is thus prudent to move to defence over offence in the current environment.
Positive street view and decent dividend yield. Consensus has an overall positive outlook on Singtel, with 16 BUYS / 2 HOLDS / 0 SELL, and a 12m TP of S$3.15 (+19% upside potential). EPS is forecasted to grow 28% and 21% in FY2022 (YE March) and FY2023. The stock offers a decent dividend yield of 3.7% for FY2022 and 4.6% for FY2023.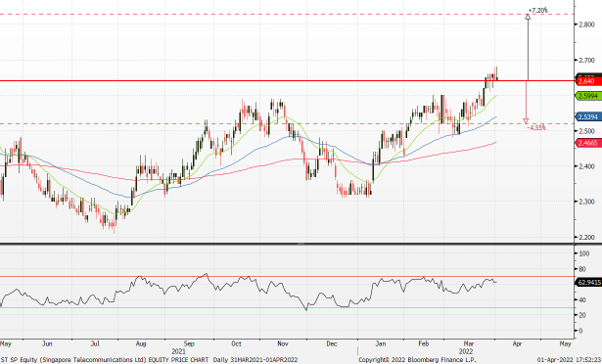 ---
HONG KONG
BYD Company Limited (1211 HK): All-in EV businesses
BUY Entry 237 – Target – 270 Stop Loss – 220
BYD COMPANY LIMITED is a China-based company principally engaged in the manufacture and sales of transportation equipment. The Company is also engaged in the manufacture and sales of electronic parts and components and electronic devices for daily use. The Company's products include rechargeable batteries and photovoltaic products, mobile phone parts and assembly, and automobiles and related products. The Company mainly conducts its businesses in China, the United States and Europe.
First combustion engine car maker to go full EV production. The company announced that as of last month it stopped making combustion engine vehicles and only produced electric and hybrid vehicles. Moving forward, BYD will be the domestic largest pure EV company. The implication is that the valuation for the company will be elevated as the combustion engine car segment will no longer drag the company.
March production and sales volume. As the 1Q22 production and sales volume shows below, the company's strategic move to go pure electric and hybrid vehicle production is in line with the mainstream trend, especially with oil prices staying firmly at above US$100/bbl.


Updated market consensus of the EPS growth in FY22/23 is 145.8%/51.1% YoY respectively, which translates to 75.3×/49.9x forward PE. Current PER is 187.1x. Bloomberg consensus average 12-month target price is HK$329.48.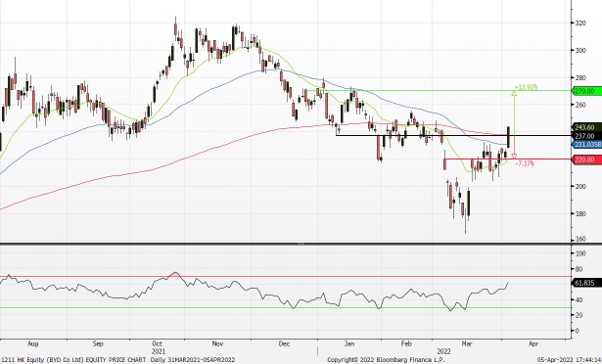 ---
COSCO SHIPPING Holdings Co. Ltd. (1919 HK): Freight rates not going down in the near term
RE-Iterate BUY Entry – 14.5 Target – 16.0 Stop Loss – 13.8
COSCO SHIPPING Holdings Co., Ltd., formerly China COSCO Holdings Company Limited, is an investment holding company principally engaged in container shipping and related businesses. The Company is engaged in container shipping, dry bulk shipping, the management and operation of container terminals, container leasing and the provision of logistics services. The Company operates its business through two segments. The Container Shipping segment is engaged in the transportation of goods across the Pacific, Asia and Europe, and other international routes. The Terminal Operation and Investment segment is engaged in the operation and management of ports. The Company is also involved in the management and leasing of containers.
Positive 1Q22 earnings alert. The company announced that it is expected a net profit attributable to the shareholders jumped by 78.6% YoY to RMB27.6bn. And EBIT is estimated to jump by 98% YoY to RMB39.3bn.
Buoyant freight rates. The global shipping sector remains well profitable as container freight rates were firm at close to US$10,000 during 1Q22. The sanctions on Russia as well as China's current lockdowns of cities disrupted the recovery of global supply chains. Accordingly, the respective freight rates of Europe-America and China-America routes continued to edge up in March. The incredibly high freight rates are not expected to fall substantially in the next few quarters. The US and Europe have decided to gradually rule out Russia in their trading system. China will maintain its zero-COVID policy till the 20th National Congress of the CCP in October/November. Global trade is being reset while the demand for goods is increasing as western countries are reopening.
The updated market consensus of the EPS growth in FY22/23 is -8.2%/-55.8% YoY respectively, which translates to 2.4x/5.4x forward PE. The current PER is 2.2x. Bloomberg consensus average 12-month target price is HK$21.23.
Global Container Freight Index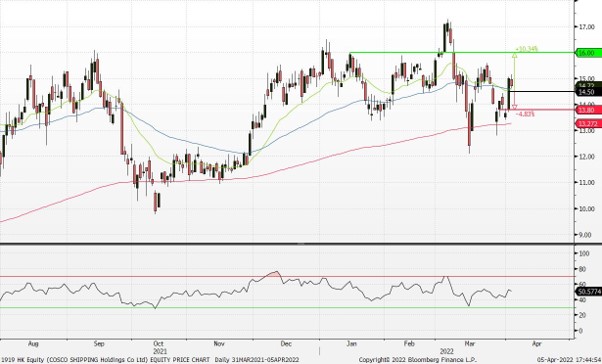 ---
MARKET MOVERS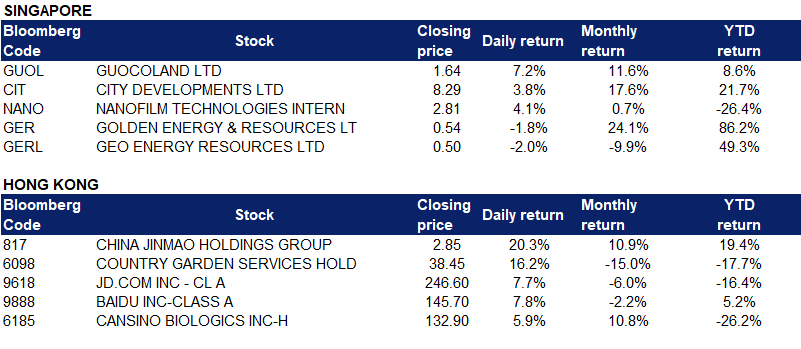 ---
United States
Top Sector Gainers
Top Sector Losers
Carnival Corp (CCL US) shares rose 2.4% yesterday after the company said that March 28-April 3 was the busiest booking week in the company's history. Carnival has 22 of its 23 ships operational again after the pandemic effectively halted the global cruise industry.
Twitter Inc (TWTR US) extended their rally and rose 2% yesterday, after soaring 27.1% after a filing revealed that Elon Musk has taken a 9.2% passive stake in the firm worth about $2.9 billion. The purchase came weeks after the Tesla CEO polled his 80-plus million Twitter followers about whether the platform adheres to free speech principles. Musk also recently hinted at starting his own site. The move is sparking speculation among analysts that Musk could take a more active ownership in Twitter or even consider a takeover down the road.
First Solar Inc (FSLR US) shares fell 4.3% yesterday following a downgrade to underperform from neutral at Bank of America. The investment firm said in a note that First Solar has received "too much credit for a reality that has never materialised."
Starbucks Corp (SBUX US) shares fell 4.5% yesterday, as investors digested returning CEO Howard Schultz's decision to halt the company's stock buyback program. Wedbush downgraded Starbucks to neutral from outperform, saying in a note to clients that it was less confident in the company's earnings.
Coinbase (COIN US) shares plunged 7.6% yesterday after investment firm Mizuho highlighted spending on nonfungible tokens as a rising cost for Coinbase. Mizuho also cut its price target on the stock.
---
Singapore
Guocoland Ltd (GUOL SP) shares rose 7.2% yesterday after DBS initiated coverage on the company with a "buy" call, noting that the property developer is a play into future-ready living with its high-end residential projects and its growing portfolio of quality investment properties. The research team has a target price of S$2.30 on the counter. It noted that GuocoLand currently trades at 0.4 times its net asset value, which is below its 5-year historical mean and lower than peers' average of 0.62 times. The valuations are "unjustifiably low" given its expertise in property development and strong project pre-sales, thus providing an attractive entry point, the research team said. Consequently, fellow peer, City Development Ltd (CDL SP) shares rose 3.8% yesterday. The property developer said in a bourse filing on Wednesday that its sale of 85 strata lots, including 2 car parks, that it owns at Tanglin Shopping Centre to Hillthorpe Investments will likely result in significant gains for the company.
Nanofilm Technologies Ltd (NANO SP) shares rose 4.1% yesterday. Several Singapore-listed companies, including CapitaLand Investment (CLI), Yanlord Land Group and Nanofilm Technologies, are keeping a close eye on the situation in Shanghai, though most of them do not anticipate a major impact from the Chinese financial hub's lockdown. The city's local government on Sunday (Mar 27) announced a 2-stage lockdown over a 9-day period to conduct a mass testing blitz, after Covid-19 cases spiked in the financial hub.
Golden Energy & Resources Ltd (GER SP) and Geo Energy Resources Ltd (GERL SP) shares lost 1.8% and 2% respectively yesterday. Newcastle coal futures bottomed below $300 per tonne, a level not seen in a month, as demand in China is easing and prices of other energy commodities moderate. The latest coronavirus-induced restrictions in China, particularly in Shanghai and Tangshan, hurt demand and led to increased inventories at mines. Still, coal prices have almost doubled since the beginning of 2022, fueled by supply constraints in the energy market due to the Russia Ukraine war, floods in Australia, and a partial ban of exports from Indonesia.
---
Hong Kong
Top Sector Gainers
Top Sector Losers
Some Chinese property stocks rallied on Monday, such as China Jinmao Holdings Group Ltd (817 HK) and Country Garden Services Holdings Co Ltd (6098 HK), which rose 20.3% and 16.2% respectively. The Hong Kong exchange recently suspended trading in over 30 stocks that failed to report earnings on time, including Chinese developers Sunac China, Shimao and Kaisa. As a result, other property stocks which were not exposed to regulatory issues rallied on Monday.
JD.com Inc (9618 HK), Baidu Inc (9888 HK). US-listed Chinese stocks rose collectively on Monday. Baidu and JD shares rose 7.7% and 7.8% respectively. On Friday, China announced that it is considering granting U.S. authorities full access to company audits. This would allow those companies to continue trading publicly in the U.S. The China Securities Regulatory Commission told CNBC that it told some accounting firms to consider preparing for joint inspections. Earlier in March, shares of Chinese companies came under pressure when the U.S. The Securities and Exchange Commission started identifying Chinese companies that could be delisted if they didn't comply with audit requirements.
Cansino Biologics Inc (6185 HK) shares rose 5.9% on Monday, after news that the company has received approval to conduct clinical trials for its Covid-19 vaccines in China. CanSino Biologics Inc said in a press release that studies before clinical trials had shown its vaccine candidate could elicit high-level neutralising antibodies against Covid-19 variants, including Omicron. Citi expects more approvals to be granted to other domestic mRNA vaccines over time, and that there may be further price regulations in the industry.
---
Trading Dashboard
Trading Dashboard Update: No additions or deletions to trading dashboard.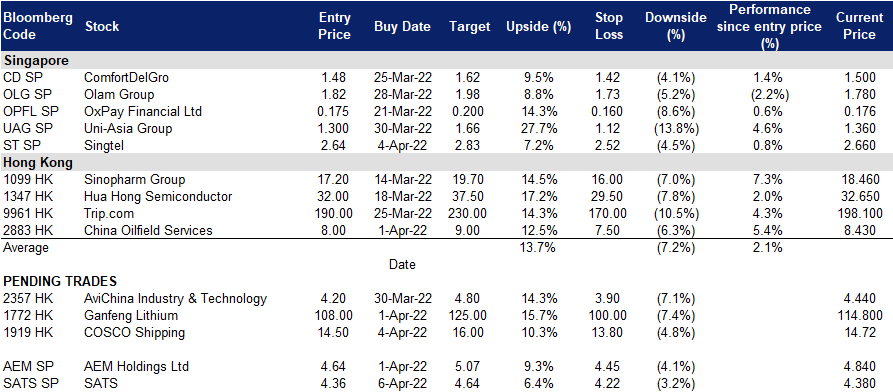 (Click to enlarge image)
---