04 April 2022: Singtel (ST SP), Ganfeng Lithium Co Ltd (1772 HK)
Singapore Trading Ideas | Hong Kong Trading Ideas | Market Movers | Trading Dashboard
SINGAPORE
Singtel (ST SP): In favour of defensive assets
BUY Entry – 2.64 Target – 2.83 Stop Loss – 2.52
Singtel provides an extensive range of telecommunications and digital services to consumers and businesses across Asia, Australia, Africa and the US. It serves over 753 million mobile customers in 21 countries, including Singapore, Australia (via wholly-owned subsidiary Singtel Optus) and the emerging markets of India, Indonesia, the Philippines, Thailand and Africa.
Headwinds are easing. Singtel is forecasted to post mid-single digit EBITDA growth in FY2022, a turnaround from the 16% decline in the prior year financial period. Stabilising Singapore average revenue per user (ARPU) and higher Optus ARPU may drive EBITDA growth higher. Furthermore, dividends from associates, which make up more than 25% of operating cash flow, may finally be turning around, driven mainly by the easing of competition of associate Bharti Airtel.
Defence over offence. The risk of recession is rising due to the surge in oil prices, which will also be exacerbated by the US Federal Reserve hiking rates by 50bps in May and in June. Massive surges in oil prices have historically preceded recessions, as was the case in 2008, early 2000s and 1991. It is thus prudent to move to defence over offence in the current environment.
Positive street view and decent dividend yield. Consensus has an overall positive outlook on Singtel, with 16 BUYS / 2 HOLDS / 0 SELL, and a 12m TP of S$3.15 (+19% upside potential). EPS is forecasted to grow 28% and 21% in FY2022 (YE March) and FY2023. The stock offers a decent dividend yield of 3.7% for FY2022 and 4.6% for FY2023.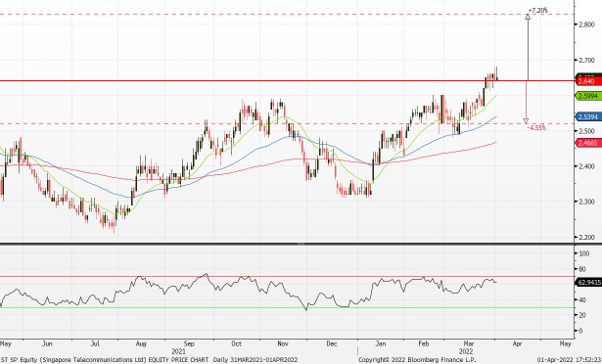 ---
AEM Holdings Ltd (AEM SP): Rekindled interest in Semicon
RE-ITERATE BUY Entry – 4.64 Target – 5.07 Stop Loss – 4.45
AEM Holdings Limited is a Singapore-based company, which offers application specific-intelligent system test and handling solutions for semiconductor and electronics companies serving computing, fifth generation (5G) and artificial intelligence (AI) markets. Its segments include Equipment systems solutions (ESS), System Level Test & Inspection (SLT-i), Micro-Electro-Mechanical Systems (MEMS), Test and Measurement Solutions (TMS) and Others.
2H21 performance reached a record high. During the period, revenue increased by 52.2% YoY to S$373.2mn due to strong uptake of AEM's new generation equipment and tools, and net profit increased by 47.5% YoY to S$62.4mn. The group's full FY21 revenue increased by 9% YoY to S$565.5mn, mainly driven by the revenue contribution from the Test Cell Solutions business segment. However, net profit after tax declined by 5.6% YoY to S$92.1mn as the group stepped up investment in R&D activities to stay ahead of the competition through innovation. In FY2022, the group expected revenue to be between S$670mn to S$720mn and capex to be around S$10mn. The group also expects some margin compressions in view of higher supply chain costs and an increase in R&D spending.
Expansion into Europe. Rood Microtec and AEM announced a strategic cooperation in December 2021. The collaboration will open doors for AEM's wafer level test solutions engineering team to install and exhibit the Aiolos wafer level test handlers at the Rood Microtec Facility in Nordlingen. Equipment is also set up for 200mm wafer frame probing of a wide range of semiconductor devices. Through this partnership, AEM will have a broader opportunity to showcase its system demonstrations to customers in Central Europe.
Increase of shareholdings from Temasek. Temasek Holdings, AEM Holdings' largest shareholder, has increased its stake after an indirect subsidiary bought more shares in the market. As indicated via an SGX filing on March 9, Temasek's indirect subsidiary Venezio Investments paid $5,647,480.02 for 1,416,900 shares. That works out to an average of $3.9858 each. With that Venezio has increased the number of AEM shares held to 30,998,500, or 10.02%, from 9.56%.
Positive consensus forecast. According to Bloomberg consensus estimates, AEM currently has 4 BUYS, 0 HOLD and 0 SELL, with a 12M TP of S$6.41, representing an upside of 35.2% as of yesterday's closing price.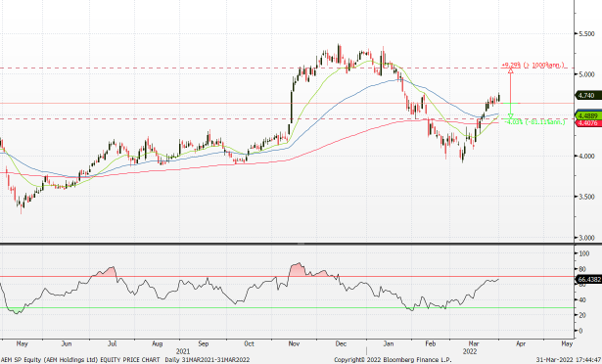 ---
HONG KONG
Ganfeng Lithium Co Ltd (1772 HK): Lithium rules
RE-ITERATE BUY Entry 108 – Target – 125 Stop Loss – 100
GANFENG LITHIUM CO., LTD. is a China-based company principally engaged in the research, development, production and sales of deeply processed lithium products. The Company's main products include lithium compounds, lithium metal and lithium batteries. The Company's products are mainly used in electrical vehicles, chemicals and pharmaceuticals. The Company distributes its products in the domestic market and to overseas markets.
Stellar FY21 earnings. The company announced the FY21 results. Revenue jumped by 103.4% YoY to RMB11.1bn. Gross profit jumped by 282.5% YoY to RMB4.4bn. GPM jumped by 18.6ppts to 39.8%. Net profit attributable to the owners of the company jumped by 409.7% YoY to RMB5.4bn. NPM jumped by 21.6ppts to 49%. The stellar performance was due mainly to the 49% and 14.1% surge in the average selling price of the respective lithium series products and lithium batteries series products. Meanwhile, the company proposed a cash dividend of RMB3 for every 10 shares.
Lithium carbonate price maintains at a record high. Lithium carbonate prices in China. rose to RMB497,500/tonne as of 31st March due to high global demand and tight supplies. Prices have jumped more than 79% YTD. China is expected to double the EV sales in 2022 to more than 5mn units. Meanwhile, battery producers rush to secure long-term supply contracts with lithium mining companies. The recent sanction on Russia pushed oil prices back to more than US$100/bbl. The outlook for oil is still very bullish. Accordingly, the demand for petroleum vehicles will be further suppressed. On the contrary, the demand for EVs, especially in Europe and the US will be further propelled. As a result, lithium, the main raw material for batteries, is expected to see stronger demands.
Tailwind catalyst. According to Bloomberg, the US plans to invoke Cold War powers to encourage domestic production of critical minerals for EV and other types of batteries. Ganfeng holds 11.2% of Lithium Americas (LAC US) and majority stakes in LAC's several projects. Therefore, the ramp-up in production in the overseas market will further improve Ganfeng's performance.
Updated market consensus of the EPS growth in FY22/23 is 43.0%/3.8% YoY respectively, which translates to 17.0×/16.4x forward PE. Current PER is 24.6x. Bloomberg consensus average 12-month target price is HK$204.85.
Lithium carbonate spot price in China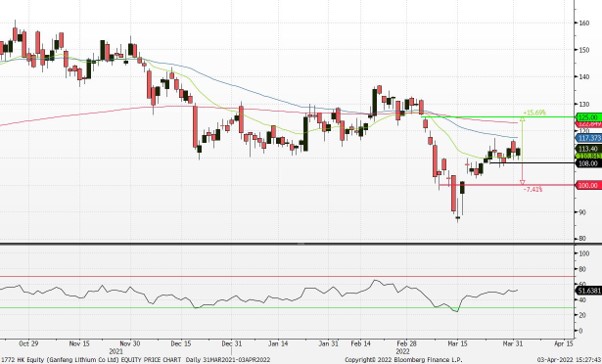 ---
COSCO SHIPPING Holdings Co. Ltd. (1919 HK): Freight rates not going down in the near term
BUY Entry – 14.5 Target – 16.0 Stop Loss – 13.8
COSCO SHIPPING Holdings Co., Ltd., formerly China COSCO Holdings Company Limited, is an investment holding company principally engaged in container shipping and related businesses. The Company is engaged in container shipping, dry bulk shipping, the management and operation of container terminals, container leasing and the provision of logistics services. The Company operates its business through two segments. The Container Shipping segment is engaged in the transportation of goods across the Pacific, Asia and Europe, and other international routes. The Terminal Operation and Investment segment is engaged in the operation and management of ports. The Company is also involved in the management and leasing of containers.
Positive 1Q22 earnings alert. The company announced that it is expected a net profit attributable to the shareholders jumped by 78.6% YoY to RMB27.6bn. And EBIT is estimated to jump by 98% YoY to RMB39.3bn.
Buoyant freight rates. The global shipping sector remains well profitable as container freight rates were firm at close to US$10,000 during 1Q22. The sanctions on Russia as well as China's current lockdowns of cities disrupted the recovery of global supply chains. Accordingly, the respective freight rates of Europe-America and China-America routes continued to edge up in March. The incredibly high freight rates are not expected to fall substantially in the next few quarters. The US and Europe have decided to gradually rule out Russia in their trading system. China will maintain its zero-COVID policy till the 20th National Congress of the CCP in October/November. Global trade is being reset while the demand for goods is increasing as western countries are reopening.
The updated market consensus of the EPS growth in FY22/23 is -8.2%/-55.8% YoY respectively, which translates to 2.4x/5.4x forward PE. The current PER is 2.2x. Bloomberg consensus average 12-month target price is HK$21.23.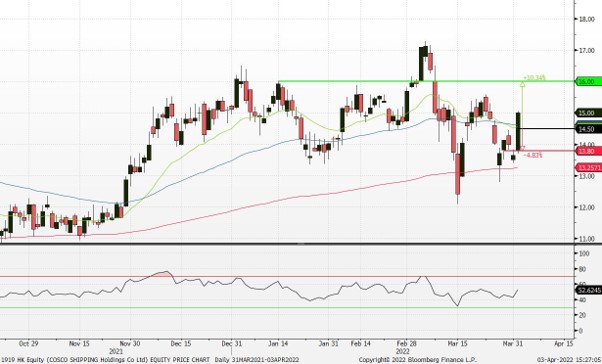 ---
MARKET MOVERS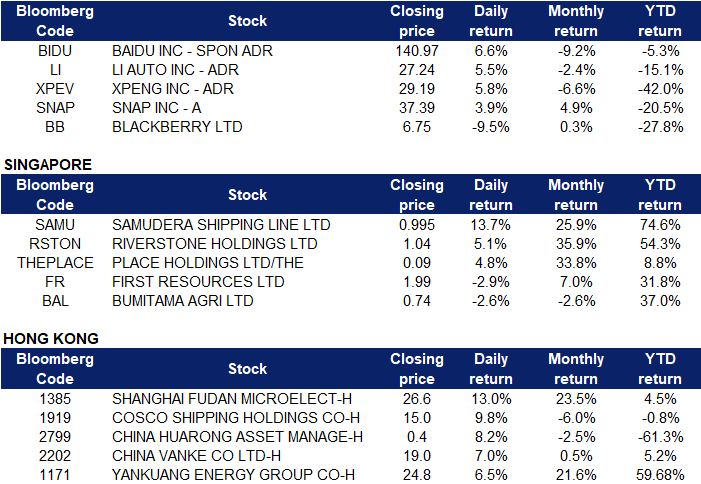 ---
United States
Top Sector Gainers
Top Sector Losers
Baidu Inc (BIDU) shares gained 6.6% on Friday, recovering from its losses the previous day. Baidu was added to the Securities and Exchange Commission's list of U.S.-traded China stocks that could be delisted should the internet search company fail to disclose financial audits to U.S. regulators. However, Baidu has been actively exploring possible solutions regarding the US audit requirements, it said in a statement after the SEC move. "Baidu will continue to comply with applicable laws and regulations in both China and the United States, and strive to maintain its listing status on both Nasdaq and the HKEX," it said.
Li Auto Inc (LI US) and Xpeng Inc (XPEV US) shares gained 5.5% and 5.8% respectively on Friday. Chinese electric vehicle start-ups Nio, Xpeng and Li Auto delivered more cars in March than February even as they faced a number of challenges in the last few weeks. Chinese electric carmakers are grappling with a rise in Covid cases in China, which threatens to disrupt production and deliveries, while raw material costs continue to increase. That's forced several auto companies in China, from Tesla to Xpeng and Li Auto, to hike the prices of their cars. Of the three, Xpeng delivered the most electric cars in March. The Guangzhou-headquartered automaker said it delivered 15,414 vehicles in March, up 148% from February. For the first quarter, Xpeng delivered 34,561 cars, an increase of 159% year on year.
Snap Inc (SNAP US) shares gained 3.9% on Friday after Piper Sandler reiterated its overweight rating on Snap, saying it sees a "compelling pocket of user growth opportunity" in Mexico, Brazil, Italy and Spain.
BlackBerry Ltd (BB US) shares fell 9.5% on Friday after the communications software company reported disappointing cybersecurity revenues for the previous quarter. The company said Thursday that revenues for its cyber came in at $122 million, below a StreetAccount estimate of $126 million.
---
Singapore
Samudera Shipping Line Ltd (SAMU SP) shares rose 13.7% on Friday. SAC Capital analyst Lim Shu Rong is optimistic about Samudera Shipping Line as it rides on a "bumper year" for shipping lines. In an unrated report dated March 15, Lim notes freight rates are still "buoyant and favourable" to shipping companies as the capacity imbalance persists, adding that the China containerized freight index was up 76% YoY as at March 11. However, Lim is less upbeat on Samudera's operating margin, which is expected to come under pressure, due to the Russia-Ukraine conflict.
Riverstone Holdings Ltd (RSTON SP) shares rose 5.1% on Friday. Recently, it was announced that Riverstone' wholly-owned subsidiary has acquired 6 parcels of leasehold industrial lands in Perak, Malaysia from I-R & D Sdn Bhd and I-Berhad for RM17.6 million (S$5.7 million). The acquisition was funded from internal resources and is not expected to have any material impact on the consolidated net tangible assets and earnings per share of the group for the financial year ending Dec 31, 2022, it added. The glove manufacturer said the acquisition of the industrial parcels is to "support the expansion of production capacity for gloves and the group's operations".
Place Holdings Ltd (THEPLACE SP) shares rose 4.8% on Friday. The Place Holdings announced that it has entered into a non-binding memorandum of understanding (MOU) with Stellar Lifestyle, a business arm of SMRT Corporation, to jointly collaborate to shape the future of digital media and tap new opportunities in the digital economy. Stellar Lifestyle is the largest managing agent of retail and advertising spaces in Singapore's rail network. As part of the collaboration, both parties aim to build Singapore's first Sky Screen, a suspended video screen. The Sky Screen is envisaged to be a new attraction in Singapore that will be integrated with smart digital technology system and immersive media, boosting new business vibrancy and creating new possibilities in digital media solutions.
First Resources Ltd (FR SP) and Bumitama Agri Ltd (BAL SP) shares fell 2.9% and 2.6% respectively on Friday. Malaysian palm oil futures plunged to a six-week low around the MYR 5,450-a-tonne level in early April, pressured by a slump in crude prices and Indonesia's decision to remove its export restrictions on palm oil products. The world's top producer has raised its export levy instead of asking producers to sell 30% of their planned exports to the domestic market, marking a new bid to stabilise domestic prices.
---
Hong Kong
Top Sector Gainers
Top Sector Losers
Shanghai Fudan Microelectronics Group Co Ltd (1385 HK) shares rose 13% on Friday after the company announced its 1Q22 results on Friday. The company generated revenue of around RMB 750 million to RMB 820 million, a YoY increase of 49.40% to 63.34%, while net profit attributable to owners of the parent company is approximately RMB 195 million to RMB 250 million, a YoY increase of 125.72% to 189.38%. Wanlian Securities pointed out that since last year, due to factors such as the epidemic and geopolitics, the global semiconductor supply has continued to be tight. From the demand side analysis, the rapid development of new energy vehicles has led to a rapid increase in the demand for products such as MCU power semiconductors, while the supply side is affected by factors such as the epidemic and geopolitics, and is in a state of tension in production expansion.
Cosco Shipping Holdings Co Ltd (1919 HK) shares rose 9.8% on Friday after JP Morgan released a research report saying that it maintained an "overweight" rating on the company with a target price of HK$30. The bank expects a better-than-expected operating outlook for this year, and management expects global supply chain disruptions to continue at least until the second half of this year.
China Huarong Asset Management Co Ltd (2799 HK) shares rose 8.2% on Friday. The company issued an announcement stating that the Ministry of Finance plans to increase the capital held by Citic Group by about 2.407 billion shares. The equity of China Huarong will subsequently be 24.76%, and CITIC Group will become the largest shareholder of China Huarong. After China Huarong's largest shareholder was changed to CITIC Group, its party organisation relationship and leadership team have also been transferred to CITIC Group's party committee management.
China Vanke Co Ltd (2202 HK) shares rose 7% on Friday after Credit Suisse issued a research report saying that it maintained the "outperform" rating on the company. However, the bank lowered its 2022-23 profit forecast by 35% to 36%, and lowered its net asset value forecast by 15%. Based on the unchanged NAV discount, the target price was lowered 15.3% from HK$26.48 to HK$22.43. The bank mentioned that the Group has become more active in monetizing its non-property development business through spin-offs to help unlock the embedded value. Although the group's earnings last year were disappointing, due to a strong cash position and improved execution, operations should improve this year.
Yankuang Energy Group Co Ltd (1171 HK) shares rose 6.5% on Friday, even though Credit Suisse issued a research report saying that it maintained the "underperform" rating on the company. The bank raised its profit forecast for this year and next by 45.7% and 27.6% to reflect the assumption of domestic and seaborne coal prices. The target price rose from HK$9.5 to HK$17.9. According to the report, the company's profit last year was 16.9 billion yuan, a YoY increase of 168%. The increase was mainly due to the increase in coal prices and coal chemical product prices. In addition, the group declared a cash dividend of RMB 1.6 and a special dividend of RMB 0.4, implying a payout ratio of 58%
---
Trading Dashboard
Trading Dashboard Update: No additions or deletions to trading dashboard.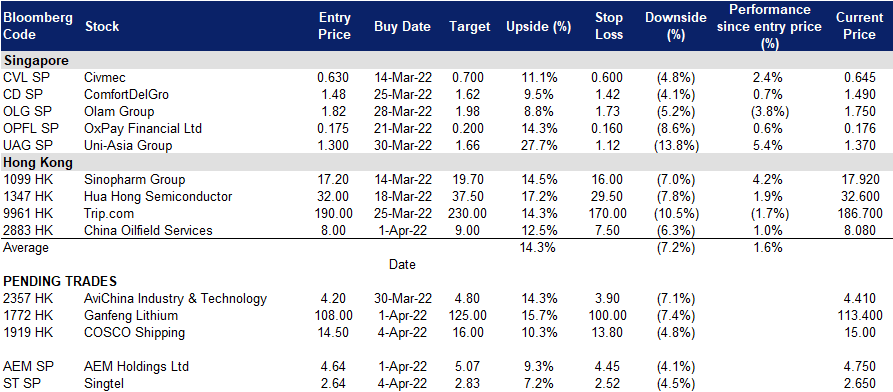 (Click to enlarge image)
---