8 September 2022: Stocks making the biggest moves
Market Movers | Trading Dashboard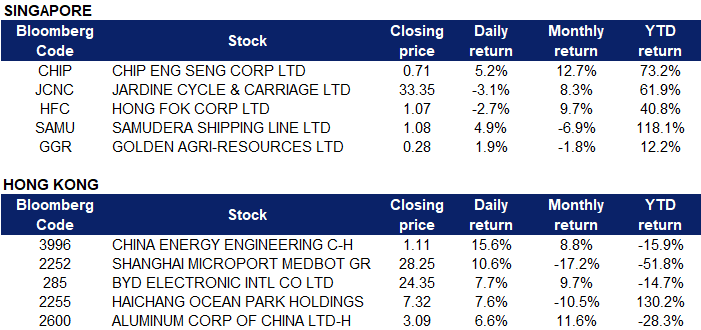 United States
Top Sector Gainers
Top Sector Losers
UiPath Inc (PATH US) tumbled 11.2% after UiPath issued weaker-than-expected third-quarter and full-year revenue guidance. Still, the robotic process automation software company beat earnings and revenue expectations in its most recent quarter.
Coupa Software Inc (COUP US) climbed 17.9% after posting earnings that exceeded expectations in its most recent quarter, as well as outlining strong full-year earnings and revenue guidance.
ChargePoint Holdings Inc (CHPT US) spiked 9.0% after Credit Suisse initiated coverage of the operator of electric vehicle charging stations with a buy rating, saying shares can jump roughly 50% from here. The firm's analyst said ChargePoint stations should get a boost from favourable U.S. regulatory policies.
Gitlab Inc (GTLB US) jumped 14.3% after the software developer reported a smaller loss than expected in its most recent quarter. Gitlab also issued better-than-expected third-quarter guidance.
Pinterest Inc (PINS US) rose 6.2% after Wolfe Research upgraded it to outperform. The firm was positive on Pinterest's new CEO, who analysts say could improve execution on the company's long-term user and monetization goals.

Singapore
Chip Eng Seng Corp Ltd (CHIP SP) rose 5.2% yesterday. There was no company specific news.
Jardine Cycle & Carriage Ltd (JCNC SP) fell 3.1% yesterday. There was no company specific news.
Hong Fok Corp Ltd (HFC SP) fell 2.7% yesterday. There was no company specific news.
Samudera Shipping Line Ltd (SAMU SP) shares jumped 4.9%. There was no company specific news.
Golden Agri-Resources Ltd (GGR SP) climbed 1.9% yesterday. There was no company specific news.

Hong Kong
Top Sector Gainers
Top Sector Losers
China Energy Engineering Corp Ltd (3996 HK) rose 15.6% yesterday. Recently, Sinopec announced the implementation of the medium and long-term hydrogen energy development strategy and the news that it will accelerate establishment with China's first hydrogen energy company has attracted market attention. China energy is moving in the direction of hydrogen energy recently. In August, it signed a strategic agreement with Shandong Energy Group to focus on deepening cooperation in new energy, energy storage, hydrogen energy and other fields. In addition, the Lanzhou New District Hydrogen Energy Industrial Park project jointly invested by Wuhan Zhongyu Power also officially started construction at the end of August. As the main clean energy besides photovoltaics, hydrogen energy has been receiving continuous market attention in recent years.
Shanghai MicroPort MedBot Group Co Ltd (2252 HK) rose 10.6% yesterday. GF Securities released a research report saying that it maintains the "buy" rating on Shanghai MicroPort MedBot, and its estimated revenue in 2022-24 is 4.924/51.098/13.8298 billion yuan. According to the DCF method, the reasonable value is HK$56.06. Despite the impact of the epidemic in the first half of 2022, Toumai's preparations for marketing and commercialization activities are still making meaningful progress.
BYD Electronic International Co Ltd (0285 HK) climbed 7.7% yesterday. Essence International released a research report saying that it maintains the "buy" rating of BYD Electronics. It expects profits to resume significant growth in the second half of 2022, and raised the target price to 30 Hong Kong dollars. The bank said that the company's business with North American major customers and e-cigarette customers is progressing smoothly, and products from the new project will be mass-produced in the second half of this year. Furthermore, BYD Electronic recently announced that it is the main supplier of Huawei Mate50 Pro metal frame, glass back cover and camera trim. Since the design of Mate50 Pro is more high-end and refined, it further escalates the difficulty of processing the metal middle frame.
Haichang Ocean Park Holdings Ltd (2255 HK) rose 7.6% yesterday. Tianfeng Securities released a research report saying that Haichang Ocean Park has acquired rare marine biological resources and has full service operation capabilities. The short-term IP has been successfully built, the first phase of the Shanghai project has been completed, and the second phase consists of opening an asset-light expansion belt in the medium term. It expects the new IP consumption will increase the revenue performance, and the expectation of adding to the Hong Kong Stock Connect will act as a catalyst.
Aluminum Corporation of China Ltd (2600 HK) rose 6.6% yesterday. The drop in Russian gas supplies has led to soaring electricity costs in Europe. Norwegian industrial giant Hydro said recently that it will close its Slovalko aluminium smelter in Slovakia. At the beginning of this year, the Slovalko aluminium smelter had already cut production by 60%. Slovenian aluminium smelter Talum said this week that its electrolytic aluminium production will be cut by 80% to 17,000 tonnes/year due to high energy costs. France's Dunkirk Aluminium, Europe's largest aluminium smelter, will cut production by 22%, with the company set to start closing some of its capacity next Monday and complete the entire process by October 1.


Trading Dashboard Update: Cut loss on Sinopharm Group (1099 HK) at HK$16.5 and Yangzijiang Shipbuilding (YZJSGD SP) at S$0.90. Add Samsonite International (1910 HK) at HK$18.6.