25 October 2022: Stocks making the biggest moves
Market Movers | Trading Dashboard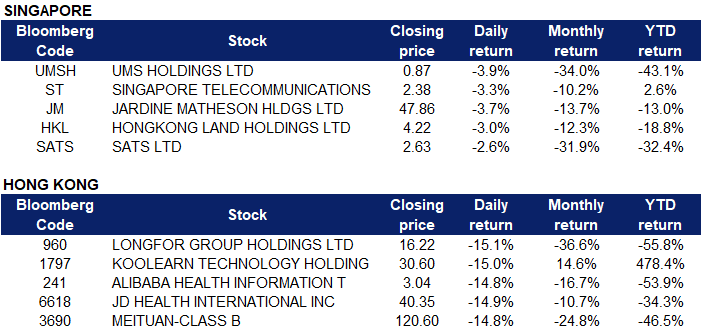 United States
Top Sector Gainers
Top Sector Losers
Shares of Chinese companies listed in the U.S. dropped sharply Monday after Beijing tightened President Xi Jinping's grip on power, souring investor sentiment for non-state-driven companies. Tech giant Alibaba Group Holding Ltd (BABA US) lost 12.51%, while Tencent Music Entertainment Group (TME US) fell 4.96%. Another tech name Pinduoduo Inc (PDD US) plunged a whopping 24.61% Monday.
Avis Budget Group Inc (CAR US) jumped 16.63% after being upgraded by JPMorgan to overweight from neutral. Analysts believe car rental prices will remain elevated longer than investors believe.
WeWork Inc (WE US) rallied 6.22% after Cantor Fitzgerald initiated coverage of the stock with an overweight rating. Cantor said that the office-sharing company's cost and optimization of its real estate portfolio cut $2.7 billion in expenses.
Singapore
UMS Holdings Ltd (UMSH SP) continued to plunge 3.9% on Friday following the curbs imposed by the US on companies that conduct technology business with China. The Biden administration measures erect barriers of entry to China's market by limiting the ability of US firms to sell equipment and tech to their Chinese counterparts.
Singapore Telecommunications Ltd (ST SP) tumbled 3.3% on Friday. UOB Kay Hian reported that Singtel's FY2023 earnings is expected to take a smaller-than-expected hit from the Optus data breach since it has been spared the full cost of passport replacements for affected customers.
Jardine Matheson Holdings Ltd (JM SP) and Hongkong Land Holdings Ltd (HKL SP) fell 3.7% and 3.0% respectively on Friday. China's real estate investment in January-September fell 8.0 per cent from the same period a year earlier, official data showed on Monday, worsening from the 7.4 per cent decline seen in the first eight months of the year. Property sales by floor area dropped 22.2 per cent in the first nine months from a year earlier, according to data from the National Bureau of Statistics, compared with a 23.0 per cent slump in the first eight months of the year.
SATS Ltd (SATS SP) dropped 2.6% on Friday. Singapore stocks closed below the 3,000 level on Friday (Oct 21) for the first time since March 2021, amid recession fears with the US Federal Reserve seemingly persistent in its aggressive rate hikes. SATS previously announced its plans to acquire WFS, which is the world's largest air cargo handling firm, for EUR1.19 billion ($1.64 billion) in cash.
Hong Kong
Top Sector Losers
Longfor Group Holdings Ltd (960 HK) Shares plunged 15.1% yesterday. China's home prices sank for a 13th month in September, underscoring President Xi Jinping's challenge to arrest a slumping property market after he secured power for a historic third term. New-home prices in 70 cities, excluding state-subsidised housing, dropped 0.28% last month from August, when they fell 0.29%, National Bureau of Statistics figures showed Monday. The second-hand market fared worse, with existing-home prices declining 0.39%, the most since October 2014.
Koolearn Technology Holding Ltd (1797 HK) Shares dropped 15.0% yesterday. According to Tianyancha, the wholly-owned subsidiaries of Koolearn Technology Group Co Ltd, Beijing New Oriental Future Overseas Consulting Co Ltd and Beijing New Oriental Dayu Culture Communication Co., Ltd. have undergone industrial and commercial changes, and Yu Minhong has stepped down as legal representative and executive director. They were succeeded by Sun Tao and Dou Zhongchuan respectively.
Alibaba Health Information Technology Ltd (241 HK) and JD Health International Inc (6618 HK) Shares tumbled 14.8% and 14.9% respectively yesterday. According to the website of the State Food and Drug Administration, on October 20, Huang Guo, deputy director of the State Food and Drug Administration, led a team in Beijing to investigate the preparations for the implementation of the "Measures for the Supervision and Administration of Drug Online Sales". The research team came to Dingdang Kuaiyao, Meituan and Ali Health. and other Internet platform enterprises, to have an in-depth understanding of the implementation of the main body responsibilities and obligations of the platform, and to strengthen the management of business behaviours.
Meituan (3690 HK) Shares fell 14.8% yesterday. Hong Kong stocks and mainland China markets fell sharply Monday while other major Asia-Pacific markets rose. Hong Kong's Hang Seng index spiraled down 6.36% to 15,180.69, its lowest levels since April 2009, with the Hang Seng Tech index down more than 9%. Tai Hui, JPMorgan Asset Management's APAC chief market strategist, said a combination of factors has been driving the Hong Kong market recently, including higher U.S. Treasury yields.


Trading Dashboard Update: Cut loss on Riverstone (RSTON SP) at S$0.57.